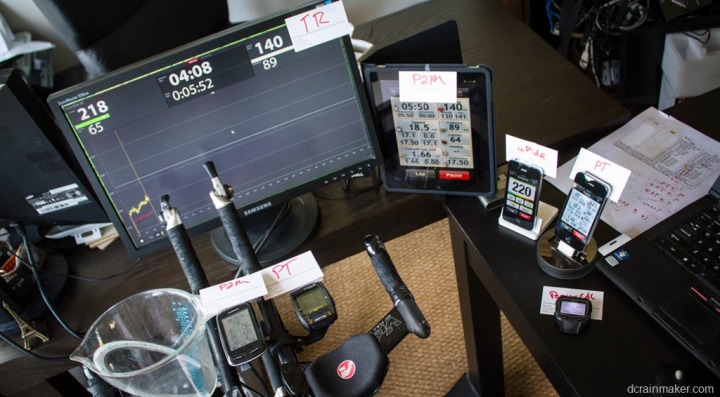 Above.  That's what's been setup this weekend as I prepare reviews concurrently on a load of power related products and trainers.
And honestly, it'll be setup like that all week.  Our dinner table transported 10 feet to the left to accommodate an easy to reach array of devices.
In total, 5 power meter measurement devices streamlining to 7 recording devices.  There's some purposeful duplication there to get data captured on alternate devices.  For example, the data captured on the Joule GPS isn't going to be used within power meter comparison spreadsheets, but will be used within the Joule GPS review.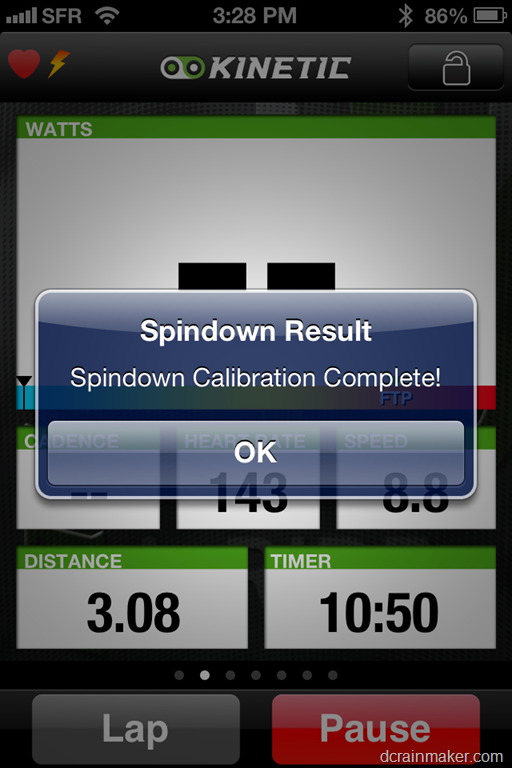 In total, the following products are in some stage of finalization for review in the next two weeks:
CycleOps PowerCal ($99 power meter of sorts)
CycleOps Joule GPS (like an Edge 500)
Kurt Kinetic inRide & Kurt Kinetic Road Trainer (with a side of TrainerRoad review)
FitBit
Barfly Garmin Interchangeable Mount
I may sneak in another product or two, but we'll focus on those for now.  Additionally, it's plausible that some last minute beta-related items may delay the inRide review slightly.  But we'll see.
Speaking of items, I unboxed the new little FitBit Zip this weekend.  I bought it back a few weeks ago, and it finally made it's way over here.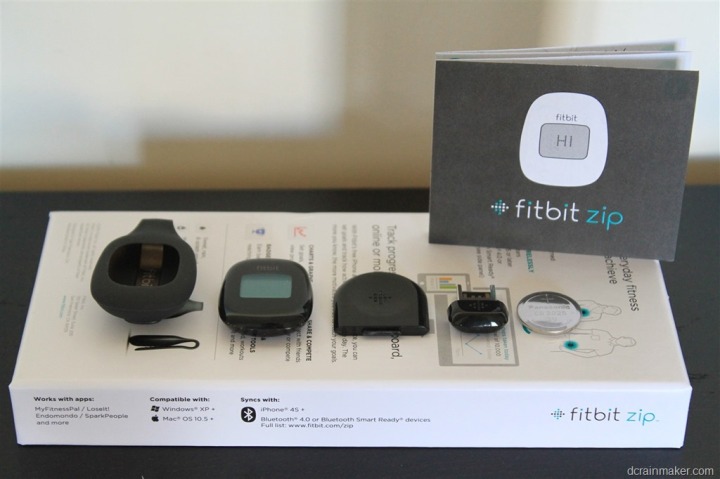 I've been using the regular FitBit for years, but decided it was probably time to review some of their offerings.  I think I'll be doing a bit of a combo review since their backend site is largely semi-similar across all models.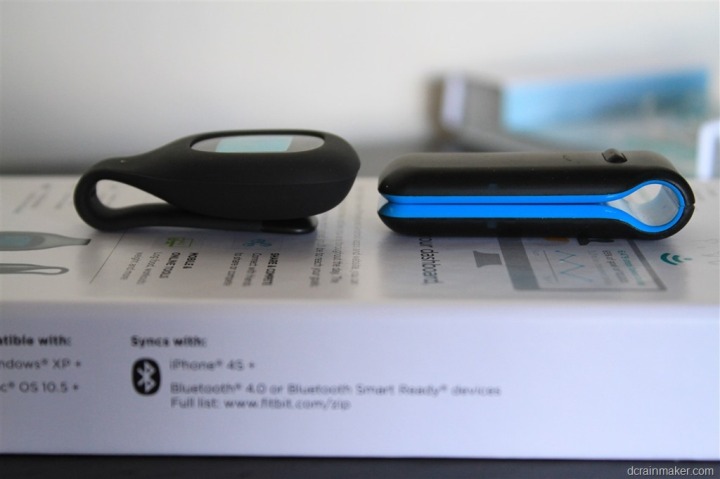 It's just the newer units have additional Bluetooth Smart functionality enabling wireless upload (and a few other tiny updates).  So a combo review makes sense.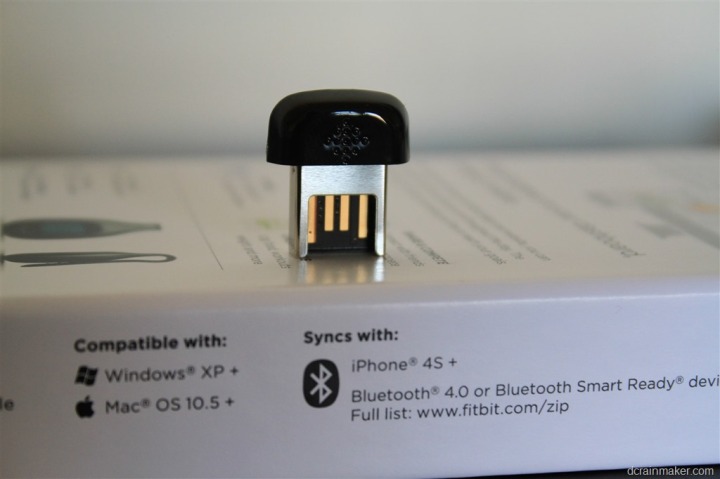 In addition to the inRide and FitBit, I've been doing lots of comparison tests with the PowerCal as well.  I mix both trainer rides as well as outdoor rides.
Sunday I headed out into the sun and went for a wander.  I had initially planned on using the section of road closed along the Seine (they close it on holidays and weekends).  It's about 3ish miles each length, so good enough for repeat loops.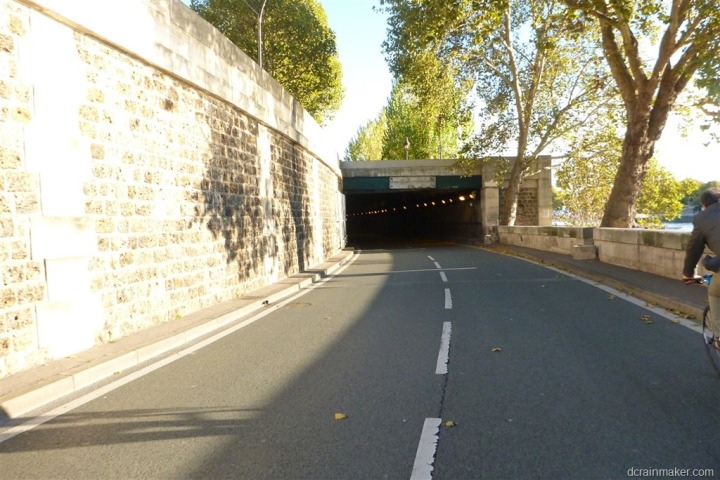 However about a mile later I got into the thick of things and the crowds were just too dense.  Actually, dense isn't quite the right word.  They were just a bit scattered.  Sorta like ping pong balls with people wandering everywhere.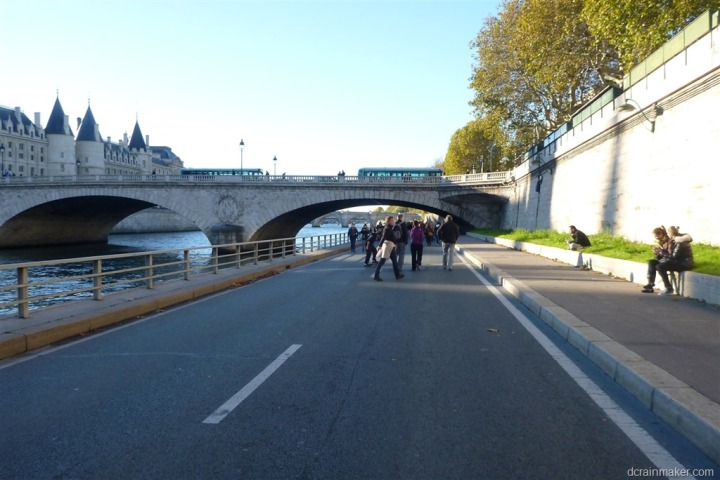 The key here is going earlier in the morning before the more 'wandering' of the crowds hit it up.  Obviously I neglected that practice.
So instead I headed south and east along the river on a bike trail/path that relatively empty.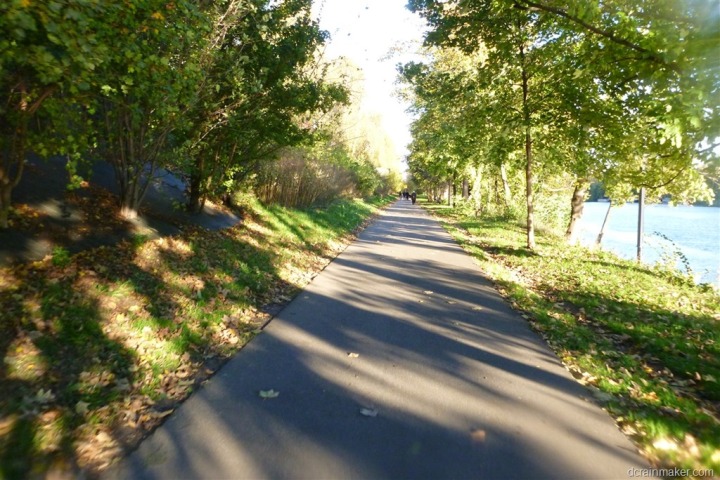 From here I climbed the hill up to the park.  This being the hill I mentioned a number of weeks ago that a past local TdF champ used as his training grounds for The Tour.  Interesting to see the clear path down the middle from folks going up and down: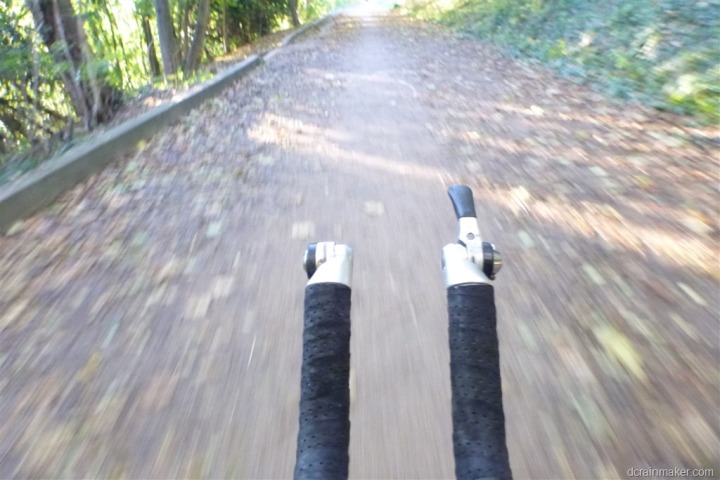 And even more interesting to see at the top the exact spot where cyclists turn around – note the small circle of leaves that's cleared out where this cyclist was doing a turnaround to head down the hill and do another repeat.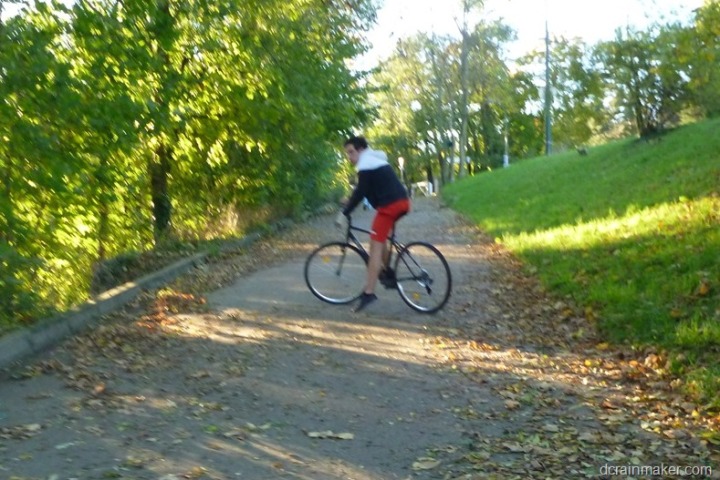 Once up there I did a handful of loops at varying paces, looking to compare how well PowerCal can do when you look at total ride average versus say a 15 or 30 second hard interval.  I did interval lengths from 5 minutes down to 15 seconds.  Still working on consolidating and analyzing all the data from this afternoon.
Upon getting home I spent a fair bit of time getting all the final display photos I'd need for the upcoming Joule GPS review.  This is more or less the last step in a review before I dive into the text portion. Then after I complete that I'll usually spend one more round on any missing photos I need.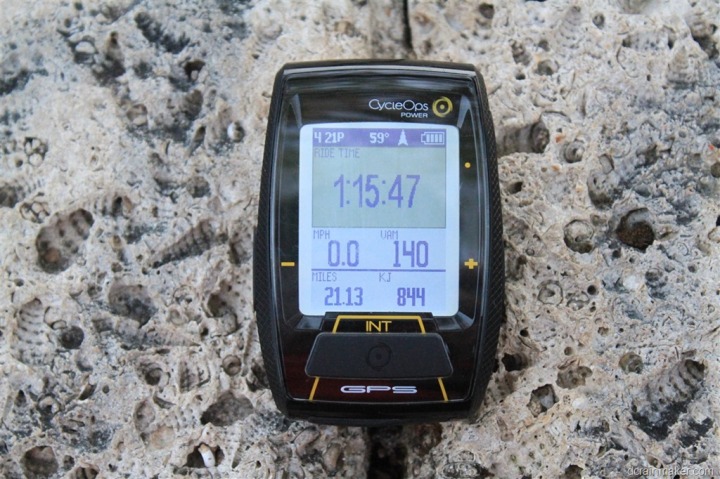 Since I've been using the Joule GPS since summer, my cache of photos on it is pretty extensive (probably a thousand or so), so hopefully I'll be able to minimize the secondary rounds.

(In case you're curious why there are duplicates, one JPEG, one RAW – I always shoot dual-formatting, makes workflow so much quicker.)
Of course, it's not all training around these parts.  Bertie's CupCakery (that's The Girl's newly opened cupcake shop in Paris) is also keeping us quite busy.  Which is of course good!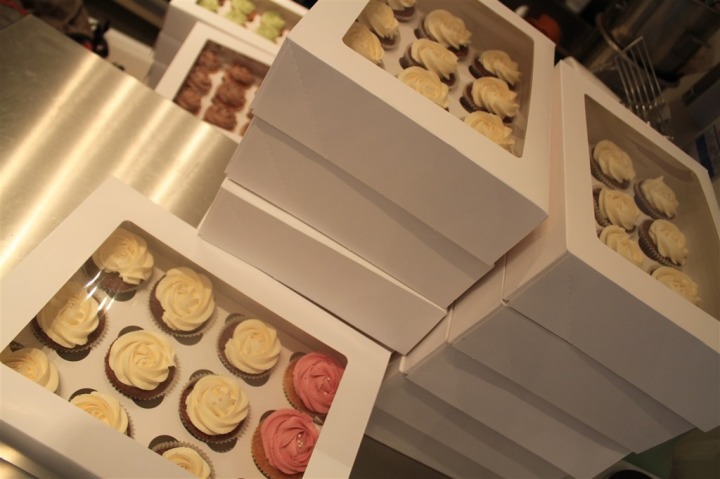 This weekend I played both delivery man and Assistance Setup Director (aka, right hand man) as we drove about an hour outside of Paris to a wedding and setup a 300-cupcake wedding display, topped with a non-cupcake cake.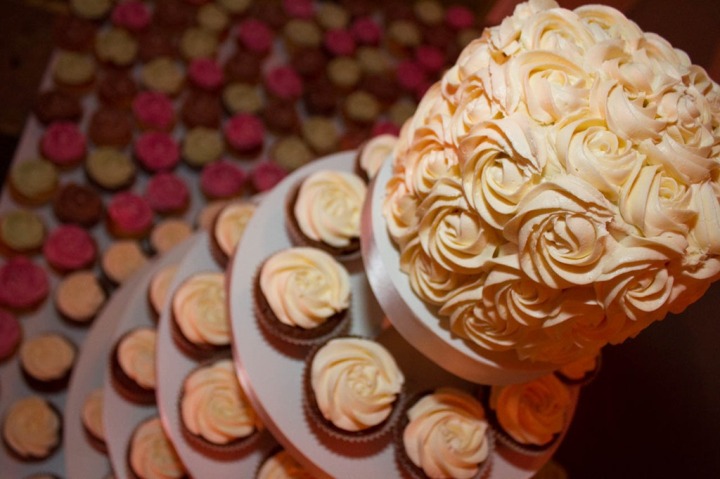 Our little Autolib rental served us well (it's like a Zipcar).  Plus, we easily fit all 300 cupcakes and the display stand in there.  My bet is we could probably hit 500-700 cupcakes inside of it before we'd get pulled over for looking too questionable.
So with that, it's back to a calm week ahead – no travel till the end of the week (well, that I know about yet anyway).
Hope everyone had a great weekend, and thanks for reading!
—
The where I'm travelling tidbit
I usually drop hints as to where I'm travelling in posts, though, it's become clear based on your feedback that I'm not clear enough.  The next 3-4 weeks have the following cities on my travel docket: Dubai (UAE), Muscat (Oman), Kochi (India), Kuala Lumpur (Malaysia), and Singapore (Singapore).
I'm pretty busy in Dubai already, but if you're in Muscat (or have ideas of what to do in Muscat, or Kochi), drop a note.  Similarly, I'll probably be running a 10K race for fun in Singapore on Nov 25th.