With the US elections tomorrow, I thought some folks might find it interesting to understand how I voted from overseas.  While the process is somewhat similar to absentee voting, there are a handful of differences.
I had originally heard that a nearby popular bookshop (Shakespeare and Company – about 100 yards away) was going to have absentee voter registration folks there.  And they did.  It's just that each Saturday they had it available, I was out of town.  Bummer.  So that slightly increased the number of steps I had to take.
So instead I braved the Interwebs.  Turns out there's an entire site dedicated to US folks voting abroad.  Incidentally called VoteFromAbroad.org.  There's probably others out there, this was just the first site the search engine came back with.
The website pretty much starts from the beginning with understanding where you used to live in the US.  In my case, that was Alexandria, VA.  Once it knows that it can create all the appropriate forms for you automatically.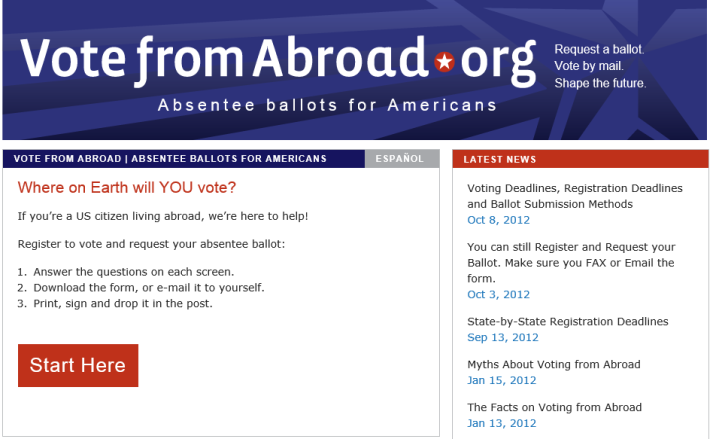 You'll simply enter your information straight into the forms and when it's done it simply e-mails you pre-populated forms ready for you to print out.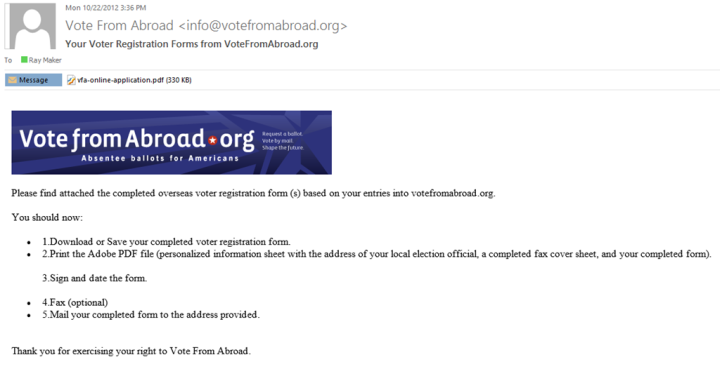 It's rather simple.  Like silly simple.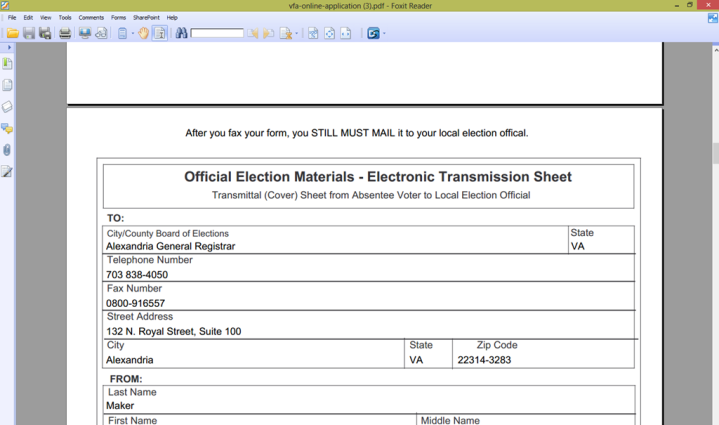 I take all the forms, print them out, and then sign a bunch of them.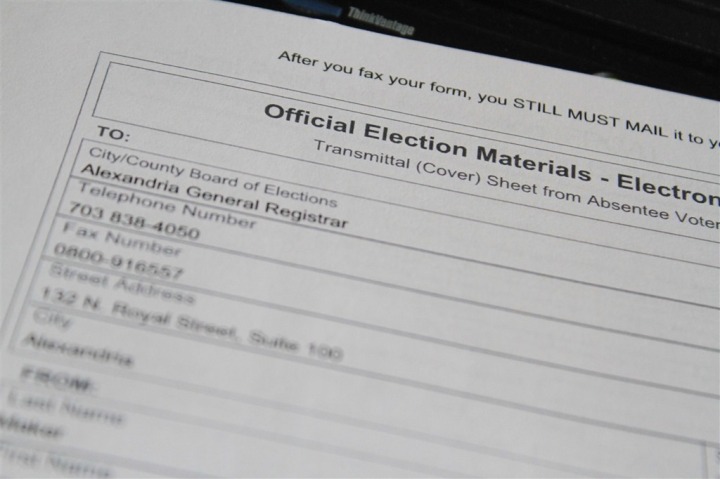 Next up was faxing the forms to Alexandria election folks letting them know that I needed an absentee ballot.  No problem, I have a fax machine in my home office – easy!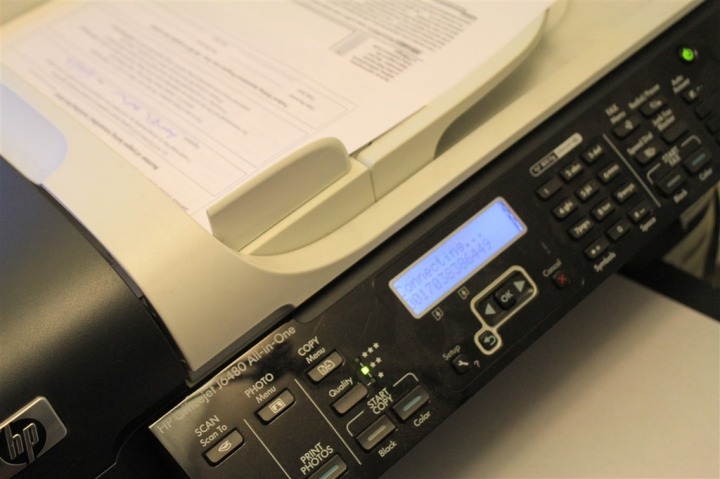 Well, except not.
See, I hadn't actually had a reason to send a fax since moving here.  Thus, my phone outlet was on the complete opposite side of the room from the fax machine.  So I had to make a trip to the hardware store to buy a 10 meter long phone cord which was spread out over the room for the singular fax I'll probably ever make: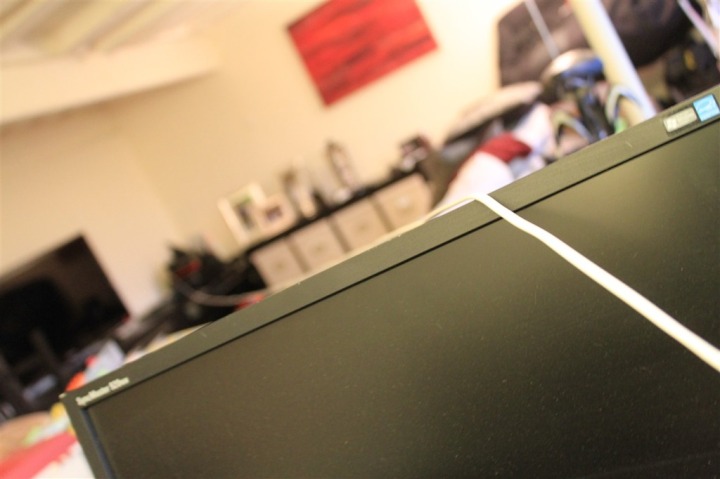 Ok, fax completed!
Next up I'd receive my actual ballot electronically via e-mail from the City of Alexandria.  This was amazingly quick – a business day later I received it.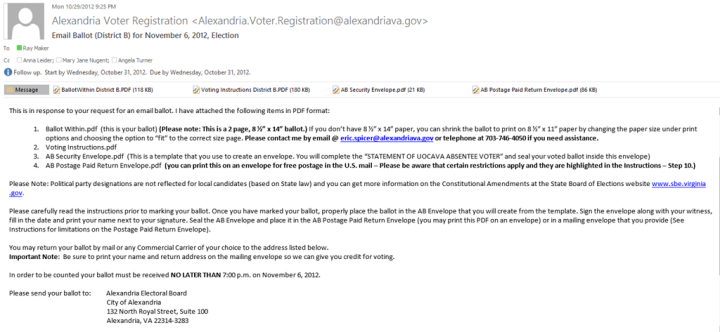 In fact, a day that the city offices were closed for Hurricane Sandy.  Pretty impressed that they were manually processing all the faxes and working through them.  I was also impressed how response they were.  I wanted to ensure I was doing everything right – so I rang them up and they quickly answered my questions.  They even had a real human's name on all the forms in case there were any problems or questions.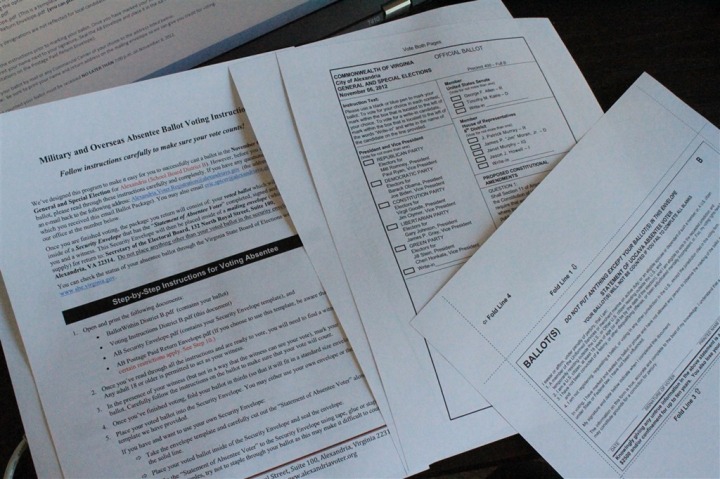 Now that I had my ballot, I printed it out and prepared for voting: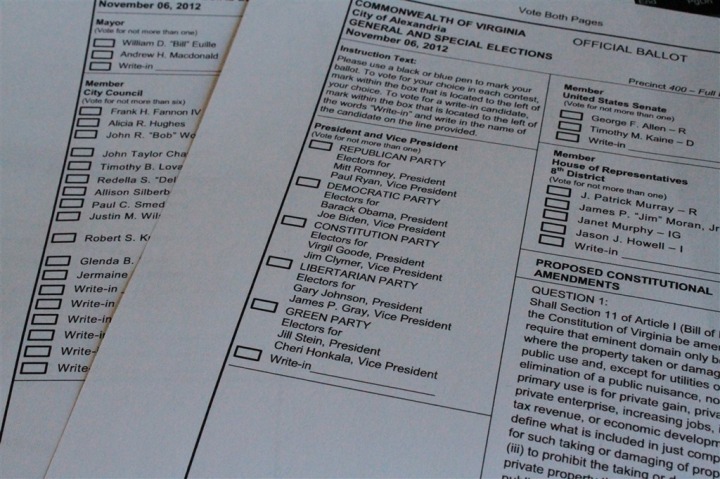 The voting required that I had someone present to validate that I actually voted (witness).  Though, they weren't supposed to see who I voted for of course.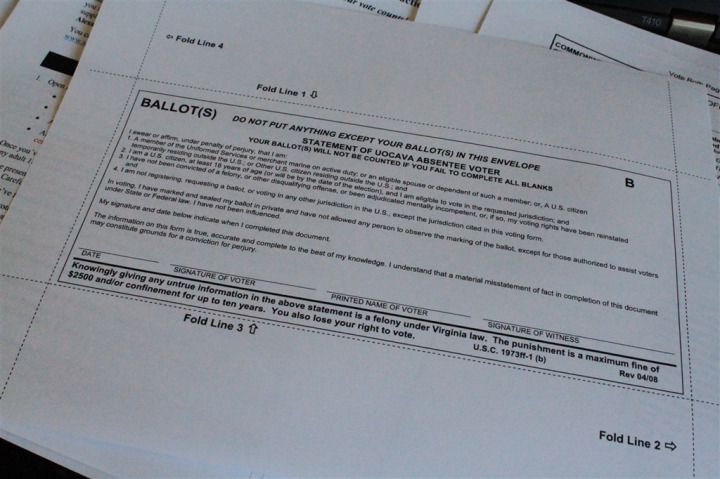 Once that was complete, I had the choice of creating my own little 'security' envelope using a template that they created (above) – or I could just use my own envelope and then cut and tape their security notification stuff on it.  It was sorta like an arts and crafts project for adults.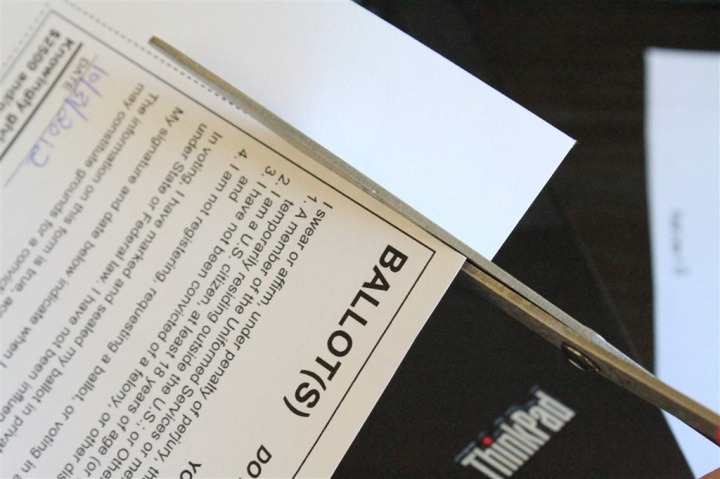 Ok, arts and crafts time complete – now I got everything packed up!
Next, how to send it.
Now I was a bit of a procrastinator so my options while still fairly wide open were limited if I wanted it guaranteed.
I could mail it via the French Postal system like any other letter.  In all likelihood, it probably would have made it in time.  It usually only takes a couple days from here to the DC area.
Alternatively, I could actually drop it off at the US Embassy, and they'd ensure it got there.  But, there wasn't a guarantee or timeline on when it might arrive.  Just that it would arrive. In my case, it had to arrive by the evening of Tuesday, Nov 6th.
So while I was surfing the US Embassy in Paris website, I noticed they have a deal with FedEx that does overnight delivery of US absentee ballots for a flat-rate of $25.  That seemed like a sweet deal to me. Obviously had I had more time, I could have done it for 1/25th the cost. But it is what it is.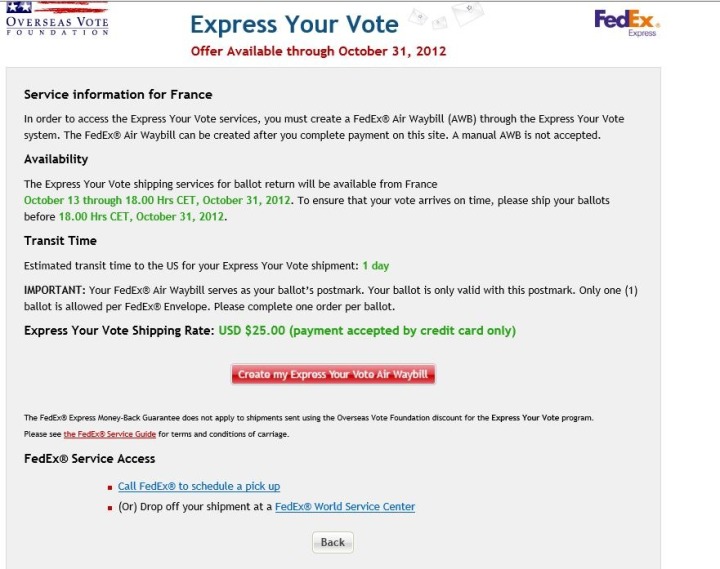 It'd guarantee that my ballot was delivered the next day to Alexandria – well ahead of the deadlines.  It'd also guarantee I had tracking of my ballot.  Win-win!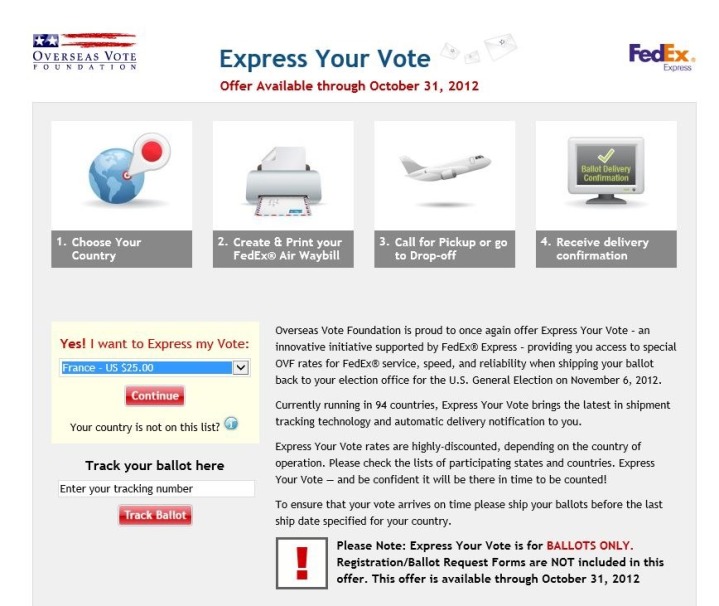 Even better was that like the voting site earlier, FedEx had a special site setup.  Just enter a few pieces of voting information and then BOOM – shipping label automatically created to the correct election office for you from your current country.  Brilliant.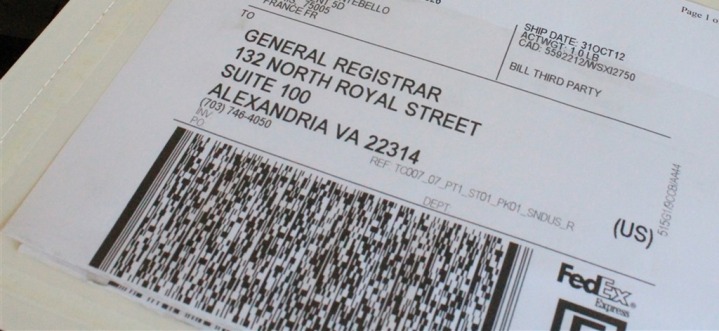 So, into the FedEx envelop it went!  And off to FedEx I went.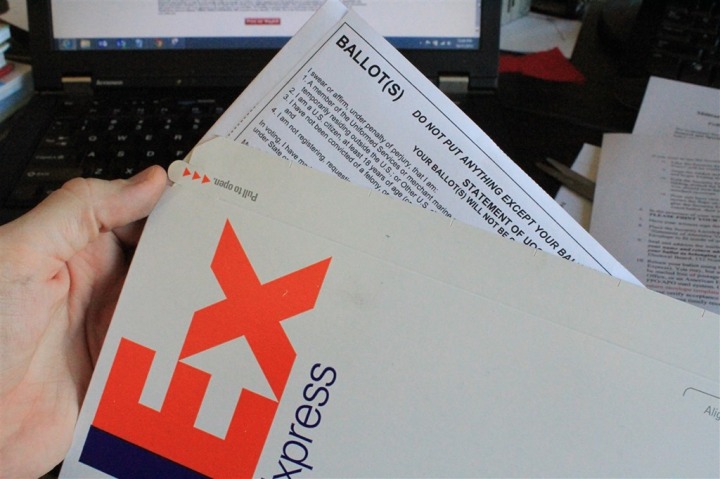 Turns out, there aren't many FedEx offices in Paris, so it was a bit of a bike ride.  Yes, bike.  How else would I get there?
Upon arrival, I gave it to the person and ensured everything was scanned in and good to go!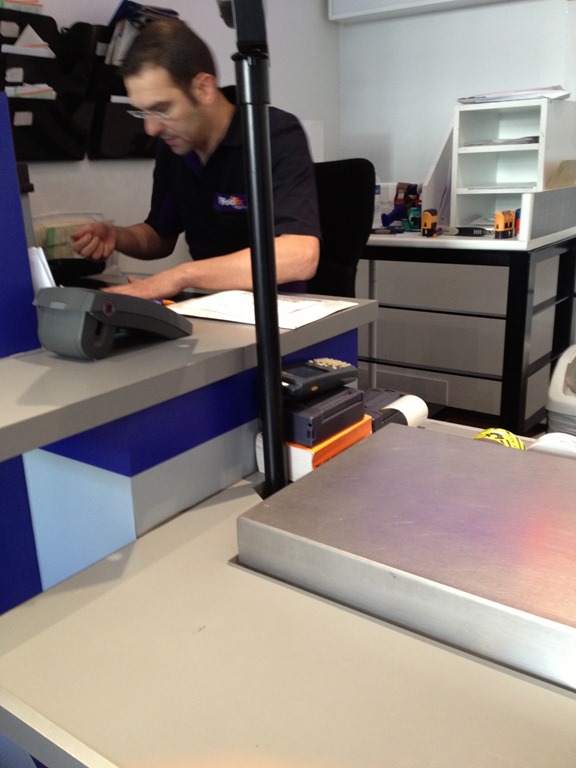 Next, I went back home and watched on the computer as my letter zipped across the ocean 3,847 miles to Alexandria, VA.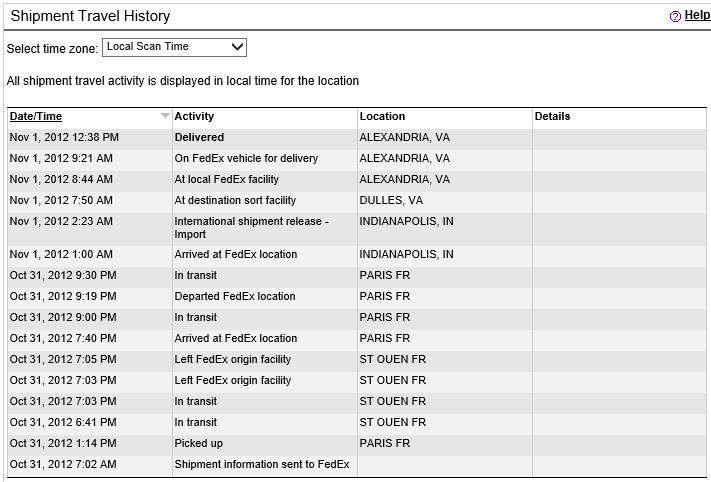 Sure enough, the next day it was delivered to the office – donezo!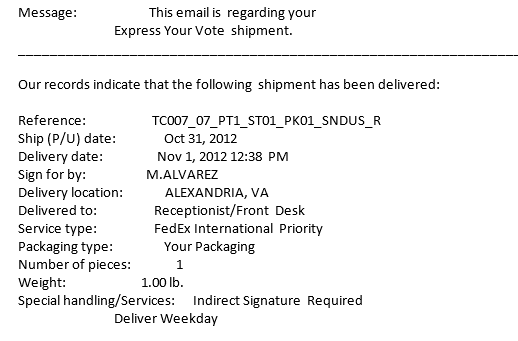 And with that, I ensured my vote counted.
If you can vote tomorrow, ensure you do vote.
Thanks for reading!