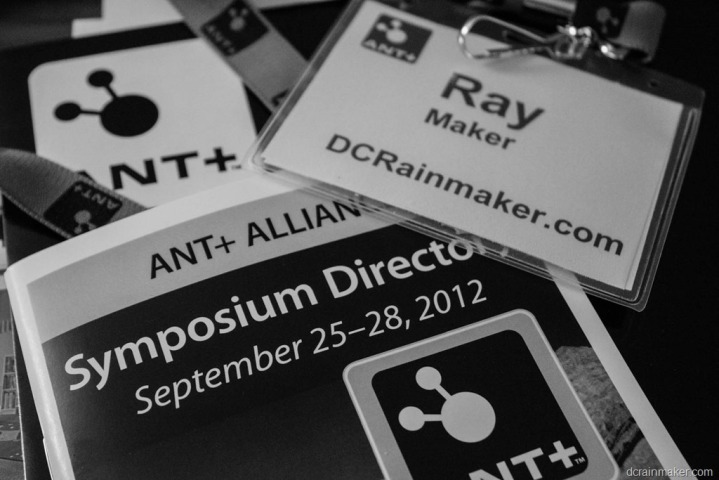 For the third straight year in a row, I've presented a keynote session yesterday at the ANT+ Symposium.  In presenting here I'm able to address the vast majority of the sports technology industry, from the big player names you hear daily (Garmin, Timex, etc..) to the companies that design the components they use (Texas Instruments, Nordic Semiconductor), to all the smaller companies that support and compete with those devices (Wahoo, Clothing+, Alphamantis, 4iiii's, and many more you've never heard of).
It's the one time each year that I get the opportunity to tell your story – you as users of the products and services they make.  I'm able to encapsulate everything you tell me and pull it into a semi-cohesive message to them.  Additionally, I'm able to give them areas that I think need more focus, or attention.
It's also worth point out, that I actually talk very little about ANT+ during the presentation – instead, it's more general about the industry, which is why I often included Polar in many of my examples as well.
This year, I split the presentation a bit though compared to past years.  The first half was focused on the technology – what's been big this year, what's coming, what's being ignored – what's working, what's not.  But the second half I focused on 'consumer engagement'.  In other words, how do these companies actually interact with you.  And where are they doing a good (or bad) job?
This was interesting because I feel that over the past year there's been more frustration with how companies respond to (or don't) issues and their products.  Whether it be promised firmware updates, or being present in the forums you visit.  I give a rundown of the top frustration points that I hear from you, and how companies can address them.
So, without further ado – here's the whole presentation – about an hour all-in.  I know it's long, but if you have to pick a half and are a consumer, go with the first half.  If you're a company…well…watch the whole thing.  I've been told in the past it's 'must watch' material for any sports technology company employee.
2012 DCR ANT+ Keynote Session
Additionally, if you'd like to download this year's presentation (PDF), you can do so below (it's sorta big).  Additionally, I've also linked to the 2011 and 2010 presentations.  You can watch the 2011 presentation at this link though.
DCRainmaker 2012 ANT+ Symposium Presentation
DCRainmaker 2011 ANT+ Symposium Presentation
DCRainmaker 2010 ANT+ Symposium Presentation
Looking at the conference as a whole, look for little snippets of it in the week ahead as I'm able to.  There's a lot of cool technology coming, from both small and large companies alike.
As always, thanks for reading (and watching) in this case – I appreciate it!