I've been cramming in lots of workouts over the last week or so, mixing up devices like a merry-go-round, working towards the conclusions of a bunch of reviews.  From the Joule GPS to Barfly mounts to BKOOL and Tacx Genius Trainers to power meters, and many others.  With the ultimate goal to try and get everything knocked out before the holidays are upon us.  There's of course plenty of other things too, as stuff seems to be rolling in on a daily basis.
Thursday and Friday I spent some time with the BKOOL trainer, getting the hang of it.  I didn't have a lot of time each day – perhaps 45 minutes on Thursday in between a late night conference call and a dinner meet-up with Paris runners.
Not really knowing a lot about where to start, I just downloaded the software and stumbled through it.  I knew I wanted a video to ride, and simply told it I only had 45 minutes to work with.  I like that it just figures it out for me after I tell it how much time I had.  From there it spit out a few video recommendations, and I simply selected the first one that showed up. 
Turns out, the first one was 100% climbing.  Thus, for 40-some odd minutes I sat there slowly climbing up a rather scenic mountain somewhere.  The time flew by (along with the puddle building below me).  There are some minor oddities in the software order of operations due to the way it's heavily web driven, but I think I've got the hang of it now and I'm good to go.  They key is understanding that you've got to essentially pre-plan everything online, and the desktop software will let you execute upon it from the client.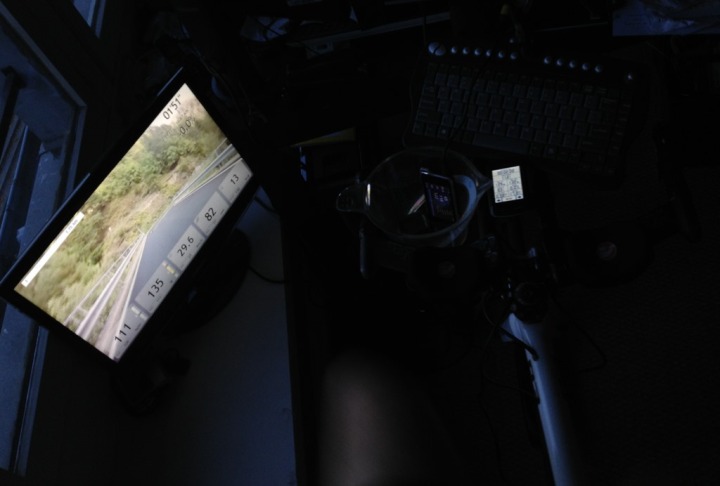 (Side note: It may look dark, but that's not entirely the case.  It was light when I started riding, but got darker towards the end.  The light switch was way across the room and would have messed up my test numbers if I stopped.  Really, I mostly blame the camera.)
I did some power meter tests between it and other power meters.  It reported a notably higher number than the others.  Though, in retrospect my wheel tire pressure may have been notably lower than it should have been.  But I can't get my head around whether that would have increased or decreased the BKOOL number.  Food for thought.  Either way, as they (and I) have stated numerous times – the BKOOL is more about entertainment and distraction than about specific and accurate power numbers.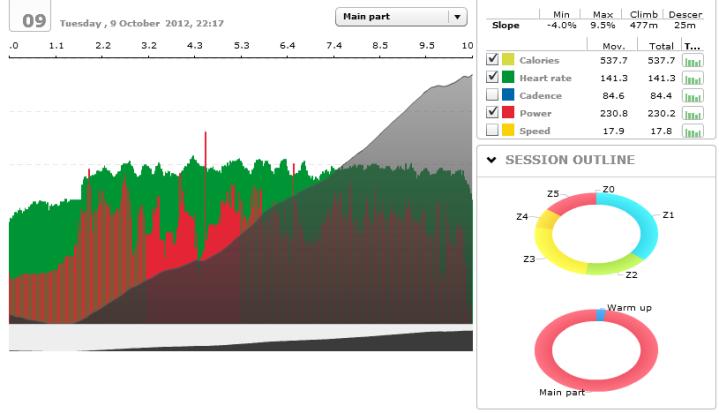 More on that in the future…
Saturday it got cold.  Well, cold for the first time this season anyway.  The coldest it's been.  Cold enough that we finally decided to figure out how our heating system works in the apartment.  And I'm happy to say that nothing seemed to have blown up in the last two days.  Which is our general success benchmark.
Due to the cold (upper 30's, low 40's), I waited till midafternoon when the sun was out before heading out on a ride.  My intent was both to gather a bunch of power meter comparative data, as well as test a few things.  Regrettably, the power meter data gathering app crapped the bucket somehow and didn't record anything (comparison wise).  Sad panda.
But, I did have a nice ride.  Starting with dodging a giant wine barrel in the middle of the bike lane.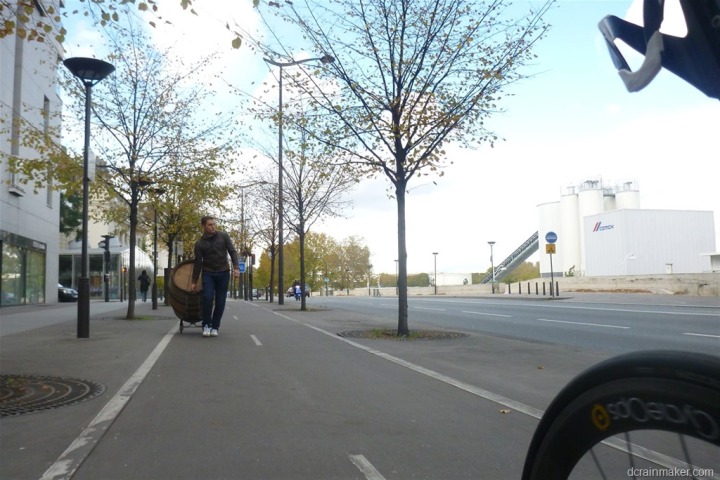 There are bike lanes everywhere in Paris.  In this case, I had just started my ride and was simply warming up, so I was fine using the separated bike lane over the road.  Further, this particular area of roadway is moderately sketchy.  So the bike lane was a wise choice.  Otherwise, while on a road/tri bike at road bike speeds, I'm usually on the road.
Once past the wine, I worked my way up to the Bois de Vincennes park, where I'd be doing loops.  Now there are actually two loop options here, which you can see below.  One is full closed off to cars (the triangle looking one), and where boatloads of cyclists complete their loops.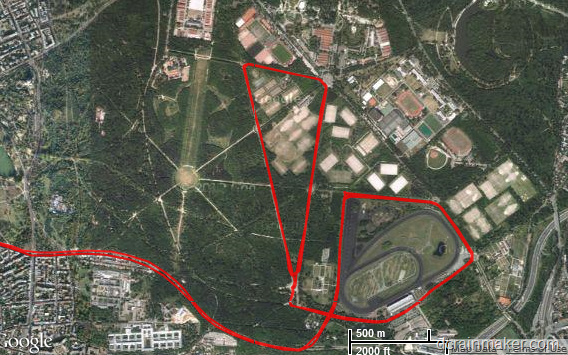 The second loop (to the right above), is technically open to cars, but the roadway patterns in that area minimizes traffic quite a bit so you'll only see 2-3 cars per loop.  Plus, it's got a nice little hill in it, mixing things up a bit.
In either case, I have to worry more about horses than cars crossing my paths. Well, and the errant mountain biker. 
The bike route is laid out across a large swath of the park, but trails crisscross in an astounding number of directions – and folks on all modes of non-vehicle traffic seem to jut out of them.  You can see all the little paths better on this image.  The gray lines are paths of varying sorts (gravel/dirt/paved/etc…).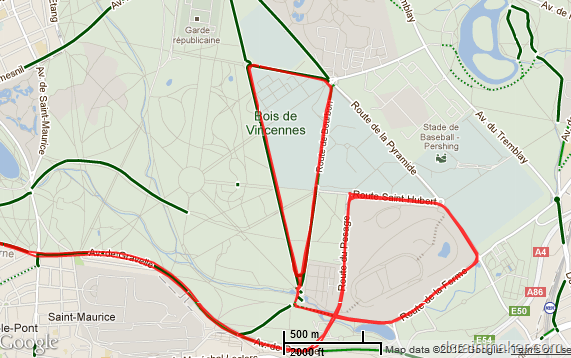 These paths also include horses.  Below were two police horses, but at one point I saw probably a dozen riders making the crossing over the bike path.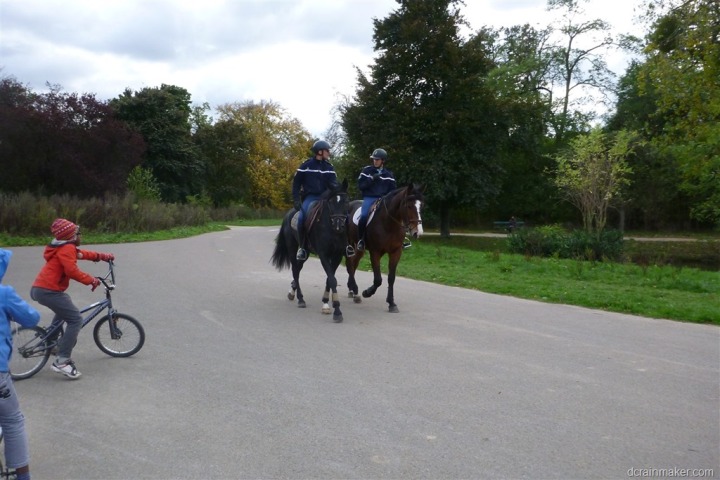 This time though, I avoided any equestrian collisions.  Always a fine way to complete a ride.
I did finish up my ride just in time though, as I made the final turn down our street the rain started to sprinkle from above.  Luckily though, it didn't last too long.
Later on Saturday night The Girl had a short and easy run on her schedule, so I joined her for a nice Parisian night run.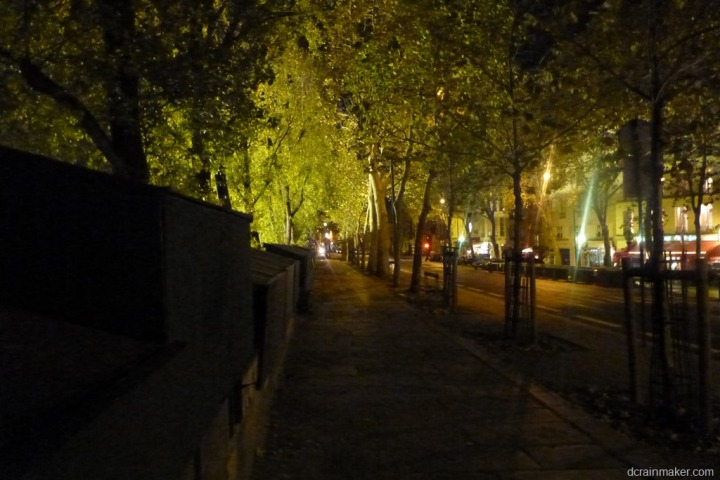 It wasn't terribly long, but it did require a breakout of both hat and gloves for running, as well as the long sleeve technical shirts.
I skipped on the long running tights, merely because I didn't want to have to wash them again before heading to much colder territory in Poland Sunday night.  At 12*F, they're definitely required for running their.
The Girl meanwhile, did have hers on.  At 10:30PM on a Saturday night, there were virtually no cyclists out and about.  And the insides of the bridge offered about the only protection from the howling cold wind on our entire run.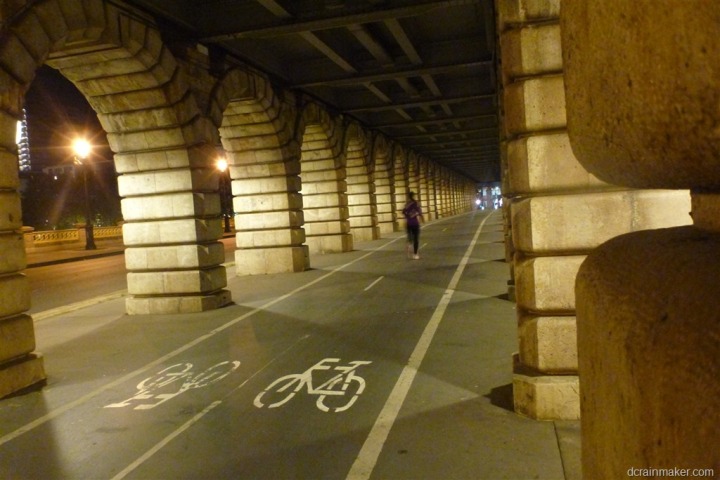 For the majority of Sunday we simply relaxed. It was sunny (but a bit cool) out, and here in Europe we got back our fall hour this weekend.  All you US folk get it back next weekend (except the wonky Indiana time zone folks, you never get your back).
With that, I'm on another plane – this time to Warsaw for a quick two-day turn.  Cold weather running gear definitely in hand.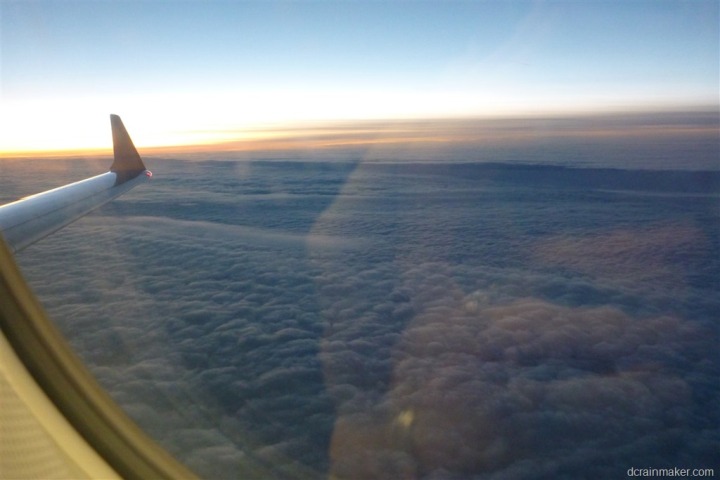 Thanks for reading all, and hope everyone had a great weekend.  Oh, and congrats to those who ran in the Marine Corps Marathon this week!