Over the past few years The Girl has put up with all manner of sports gadgets floating through the house.  Some of them, she pays attention to.  Others, not so much.  Those that she pays attention to usually get 'alternative branding'…aka…a new name.
Take for example, the Garmin Edge 500, around these parts, that's simply known as 'Blue'.  (Though, she's not-so-secretly pleaded with Garmin to make a variant in pink).
Or, her older Garmin FR60 women's watch, simply known as 'Pink' (Note, this is somewhat confusing, because her bike is also known as 'Pink'.)
As you might suspect, whether something is semi-fashionable is a key consideration for her, and thus, one of the first things I hear when she see's a new device is her opinion on whether it looks 'decent', or horrendous (very few sport watches make it to looking 'nice').
So earlier this week as I was unpacking a box from the Polar folks full of gadgets to check out, I was surprised that she basically leapt off the couch to grab the new women's watch out of my hand.  As she sat back down, she commented "I'll actually wear this watch!".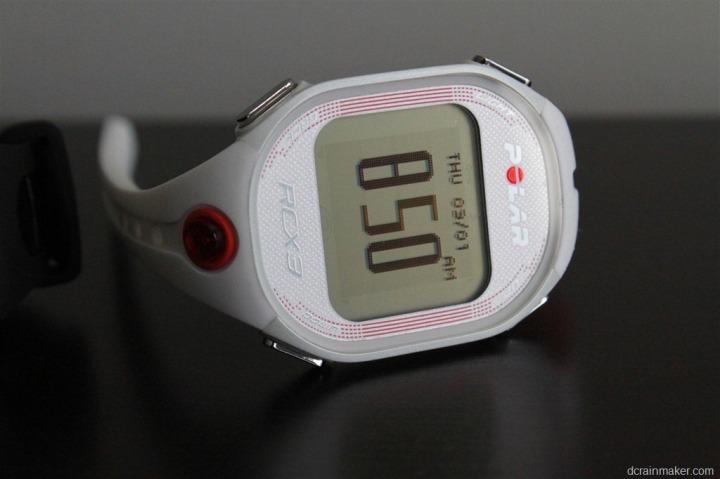 At which point, she proceeded to put it on her wrist.  It hasn't left her wrist since.  Thus, to take advantage of that, I 'recruited' her to go and take some photos of it for this post.  Essentially, if she wanted it, she was going to have to earn it.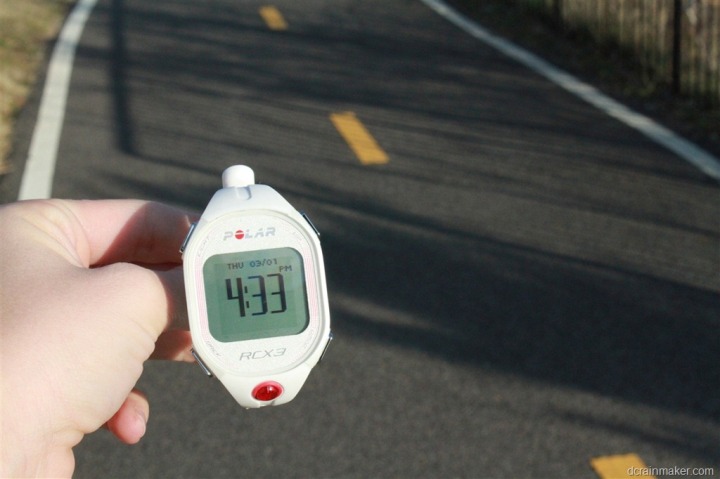 And, since she was at it, I had her also take photos of the companion men's RCX3.
So what is the new Polar RCX3?  Essentially the RCX3 is a more economical variant of the Polar RCX5 watch.  That's Polar's triathlon focused watch that was released last spring.  The RCX3 is noticeably slimmer than the RCX5 (width), like it went on a bit of a diet.
The key differences between the RCX3 and the RCX5 are around advanced functionality, with the RCX5 having features like Race Pace, and Time and Distance intervals – features that the RCX3 lacks.  Accessory-wise, both units work with the G5 GPS pod, as well as the footpod and cycling speed/cadence sensor.  Price-wise the unit is $220US (retail), including a heart rate strap.  This put it roughly equivalent price-wise with some of the low-end Garmin units with a heart rate strap.  If you want speed/distance, you'll need to pickup either a footpod (~$90), or the G5 GPS pod (~$130US).
They primary differential of course with having the GPS pod in a separate unit is that you save on battery life, so these watches will last many months (closer to a year) on a single replaceable coin cell battery, whereas the Garmin's you'll only get 8-20hrs on a charge.
Though, I'm still a little bit surprised on pricing here, a bit high once you include the full package for speed/distance.  But, there are folks that want an ultra-slim watch that lasts a long time on a single battery, so this definitely fills a market.  And for ultra-folks that use a footpod, there's very few other watches on the market that can go that kinda distance.
Over the next few weeks I'll be putting it through its paces (as will The Girl, since she's taken ownership of the women's one).  Look for a review probably around the first week of April…just about the time the unit hits the street.
Until then, feel free to post any questions below – I'd be happy to get them answered.
Thanks for reading, and have a great weekend ahead!