Earlier this week we saw Specialized release their new triathlon bike in Kona as part of the lead-up to this weekend's Ironman Championships.  For those whose lives don't revolve around the sport, this may seem like just another bike.  And in some ways, it is.  It has two wheels and you pedal it…thus, a bike.  But in many ways, it's not that simple.  It represents a pretty big shift in thinking.
The biggest shocker with the new 2012 Specialized Shiv is that it's not UCI compliant.  What's UCI compliant you ask?  Well, before triathlon there was this whole road cycling thing.  As part of that sport, they have a federation that governs rules and regulations – in the same way most sports do.  As part of those rules, the UCI sets very detailed rules on all manner of things from use of jersey logos and sleeve ratios, to bike fit/position items and perhaps the most important of all: bike dimensions and geometries (this is simplifying things a bit, they cover a wider range than I can list in one post).  If you want to check out the full book of rules, see this.
So why does it matter if it's UCI compliant?  Well, UCI compliance is mainly focused on the road racing portions of the cycling world, and doesn't take into account that triathlon is actually a different sport with different needs.  It's sorta like comparing baseball to softball.  They share the majority of attributes that make them brothers, but they differ enough in small details to be able to tell them apart.
The challenge for bike companies has been that when they design a bike that's ultimately going to be in triathletes hands, they design it to be UCI compliant.  This means that triathletes are sorta getting a one-size fits all bike, as opposed to something that really focused on the specific needs of the triathlete.
So what does making a non-UCI compliant bike really mean?  And how's it now more functional? Well, first let's look at what it means from a what's changed standpoint – and then I'll talk about what it really means for you as an end consumer (not a high profile professional triathlete).  Let's start with the below, which is a nifty graphic that Specialized put together that shows you all the UCI-illegal pieces.  Stuff that would get ya kicked out of the Tour de France: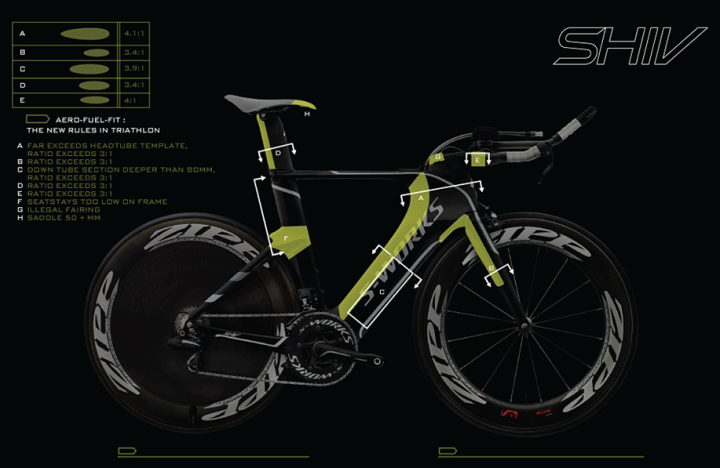 Most of this is aimed around aerodynamics and fit (you can click above to see wordings).  These are the sorts of things that break UCI rules and have kept triathlon bikes somewhat boxed in during the past.  The focus to date year after year has largely been on incremental changes around wind tunnel data.
But in my mind, the majority of triathletes out there aren't winning or losing based on the latest wind tunnel data.  Instead, they're likely gaining or losing time based on fit, position and nutrition (and of course training).  From a fit standpoint Specialized has done a bunch to try and make the bike more configurable, easier to modify and change positions.  This in turn makes it easier for local bike shops to (hopefully) correctly fit a person to a bike, as there's more flexibility with said bike.
But it's the nutrition piece that I think is actually most important.  The 2012 Shiv introduces an integrated hydration bladder inside the downtube.  This is really only possible by expanding beyond the UCI allowable limits (see above in green, and below the straw):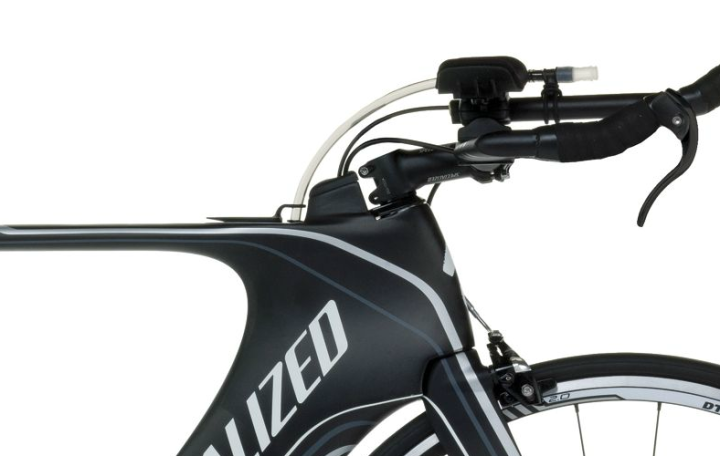 The bike uses a CamelBak style liquid bladder which simply slides into the frame of the bike (details/pics here).  Below you can see a bit of an x-ray view of the bike and how it fits in.  The interior space of that portion of the frame is specifically designed to be smooth and easy to clean, as well as being resistant to acidic drinks.  It's unclear if you can also stash cookies in there.  But I'm guessing animal crackers or goldfish would fit nicely.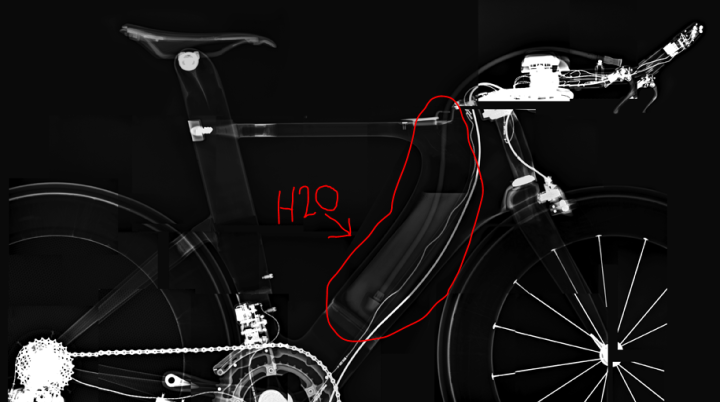 But the Shiv isn't the first bike to start catering to the needs of triathletes, nor is it the most recent.  If you look at the Trek Speed Concept (been out a while now) – you've saw numerous small detail items to make it more useful to the endurance triathlete.  For example, on top they've got a system to be able to mount a small bento-box style compartment.  You're able to stash gels in here (again, as well as cookies).  This is different from a branded Bento Box in that it's actually aerodynamic, but also screwed into the frame, making it more stable as well.
Then behind the rear of the frame they also built the "draft box", allowing you to stash things like tools.  Again – things that are important for the triathlete out on a 100+ mile long ride by themselves, or supporting themselves on an iron-distance course.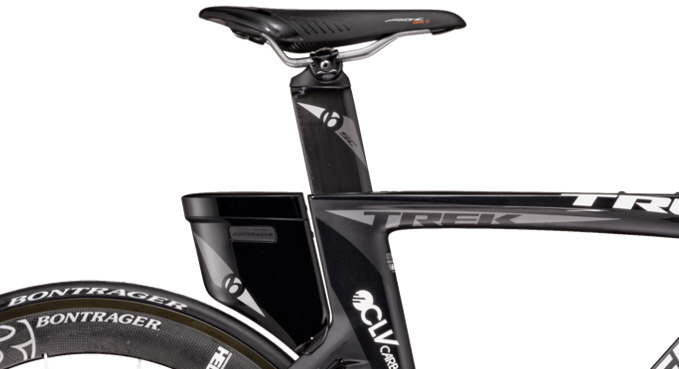 (Oh, here's a not-so-great pic from Interbike I took, showing the whole bike)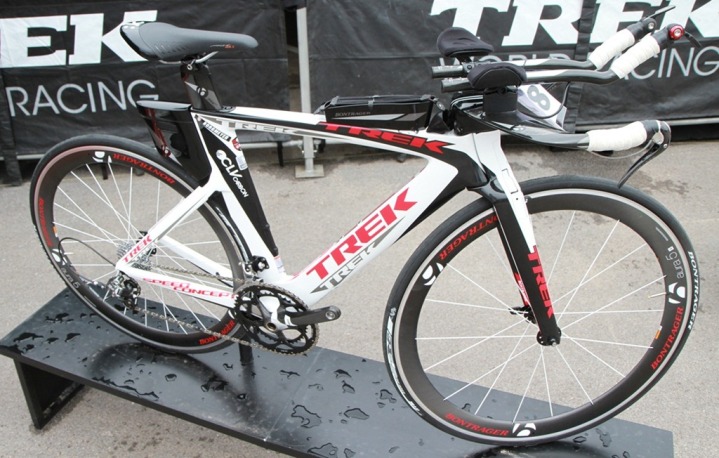 And then of course you've also got the Bontrager Duotrap integrated ANT+ speed/cadence system on both Trek and Giant bikes.  Now there's nothing triathlon-specific about this, it's just really logical.  It's simply something that makes our lives easier when somehow in transition our speed/cadence sensor gets bonked and thus is out of alignment for a race (or subsequently gets sliced in half by your wheel spokes a few seconds later).  There's of course also likely some aerodynamic benefit there too, though I haven't seen any study on it.
The Girl has it on her bike, and it's great.  Not because it's noticeable, but because it's forgettable.  It just works, you never have to worry about it.
But I think there's still a lot of room for improvement here.  Sure bike companies aim to deliver the best wind tunnel data points year after year, but I generally fall in the camp that for 99% of triathletes out there, it's the practical things that will improve their our times the most.  Sometimes that might be indirectly occurring – as is the case with the integrated water system, helping you to still keep hydrated and aerodynamic by removing bottles off the frame.  And sometimes that may be because our gels are now easily right in front of our face in a frame-secured bento box that's still somewhat aerodynamic, as is the case with the Trek.
My hope is that next year we'll continue to see more bike companies openly focus on the triathlon community and split the product away from the road bike world.  Changes don't have to be drastic, nor do I think they should be.  Ultimately we're all out there cycling, and the bike needs to be in line with that spirit.  But I believe there's much room still for improvement on triathlon specific needs.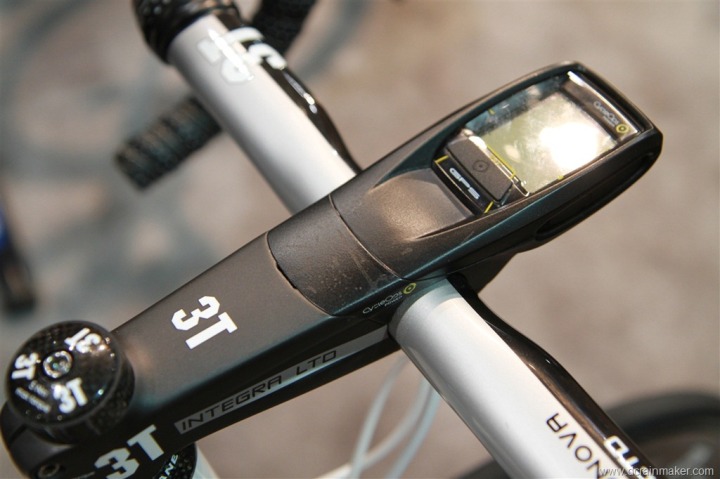 Where else do you think bike companies can focus on?  What are the things that would make your triathlon cycling life easier.  Are more places to stash things the answer?  For example, I love the company that created the tool kit in a skewer, brilliant.  Is it better flexibility/fit options?  The ability to change your fit based on whether you're doing a sprint (aggressive fit) or an Ironman (potentially less aggressive)?  Is it the idea of integrating a bike computer into the front stem for aerodynamics?  Or is it something else entirely?  Let me know in the comments, I'd love to know.
Thanks for reading!