With my 'A' race, Boise 70.3, being next weekend I'm now in the final stretch and full-on taper.  Though, taper doesn't mean couch surfing and cheese sticks, but instead reduced mileage.  I always enjoy taper workouts though, mostly because the intensity is usually a bit higher, but with the lower duration they ends up being kinda like little sprint triathlons.
Saturday's bike was simply three out and back loops down at Prince William Forest National Park.  Each loop consisted of 10 miles on the barely rolling false flats, 5 miles out and 5 miles back.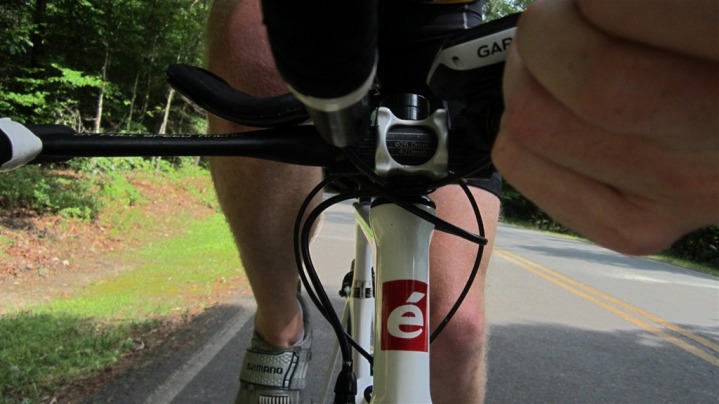 The first loop was at a Z2 heart rate effort, just to get all warmed up.  After 28 minute and 16 seconds I was back at the start ready for the second loop.
The second one was kicked up to Z3, which is where I usually get the biggest bang for my buck HR to power-wise.  It's this loop that a poor little squirrel almost lost his furry life.  I missed him by about 1-2", only because I happened to just barely tap my brakes.  Not sure what it was, but the entire first and second loops they were out there darting back and forth across the road.  Perhaps on the third loop they got wise following the near fatal furry foul-up.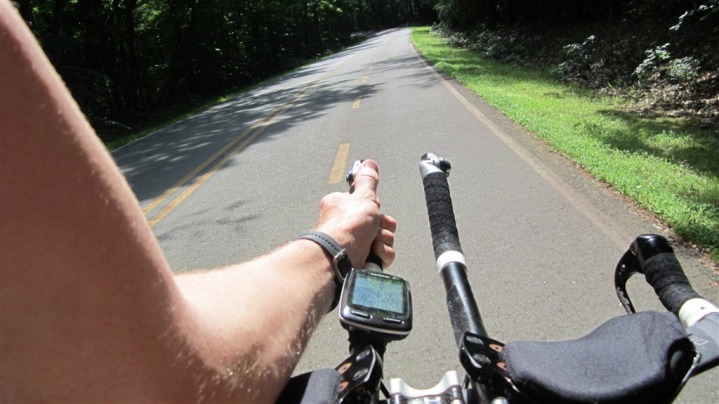 The second loop went well, and I shaved off about 70 seconds, bringing it down to 27 minutes.  Not bad at all!
The I kicked up the intensity again, this time to Z4A, which brought a corresponding power increase.  But it wasn't until the way back on that loop when I elevated the zones one last time to Z4B that I saw my highest averages – 282w.

I also saw the fastest speeds for this segment.  And while the speeds were calculated by the distances, I thought it was interesting this one was slightly different than the rest.  Guess I should have done my GPS accuracy tests here instead…
After I got off the bike, I was still feeling pretty good – so good in fact that you got this quick T2 picture with my stylish jersey I picked up in South Africa during my cycling there a few months ago: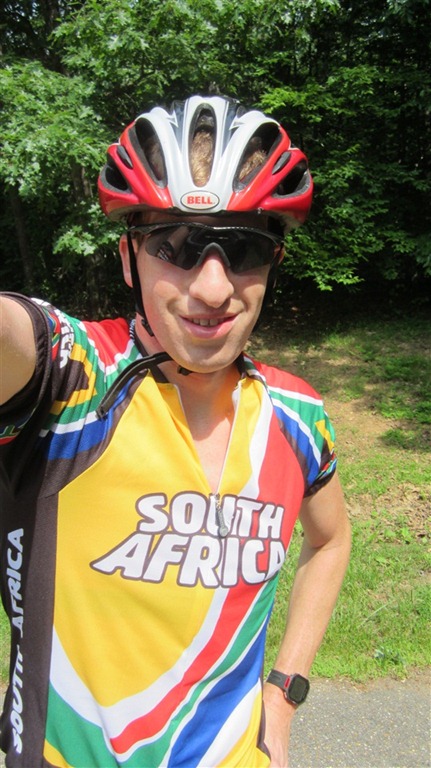 With the bike done I quickly stashed my bike atop the car and hit up the run.  In a similar fashion to the bike, this was increasing in intensity, 10 minute chunks at at time.  I started off with 10m of Z3, then 10m of Z4A, and then finally finished with 10m of Z4B before jogging/walking a 5 minute cool-down.
All in all, this netted me a very fast run.
By time I was done I couldn't be happier than with both my bike and run numbers.  And despite being a rather warm day, I came away feeling pretty strong and ready to roll.  I had the same feeling after last week's 80 miler as well – still felt good at the end.
Oh, and here's a post-run pic.  The girl was distracting me, hence why I'm looking away: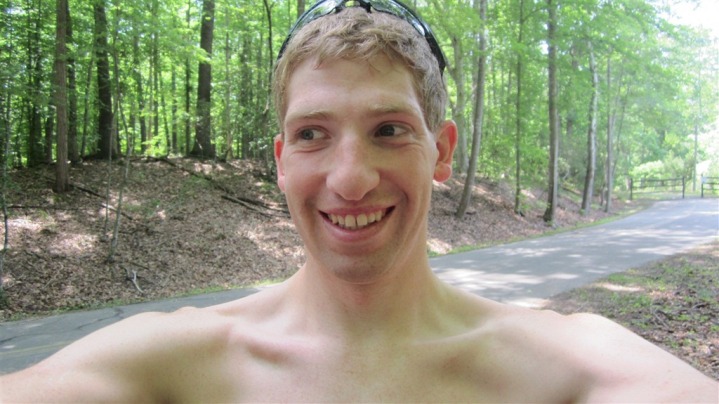 Since I had finished about 15-20 minutes ahead of The Girl, I jumped in the car and went down to give her some encouragement.  The nice part about PWFNP is that sometimes (like this Saturday), it's completely dead and quiet there.  I think I only saw 2-3 cars the entire time we were there.  So I just put on the hazards behind her and watched her scream along the last few minutes of her run.  I also acted as the defacto water boy.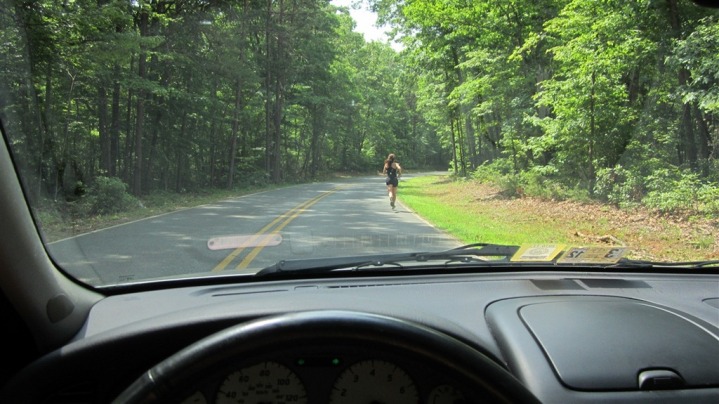 She was going so quickly that she was actually keeping pace with a family on bicycles ahead of her…pretty cool.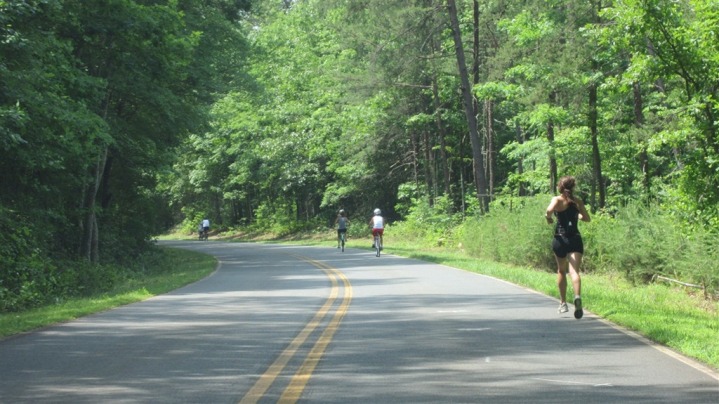 The rest of Saturday was spent both relaxing and doing a handful of accuracy tests that I still had outstanding.  I'll be saving the results for this week, but here's a few pics. I should point out that before I started these tests I had to figure out how to mount the 9+ devices I selected for testing:
All in all I tested the following:
– Garmin FR310XT
– Garmin Edge 800
– Garmin FR610
– Nike+ GPS Sportwatch
– Garmin FR210
– Garmin FR305
– Polar RCX5
– iPhone 4 (with RunKeeper)
– Sony Ericcson X8 ANT+ Android phone (with RunKeeper)
Once that was done I headed on out and got with the program.
The two phones were strapped using a typical armband, one designed for the iPhone and one designed for the X8.  Everything else found its home on the wheel.  The accuracy testing is very similar to the ones I did last year, except with a few minor tweaks and one additional test.  I'll detail all of the changes and reasons why I did things the way I did them in the first half of the accuracy test series.  I include why I selected the devices I did in that as well.
Sunday was a bit of a blur, picking up things related to the wedding…which is crazy as it's less than 30 days away.  Holy smokes!
Also crazy is the water temperature for Boise 70.3!  This weekend it was reported at a rather chilly 51*F.  Some reported it as low as 49*F.  Either way, it's really damn cold.  The coldest water I've swam a triathlon in was my first half-iron – The Big Kahuna Half-Iron – out in California.  It as mid-upper 50's then (btw, that was my first race report I wrote on the blog, fun read).  I don't believe however that the water temperatures at the two Polar Plunges count towards low-temp swims..
In anticipation of the colder water I ordered both neoprene Blue Seventy socks and a Blue Seventy neoprene cap.  That should hopefully keep things semi-functional after the 1.2 mile swim.  If not, I suppose I still have another 69 miles to get warmed up.
Finally, I've got a bunch of exciting stuff coming up this week – both on the giveaway front, but also on the Men's Health front, finally announcing what's going on there, as well as of course the accuracy tests.  Good times abound!