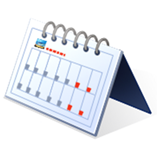 I've long since wondered what to do with all the random tidbits of things I collect each week – or the little thoughts that don't quite make for a full post.  But I finally came up with a solution: The Week in Review Post.  This takes the place of my Weekly Mailbag – which is over on Slowtwitch.  These are just quick snippets of things that I've found interesting.  Nice and easy weekend reading.  Plus, a recap of my Weekly Mailbag post a well.
So with that, let's get into the action!
Weekly Mailbag over at Slowtwitch.com:    
This week I cover the following topics over at Slowtwitch as part of the mailbag series.  Read all about it over here.
1) Elevation Correction feature on websites
2) Heart rate while swimming and swim distance/lap gadgets
3) Run/Walk setup on Garmin FR305
You can read all my past weekly mailbags at Slowtwitch here.  Or the pre-Slowtwitch days here.
Posts this past week:  
A wide variety of posts this week covering quite a range of stuff – including the massive RCX5 review, here's what made the page:
Sunday: 80 Miles of warm cycling and farming fun
Monday:  Opening weekend at the outdoor pool
Tuesday:  Garmin Forerunner 610 May Giveaway Results!
Thursday: Polar RCX5 In Depth Review
Friday: Friday incoming products
Stuff that I found interesting around the interwebs:  
The last few weeks have had just too much good stuff out there, luckily, this week was a bit more tame:
1) The head of the Tour of California goes over to be the head of World Triathlon Corporation.  It'll be interesting to see what, if any, changes come of this to the Ironman brand over the next year or so.
2) Running the Great Wall of China Marathon: A reader sent this into me, a pretty cool post about his experience running the Great Wall of China.  Looks like a blast, and much better weather than when I went. Congrats Brian!
3) Swimsense adds sharing of individual workouts.  You can now share just an individual workout through FaceBook or Twitter or carrier pigeon.  This was a feature I'd been poking at for a while, happy to see it there.
4) Different Strokes for Different folks: A short but funny exchange between two up and coming pro athletes in their dorm room about training, runners vs triathletes.
5) Another Android app adds support for ANT+: The folks at SportyPal added ANT+ support for those phones that have it built in (like the Sony Ericsson's).  Cool stuff.
See how I got that back to a reasonable/manageable number of links this week?  You can thank me later.
Random Notes:
I have no random notes this weekend, I'm saving them all for the week…thus making them slightly less random and slightly more focused.