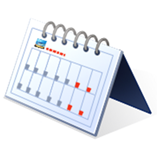 I've long since wondered what to do with all the random tidbits of things I collect each week – or the little thoughts that don't quite make for a full post.  But I finally came up with a solution: The Week in Review Post.  This takes the place of my Weekly Mailbag – which is over on Slowtwitch.  These are just quick snippets of things that I've found interesting.  Nice and easy Saturday reading.  Plus, a recap of my Weekly Mailbag post a well.
So with that, let's get into the action!
Weekly Mailbag over at Slowtwitch.com:    
I choose to completely (mostly) unplug the last 24-36 hours and enjoy doing non-writing things.  So this is coming later this evening…stay tuned! You can read all my past weekly mailbags at Slowtwitch here.  Or the pre-Slowtwitch days here.
Posts this past week:  
A wide variety of posts this week covering quite a range of stuff, here's what made the page:
Sunday: Week in Review–May 8th, 2011
Monday: A weekend at home and in the pool with the Polar RCX5
Tuesday: Search for the Eastern Passage
Wednesday: What I learned after getting hit by a car while cycling
Friday: Tip of the day- Where to place your tri shoes in transit
Stuff that I found interesting around the interwebs:  
Somehow the Internet was full of interesting stuff this week. So a big pile of awesomeness for you to sift through:
1) The UCI Pro Cycling Doping Rankings Document: Put this on the list of things that someone didn't mean to leave behind on a train.  This document lists out every Tour de France rider last year and the perceived 'doping likelihood'.  I really can't make this stuff up folks…
2) Head of USAT adds a camera to his own bike during duathlon nationals.  Interesting little video viewpoint from USAT.
3) There's talk of a new Ironman race…and this time it's in New York City.  Seems like there's already been a fair bit of planning work done at this point, so this one might actually come true.
4) Finally…an exercise bike that integrates with something other than an iPhone/iPod.  This one goes all Android on us.
5) Jonathan Vaughters viewpoint on being alive and cycling crashes.  After this week's tragic cycling crash at the Giro, take a moment to read this article.
6) How to overhaul the pro triathlon scene.  Olympic Medalist Simon Whitfield weighs in on some ideas for improving the ITU triathlon world.  Some I agree with, but others I think will artificially limit the already slim sport.
7) Interesting article on Age Group Drug Testing.  Lots of thoughts swirling over the past few weeks on potentially how to best execute on age group drug testing in triathlon.  Maybe at some point I'll write up a post on that.  In the meantime, check out that link.
8) Ever wonder where exactly the 40K time trial (TT) came from?  Well, wonder no longer.
9) Top 100 Greatest Running Tips and Quotes of all time.  Or just random things you can say at the supermarket, your choice.
10) Interesting little video talk with Garmin Engineers about the design of the Garmin FR610, some cool sketches in the background.
11) DCTri Member Shooting for the Olympics: Some initial thoughts on coaching at the elite level tossed in as well.  Short and easy post to read.
11) Want a Suunto M5 GPS watch?  Wander on over to that link, do some clicking and you'll be entered.  Some day I might even review a Suunto watch…but don't be getting' all crazy now in the meantime.
12) Here's a cool Video of Team Sky using Training Peaks, kinda interesting to see how they're looking at history year over year.
Team Sky using Training Peaks
Random Thoughts  Section:
Just a quick apology for the site acting a bit wonky on Thursday and Friday.  As you probably read, Google's Blogger/Blogspot platform kicked the bucket a bit the last half of the week.  While accessing my content wasn't an issue, the ability for me to post new posts and you to post comments was.  Which…kinda sucks.
On the bright side, this is the first time in over four years it's had any problems (at least for me)– something that realistically most paid hosting providers can't actually say. So for now I'm stickin' with it…partially because it's free, and partially because I just want to spend my time being a web admin.  I'd rather spend my time writing cool stuff for you to read and running around outside in circles, than fixing web code.
Thanks all for reading – I appreciate it!