This weekend was somewhat gloomy around DC weather-wise, in what continues to be a rather 'blah' spring.  Great running weather, yes, but not ideal cycling or 'just enjoying spring' weather.  So, we decided to make the most of it, starting with Friday night.
It's been a while since I've made fresh pasta, which is probably my favorite thing to cook.  I love Italian food, and being half-Italian, I never shy away from any sorta of pasta.  So I took over the Kitchen Aid Mixer from Berties Bakery for a moment, and went to town:
Making fresh pasta only involves about 15 or so minutes of actual work time, once you get the hang of it.  The only waiting time involves about 15 minutes after you kneed the dough initially, after that – it's just a matter of how fast you can work. Here's a previous post I did on putting together fresh pasta, for those wanting to mix it up at home tonight.
I hang the sheets up temporarily just because that's the only place I have to put them all.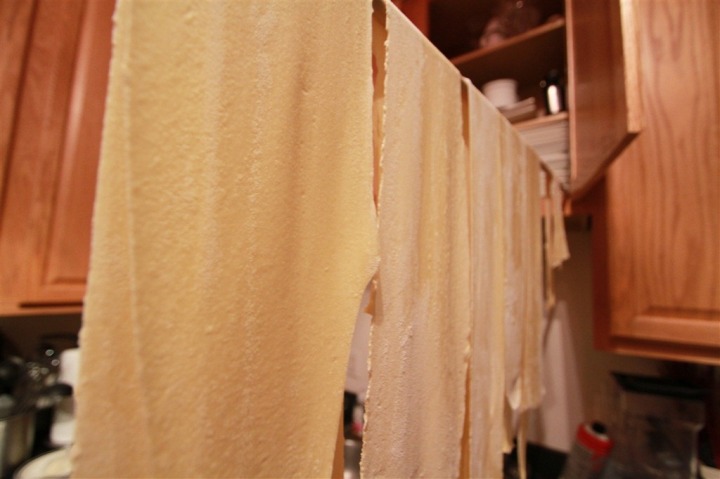 For casual nights like this, I just do simple pasta rags – which are awesome as they fold up and collect the meaty sauce, tasting great!  To make the rags I simply slice and dice them into little squares.  Easy work:
When it's all said and done I add the meat sauce I made and then top it off with some freshly grated parmesan cheese:
So good!
The next morning came soon though, and we found ourselves looking at the weather.  It generally looked like crap – rain and thunder squalls coming through, and really just rather unpleasant.  Add to that a drive an hour south in traffic to go riding, and my motivation level pretty much fell through to the ground.  Riding in the rain really doesn't bother me, and I actually find it fun.  But I just didn't feel like doing it for four hours this weekend.  So instead we hopped on the trainers and got things ready:
While we got warmed up, I wore the famous DCRainmaker t-shirt that The Girl made me back for Ironman Canada a few years ago.  Awww…moose!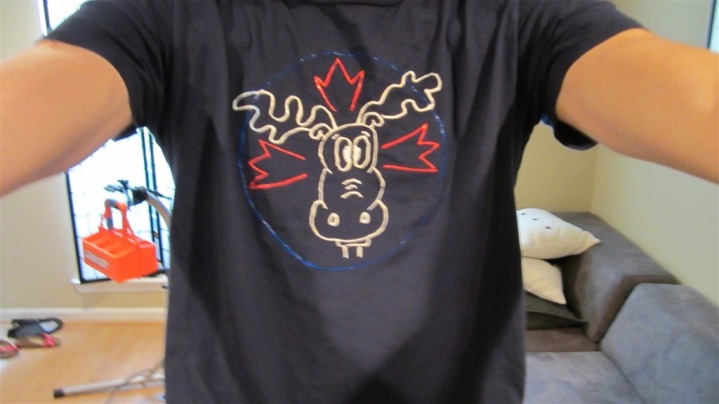 After that…we peddled.  A long time.  Went through a lot of TV shoes, a full length movie, and some YouTube videos (the Fail Compilations my brother introduced me to are awesome!).  I can say the ride wasn't exactly the pinnacle of my training efforts.  Lost a bit of motivation around the 3 hour marker, legs weren't too bad actually, just simply didn't want to be on the bike anymore.  I find that about once a year I have one of these bike days, usually about a month or so ahead of my first 70.3 or long race of the year.  Just a mental thing.
Soon I found myself outside for my brick run – which actually went rather well.  I think I was in "Don't care anymore" mode and just ran.  Pretty much ran the fastest I've run in months on a brick run, flirting with sub-6 back and forth for the majority of it while staying in the specified HR zone.  Sweetness!
After 4+ hours of training, there was really only one thing left to do:
Yes, IHOP.  Sometimes, you just need IHOP to make it all better.
As Sunday strolled around the only thing on our schedule was meeting up with Lindsey to do some long course swimming at the Wilson Aquatics center in Northwestern DC.  Long course swimming means it was setup in a 50m configuration (one length = 50 meters), versus a standard short course 25y configuration.  You can see below how the lane lines go the length of the pool long ways, versus going across the pool the short way.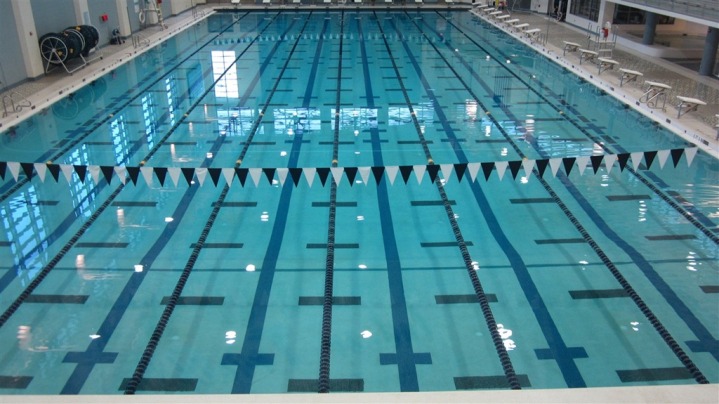 We got there a bit before closing time, and then just swam our butts off until they kicked us out.  Looking forward to heading back up there sometime.  It's nice to swim with others, mix things up a bit.  Also, the 50m configuration is a totally different world than short course as you've got half the flip turns, double the length between each flip, and then another roughly 10% more distance per length as well (due to conversion from yards to meters).
Good times this weekend!  Hope everyone's training is going well! And thanks for reading!