I'll admit it upfront – I'm really lucky.  Or rather, I'm really lucky to have a coach who's so incredibly detail oriented that he's thrilled to pour through whatever I upload – be it data files, text commentary, or photos (yup, sometimes those too!). While I write a bit from time to time on the workouts my coach prescribes, I haven't actually touched on how it all works when it comes to getting detailed feedback. I recently got a question regarding how exactly the whole process works from workout to feedback.  So what better way than a step-by-step overview of how it all goes down. The Pre-Workout: This evening I put together my life schedule for the next four weeks, which includes details like work trips or other things that would impact my training.  From there, he takes that information and put together a comprehensive schedule of workouts for the next four weeks.  While nothing is ever set in absolute stone, this provides a good structure for me to work off of.  It looks at a high level like this:
(No, not matter how much you expand it…it still won't be readable…sorry!)
Yup, that's some 13 pages of everything from a calendar overview on the first page, to detailed workouts for swimming, cycling and running broken out by day – as well as core strength type workouts at the end.  I've purposefully zoomed out because he puts a lot of work into these workouts and their his property…plus, I can't give away all the secrets! When it's time to break out my workout for the day I dig through the Word document and find the corresponding week and workout.  That tells me exactly what I'm doing for that day.  Take for example, a run I did last week:
:10 Z2 :05 building to Z4A :02 easy 3 x (:05 Z4B, w/ :02.30 easy in between) :02 easy 4×30" hard Cool Down
Now that I've figured out what I've got to do, it's time to actually do it. The Workout Itself: This is the part where I actually do the workout itself.  In general, I simply just run my butt off.  Last week's 3x5m was actually pretty easy, and was considered an easy week workout.  This week was a whole different matter where both the number of sets and length of repeats' times increased a fair bit. Nonetheless, I simply go out and run: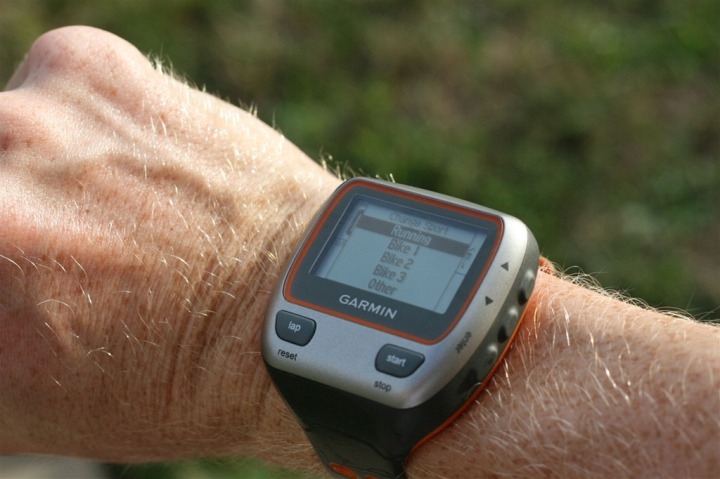 As I'm running, I'm doing one key thing: Creating laps on my watch.  For each segment noted above, I'm creating a lap.  So for example, the first 10 minutes is a lap, the second 5 minutes is a lap, and so on.  The reason I do this is that later on it makes it much easier for me and him to analyze the relevant parts.  If I had just used automatic mile markers, it wouldn't be of much use later on, because of the structure of this particular workout (had it been a simple 20-mile run, then those would be more useful). After I'm done, I simply stop and reset to save the file like normal. Uploading: Here's where the techno-magic kicks in.  Well, mostly anyway.  First, I crack open the Training Peaks device agent to upload my workout: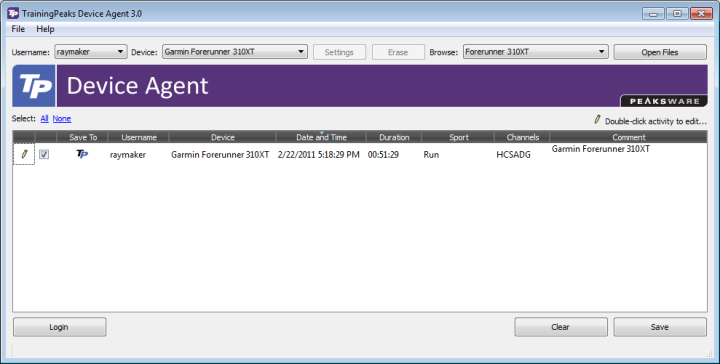 I don't bother to edit any of the data within the device agent window, though I could.  I do that in the next step instead.  From above I click Save to have it upload to Training Peaks (TP), and then click Login to automatically log me in.  A few short minutes later, I'm here:

This shows me my calendar overview of workouts.  It says "Coach Alan" because my account is actually paid for by my Coach, and he's gone ahead and customized the banner; otherwise it would just say Training Peaks. In my case, I'll see my run, which I'll go ahead and click on, which brings me to this page: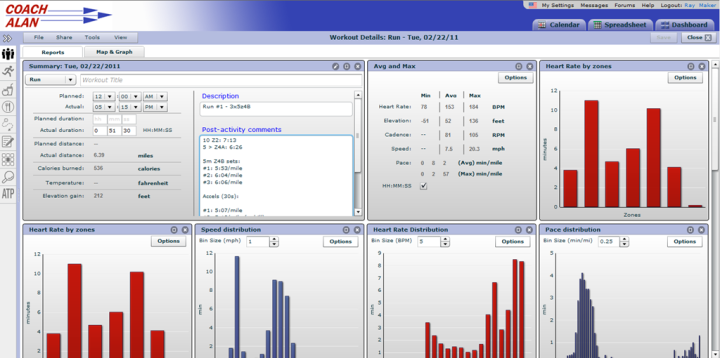 This is the workout overview page.  You can see gone ahead and typed in the description of the run in that box, as well as information about each of my sets in the post-activity box.  You may be wondering where I get that information from.  Well, it's super easy.  I click on the "Map & Graph" tab to get detailed information about the run, which brings me to this page: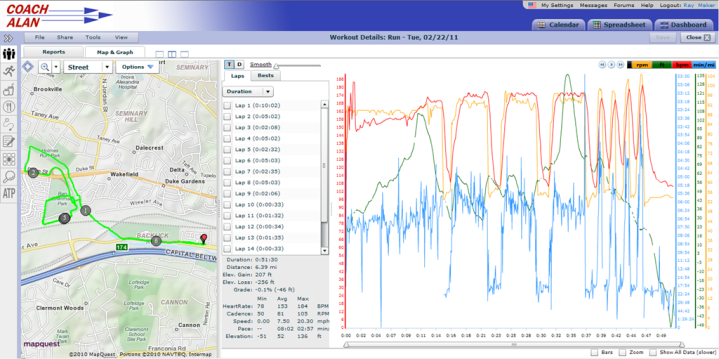 (Love that HR spike there at the beginning…see…I'm not immune to them either…the end ones are legit)
In the center of the page you can see that column with individual laps.  What you may have noticed is that these are my actual laps that I set on the watch itself.  So, let's take a look at one of the ones in my core set: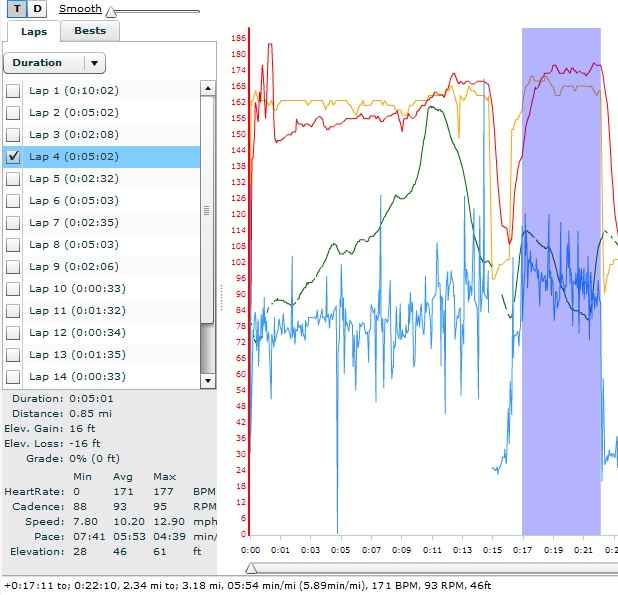 You can see above on the highlighted lap that if you look at the 'Avg' column my average pace for that 5 minute set was 5:53 (good deal!), with a HR of 171 (slightly below planned).  Meanwhile, my running cadence was 93 (not bad at all for me).  It also highlights it on the side. Now, you may be wondering why I re-type this information into the description field if it's easily accessible here.  For me, it's primarily just to make quick reference easier.  While Coach will re-analyze all my splits regardless of whether or not I type them up, I just do it so if I'm glancing back a year from now I have them in 3 seconds versus re-analyzing what I was doing that day: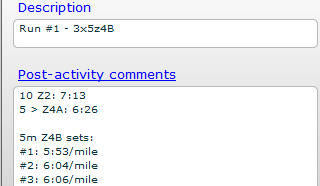 I also use this space to provide random other comments as well about the run.  Take for example this from a few weeks ago:
So with that, I then sit back and let the magic happen. Feedback and Analysis: A short bit after I save the workout it will automatically e-mail my coach the workout and a link directly to that particular workout.  While he can always look at any workout on my calendar (he has the same view as I do), this makes it easy for him to look at just that individual workout.

Because I'm super-lucky to have a coach that is actually invested in in his athletes, I get incredibly fast feedback.  Typically if I upload anytime he's awake (about 7AM to 10PM), I'll get a response within a few hours.  The responses from Coach vary from super-detailed to just 'detailed'.  There are never any un-detailed responses, that's not a valid setting apparently. I picked a different workout to show you that I always get great feedback – even when I may have slightly missed the ball on something (or nailed the majority of it, as is the case below).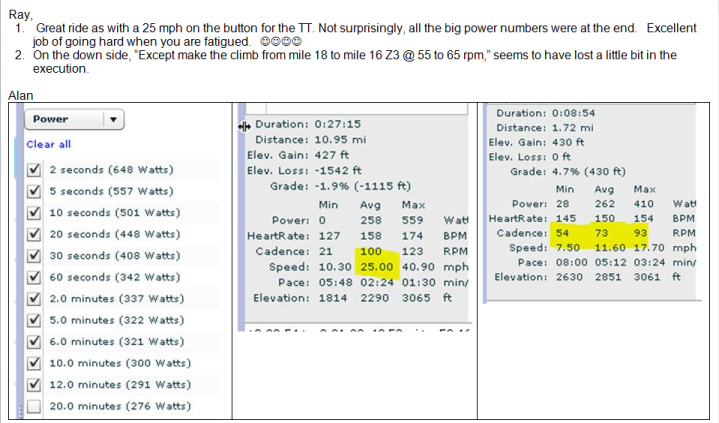 Of course, sometimes there's some follow-up banter back and forth after the analysis e-mail.  Not always, but it just depends on the e-mail and if any follow-up questions from him were needed. As you can see, it's a pretty involved process.  I recognize that not all coaches are this involved – which doesn't mean they aren't good by any means (well, you may remember my first coaching disaster).  It simply means that my coach is very involved and very much interested in really using technology to understand how his athletes are progressing.  It also helps that he doesn't have a huge number of athletes either, just a group small enough that he can do this to his enjoyment. Hope you found this overview of the process interesting, as always, if you have any questions – feel free to drop them below.  Thanks!