The running world's been all abuzz after yesterday's changes to the Boston Marathon qualifying times, which are slated to take effect in part later this year and then in full the following year.  At a glance the changes shorten the qualifying times by five minutes across the board – while also introducing a new registration system that allows folks with faster times to register ahead of those with slower times.  But, before we get into too many details…let's take it one step at a time.
The Time Reductions:
First up are the time reductions of five minutes across the board.  Out of all the changes, this is the most obvious – but in my opinion not the most impactful.  These reductions simply aren't drastic enough to make a meaningful impact in the total Boston Qualifying field.  They will simply change the makeup of the qualifying field, not meaningfully the quantity of qualified applicants for it.
You may remember my pretty detailed analysis of Boston Qualifying standards

and times back from this fall.  If you haven't read it yet – I highly suggest that as a quick primer to this whole discussion. The result of the analysis of years of data showed that the qualifying times simply aren't keeping up with advances in runner times.  Further – and most importantly – there really does exist a gender and age gap when it comes to qualifying times (beyond the obvious increments in qualifying times).  One that makes it statistically easier for women (proportionally), and additionally makes it easer proportionally for both groups as they grow older.
Many were hoping that the planned cuts would more drastically look at some of the qualifying times – especially on the younger women's front, and bring them in line with what historical and gender/age grouped marathon times show would be appropriate.  Of course, that's in addition to cutting the men's times. 
But that didn't happen.
Instead, they implemented the across the board cuts of five minutes.  What this does is somewhat obvious – it effectively cuts the younger men's groups (lowest of which covers M18-34) by a proportionally higher amount than the already disproportionate other groups.  Now – some newer readers may think this might be about me (Ray) qualifying.  I assure you…that's not the case.  My marathon qualifying times are still jiving with the new standards by a fair bit (obviously now expired, but that's fine, I'm not planning on running Boston again soon).
The challenge here isn't as much the fact that they cut everyone by five minutes…it's that they didn't cut deep enough in other areas.  By doing so I don't believe they made a meaningful enough change to really allow folks to predict whether or not they'll actually get in once they run a BQ time.  Of course I believe this means that most folks will look at the new qualifying times and simply assume they now need to be five minutes faster.  Which won't be the case.
The Graduated Registration System:
In addition to the change in qualifying times – they've also introduced a change in registration dates.  Instead of the typical 'open season' registration date of the past where everyone and anyone with a BQ time can register starting on a given date – they've shifted to a system where faster runners get to qualify sooner.  On face value, that's not such a bad thing.
Here's a quick chart of what this looks like: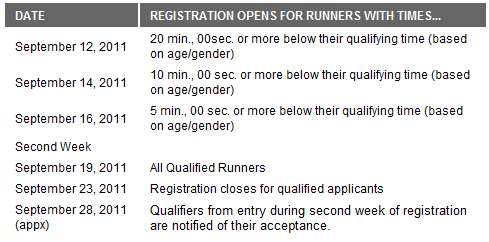 As you can see, if you've exceeded the qualifying time by 20 minutes, then you can register first.  This first grouping actually harkens back to the 'original' Boston Qualifying times of sub-2:50 – effectively putting folks with qualifying times in that range automatically in.  But it also will likely heavily favor older age groups and women's groups where the qualifying standards aren't quite as strong as the qualifying times being posted.
I suspect we'll see the biggest influx of registrations in the 'minus 10 minutes' category.  That's where the women will largely triumph (at least based on the numbers), but also where many of the non-elite but still 'fairly fast' folks tend to hang out.
Then we have the 'minus 5 minutes' category.  This is where, quite frankly, Boston will sell out.  I simply don't expect us to make it all the way to the 'All qualified runners' stage.  There are just far too many folks that beat the qualifying times by 5 minutes or more – across all age groups, but especially all age groups outside M18-34.  As a resultant of that, I suspect you'll see the biggest shift in numbers coming out of that group.  I'm not saying that's necessarily a bad thing, but it's just the reality of how it's going to go down.
Assuming for a moment that there are any slots leftover after the T-5 folks register – those slots will go to the general admission stage for people who qualified with under five minutes to spare (a lot of folks, by the way).  Entry will be held open for five days, at which point the fastest runners of that group will be given acceptance notice.
What you're seeing is a shift from a 'guaranteed entry' by running a given BQ time, to a Russian roulette style entry.  In order to ensure entry, you really need to be T-10 – simply meeting the basic BQ bar isn't going to be good enough.  While I do suspect some T-5 folks will get in, it'll likely be restricted to only those that get lucky before it sells out.
The Qualifying Date Changes & Implications:
The last change I want to cover is the one least mentioned.  This shift involves changing the qualifying calendar window.  Historically, the qualifying window has been from roughly 19 months prior to the Boston Marathon event itself (April).  Thus, if you ran a qualifying marathon in the fall, you'd be able to enter and run that spring at Boston.
Now however, registration has shifted to early September – prior to virtually every major fall marathon out there.  Even more, the qualifying window has been shifted slightly in one direction – but substantially in the other.
Using this year as an easy example, with the race in April 2011 you could qualify on any marathon between September 2009 and April 2011 (in theory anyway, if it hadn't sold out).  Of course, in practice this year it really meant September 2009 to October 2010 because of the sell out.  But prior to this year, you could legitimately qualify with a marathon the same year as Boston itself.  There were/are even marathon's that dubbed themselves 'Last Chance for Boston Marathon', as you used to be able to qualify that late and then run Boston literally just a few weeks later.
Now, the entry period has been adjusted.  Instead, it's a 12 month window from September to September.  Thus, looking forward, qualifying times for the April 2012 marathon will only encompass September 2010 to September 2011 (realistically, August 2011).  Of course, since the majority of marathons are run in the Fall, with a smattering in the spring – what you see is that most folks will go into Boston potentially not having run a qualifying marathon time in some 19 months.  This compared to the past when you'd likely run a qualifying time within about 6-7 months of Boston itself.
While Boston as an event for most has always been a bit of a celebration of your accomplishment more than a 'race', I'm curious to see what impact this will have on finishers times.  One one hand, the shift in registration system will result in significantly faster runners (i.e. the T-20 folks) who are more likely to be running fast times all year around anyway.  Yet on the other hand, you now see opportunity for folks to qualify…and then basically ignore training for a year and a half.  I'm not sure that's necessarily a good thing.
The irony with the 'Last Chance' marathons is that the past 2 years made them somewhat obsolete (from a last-minute qualifying perspective), yet now these changes actually make those marathon a legitimate last-chance prior to the warmer summer season that generally lacks marathons.  What comes around goes around I suppose.
Summary:
While I think that the time reductions were indeed a good start and necessary, I don't think they realistically went far enough in the right categories to make an impact on registration day.  While I realize it's not popular to advocate for cuts in times, one has to recognize that the current system just wasn't feasible anymore.  Next year would have otherwise resulted in registration selling out in mere minutes…if that.
Further, while I appreciate the graduated registration system – I'm not sure it really helps runners to predict whether or not they'll actually be able to enter come registration time.  Unless you have a T-10 qualifying time, I'd be highly hesitant to say for certain you'll be able to register. And finally, I don't think the newly effective qualifying window realistically is in the best interest of the event from a performance standpoint.  I would have preferred to see registration open  following the fall marathon season (i.e. the Monday after Thanksgiving) – thus pushing qualifiers closer to the running of Boston itself.
Of course, it'll be very interesting to see how this all shakes out in September and then what changes BAA makes as a result of it…as I'm sure the winds of change are brewing.