Wow – the end of my first week at home!  Awesome!
With a full week of training I've been able to get some really good solid workouts in.  Take for example my Tuesday run.  This workout starts off with an initial 10 minute easy build, before kicking it up a notch for five minutes.  From there I repeat four interval sets at what is roughly 10K race pace (though, defined by heart rate).  Each set this week was 6 minutes long plus rest, though that will slowly rise to 9 minutes – along with the number of repeats increasing to five on hard weeks and three on easy week.
I always talk about how when I'm doing this and similar workouts at home I use the same terrain and loop each time for each interval.  That allows me to remove the terrain aspect of the equation and focus on just how my body is reacting to each successive loop.  It also allows me to very easily gauge progress not only week after week – but year after year.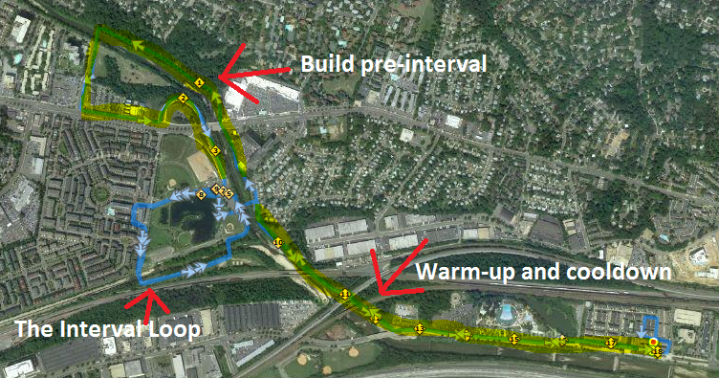 For example, looking at at this week, I was hovering just over 6:00/mile for each loop, here's the splits:
Z2 Build: 7:00/mile
Z4A Build: 6:34/mile
Interval #1: 6:06/mile
Interval #2: 6:11/mile
Interval #3: 6:13/mile
Interval #4: 6:20/mile
Since I'm 'capped' by heart rate you see my paces slide as my body becomes more tired.  This isn't a case of simply running faster, as then I'd get yelled at by Coach for not following the workout. You can see this below more visually in my pretty graph: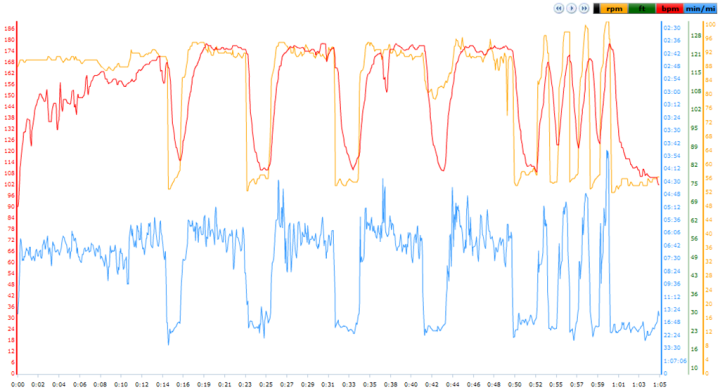 While those are good paces – they're still off by about 15-30/seconds a mile from where I was last year.  But that's to be expected.  My training hasn't been nearly as consistent with all the travel – and I consequently take a hit from that.  But by the same token – it's also a bit better than I expected.  While I've been running and cycling all of January/February during my international work trips, the climates and terrain has varied considerably.  It's very difficult to tell if your slower pace on a given day is due to heat and humidity, terrain, travel fatigue…or just because I'm simply sucking more wind.
Thus why it was good to get back home and back onto my normal training grounds.  Kinda like a litmus test of sorts.
And the same is true of cycling as well.  Trainers provide a great way to truly test and understand fitness gains by removing all variables such as stoplights and cars.  In a workout that's structured very similar to the above running one – I get to see exactly what wattages I can put out at a specified heart rate range.  This allows me to better measure advancement in power output week after week.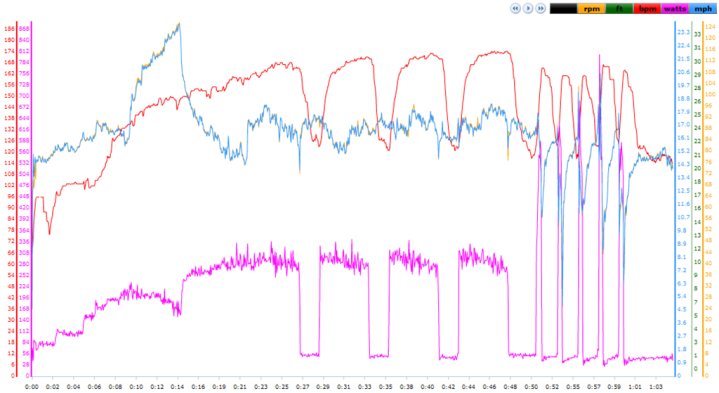 This week was actually better than I expected to be honest.  My average output at a moderately hard effort (Z4B) was about 280w.  This is about 20-30w short of where I left off last year, but I know that historically I can catch back up pretty quickly after a 'break' in the bike.  So I'm somewhat encouraged by this.
I'm also encouraged by the fact that I didn't have to do my old nemesis: IT2.  That's a big ole bowl of pain.
Of course, this all assumes I can keep a regular training schedule.  And after this weekend – I should be able to do that.
And when I say 'after this weekend', I mean that…well…I'm not entirely at home anymore. 
I'm already back out of the country.  Left last night with The Girl for a long weekend away with some friends.  It's been planned for quite a while – before I knew I'd be doing the trip back to back to back with other trips.  No worries though, it's kinda like the cherry on top from a travel standpoint.
But despite all the recent travel, it'll still be fun – so I'm looking forward to enjoying it and the time together with The Girl (and our friends)!  Enjoy your weekend everyone!