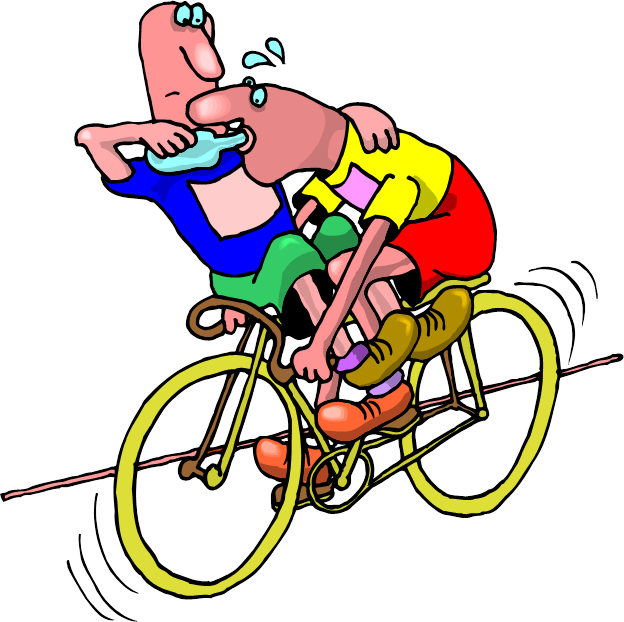 (Side Note: I have no idea what on earth this clipart image is depicting.  I was searching for random images to use for this post using the Microsoft  Word clipart selection and out of curiosity entered 'triathlon' – and got this image.  It looks like a member of the Flintstones feeding a dinosaur on a bike…roughly.  Either way, it was too good to pass up – so it stuck.  Ok, that's all I have on that.)
–
It's very clear that this spring is gonna be busy around these parts!  The number of review and related requests over the last week or two has really taken off.  All things focused on new products coming out over the next few months – tons of really cool stuff on the way.  I'm gonna need one of those 1990 style PDA's (personal digital assistant, not public display of affection) to keep track of everything.
Looking at stuff that's on the way, here's a bunch of quick updates from many different fronts:
1) TACX Trainer Coming Soon: The folks at TACX are sending me one of their units to put through the paces.  You may remember my brief time spent on it back at Interbike – so I'm really looking forward to seeing how it compares to the competition.
2) CompuTrainer Updates: I had a good call Wednesday night with the owner of CompuTrainer regarding issues seen with HR monitor dropouts in the CompuTrainer setup (as I posted in last week's Slowtwitch Mailbag).  He noted that they believe they fixed these with a new hardware component (R982-207-02) sent out last month.  He's sending one my way for me to give try out.  Additionally, he let me know that RacerMate One is currently now slated for April 2011.  I'll be getting that to try out once it gets a bit closer as well.  Plus a bunch of other little updates…
3) Suunto Pow-Wow: Early Thursday morning I spoke to the Suunto folks in Finland.  Well, they were in Finland, I was still in DC.  Hmm, now to think of it, I've never been to Finland…but I'm guessing it's rather cold there.  Oh…anyway…lots of stuff coming down the pipeline there on a number of fronts.  Look for the first of those items to manifest themselves around here in the next few weeks.
4) LeMond Revolution Trainer: Looking forward to both testing out the full LeMond Revolution Trainer here shortly as well.  Should be arriving on my doorstep any day now – as well as a few other goodies that I'll get to show off that they're sending along.  Really looking forward to these items.   You may have remembered my first look at it back in September.
5) Power2Max: I believe I mentioned this previously…but a Power2Max ANT+ Power Meter unit is working it's way from Europe to the big US of A.  Once it arrives – I'll be sure to let ya know!
6) A lot of stuff still under NDA (non-disclosure agreement): For now, there's a slew of items from a variety of companies that are either working on products for this spring, or beyond.  Some pretty awesome stuff here from virtually every major player in the biz.  But that's all I can say about that!
7) The pile: The pile of other smaller products that I've either bought or been sent is still sitting in my home office.  Now that I'm home a bit more I can hopefully get some shorter reviews out the door on a variety of items like TuneBug and others.  I have actually been using that lately on all my outdoor rides (I figure I probably don't need to wear a helmet indoors on my trainer).
Ok…that's what I've got for now.  Well, I probably have more…but my brain is full and thus I can't remember what else I was supposed to write about.  No worries, that's what Saturday is for (well…that and sleeping in).
Have a good weekend all!