I arrived under cover of darkness into Santo Domingo on Tuesday night, after my 48 hours in Guatemala City.  When I left nearly two weeks ago, the Dominican Republic wasn't actually on my travel itinerary, but a last minute change occurred and it made sense to take care of things there now, as opposed scheduling a separate trip later for it.  After all, it is sorta on the way from Guatemala City to Washington DC…well…ignoring the fact that I first swung through Costa Rica.  But those are just details…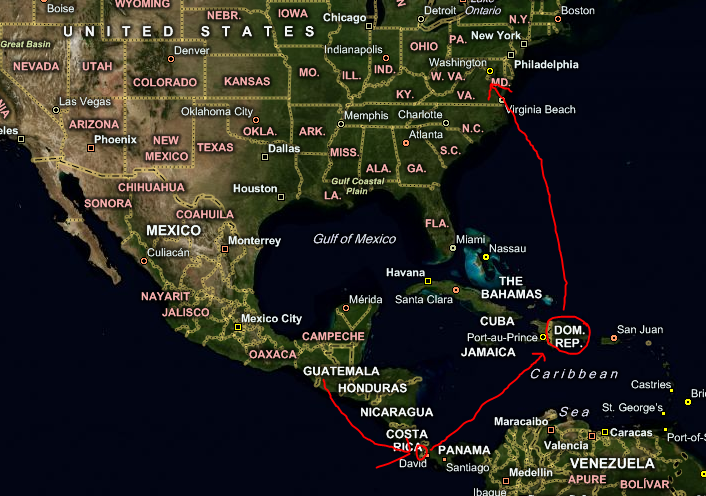 When I got up early on Wednesday, I found that my hotel was actually just across the street from the ocean.  At that time of the morning, the water looked pretty inviting.  But, I was in a hurry to get into the office and didn't get a chance to really check it all out.  Nonetheless, I sent a 'Yup, there's swimmable water' message to Coach and went about my day.
Later on that day I'd get my swim workout as well as a chance to go check it out.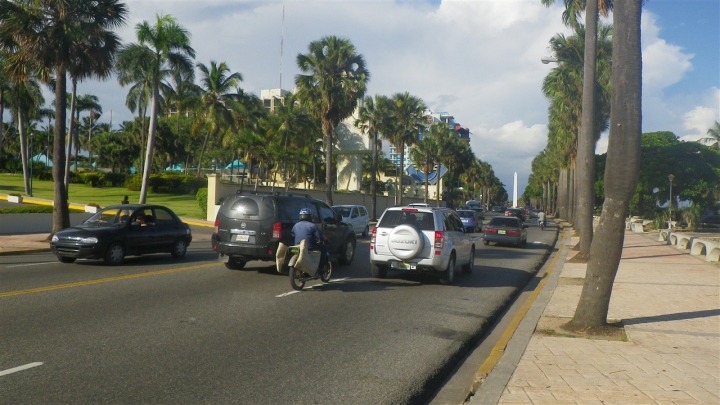 Upon crossing the street, I found one little challenge: No beach.  Just a short drop down lava rocks into the water.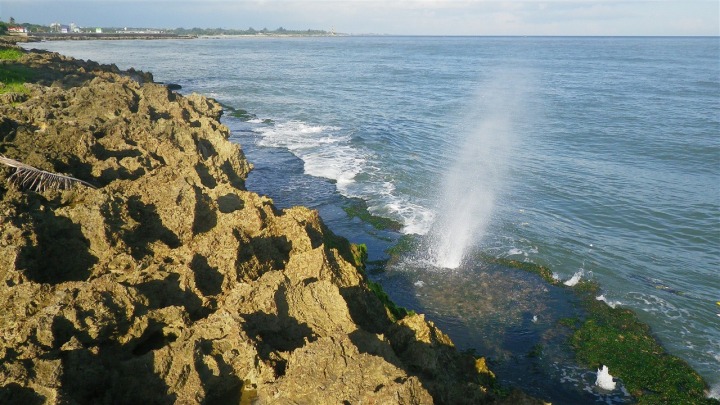 This didn't deter me too much, as I've been to countless places with similar beachfront geography around the world, Palau being one of the more recent ones.  Generally speaking, if you poke around enough you'll find little sandy passages into the ocean – and this was no different.  A short walk later I found my little beach.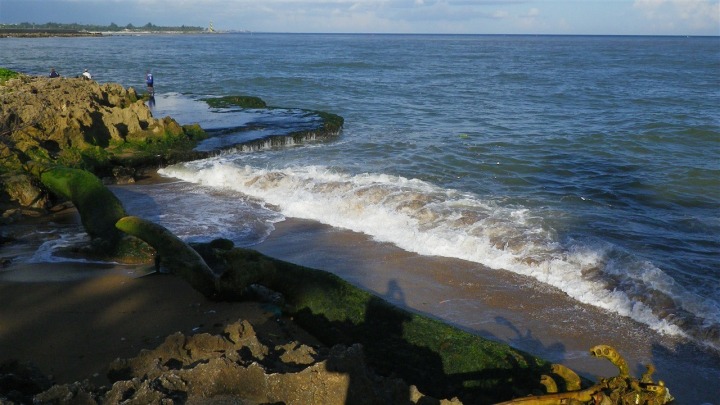 After watching some random bottles float by to get a rough idea of the current (downbeach) I stashed my t-shirt and sandals under some lava rock formations and set out.  There were scattered little fishing boats out and about as well a bit further off shore, so I stayed relatively close to shore.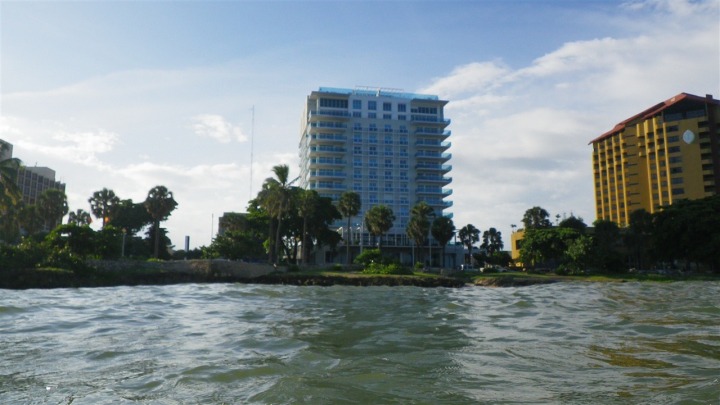 My swim was a 10 minute warm-up, and then building for 5 more minutes.  After that, I'd do 3 x 10 minutes hard.  I figured I'd go down-beach about 20-25 minutes, and then do the same coming back up.  I knew there was a slight current down-beach, so I assumed at worse I'd end up swimming a touch long.  I stashed the Timex Global Trainer in my swim cap, and got busy swimming.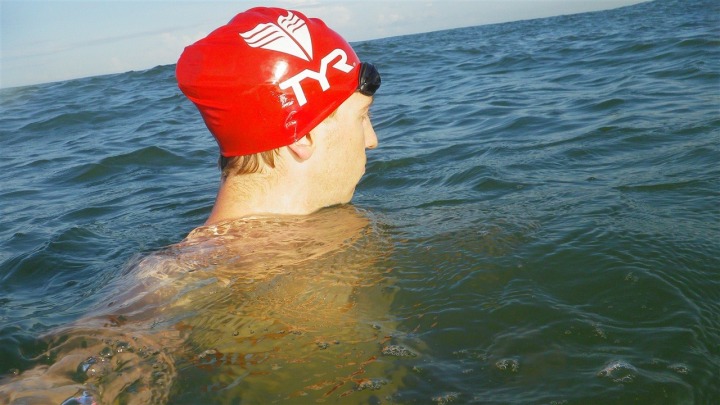 (Oh, I use the Optio W60 for all my swim-related photos, as it's fully waterproofed, details here)
Every once in a while I'd stumble through some light floating debris, such as plastic bags, a bottle, or kelp-stuff.  No matter how many times I did it, kicking a filled floating plastic bag scares the crap out of you.  It inflates like an airbag, and thus feels like you're kicking a huge fish.  But aside from that, I just watched as the beach world wandered on by with each stroke.
At my turnaround point, I started heading back up-beach.  I was roughly equal to the Hilton hotel at that point, which like most beach front stretches, made it easy to not only sight – but also pace.  However, in this case, after a few minutes I noticed that I wasn't really making any up-beach progress.  Sure, I could easily swim closer to shore, but as far as swimming back to my sandals…not so much.
Suffice to say, after 20 minutes of hard swimming, I ended up a bit short: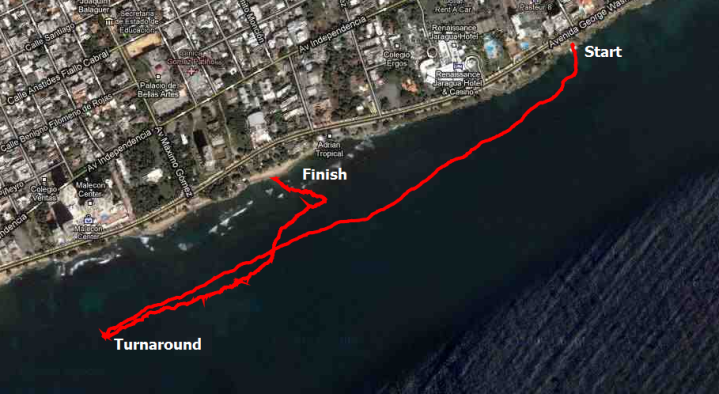 No worries though, I'd just walk the street.  Oh…crap…that's right…no sandals.  Or really anything other than a swimsuit.
But now is when you must apply the 'no money to cleanup beach' clause, which dictates that anything that floats, will end up on the beach…until the next big storm.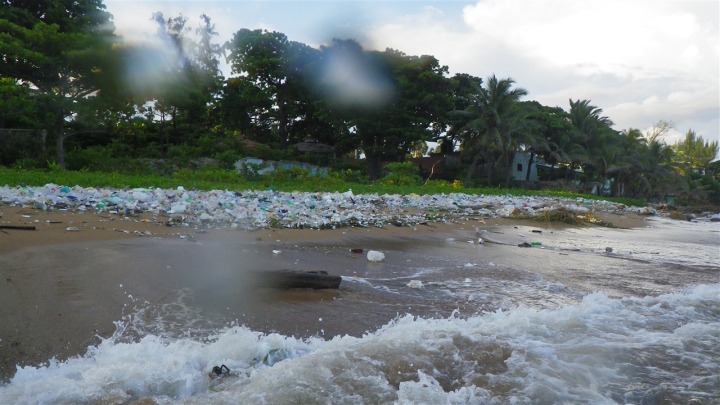 And in this case, that means three things were present: Plastic bottles, foam, and sandals/shoes.  Interestingly, glass was not present, as it sinks. Note, you can click on any of these pics to expand to larger ones.
I had my choice of hundreds, if not thousands of wayward sandals.  So I rounded up a few and made my selection.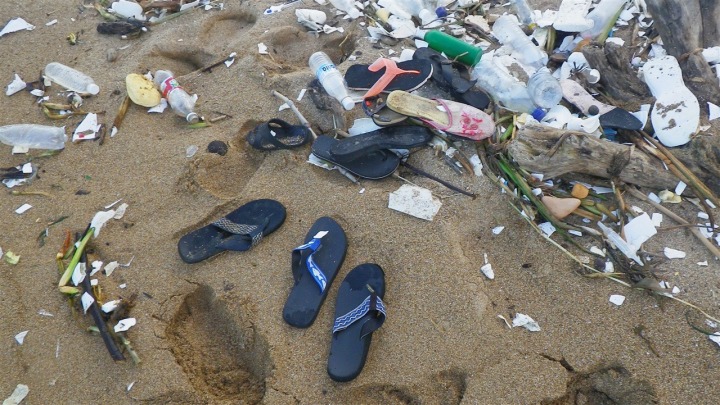 They roughly matched.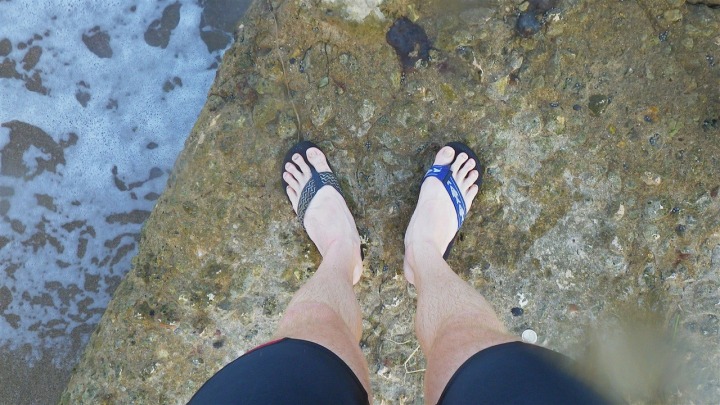 So I finished up and took a few beauty-pics for the Timex Global Trainer review, and then made my way towards the street, which was just beyond a small sliver of trees.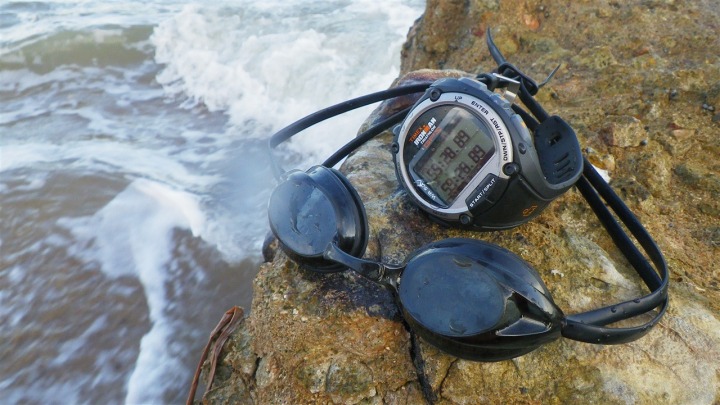 Well, what I thought was a small sliver of trees anyway.  And technically I was right.
Except, for this short little stretch of a hundred yards where I decided to 'land', it wasn't the road.  Unlike the other like 90 miles of beachfront roadway, this was apparently not only privately owned, but also guarded by the local police.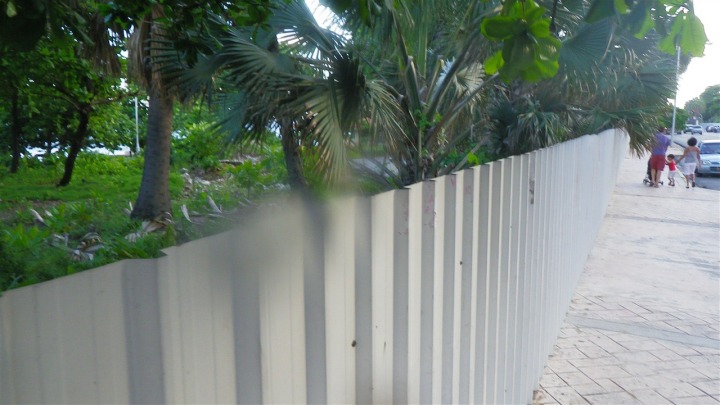 (I was on the other side of this little wall)
Which…resulted in me now being effectively locked into the property…in a Speedo…with mismatched sandals…standing in front of two non-English speaking armed guards.
…who were laughing.
At me.
I attempted to communicate my desire to go through the half-locked gate that I was standing in front of, and they clearly understood that.  But, what was less clear was what they were asking me to do.  I pointed at the sea and made a motion of swimming, yet he responded back with doing a little disco move shaking his hips and swinging his arms.  Like dancing.
The Girl will tell you I can't (nor do) dance.
I swim-motioned again.  He dance-motioned again.
I gave confusion.
He gave dance.
I'm still standing in just a Speedo.
He eventually looks at me inquisitively and starts laughing again: "Americano!?!"
I ponder for a second…and then respond back…"Nope, Canadian".
(Ok, not really, I sheepishly shrugged and laughed…yes…Americano)
To which he gave me the laughing look of 'figures'…and finished letting me out of the gate…and onto the road, where I walked all the way back in my mis-matched sandals and Speedo, and nothing else.  Much to the amusement of virtually every person, vehicle and dog that passed by me…at rush hour.
And thus…my trip to Santo Domingo.
I pretty much saw nothing else besides the hotel, that little stretch of beach, the office, and the airport.  Less than 36 hours after arriving, I boarded a jet plane bound for home, The Girl and my awaiting birthday cake. 🙂
Have a good weekend all!