For Tuesday I'm going to go with something a little bit different than a normal post.  Last week The Girl and I participated in a bit of an experiment…with our bikes.  This experiment took quite a bit of time actually to carry out, but it helps pave the way for future activities as a result.  It involved some dismantling, re-mantling, some twisting, some looking at it funny to see if we got it right, and then a bit more modification of the situation.  Thankfully, no animals were harmed in the experiment.
But I'm going to cut to the chase, in what will probably be my shortest post evah!  (You can stop celebrating now…no really…now is good).
So here's the deal – identify details in/about this picture and you as a result win…well…nothing.  Yes, I know – some folks have fancy contests with all sorts of great prizes.  At the moment, I lack such features.  Maybe in the future I'll be able to up the prize ante to something like semi-stale gel packets.
As for your quest, again, it's simple – identify as much as possible about this picture outside of the bikes themselves (meaning, listing the tire name or bike brand doesn't count):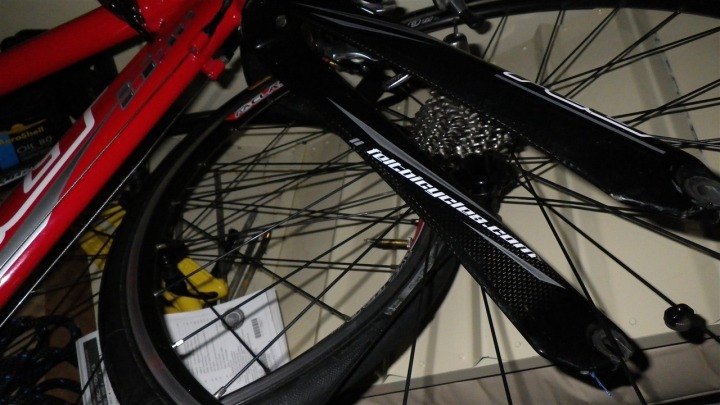 Ye with the most correct details about what these bikes are doing wins the bragging rights.  As a side note, I'm also not above people telling me how awesome I am (or The Girl is), counting as a "correct detail".  Nor am I against cookies and other baked goods being sent to count as correct details.
However, for those peeps 'in the know' (you know who you are), you don't count.  But you usually get things like cupcakes anyway.
The only hint I'll give you is if you do enough reading in my post archives for the year 2008, you might just find the answer.  But after I clicked on that link I realized it's kinda addicting to read the posts backwards starting from December 31st…and soon I was fully distracted.  You might get that way too.
Tomorrow (Wednesday) at roughly this time, I'll post the full back story.  In the meantime, post your best guess!  Good luck!