After a short hop through Singapore (again), and then a longer four hour hop, we arrived at a very small slim parcel of land in the Indian ocean where the Male Airport sits.  Of course, since I'm pretty sure only about 1.87% of the people following this blog know where the Maldives is…here's a quick refresher…It be here – a fair ways south of India:
Something important to understand about the Maldives is that it's just a long collection of tiny islands.  The airport is actually the biggest island simply to make room for the runway.

As such, most travel is done via seaplanes throughout the Maldives.  Since our airplane arrived around 10PM, it was too late for seaplanes to safely travel and land at otherwise dark remote islands.  So we stayed the night in a hotel at the airport.
The next morning at a painful 5:15AM, we headed across the runway to the seaplane port.  It was there we boarded our short 30 minute sunrise flight to the Conrad Maldives.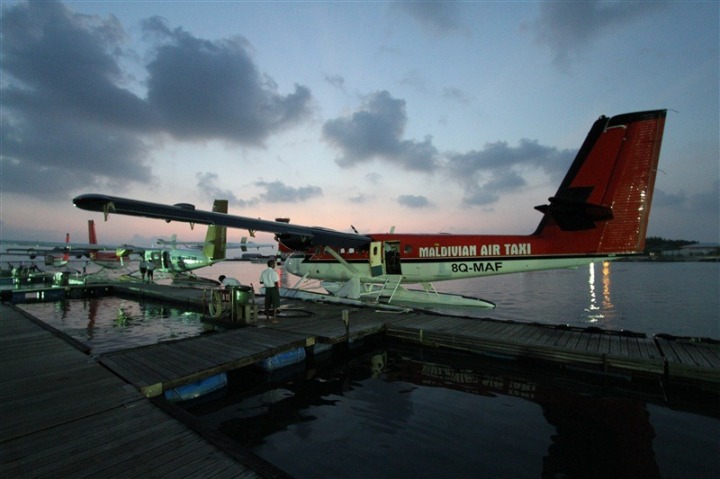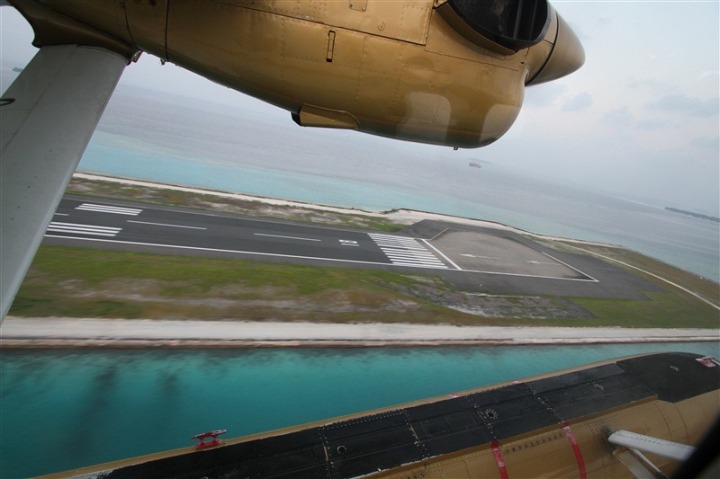 Above you can see the end of the runway.  There are no taxi-ways, as the airplane simply does a u-turn and taxis back on the runway itself.  Below you can see the capitol island – Male – and the airport in the background.  That's the most dense island – basically covered with buildings.  Every other island is a bit more paradise-like.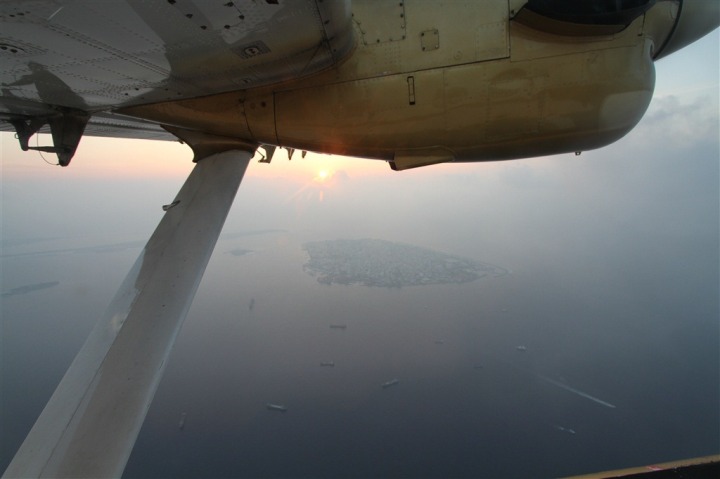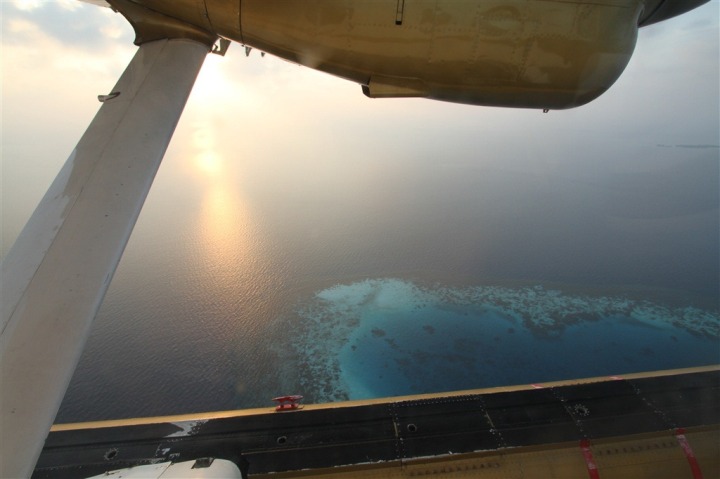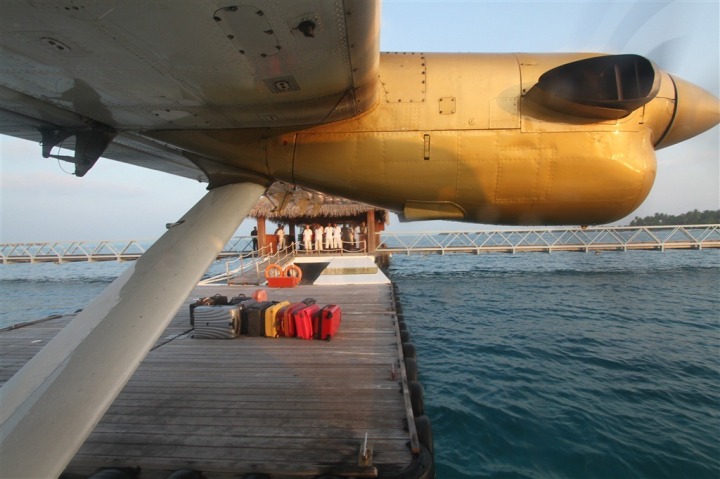 Our seaplane arrived at the dock, with the hotel staff there to great us.  They took us on a bit of a tour of the resort, which is two small islands connected by an overwater bridge:
There are no cars on these islands.  Only boats and a few little golf carts to get around.
Oh…and sea planes.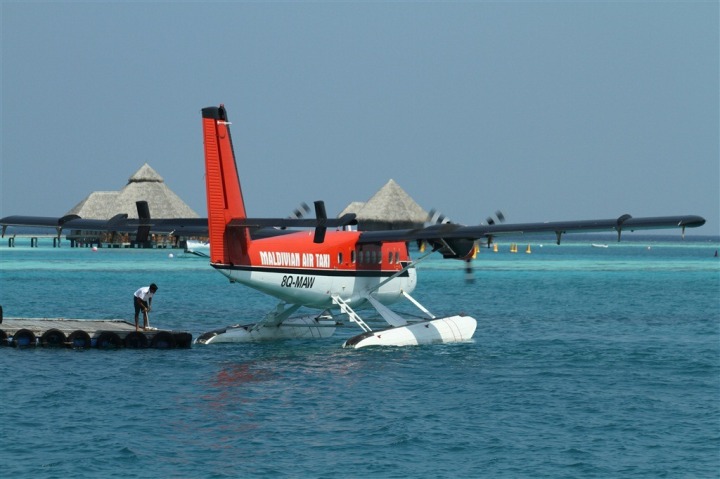 After a bit of wandering, we ended up at our overwater villa, complete with its own ramp into the sea: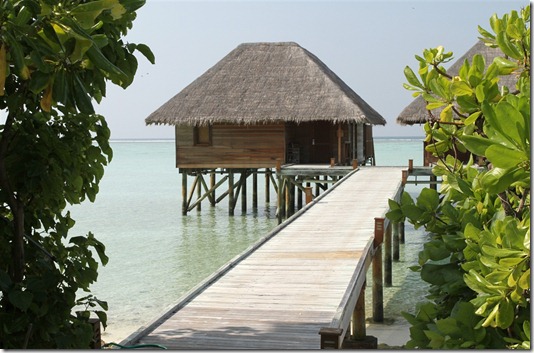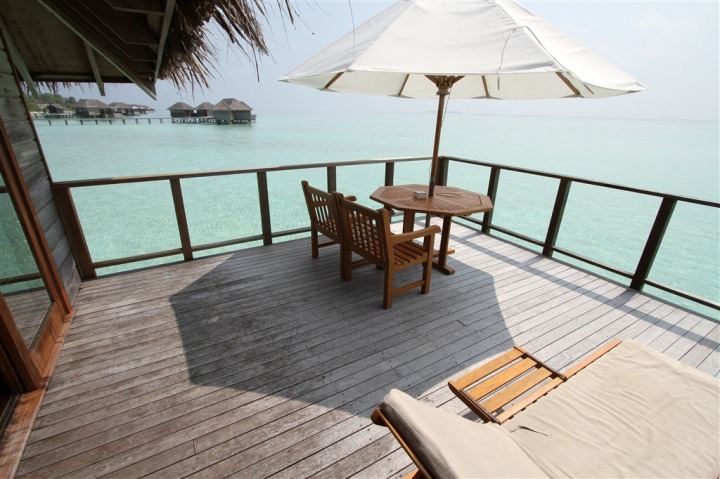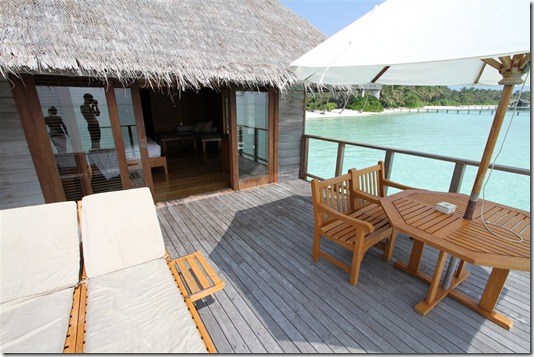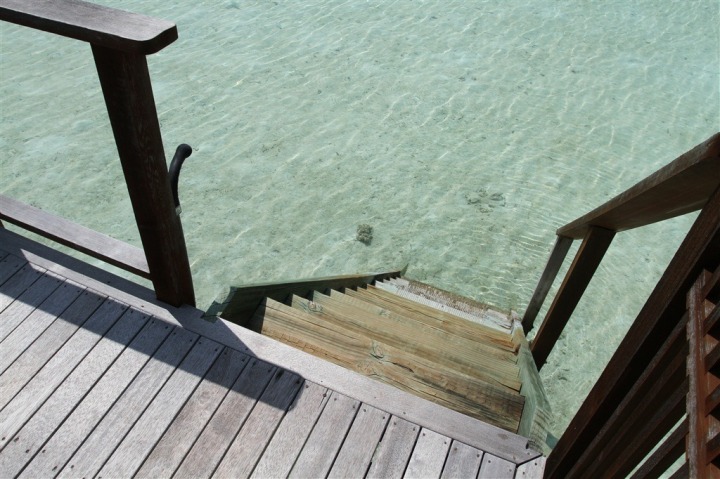 Late that afternoon we swam across the channel, then we swam out to the end of one island, and then back – completing a bit of a triangle – and almost exactly 1 mile of swimming…in crystal clear waters.  Because the satellite imagery of our little island isn't correctly color corrected, the island looks all dorky – but here ya go anyway: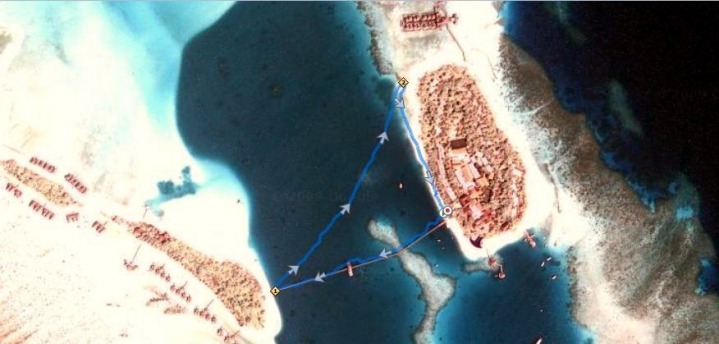 We followed the bridge over, and then aimed towards the point before swimming back – basically the length of the island.  Like I said…it's not very big.  Below you can see basically where we started and then headed all the way across before angling back toward the tip of the island.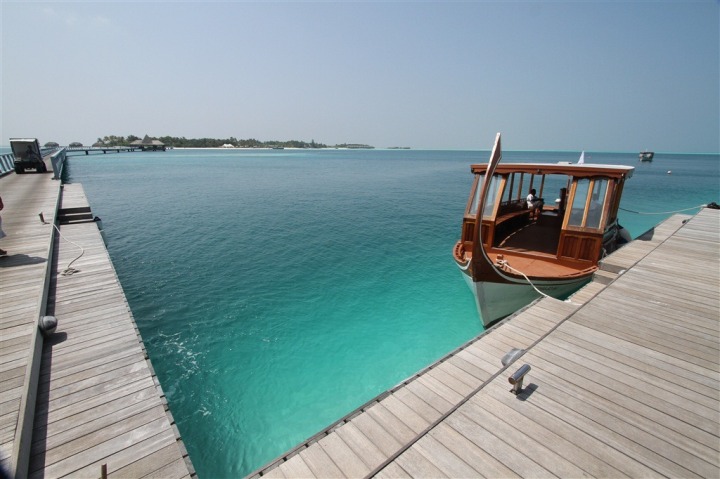 Ok…because internet bandwidth is super-challenged here (and I've got beach loungin' to do)…that's enough for now.  Tomorrow we've got diving…and night diving, along with a slew of other stuff.  Then we'll go onto a day spent onboard with a Whale Shark Research team.  More to come…