As I've blogged in the past, probably the most moving moment of any Ironman race is watching the last few finishers push to make the midnight cutoff.  All Ironman races start at 7:00AM, and allow competitors until midnight to finish – 17 hours in total.
Given I finished a bit earlier, I had plenty of time to get all cleaned up and come back out and cheer for everyone else.  Besides – despite a solid (slow) waddle on my behalf, there's really no reason I wouldn't come out.  Plus, I enjoy the very festive and supportive atmosphere – something you honestly rarely see at the pointy end of the pack.
I showed up around 11:30PM and began to work my way through the crowds as finishers trickled in.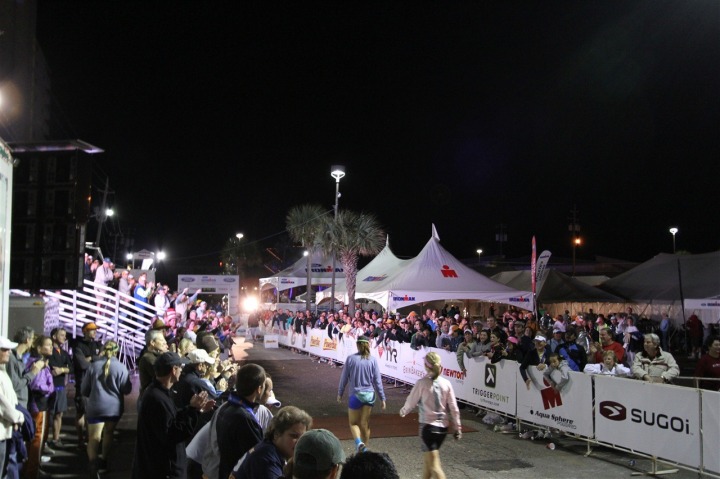 The two finishers above were looking pretty beat and simply walked across the line.  Though, most folks – even at this hour – do actually run in.  I think it's just the adrenaline of it all helps you to find some power somewhere – even after 17 hours – to run the last 100 yards.
In fact, some find so much energy they even do a little dance.  The women below meets announcer Mike Reilly in the final stretch and does a bit of a jig before heading in to grab her finishers medal.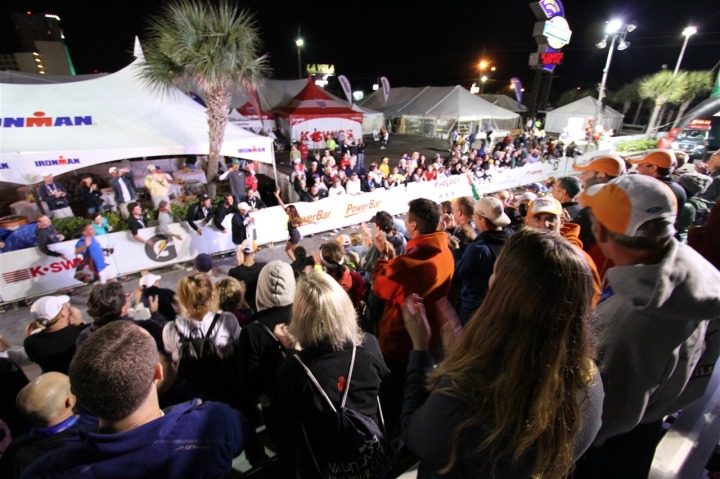 If you get down next to the chute, it's lined with boards displaying various Ironman sponsors.  The spectators will typically starting banging the boards as folks approach – or in tune to the pumping music.
Of course, giving high-fives is a big part of it.  Folks lean out over the edge and then the finishers get a streak of high-fives all the way to the finish line.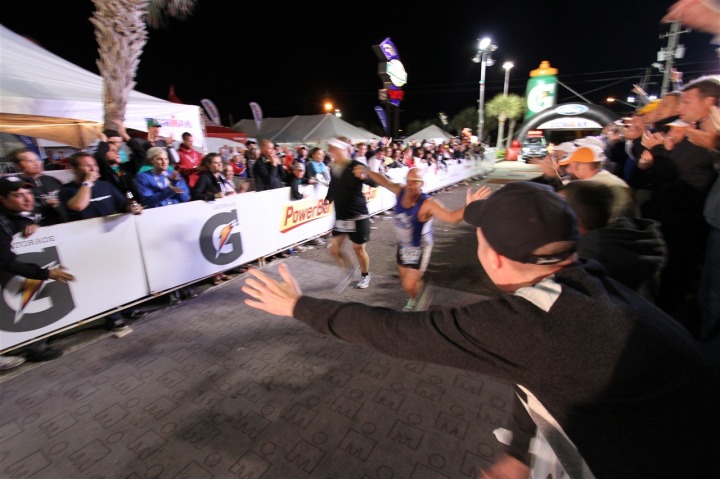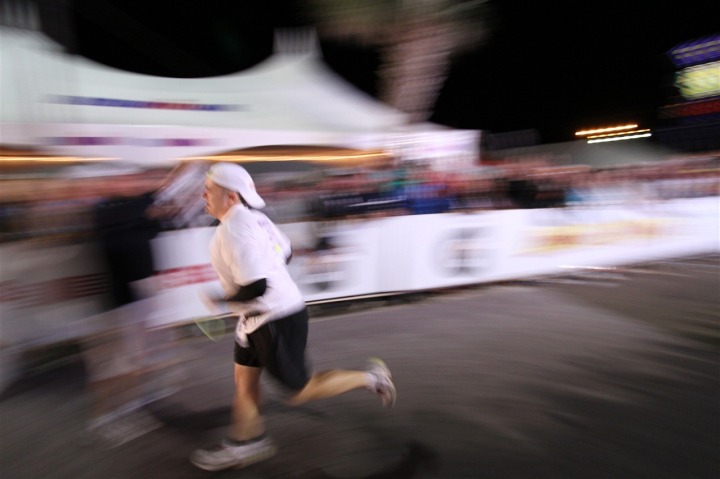 The center of virtually any Ironman finish area is the announcer.  He (or she, though I'm not aware of any M-Dot 140.6 races emcee'd by a women) keeps the crowd going for hours on end.  Usually tag-teamed between two guys, they announce the names of virtually everyone crossing the line.
"And now coming down the chute from Alexandria, VA – we have Ray Maker.  Ray Maker – You are an Ironman!"
And so it goes, for hours on end.  But, many folks doing an M-Dot (official Ironman race put on by the World Triathlon Competition) wait for those final four words 'You are an Ironman".  Because you simply can't take that away from anyone.
As I mentioned, one of the most 'legendary' announcers is Mike Reilly (pictured below).  He's got more energy than a 6-pack of Red Bull's and just keeps on going.  From well before the starting canon until even a few minutes past midnight as the last few trickle in.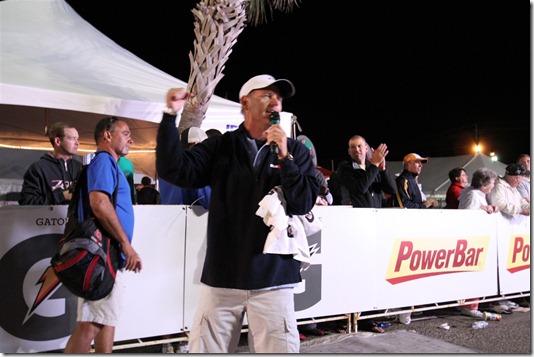 So let's cut to a quick video I put together of the last few minutes of the race – ending with the final official finisher to come in (which, btw turns out to be IronMoe – so go give her some love).
Ironman Florida 2009 at Midnight from Ray Maker on Vimeo.
Once the clock strikes midnight (17:00:00 hours), the race is officially over.  However, there are usually a few folks within range that just barely missed the cutoff.  Everyone still says though to cheer them in – getting just as big of a cheer as anyone right before the cutoff.  In the past when I was at Canada they also announced just how far out these folks were and we'd try and make as much noise as possible in an effort to 'pull them in'.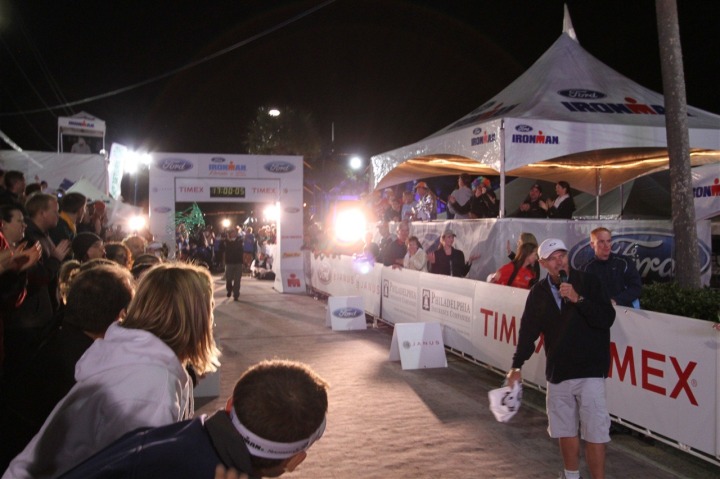 However, it doesn't take very many minutes after midnight until things started clearing out.  At Florida this year, there wasn't reported to be anybody within sight – so people started trickling out within just a few minutes of the clock striking 17 hours.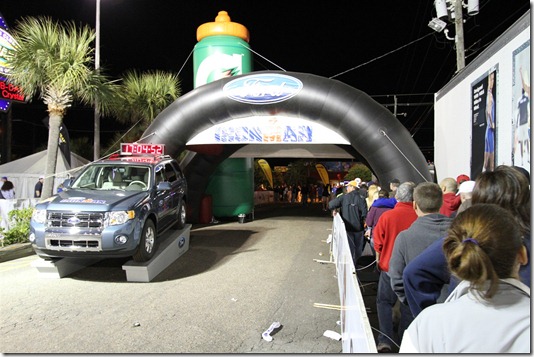 And the crew didn't waste any time.  Less than 5 minutes after the final official finisher the timing equipment was being pulled away and getting ready to be trucked to the next location.  Ironically about 90 seconds after the photo below a unaccounted for finisher wandered down the chute.  While everyone was caught off-guard, we all cheered as much as possible.
He wouldn't be officially listed on the final results as a finisher – but he still gets a medal & t-shirt. 🙂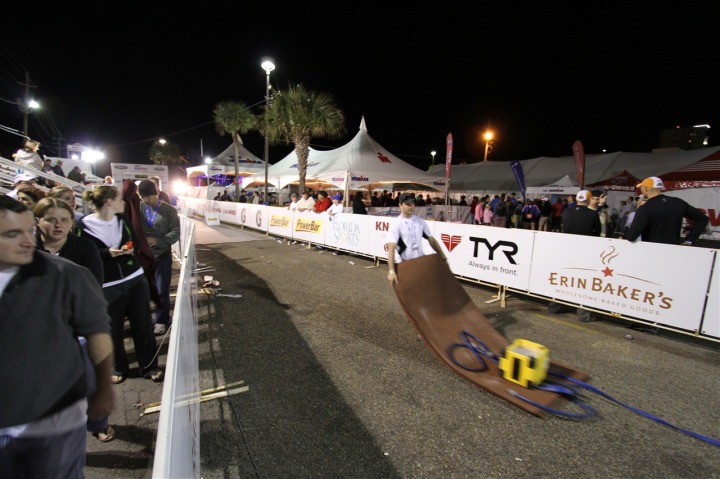 So with that, I'll wrap-up my Ironman Florida 2009 series and get on with a short vacation – which starts later Wednesday evening.  But more on that wild (aquatic) adventure in the next day or so…