Well, ok, maybe not exactly winter.  But…it technically snowed today.  I saw it with my own eyes.  It may have been sunny out at the time, but that's besides the point.  For a few short minutes – snow came down.  Woohoo!  I went out to take a photo, but it just looks sunny out in the photo.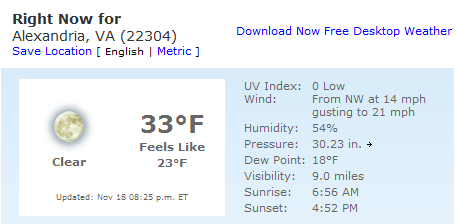 The cool weather made for an awesome run tonight however.  Clear, crisp, and dry.
(Oh crap!!! My rice is boiling over…brb. 
Ok, all set.  I heard a strange sound, but forgot I had something on the stove…mmm…dinner)
Anyway…back to the run.  After a dismal tempo run on Saturday (it was my worst run in 3-4 months, one of the epic bad-runs I've mentioned before), I was looking for a good solid run tonight.  And tonight delivered.
(Secondary btw, I'm watching really bad some ski movie I recorded from earlier in the day, and these dudes are tree skiing with car flares through the trees.  It's very cool looking, no idea why I never thought of that. Hmm…interesting.)
Oh right, tonight's run.  Started off at a 7/min mile pace for a 10 minute warm up and then quickly settled down into a faster pace.  Ended up at a 6:15-6:20 pace for the last 20 minutes of the hour long run.  The key isn't the pace though – but rather the corresponding lower than normal heart rate.  That's what I was looking for – seeing a nice low HR for that pace – something very sustainable.  Cause that's what I need for Sunday's marathon.
(This ski movie is all sorts of stuff aside from skiing, but the outdoor cinematography is actually rather incredible)
And last but certainly not least… THANKS!
Thanks to everyone who voted for me in the Everyman Tri Endurance Blog contest.  It turns out I got third!  And third gets me a pair of awesome sunglasses.  Sweet!
There's no doubt that Steve deserves first place, I LOVE his blog – so it's well deserved for him.
(Wow, they just parasailed a car in this skiing movie.  The car skied off the mountain using a parasail.  I'm impressed.)
Ok…time to eat my dinner…and watch the rest of this hilariously bad yet good ski movie.