When I bought the 'Black Diamond' some 12-15 years ago to deliver the local hometown newspaper on a short 2.2 mile route – it had no idea what was in store for it.  It must thought life was grand splashing around in the puddles on the rainy streets of Mukilteo, WA – up and down the paved hills, and staying in the nice comfy garage.  Heck, it even had a cloth newspaper bag protecting the front handlebars most of the time.
The furthest ride it ever went on was a 50-miler with my mom one sunny weekend day on the Burke Gilman trail, a random fluke ride that neither her nor I ever repeated.  The next time I would ride more than half a dozen miles would be this past spring.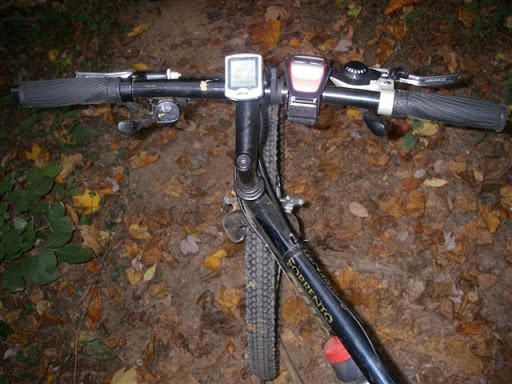 So what do I do to my poor little trusty bike?  I pounded it around a mountain biking course on a semi-cold windy day.  Yes folks, a bike designed for a 12 year old I punished through two hours of random rocks, trees, sand, gravel and trails.  But as a peace offering, I did give it new tires and tubes a few weeks ago.  And I did affix my favorite Garmin GPS on the handle bar for the ride, next to the defunct bike computer.
And the bike rode well.  I was able to keep up with the other four guys I was with (well, perhaps they were pitied me), and the bike didn't die, or otherwise because dysfunctional.  Actually – the worst deal of the day came from one of my friends who ended up first losing his keys out on the course under the cover of a gazillion fallen leaves.  And then while searching out on the course ended up double-flatting his cyclocross bike.  Talk about double-doh!  Ended up having to call AAA to break into his car, where for some strange reason he actually had a second set of keys.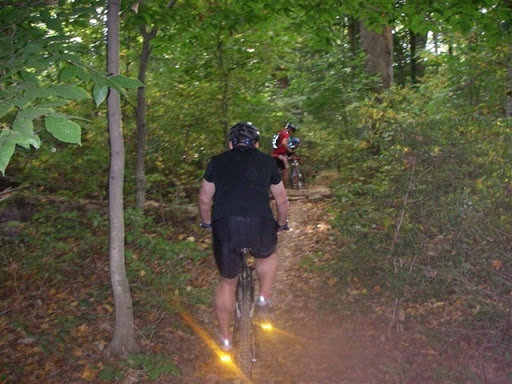 (Wandering through the trails slowly at dusk looking for the set of keys, and successfully taking a photo while biking) 
I had a blast this evening though! This being the first time in a year on a mountain bike and second time ever on mountain bike trails. I found the sensation of flying through the trees very much like on skis while tree skiing.  Similarly, you're always hoping to be able to execute that last turn to avoid a tree or other less movable object.
Post-ride went for the usual Thursday 5-ish mile group run.  Once again had a great time.  I've kinda developed a bit of a pattern where on the Tuesday group run I push it really hard with a small group of folks (rarely talking), and then on the Thursday run I just go out and have fun running with the larger group (and getting to know people).  I think that's probably good, since I pretty much know roughly about nobody out here in DC.