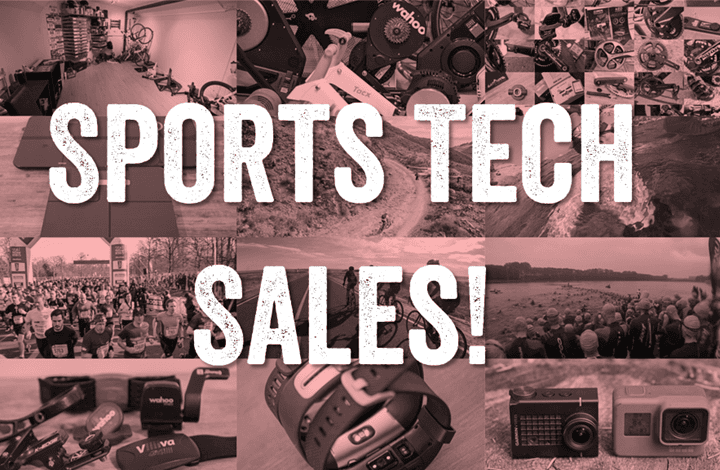 Looking for sweet sports tech sales?  Then you've come to the right place!
I'll update this page live as noteworthy sports tech sales happen.  Things like GPS watches, bike computers, action cams, fitness wearables, and the like.  Probably no diamond rings here (unless it's a wearable encrusted in diamonds).  All the jazz I'd usually write about, you'll find deals here.
Generally speaking, here's the most popular times for big sales:
February: No idea why, this just seems to be the case. Though, sometimes companies clear out older stock as new product announcements are made in early January.
May: Many (almost all) companies put sports tech products on sale each May – largely to get you motivated to buy something for the warmer weather.
July: Amazon Prime Day – this can be a biggie, but it's kinda a mix of what's offered. It's mostly older stuff, and usually watches, scales, and some action camera accessories.
November-December: Usually starts in early November, then into Black Friday and finally pre-Christmas sales in December.  This is the super-bowl of sales.
Here's what's currently on sale:
Current Deals

Regular Price

Sale Price

Start

End

Amazon

Clever Training

Other site

Sale Notes

Copyright DC Rainmaker - Updated March 18th, 2018 @ 7:26 am
*Garmin Varia UT800 Lights
-
$30 off
Mar 18 2018
Mar 31 2018
Link
Link
I actually like this deal, mostly because I actually like these lights. Slim but powerful, and still controlled by your Garmin automatically (though, you don't have to have them controlled by it).
Fitbit Alta
$129
$30 off
Mar 18 2018
Mar 31 2018
Link
Link
Fitbit Alta HR
$149
$20 off
Mar 18 2018
Mar 31 2018
Link
Link
Fitbit Ionic
$299
$30 off
Mar 18 2018
Mar 31 2018
Link
Link
Garmin FR235 - Permanent Price Drop
$249
Now $249
Mar 18 2018
Mar 31 2018
Link
Link
Was $329...which was horribly overpriced against the Vivoactive series. Still, while this is a 'OK price' for this running-specific unit, I feel like it's a bit old now, especially since the Vivoactive 3 is the same price and has contactless/NFC pavements and boatloads of other sports.
Garmin Forerunner 35 - Permanent Price Drop
$199
Now $169
Mar 18 2018
Mar 31 2018
Link
Link
Was previously $199, now $169. Seems mostly fair.
Garmin Varia Radar (both base and bundle)
-
$50 off either one
Mar 18 2018
Mar 31 2018
Link
Link
This puts the base radar unit at $149, and the bundle at $249
Garmin Varia Vision
-
$100 off
Mar 18 2018
Mar 31 2018
Link
Link
Thus making the price $299...still seems expensive to me.
Garmin Vivoactive 3
$269
Up to $30 off
Mar 18 2018
Mar 31 2018
Link
Link
Prices start from $259, and depending on model go up to $30 off
Garmin Vivofit Jr
$79
$20 off
Mar 18 2018
Mar 31 2018
Link
Link
Garmin Vivofit Jr. 2
$99
$10 off
Mar 18 2018
Mar 31 2018
Link
Link
Oh – and obviously – if you use the linkage above you help support the site and increase your awesomeness! Plus, it doesn't cost you a penny!
Support the site!
Thanks for the support!
Didn't find what you wanted on sale?  Or didn't see a link to something above?  No worries, you can still be awesome and support the site by hitting these links below before you shop.
Amazon: On Amazon you can by anything you want there – just use the link and then search for the item on Amazon.  Amazon Country Pages: Amazon UK, Amazon Canada, Amazon Germany, Amazon France, Amazon Spain, Amazon Italy
Clever Training: With Clever Training you'll save 10% using either the DCR Coupon Code (DCR10BTF) or their VIP program with 10% points back.  Plus free shipping for things over $79!  Oh, and they're available in Europe too!
REI: And finally, with REI you'll get your 10% credit on most non-sale items at the end of the year for members.  Simply use that link to help support the site.
Note on comments: I'll be cleaning out comments below after sales expire, just to keep things tidy.  But feel free to drop sweet sales you find below!