Garmin is seemingly on a roll the past 7-10 days, with having released the much-anticipated firmware bringing all the new Fenix 7 Pro & Epix Pro features to the non-Pro editions, via a new public beta firmware update. This follows the big Forerunner 255/955 update early last week, then the even bigger Instinct 2 series update late last week. I'd say maybe we'll even get a Venu 2 update on Sunday, but then that'd be just crazy talk.
This update adds in virtually all of the new software features launched last month on the Epix Pro and Fenix 7 Pro series, which Garmin said at the time they expect to remain largely identical for the time being. Certainly, the Pro versions have newer hardware (notably a much different optical HR sensor), so at some point those will diverge, but for now they remain all linked together.
In fact, with this update we even get some new features not previously launched on the Pro editions, including the new 'Workouts' app seen just announced on the FR255/955, as well as the new 'Gaming' profile. Plus now getting the on-watch Backup & Restore option and a bunch of other items
With that, here's all the newness arriving in this update to the Fenix 7 & Epix units (this beta also includes the Pro units too, since there's a few new features there as well):
Added 30 new activity profiles to non-Pro models*
Added Device Settings Backup and Restore.
Added ability to set multiple locations in the weather app on device.
Added Gaming App.
Added Workouts App.
Added Golf "Plays Like" improvements.
Added Golf Biomes support for OLED products.
Added Multisport option for race calendar.
Added new Golf Virtual Caddie interface.
Added Virtual Caddie suggestion in green view for Marq 2 Golfer.
Added support for Hill Score and Endurance Score features on Fenix 7 series, Epix Gen 2, and Marq 2.
Added Shaded Relief feature to the map for Fenix 7 series, Epix Gen 2, and Marq 2.
Added split screen and radial data field layouts to the map for Fenix 7 series, Epix Gen 2, and Marq 2.
Added support for weather overlay map in the weather app for Fenix 7 series, Epix Gen 2, and Marq 2.
Added support for new Di2 cassette sprocket patterns.
Added support for the Recent Apps hot key to Non-Pro models.
Added Virtual Caddie suggestion in green view for Marq 2.
Added workout muscle map support for HIIT, Cardio, and Pilates.
Added Trolling Motor app (allows anglers to control their Garmin Force or Force Kraken Trolling Motor through a compatible Garmin smartwatch. Garmin Force Trolling Motor must be updated to the July 2023 software update.)
Added Trolling Motor page to Fish and Boat activities if paired to a Garmin Force or Force Kraken Trolling Motor.
Added Fish Forecast (uses solunar theory to predict the best times to fish.)
Enable Red Shift on non-Pro AMOLED products.
Here's the list of new sport profiles:
Basketball, Volleyball, Field Hockey, Ice Hockey, Football/Soccer, American Football, Lacrosse, Rugby, Ultimate Frisbee, Cricket, Softball Baseball, Ice Skating, Archery, Overland, Whitewater, Kayak, Boxing, Mixed Martial Arts, Snorkel, BMX, Motocross, Overland, ATV, Table Tennis Squash, Racquetball, Badminton, Platform Tennis
Now I've already covered all of these features in my Epix Pro & Fenix 7 Pro videos/posts/etc… But, we'll just do a quick lap around the park to touch on the highlights, as seen on the non-Pro editions.
First up, is Hill Climb & Endurance Score. Hill Score is aimed at quantifying your ability to go up hills/mountains while running/hiking/walking (it's not for cycling activities). I've discussed this extensively in my other posts, but in short, while I think there's some good bits in there, I'm not super sold on the algorithm yet. This takes a few weeks to populate on a new device, and it appears that Garmin is doing some beta work on Unified Training Status, as it kinda pulled in some of my data from other devices, but not fully (and the scores are vastly different).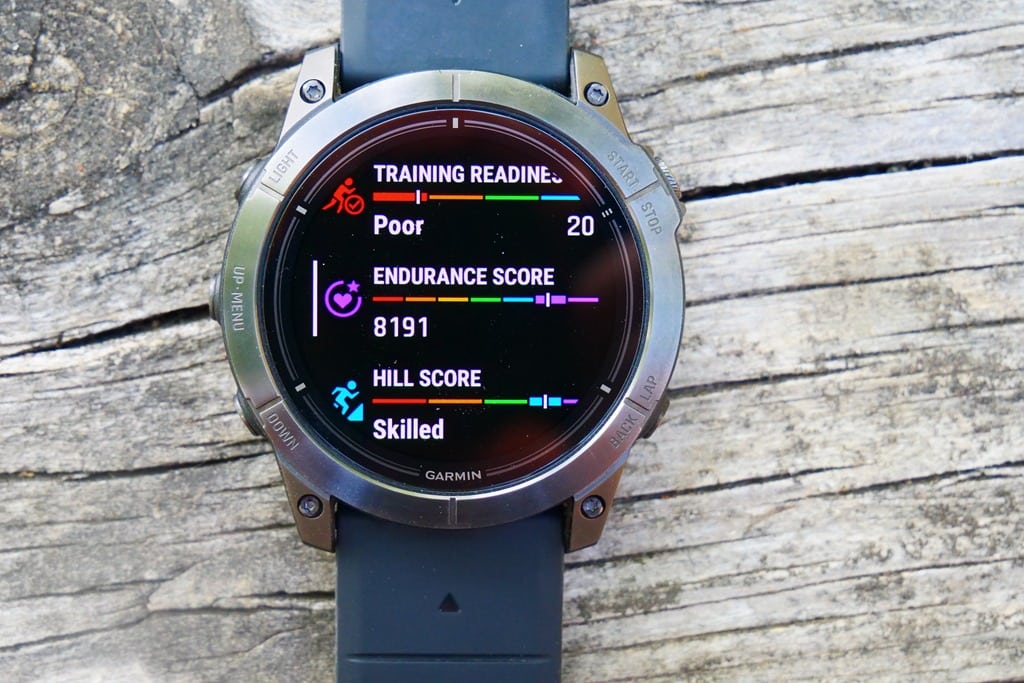 Likewise, there's Endurance Score. This does seemingly sync across devices now, though, it's vastly different on my different devices – so, I think that sync piece may still be beta (it didn't sync it all a month ago). The idea behind Endurance Score is to be able to more easily compare total training volume across not just people, but different sport types. Generally speaking Garmin's other Training Status & VO2Max type metrics are heavily skewed towards cycling/running, versus this is applicable to anything (ice skating, swimming, etc…). Simple rule of thumb is above 10,000ish is basically elite/pro level. Broadly speaking, I think this trends well, but I see countless examples at a day-to-day basis where one workout scores really high (despite being silly short), and another long/hard one scores no change. Given these day-to-day pieces are what make up the total, I'm still skeptical on some of the details.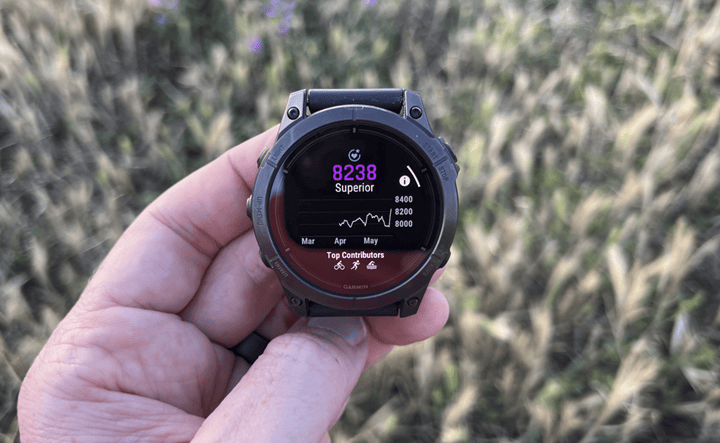 Next is the weather widget. This will show you weather radar overlay data, such as precipitation, clouds, wind, and heat. Note that this is separate from the map in the regular workout modes, thus you need to access it in the weather widget (scroll down a bunch in widgets, see Weather, then scroll to the bottom). You can zoom in/out, and hit Play to see the animation.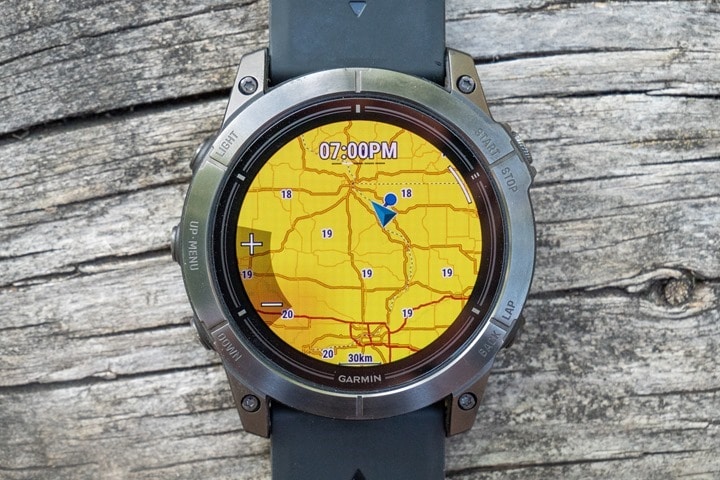 Now, because it's a bit messy to get back to the widgets menu, they've added a new 'Recents' feature, that lets you quickly access the most recently used widgets (in order), from anywhere on the watch. Simply hold the lower right button down to get the pop-up menu (I show this in the video).
Next is the new shaded relief on maps. This adds a 'coloring'  (shading) that makes it easy to see terrain shifts: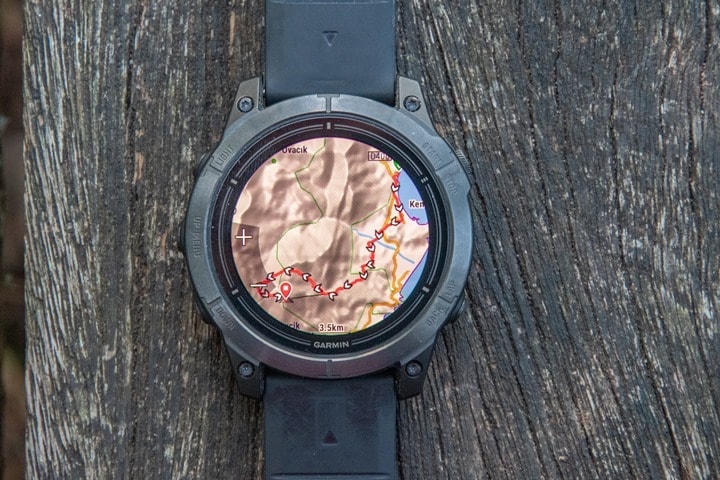 Speaking of maps, there's the new split screen and perimeter map data pages. You can customize the data shown on these map pages in a variety of configurations:
.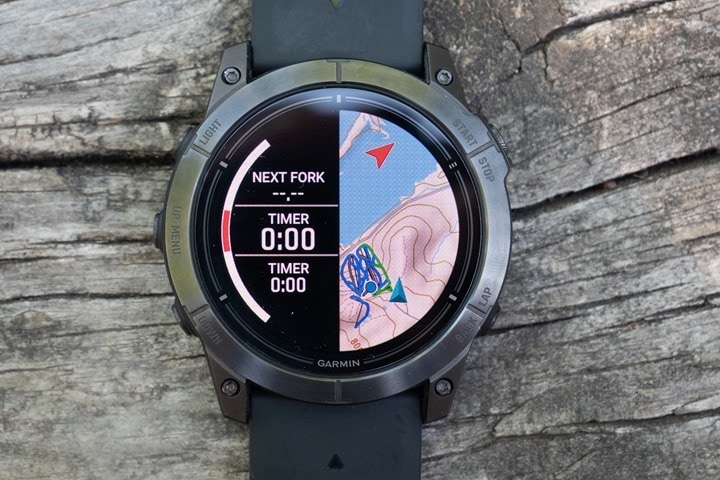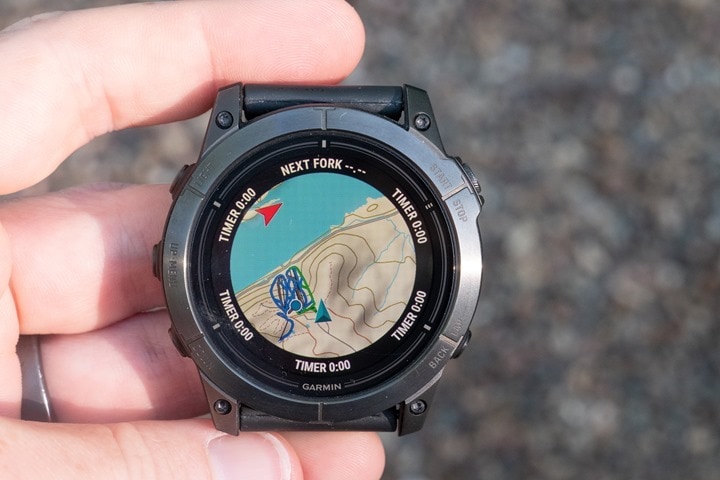 Now, if you've got a Garmin Epix device, you'll also get RedShift added. This is a red overlay that makes it feel like you're in a submarine. Or, using one of the earlier generation Garmin Tactix watches. Note this is not on Garmin Fenix devices, purely Garmin Epix ones. You can enable this from the quick-access controls (upper left button):
Next, there's the massive swath of new sport modes, they are as follows:
Basketball, Volleyball, Field Hockey,Ice Hockey, Football/Soccer, American Football, Lacrosse, Rugby, Ultimate Frisbee, Cricket, Softball Baseball, Ice Skating, Inline Skating, Archery, Overland, Whitewater, Kayak, Boxing, Mixed Martial Arts, Snorkel, BMX, Motocross, Table Tennis Squash, Racquetball, Badminton, Platform Tennis
This is a notable change in Garmin's approach. Up till now, Garmin mostly only created sport/profiles when they had specific data metrics for each sport (e.g., stroke rate while kayaking, or run length for water skiing). But that got to be more and more annoying when you wanted to simply use sport profiles for categorization purposes. It led me to use the cross-country skiing profile for outdoors ice skating this winter, and others to use gym mode for basketball, and so on. All the while, their competitors like Suunto and Polar offered tons of sports modes, albeit without the sport-specific data.
Now Garmin is going to split the difference. For some sport modes it'll build-out those complex data metrics to back it (like it's always done). Yet for others that people have been asking for, they're creating sport profiles that at least allow you to categorize it correctly on-watch (and thus, on-platform later). Garmin says they'll then take that usage data and figure out which sports they should invest further in, in terms of actual metrics/data. That approach seems…well…logical, if you ask me.
Next is a new feature across all watches this week, which is the 'Workouts' App. This is a new consolidated place to see all your structured workouts, be it ones you've manually created on Garmin Connect, ones from training plans, or ones from Daily Suggested Workouts. It's sorted by type, and then sports (and then types again). It's a super quick way to see what's coming, and execute it.
After that there's the also-new backup/restore feature. This one was cut at the last second for launch back in June on the Pro series watches, but you may have seen it in a few reviews out there. It's pretty cool though, and lets you backup/restore your watch. That way if you replace a watch you can restore it from a previous backup of the old one, or if you get a new watch you can do the same. You can even mix and match in most cases, so I can restore a Fenix watch to an Epix device, and vice versa. I used it a bit during the beta process this past spring to quickly get my settings all the same. Backups are automatically created each day as well.
You can access backups under 'System' > 'Backups and Restore'. By default, after updating, you won't have anything, but you can create new ones and then have those in the future, which appear to be stored on the Garmin Connect platform (not on the device itself).
Another new feature is the new 'Gaming' sports profile. This can connect to Garmin's desktop software for data overlays in Esports. We first saw this launch on the Garmin Instinct Esports edition a few years back. However, this seems to have a few new features in it that I haven't quite had time to explore.
Finally, if you'd like a deeper look at how almost all of these features work on the Fenix 7 or Epix, then you can actually check out my just published Garmin Epix Pro user guide. That includes a deep-dive into all these features, and have YouTube chapters for each section (as below). With this new firmware update, these watches are software-wise identical, thus you can use this guide interchangeably between the two models (minus of course, the flashlight).
And here's the video (chapters are shown along the bottom edge, too):
0:00 Quick Intro
0:22 The Epix Pro Models
0:45 Epix vs Fenix Quickly Explained
3:01 The Basics: Watch Face, Widgets, Activity Tracking
7:45 Sleep Tracking
10:35 Weather Radar Overlays
12:20 Morning Report
13:34 HRV Status Explained
17:48 Redshift, Always-On Display and Display Modes
21:06 Sport Modes & Configuration
26:27 GPS/GNSS Modes (including multiband)
29:49 Sensor Pairing and Heart Rate Broadcasting
31:11 Training Plans (Automated)
33:54 Training Readiness Deep-Dive
36:32 Training Status Explained
39:14 Endurance Score
41:33 Hill Score
43:52 Mapping & Navigation
50:27 The Flashlight
52:12 Contactless Payments
53:41 Offline Music (Spotify/Amazon Music/Deezer)
57:07 One Last Thing
With that, have a great weekend, and thanks for reading!