Consider this a public service announcement. For some of you, this will matter a ton. Others, not at all. And others yet still will note this has been there since the Edge 1040 launched last summer. However, what has become clear over the past few weeks is that a lot of people want this feature, and don't realize it's actually now in the Garmin Edge 540 & Edge 840 series devices (as well as the Garmin Edge Explore 2, from last summer).
In short, for previous Garmin Edge devices, if you wanted to send a new course to your Edge unit (from your phone) mid-activity, you couldn't actually do it. You had to end the activity in order to do it. Why this limitation existed, I don't know. In fact, it's actually not a limitation I'd ever run into myself until people started mentioning it last summer. That's simply not how I would plan routes or ride my bike. I had a course planned before I started pedaling, and stuck with that course. At worst, I'd be routing direct back to the start, or to a secondary point if time got tight. But I'd never had a reason to have a new route from Komoot/Strava/Garmin sent to my Edge device mid-ride.
Either way, a bunch of people did want that function.
So now it's here. Well, I mean, it was here last summer on the Edge 1040, and Edge Explore 2, but now it's also here on the Edge 540 & Edge 840. And it works exactly like you'd expect, as instantly as you'd expect (this has also worked the same way for years on Garmin's wearable devices, though I sometimes find the definition of 'instant' there to be a bit less instant). Here, let me show ya…
How-To: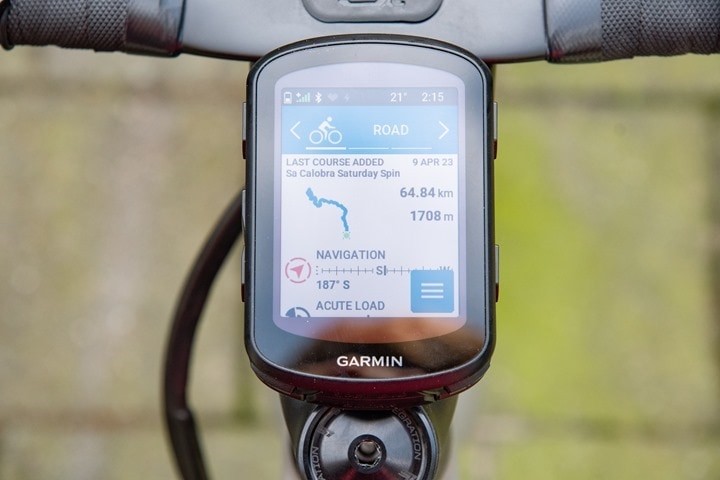 This is not complicated, so, here's the quick and dirty:
1) Create/find/steal/whatever the course you want, then if Strava/Komoot/etc, you'll favorite it. This instantly sends it to Garmin Connect. Normally, this will also instantly push it to your device, but if it doesn't, just tap to sync your device, and it'll show up within about 8 seconds.
2) If you are on the main dashboard menu, you'll actually see it enumerate in the 'Most Recent' section. Else, you can grab it from the Navigation > Courses area.
3) Now you can select the new course from the list. The fastest way to do this is to swipe-down (Edge 840, or clickity-clack on the Edge 540) to the quick access controls. Then stop course, then choose to select course.
4) Start riding/suffering again.
The entire process takes mere seconds now. More specifically, it'll take you longer to acquire/create the new course than it will to sync it to your Edge unit. Of course, inversely, the same set of new Garmin Edge x40 series devices (and Garmin Edge Explore 2), no longer support the ability to wirelessly transmit courses from unit to unit. In some ways this removal is ironic, because Garmin's bike GPS market share has notably increased over the last few years, and thus, that feature would be even more useful now than 2-5 years ago.
If you want to see a full timed demo of this, both creating a 50K course directly on Garmin Connect app, as well as pushing from Strava – I've got both of those up above in the video.
Wrap-Up: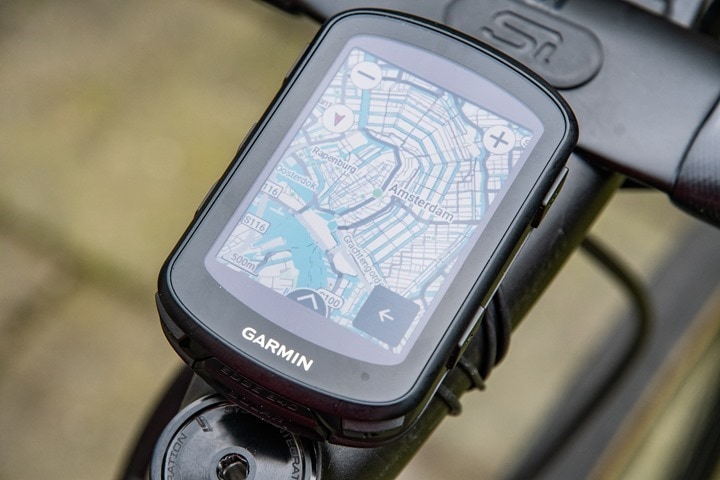 I'm not sure there's much more to say here. It's pretty simple.
That said, I'm sure many will ask if this gets added to the Edge 530/830/1030/etc series – and I suspect the answer is no. Partially because those units all use a different Bluetooth connectivity architecture than the new Edge x40 series devices (that the Edge Explore 2 also uses), but also because those units are on an entirely different user interface. One that Garmin doesn't appear to want to keep on adding new features to.
In any case, I figured a quick post/video was worthwhile, since I've seen faaaaaaaaar more questions than I ever imagined, about whether or not this 'gap' has finally been addressed in the newer Edge devices. To which, I can now point people at this post.
With that – thanks for reading!
Found This Post Useful? Support The Site!
At the end of the day, I'm an athlete just like you looking for the most detail possible on a new purchase. These posts generally take a lot of time to put together, so if you're shopping for the Garmin Edge 540, Garmin Edge 840 or Garmin Edge 1040 Solar or any other accessory items, please consider using the affiliate links below! As an Amazon Associate I earn from qualifying purchases. It doesn't cost you anything extra, but your purchases help support this website a lot. Even more, if you shop with TPC (The Pro's Closet), you'll save $40 on purchases over $200 with coupon code DCRAIN40! The Pro's Closet has been a long-time partner of the site here - including sponsoring videos like my cargo bike race, as well as just being an awesome Colorado-based company full of good humans. Check them out with the links below and the DCRAIN40 coupon!
And of course – you can always sign-up to be a DCR Supporter! That gets you an ad-free DCR, access to the DCR Quarantine Corner video series packed with behind the scenes tidbits...and it also makes you awesome. And being awesome is what it's all about!