This week at Eurobike 2022, Garmin announced the new Edge Explore 2, which is a product line that's historically been targeted at bike touring and navigation/routing. That continues with the Edge Explore 2, though I think the reality is that it's now simply a Garmin bike computer targeted at anyone wanting a bigger display that doesn't care as much about all the fancier physiological training load bits. Albeit, the new Edge Explore 2 still adds some of that too.
Speaking of what's new here, it's a massive slate of features since the previous edition four years ago. Most notably though is a revamped user interface, free and easily downloadable global cycle maps, a barometric altimeter along with Garmin ClimbPro, and greatly expanded sensor support – including power meters, Garmin inReach, and more. Finally, Garmin has expanded the eBike features, as well as battery claims, though they didn't also swap out the GPS chipset for higher-end multi-band ones seen in some of their other 2022 products.
In any case, I dive into all these new features, how they work, and plenty more in the review below. Note that this Edge Explore 2, mount, and very expensive USB cables are media loaners and were sent over by Garmin to test. As usual, it'll go back to them afterwards. If you found this review useful, feel free to hit up the links at the end of the site, or consider becoming a DCR Supporter. With that – let's begin!
What's New: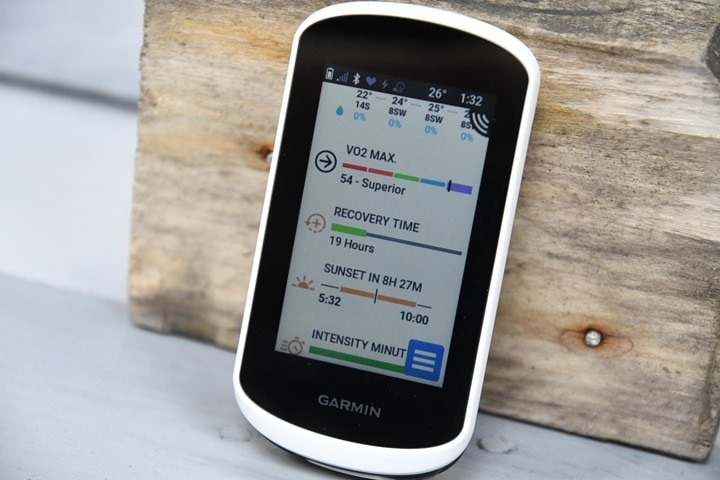 Now, describing what's new in the Edge Explore 2 is a bit challenging in that so much has changed since 2018 when the previous Edge Explore came out, in terms of Garmin features. We're likely talking hundreds of very minor tweaks (things like re-arranging of menus or changing of icons). But there are some very legit new features as well that are easier to identify. I'm going to focus on those, and then backfill other minor differences as I curate them.
– Revamped user interface to same as Edge 1040
– Added full & free downloadable global cycle maps (via computer/USB)
– Added barometric altimeter
– Added internal temperature sensor (with data fields/recording)
– Added USB-C port
– Added Garmin ClimbPro
– Added power meter sensor support
– Added smart trainers sensor support
– Added Tempe sensor support (external temperature sensor)
– Added Garmin inReach satellite support
– Added/expanded eBike sensor support
– Added new dedicated eBike connection page for supported eBike
– Added music control data page (also coming to Edge 1040 series in 2022Q3)
– Added support for three activity profiles
– Added VO2Max & Recovery Time
– Added Fitness Age & Intensity Minutes
– Added underside power pins for constant power (Edge Explore 2 Power Bundle models only!!!)
– Added full Garmin RCT715 Radar-Camera support (swipe-down camera controls)
– Added quick transfer of previous Garmin Edge sensors (during setup)
– Added smart trainer course ride option (to ride previous ride or courses)
– Added battery saver option for 24 hours of battery life in navigation mode (but up to 34 hours GPS ride time w/o nav)
– Added ability to configure data pages/data fields from Garmin Connect phone app
– Added on-device Garmin Connect IQ App Store
– Added bike alarm feature (detects movement and screams like a parrot being run over)
– Increased regular GPS battery time increased from 12 hours to 16 hours
– Still has Garmin Connect IQ Support
– Storage remains the same at 16GB
– Same color touchscreen as previous, which is 3" and 240x400px
– Weight is 104g with an IPX7 water resistance rating
– Increased price from $249 to $299
How does it differ from something like a higher-end Edge 1040? Well, there's a lot of differences (far more than I list below), mainly around physiological metrics (e.g. Strain or Training Load/Recovery), but also more advanced features like displaying of Cycling Dynamics data mid-ride (the Edge Explore 2 does record it for later though, for display on Garmin Connect). However, here's the quick and dirty version:
– Price – $299 vs $599
– Edge 1040 display is bigger
– Edge 1040 has Solar option ($749)
– Edge 1040 has power pins on underside (Edge Explore 2 only does in Power Bundle models)
– Edge 1040 has Strava Live Segment support, Edge Explore 2 does not
– Edge 1040 has structured/downloadable workout support, Edge Explore 2 does not
– Edge 1040 has multiband/dual-frequency GPS, Edge Explore 2 does not
– Edge 1040 allows numerous activity (ride) profiles, Edge Explore 2 only allows three profiles
– Edge 1040 has a boatload of different training load & recovery metrics
– Edge 1040 has new Stamina feature for mid-ride pacing
– Edge 1040 has Power Guide (also for ride pacing)
– Edge 1040 has WiFi sync, Edge Explore 2 has no WiFi
– Edge 1040 has open ANT+ Gear Shifting support, as well as proprietary Shimano Di2 shifting support
– Edge 1040 has extended display mode (for watches), whereas Edge Explore 2 does not)
– Edge Explore 2 has 'Guest Mode', whereas Edge 1040 does not (allows someone to use unit without dorking up settings
Phew, got all that? Good, let's get cooking on the review.
What's In The Box: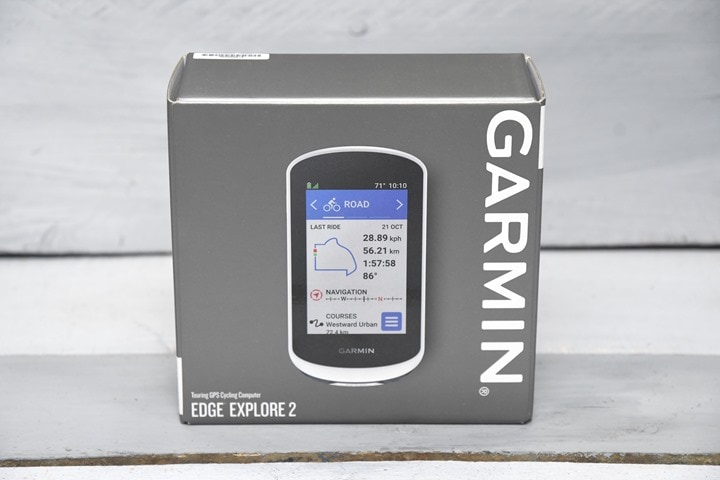 Inside the box of the Edge Explore 2 (base model) you've got the unit itself, a couple of Garmin quarter-turn rubber band mounts, a USB-C (!) charging cable, a lanyard, and a small pile of paper stuff.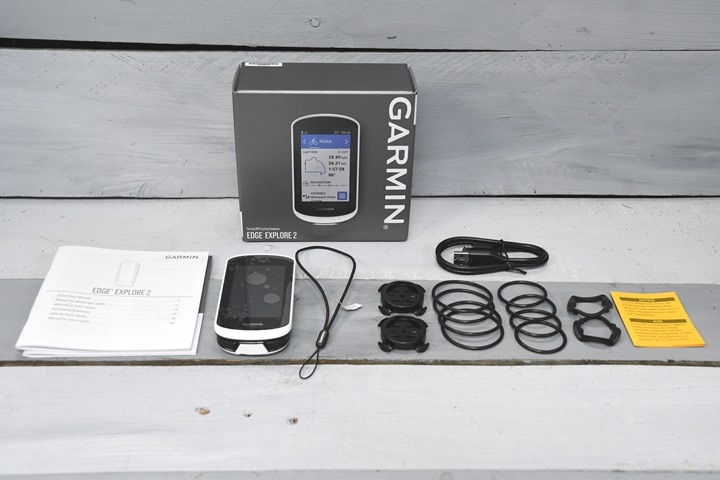 The Garmin quarter turn mounts are the same as they've been using for more than a decade, and work great. In fact, I'd say for the majority of my rides I'm just using the simple rubber banded mounts. You can easily buy a pack of them for cheap, if you've got more bikes.
Or, you can just use any 3rd party quarter-turn compatible mount, which…is basically every bike computer mount company out there.
For a quick sizing comparison, below is the Edge 530/830 (same size, at left)), Edge Explore 2, and Edge 1040 Solar (right):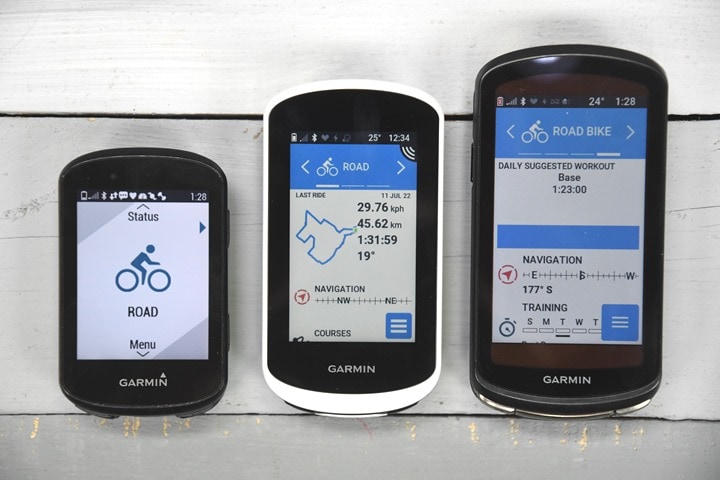 At a slight angle: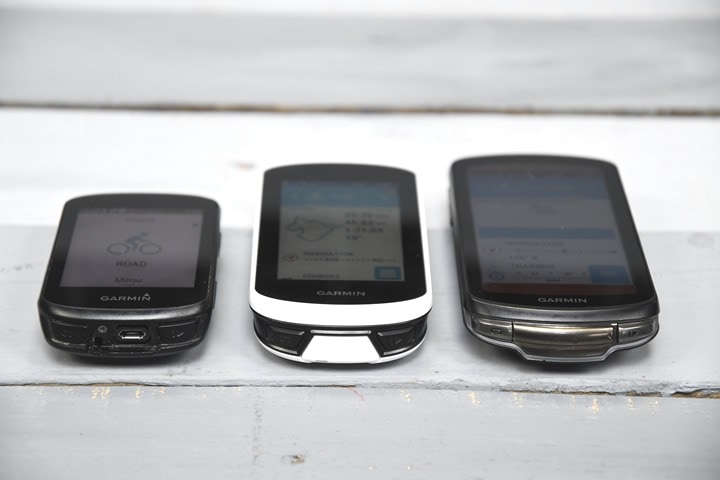 And here's the back:
Note that the base model of the Edge Explore 2 does not come with any power charging pins on the underside of the mount for weather-proof charging. You can always charge it anytime you want using the USB-C port (including mid-ride), but that's not an ideal thing to do in rainy weather.
Next, if you get the power mount edition (which, won't be available till later in August), you'll also get the power mount stuffs, notably the out-front mount and small tools. Here's what that looks like: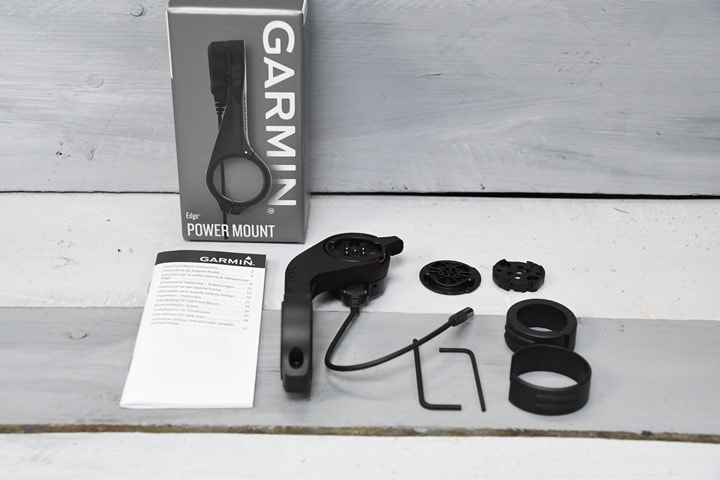 More on all that a bit later in the post. With that, let's get right into the basics.
The Basics: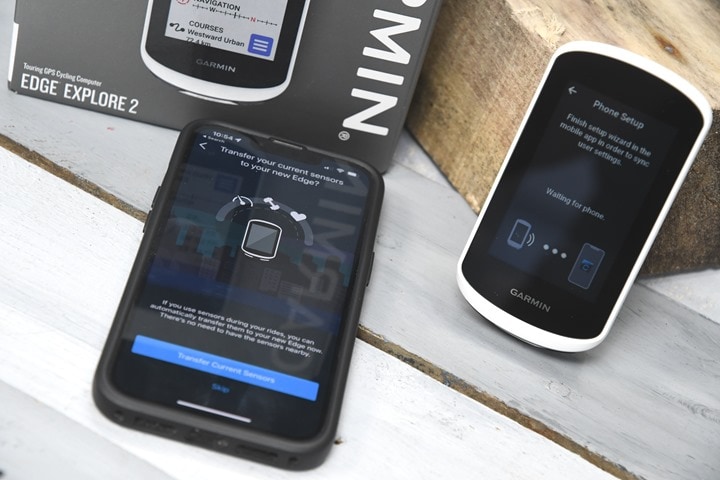 To begin, it's easiest to use your phone to set up the Garmin Edge Explore 2. This is for a few reasons, but most notably that if you've got an existing Garmin Edge device, it'll transfer over your sensors. It won't transfer over your activity profiles (and thus your data pages/config), which is sorta an odd quirk. I suspect it's because the Edge Explore 2 is limited to three predefined activity profiles, whereas other Edge devices (aside from the original Edge Explore), have many more possible profiles.
Once that's complete though, you'll be ready on the main screen. This is the new revamped user interface that was introduced on the higher-end Edge 1040 last month. It shows your activity profiles up top (Road/Indoor/Off Road), followed by your most recent ride or course added, and then below that are other widget glances.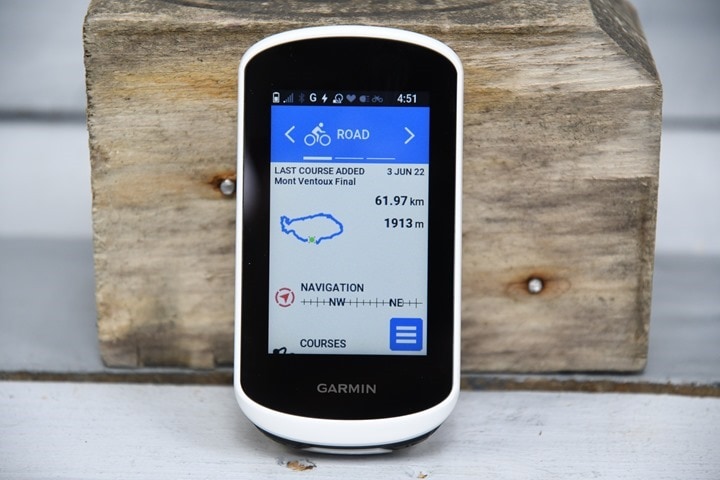 Those widget glances are customizable, and changeable – even allowing for Garmin Connect IQ down the road. For example, within that, you'll see Navigation (where you can choose where to go), your ride history, your VO2Max, weather, and more.
At the bottom you can use the pencil icon to change the order, or add/remove ones.
Also at the bottom is the menu to access various settings:
It's here you can customize your activity profiles, pair sensors, as well as access device settings including phone pairing, incident detection, battery saver mode, and more. For the activity profiles, the Edge Explore 2 is a bit unique here in that you've got three preset activity profiles: Road, Indoor, and Off Road. You can change the color/name of these if you want, but that won't change the ride type. You'll notice below I changed "Indoor" to "Trainer", but the ride type is still "Indoor":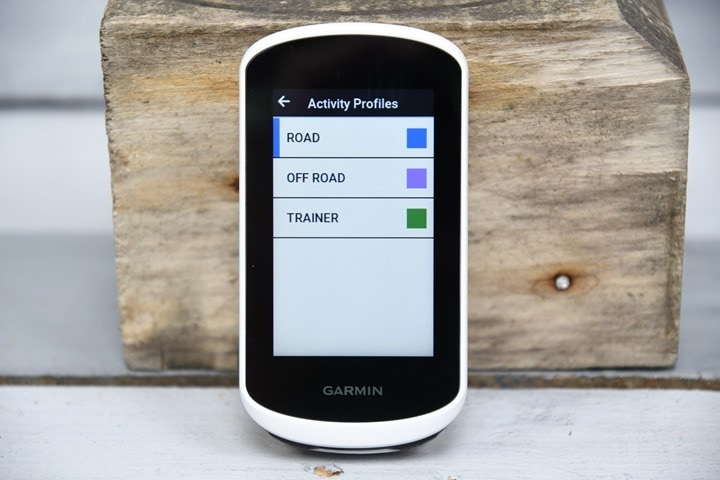 That's less meaningful for this indoor profile, but more important for off-road types. For example, if you wanted one ride profile for MTB, and another for Gravel, you can't technically associate those to the slightly different ride types that Garmin actually tracks. Practically speaking, you can still change it after the fact in Garmin Connect, but it's a minor nit here.
In any case, within any of the ride profiles, you can customize a slew of data screens (at least four custom ones, plus map, elevation, group track for LiveTrack, lap summary, ClimbPro, and eBike pages). Each custom page can have from 1 to 10 data fields on it.
Meanwhile, back in the activity profile settings, you can create alerts for things like distance, time, calories, heart rate, cadence, power, eating, drinking, turn-around, and even Connect IQ alerts. Plus configure bits like Auto Pause or automatic timer start.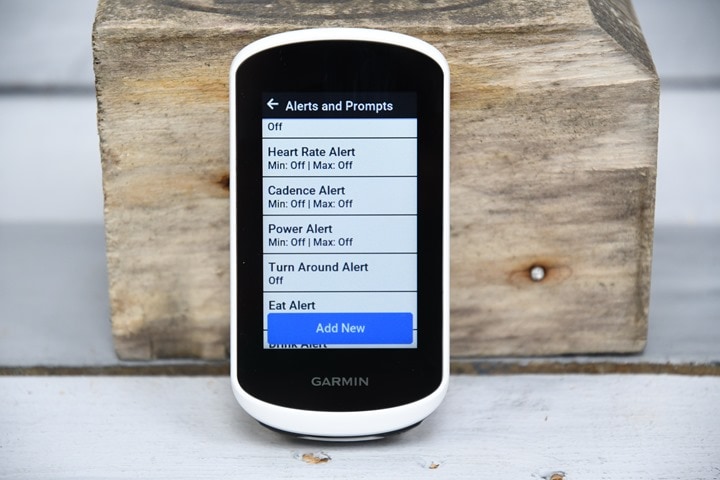 Additionally, you can configure the satellite system to use. The Edge Explore 2 doesn't get the fancier multiband/dual-frequency GNSS chipset seen on the Edge 1040, but, it does get a battery saver mode that can pretty significantly extend the battery life.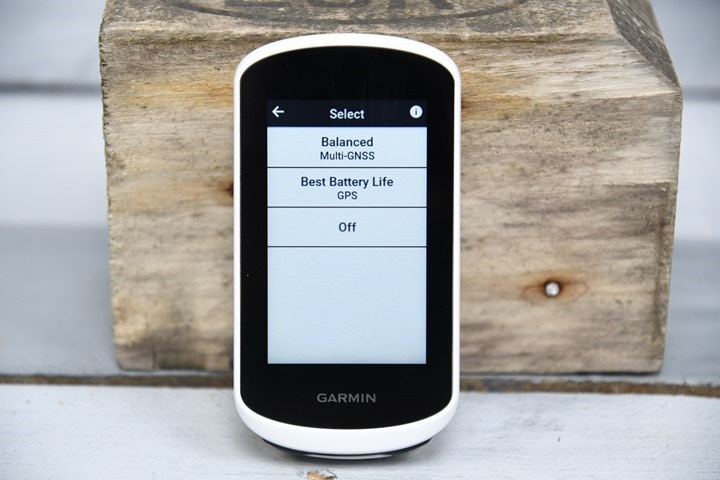 The battery saver officially gets 26 hours of battery life in GPS mode, by optimizing your settings. But, if you fully charge up your Edge Explore 2, it'll have upwards of 34 hours of GPS mode. That's because Garmin's official 26-hour specs here assume navigation, whereas the 34-hours specs assumes no-navigation. Point being, you'll probably do better on battery life than the official specs if you aren't navigating.
The battery claims also include paired sensor support, of which the Edge Explore 2 has expanded sensor support to include power meters, smart trainers, Garmin inReach, and more. You can pair and save multiple sensors in the list, so if you've got more than one bike with sensors on it, it's not a problem.
Here's exactly which sensor types you can pair:
– Heart Rate (ANT+ & Bluetooth Smart)
– Speed/Cadence (ANT+ & Bluetooth Smart)
– Cycling Power (ANT+ & Bluetooth Smart)
– Garmin VIRB Action Camera (ANT)
– Cycling Lights (ANT+)
– Cycling Radar (ANT+)
– Garmin Edge Remote (ANT+)
– Garmin inReach Satellite Communicator (ANT+)
– Shimano STEPS (proprietary ANT)
– eBike (ANT+)
– Tempe Temperature Sensors (ANT+)
– Smart Trainers (ANT+)
And again, you can pair multiple of the same sensor types if you want. The Edge will automatically connect to said sensor when you power the sensor on. It's what's known as a sensor pool, so as soon as you turn your cranks or put on your heart rate strap, it'll wake-up that sensor, and the Edge will see it. If you've got two sensors of the same type that get turned on at the same time (such as letting your friend ride one of your bikes), it'll simply ask you what sensor to use. You can give custom names to sensors.
Next, back on the main widget glances area, you've got the slate of new-to-the-Edge-Explore-2 FirstBeat features, including Vo2max, Recovery Time, Fitness Age, and Intensity Minutes: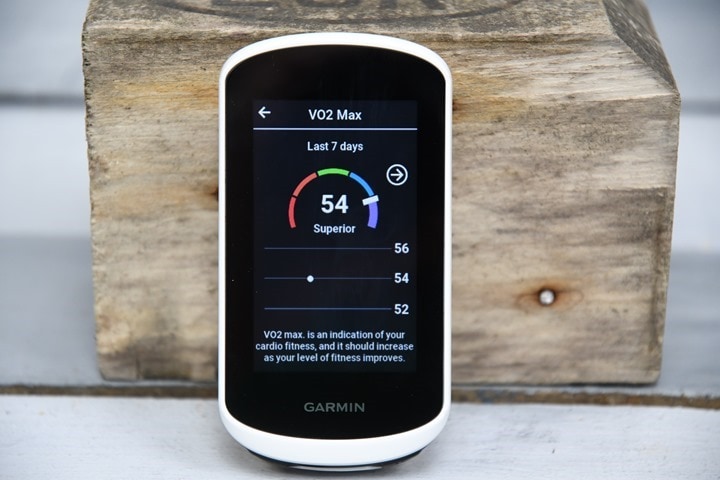 You can tap any of these to see a bigger version of it, including history data. Keep in mind not every ride will trigger a new VO2Max estimate, so these won't change every single day.
Also back on the homepage is Garmin's new on-device Connect IQ App Store, which shows recommended apps for the Edge Explore 2. You can download more apps from the Garmin Connect IQ app on your phone, which pushes it to the Edge Explore 2. To be a broken record here (since the Fenix launched back in January). This continues to be a bummer, with only three possible apps shown. I'd really like to see Garmin have this fully populated with a good blend of apps for whatever device it is they launch next. Sit down, have a meeting, decide on 8-10 awesome Connect IQ apps, and properly give me a reason to install those apps.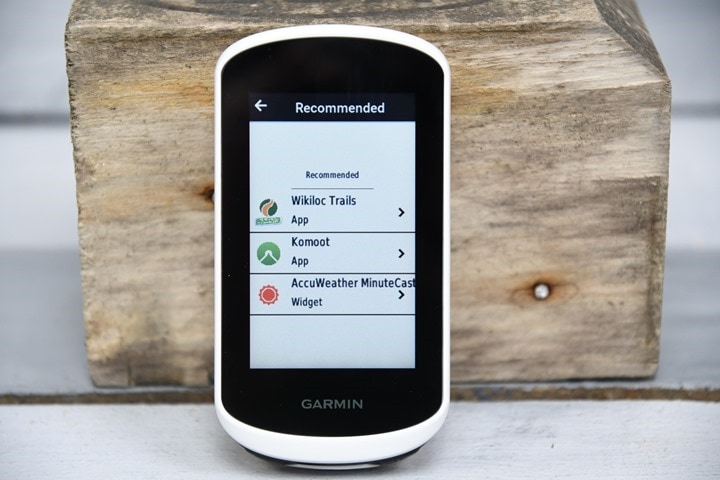 Finally, one very unique feature to the Edge Explore series is 'Guest mode'. This is designed for cycling tour operators who hand out bike computers with bikes, usually with preloaded routes (often for multi-day tours). When you enable Guest Mode, it basically locks down settings, so that the customers can use the bike computer without messing up the settings (purposefully or accidentally).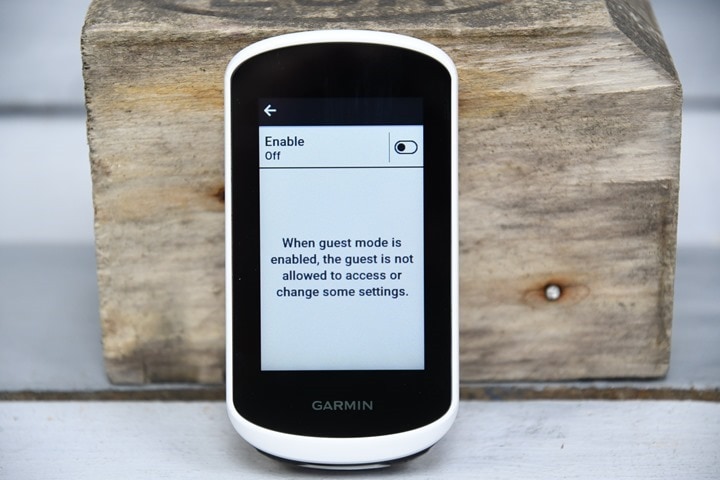 When you enable guest mode, it'll ask you for a PIN. Once enabled, you essentially can't get into the settings menu. You can pair sensors, change brightness levels, still see stats like VO2max, language, and change color mode (day/night/auto). You can also continue to change display units between metric/statute (e.g. KM to miles), in distance/speed, elevation, temperature, weight, time format, and position format (GPS grid types). It'll then revert back to the previous settings once Guest Mode is disabled.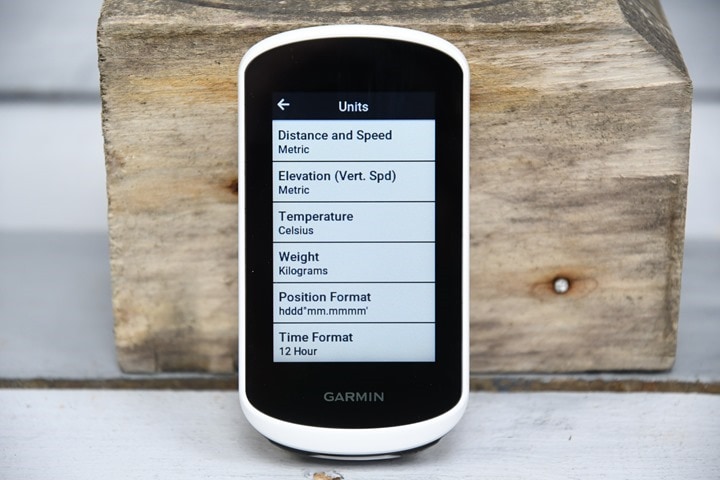 It's always been quirky to me that this feature is *ONLY* offered on the Edge Explore series, but isn't actually offered on the higher-end units (like an Edge 1040). Meaning, if a tour operator wanted to offer higher-end units, they actually couldn't if this feature was still desirable.
Riding With It: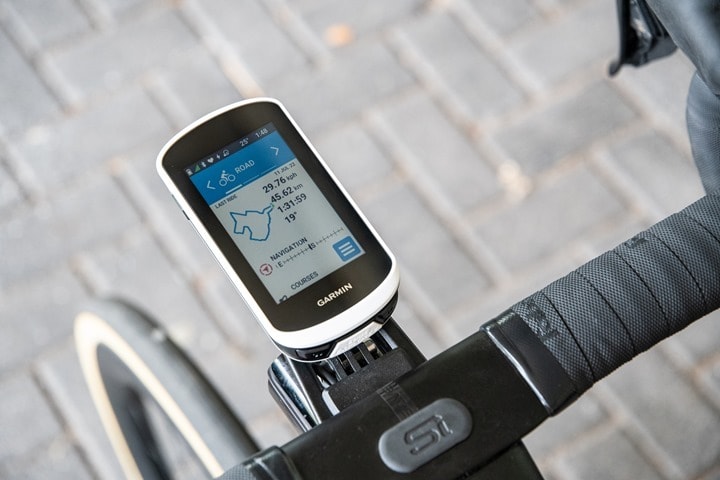 For this (probably shorter) section, I'm going to cover the non-navigational bits, and then talk about routing in the next section. To get started, we'll choose the activity profile for the ride we're doing. You can simply tap it, and that'll open up the data pages you've configured for that ride profile: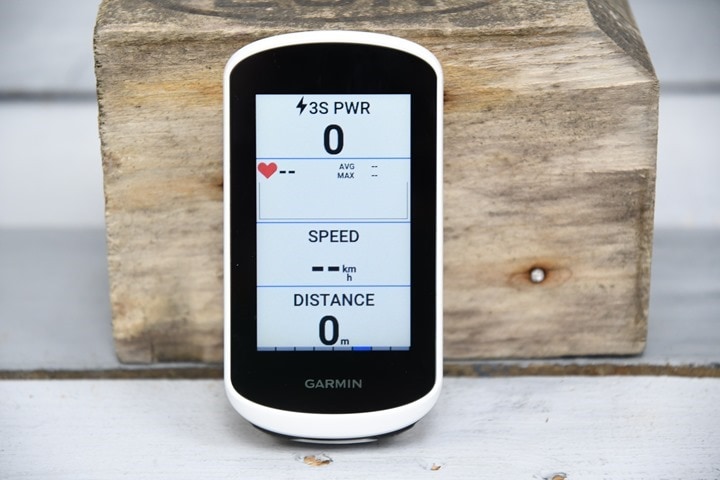 To start a ride, you'll press the lower right button, which starts recording. If you don't press that button, it'll start chirping at you, warning you that it's been ignored. As I write this text, it's chirping at me, sitting in front of me, because I haven't pressed start yet. You can also configure auto-start once it passes a certain threshold. I personally don't use it, because if the unit gets left/turned on in a car/vehicle/plane/whatever, then it'll start recording.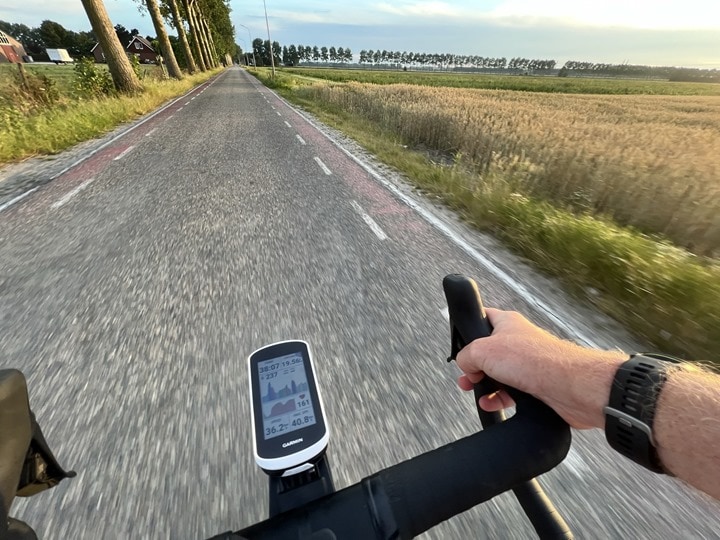 Around this same timeframe, any sensors you've paired will have automatically connected. If you've got a power meter, you can do a calibration of it from the menu (technically a zero offset).
In the event you're indoors and have a smart trainer, then you can control the smart trainer using a variety of options (seen below). This includes re-riding past activities as well as riding downloaded courses.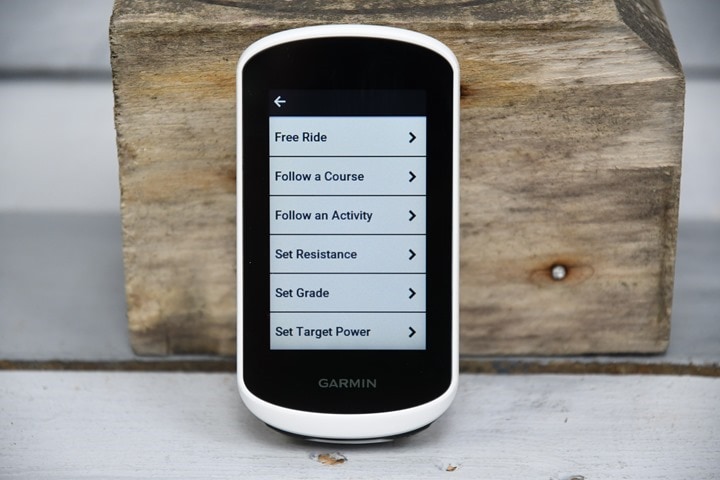 However, it's important to note that the Edge Explore 2 doesn't support riding structured workouts. So you can't send those to this specific unit. That's a quirky (if not stupid) limitation, given the same-priced three-year-old Edge 530 supports it just fine. It's this type of artificial product differentiation that drives people crazy.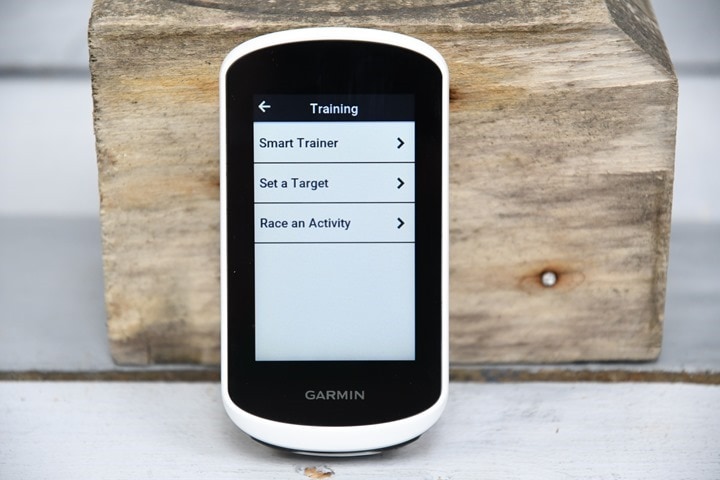 Heading back outside, here's a couple of shots from my rides. You can see I've created a blend of data fields/pages, including the always-pretty graphical ones. I've got power and heart rate data mixed in there.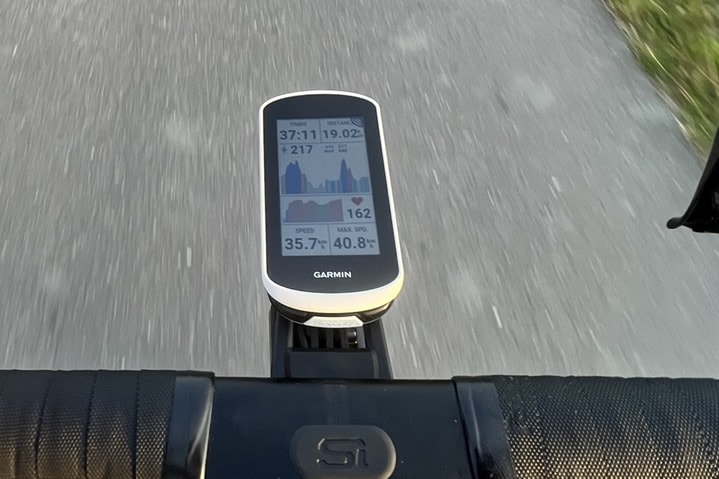 The unit has a backlight, which will automatically illuminate at sunset, as was the case for a ride earlier this week. When it does that, it'll actually invert the screen to a black background with white text, so that it's not just a glowing orb on your handlebars: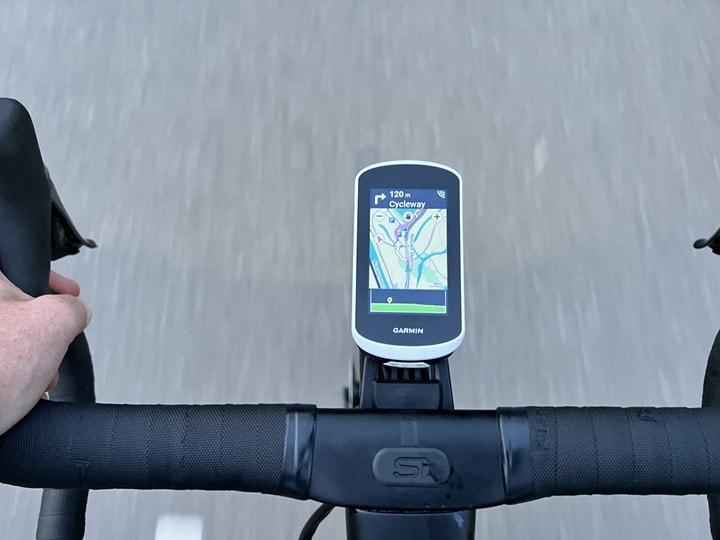 If configured, you can have it automatically transmit your position/route to friends/family using Garmin's LiveTrack feature. I've used this on all my rides, and it just automatically starts each time I press the start button. My wife and a few friends then automatically get an e-mail with a link to my ride, and they can see my planned course, my current location, as well as even my heart rate and power metrics.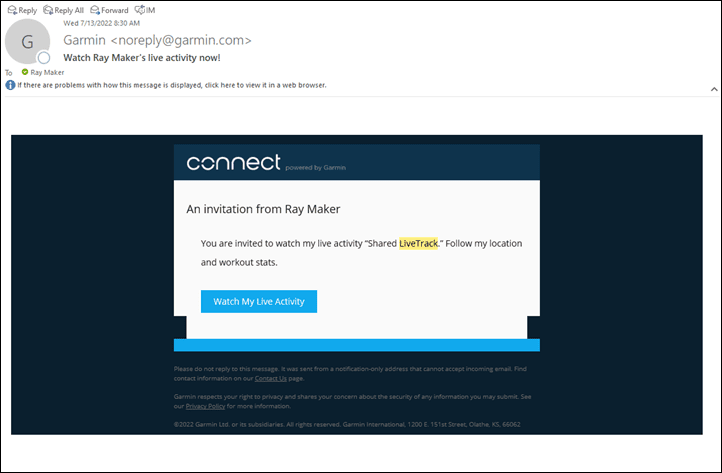 And then they can see the map like this, along with those various stats along the left: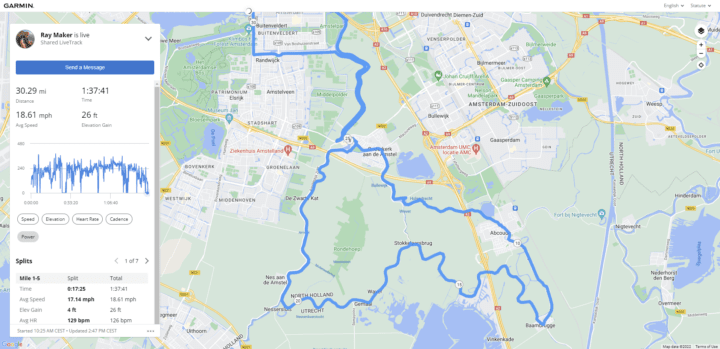 If I were to crash my bike, then the unit would trigger an incident detection alert. When that happens I've got 30 seconds to cancel it (in case of a false positive), before it starts notifying my friends and family. At which point they'll get texted essentially a variant of the LiveTrack link above, but with more urgency in the wording. You can choose which activity profiles this is enabled for, within the settings: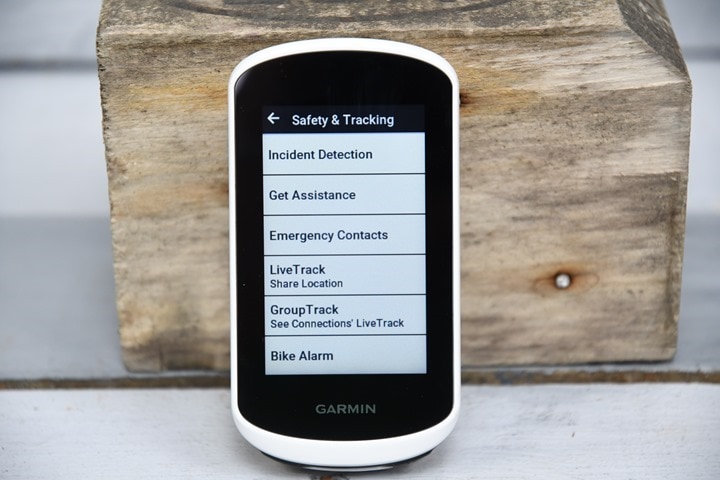 For those with compatible eBikes, you can pair to Shimano or other eBike systems, and get a slate of information wirelessly transmitted to the Edge, including current battery, estimated battery range, assist mode, and more. It's pretty slick.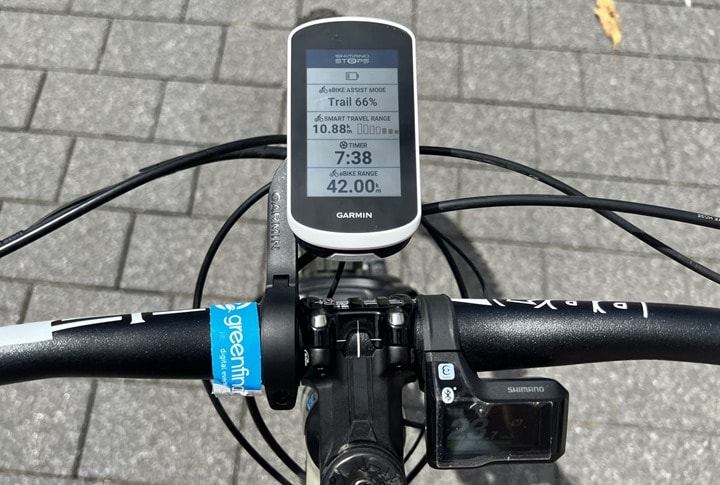 Note, this is all done wirelessly, and does require that your eBike has the right components. The answer to whether it has said components is almost certainly no. For example, I've got two eBikes, neither supports this. I went to arguably one of the premier bike shops in Amsterdam, with piles of eBikes, and none of them had the right bits to support this. Even at Eurobike, finding a bike to test this was tricky. The fun thing is that almost every Shimano powered bike itself actually supports this data, but it's the tiny little wireless transmitter bit that most companies don't bother to add (either on Shimano, Bosch, or others), and thus, you're missing that last critical step.
Once your ride is done, you'll get the new user interface summary screens, as seen on the Edge 1040:
At the same time, your ride will sync up to Garmin Connect, and then onwards to platforms like Strava and others. For some metrics, like Garmin's Cycling Dynamics when paired with a Vector or Rally power meter, you won't see the advanced metrics during the ride, but you will see them afterwards on Garmin Connect: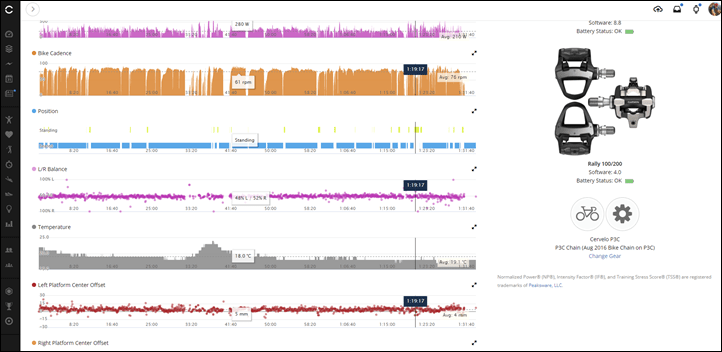 Note that during a ride, there isn't the option to see Normalized Power (NP), but it will show up after the fact in the ride file on Garmin Connect (or any 3rd party platform that shows NP). Here's the power meter-related data fields you can add to your data screens mid-ride:
Power (instant)
Avg Power (full ride average)
3s Power
Lap Power
Max Power
Kilojoules
Power Zone
Additionally, you'll see eBike metrics here too, if you managed to get those paired: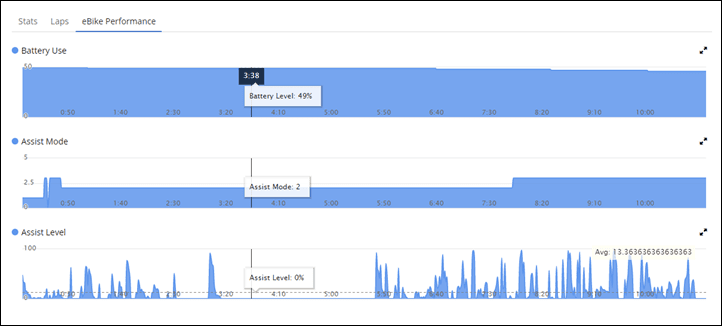 As for accuracy, we'll take a quick look at one ride from earlier this week. Most of my other rides have been more mundane commuting and related bits. This ride was with an Edge 1040 Solar as comparison, along with a Garmin Forerunner 255 and Forerunner 955:

Even when passing under massive highway interchanges, I had no accuracy issues: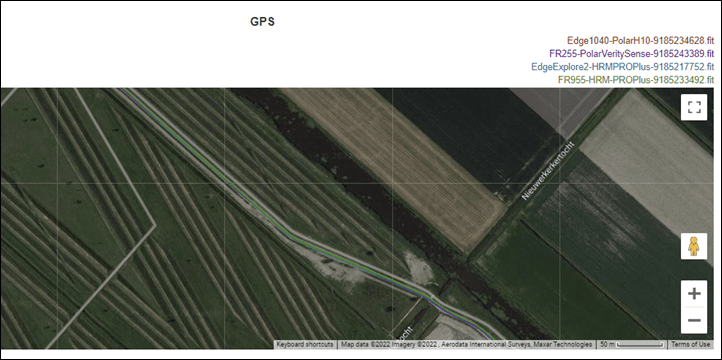 The same of course was true out on what were basically farm roads: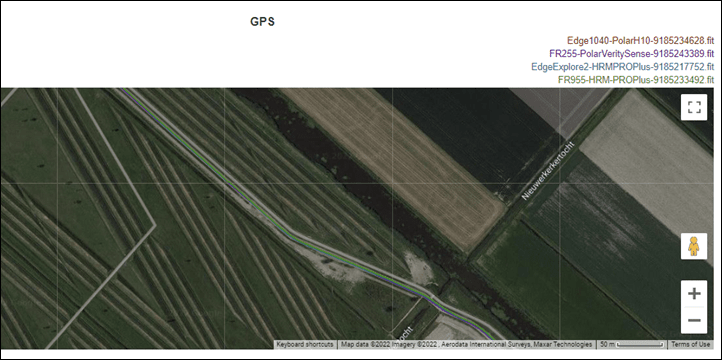 Overall, for road riding (or even city riding), the accuracy here seems perfectly fine. You can check out DesFit's review for details on the mountain biking side of life.
Navigation & Routing: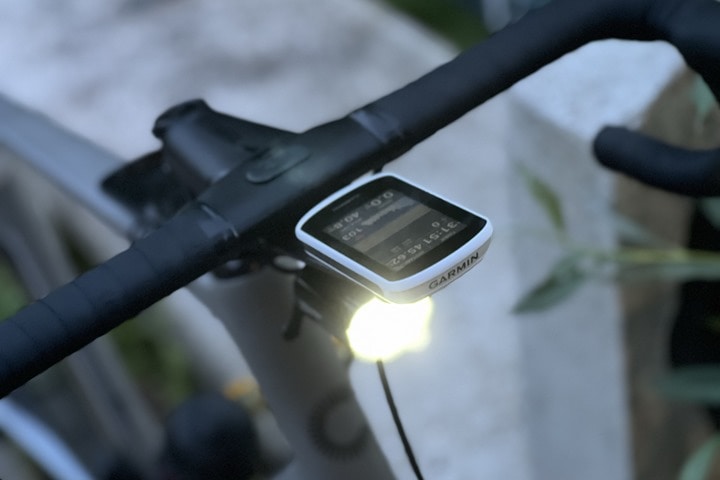 One of the main reasons you'd probably choose the Edge Explore 2 is for navigation. The unit comes with maps for your region, that are preloaded on the Edge Explore 2's internal 16GB of storage. If you plan to go to another region (e.g. to Europe from Australia), you can use Garmin Express on your computer, to download another region's maps. This is free, and a notable change for Garmin in this product line. Also, these maps include all of the popularity routing/heatmap bits, which makes them better than the previous free maps you could download from 3rd party platforms.
These maps include so-called points of interest, which can be anything from a café, bike shop, hotel, or monument. You can crack open the navigation section and browse through categories, or, if you know exactly what you're looking for, you can simply type it in the 'Location search' box on the widget glances: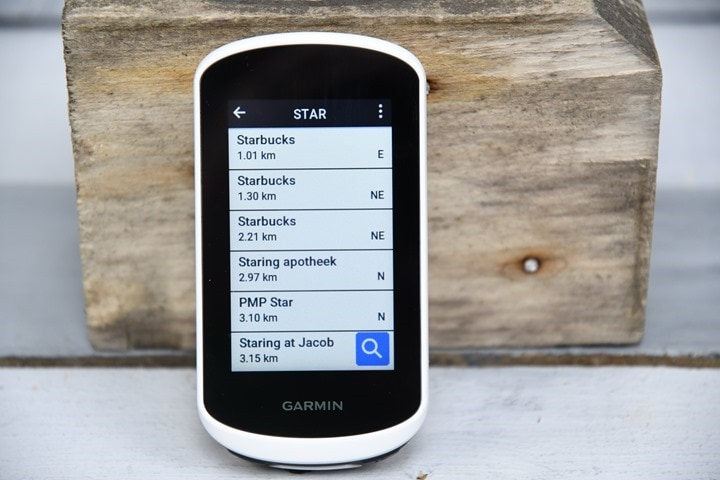 Meanwhile, within the 'Navigation' section, you can browse the map, load up saved courses, search through certain categories, and look at past searches. The past searches is handy if you're searching for a few things and eventually go back and select one of your earlier searches.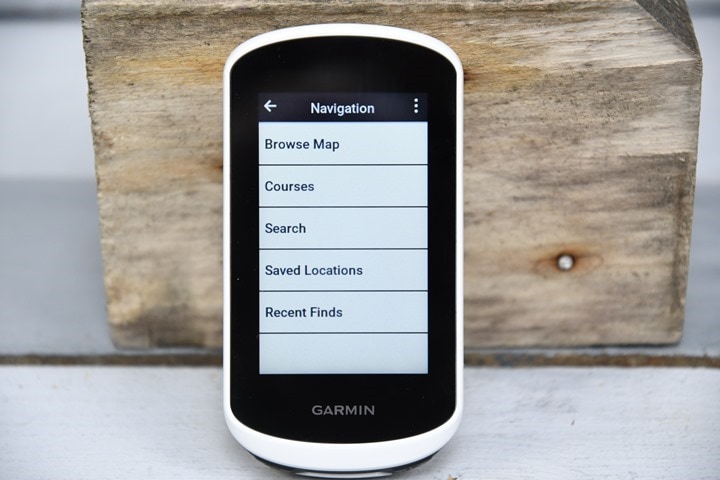 If you chose the generic search page, you can see the revamped categories here, including bike shops (which then has subcategories including repair stations, compressed air, and shops themselves):
If you tap one of these, it'll show you the nearby options, which you can select to immediately route to: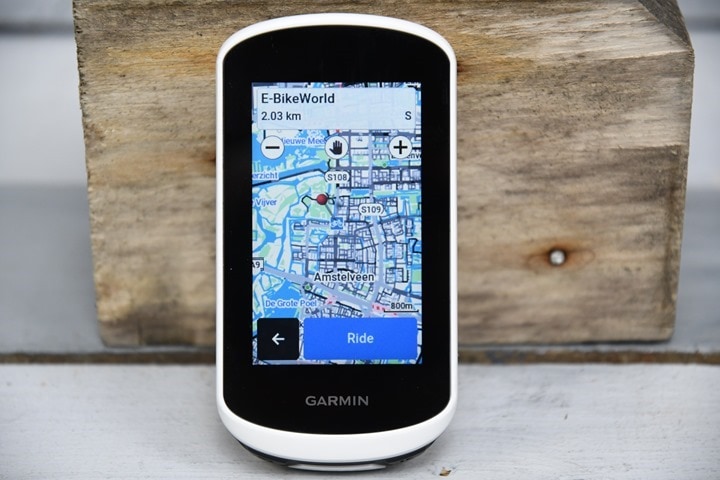 However, I suspect most routing is for course-based, or impromptu routing. For that, tap 'Saved Courses'. It's here you'll find any courses you've sent to the unit. But you can also tap the plus in the lower right corner, and then load a Course Creator up, Round-Trip Course, or create a course from a past activity.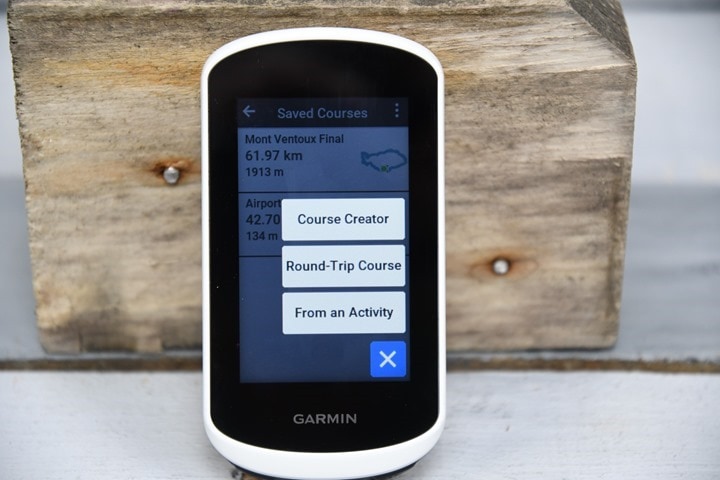 Course creator allows you to string together points using just the unit. It's a bit cumbersome compared to the speed of a phone, but it works just fine. You can search for POI, or simply add points on a map, and it'll add them one after another to create your route: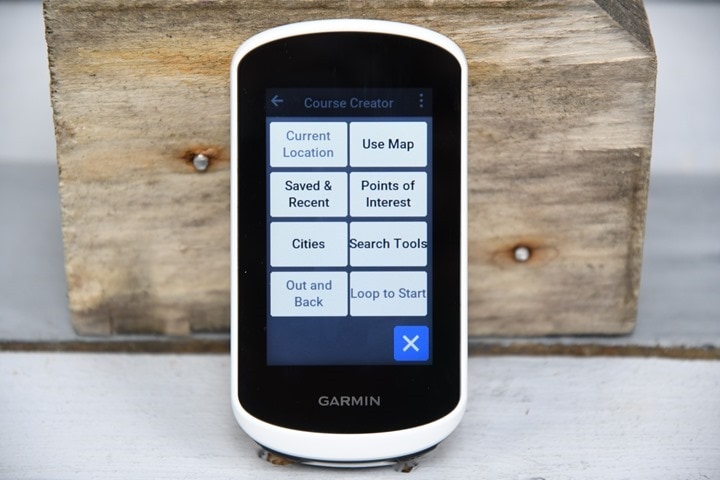 Alternatively, Round-Trip Course option lets you specify a design you want to ride, and a desired direction (if any), and then it'll come back and give you three different routes. This is awesome when you don't really know/care where you want to ride, but just want some generally good routes to ride. This uses all of that previously mentioned heatmap data from millions of daily activities to figure out where people actually ride, and base routes on that: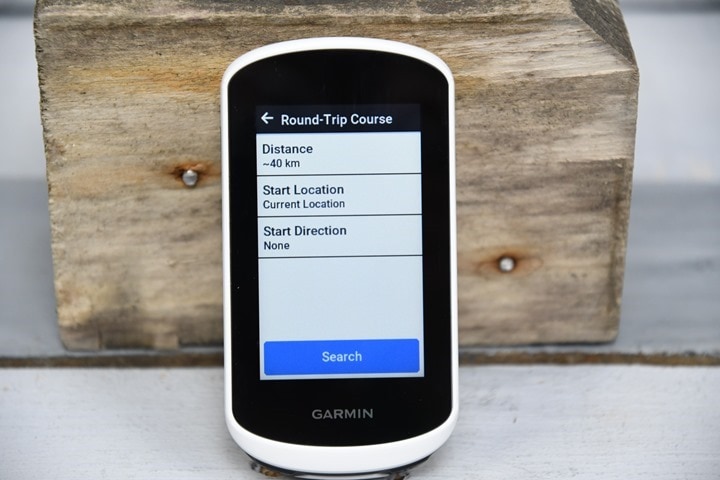 So in general, my experience is pretty good with this feature once I get started. Though, the actual route creation process here takes a number of minutes. It's definitely not at all fast.
But of course, if you know where you're going, you'll pull open a pre-planned course/route. This can be sent to the unit automatically from platforms like Komoot, Strava, RideWithGPS, and plenty more. Or, you can import GPX files. And finally, you can create routes on Garmin Connect directly as well (phone or desktop). You can see the elevation profile and overall stats of it, as well as browse a map of it.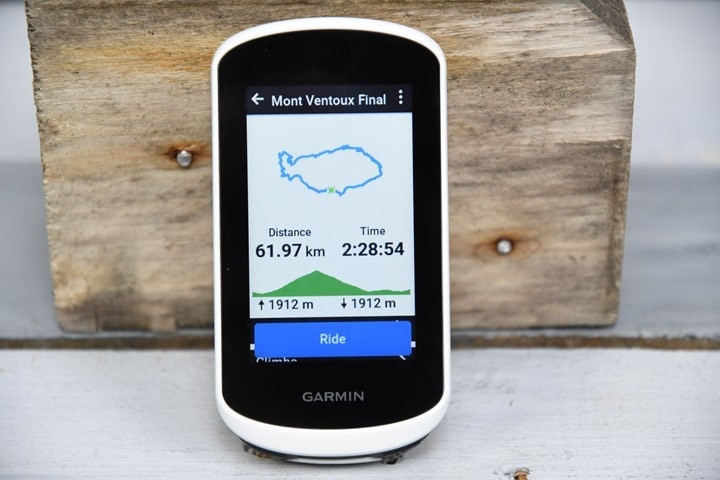 Once you've tapped it to ride, it'll offer to navigate to the start of the route, if you're not next to it. This is useful if you've planned your route perhaps days/weeks in advance on a multi-day trip, and end up starting a few kilometers/miles from your next planned segment. Unlike past Garmin units, this won't generally show a 'Route Calculating' banner. Instead, it might for a split second show the word Calculating, but otherwise you're ready to roll.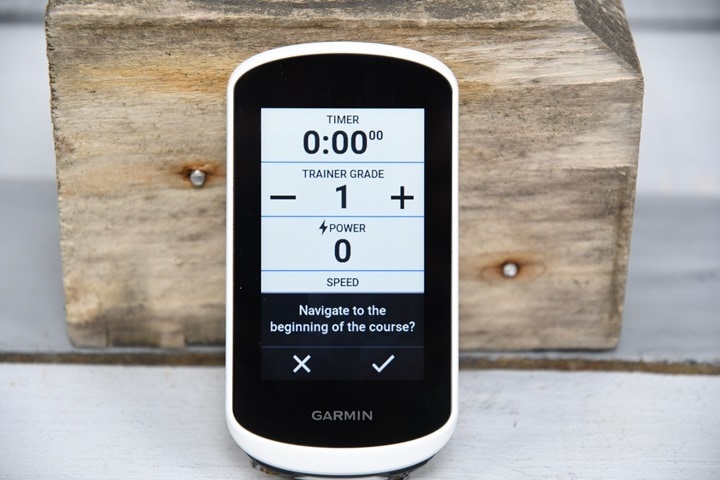 Garmin has changed the way they do this routing, and mostly just hides this behind the scenes. Previously, it'd try and calculate the entire route up-front, which could take many minutes. Of course, there's no reason to be waiting to calculate a portion of the route that could be hours from now. So now you can just ride immediately. You can either ride from the map page, or any other data page.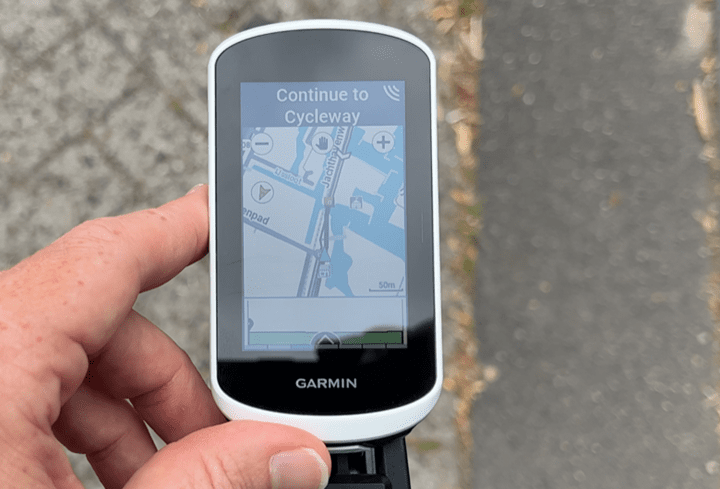 When you get about 150-200m out from a turn, it'll pop-up a banner and chirp, notifying you of the turn: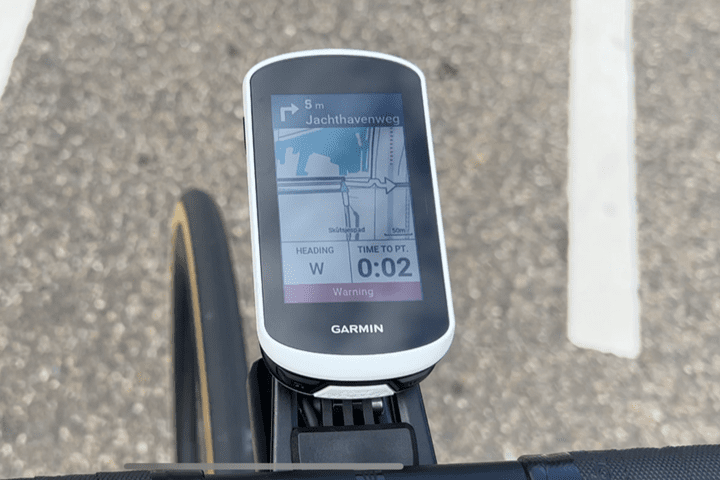 Once you pass the turn, it'll go away – usually within a few seconds. This is really the singular area I found the Edge 1040 a bit faster, specifically on the notices going away after making a turn onto the new road/path. The Edge Explore 2 seemed to linger just a few extra seconds. You'd probably never notice it, unless you were riding side by side with two units.
In the event you go off-course, it'll either automatically re-route you, or offer multiple options. It just depends on what it thinks is the best thing to do. Most times it just automatically re-routed me. But every once in a while if I'd screwed up significantly, it'd give me options for what I should do (for example, if I'd gone down a one-way road that might add significant time to my journey to get out of).
All my re-routing navigation happened virtually instantly. It just flashed 'Calculating' for a split second on the screen, and then went about doing its thing in the background. At the next point I could turn, it already had a new route planned, usually just to get me back on track at the next logical point down the road. You can also pause navigation as well (and of course end it too), in the event you want to have it stop chirping at you for a bit while you go take pictures down that pretty side road.
One new feature in the Edge Explore 2 that depends on navigation is ClimbPro. This will automatically show your distance, ascent, and gradient to the top of the climb. As noted, this does depend on having a course/route loaded (even if it's one you just created on the unit itself, or as part of navigating somewhere). Meaning, this won't show-up in just free-ride mode.
ClimbPro continues to be one of my favorite Garmin features, across either cycling or hiking/running. However, with Hammerhead having their similar CLIMBR feature now offered sans-course, it's definitely time for Garmin to game-up there, and offer a route-free version of ClimbPro. I suspect it's probably only a matter of time.
Finally, to download maps, you'll use Garmin Express on your computer, to download maps for regions other than your own. The available space is shown at the bottom.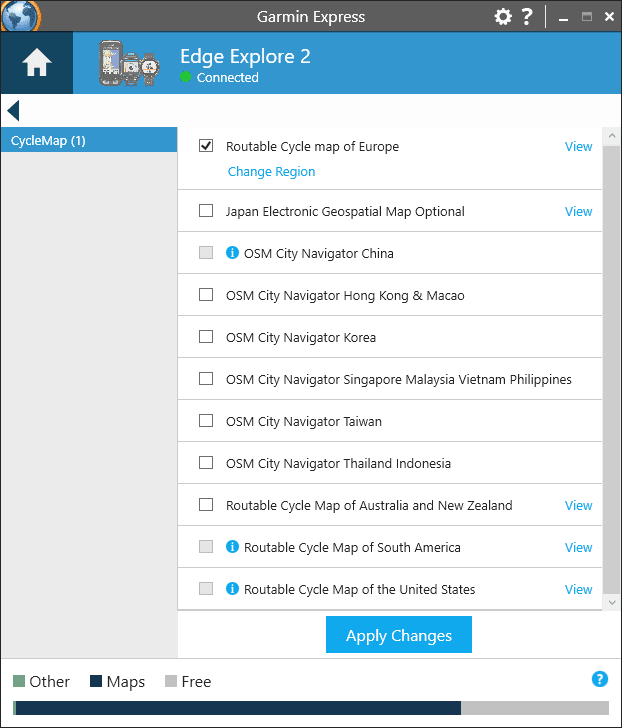 In any case, for navigation and routing, the Edge Explore 2 easily and efficiently routes me to where I need to go, and makes it easy to do impromptu routing if I need to.
Edge Power Mount/Bundle: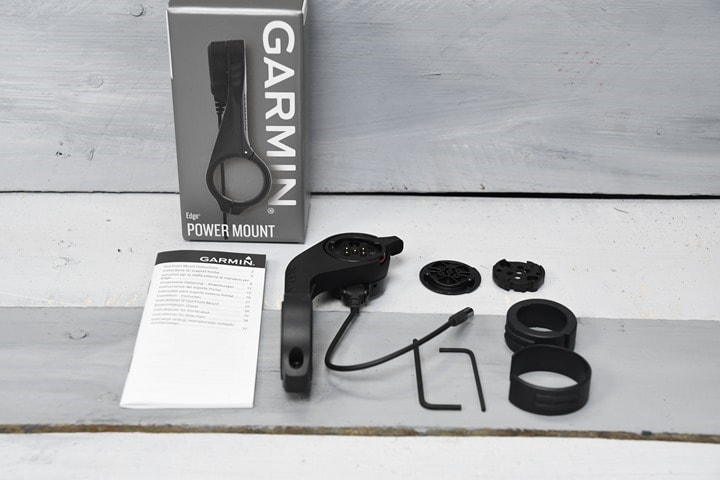 Now, I'm going to do an entirely separate post on the Garmin Edge Power Mount, but I just wanted to ensure a few things were clarified. First, the Garmin Edge power mount is essentially a charging mount. It doesn't have a battery built into it, rather, it simply connects to something else on your bike to charge it. That's it. There's no battery inside, nor is there any fancy data connectivity. All data connectivity happens wirelessly (e.g. for Shimano, etc e-bikes). This is just a fancy charging cable that also happens to be a Garmin Edge mount.
Second, is that the Garmin Explore 2 comes in two variants:
– Garmin Edge Explore 2 base unit ($299): Has no battery connector power pins on back of Edge unit
– Garmin Edge Explore 2 power bundle unit ($399): Has battery pins on back of unit, plus Garmin Edge Power Mount included in box
Point being, if you plan to use the Garmin Edge Explore 2 with a Garmin battery pack or charging mount, you really need to get that mount bundle up-front, else your Edge won't have the pins to make it work.
Now, as for the mount, here's the mount – which is compatible with all existing Garmin Edge devices that have power pins on them (e.g. Edge 530, Edge 830, Edge 1030, Edge 1030 Plus, Edge 1040, etc…):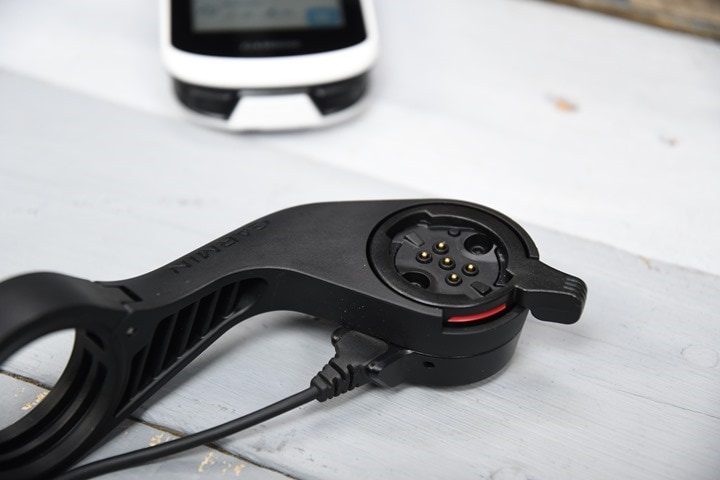 As you can see, it's got little power pins on the inside, just like the old battery pack did: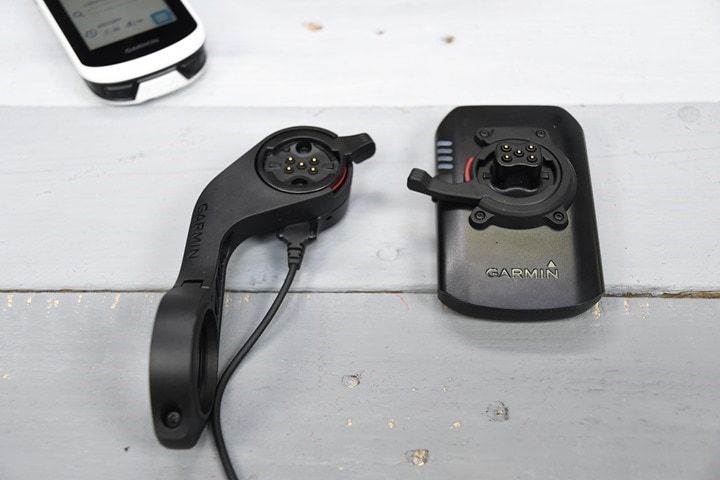 The mount has a latch on the side which locks it in place securely. Out the bottom of the mount is a cable, which is the Canbus cable.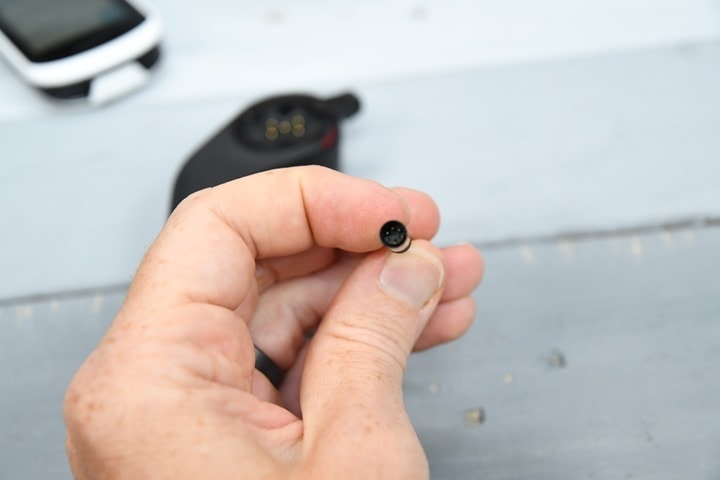 That cable can directly plug into a Cannondale Smartsense system (the front light), like so: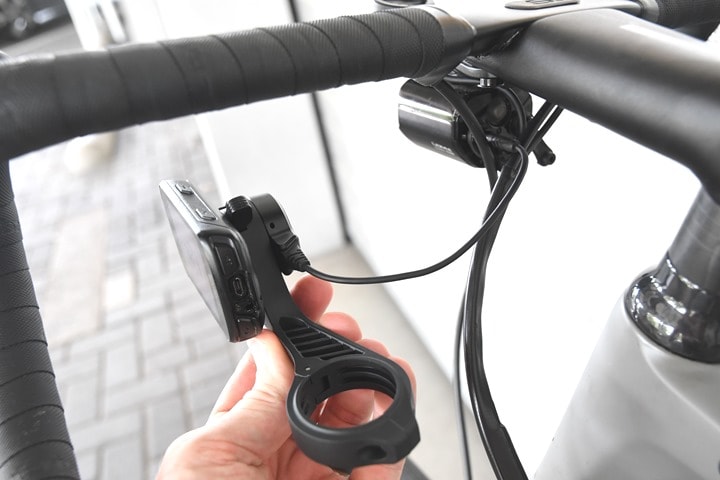 However, if you don't have a Cannondale compatible system (which would be 99.999% of you), then you've got three options:
A) Buy a Garmin adapter cable for USB-A ($50)
B) Buy a Shimano eBike power adapter cable for USB-A ($50)
C) Buy a Bosch adapter cable for USB-A ($50)
Apparently Garmin's 2022 USB-C port mojo ran-out here. Either way, to me, $50 for this cable is peak-crazy. Even Shimano doesn't chart that much for their own Di2 cables. So at this point you've got $129 (mount) + $50 (cable) + some amount of money for either a USB battery bank ($20+) or a fancy bike ($Thousands). I mean, c'mon.

Which is too bad, as I actually think it's a pretty clever and weather-resistant solution. And I'd love to see it expanded. For example, the way Garmin has designed the pod, it appears to be designed to be swappable to other mounts. Take the Cannondale Synapse bike I'm working on a long-term review on. That actually has the Canbus system on it, and the mount plugs into the power and works perfectly (no extra $50 cable required, since it's built in). That'd be ideal, save the fact that the Cannondale Synapse has aero handlebars, which aren't round. So it won't work here. Certainly, Garmin already works with Cannondale, so I'd hope a solution could happen there for that. But ultimately, having Garmin publish the mount compatibility specs for this makes more sense, allowing people to buy the power module/pod/puck situated on the bottom.
But, I'm probably getting ahead of myself. Like I promised – a full/dedicated post later on this. I want to first see if I can get it hooked up somehow to my Urban Arrow e-cargo bike. But I think that's going to require a different head unit.
Wrap-Up: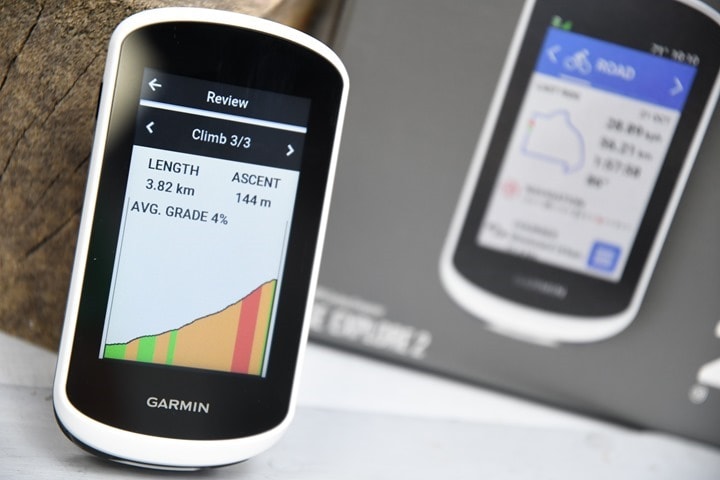 For the price and display size, the Edge Explore 2 is hard to beat, at least for most cyclists that are more focused on the journey than the mid-ride metrics. The display is bigger than the Edge 530/830 series, making it easier to read and with the new user interface, it's generally cleaner to read too. Of course, the tradeoff here is that it lacks some of the advanced training load/recovery metrics of the Edge 530/830, or even on-device Strava Live Segments. On the flip-side, seeing ClimbPro added to Garmin's Explore series of bike computers is awesome.
From a usability and functionality perspective, I could easily use this bike computer day-to-day. The cool part is if you've got a Garmin watch, it contributes to Physio True-Up, so if you're riding with a power meter and perhaps have a higher-end Forerunner or Fenix series, this will send the completed ride files to that, where those watches will do all the fancy calculations for training load/recovery (to be displayed on those watches).
Still, I feel like the lack of inclusion in charging pins on the base unit is a weird thing. Garmin has that on their $299 Edge 530, which is 3 years old now. And they're releasing a power mount bundle with the Edge Explore 2 for an extra $100 (which, is initially a seemingly good deal since the power mount itself cost $129). However, I just don't understand why this wouldn't have those pins built in at this price point. Nor do I understand why on earth the basically required power cables then costs another $50. That's crazy. On the flip side, I get that this probably won't matter to most people picking up this unit, since they'd likely buy the power mount bundle anyways.
Still, for the vast majority of people out there, this is an awesome bike computer for the price. I often use my parents as examples of potential consumers. This is the perfect bike computer for my Dad. He's an avid cyclist, but doesn't really care about training load or recovery metrics. He's going to go out for a ride, perhaps 100KM, perhaps longer (once we did a 100-miler together). But, he's definitely going to want navigation for that, and a larger display. And this delivers that in an easy-to-use package at a reasonable price. Heck, maybe I've sorted out his upcoming birthday present.
With that – thanks for reading!
Found This Post Useful? Support The Site!
Hopefully you found this review useful. At the end of the day, I'm an athlete just like you looking for the most detail possible on a new purchase – so my review is written from the standpoint of how I used the device. The reviews generally take a lot of hours to put together, so it's a fair bit of work (and labor of love). As you probably noticed by looking below, I also take time to answer all the questions posted in the comments – and there's quite a bit of detail in there as well.
If you're shopping for the Garmin Edge Explore 2 or any other accessory items, please consider using the affiliate links below! As an Amazon Associate I earn from qualifying purchases. It doesn't cost you anything extra, but your purchases help support this website a lot. Even more, if you shop with TPC (The Pro's Closet), you'll save $40 on purchases over $200 with coupon code DCRAIN40! The Pro's Closet has been a long-time partner of the site here - including sponsoring videos like my cargo bike race, as well as just being an awesome Colorado-based company full of good humans. Check them out with the links below and the DCRAIN40 coupon!
Here's a few other variants or sibling products that are worth considering:
And finally, here's a handy list of accessories that work well with this unit (and some that I showed in the review). Given the unit pairs with ANT+ & Bluetooth Smart sensors, you can use just about anything though.
And of course – you can always sign-up to be a DCR Supporter! That gets you an ad-free DCR, access to the DCR Quarantine Corner video series packed with behind the scenes tidbits...and it also makes you awesome. And being awesome is what it's all about!
Thanks for reading! And as always, feel free to post comments or questions in the comments section below, I'll be happy to try and answer them as quickly as possible. And lastly, if you felt this review was useful – I always appreciate feedback in the comments below. Thanks!