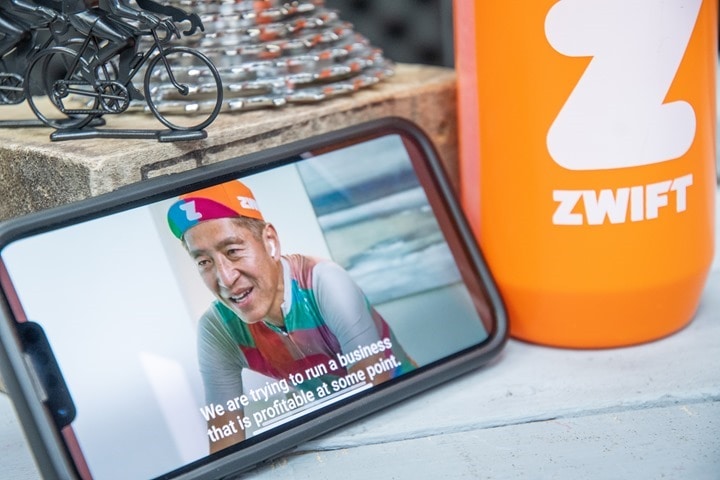 Zwift has a long and vibrant history of hinting at upcoming changes via financial media organizations such as Bloomberg. And the latest interview with Bloomberg news is no different. I mean, I suppose it was slightly different in that it was done while pedaling on smart trainers with both individuals suffering. But hey, that's 'on brand' for Zwift CEO Eric Min.
As part of an outline by Bloomberg host Tim Stenovec, there's two notable sections. The first is on pricing, and the second is on their goals for subscriber numbers.
Starting with the easy one, pricing, Min says that the current $15/month subscription is "not sustainable" for much longer, and that the company is considering annual memberships. Zwift is actually a rarity in not offering annual memberships in the indoor cycling space, with most of their competitors offering annual options that have a bit of a discount over the monthly ones. Additionally, most of their competitors have already raised prices in the last year or so (including TrainerRoad, Wahoo/RGT, Peloton, and more). Zwift's price hasn't changed in 5 years.
"It's a virtual space where people come together."

Join @timsteno as he takes a ride through the metaverse with the co-founder and co-CEO of @GoZwift and learns more about the company that's bringing competitive cycling indoors pic.twitter.com/MiX720ljfa

— Bloomberg Quicktake (@Quicktake) February 3, 2023
In the video interview (embedded above), while riding Eric Min says:
"But let's be honest, the cost of running our business has gotten more expensive. It's been really tough. The supply chain issues are real. We are trying to run a business that is profitable at some point. It's not at the moment. We're really focused on trying to onboard as many customer as possible, and trying to make the pricing accessible."
Keeping the pricing accessible does match their investor's goals as well. They'd prefer to grow subscriber numbers now (for the long term), rather than try to increase short-term revenues. Still, that doesn't change the reality that Zwift has said the current pricing isn't "sustainable" for much longer.
The question is – what's a reasonable price increase?
My bet would be on a monthly price of $20. Any price increase will cause internet grumbling, but a price increase to $20 (or, $19.99) wouldn't likely cause much in the way of actual cancellations. At this point, people get that price increases are happening across the board due to inflation. That's a reality. And I think people also get that Zwift hasn't raised prices in quite some time.
I'd say any amount above $20/month, without some sort of significant extra increase in functionality, would be extremely risky for Zwift – both in cancellations and community blowback. Like it or not, Zwift isn't Peloton (which charges $44/month for their 'All Access' variant). Peloton users knew those high prices (was previously $39) when they joined, and thus, that's sorta part of the deal.
More than that, breaking the $20 barrier would be notable for the rest of the indoor training apps, which all remain at or below $20/month. And of course, mentally, it's a big barrier to break for most consumers.
An annual option would make a lot of sense, and would likely soften the blow of a monthly price increase, if done correctly. The challenge is doing it correctly. Strava tried to bridge the gap by doubling (in some countries) the monthly price, while 'only' increasing the annual price by 20-30% (again, depending on the country). Ignoring Strava's inability to communicate this, Strava's total package pricing is far less than Zwift's. Thus, people are more willing to plunk down $50-$80/year once, rather than a higher sum of perhaps $180-$200/year at once. Thus, trying to force consumers to an annual plan to save money if they significantly hike the monthly plan, for Zwift's price range, is risky.
On the bright side, for all the grievances that people may have about Zwift (many of them probably valid) – the one thing people can't generally complain about is Zwift's communications. The last time they increased prices (in November 2016) they gave existing subscribers 1 year notice of the price increase. Seriously, what company does that?!? Nobody. That's insanely unusual. Now, I'm not saying Zwift will (or even should) give a year's notice, the key thing here is that I suspect they will communicate it well and clearly. In other words, they won't pull a Strava (which, as a reminder, has yet to e-mail all members about the price increases). And I suspect Zwift will be rewarded for properly communicating with a lower cancellation rate than Strava has seen as of late.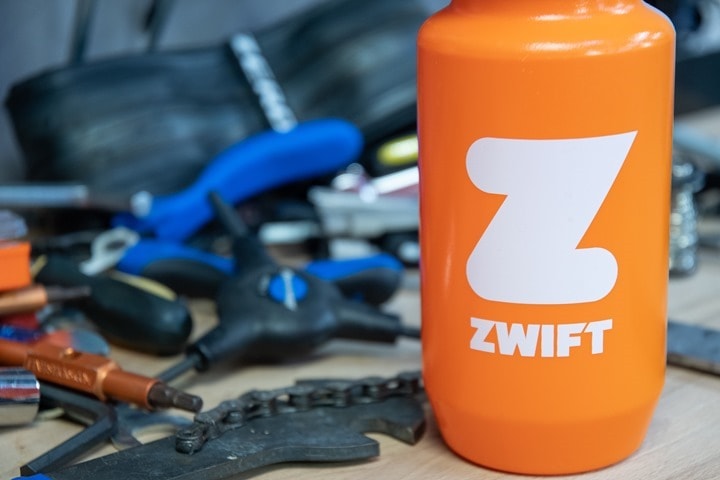 Now, additionally, in the article, Bloomberg noted that Eric Min is hoping to take Zwift from a subscriber base "to 10 million, from roughly 1 million with 80% of them men" and "possibly taking the company public eventually". Note that both of those are quotes of the Bloomberg article, and not technically quotes of Eric Min directly, though obviously, that's the discussion with Eric Min that Bloomberg is pulling from.
In any case, a couple of thoughts on this single line alone:
A) Taking the company public: During the pedaling portion, Eric Min says "I think we all have aspirations of taking this company public." This has been discussed before, and while their most recent investors (KKR, Permira, and Amazon's Alexa Fund) would like that, there's the simple reality this is not exactly the best time to IPO. Especially for an indoor fitness company. That said, there's also the line of thinking that says it couldn't be any worse (probably true) and that Zwift has likely hit the bottom of the post-COVID-peak subscription barrel. Thus in theory, it's all new subscribers from here.
B) "Roughly 1 Million" current subscribers: This would be a question of how 'rough' is 'roughly'. Is 800K 'roughly' one million? The concurrent user numbers simply don't support any growth in their numbers, with Zwift not matching last year's peak (which is typically the 2nd week in January with the Tour de Zwift). Since then, it's been downhill again in max concurrent users. All of which is below peak Zwift of a few years ago. Of course, you can have plenty of non-active subscribers with people just not cancelling. Which, becomes risky for price increases, when people are often legally required to be notified of a price change (such as in the EU), and thus a reminder to 'cancel that thing they never used'.
C) Aiming for "10 million": I see this as exceptionally optimistic, to put it kindly. There would have to be a massive shift in the Zwift platform/product to achieve this, somehow making it more widely appealing than Peloton, whose subscriber numbers are at ~4 million paying members (and Peloton only sells in 5 countries, versus Zwift everywhere). Zwift would need a once-in-a-lifetime event to pop from basically ~1M plateaued subscribers to 10M, and that event was called COVID. And while it did pop Zwift up, that event is over.
Obviously, it's good for all businesses to have goals – sky-high ones even. And that's fine. But I'd say if Zwift is trying to achieve 10 million members, they need to fundamentally shift and re-think the product they have today. It's simply not appealing to that kind of scale. And realistically, the only way to achieve that kind of scale is making the product more appealing to a wider base of users. While the Zwift Hub $499 smart trainer does that from a hardware standpoint, it doesn't from a software platform perspective. It doesn't bring in the true consumer mass-market features that Peloton has, or other platforms like it. Alternatively, they could do it through acquisitions of adjacent platforms.
But either way, that's OK. You don't have to be everything to everyone. But of course, the goals of eventually becoming a public company are at odds with the relatively small user counts and revenue that Zwift has today, from a global perspective. As to how that all lines up with pricing? I suppose we'll all have to wait.
With that – thanks for reading!