It's that time of the quarter where each of the different Garmin fitness/outdoor product quarterly beta programs gets into gear, and with it, we get to see the first slice of new features for each watch. Last week they rolled out the first alpha for the Fenix 7/Epix/Enduro 2/MARQ 2 watches, which brought a dozen new features including Jetlag Advisor, more sport profiles, and expanded Race Day features.
Last night Garmin posted the first Instinct Series 2 Alpha update in the Garmin Public Beta Program, which adds in a number of features that other watches got in the previous quarterly update cycle (such as wrist-based running power and Grade Adjusted Pace (GAP)).  This is available for all Instinct 2 Series watches.
As a brief reminder, Garmin switched to the quarterly release scheme for feature updates, but that also includes bug fixes too. As usual, other bug-fix updates can happen outside that schedule as needed – but the major features are being released quarterly now, and ideally all at once across all current-gen watches (or bike computers/etc…).  As part of that, Garmin has their Beta Program for each device model. That beta program starts with so-called 'Alpha Builds', and then after what is usually 3-5 weeks, escalates to 'Beta Builds'. The Alpha builds must be downloaded manually to your watch using a computer, whereas the Beta builds automatically show up on your watch using WiFi/Bluetooth. Both are part of the 'Beta Program'.
If you want to join the beta program, you can do so here, or I've written up instructions here.
What's New: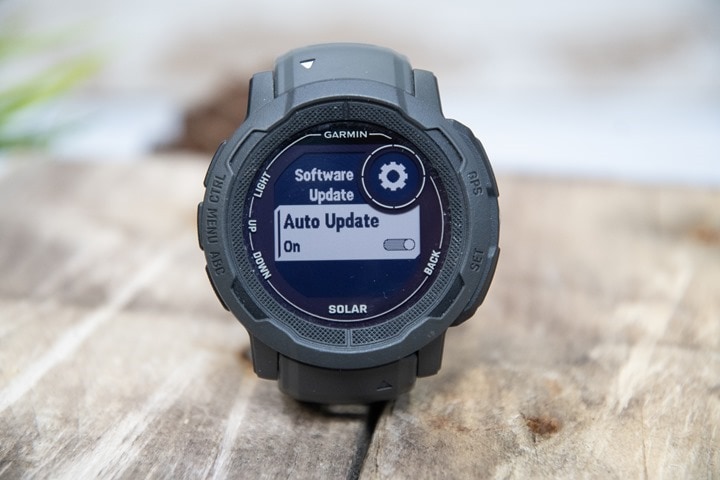 Now as with last week's Fenix 7/etc series update, keep in mind that the first posted Alpha of the quarterly update train ride tends to be just the tip of the iceberg in terms of features. Meaning, they've historically added more new features as they go along. For example, we don't see Connect IQ System 6 in this update set yet, but we know that's definitely coming. Heck, even the Fenix 6 series got a Alpha update for that yesterday too. Same goes for unspecified gender support, one that the Venu 2 team added to their Alpha update yesterday, after seeing it in other Alpha updates over the past week.
You can generally look to other product alpha/beta releases to get a pretty good idea of what's coming. Obviously, not everything lands on every watch, but, they do provide some hints. Also, again, this requires the cable to install, because it's an Alpha build. Whereas the Beta builds would come down wirelessly (and the above picture would be more correct).
Here's the official list of changes for Alpha version 11.08:
Added Morning report.
Added Sleep Mode.
Added Primary Race and Race Calendar glances.
Added Wrist-Based Running Power.
Added Daily Suggested Workout Improvements.
Added Grade-Adjusted Pace.
Added Backcountry Snowboard activity.
Added Physio TrueUp – Training Status Improvements.
Added RTS support for activity alerts.
Added temperature recording activity setting.
Updated phone app pairing flow to use PIN comparison.
Now, as a quick reminder, late last month Garmin released firmware 10.10 (production) to the Instinct 2 series, which while smaller than the list of changes for other watches, did include a significant sport profile addition. It added the Surf/Windsurf/Kiteboard activities to *ALL* Instinct 2 Series watches, whereas previously those sport profiles were only available on the Surf editions (which were functionally identical hardware):
Added Surf, Windsurf, and Kiteboard activities and the Tides app to all Instinct SKUs.
Added app-specific notification icons for the Garmin Jr. and Garmin Messenger apps.
Added an option to delete a copied activity from the device.
Added additional course point icons for new Garmin Connect course point types.
Added the setting for backlight behavior when a key is pressed during sleep.
Improved the power data screens by showing heart rate in the dial.
Note that I've only outlined the specific new features page, not all the 'improvements/changes' realm, nor all the bug fixes. All of those are listed in full here (and here for the previous 10.10 production build).
Random Notes:
So, just a quick look through some of the features. Some of them are self-explanatory, and some of them are worth a quick tap. The Morning Report has been around since the Forerunner 255/955 days, and is now on the Fenix 7/Epix/etc series as well. It covers the day ahead, as well as last night's sleep. It'll show things like planned workouts, HRV status (which the Instinct 2 series got in an update this past summer), as well as the weather. You can customize this on the Instinct 2 in the settings menu (Settings > Appearance > Morning Report):
Next there's sleep mode. This is a subtle but super useful feature that was introduced with the Fenix 7 series watches a year ago, and essentially has a minimal sleep watch face: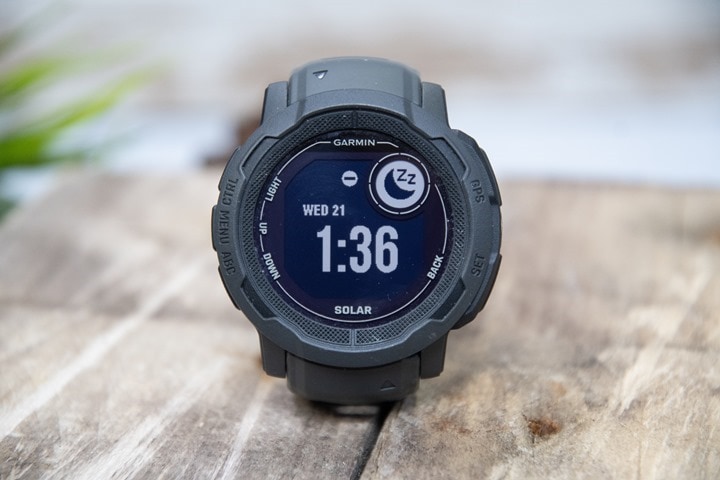 They've added wrist-based running power, which made the cut for virtually all other current-gen Forerunner/Outdoor watches in the last quarterly update, but the Instinct 2 didn't quite cross the finish line there. Wrist-based running power means you no longer need to have any external Garmin sensor to get running power data. It also gives you a bit more flexibility for choosing which running power data you have (external Garmin sensors vs wrist, or simply off). That's useful for Stryd users that may want to simply turn off the Garmin running power values, as they won't be the same as their Stryd sensor.
I've previously done comparisons of the Garmin wrist-based running power when it came out. In short, it's basically the same as the existing external sensor one in terms of the numbers.
Beyond that, most of the other changes are pretty straightforward. You do see the item listed: "Added Physio TrueUp – Training Status Improvements" on the firmware notes. In the case of the update last week, that was the beginnings of syncing more metrics via Physio TrueUp, including HRV Status (that and Body Battery haven't been synced to date). It also meant removing the toggle for Physio TrueUp, as Garmin is going to a model where it's simply always on, for everything (akin to what other companies have done).
In the case of the Instinct 2 and HRV sync, it does appear that plumbing groundwork is being laid. This Instinct 2 spent the night in the DCR Cave powered off in a box (without a firmware update). Whereas, on my wrist was the Epix, tracking HRV. After updating the Instinct 2 and letting it sync, I can see some HRV status details carried over:
Like the Fenix 7 HRV Physio TrueUp sync bits last week, it's clearly unfinished. Both the actual HRV status label is missing, as well as the details of the night. But I do at least see the singular value shown (a record low night for me, no less…apparently that wine was strong!).  Again, looking at the pattern when Garmin introduced Training Readiness features to the Outdoor lineup this past summer, they worked in chunks, adding one piece at a time with each beta update.
And finally, they've added the Race Calendar and Primary Race widget glances, which show your upcoming races, as well as details about those races including predicted finish times.
Sadly, my work finding a transparent Santa image for this race didn't pan out, as it doesn't appear the Instinct 2 supports the race logo/image feature like some of the other watches. Win some, lose some.
With that, thanks for reading!