Polar has just announced their newest watch – the Ignite 3. And despite being a watch typically focused on the mid-range price bucket, they've gone ahead and put their most advanced technology to date into it. It features a stunningly beautiful AMOLED display with Gorilla Glass 3, while even more notably adding in multiband/dual-frequency GNSS, making the Ignite 3 the first Polar product to have it, and joining the likes of Apple, Garmin, COROS, and more.
Beyond that, Polar has added a smaller slate of updates and tweaks, mostly long-running requests from previous Polar Ignite models. These include the addition of manual laps via 'Slap to lap', as well as adding in the Running Test and Walking Test. Further, they've increased the processor, added watch face customization, and an always-on display. Coming later this month, Polar will roll out two additional features, including what they're calling 'SleepWise', which Polar says is essentially an analysis of how last night's sleep will impact your day ahead, including a forecast of "daytime alertness levels". The second feature is audio guidance during training, when using headphones or your phone's speaker.
As usual, this watch is a media loaner, and it'll go back to Polar. This review is not sponsored (nor does any company get to preview anything I review), and I don't take any advertiser money from any companies I review. And as regular readers know, if something is crap, I'm gonna tell it brutally like it is – no matter the brand. Once this unit goes back, I'll go out and get my own for any future testing needs. If you found this review useful, you can use the links at the bottom, or consider becoming a DCR Supporter which makes the site ad-free, while also getting access to a mostly weekly video series behind the scenes of the DCR Cave. And of course, it makes you awesome.
What's New: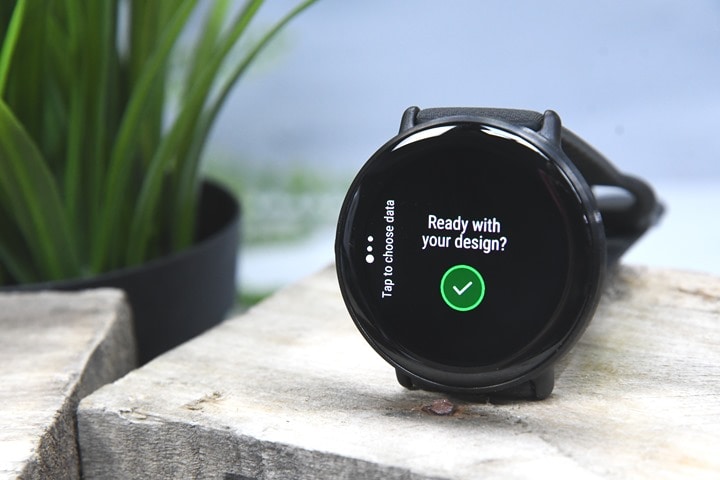 Here's a quick rundown of what's new or notable in the Ignite 3:
– Switched to 1.28" AMOLED touchscreen display (416×416, 16M colors), size increase of 20%
– Switched to Gorilla Glass 3.0
– Added Always-On Display Option
– Added multiband/dual-frequency GNSS (by Sony)
– Doubled the processor power (2x previous Ignite 2)
– Added ability to customize watch face widgets (aka data complications)
– Added Running & Walking Tests (previously only had Fitness Test)
– Added manual laps (via slap)
– Added Race Pace
– Added Location-based Autolap
– Changed to horrifically bad new strap design
– Existing Polar Prime optical HR sensor
– Smartwatch Battery life: Up to 5 days in non-always-on display mode
– GPS battery life: Claimed up to 30 hours of GPS time and HR tracking
– Watch weighs 35g, includes two size straps in box (20mm size)
– Metal bezel edge, plastic case otherwise
– Price is $329USD/329EUR
Additionally, there are two further features not available at launch, but will come later this month in a firmware and app update:
– Adding SleepWise Insights: These will essentially show the impact of last night's sleep on your day ahead
– Adding Voice Guidance during training: This will use Bluetooth headphones or your phone's speaker to give you workout stats mid-workout
Note that Polar says that SleepWise insights will be rolled out to all Polar devices that currently support Sleep Plus Stages, after the initial Ignite 3 rollout, specifying a time of "Later this year".
The core sport differences to something like a Polar Pacer Pro watch (similar price point), is that the Polar Pacer Pro has a barometric altimeter, running power, dedicated lap buttons, and more training/recovery metrics. Plus routing/course support. That's just a short list, there are plenty more smaller things.
The Basics: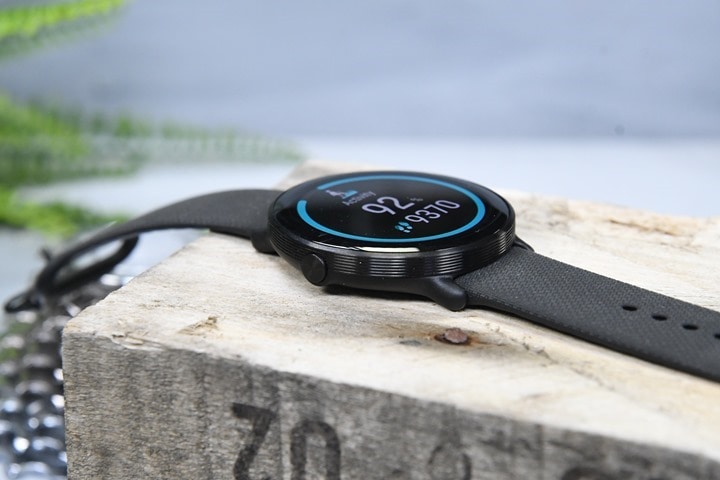 This section is all about the basics of using the Polar Ignite 3, including the display/touchscreen, as well as things like activity tracking, sleep tracking, and so forth. The specifics of sports tracking come in the next section.
The Ignite 3 uses a combination of a single button and a touchscreen. You'll use the touchscreen for most navigation, while the button acts as a 'back' sync starter (if long held). While Polar has long used this single-button design for the Ignite series, the simple reality is 2022 saw many one-button watch companies add more buttons. And even those with two-button touchscreen designs increased buttons. I suspect it might have just been too late for Polar to get on board that wave.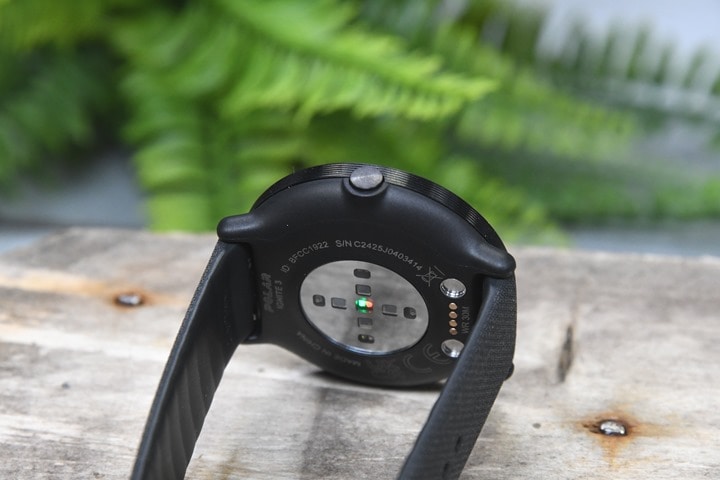 In any case, the AMOLED touchscreen is beautiful to look at, and by far the most brilliant display Polar has used to date. The glossy curved edges look great in real life, and the size of the screen rivals many of the larger screen devices out there. They manage to hide the bezels well, using the curvature of the display. Somewhat similar to what we see with the Google Pixel watch, except carried out a bit better.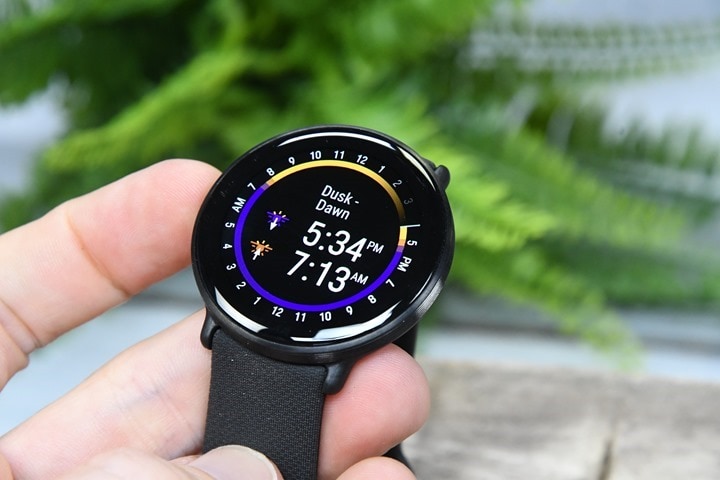 The downside though is that despite Polar doubling their processor, the actual interface is super laggy. Some actions carry out quickly, but many having 1-3 second lag/delays on them. It's infuriating, and would be the single reason I couldn't use this watch beyond this test period. I could almost deal with the bad GPS, but I can't deal with how painfully latent it often is (check out the video for examples).
Specific actions that cause tremendous lag are opening dashboard pages (to see activity tracking stats), pressing the button to go 'back', swiping down, and swiping up and out of notifications. The settings menu seems normal/fast though, I guess.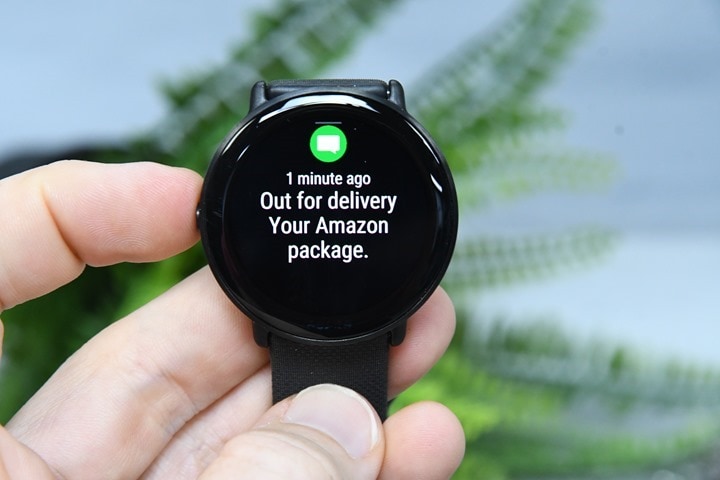 In any case, one new change they've made is the ability to customize the watch face complications (those are the data bits). You can choose which data bits you want in each one of the spots/bubbles, and can do that for different watch faces. It's easy to use, I like it.
Once you've done that, here's my watch face, showing me battery (left), heart rate (top), weather (right), and steps (bottom):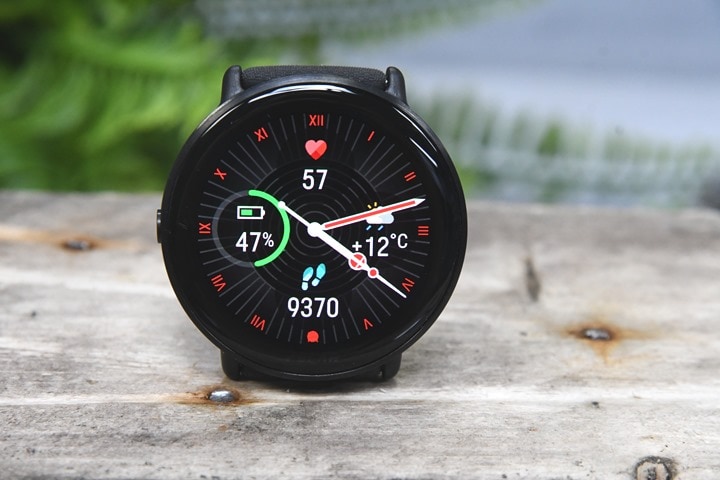 Note that the watch face isn't always-on by default, but you can turn it on like I did. Otherwise, the display will turn off when you lower your wrist, and then turn back on when you raise your wrist. Unfortunately, Polar's wrist-raise detection isn't great, so it's about 1.5 seconds of lag before the display lights up, on a desk scenario, and about the same each time during a workout.
If you have always-on display enabled, the watch face you configured isn't actually what you'll see 24×7. Instead of a blank/black page when your wrist is down, you'll see an abbreviated clock, which saves battery: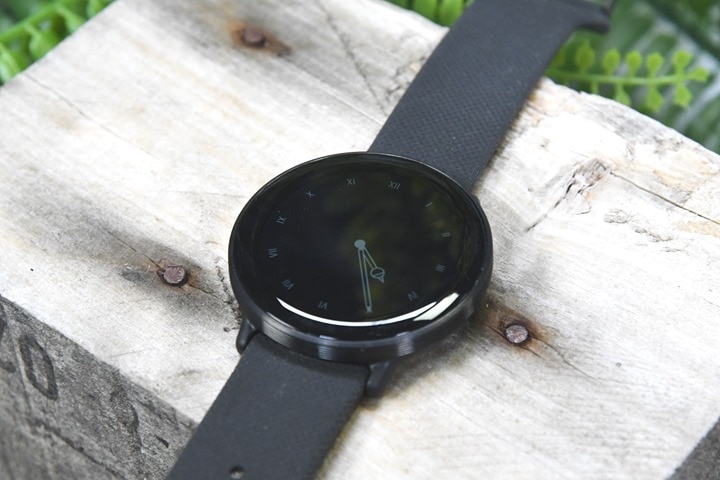 When you raise your wrist, you'll get the full watch face as noted above. From a battery standpoint, this always-on mode is putting me at basically 1.5 days' worth, assuming I set it to sleep mode at night. That's inclusive of 50 minutes of GPS time/workouts, and another 30 minutes of non-GPS workouts. It seems to burn far more battery at night sleeping than I'd have expected (30-40% for 6-8 hours). [Update: Polar has put together an impressively complete detailed chart of different battery burn rates, you can find that here.]
Now, if you swipe to the left or right, you'll get into the dashboard views. These are basically widgets containing focus areas like step tracking, workout tracking, sleep, and so on. For example, here's the steps one: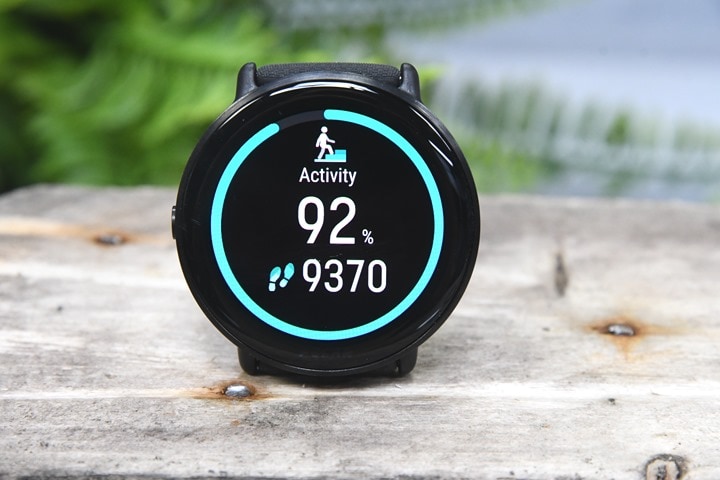 From there I can tap it, and then look at more detailed information about my steps and energy:
The same is true of sleep, where I can see sleep details there:
Coming later in November is the new SleepWise feature, which will automatically use last night's data to provide analytics on how the day ahead will go, including when you should go to bed that next night. The idea behind this is to see which periods of time you should stay at the café drinking many cups of coffee. This feature isn't available yet, but here's a look at it, from a screenshot from Polar:
Here's the sunrise/sunset widget, and then the detail page below it, which I find pretty:
Same goes for weather, it looks nice! Well, not my specific weather, but the page does:
You'll also see this Daily Workout Suggestion page. But more on that down below in the next section: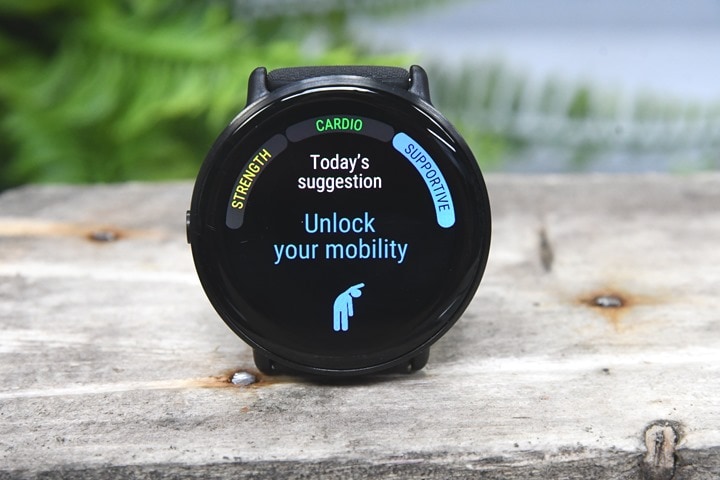 Now, it's worth noting that many of these data points above utilize the optical heart rate sensor on the back. This is one of a number of optical HR sensors that Polar has in their stable, and thankfully I'd say this is the best variant they have: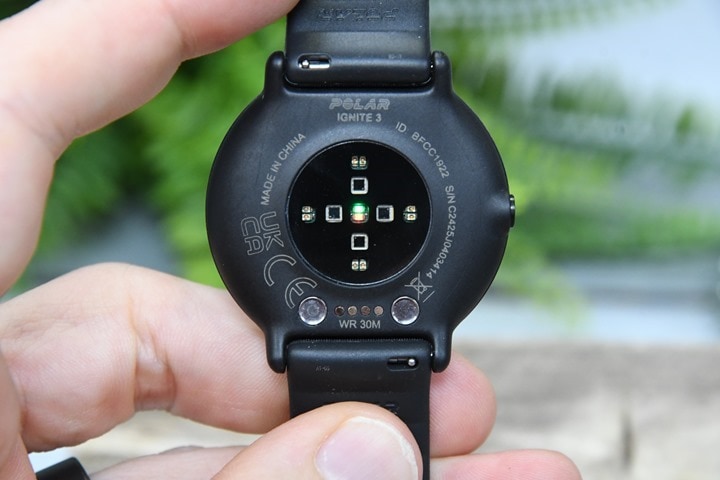 You'll see the heart rate details in a variety of places, but you can see the HR details as well as plenty of other stats within the Polar Flow smartphone app:
Finally, there are two smartwatch-related features. First is smartphone notifications. These will show whatever smartphone notifications are on your phone, but on your watch instead. These look really pretty, but, seem to have some bugs. Check out this message that Des sent me. The taco is missing on the Polar Ignite, yet shows up on the Garmin Forerunner 955. Of course, the Polar display looks brilliant here in comparison – but, it's still missing the taco. And Taco Time without Tacos is just sadness. Much sadness.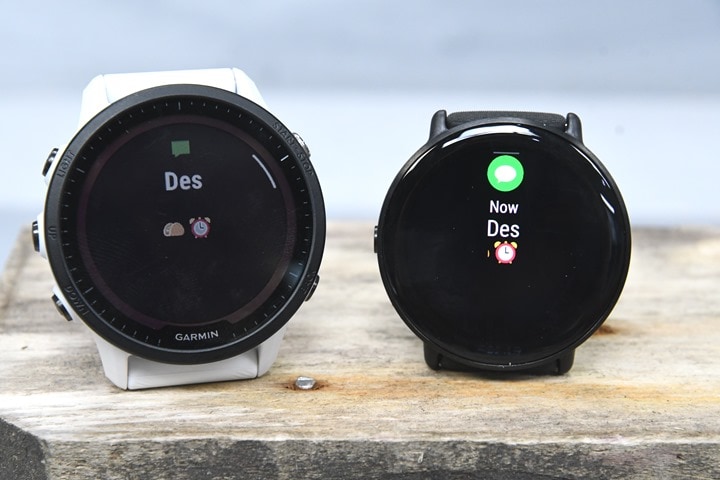 Next, there are music controls. These control the music on your phone. There is no music onboard the Polar Ignite 3, so any music you listen to or control is on your phone.
Still, this works well enough, and I like that it shows the icon of the music app you're controlling up top.
Finally, there are no NFC/contactless payments here. I wouldn't expect that anytime soon. Much like streaming music services, those castle walls have largely been built-up by the majors, and I don't see that changing. There are enormous business and user-base moats that a smaller company like Polar simply can't get past these days. Their only real option is going towards Wear OS, which for a watch like the Ignite 3 might have actually been a good idea – as it would have got them access to everything, with relatively similar always-on battery life (though unfortunately, not likely with access to the Polar Precision Prime optical HR sensor, as the Google Wear OS platform has basically an approved list of OEM hardware components and that isn't on it).
Sports Usage: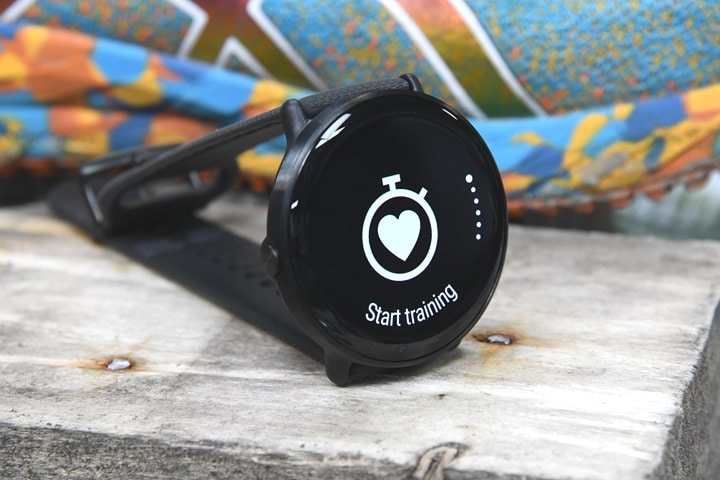 Next, we'll dive into the sports side of things, and the best way to do that is via starting with the suggested workouts. This feature is called FitSpark, and is where Polar gives you suggested workouts from one of three categories: Strength, Cardio, or Supportive (Stretching/Core). If it's your first workout of the day, it'll usually be a Strength or Cardio suggestion, like shown here earlier today: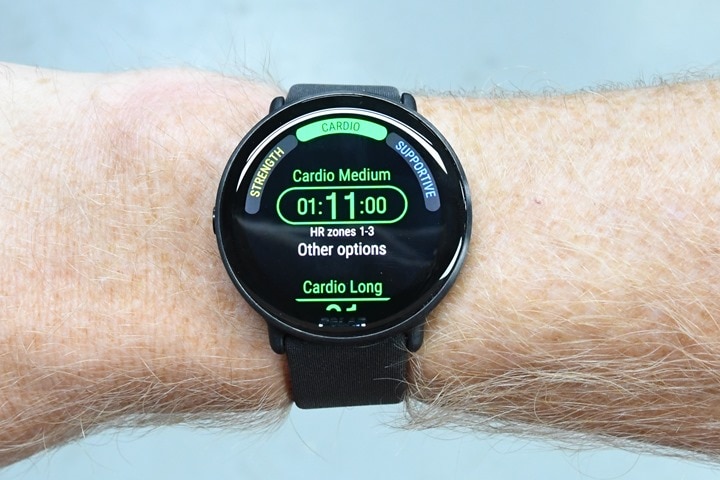 Then later in the day after that first workout, you'll see Supportive sessions, such as these stretching/core workouts:
I like FitSpark quite a bit, but it's important to understand the pros and cons to it. FitSpark is great at not caring what sport you do to get your heart rate up. Meaning, sure, you can go do a run, but you can also do a ride, or whatever you want. It's focused on HR zones. Whereas something like Garmin's Daily Suggested Workouts are hyper-specific, but only available for running and riding. Meaning, if those aren't your jam, you're kinda out of luck. Inversely, with Polar though, the workouts aren't super specific. So if you're a runner, you'll probably find them a bit 'blah', but if you're more of a generalist, then you'll probably enjoy them.
With your pain and suffering options laid out, it's time to pick a sport. The Polar Ignite 3 has some 150+ sport profiles, though it stores about 20 of them on the watch, the rest you can choose from the smartphone app. You'll swipe up and down in the list to find which sport profile you want, and then it'll start finding GPS (if outdoors), and your heart rate. You can pair it up to an external heart rate sensor if you want as well: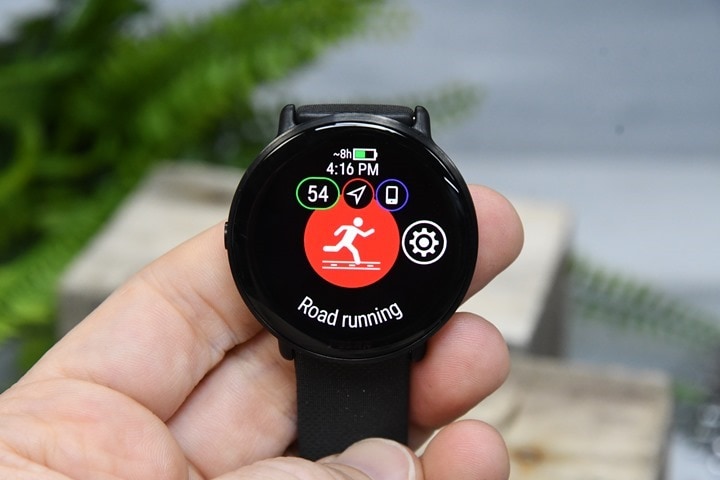 The little settings option allows you to add a structured workout (different ones than the FitSpark ones), as well as any other goals. You can create these workouts on the Polar Flow app. Note: There is no course following/routing feature here.
Also, before you start you can add both carbs (nutrition) and hydration reminders. These can be manual reminders, or smart ones based on what it thinks you need to consume.
Once you're ready, go ahead and tap the big red dot on the screen, and off you go. As you run along (or do whatever sport it is that you do), you'll see your data metrics, per what you've configured. Here's a quick look at a few from my run:
You can configure these metrics in the Polar Flow app, both adding data pages, and also tweaking what's on them.
For those runners that may be wondering, no, there's no running power included here. This is because there's no barometric altimeter, which is required for that type of feature. Likewise, as noted before there's no routing, and further no magnetic compass. However, you can show 'Back to Start, which shows the direction of your starting shack. This doesn't (annoyingly) show the actual route/path/trail that you've done thus far, but rather just an arrow in the direction of home, as the crow flies.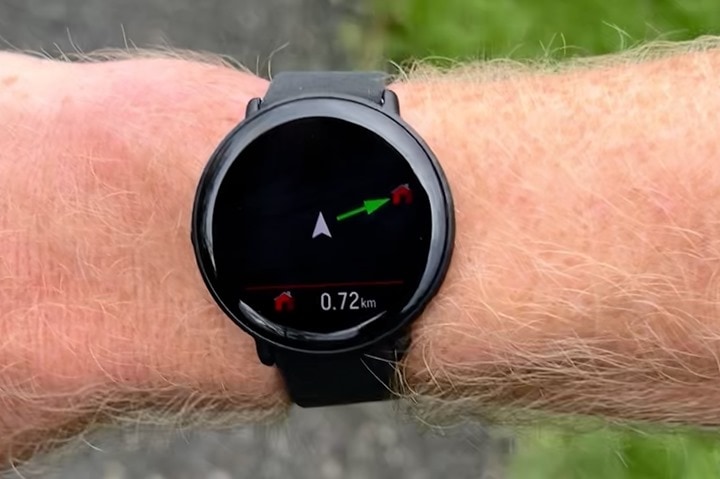 As with the rest of daily usage, the screen will turn off when your hand is down. It seems to take about 1-1.5 seconds to come back on again in sport mode, while running along (when I raise my wrist). That takes a bit of getting used to again mid-workout when I want a quick pace-check, since most other gesture-based watches tend to be faster here.
Pace responsiveness while running seems reasonably stable, reasonably quick, and in line with most other watches these days.  There's also the newly added 'Slap to Lap', or, you can use autolap on predefined intervals.
After the workout, you'll get a few summary screens with your key workout stats, including heart rate zones, Vo2Max level, etc… All these are also available afterwards on the Polar Flow app, as seen below:
In addition, it's also worth noting that the Polar Ignite 3 supports broadcasting of your heart rate via Bluetooth Smart. This way you can pair it up to 3rd party apps and devices, such as the Peloton Bike, Zwift, etc… As long as that app/device supports Bluetooth Smart (and, it mostly likely will), you're in good shape: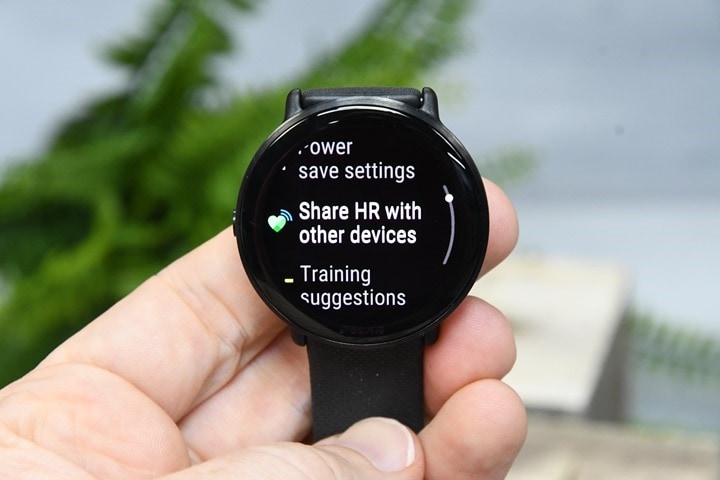 Finally, as noted earlier, Polar has added both the Running Test & Walking Test to the Ignite 3, which previously only had the generic Fitness Test in the Ignite 2. The purpose of these tests is to establish your VO2Max. I've historically found Polar's Running Test pretty close, whereas the Walking Test seemed to completely miss the boat (vastly undercounting). Keep in mind though that it does predict your VO2Max during most workouts (listed as 'Score' on the workout summary page), however, the point of the test is to be a bit more accurate.
GPS & HR Accuracy: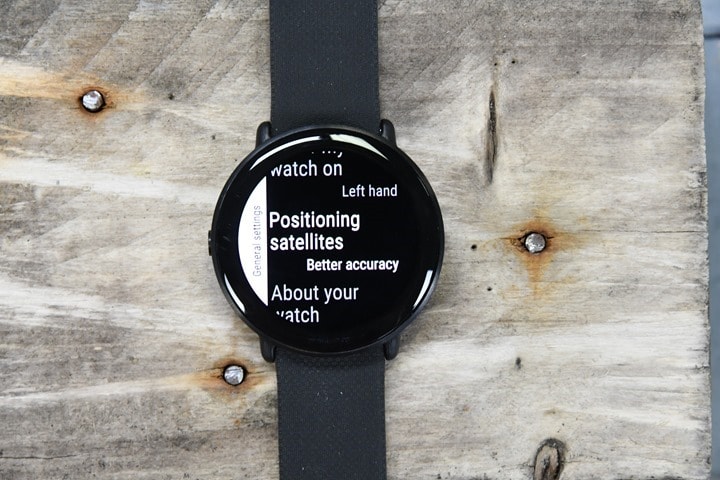 In this section, I'll take a look at the GPS & heart rate accuracy of the Polar Ignite 3. In these tests, I'm comparing them against a 'known good' chest strap (the Polar H10 or Garmin HRM-PRO Plus), as well as one or more other watches or optical heart rate sensors. In these tests, only one watch is worn per wrist to ensure optical HR accuracy is still valid. Additional sensors may be worn on the upper arm (Whoop or Polar Verity Sense), the finger (Oura), or the chest (various chest straps).
For all these tests, the Polar Ignite 3 was set in the highest accuracy mode possible (which is multiband, but there are two options in the settings, still, the default is multiband). All other watches were set in their highest respective modes. Multiband/dual-frequency for Garmin watches, multiband/dual-frequency for the COROS APEX 2 Pro, 'All Systems' for the Apple Watch SE, and 'All Systems' for the Suunto 9 Peak Pro.
First up we've got a look at a run I did out in the park/forest. On the whole, this should have been a pretty easy run, given a chunk of it was next to the wide open rowing basin, and the other tree portions where the leaves are starting to fall. However, in reality, it's just not ideal. I don't even have to load up the comparison sets for it – because the screenshots from the app tell you all you need to know for this lollipop out and back course, where the tracks in these sections should be identical. Instead, they're like 2-3 boat lengths apart.
Sadly, they're not. And not by a little bit – but by a lot bit. The Apple Watch SE (2nd Gen) and Garmin Forerunner 255, both laid down identical out and back sections.
Next, we'll look at a run my wife did – a relatively straightforward out and back. This was done on a running/bike path, and thus should have been identical in both directions. The 'terrain' around it was almost entirely open, save a little bit of non-dense trees a few car lanes worth of distance off to the side, and then passing one or two buildings towards the turn-around point. But overall, this should have been an easy test. This was compared to her Garmin Fenix 7 Solar Sapphire (also multiband):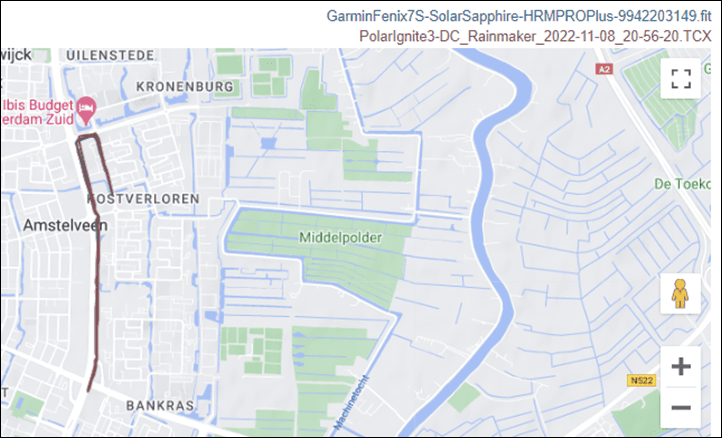 As you can pretty easily see, the Ignite 3 didn't do well. The out and back portions didn't match coming back, and had a very clear gap between them, putting her in either canals or on the tram lines.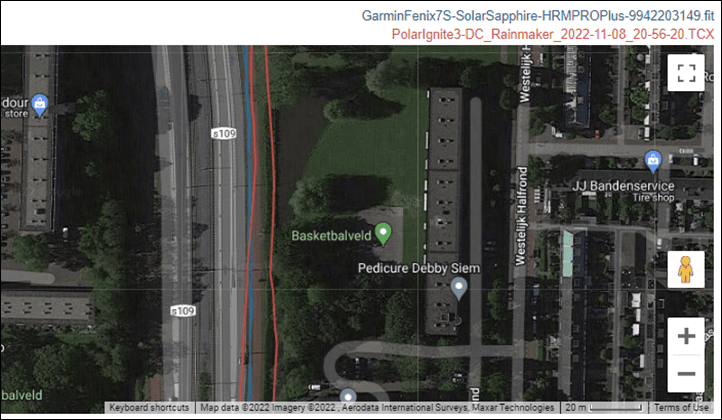 Here at this turn section, you can see just how wide the differences are: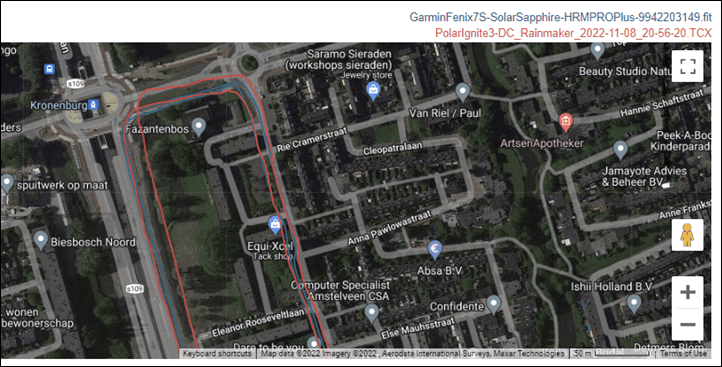 This is a good example of a workout that should have been easy for the unit to tackle, and unfortunately it missed it. And I get that being 2-3 lanes worth isn't that big of a deal in the grand scheme of things, but if a watch can't get what is essentially an easy neighborhood run right, why bother with multiband?
Next, we've got the toughest course I can throw at it, one that's basically made for multiband watches – ideally to highlight their tracking prowess. However, I did at least start and end in pretty easy areas, to give it a chance of showing off its tracing capabilities in more mundane scenarios. I've got a slew of watches here, but I did notably include the similar-priced Polar Pacer Pro (which lacks multiband GPS). I also included the Garmin Forerunner 255 ($25 more), that does have multiband, plus the just-released COROS APEX 2 Pro ($499) that has multiband too. Here's the high-level overview, which shows the trouble brewing over in the city area: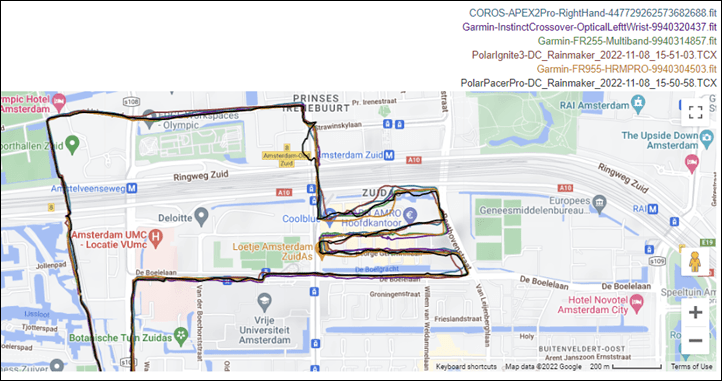 First up though, let's look at a relatively easy straightaway section, and then a turn with more straightaways. Here we see the Polar Ignite 3 in red (ok, it's hard to see, so I've added some arrows for areas to focus on). For almost this entire stretch it's either in the middle of the road (versus the bottom side of the road), or it's across the street in the buildings. Which, is the same place the COROS APEX 2 Pro is. Take a look at the lower right arrow, that's the crosswalk I ran on the edge of – only the Garmin FR255/955 got this correct.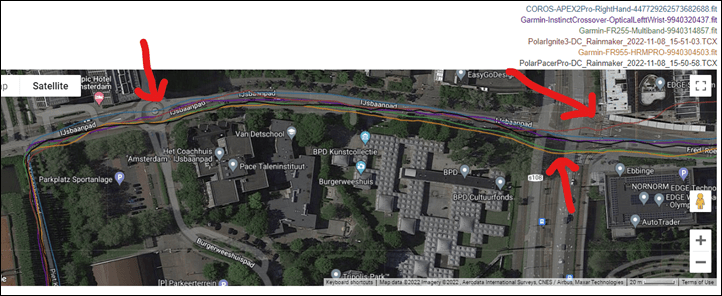 Things get worse for the Polar Ignite 3 as we continue down this stretch, which isn't all that difficult. It's deep in the buildings to the side, with the COROS APEX 2 Pro not far behind door-busting. The rest of the watches were relatively OK, including the Polar Pacer Pro.

Unfortunately, the Polar Pacer Pro's success would come to an end about two mins later while trying to cross under the street, where it totally lost the plot. The rest of the watches were mostly fine here. The COROS APEX 2 Pro cut the corner entirely, and the Garmin Instinct Crossover went a tiny bit wide later on.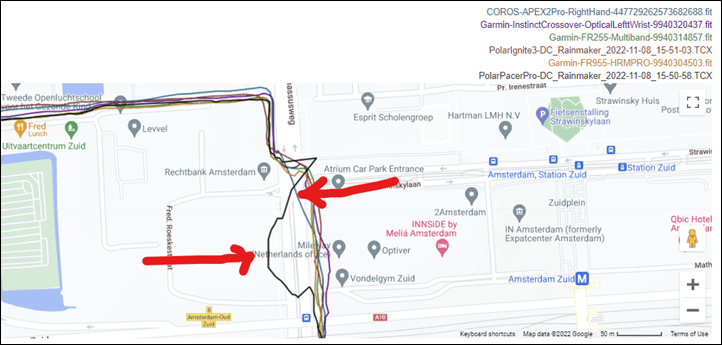 So let's get into the city building sweeps. For context, this is what we're looking at – though, as you'll see, the units actually made their worst mistakes in relatively open areas on the perimeter. Some buildings are upwards of 25-30 stories, some are 'only' 15-20 stories.
I've highlighted in yellow where I actually ran. You can see that for the first upper section, the Polar Ignite 3 is all over the place – with none of that place being where I ran. The COROS APEX 2 Pro largely joined it off in left field for almost all of that. And in fact, so did the Garmin FR955 for the first half of the upper section – a rarity, given it's done boatloads of iterations of this test, and this is the first solidly out of alignment pass it's made. The Garmin Forerunner 255 basically nailed this, along with the Instinct Crossover. The Polar Pacer Pro wasn't bad initially, but then went swimming.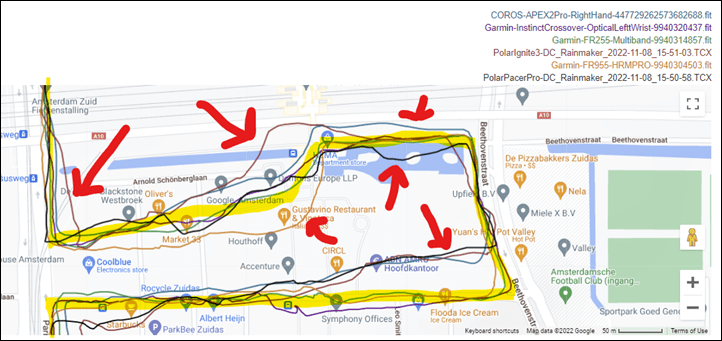 Looking at the bottom half of the image above, you'll see that the Polar Pacer Pro/APEX 2 Pro/Polar Ignite all massively cut the corner here (lower right arrow) – like, an entire city block cut off the corner. And while they were on the 'inside edge' of this turn, you can see at the left side, they cut it again, this time being on the 'outside edge' (seen below on upper left side):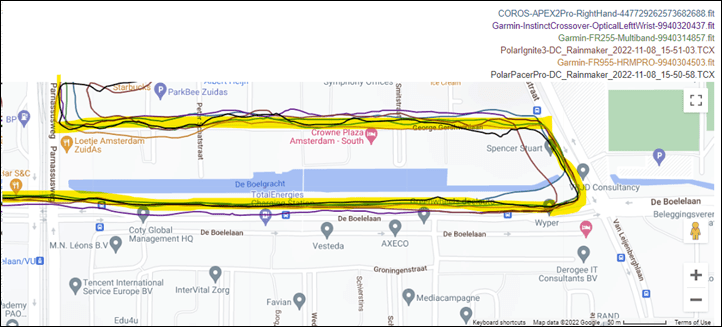 On the bright side, for once all these watches actually managed reasonably clean tracks down this stretch of buildings, which is legit very challenging. The Polar Ignite 3 then got excited about this success and chopped off half a city's block worth of cornering (right side above), and then the COROS APEX 2 Pro joined it, going swimming and corner cutting. Meanwhile, on the lower portion of that same (above) image, the Instinct Crossover was on the wrong side of the street, ironic given it messed up the easiest part of the test.
Finally, a bit later in the test in a theoretically easy section, only the Polar Ignite 3 was off in the buildings (again). Actually, technically it wasn't in the buildings, since it was so far beyond that line of buildings it was actually in their backyard. As for the turn there, both the FR255/955 are correct, everyone else turned to early.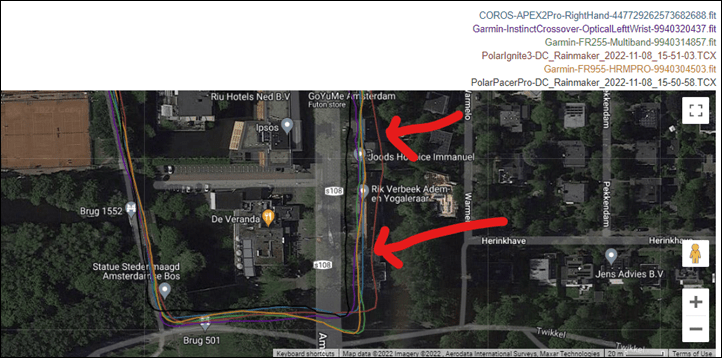 Next, let's look at some heart rate traces. First up, a Peloton ride – complete with some pretty nasty hard intervals. This is a good test of responsiveness, especially while gripping onto the handlebars trying to keep from dying. Here it is compared to a Polar H10 chest strap, as well as a Whoop 4.0 band, and a Garmin Instinct Crossover (other wrist).

As you can see, it's basically spot-on. There's one very minor couple-second wobble at the 3-minute marker, and then again momentarily right before the last interval, but neither meaningfully impact the workout or workout summary/execution data. Good stuff.
So let's kick it up a notch and look at an outside workout. This one had 30-45 second intervals tossed in every 1KM (except the 2KM marker, cause I forgot). Here's that data set, compared against an Instinct Crossover on the left wrist, and an HRM-PRO Plus chest strap:

Again, fairly strong here. A tiny bit of lag on the first interval, but in line with what we often see with optical HR sensors. Then at the end, while somewhat covered up by text, it does miss almost the entire interval. This was a little bit harder interval trying to make a crosswalk light, so perhaps that threw it off. But beyond that, it tracked the rest of the workout well.
Lastly, let's look at my wife's run. In this case, it was a relatively steady build and sustained high-intensity run. As you can see, the usual slight delay on the initial ramp-up, but then it holds steady with the chest strap without issue. Spot-on.

So, where do we stand? Well, in short, I think the heart rate is good – no problems across any of our workouts – all good there. And notably, I didn't see any weird little spikes/dropouts like I've seen with a number of recent Polar watches, coming from the heart rate side. So good stuff!
Unfortunately, the same can't be said for the GPS side. It's bad. Not Fitbit Sense 2 bad, but pretty darn close. Even worse considering this has multiband GNSS, which again, is supposed to be epic-awesome GPS. It's easily the worst multiband GNSS configuration setup I've tested – basically being worse than regular GPS setups.
Ironically, Polar actually hinted at why this is probably the case in their media briefing (with some 80 people on it). During the Q&A portion someone asked about multiband and the purpose, and Polar started answering the question with a brief explanation of what contributes to GPS accuracy, saying "GPS performance is a combination of chip technology, antenna designs, and the environment where you are using the device". They went on to say that when "trying to optimize the size of the product" (the Polar Ignite 3), that you often sacrifice antenna design. However, that by using dual-band, they could attempt to make up for some of those sacrifices.
Unfortunately, that didn't seem to work out here. It's just not good – and there's really no other way to explain this with more words than I've already used throughout this section. Be it easy conditions or tough ones, the Polar Ignite 3 struggles in the GPS department.
(Note: All of the charts in these accuracy sections were created using the DCR Analyzer tool.  It allows you to compare power meters/trainers, heart rate, cadence, speed/pace, GPS tracks, and plenty more. You can use it as well for your own gadget comparisons, more details here.)
Wrap-Up: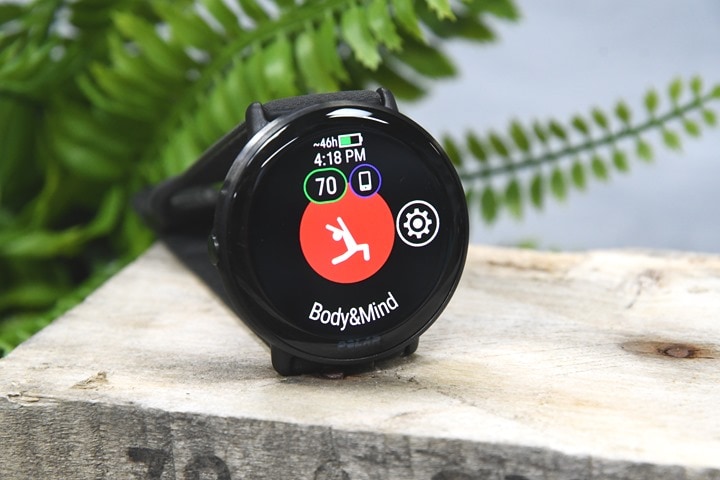 Every few years we see companies aim to make the 'thinnest' GPS watch possible. Years ago, it was Garmin and their original Vivoactive, this time around, it appears to be Polar and the Ignite 3. I don't think they're making any specific claim as "thinnest GPS watch ever", but they're heavily touting the lightweight nature of it (just 35g). And yes, the lightweight aspect is certainly nice. And I like the styling around the bezel too (and I think the other color variants look even prettier than the unit I have). Still, as they admitted, this design gives them a non-optimal GPS antenna location. To the point where it's clearly the worst GPS device from an accuracy standpoint that I've tested in years from Polar (if not ever). The data plots don't lie – it's not good.
Now, whether or not you care about that depends a bit on how you use it. If you don't care about the GPS side, then the heart rate accuracy seems on-point and strong. And the AMOLED display is stunningly pretty, one of the most brilliant I've seen outside of Apple/Google/Samsung. Albeit the lagginess quickly takes away from that experience, which is too bad because it's a larger display than the Pixel Watch while concurrently being a thinner watch. Both have metal bezels.
All of that has to be balanced by Polar's deep fitness features, both in terms of the 150+ sport modes but more usefully, the FitSpark features, with automatic daily workout suggestions, and even secondary suggestions after your primary workout (such as stretching). And then of course balanced with the price.
From a battery standpoint, in always-on mode, it's basically getting about 1.5 days of usage. Roughly on par with the real world usage you'd get from an Apple/Samsung/Google Watch. But of course those also have music, cellular, app stores, and more – all at the same price points (or less). In non-always-on mode, you'll get up to a claimed 5 days, but I haven't used that mode much.
To me, this feels like they so came close to sticking the landing with a great little fitness-focused offering, but didn't quite spend enough time addressing the GPS component issues, nor the slowness issues. Hopefully one or both of those can be addressed down the road via updates.
With that, thanks for reading!
Found This Post Useful? Support The Site!
Hopefully you found this review useful. At the end of the day, I'm an athlete just like you looking for the most detail possible on a new purchase – so my review is written from the standpoint of how I used the device. The reviews generally take a lot of hours to put together, so it's a fair bit of work (and labor of love). As you probably noticed by looking below, I also take time to answer all the questions posted in the comments – and there's quite a bit of detail in there as well.
If you're shopping for the Polar Ignite 3 or any other accessory items, please consider using the affiliate links below! As an Amazon Associate I earn from qualifying purchases. It doesn't cost you anything extra, but your purchases help support this website a lot. Even more, if you shop with TPC (The Pro's Closet), you'll save $40 on purchases over $200 with coupon code DCRAIN40! The Pro's Closet has been a long-time partner of the site here - including sponsoring videos like my cargo bike race, as well as just being an awesome Colorado-based company full of good humans. Check them out with the links below and the DCRAIN40 coupon!
And finally, here's a handy list of accessories that work well with this unit (and some that I showed in the review). Given the unit pairs with just about any Bluetooth Smart sport sensors, you can use just about anything though.
And of course – you can always sign-up to be a DCR Supporter! That gets you an ad-free DCR, access to the DCR Quarantine Corner video series packed with behind the scenes tidbits...and it also makes you awesome. And being awesome is what it's all about!
Thanks for reading! And as always, feel free to post comments or questions in the comments section below, I'll be happy to try and answer them as quickly as possible. And lastly, if you felt this review was useful – I always appreciate feedback in the comments below. Thanks!