After many years of rumors, hints, acquisitions, and probably a few false starts – the Pixel watch is finally here. The end resultant is largely what you'd expect in a first-generation watch from a major company:  Something that appeals as broadly as possible, without being overly complex, and without catering to as many niches as some of their competitors. In both discussions with Google, and simply testing the device, it's clear that this was the starting point. They've got lots of future ideas, both hardware and software, but this first Pixel Watch is essentially aimed at being both the best Fitbit ever, as well as a very strong Wear OS demonstrator.
Of course, defining what's the 'Best Fitbit ever" is a trick duck, as you'll see. In terms of the smartwatch aspects (like 3rd party apps), its use of Wear OS means that it instantly gets access to the entire Wear OS app store, including apps like Strava, Spotify (with offline music access), and tons more apps. It means far better Google services integration with features like Google Wallet, Google Maps, Google Assistant, and more. And of course, it means a (mostly) integrated Fitbit experience. But it's not quite the 'fullest' Fitbit experience. It lacks a handful of features that have become default on Fitbit watches, like continuous Afib detection, skin temperature, and exact SpO2 readings. Some of these may come later in a software update, but they aren't there today.
Still, as you'll see in this review, while Google has made some tradeoffs, for the most part, they're on the right path. This watch won't appeal to everyone, especially on the size front (or if they don't have an Android phone). But for those that it does fit, the actual experience is reasonably good.
Before we get started, note that Google provided a media loaner Pixel Watch to test, though as usual, they get no say in this post, nor do they get to see anything prior. They find out whether I hate or love something the exact same second you do. If you found this review useful, you can use the links at the bottom, or consider becoming a DCR Supporter which makes the site ad-free, while also getting access to a regular behind-the-scenes video series on all the reviews. And of course, being a DCR supporter makes you awesome!
The Specs:
We'll quickly dive into the overall specs list first, before we get into daily usage. Normally in this section I cover what's "new" on this model, but given there is no previous model, we'll just go with baseline specs first:
– Single size – 40.8mm case/housing
– Stainless steel finishes, with three colors: Matte black, gold, silver
– Always-on display
– Onboard GPS (not multi-band/dual frequency)
– 24 hours of battery life (smartwatch mode)
– 12 hours battery life (GPS mode)
– 50m water resistance
– Gorilla glass front display
– Swappable bands (7 different band flavors announced at launch)
– Always-on optical HR sensor with ECG capabilities (different sensor/algorithm than Fitbit devices)
– Recharge time is 80 minutes for a full charge, or 20 mins for 30% (enough for sleep)
– $349 for BT/WiFi models
– $399 for LTE/BT/WiFi models
– Availability on October 13th
And then we've got the software side of things, covering both the platform and Fitbit pieces.
– Running Wear OS 3 (same as the Samsung Watch 5 series)
– Only compatible with Android 8.0 phone or higher (previous Wear OS versions were also iPhone compatible)
– Full Wear OS app store compatibility
– Google Assistant built-in
– Google Wallet capability
– Google Home control
– Google Map turn-by-turn directions
– YouTube Music Premium availability
– Fall detection will directly contact first responders (coming in 2023)
– Using a Fitbit overlay that's basically the Fitbit Sense 2 UI/features, but tweaked slightly
– ECG with AFib detection (but not continuous Afib detection)
– 40+ Exercise/Workout modes
– 1-second recording rates for all HR (24×7) & workout features
– Usual steps/sleep/activity tracking you'd find on any other Fitbit
– Comes with 6 months of Fitbit Premium free trial
As one might expect, it's kinda hard to encapsulate the entirety of a wearable platform (be it Apple/Google/Garmin/etc…) into a handful of bullet points, especially given there are likely thousands of features to cover. But again, the general way you can look at things is that if it's on a Wear OS 3 watch, it's here, and if it's on the Fitbit Sense 2, it's here. Make sense?
In terms of lack of iPhone integration, someone did actually ask that during one of the media calls. While it might seem obvious that a watch made by Google (guardian of Android) would lack iPhone support – the simple reality is that Google has had Wear OS support on iPhone for many years. That basically ended last year when Samsung launched the first Wear OS 3 watch (the Samsung Galaxy Watch 4 series), and continues here with both Samsung and Google's offerings.
Google noted that the main reason was that they didn't feel like they could get the integration they wanted, due to Apple's lack of API for the messaging (both models) and phone number sharing pieces specifically (cellular models). And they are correct, Apple doesn't permit any 3rd party hardware to reply to text messages/iMessage (whereas the Apple Watch can). However at the same time, that never stopped them in the past from offering watches, and it doesn't stop numerous 3rd party companies either. Still, I get it – it's a frustrating walled garden limit of Apple that impacts more than just the Garmins of the world (who also face this). Sadly, I don't see that changing anytime soon.
With that, let's crack into it.
Starting with the Hardware: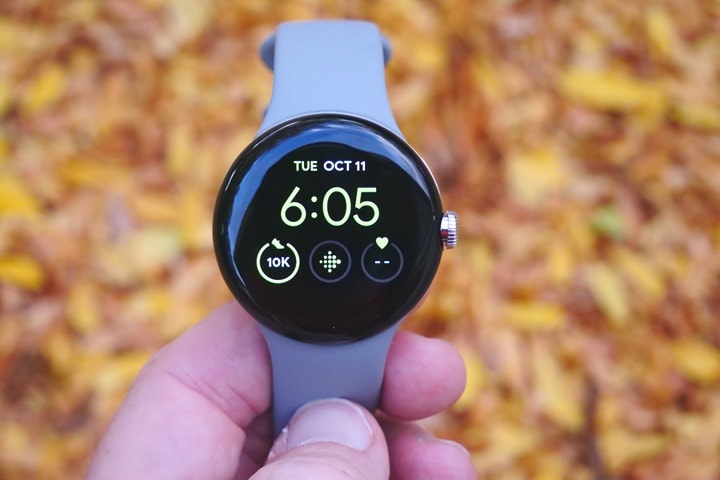 In this section I'm going to cover the hardware bits, in terms of daily usage of that. After that, we'll dive into the software aspects like daily activity tracking, app usage, and more. Following which it'll be a deep-dive into the sports tracking, wrapping up with heart rate & GPS accuracy.
From a usage standpoint, the Pixel Watch has two buttons. The first is a digital crown, which is visibly seen off the side of the watch. When you set up the watch (or anytime afterwards), you can choose not only which wrist to wear it on, but which side the digital crown should face. This allows you to wear the watch in either orientation on either wrist. The digital crown both rotates, as well as acts like a button. In general, it acts like a 'back/cancel' button, while also allowing you to scroll through lists of things. If on the watch face, it jumps straight to the full apps list.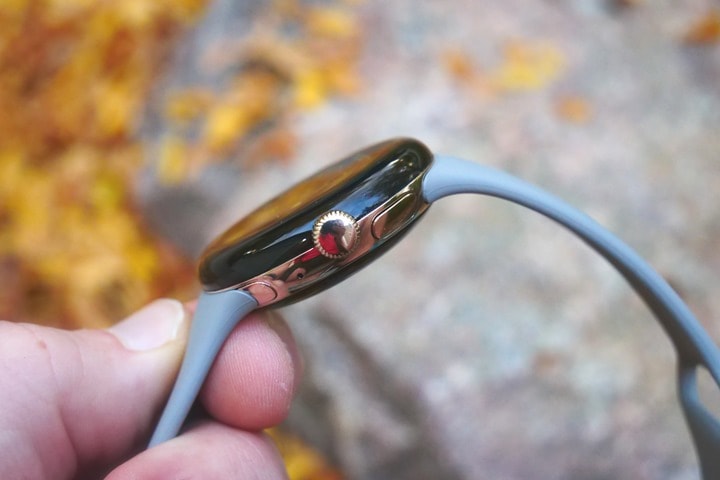 Meanwhile, above it is a secondary button. If you tap this one you get a list of recently used apps. Whereas if you long-hold it, you get Google Assistant.
Google Assistant will then listen to your spoken request via the internal microphone, and provide a spoken answer via the speaker. No Bluetooth headphones are required for the usage of this piece (though interestingly, if you use something like the Spotify app, it won't play back music via the speaker – only via headphones).
Now, there are actually secret 3rd and 4th buttons – arguably the worst button/feature of the Pixel Watch, which is to access the bands. This is located near the edge of the bands. These buttons are purely mechanical, and once you manage to dig something in there and fish around a bit, it'll finally release the band. Google says they you eventually get better at this, but if watching actual Google Pixel Watch product team members try and use these buttons to release the straps at the launch event was any indication – it doesn't seem so.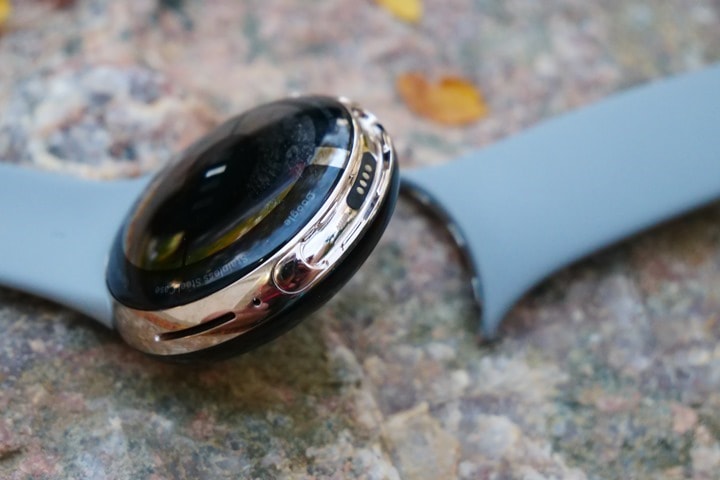 The reason Google went with these buttons is that it allows the entire strap connection to fit into the body of the watch, making it look seamless. Honestly, they way overengineered this. And I'd even bet legit money this feature isn't carried over to Pixel Watch 2. First, it's stupidly complicated to use. Second, it reduces the viable internal space of the watch for other components like battery, display, and more. It also heavily ties the straps to this exact watch body. Whereas most (all?) of their competitors can have slightly different bodies using the exact same strap. On the bright side, I will give Google credit for having a boatload of very different strap types available at launch, in plenty of color flavors. So kudos on that one.
Next, flipping it over, you've got the optical heart rate sensor. Google talked extensively about this being the best optical HR sensor that has ever been in a Fitbit product. And not to spoil the accuracy section – but dear god that's true. So true. So much better.
However, the sensor isn't quite as full-featured as other Fitbit ones. There's no skin temperature tracking like on even Fitbit's basic $99 Inspire 3, nor is there continuous Afib detection like on most recent Fitbit products too. Nor does it currently provide SpO2 (blood oxygenation) metrics yet, though Fitbit says the hardware for that is very much in there today. And finally, there's no continuous EDA sensor either.
Shifting into the last hardware area, charging and battery life. The Pixel Watch uses a wireless charging puck, with USB-C on the other end. This puck is unique/proprietary to the Pixel to handle the curved rear case design. Meaning, you can't use other wireless chargers with it.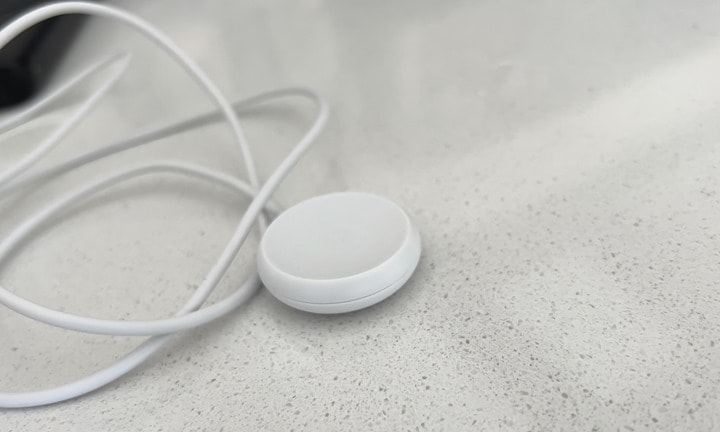 From a charging standpoint, here are the official charging time specs. These seem to align with my testing:
– 20 minute charge: +30%
– 30 minute charge: 50%
– 50 minute charge: 80%
– 80 minute charge: 100%
And then from a usage standpoint, here's the official spec claims: 24 hours of smartwatch mode time, and somehow 12 hours of GPS time.
While the smartwatch time aligns pretty well to my testing too (non-LTE mode), I don't see how the GPS time would hold up. Obviously, if you're coming from an endurance sports watch you'll probably look at these times and think they're incredibly short. But, both the battery life and charging times are in line with the baseline Apple Watch & Samsung Galaxy Watch specs (save the Ultra/Pro editions, which have slightly more battery life).
Daily Usage Basics: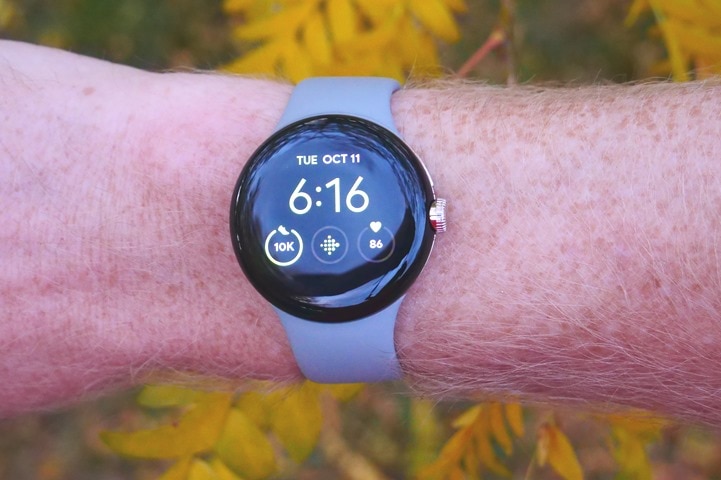 With the watch on your wrist, you'll mostly interact with it using the touch screen. Using the default watch face, you'll see your steps and heart rate, as well as a Fitbit icon in the middle. You can customize the details of each of these data points (e.g. put something else instead of steps). That Fitbit icon in the middle jumps to the Fitbit Dashboard, however oddly, tapping either the steps or HR icons doesn't jump to those data pages.
No worries, you can access those data pages via either the Fitbit Dashboard or by swiping left or right. If we swipe from the left, we'll see our current heart rate for the last few hours displayed: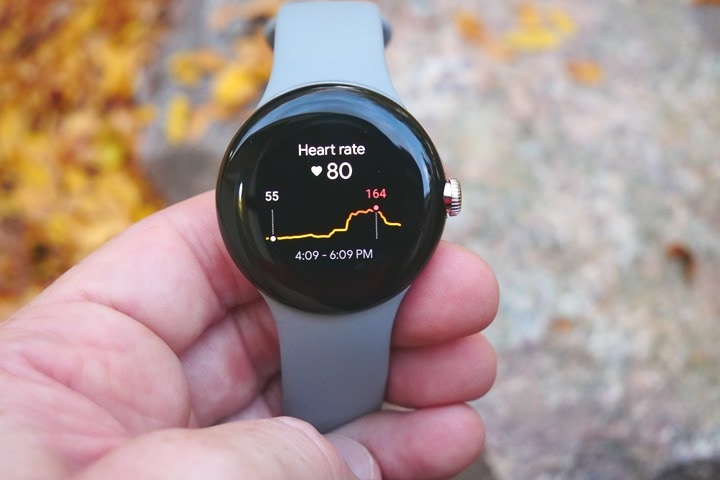 Meanwhile, if I swipe from the right I'll get into other 'tiles', which are basically widgets from both native Google/Fitbit apps, but also 3rd party apps. For example, I installed Strava and Komoot, and it shows tiles from those which allow quick access to start workouts or load routes. You can customize this on the watch, or via the Google Pixel Watch app on your Android phone. Speaking of which, you'll have installed this app which essentially manages the connection to your watch. The vast majority of these settings are available on the watch too, so you can usually configure them in most places.
If you want to configure these settings on the watch, you can swipe down from the top, which accesses the settings menu. This is where, for example, you can toggle into do-not-disturb mode and sleep modes, as well as other typical watch menu features, like airplane mode or the flashlight (which just turns the screen bright white).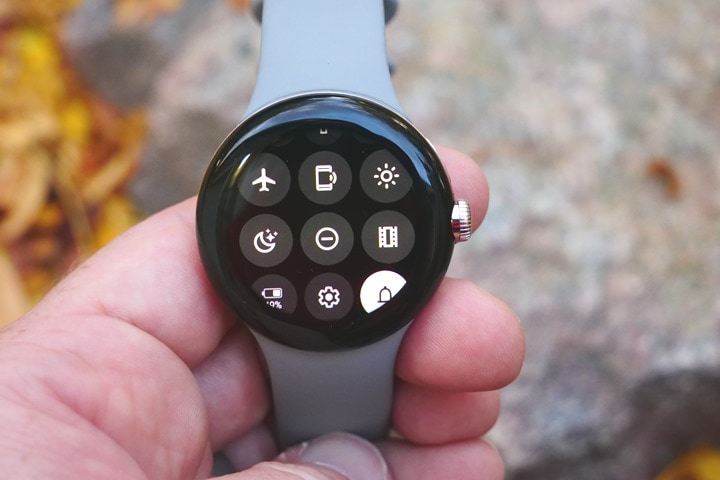 Since we already covered the button usage in the hardware section, if we go back to the watch face I'll tap that Fitbit logo. That brings me to the Fitbit Dashboard, which nearly mirrors that of the Fitbit Sense 2. You'll see each of your core stats, and then you have the ability to tap into them for more details about that metric for the day specifically. And in fact, that's where it's different than the Fitbit Sense 2 (in a good way). On the Fitbit Sense 2 you actually can't tap each of those metrics to get more details, but on the Pixel Watch you can.
These metrics include Steps, Floors, Distance, Calories Burned, Active Zone Minutes, Exercise Days this Week, Hourly Activity, Heart Rate, Resting Heart Rate, and Sleep. While there is a Settings icon at the end, that doesn't actually seem to allow you to configure it, instead, it just offers to log you out of Fitbit.
Speaking of logging out of Fitbit, note that everything I'm showing is with a basic (free) Fitbit account. I'm not showing any Fitbit Premium features. I will note where there are differences if you pay more. And in the case of the Pixel Watch, there are actually only two data points that leverage Fitbit Premium, if you want deeper data more than 7 days (breathing rate and heart rate variability). That's it.
Now, for all of these Fitbit metrics, you'll see this data both on the Pixel Watch, but also on the Fitbit app on your Android phone. This is the same Fitbit app as any other Fitbit, but the data you see will vary slightly. Starting off with the dashboard, you'll see your stats for the day including steps and more. This dashboard is customizable, and you can include other widgets like Menstrual Health and Blood Glucose tracking (both are manual, not automatic/algorithmic).
You can then tap into any of these to get more details, both about that particular day, as well as long-term tracking. Also, you can customize some of these, such as step goals. For example, here are my steps pages:
And then here's a look at my sleep pages. You'll notice a few of the days look funky, where Fitbit didn't seemingly assign a sleep score or they were missing chunks up top (but show data down below). It seems I ran into an edge case time zone bug where I woke up in Europe, went to the airport and then flew to the US. But the phone didn't sync with my watch prior to my flight, so when I landed in the US, it incorrectly assigned the sleep to the new Colorado-based time zone (and wrong day), rather than to Sun night in Europe. I suspect this is a pretty rare scenario though. Though, I'm not clear why Saturday didn't get a sleep score.
You can tap on the given day to get added information about sleep stages and sleep phases. Note that I can't compare the validity of these sleep phases to any other data points, so I don't know if they're accurate or not. Mainly because the technology available to compare this data is only about 80% accurate (at best), and thus, it's just a swag in the air (at best).
Instead, I'm really focused more on my sleep times, and whether or not they were accurate. And indeed, the Pixel Watch is pretty good at that, hitting my exact times correctly.
If you look above, you'll notice two things, First, is the estimated Oxygen Variation chart, which leverages the SpO2 sensor. This is the one area Fitbit is leveraging that sensor today. You can't see exact numbers, but rather just variance. The second thing you'll notice is the little 'ads' trying to convince me to sign-up for Fitbit Premium. In this case, it'll provide 'Restlessness' and 'Sleeping HR' data metrics with Fitbit Premium. While many other companies do provide sleep HR for free, virtually nobody provides restlessness on their platforms. Thus while it'd be nice to see these for free, realistically it's not a big loss.
Last up in the app data field realm, is the 'Health' section, which is basically where Fitbit stashes the leftover things they want you to briefly look at, but then pay more for to see more in-depth. Here you'll find all of these stats show the last 7 days' worth of data, but not any more historical data. This is really the singular area where Fitbit lags considerably behind their competitors – which do show this data long term (where trending is most useful). In this page you'll find Breathing Rate, Heart Rate Variability, and Resting HR. However, resting HR is actually also shown long-term for free elsewhere in the app. I'm not quite sure why I'm missing HRV & Breathing Rate on some of these charts. I suspect it's tied to the sleep bugs I had earlier.
Note that this is a reduced set of features when compared to something like the Fitbit Sense 2 or even Inspire 3, which both have in total: Resting Heart Rate, Breathing Rate, Heart Rate Variability, Skin Temperature, and Oxygen Saturation.
Now, switching topics entirely away from Fitbit stuff, there's the ability to load apps like any other Wear OS-based watch. To do this you'll either access the app store on the Pixel Watch (you can see top apps and search for apps), or you can do it from your phone. Installing an app only takes a second and is pretty quick and easy. Often there are Watch Apps that are bundled with phone apps, effectively companion apps.
Once installed you'll find the app in the listing of apps on your watch. For example the Strava and Spotify apps in my case. These apps are no different than any other Wear OS watch (such as the Samsung Galaxy Watch 5).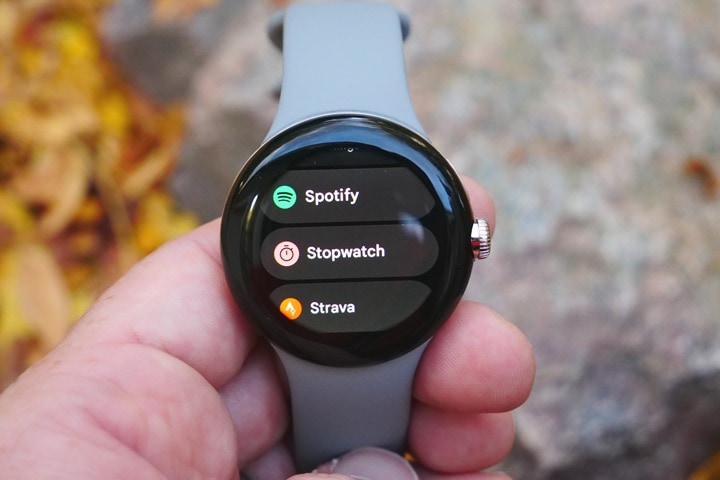 For example, in the Spotify app, I can browse my music playlists, and then choose ones to download for offline access (without a phone nearby). To listen to these I'll pair up Bluetooth headphones, and then listen like normal.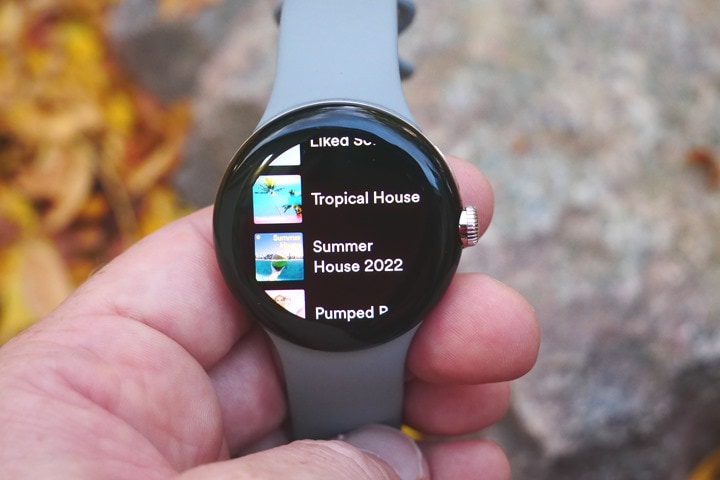 You can also do the same with YouTube Music and offline access.
While the Google Wear OS app store languished for many years, we've seen a lot of good progress and renewed development since Samsung switched over to Wear OS 3 last summer (2021) for their Galaxy Watches, and I suspect we'll continue to see solid expansion of apps and existing app features now that Google has put their own offerings into the market with the Pixel Watch. Ultimately, it simply takes watch market share in a given watch platform to attract new developers to the scene, and having a company as big as Google enter that scene is a pretty big carrot.
Sports Usage: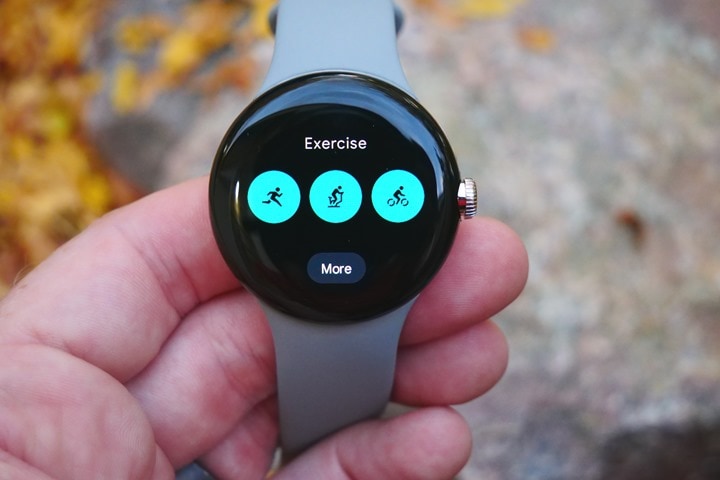 To initiate a workout on the Pixel Watch, you'll swipe from the right to get to the Exercise Page. This page includes quick-access workout types at the top, and then a giant list of sport profiles below that.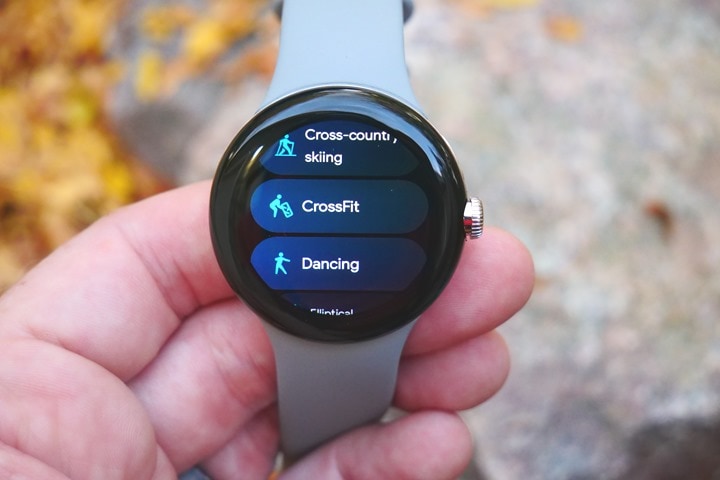 Once you choose a given sport profile, it'll start to look for GPS (if outdoors), and then let you configure some bits on that specific sport profile. For example, on running I can swipe to configure the data fields. The options are pretty limited here. You can configure a single data page, which has four configurable metrics. I suspect this is an area we'll see Google expand considerably in the future (if for no other reason than to match Apple, or any other watch for that matter).
You can also configure a goal for the session, such as a distance, time, or calorie goal.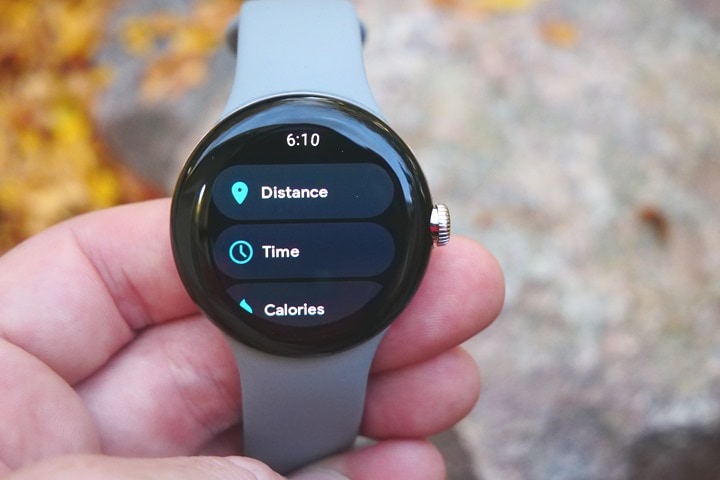 After that, it's ready to start. Note that I've found GPS satellite acquisition is quite fast – usually 3-5 seconds. That's leagues better than the Fitbit Sense 2, which often doesn't find GPS at all (even in an open field), and then once it does find GPS, will often forget it a few seconds later. GPS has been solid for me on the Pixel Watch. Note that there is no pairing of sensors within this Exercise app, nor broadcasting of your heart rate. However, unlike a regular Fitbit, you can pair sensors with other 3rd party apps.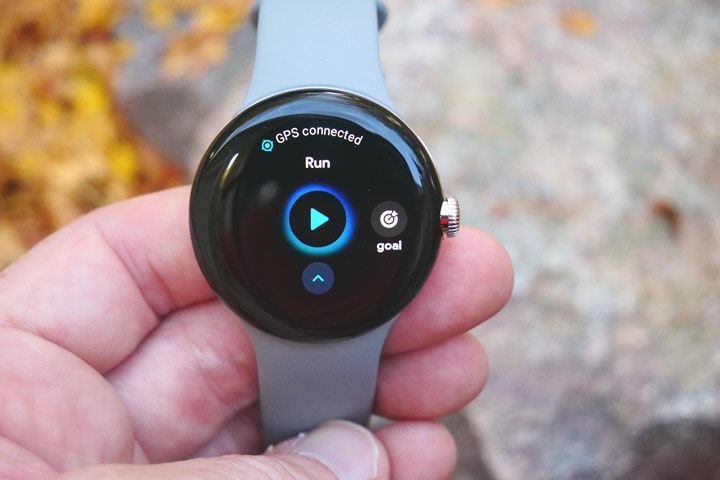 Once you've tapped the start button you'll get a three-second countdown, and then you'll see your custom data page while working out:
In addition, there's also a secondary data page, which is this weird dashboard-like tile page of your workout totals. I don't understand it. Who on earth wants to endlessly vertically scroll through all this stuff mid-workout. This isn't Instagram time, it's workout time. None of these fields are tappable for more information (which would have made this feature redeeming).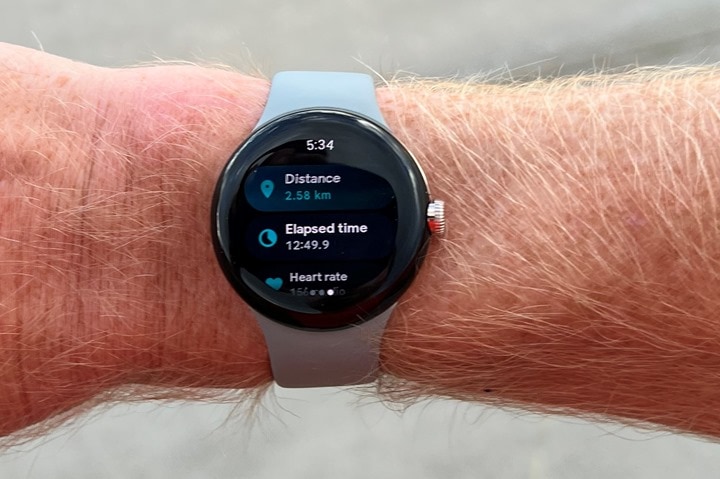 The visibility of the screen, even in direct sunny conditions is good. I had no problems with doing so – it was easily viewable.
Note that unlike a normal Fitbit (even the $99 Fitbit Inspire 3), you can't customize the sport modes on your phone, nor can you create even a basic interval workout (as you can on the Fitbit Inspire 3). On the flip side, you could download 3rd party apps to do that. Still, this is again an example of Google having to start somewhere and not boil the ocean. I'd be flabbergasted if we didn't see this in future updates, especially as it's commonplace on all their competitors, and even one of the big pushes from Apple this year as they expand their fitness offerings.
You can however customize your heart rate zones, but it is across all sports.
Once your workout is done you'll get a summary of your Active Zone minutes, as well as a general workout summary:
You can also view this information on the Fitbit app as well:
If you've enabled 3rd party partner integrations, such as Strava or other platforms, it'll automatically sync your run to those platforms. It tends to show up about 1-2 seconds after it shows up in the Fitbit app itself. It's very quick.
Ultimately, the workout functionality is pretty basic right now on the Pixel Watch, at least with native apps. It's less than the Fitbit devices in terms of workout functionality, but as you'll see in the next section, it's far more accurate for both GPS & heart rate. It's far easier to add functionality than it is to fix bad sensors. And in the case of a Wear OS watch, you can simply use other 3rd party apps that have deeper sports/fitness features than the native Pixel Watch features.
GPS & Heart Rate Accuracy: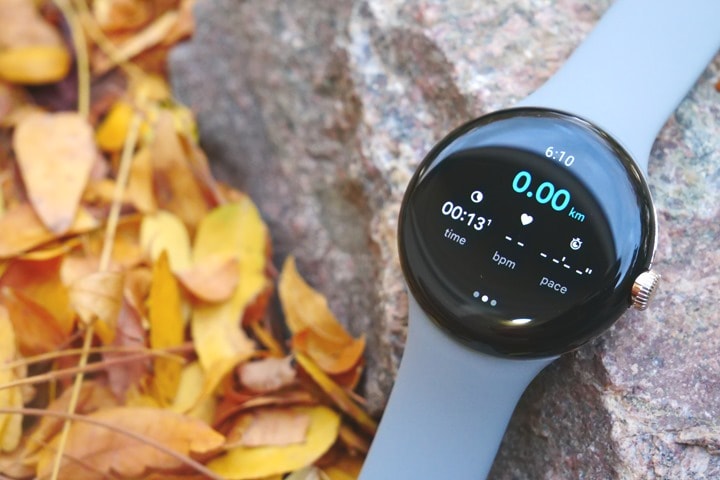 In this section I'll take a look at the GPS & heart rate accuracy of the Pixel Watch. In these tests, I'm comparing it against a 'known good' chest strap (the Garmin HRM-PRO Plus and Polar H10), as well as one or more other watches or optical heart rate sensors. In these tests, only one watch is worn per wrist to ensure optical HR accuracy is still valid. Additional sensors may be worn on the upper arm (Whoop or Polar Verity Sense), the finger (Oura), or the chest (various chest straps).
Let's start with a relatively reasonable run, this has some minor intervals in it, but is pretty easy in the grand scheme of things. On the left wrist I have the Fitbit Sense 2, and on the right wrist the Google Pixel Watch. I've also got a Garmin MARQ 2 along with me connected to a Garmin HRM-PRO Plus chest strap. As we can relatively easily see below, the Fitbit Sense 2 is a dumpster fire. Arguably, the worst optical HR data I've ever seen in a wearable. Meanwhile, if you can look past that situation, behind it is the Google Pixel Watch & HRM-PRO chest strap very closely aligned.

If we zoom in on a few of the sprints I did (30-seconds hard), we see a little bit of delay/lag compared to the chest strap, which is somewhat common for optical HR sensors. It's not quite as fast as you'd see from some sport-specific ones, but it's pretty reasonable given how quick these sprints were.

Looking at the GPS data from that run, we see the Fitbit Sense 2 doing…I have no idea. Instead, focus on the other two lines that are near identical.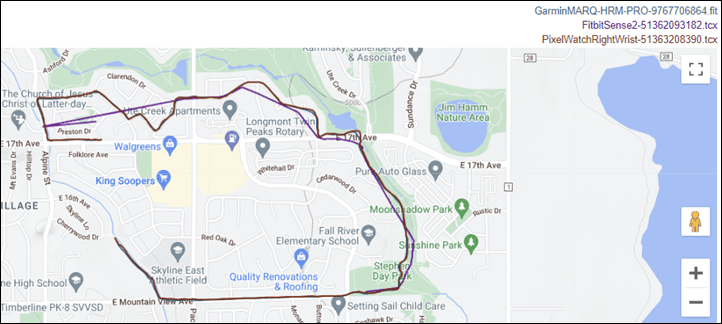 As I meander through some parkland, the Pixel Watch is within a meter or two of the $2,000 multi-band GPS Garmin MARQ 2 watch. I mean, that probably says all you need to know.

Still, it's not perfect. See below for example where when we cross a street the Pixel Watch forgot to make the turn, and puts me in a pond. Still, it figured this out within about 3 seconds and remedied itself.

Next, there's another similar run location-wise, but this time with full intervals. I ditched the Fitbit Sense 2, and replaced that wrist with the new Suunto 9 Peak Pro. I also brought along a COROS Vertix 2 and swapped the MARQ for a Garmin Epix. So plenty of data options!
You can see here on the workout chart, things look pretty solid overall – nearly matching the chest strap the entire time.

You can see it actually beat the Suunto 9 Peak Pro in interval responsiveness on these first few intervals, being just a tiny bit faster to respond.

Though oddly, both the Pixel Watch and Suunto watch crapped themselves when upon finishing my last interval I slow-rolled it a moment and took a few photos of the watches (while rolling). The Pixel Watch spiked crazy high, and the Suunto dropped out. The chest strap measured as expected.

Meanwhile, on the GPS side, it was perfect. There were no issues on this run from any watch (Pixel included).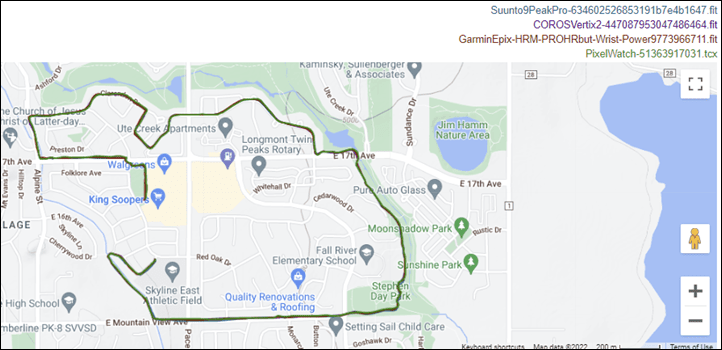 So let's step up the difficulty tremendously. This is a city run I did, but starts off in the suburbs and then some farmland and steps it up slowly. As you can see at a high level, it's virtually identical to the other watches, except for the Fitbit Sense 2 (in green), which is all over the maps.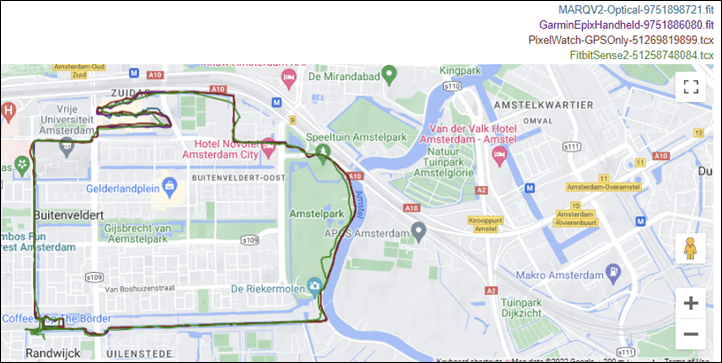 Looking at one initial section under a bridge and then along a path, the Pixel Watch takes its best guess at the under bridge portion. It's good, but not great. The Garmin watches handle it slightly better, but hardly a big deal. The Fitbit Sense is confused before/during/after.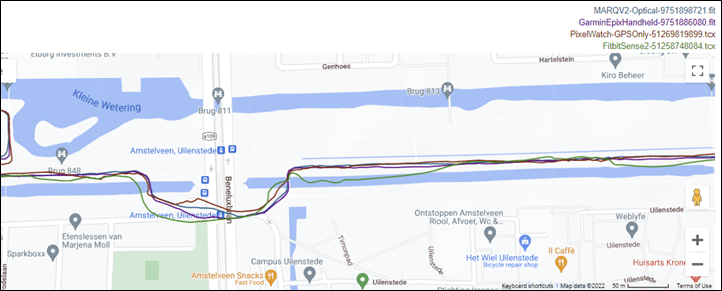 Looking at another section, the Pixel does very solidly next to some tall buildings, under a highway, through some trees, and more. Matching the higher-end Garmin watches.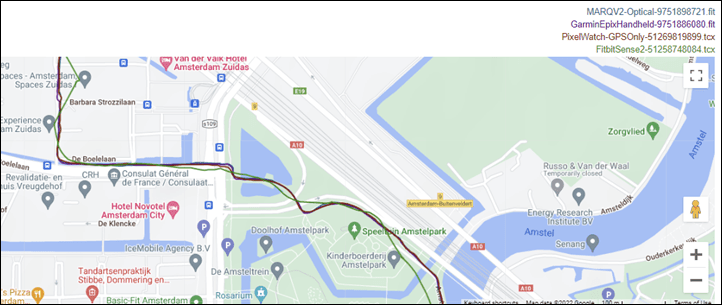 Then there are the city hell sections. This is a three sweep back and forth through the business district, with tall 20-30 story buildings on either side, all while going down skinny 2-lane roads. It's incredibly difficult, and the Pixel Watch doesn't have the advantage of multi-band GPS like the two Garmin watches here.
Still, it's not horrific. It gets the gist of it, albeit slightly offset in some cases. It could be way better, but also way worse. You may be noticing the green line of the Fitbit Sense 2 doesn't actually look too bad. But look more closely: It actually loses GPS entirely each pass, and is simply connecting the dots when it finds GPS again at either end of the city blocks. Thus by pure dumb-luck it manages to put down a mildly acceptable track.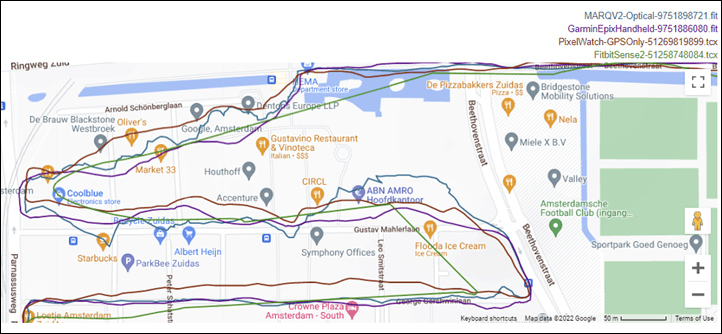 Now finally, I want to show this HR data set. But first, a warning: The Pixel Watch wasn't on my wrist on this data set. It was on the back of my hand. As such, I'd never 'judge' the optical HR sensor based on it – since it's not where you'd wear it for optimal HR performance. Still, I want to point out that it nearly nailed it. It's a little bit noisier on the intervals (top-end), but completely nails the shorter sprints at the end – even beating the Garmin MARQ 2 Athlete that's on my wrist (properly). It's impressive.

Note that I did have another data set, an indoor ride. However, the Pixel Watch battery ran out midway through the workout, and as a result you apparently lose the entire workout. This is less than optimal, to say the least. I'll add more Pixel Watch data sets as time goes on though.
Still, overall the optical HR sensor over the Pixel Watch is indeed the best one in a Fitbit product to date (as Google put it), and basically on-par with any of the optical HR sensors I've tested from Garmin, Apple, and others. Kudos. The GPS sensor is generally pretty accurate, and in line with what I'd expect from a non-multi-band GPS sensor in 2022. It seems to handle itself quite well, and for most uses, you probably won't have any issues.
(Note: All of the charts in these accuracy portions were created using the DCR Analyzer tool.  It allows you to compare power meters/trainers, heart rate, cadence, speed/pace, running power, GPS tracks, and plenty more. You can use it as well for your own gadget comparisons, more details here.)
Wrap-Up: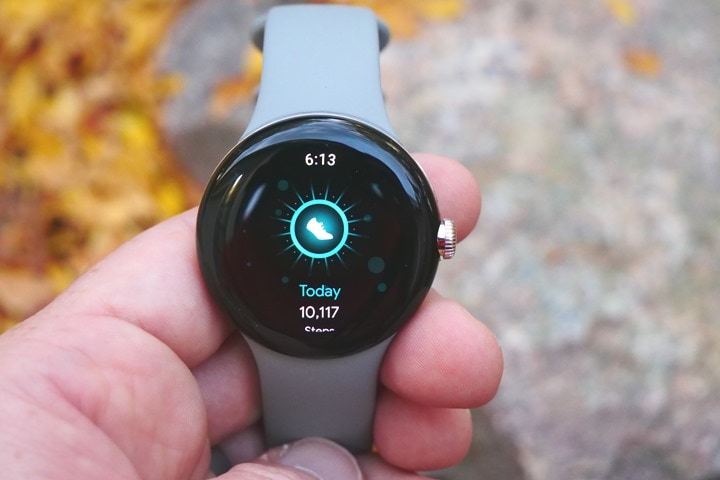 The Pixel Watch is a promising start, but it's just that – a start. It's one of the best first-generation attempts at a smartwatch we've seen, but that's likely helped by the fact that Fitbit has many years of experience on the hardware side, while Google also has many years of experience on the Wear OS side of the house. Neither are perfect, but for most mainstream consumers, this watch will probably fit the bill – assuming it fits your wrist from a size preference standpoint. For more sports-oriented folks, the default exercise options in the watch leave a fair bit to be desired, though 3rd party Wear OS apps help make up the difference.
One of the things that I've seen come up a lot is discussion about the bezels. Honestly, you just don't notice it in real life with the watch. It looks bad on Pixel Watch renders (computer generated), and on paper, people talk a lot too. But in real life with the tapering of the display curvature, it's not something that jumps out at you. It kinda works fine. Is the entire style my cup of tea? Not as much, but I think if it were perhaps a bit bigger and maybe with another button – I'd be happier from a sports standpoint. But again, the bezels aren't the problem here.
I'm super keen to see what Google does with this watch over the next year, and how much it's going to commit to regular and frequent software updates. We've already seen Apple outline a large number of sports/fitness updates for their watches for the remainder of the year, yet nothing akin to that from Google. The other challenge is Google often has a complicated history when it comes to maintaining a product long-term (preferring to cancel projects). Still, they have stuck with Wear OS for many years, despite a number of years of it being pretty rough.
And, to Google's credit – the optical heart rate sensor here is very solid thus far in my testing. With my GPS accuracy also looking pretty good in most cases. So that's an area they've clearly invested some time, as they didn't take whatever Fitbit put in the Fitbit Sense 2 (which, is a really good thing).
Ultimately, I think the next 6-8 months will be most telling on the software side, and then whether we see a Pixel Watch V2 next fall, cementing the Pixel Watch product line as hopefully here to stay. With that, thanks for reading!
Found This Post Useful? Support The Site!
Hopefully you found this review useful. At the end of the day, I'm an athlete just like you looking for the most detail possible on a new purchase – so my review is written from the standpoint of how I used the device. The reviews generally take a lot of hours to put together, so it's a fair bit of work (and labor of love). As you probably noticed by looking below, I also take time to answer all the questions posted in the comments – and there's quite a bit of detail in there as well.
If you're shopping for the Google Pixel Watch or any other accessory items, please consider using the affiliate links below! As an Amazon Associate I earn from qualifying purchases. It doesn't cost you anything extra, but your purchases help support this website a lot. Even more, if you shop with TPC (The Pro's Closet), you'll save $40 on purchases over $200 with coupon code DCRAIN40! The Pro's Closet has been a long-time partner of the site here - including sponsoring videos like my cargo bike race, as well as just being an awesome Colorado-based company full of good humans. Check them out with the links below and the DCRAIN40 coupon!
And of course – you can always sign-up to be a DCR Supporter! That gets you an ad-free DCR, access to the DCR Quarantine Corner video series packed with behind the scenes tidbits...and it also makes you awesome. And being awesome is what it's all about!
Thanks for reading! And as always, feel free to post comments or questions in the comments section below, I'll be happy to try and answer them as quickly as possible. And lastly, if you felt this review was useful – I always appreciate feedback in the comments below. Thanks!