Today Google finally launched its long-awaited Pixel Watch. No wearable device has been rumored to "happen soon" as many years as the Pixel Watch. But this past spring Google confirmed it'd be coming this fall, and here we are. The Pixel Watch is a Wear OS device (as expected) that also runs a tightly integrated Fitbit experience, logical, given Google's purchase of Fitbit a few years back. The device takes pretty much everything you'd expect from a high-end Fitbit (like the Fitbit Sense/Sense 2) and blends it with the specs of a mainstream Wear OS watch. Except very very sleek/modern looking, and, has two buttons – a digital crown and a single button above it.
There aren't many surprises here, not just because of the leaks, but because both of these two entities (Fitbit & Wear OS) are fairly well known. And when they have a child, then the offspring simply takes the form of the combined parents. This first iteration is just that – a first iteration. Google says they aimed to build the watch that has the widest appeal, and we see that in aspects like size and usability. So with that, let's dive into it.
The Specs: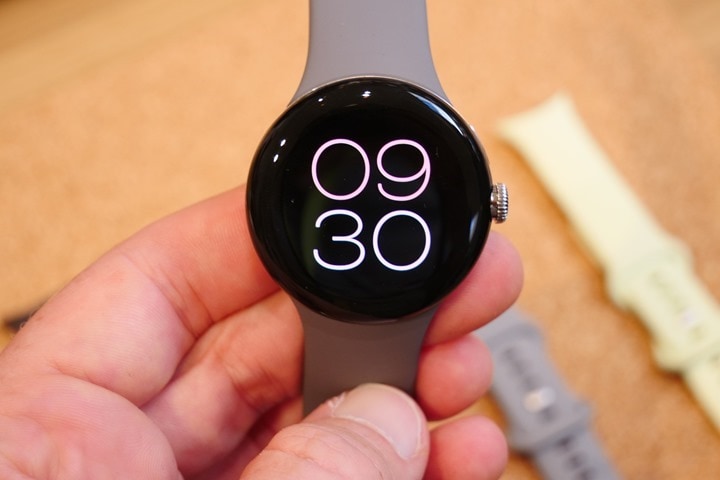 As usual with specs, there's the hardware side and the software side. Starting off with the hardware components first:
– Single size – 40.8mm case/housing
– Stainless steel finishes, with three colors: Matte black, gold, silver
– Always-on display
– Onboard GPS (not multi-band/dual frequency)
– 24 hours of battery life (smartwatch mode)
– 12 hours battery life (GPS mode)
– 50m water resistance
– Gorilla glass front display
– Swappable bands (7 different band flavors announced at launch)
– Always-on optical HR sensor with ECG capabilities (different sensor/algorithm than Fitbit devices)
– Recharge time is 80 minutes for a full charge, or 20 mins for 30% (enough for sleep)
– $349 for BT/WiFi models
– $399 for LTE/BT/WiFi models
– Availability on October 13th
And then we've got the software side of things, covering both the platform and Fitbit pieces.
– Running Wear OS 3 (same as the Samsung Watch 5 series)
– Only compatible with Android phone (previous Wear OS versions were iPhone compatible)
– Full Wear OS app store compatibility
– Google Assistant built-in
– Google Wallet capability
– Google Home control
– Google Map turn-by-turn directions
– YouTube Music Premium availability
– Fall detection will directly contact first responders (coming in 2023)
– Using a Fitbit overlay that's basically the Fitbit Sense 2 UI/features, but tweaked slightly
– ECG with AFib detection (but not contious Afib detection)
– 40+ Exercise/Workout modes
– 1-second recording rates for all HR (24×7) & workout features
– Usual steps/sleep/activity tracking you'd find on any Fitbit in 2022
– Comes with 6-months of Fitbit Premium free trial
As one might expect, it's kinda hard to encapsulate the entirety of a wearable platform (be it Apple/Google/Garmin/etc…) into a handful of bullet points, especially given there's likely thousands of features to cover. But again, the general way you can look at things is that if it's on a Wear OS 3 watch, it's here, and if it's on the Fitbit Sense 2, it's here. Make sense?
In terms of lack of iPhone integration, someone did actually ask that during one of the media calls. While it might seem obvious that a watch made by Google (guardian of Android) would lack iPhone support – the simple reality is that Google has had Wear OS support on iPhone for many years. That basically ended last year when Samsung launched the first Wear OS 3 watch (the Samsung Galaxy Watch 4 series), and continues here with both Samsung and Google's offerings.
Google noted that the main reason was that they didn't feel like they could get the integration they wanted, due to Apple's lack of API for the messaging (both models) and phone number sharing pieces specifically (cellular models). And they are correct, Apple doesn't permit any 3rd party hardware to reply to text messages/iMessage (whereas the Apple Watch can). However at the same time, that never stopped them in the past from offering watches, and it doesn't stop numerous 3rd party companies either. Still, I get it – it's a frustrating walled garden limit of Apple that impacts more than just the Garmins of the world (who also face this). Sadly, I don't see that changing anytime soon.
General Hands-On Thoughts:
First up, we've got the size of the watch. Being a 41mm watch, it's on the smaller end of smartwatches today, which generally range in the 44-50mm size, but it doesn't feel awkwardly small – just…well…smaller. The very circular/bubble-looking design won't appeal to everyone, but I think Google has done a good job in terms of the band and color integration options. Further, while the watch bezel looks big on paper and in renders, it actually doesn't seem that big in real-life. I think it's because of the curved nature of the edges, meaning that it tapers off very quickly.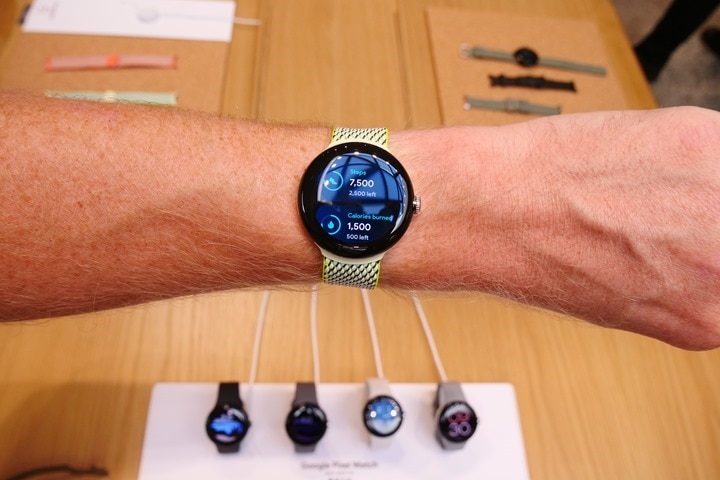 There are a ton of band options. While there are six core band types, within that there are multiple band colors. Options include leather, a woven strap, an active strap, metal (coming next spring), and a fabric stretchy one.
The band has a pretty unique connection point that's entirely hidden inside the watch (versus an outside attachment point like most watches). So you basically rotate the bands to lock into place. It's clever, though I wonder going forward into future versions how much this will be retained or be a constraint since it does take up valuable internal space. The pins that you see there are for diagnostic/troubleshooting purposes.
Next, the display is always-on, and Google says it'll last 24 hours in smartwatch mode (basically the same ballpark as the Apple Watch Series 8 or SE). When your wrist is lowered, the screen dims, and then brightens as you raise it – like most always-on AMOLED displays.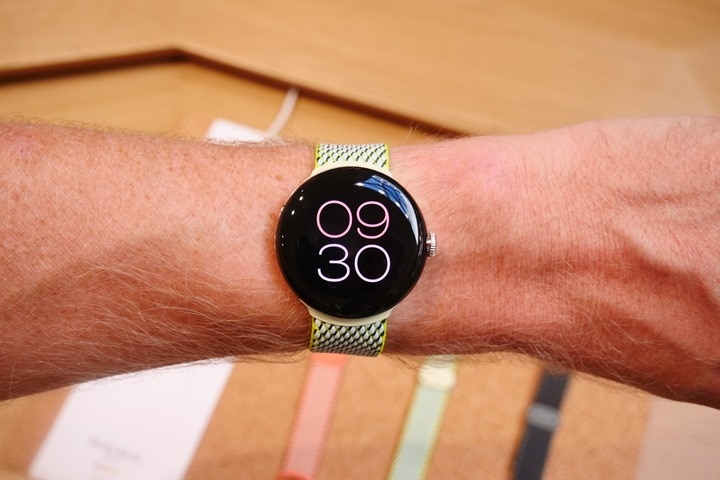 On the back, you can see the new optical HR sensor, which includes ECG and with it Afib detection. This sensor is different from the Fitbit Sense 2 sensor, both in terms of hardware as well as advanced machine-learning algorithms that Google says are used in real-time during workouts to improve HR accuracy. Obviously, as always, that'll be something I test in-detail.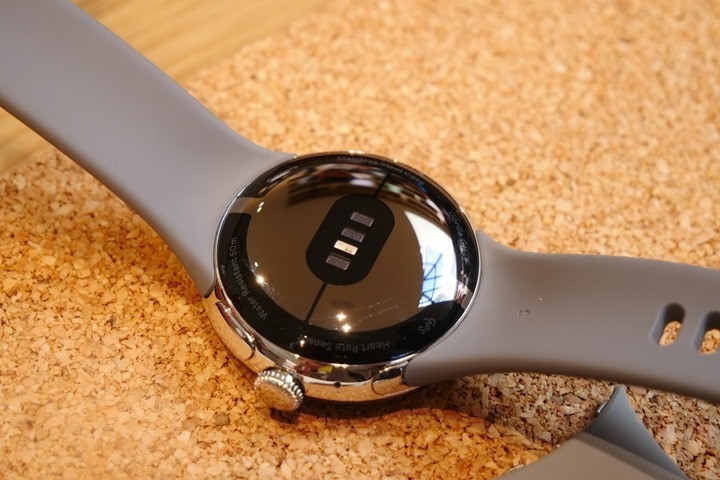 Before we dive into the Fitbit aspects, some general stuffs. The upper right button accesses your recent apps list, but you can also long hold it to access Google Assistant (and then use the mic/speaker to have a discussion about whatever it is you need Google to help you with). You can also use the digital crown as both a scroll wheel and a button. And then of course there's the touchscreen itself. I didn't have any navigation issues with the touchscreen (indoors in a dry environment). In the case of Google Maps for example, it'll do turn-by-turn directions – but that's more for point-to-point journeys than any sort of navigation from a sports standpoint.
Lastly, we've got the Fitbit integration – which is the first Wear OS device with Fitbit built in (Google has hinted this will come to other non-Google Fitbit devices). Probably the biggest claim out of this is that it's "Fitbit's most accurate heart rate tracking yet". Google reiterated this claim numerous times, as well as the 1-second recording rate 24×7, both in pre-event briefings and the keynote itself, as well as numerous discussions with Fitbit employees at the event. I'm optimistic that given how excited they seem about this specific point (and the entire mini-movie they dedicated to it within the keynote), that perhaps it'll actually be accurate. More soon there, obviously.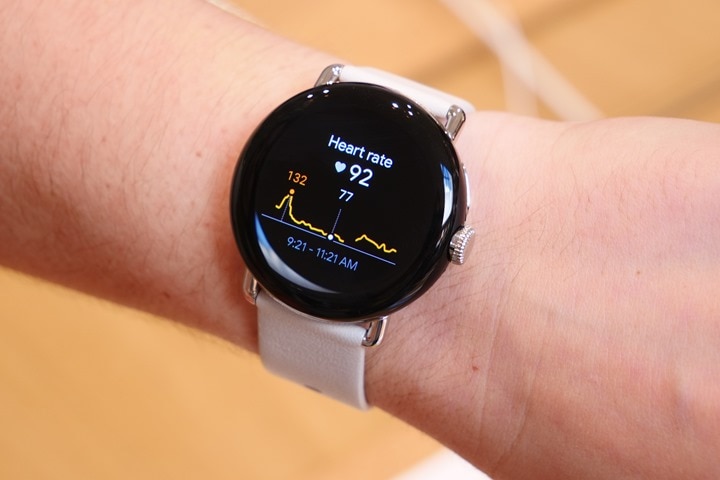 For the most part (in a good way), the Fitbit experience on the Pixel Watch feels near identical to that of the Fitbit Sense 2. Many of the data pages and design styles are all the same. There's options to have things directly on the default watch faces, and there's also specific tiles that are Fitbit driven. In order to access these you'll sign-in with your Fitbit account (which is free, unless you're looking at Fitbit Premium features.
And if you do have Fitbit Premium, then you'll get features like Daily Readiness score – as well as access to all the rest of the Fitbit Premium features if you subscribe beyond the included 6-month free Fitbit Premium trial. Also, you'll get a 3-month free trial of YouTube Music as well.
Wrap-Up: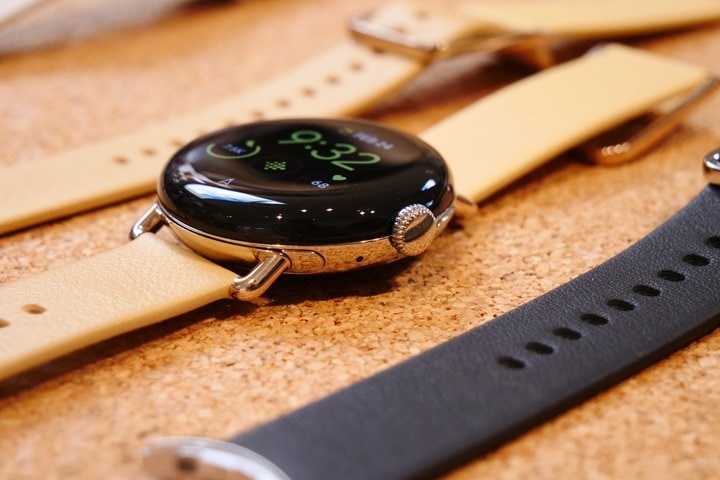 Like many companies, both big and small, when you launch your first product you're aiming to find the product with the widest possible appeal to cement your position in the market. That's what the Pixel Watch is – it's a watch designed to appeal to the widest possible market in terms of looks, size, band styles, features, and price points. This version isn't designed to compete directly with sports-focused watches, instead, like Apple pre-Ultra, it's designed to have wide mainstream appeal that does 'good enough' in a sports setting for most people.
The core smartwatch features here compare pretty much on-point to similarly priced offerings from Samsung, Huawei, and Apple. Sure, there are differences here and there – both in hardware and software. But on the whole they are relatively minor. Most of those differences are aligned more to wearable platforms themselves, rather than the hardware of the watches. Exceptions however would include Samsung's blood pressure monitoring features, but those require calibration against a medical device first, and have iffy accuracy even once done. Of course, all of their competitors offer multiple sizes of their watches, which can be a factor – especially for those wanting a larger watch.
Where things get most interesting for the Pixel Watch is the Fitbit integration. As noted earlier, effectively they've taken a Fitbit Sense 2 (in features) and stuffed it into the Pixel Watch. You'll link up to your account as normal, and then instantly, your Fitbit data is there. If you're coming from an older Fitbit device, that can be a considerable advantage – as migrating between the siloed fitness/health platforms of today, is mostly non-existent otherwise. Google says they've spent considerable time on the optical HR accuracy of the Pixel Watch, via both hardware and software. I'm interested in putting this to the test, given some of the challenges that Fitbit has had in this arena.
With that – stay tuned for a full in-depth review soon!
Found This Post Useful? Support The Site!
At the end of the day, I'm an athlete just like you looking for the most detail possible on a new purchase. These posts generally take a lot of time to put together, so if you're shopping for the Google Pixel Watch or any other accessory items, please consider using the affiliate links below! As an Amazon Associate I earn from qualifying purchases. It doesn't cost you anything extra, but your purchases help support this website a lot. Even more, if you shop with TPC (The Pro's Closet), you'll save $40 on purchases over $200 with coupon code DCRAIN40! The Pro's Closet has been a long-time partner of the site here - including sponsoring videos like my cargo bike race, as well as just being an awesome Colorado-based company full of good humans. Check them out with the links below and the DCRAIN40 coupon!
And of course – you can always sign-up to be a DCR Supporter! That gets you an ad-free DCR, access to the DCR Quarantine Corner video series packed with behind the scenes tidbits...and it also makes you awesome. And being awesome is what it's all about!