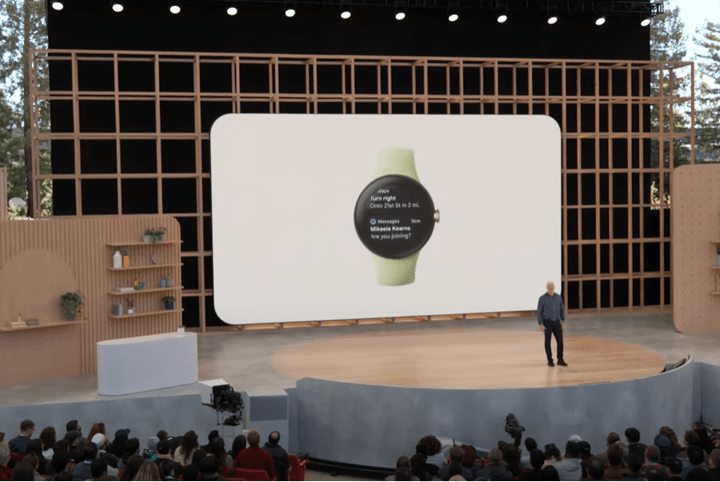 After more years than anybody can try counting, Google has finally formally announced their first 'own' watch, the Pixel Watch. Despite birthing the entire Android Wear (turned Wear OS) smartwatch platform, they never actually made their own watch. Instead, they've had numerous acquisitions, including Fitbit (which previously bought Pebble) as well as acquiring various other companies, patents, and smartwatch technologies over the last decade.
But today at Google I/O, the company announced that "this fall", they'll be releasing the Pixel Watch. That came as part of a broader set of hardware announcements including the Pixel 6a, Pixel Buds Pro, Pixel Tablet, and Pixel 7/7 Pro. All of which have various release dates from July till the unknown.
Of course, with a Spring announcement of a Fall product, the details today are reasonably thin. This announcement is part leak mitigation, and part placeholder. It's signaling to consumers and the rest of the watch industry (Apple, Samsung, Garmin, and others), their intent to start competing from this fall – in time for the holiday buying season.
What We Know:
Still, despite the lack of crazy details, we know a fair bit. Mostly, because Google told us so. In their keynote, they outlined numerous items, but beyond that, they even included a press-kit full of renders/imagery of the watch as well as a handy list of all the things to "Know about the Google Pixel Watch". So while there are certain secrets to be opened down the road, we've got a pretty clear idea of the core of this watch.
Starting with the hardware on the watch, it's circular and appears reasonably small in comparison to some units out there. However, we don't know if there are multiple sizes yet, it's a bit hard to tell from the imagery. However, we do clearly see multiple colors.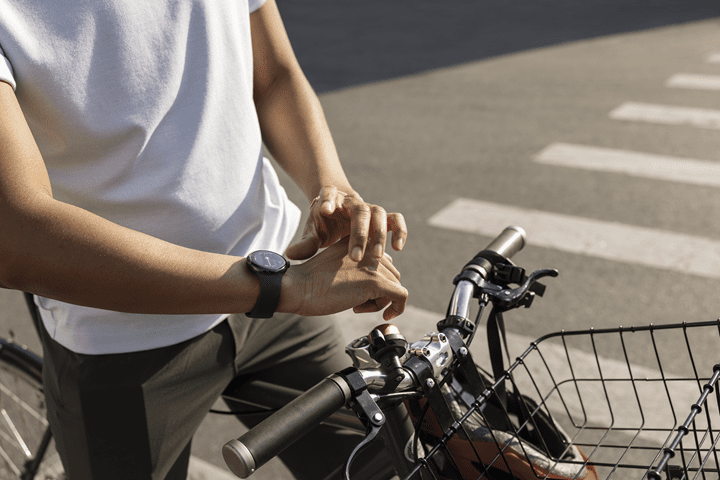 We can see a single digital crown, plus a second button just above it. I don't see any other buttons on the unit. The rest is handled via touchscreen of course. This button arrangement makes sense, and matches what we see by most other companies in this space with at least two button-like options. We can see from the above/below images, that you can change left/right hands and flip the display.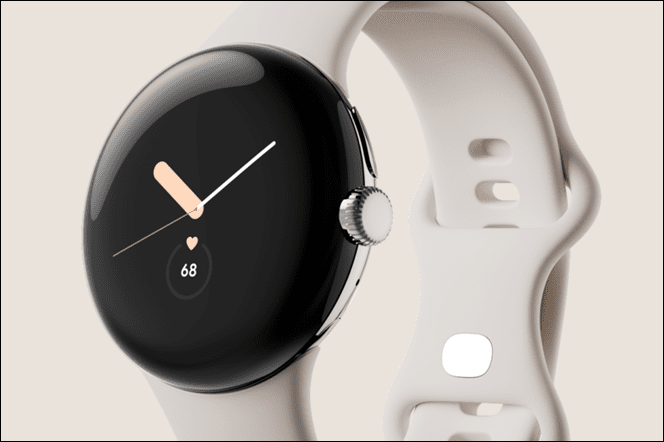 On the rear, there's an optical heart rate sensor, which Google later says does do 24×7 heart rate tracking (as it should). Google hasn't declared whether or not it'll do ECG or continuous Afib detection like in their Fitbit lineup, but my assumption is it will. If it doesn't, it'd be a massive failure by Google for the broader smartwatch segment (given both Apple, Samsung, and now-owned Fitbit have it).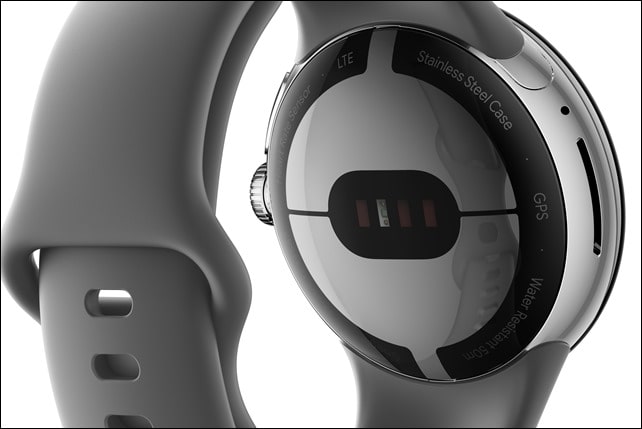 Additionally, we can see it has GPS built-in, and has a water-resistant rating of 50m. Also, there are swappable bands, using a rotation-like system to snap in place. Kinda interesting.
Moving into some of the software features, Google has outlined numerous items, most of which aren't a surprise:
– Will be on Wear OS by Google: No surprise here, this is Google's smartwatch platform and it was obvious they'd be using it.
– Includes Google Assistant: Again, no surprise here, but does at least confirm it'll have a speaker and microphone
– Includes Contactless Payments: Contactless payments using the Google Wallet app
– Will have Google Maps: Again, standard stuff, and did explicitly note turn-by-turn directions, but that's common today
– Fitbit will provide health/fitness tracking: Specifically Fitbit will cover continuous heart rate and sleep tracking, Active Zone Minutes (a Fitbit intensity tracking metric), as well as tracking "your stats and progress against your personal fitness goal" (whatever that means). More on this in a second
– Hardware will have 4G LTE option: So at least some models will be cellular editions, while others will be sans-cellular.
– Will require Android 8.0 phone or newer: And of course, it'll require a Google account. So no iPhones allowed here.
– Will have paid subscription for "some features": This is likely further integration with Fitbit Premium, which is paid.
Within the keynote, they (very) briefly show a few health and fitness screens on the watch, which mirror the Fitbit design and elements seen today on existing Fitbit watches, for example, the dashboard items shown below on the Pixel watch: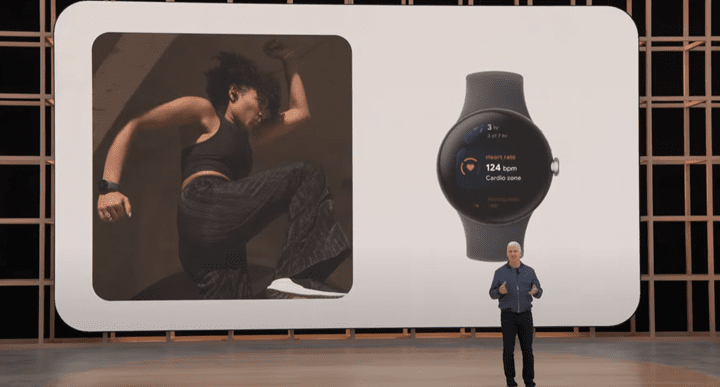 Others, like the Active Zone minutes completion, look a bit more refreshed from what we have today. And as Google outlined, it's leveraging those components from Fitbit. Active Zone minutes is a way you get credit for varying intensities of activity heart rate levels.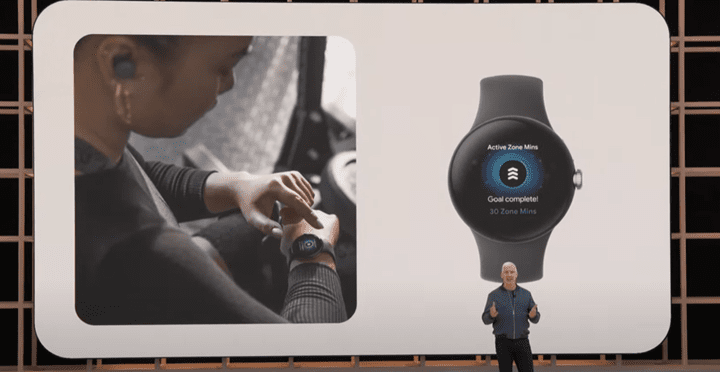 The mention of a paid feature implies a continuation of the Fitbit Premium subscription service. This is an interesting one. Sure, it seems expected at first glance, but I'm almost tempted to write a secondary post about it, based on the feedback I've seen over the last few weeks since my Fitbit Charge 5 vs Garmin Vivosmart 5 post/video. What's fascinated me is how many misconceptions there are on what precisely Fitbit sticks behind the paywall. Most people think it's "all your data", when in reality, it's only hyper-specific things, and really only a small handful at best.
However, what they do or don't put behind a paywall is far less important than the growing and overwhelming perception that to get "my data", you have to pay Fitbit. I don't know how Fitbit fixes that perception issue, but I think it could be a real legit problem for them going forward, especially as companies like Apple and Garmin have advanced their "your data is your data" messaging. To be clear, I have no issues with subscription services per se, but the feedback I'm seeing overwhelmingly shows that consumers don't understand where Fitbit has placed that wall, and are simply dismissing it outright in comparative product purchasing choices.
In any case, something to watch carefully going into the fall, if Fitbit decides to make any tweaks there in conjunction with the Pixel Watch release.
Finally, for lack of anywhere else to put it, here's a nifty animated GIF, showing how notifications work:
All of the brief interactions we've seen are fairly clean, minimalistic, and roughly mirror what we see on Wear OS today using the Samsung Galaxy Watch 4 from last summer.
What We Don't Know: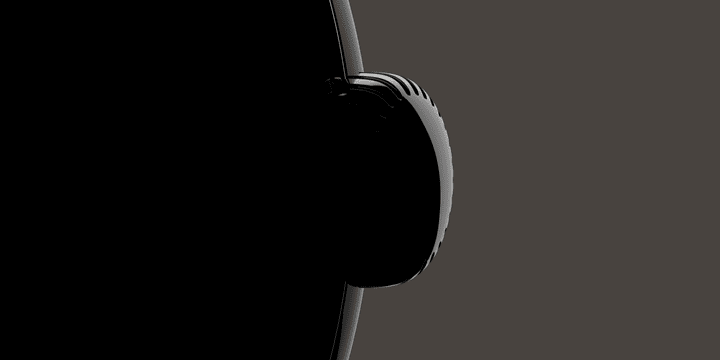 Of course, there's boatloads we don't know. At the very top of the list I'd place the following:
Price: No prices were disclosed, but my bet here is that we see somewhere in the $299-$399 range. A new Apple Watch edition usually comes in at $399, but Apple also has their Apple Watch SE at $279, and the budget Apple Watch Series 3 at about $169. I don't see Google dropping in at sub-$200, but at the same time, Fitbit will likely need to release something in that ballpark to keep its stride.
Exact release date: We don't know precisely when Google will announce, beyond just "Fall", but practically speaking, Google has always announced their new Pixel devices in mid-October. Fitbit has historically announced almost all their Fall devices the last few days of August or the first few days of September, occasionally sliding out a week if required. Garmin also typically announces their mainstream devices within that same timeframe, and Apple usually announces about Sept 10th (+/- 5 days). Samsung usually beats everyone slightly in mid-August.
Battery life: This is the biggie. But, my assumption is that Google will basically aim to match the Apple Watch, which Wear OS should be able to pull off just fine, since that's what Samsung does today. And that ignores any chipset advancements. The challenge here is that Fitbit has historically had great 5-7 day battery life, whereas with a Wear OS device you're looking at 1-2 days.
Tech Specs: Another question is whether it'll have an always-on display. Again, competition-wise it'd have to (and Fitbit's other watches do), but Wear OS has historically struggled a bit in the battery department, and with the smaller-looking package here, there might have to be sacrifices. Beyond the display, there's also aspects like storage and speed (processing power). Though those are realistically less important.
I also bet here that we continue to see Fitbit devices outside of this, and specifically, Fitbit watches. Given the stated requirement that the Pixel Watch needs an Android phone, that'd cut-off access to Fitbit's base on iOS (which, is likely more than 50% of their users). Thus, given Fitbit wouldn't want to kill off options for half its user base, my assumption is that we'll see other Fitbit devices announced in the same timeframe that aren't on Wear OS.
Fitbit Beyond Google:
However, it gets even more interesting, while starting the Fitbit portion of the Pixel Watch presentation, Google SVP of Devices & Services, Rick Osterloh said the following:
"The deep integration with Fitbit, which is coming first to the Google Pixel watch for industry-leading health and fitness experiences."
What's notable about that, is that the "coming first" piece almost seems to imply the Fitbit integration might be available on non-Google/non-Fitbit watches. After all, you'd not say that very-scripted line about existing Fitbit devices.  Thus, in effect saying that Fitbit could be on Wear OS devices made by other companies, such as Samsung.
I asked Google/Fitbit for clarification, and they confirmed that's the intent,  saying:
"While I don't have specifics to share, we will be making some of Fitbit's most popular features available on Wear watches, including tracking your health progress throughout the day and on-wrist celebrations to help keep you motivated."
That's a massively substantial thing, especially if we're looking at 3rd party companies like Samsung that leverage Wear OS as the watch platform, but could significantly increase their competitive position by using Fitbit as the core fitness platform. The exact details of this remain to be seen of course, in terms of what precisely another watchmaker can access. But certainly, that's a huge turning point for Fitbit as a company, which has never offered their platform outside their own hardware.
I'm looking forward to seeing what Google does in this space, and perhaps more interestingly, what the adoption of a Pixel Watch looks like in a few years. Obviously, we saw Apple run away with the market in just a few short years. However, that same market adoption hasn't been matched to anywhere near the same degree by Google's own Pixel phone lineup. Obviously, phones are different than watches, but ultimately, most would have expected Google to get larger market share from the Pixel phones given the timeframe they've been at it. And perhaps, it's this sort of deeper integration that'll pull people into a Google-led hardware ecosystem.
Still, I'm even more interested in seeing how that all ties together with Fitbit's platform, and whether we see any greater increases in sports or fitness tracking from the combined efforts of the two companies.
With that, thanks for reading!