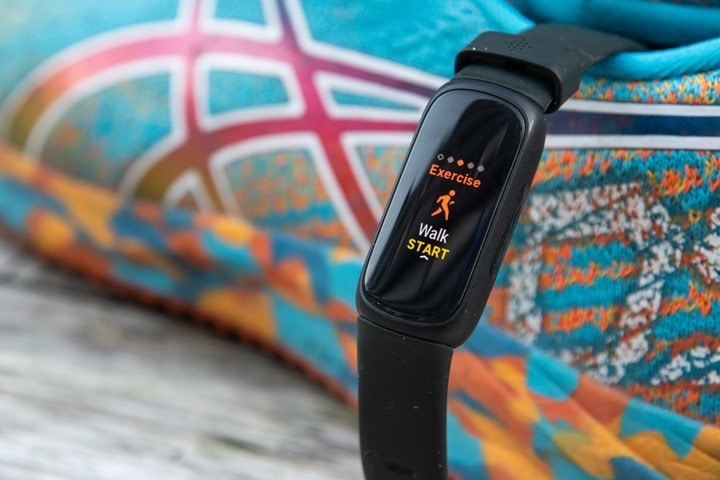 While the higher-end Fitbit Sense and Versa line get all the attention, the reality is the new Fitbit Inspire 3 is likely outperforming its $99 price point. The Inspire 3 is a substantial upgrade over years past, especially in the display department, as Fitbit has added a color screen as well as an always-on display option. That's in addition to the Inspire 3 providing more data metrics, including new blood oxygen level (SpO2) sensing as well as new high/low heart rate notifications.
Of course, with so many Fitbits over the years in relatively similar form factors, it can probably feel like this is 'just another Fitbit', and, to some degree, there's some truth to that. But, that's sort of the point of having a long-standing reputable platform, combined with incremental hardware updates. The goal of the Inspire 3 isn't to wow you with technological prowess, it's to be a super lightweight activity tracker that shows you what you need without getting in the way. And in my using it, it does a surprisingly good job at that. Of course, I'll also dive into the areas that aren't so awesome – like the frequent pushes to sign-up for Fitbit Premium, but I evaded, and this entire review is written without any access to the paid Fitbit Premium – merely to show you what that experience is actually like.
Before we get started, note that Fitbit sent over a media loaner Inspire 3 to test, though as usual, they get no say in this post, nor do they get to see anything prior. They find out whether I hate or love something the exact same second you do. If you found this review useful, you can use the links at the bottom, or consider becoming a DCR Supporter which makes the site ad-free, while also getting access to a regular behind-the-scenes video series on all the reviews. And of course, being a DCR supporter makes you awesome!
What's New: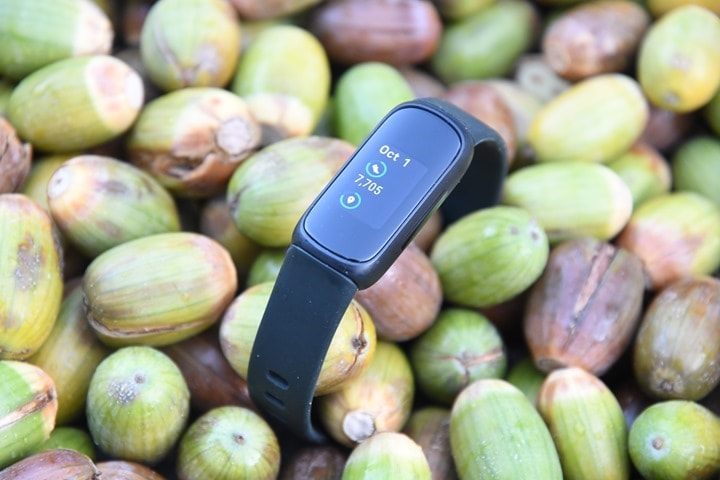 The Fitbit Inspire 3 is perhaps the biggest change we've seen to the Inspire series since introduction. In this revision, the Inspire 3 shifts far closer to being the little sibling of the Charge 5 than in the past.
Here's what's new and/or notable:
– Added always-on display option
– Changed to color screen (previously monochrome)
– Added SpO2 and related metrics
– Added high & low heart rate notifications
– Added ambient light sensor
– Made it slightly slimmer than in years past (11.75mm vs 12.99mm on Inspire 2)
– Tile integration has been removed (was in Inspire 2)
– Same battery life at 10 days
– Price is $99USD
Don't worry, I'll cover just about all of those things throughout this review. So let's get using it.
The Basics: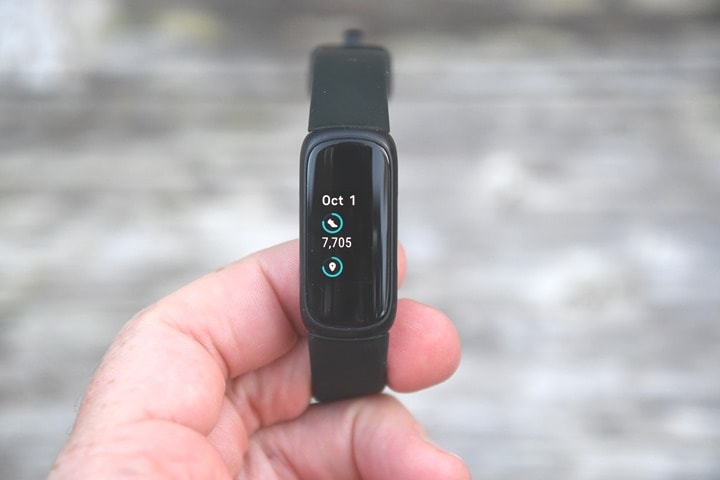 (Preemptive note: Everything I show in this entire review is with a basic Fitbit account. My account is not set up for the premium Fitbit subscription, it's just using all the standard/free features.)
To begin, the Fitbit Inspire 3 has a touchscreen display, with no dedicated buttons. That means all interactions occur via swipe and tap of the screen itself. In general, this works fairly well. The singular exception is water on the screen, where the swipe/tap options become pretty unreliable (there is a water lock if you want to enable it). If you find yourself in the shower trying to interact with it, it's simply not going to end well. But a bit of sweat on your fingers/display during a workout hasn't been too much of an issue for me.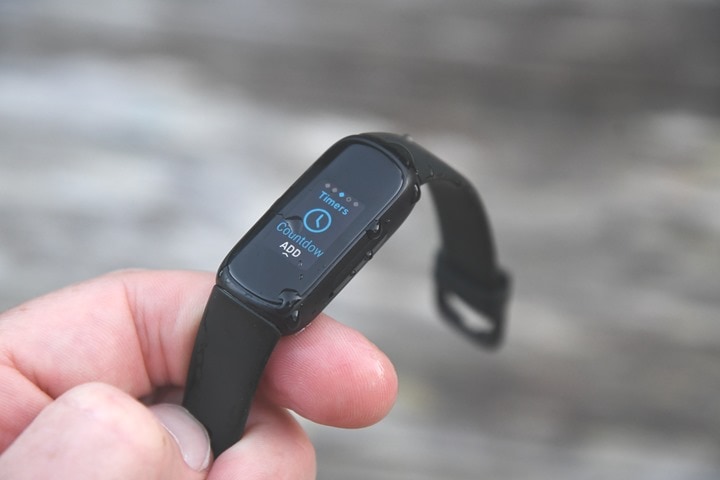 The display has two basic options: Always-on, or gesture-based. With always-on, you'll burn far more battery life, and probably get about 2-3 days of battery life per charge. But, the display is…well…always-on. Whereas with gesture-based, the display will turn-off to save battery and then instantly turn back on when you raise your wrist. In this mode you'll get about 10 days of battery life, and my testing seems to be right on-point for that claim.
The only downside of gesture-based is there's a bit of lag. Plus, in cases like right now when I'm typing this on my keyboard, the display is off. Obviously, that's fine since my computer has a clock, but if you just want to glance at your wrist while reading a book or sitting on the couch, that won't work unless you raise your wrist.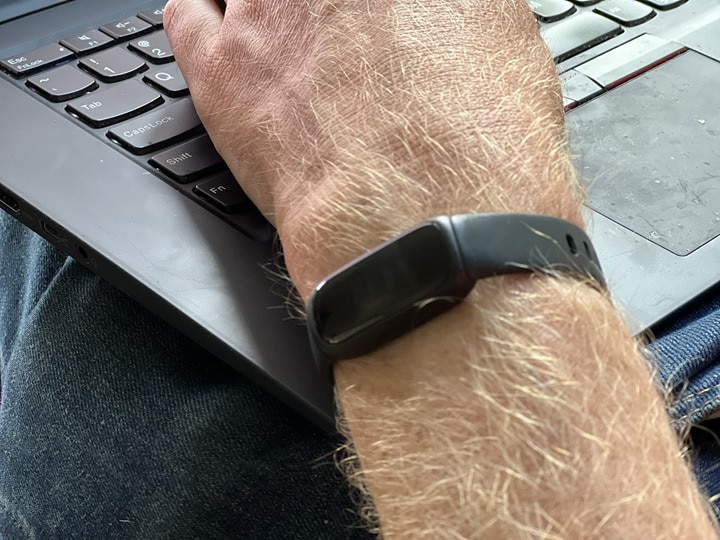 In addition, the display has both a sleep mode and a do-not-disturb mode that you can enable. These basically turn off notifications on the screen when you want more darkness or quiet. However, unlike the Fitbit Charge 5, you can't schedule these for certain times of the night (e.g. 10PM or 6AM). So you have to manually enable them. Note though that most smartphones will automatically control your notifications, so practically speaking, the notification side is handled by your phone's defined times anyways.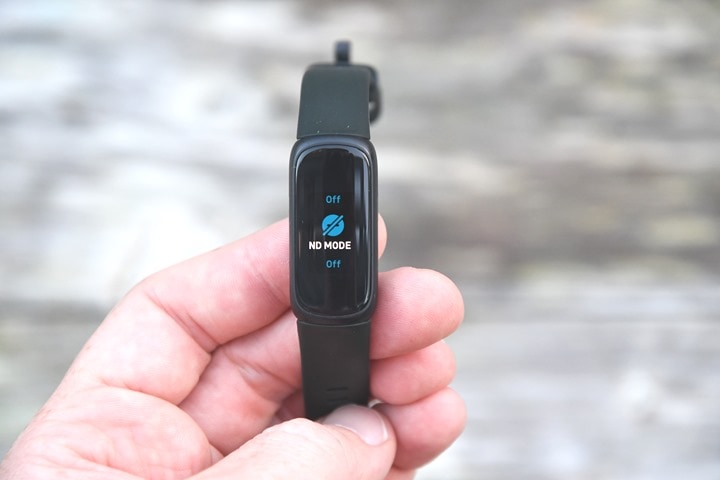 Flipping it over briefly you've got the charging port and optical heart rate (HR) sensor on the back. This sensor measures heart rate both in workouts as well as 24×7; during workouts it'll go to a higher power level to get higher levels of accuracy (required with all that bouncing around). Meanwhile, this same sensor arrangement also covers other metrics like Spo2 readings, breathing rate, heart rate variability, and even mixed in that is the skin temperature bits.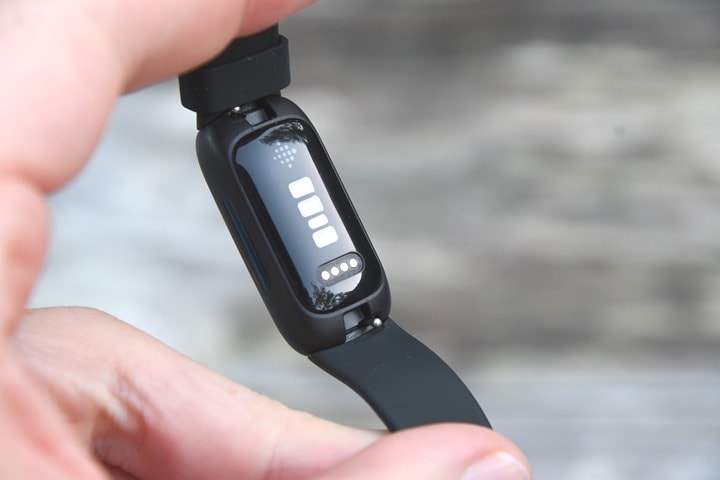 Onto the main display, when you raise your wrist you'll see the time, and then the date below it. Below that is a single metric – like steps or heart rate. You can tap the screen to change this singular metric to something else, like a bit of carrousel.
Alternatively, you can swipe up, which shows your dashboard. This starts with the date & battery level, and then shows all of your metrics as you swipe upwards. These include step and step-goal, distance, Active Zone minutes, calories, hourly activity, heart rate, sleep, sleep score, SpO2 (last night), and exercise days.
You can't tap on any of these to get deeper/more detailed information. For that you'd have to go to the phone. This is all about at-a-glance information. But this level of information you see here is actually identical to how the higher-end Charge 5 works.
Instead, everything is about the Fitbit app, and you can see it all there. As has been the case for many years, this is where Fitbit really excels in a solid blend of simplicity and data access. And while Fitbit has gatekept some of their data behind the Premium subscription, the reality is most actually isn't. Fitbit's constant pushing of their subscription has (incorrectly) led to a lot of people thinking that everything is behind a paywall, when in reality, they offer almost all the same stats as Garmin/Apple/etc do for free.
Here's a quick look at your main dashboard page on the app, as well as other data points you'll see as you scroll down on the app:
You can tap on any given metric to get more historical data. For example, here are my steps pages:
And then here's a look at my sleep pages. You'll notice how there are often little 'ads' (albeit less intrusive) trying to get you to pay-up for Premium. But these can be ignored. You'll also notice Fitbit properly tracks naps (seen on the Wednesday there), whereas competitors Garmin and Apple don't.
You can tap on the given day to get added information about sleep stages and sleep phases. Note that I can't compare the validity of these sleep phases to any other data points, so I don't know if they're accurate or not. Mainly because the technology available to compare this data is only about 80% accurate (at best), and thus, it's just a swag in the air (at best).
Instead, I'm really focused more on my sleep times, and whether or not they were accurate. And indeed, Fitbit is pretty good at that, beating both Garmin and Apple – especially in cases where my kids wake up early/briefly at say 6:30-8AM, and then I fall back asleep. You will note however that some things (again) are behind the paywall, like sleeping heart rate and restlessness. Sleeping HR is one of those metrics however that most of their competitors do show without payment. But then again, most of their competitors have price points starting at double Fitbit's.
Next, there's the stress tracking, or rather, Stress Management. This is a daily score you get that looks at heart rate and ANS response activity, exertion (e.g. workouts/steps), and sleep vs your sleep patterns. In order for the score to enumerate, you need to (that day) take at least 500 steps, wear the device for 14 hours, wear the device to sleep for at least 3 hours, and then sync your device to the app. All pretty logical things.
You can also do a "Relax" session with the Fitbit Inspire 3, from the main menu. Assuming you accept the defaults, this takes 2 minutes, and guides you through inhaling/exhaling, with the ideal goal of both calming you as well as lowering your heart rate (it'll show whether you did that at the end of it).
You can additionally log a variant of smiley faces daily, to compare what Fitbit thinks versus what you think. While you can see your score for free, if you want to see the actual breakdown of your score and what's driving it – you need to pay for Fitbit Premium. Again though, while their competitors have scores too (also for free), they don't actually show a breakdown at all. So like for like, this is actually the same – even if it's an annoying pay gate.
Last up in the app data field realm, is the 'Health' section, which is basically where Fitbit stashes the leftover things they want you to briefly look at, but then pay more for to see more in-depth. Here you'll find Resting Heart Rate, Breathing Rate, Heart Rate Variability, Skin Temperature, and Oxygen Saturation. All of these stats show the last 7 days' worth of data, but not any more historical data. This is really the singular area where Fitbit lags considerably behind their competitors – which do show this data long term (where trending is most useful).
However, one has to be mindful to compare apples to apples here. Skin temperature for example isn't available (at all) on any Garmin devices, and only just launched on the Apple Watch Series 8 ($399) and Apple Watch Ultra ($799) watches. The cheapest Garmin device that has HRV is the Forerunner 255 at $349, and the Apple Watch only sparingly shows this and doesn't consolidate the data per night (without 3rd party apps). Historical breathing rate and historical SpO2 data is offered though by all their competitors at virtually all price points. As is resting heart rate data.
Beyond the device-specific items, you can log quite a bit within the Fitbit app. This includes weight (or, you can use the Fitbit Aria WiFi weight scale), food, water consumption, and menstrual health/cycle tracking.
Meanwhile, back on the device, it has basic smartphone notifications. These will show for any app/messages sent from your smartphone to your device (so that could be texts, Facebook, Twitter, etc…), all of which are controlled by your smartphone. You can tap to view them in more detail, or dismiss them: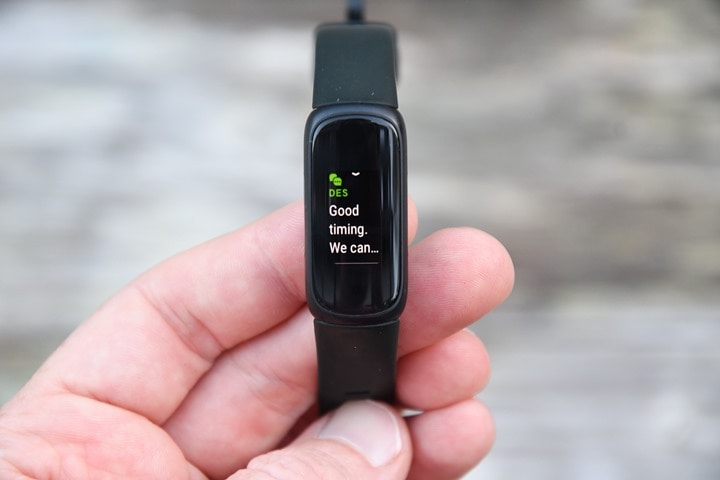 Next, if you swipe to the left from the main page, you'll find both a basic timer, as well as a countdown timer. And further, an alarm function. These are basic alarms, and are not smart sleep alarms like you might find on some devices.
Finally, some minor logistical stuff. You can remove the band on the Inspire 3 as noted earlier. This allows you to change bands if you want a different style/size:
In terms of the included band and wearability, I thought it was actually pretty good. The entire band/device felt super lightweight, to the point you frankly forget you're wearing it – given how small it is compared to most watches (or at least, most watches I test). Even more notable is I found this band more comfortable than the higher-end Fitbit Sense 2's stock band. I think it's mainly because the Inspire 3's band doesn't seem quite as rigid.
But, you can also pick up the Fitbit Inspire 3 clip, which lets you clip it on your pants/bra/etc, and use it purely as an activity tracker. You won't get any heart rate-related metrics here obviously, but, it is an option if you don't care much about that during the day.
Sports & Workout Tracking: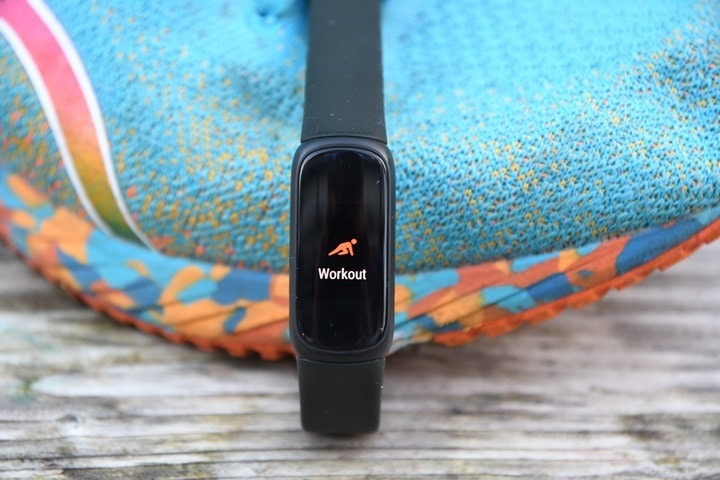 The Fitbit Inspire 3 has basic workout support, which means it'll track your workouts including your heart rate, time, Active Zone minutes, distance/pace (if outside/applicable), as well as a GPS track if you have your phone with you. The Inspire 3 doesn't have GPS built-in, but instead will use Bluetooth to connect to your phone and leverage your phone's GPS for GPS tracks. But to be clear, for walking/running – you don't need your phone with you to get distance/pace, it'll use its internal accelerometer for that.
But before we get to that, let's get into the sport modes. These are officially listed as 'Exercise Shortcuts' within the Fitbit smartphone app, and you can store up to 6 of them on the device; in total, via the app, there are 21 different sport modes available – including a very basic interval mode. You can see them all here:
In the case of the interval mode, it has the ability to configure a work portion timer, followed by a rest portion timer, and then the number of repeats. For the rest of the sports, some of them have basic configuration options, like auto laps. In the case of running, for example, that can be by distance/calories/minutes, whereas for a generic 'Workout' it can be by time or calories (such as every 100 calories).
Additionally, it's worthwhile noting that you can configure some basic heart rate zones in the Fitbit app. These are global zones, so they're applicable to all sport types, and not sport-specific. They're located under Account > Activity & Wellness > Heart Settings > Heart Rate Zones:
Once that's all set up, on your Inspire 3 you'll swipe to the Exercise menu, and you can choose which of the specified sports you want to do: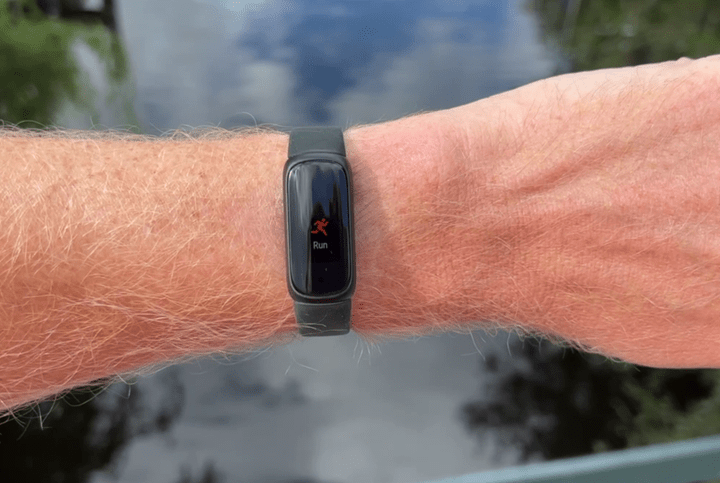 Before you start, you've got a few additional options you can configure, they are:
– Auto Pause: Set it to be on or off, which will pause the workout if you stop (such as in running)
– Always-on screen: This will keep the screen on for the entire workout (my preference)
– Run Detect (in running): This will automatically start a workout if it detects you're running
– GPS: This will use your phone's GPS to create a GPS track (and then upload it to both your app, and 3rd party apps like Strava if you've connected them)
– Heart Rate Zone: This will show heart rate zones during the workout, as specified on the Fitbit app
– Set a Goal: This lets you set Active Zone minutes, Distance, Time, or Calorie goal for the workout
In my case, I use the Always-on screen option, as well as ensuring GPS is toggled on. I continue to find the Fitbit to phone GPS connectivity a bit finicky at the start of a workout. Sometimes it finds my phone/app instantly and shows "GPS Connected", and sometimes it doesn't (despite the phone seeing the Fitbit as connected). Usually I have to restart the Fitbit app, toggle Airplane mode a few times, etc..before it clicks and shows 'GPS Connected":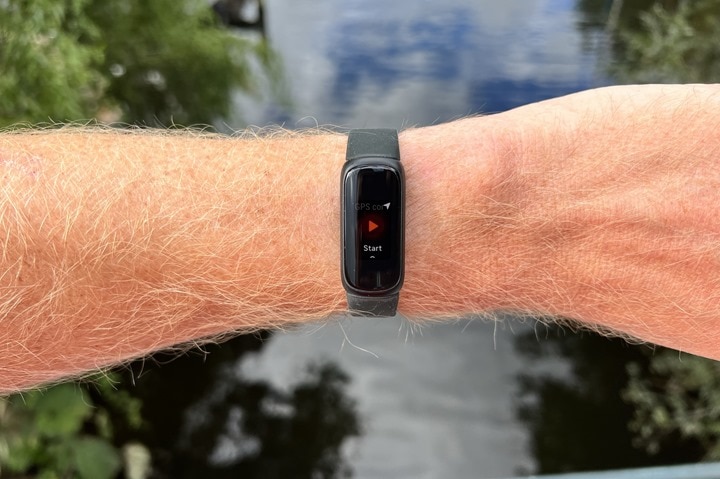 With that all set, we'll tap to start, and off we go. You can swipe or tap through the different screens you've setup to see your stats mid-workout. In my case a run:
Though, here's one indoors on a bike: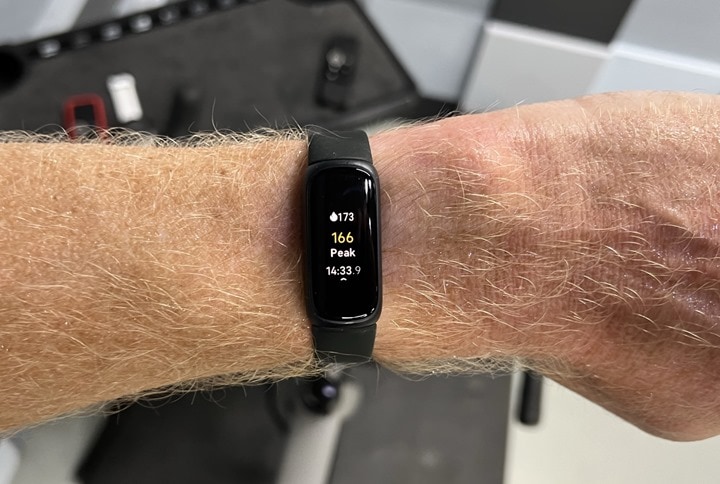 In terms of usability during a workout, I didn't have any major problems. Sure, it's a bit hard to see in bright sunlight, but not impossible. My Thursday run started in bright sunny conditions…and ended in dark thunderstorms. It was viewable the entire time, even if not always amazing. I did however, find a quirky bug where if I set 1KM auto lap distance, it actually auto-lapped every quarter of a mile (yes, 0.25mi). Obviously that's fairly minor in the grand scheme of bugs, but hopefully something Fitbit can quickly address.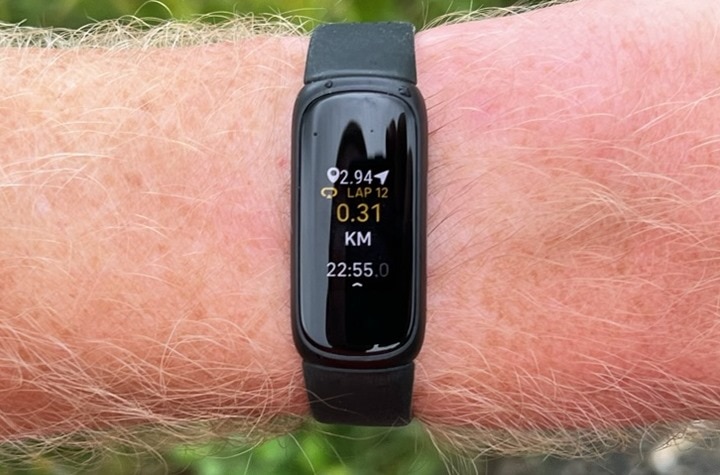 Once you're done suffering, you'll pause the workout and then tap again to save. After which it'll give you a quick summary list of things like distance and time, and some heart rate details. Nothing crazy detailed, but that's all available afterwards on the app: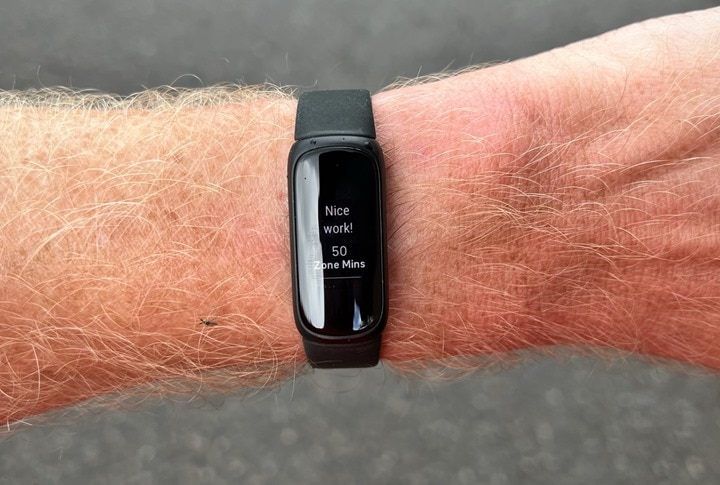 And then back on the Fitbit app you'll see the full details of the workout, including the GPS track if it was outside with your phone's GPS, as well as lap stats and more. Here are a few screenshots from a run of mine:
If you've enabled 3rd party partner integrations, such as Strava or other platforms, it'll automatically sync your run to those platforms. It tends to show up about 1-2 seconds after it shows up in the Fitbit app itself. It's very quick.
Finally, it's worthwhile noting that the Fitbit Inspire 3 does not connect to 3rd party sensors, or even heart rate sensors/straps. Nor can it broadcast your heart rate to other apps/devices (such as a Peloton Bike). No Fitbit can. And while that might have made sense years ago, these days it's table stakes for most wearables. And while some might point to Apple as a competitor that doesn't currently offer native Bluetooth HR broadcasting, they offer enough APIs and backend app connectivity options (like GymKit) that it's not much of an issue, since apps can still get to that live heart rate. Plus, Apple (and everyone else) can connect to Bluetooth HR straps, while Fitbit can't. With that, let's talk about accuracy.
HR Accuracy: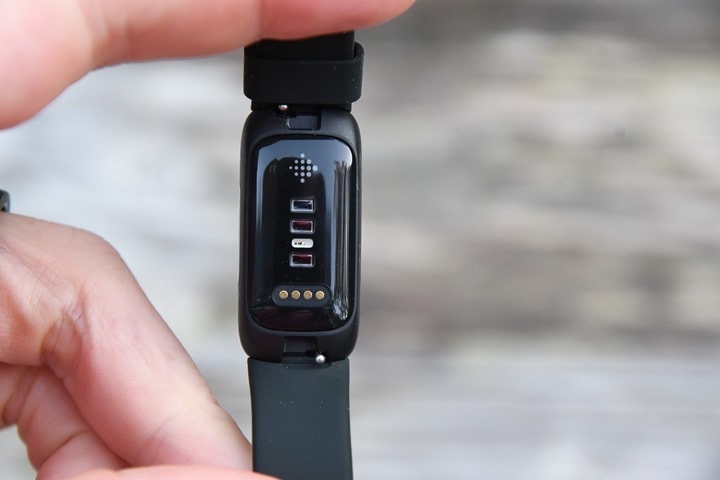 In this section I'll take a look at the Fitbit's optical HR accuracy during workouts. In these tests, I'm comparing it against a 'known good' chest strap (the Garmin HRM-PRO Plus), as well as one or more other watches or optical heart rate sensors. In these tests, only one watch is worn per wrist to ensure optical HR accuracy is still valid. Additional sensors may be worn on the upper arm (Whoop or Polar Verity Sense), the finger (Oura), or the chest (various chest straps).
Note that there's no GPS accuracy testing in this review, since the accuracy of your GPS tracks is purely based on your specific phone. However, one key thing I did validate across multiple runs/rides is whether or not there were any Fitbit-driven app connectivity problems. That's because over many generations of Fitbit devices with Connected GPS (which is what uses your phone), I've seen some substantial issues there where it'll skip large sections of rides/runs if there's a blip in your watch-to-phone connection. Thankfully, I didn't see any of those at all during any of my testing.
First up we've got an indoor trainer ride. This is actually a whole slate of building intervals (in duration and intensity), so while it looks like a slow-build on the heart rate chart, in reality it's a bit more painful. Here's a data set compared to a chest strap (Garmin HRM-PRO Plus), along with the Whoop 4.0 band. We can see they're very similar. There's a tiny bit of instability from the Inspire 3 in the first few minutes, but that settles out nicely, and it's almost always within 1-2bpm of the chest strap. The Whoop 4.0 band meanders a bit here and there, which is somewhat normal for it.

Next, we've got a run. In this case roughly every 1KM I did a sprint to see how it handled. And clearly, it did not handle well – at least not the start. You can see at the beginning it demonstrates what's known as 'cadence-lock' whereby instead of locking to my heart rate, it locks to the rhythm of my feet (cadence), because it can't figure out my HR signal. The reason watches do this is because this is the next 'loudest' rhythm. It does seem to right itself at the 7-minute marker.

However, for 2 out of the 4 intervals, it undercuts it to varying degrees. The steady-state portions are fine and in line with the chest strap and Apple Watch. Still, the lack of stability in the intervals isn't ideal.

Moving along, we've got an indoor cycling workout. Unlike the more even/sustained intervals of the first one (which did well), this was more chasing/random, and thus also a bit more 'interaction' with the handlebars than the steady-state Peloton ride. As you can see, it struggled in the first 10-15 minutes to find its groove. After that, it's not awesome, but for the purposes of calorie burn expenditure, it's probably fine. The small ups and downs you see wouldn't meaningfully affect calorie burn here, but would likely annoy a higher-performing athlete.

Finally, we've got an outdoor ride. As is often the case, outdoor cycling is actually one of the trickiest wrist-based optical HR activities. That's because you're straining your wrist on the handlebars (condition #1 for difficult optical HR accuracy), combined with road vibrations (condition #2), and then with the very small size of the unit, it's going to let a lot of light into the sensor from the sides due to your wrist placement (condition #3). In the case of the Inspire 3, there isn't much space from the case to block that outside light. As such, I rarely recommend using optical HR sensors on cycling. And apparently, the Inspire 3 wanted to be held up on a pedestal as an example:

I'm not sure one could be wrong more than this was. I mean, it was literally never right. As I said, my expectations were low here, and for good reason.
In any case, looking at things, the Inspire 3 optical HR performance isn't great. It ranges from very solid (an indoor Peloton workout) to a mixed bag (interval run where the steady-state was fine but the intervals less so), another probably OK for the purpose (indoor cycling), and then definitely not ideal (outdoor cycling). It's really a shame that Fitbit doesn't allow connectivity to external HR sensors, though at this price point your chest strap might be 50% the cost of the Inspire 3.
As noted, I wouldn't use the Fitbit Inspire 3 for super precise HR-driven workout zones. But in terms of using the optical HR sensor for most activities to get roughly accurate calorie burn (which is in part based on your heart rate level), it's probably good enough.
(Note: All of the charts in these accuracy portions were created using the DCR Analyzer tool.  It allows you to compare power meters/trainers, heart rate, cadence, speed/pace, running power, GPS tracks, and plenty more. You can use it as well for your own gadget comparisons, more details here.)
Wrap-Up: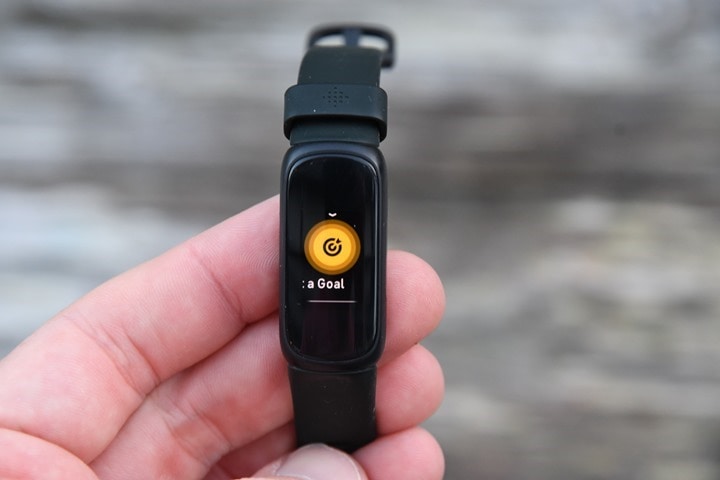 While probably not the most tech-heavy-sexy-new-thing, the Fitbit Inspire 3 is hands-down the best deal in activity trackers today. Sure, you can find a cheap activity tracker on Amazon for a no-name company, but not with the depth of the Fitbit platform nor the added data/physiological metrics included with the Inspire 3. In terms of daily usage and usability, it's surprisingly good. The color screen is easy to read, easy to interact with, and the battery lasts (in real-world testing) a surprisingly long time. In many ways, you can kinda forget it's there while it does its job in the background.
Certainly, there's plenty of talk about the Fitbit Premium subscription option, especially around access to longer-term data metrics in certain categories (such as SpO2). And in general, I don't think Fitbit has found the right balance here yet. As I noted above, this device gives access to data metrics that no other device does anywhere near this price point, and that's great. And it does give historical data in the vast majority of categories (without Premium). But I don't think boxing those handful of metrics' historical data that Fitbit puts behind a paywall makes much sense – especially for a device of this price point. I'd rather see Fitbit focus on additive features and additive metrics within their Premium bundle, if they must.
Still, for most people, if you use the Fitbit Inspire 3 as I did (without Premium), it works great and is an easy way to track your daily activity, sleep, and have basic sport tracking. The optical HR sensor, during more complex/harder workouts, does leave something to be desired, but that's part of the challenge with such a small device letting in external light to the sensor. Still, for most people just trying to get rough calorie burn calculations, the optical HR sensor is probably fine.
With that – thanks for reading!
Found This Post Useful? Support The Site!
Hopefully you found this review useful. At the end of the day, I'm an athlete just like you looking for the most detail possible on a new purchase – so my review is written from the standpoint of how I used the device. The reviews generally take a lot of hours to put together, so it's a fair bit of work (and labor of love). As you probably noticed by looking below, I also take time to answer all the questions posted in the comments – and there's quite a bit of detail in there as well.
If you're shopping for the Fitbit Inspire 3 or any other accessory items, please consider using the affiliate links below! As an Amazon Associate I earn from qualifying purchases. It doesn't cost you anything extra, but your purchases help support this website a lot. Even more, if you shop with TPC (The Pro's Closet), you'll save $40 on purchases over $200 with coupon code DCRAIN40! The Pro's Closet has been a long-time partner of the site here - including sponsoring videos like my cargo bike race, as well as just being an awesome Colorado-based company full of good humans. Check them out with the links below and the DCRAIN40 coupon!
And of course – you can always sign-up to be a DCR Supporter! That gets you an ad-free DCR, access to the DCR Quarantine Corner video series packed with behind the scenes tidbits...and it also makes you awesome. And being awesome is what it's all about!
Thanks for reading! And as always, feel free to post comments or questions in the comments section below, I'll be happy to try and answer them as quickly as possible. And lastly, if you felt this review was useful – I always appreciate feedback in the comments below. Thanks!