Garmin today has announced their latest Venu series watch, the Garmin Venu Sq 2, which is an update to the existing Garmin Venu Sq watch that came out two years ago. This new model essentially brings the hardware specs inline (or even above) the newer Venu 2 series units. It also gets all the software largely to parity with the Venu 2 series as well.
Looking at some of the big ticket items, they doubled the resolution of the display, while also nearly doubling the battery life in both smartwatch mode and GPS watch mode. They also increased the display size, slimming up the bezel a bit. And technically, they even made the watch a tiny bit thinner. Plus, they doubled the vibration alert power, while also making it quieter.
Beyond the hardware bits, most of the software bits are about normalization to the rest of the Venu 2 series lineup. Still, there remain some quirky gaps for a $300 watch in 2022, such as lack of stair tracking, and lack of audible alerts. But we'll dive into all that within the review.
In any case, I dive into all these new features, how they work, and plenty more in the review below. Note that this Venu Sq 2 is a media loaner and was sent over by Garmin to test. As usual, it'll go back to them afterwards. If you found this review useful, feel free to hit up the links at the end of the site, or consider becoming a DCR Supporter. With that – let's begin!
What's New: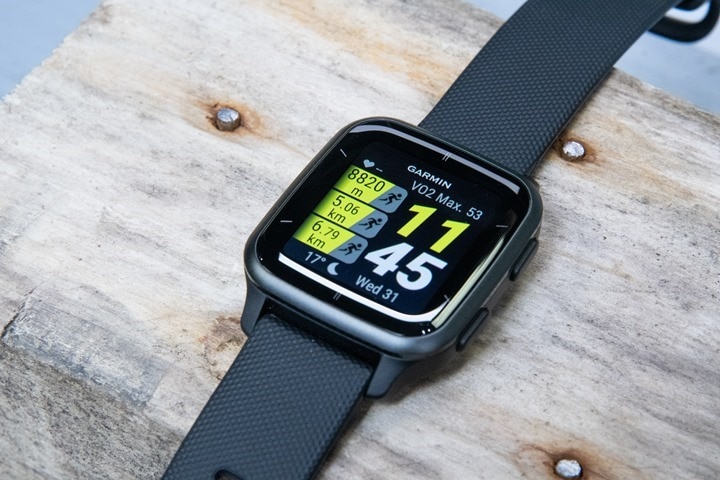 The Garmin Venu Sq 2 is essentially a hardware and software upgrade to very similar internals (and externals) as the Garmin Venu 2 series. Meaning that the original Venu Sq had fairly different internals to the circle-shaped Venu series. Whereas with the Venu Sq 2, they basically just made a rectangular Venu 2, and the software also contains almost all the same features as the newer Venu 2 units.
However, there are some areas where the Venu Sq 2 lacks the hardware of the Venu 2 series, and a few tiny areas where it's better. First up though, let's talk about what's new/different compared to the original Venu Sq.
– Changed display from LCD to AMOLED
– Increased display size from 1.3" to 1.41" (14% increase)
– Doubled the resolution of the display
– Doubled the vibration alert power, while also making it quieter
– Doubled (nearly) the battery life from 6 days to 11 days
– Increased GPS battery life up to 26 hours (from 14 hours)
– Changed GPS chipset to Airoha/MediaTek (like Fenix 7/Forerunner 255/955/etc..)
– Added new 'All Systems' GNSS mode (Note: Not multi-band/dual-frequency however)
– Upgraded to newer Garmin Elevate Gen4 optical HR sensor (previously was Gen3)
– Added Sleep Score from Venu 2 series
– Added HIIT sports profile from Venu 2 Series
– Added all Venu 2 user interface changes/tweaks
– Added battery saver from Venu 2 series
– Made new unit slightly thinner than older Venu Sq
– Maintains existing Gorilla Glass 3 lens
– Increased price from $199 to $249 for the base model
– Increased price from $249 to $299 for the music model
There are a few different color options available for both, here's a quick overview: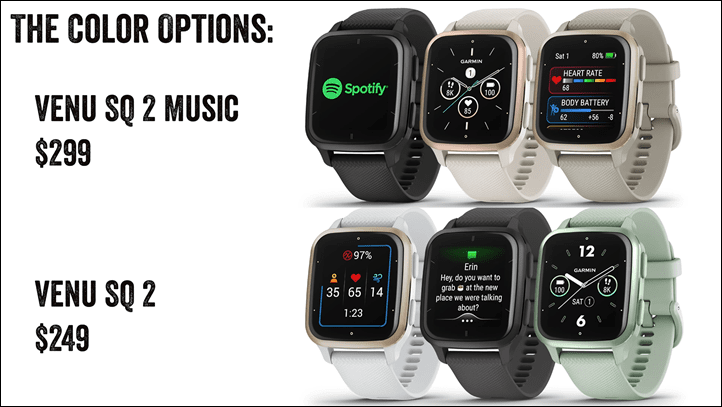 So, what's different between the Venu Sq 2 and a Venu 2 series watch? Well, mostly hardware. Still, that drives some software differences.
– Venu 2 is round, Venu Sq 2 is…well…square
– Venu 2 has a barometric altimeter, the Venu Sq 2 does not (no total ascent metrics on watch, only on-site/app)
– Venu 2 has audible alerts, the Venu Sq 2 does not
– Venu 2 has stair tracking, the Venu Sq 2 does not (due to lack of the aforementioned altimeter)
– Venu 2 has indoor climbing and floor climbing sport modes and Venu Sq 2 does not (again, no altimeter)
– Venu 2 has an internal gyro, whereas the Venu Sq 2 does not
– Venu 2 has muscle maps and workout animations (Sq does not), as the strength features use the gyro for movement detection
– Venu 2 has Live watch faces (animated watch faces), the Venu Sq 2 does not
– Venu 2 Plus (specifically) has three buttons, whereas Venu Sq 2 has two buttons. Venu 2 (non-Plus) has two buttons
– Venu 2 Plus has 7GB of usable storage space, whereas the Venu Sq 2 has 3GB of usable space
Finally, beyond that, there's the entire Venu 2 Plus features related to calling/microphone/speaker bits. The Venu Sq 2 has none of that. It also doesn't have any audible components at all. So it won't beep. All alerts are purely via vibration motor (and on-display itself), which is honestly a weird gap in 2022, when even Garmin's cheapest watches for nearly a decade have had a basic beeper.
What's In The Box: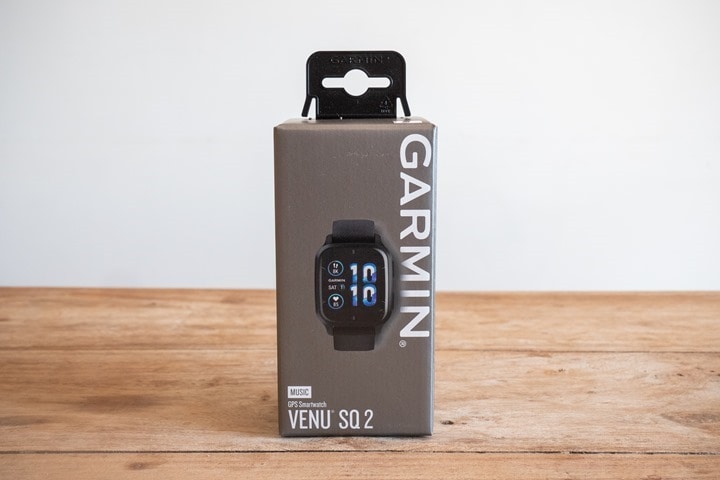 Inside the box of the Venu Sq 2 is the watch, a standard Garmin charging cable, and two chunks of paper. One of those chunks is a quick-start guide of sorts, while the other safety-focused one reminds you that if you hurt yourself, it's probably your fault for doing something stupid (and, it's also probably right).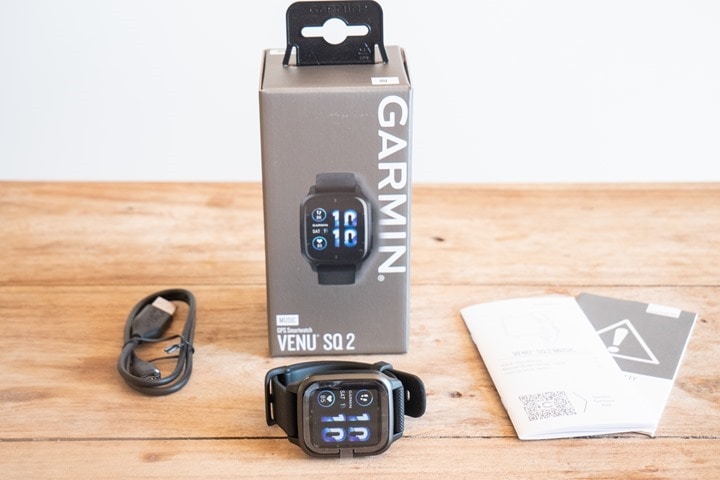 Here's a closer look at that cable, because we know we all love cable bokeh shots: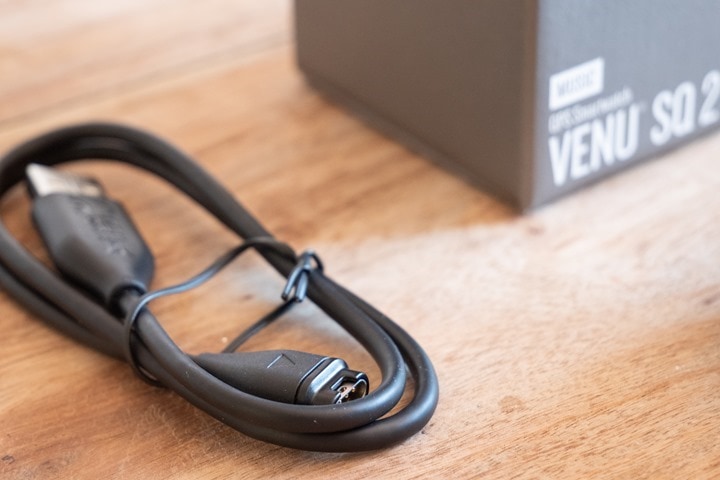 Leaving that afternoon sun-laden vacation table behind, we get back into the studio and compare the Venu Sq 1 with Venu Sq 2, and Venu 2 Plus: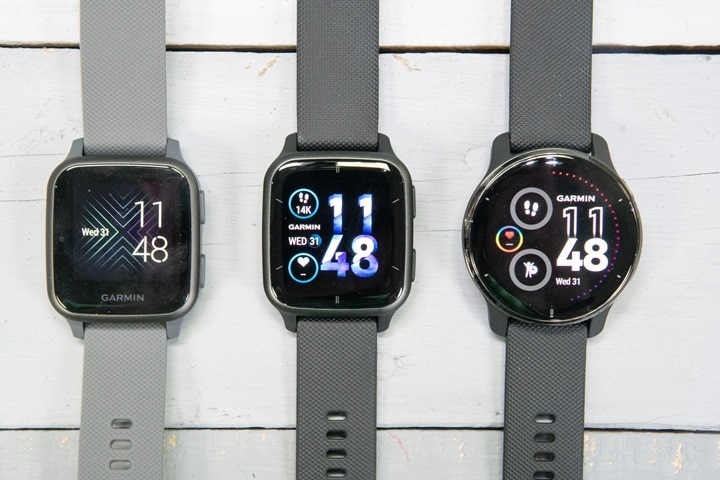 And from a lower-down perspective: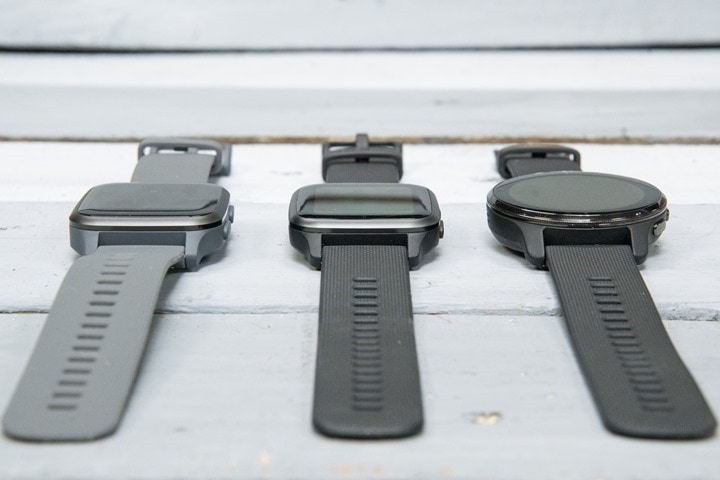 The official weight spec on the Venu Sq 2 is a mere 38g, which matched my measurements. The watch size is 40.6mm x 37.0mm x 11.1mm. However, the thickness did not match reality, and is about 1.5mm thicker than stated, as Garmin excludes the rear sensor bump in its measurements. They do not caveat this. Realistically, you won't notice that 1.5mm, I promise.
The Basics: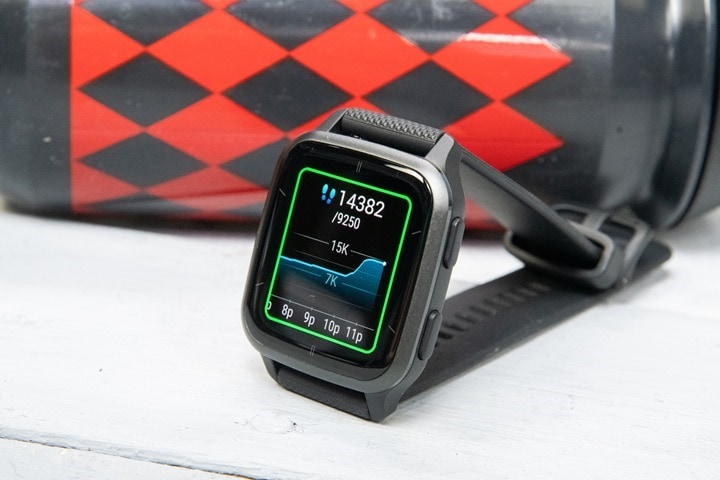 For this section I'm going to walk through all the basics of using the Venu Sq 2. That includes everything from usage (and tips) for the touchscreen display, to daily activity tracking, to the general interface. If you've already got a Garmin device, then you'll probably find everything in this section old hat. However, there are some tweaks here that are specific to 2022 and updates to the Venu 2 series that carry into the Venu Sq 2. None of them are major though. In any case, beyond that, this section will also cover health and fitness basics of the smartphone companion app, Garmin Connect. All of the sports tracking bits will be found in the next sections around 'Sports Usage'.
Starting with the hardware, the Venu Sq 2 is…well square. Or, square-ish. Technically it's a couple of millimeters taller than its width. But centered in the middle of that rectangle is the display, which is 360x320px. The touchscreen display is how you'll interact with most of the menus, though there are two buttons along the side. These buttons are mainly used for yes/confirmation (top right) or back/escape (bottom right).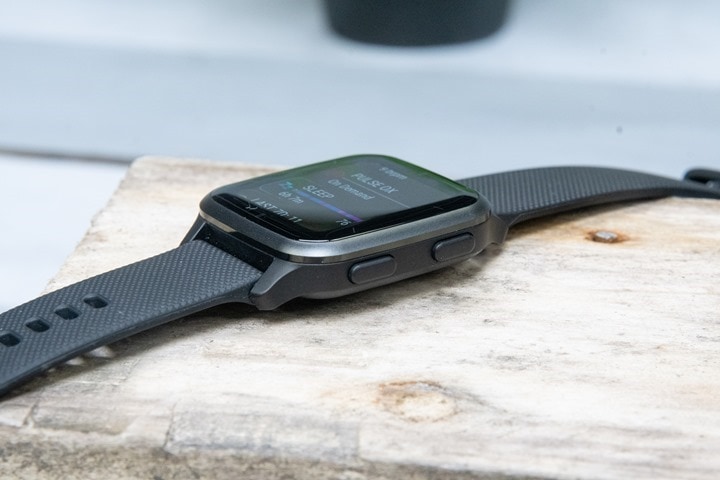 The two buttons also have long-hold options. The top-right one if long-held will access a controls menu, whereas the bottom-right one accesses the settings menu.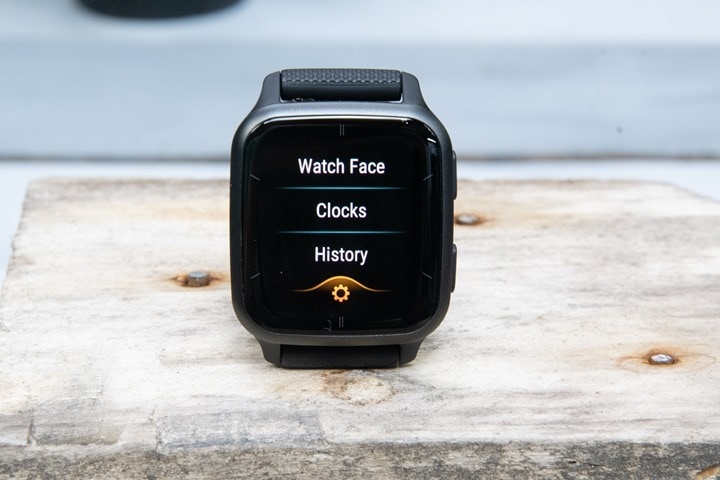 The touch screen is an AMOLED display, which is an upgrade over the previous LCD screen of the original Venu Sq. It has two basic display power modes, always-on, and gesture-mode. The default is gesture mode, which means the screen is off unless you raise your wrist to see the watch face. In this gesture mode, you'll get 14 days of battery life (excluding GPS time). Whereas in always-on mode, it's 3 days. Judging exact battery life is always difficult, but for perspective, I had a fully charged watch last Friday, 5 days ago. I now have a 38% charged watch. But that includes 4 GPS workouts (50 minutes each), plus other daily indoor workouts (which burn more battery). So I'd say it's probably tracking towards claimed battery life.
However, if you want to switch to always-on mode, you can do so within the settings menu. In this case, the screen burns (substantially) more battery, with a claimed battery life of 3 days. In this mode it'll dim the watch face (and reduce coloring) when your wrist is down, but brighten/liven it back up when you raise your wrist. You can change into this mode in the settings: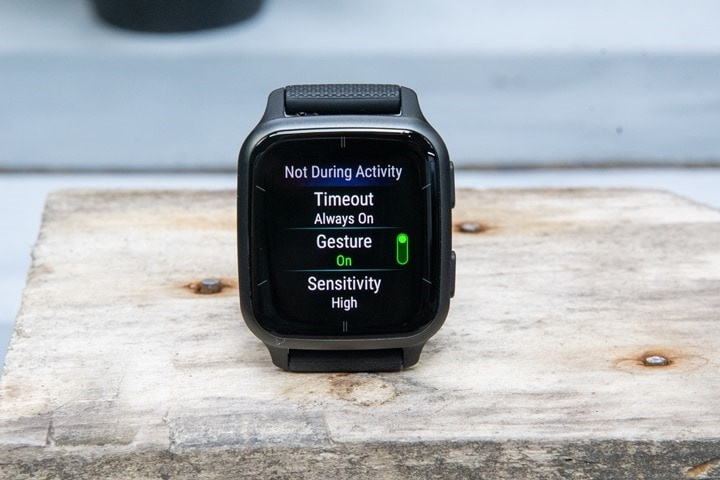 Flipping the unit over, you'll see the Garmin Elevate Gen4 optical HR sensor. This is an upgrade over the Gen3 sensor found on the original Venu Sq. It's this sensor that Garmin says gives them the ability to add the HIIT profile in there, as it better handles high-intensity activities where there's wrist flex. This is the same sensor used on most other Garmin watches in the last year or so.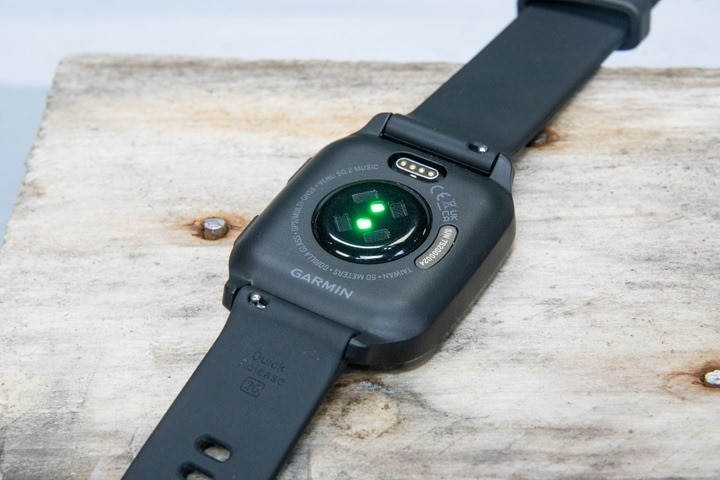 This sensor measures your heart rate 24×7, as well as blood oxygen levels, respiration rate, and all sorts of other metrics derived from it. It does not measure skin temperature (no Garmin watch does). Nor are there any ECG features. At least officially anyways. Back earlier this year Garmin confirmed they were doing an ECG study, and they do have paperwork in with the FDA around that study using Garmin Venu based devices. At this time, Garmin has not announced (officially) any ECG functionality on their Venu series watches, as doing so before FDA approval would put them at substantial legal risk. As such, Garmin certainly isn't going to comment on whether or not the Venu Sq 2 would be capable or not. And similarly, I've got no sure-fire way of knowing.
In any case, back to the watch, and the watch face. You've got a handful of watch faces on the unit itself that you can customize, though not quite as much as some of Garmin's other watches. For example, you can't tweak the individual data fields/complications like you can on higher-end watches. However, you can still access Garmin Connect IQ watch faces, which means you can either make your own watch face, or simply download one of the hundreds, if not thousands, of others.
However, while you can't customize the complications on the watch face itself with the default watch faces, you can long-hold on those complications, which then jump straight to the data from that widget. For example, if I long-hold on the steps in the upper left corner, it jumps to the steps widget:
Speaking of which, widgets are basically a way Garmin lets you access various data sets quickly with a swipe down. As you swipe down you'll first see widget glances, showing a tidbit of information about various health/fitness metrics (but also things like calendar appointments):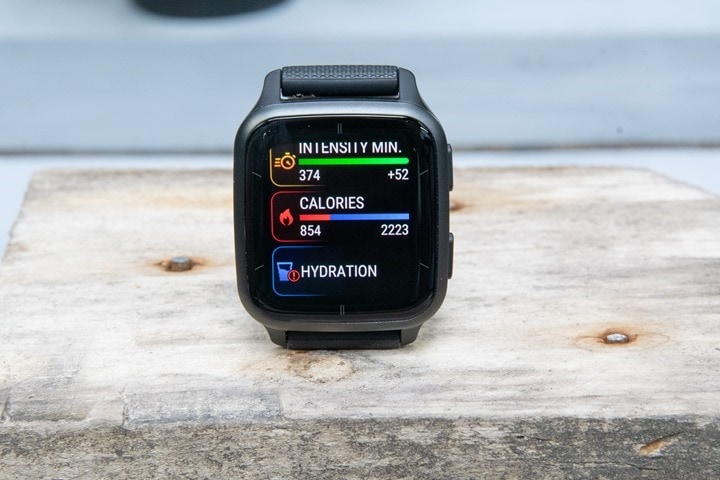 You can then tap on any of them to get more details about that, bringing it to a full-screen page, that you can swipe with more details:
Of course, all of this is synced to your Garmin Connect account, via Bluetooth and WiFi, or USB if you plug it in. Within that, you've got Garmin Connect Mobile (the smartphone app), or the Garmin Connect website online. For example, here's steps, as displayed on Garmin Connect:
There's no manufacturer platform that offers deeper phone-based access to all these stats than Garmin. You can sift through countless metrics and reports on everything from breathing rate to sleep patterns. Though, that's also often cited as the downside: Many metrics feel like they're buried deep in the app. That said, you can easily tweak what's shown on the main daily dashboard, which is really your best bet: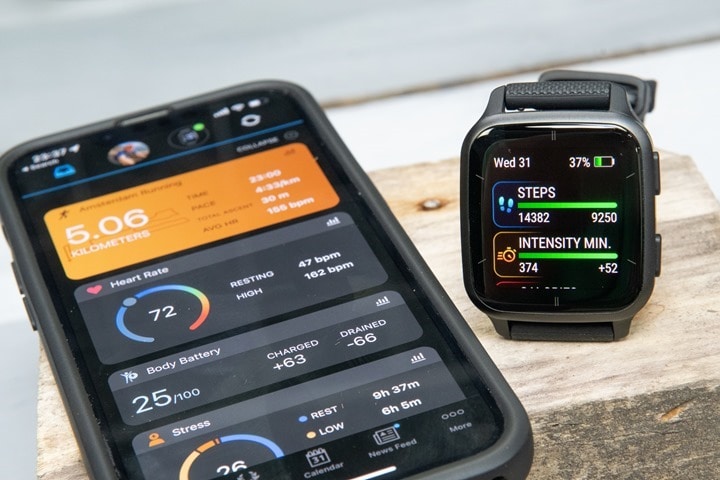 Within the core set of fitness and health features you've got things like steps, stress, breathing rate, heart rate, and of course sleep. In the case of sleep, you do nothing more than just simply fall asleep. In the morning when you wake up it'll show your sleep details and a sleep score. It'll also give you its best guesstimates at sleep phases, by the colored sections, which you can tap to get more details on.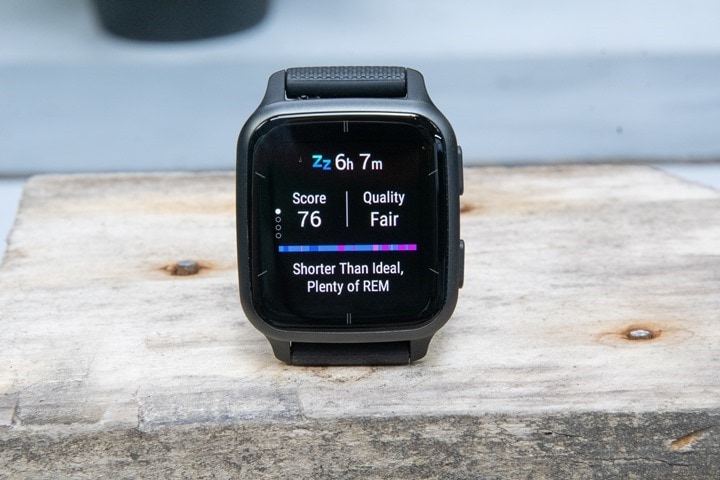 For the most part, I find the sleep timing pretty accurate. Take last night, seen above – the sleep timing is spot-on accurate, to the minute. That's generally what I see, not just on the Venu Sq 2, but also on Garmin's watches in general. For me, it works well for that piece.
But there are some caveats. First, no Garmin device supports naps. So if you fall asleep at some other point in the day, nothing is recorded there. Secondly, it doesn't tend to handle early morning going back to sleep well. For example, if I wake up at 7AM because one of the kids wakes up early, but then I get them all sorted and I go back to sleep for another 60-90 minutes, it doesn't usually track that as sleeping time. So basically, secondary sleeps after a certain time (usually around 6-7AM for me), don't often catch correctly. Note that it has no issues if I wake up at 3AM or something, but it's the ones that are closer to a normal wake-up time that confuses it.
The second aspect is sleep phases. I don't have any trust in sleep phases from really any devices. Even the high-end consumer devices that can compare this type of data are only 80%-ish accurate. Which, would never be acceptable when it comes to something like heart rate tracking (imagine being 30bpm off at 150bpm?!?). Point being, I put very little value in sleep phases.
Next, there's the Health Snapshot, which is something that wasn't available on the original Venu Sq. This feature takes five core metrics and distills them down into a single 2-minute measurement period. All you need to do is sit down and relax.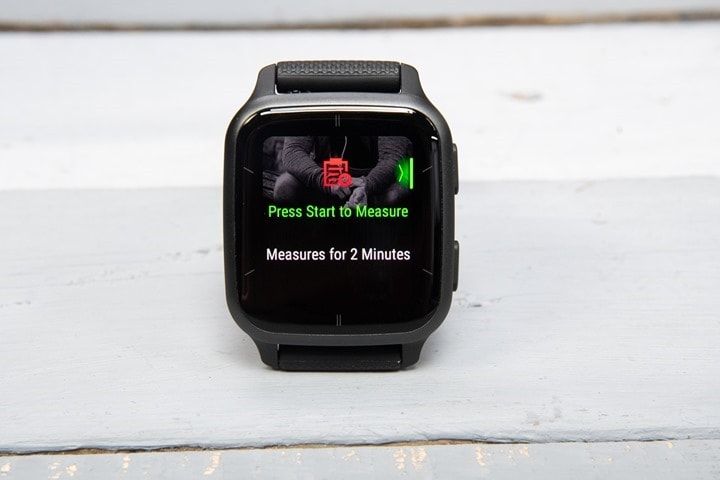 During the 2-minute period it'll measure your heart rate, blood oxygen level, respiration rate, stress, and HRV (heart rate variability). The idea being you can consistently do this, ideally at the same time each day, and start to get a bit of a snapshot of how things are trending. All of these metrics are already tracked by Garmin more deeply in the app/platform, but this aims to put it on a single plate (so to speak). You can then export it into a single PDF if you'd like as well.
Now one odd gap here is that Garmin's recent Forerunner 255 and Instinct 2 series watches do nighttime HRV tracking over periods of time (called HRV Status in Garmin lingo). This is a feature that is new to Garmin (this past June), but isn't on any Venu 2 series watch. I'd have somewhat expected to see Garmin launch that here on the Venu Sq 2 (and with the rest of the Venu 2 series also getting it). Given the hardware is fully capable of it, and given their other Venu 2 watches are in the same ballpark as the FR255/Instinct 2, and given Fitbit has it at lower price points, it seems an odd omission. Hopefully it's something we see down the line via software update (and hopefully not just something saved for a future Venu 3 or such).
Switching topics entirely, we've got smartphone notifications. These notifications are controlled on your phone and follow your settings there. Garmin has continued to improve the emoji library on their devices, so you see more of those here, and with the higher resolution/display, they look slightly nicer here too.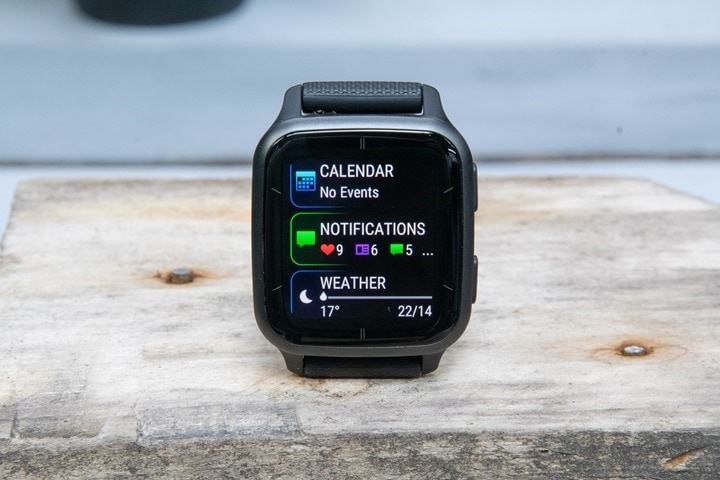 Keep in mind that on an iOS device, you won't be able to respond to notifications on the watch itself, due to restrictions imposed by Apple on 3rd party devices. However, when paired to an Android device, you can do basic responses.
Last but not least, let's quickly talk battery bits. Here's battery life for the different modes:
Smartwatch mode: Up to 11 days
Battery Saver Smartwatch mode: Up to 12 days
GPS-Only GNSS mode: Up to 26 hours
All-Systems GNSS mode: Up to 20 hours
This is a big jump up from the original Venu Sq (6 days smartwatch/14 hours GPS). Garmin says that the display change was one of the big drivers there to getting more battery life (for smartwatch mode). Whereas for the GPS side, that's also assisted with the newer GPS chipset. This is the same chipset provider that Garmin is using on their Fenix 7, Forerunner 955, and Forerunner 255 watches. While this unit isn't doing multi-band/dual-frequency, everything I've seen with this new chipset on all these watches (including the Venu Sq 2, demonstrates it's really darn good without the multi-band bits).
Next, the Venu Sq 2 gets the newish Battery Manager and Battery Saver. Battery manager is essentially where you can toggle battery life estimates on/off (showing you how many days are remaining), and then it's also where you toggle on Battery Saver: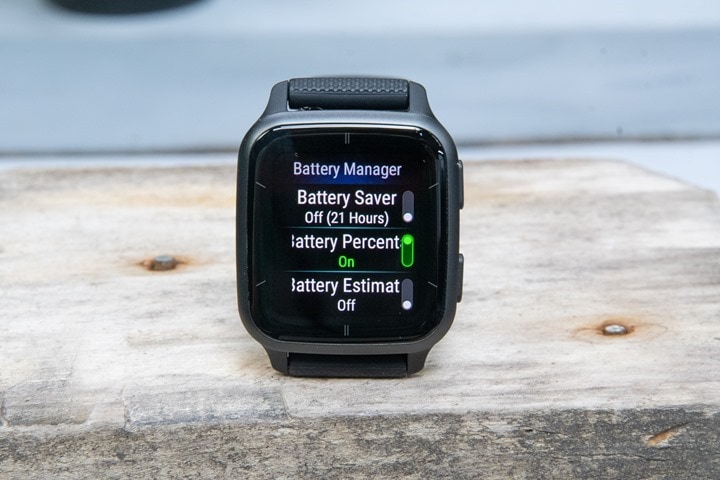 When you turn on Battery Saver, it gives you an incredibly long list of things it's about to shut off, in order to eke out more battery life. When you enable it, the unit toggled all of the following settings:
– Watch Face: Low power
– Display Timeout: Short
– WiFi: Disabled
– Brightness: Low
– Music: Disabled
– Auto Activity Start: Disabled
– PulseOx: Disabled
– Gesture Mode: Disabled
As far as battery life goes in my testing, as noted earlier, it's tracking towards their claims. Again, it's really tough to do an apples-to-apples comparison, since their smartwatch day claims don't include GPS time. Whereas inversely, their GPS time claims don't account for the other hours you used in smartwatch (non-GPS) mode. That's of course totally normal, but makes my job challenging since I do daily workouts while also using it for longer periods of time. However, at this point nothing is sticking out that's concerning in terms of battery burn rates on the Venu Sq 2.
With that, let's dive into the sports section.
Sports Usage: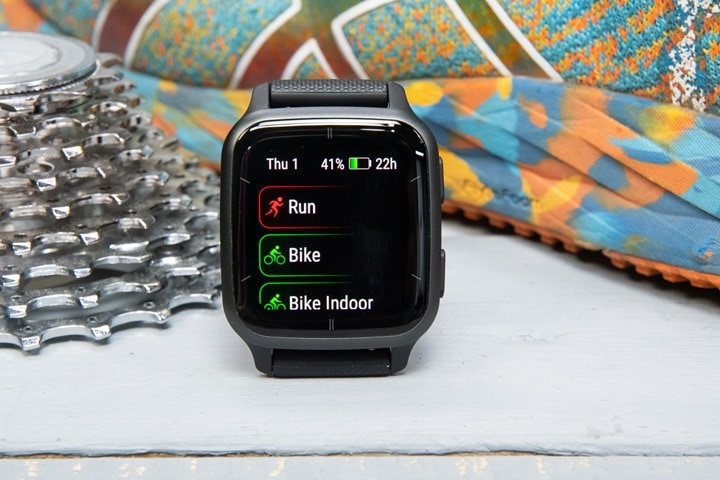 It stands to reason that a strong draw for most people in purchasing a Garmin device is for the sports modes. After all, that's largely their biggest strength. This section is all about those so-called activity profiles, which covers the slate of sport-specific features.
The Venu Sq 2 is part of the larger Venu & Vivo family of devices, which means it tries to be a more mainstream version of their Forerunner series devices that target runners and endurance athletes. Thus, Garmin will often introduce features with wider appeal in these devices (like the Health Snapshot feature on the Venu 2 a year ago, before they added it to other watches). Inversely, some features that are more sport-specific aren't here, despite being on lower-priced Forerunner watches from Garmin. For example, you won't find an outdoor track running mode, or basic training status/load, like you would on a Forerunner 255 or Instinct 2 for a slightly higher price.
In the case of the Venu Sq 2 specifically, the two sport differences between the Venu 2/2 Plus and the Venu Sq 2 is, first, the lack of muscle map feature and corresponding workout animations, due to the lack of gyro hardware, which Garmin says they leverage to get higher accuracy for the muscle map. The second piece is there's no altimeter, thus, no ascent/descent shown on the watch itself. However, you will see this later on Garmin Connect as it uses backend map data to generate it.
To access these sport modes you'll tap the upper right button, which shows a list of them. The first time you use the watch you'll be able to define your favorite sport modes, though, you can always tweak that later.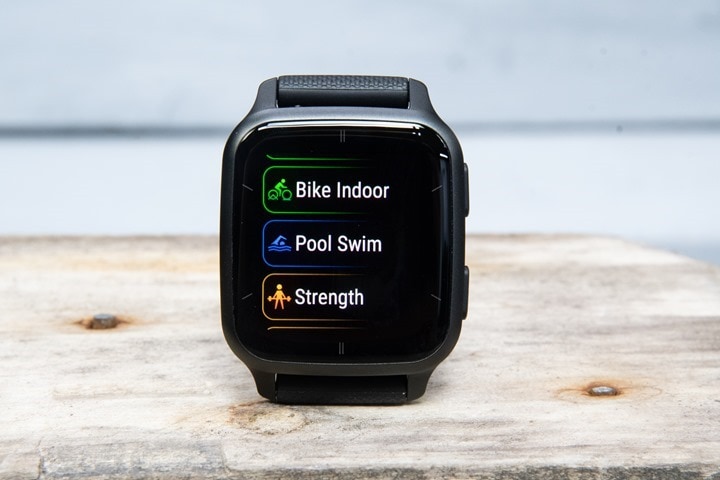 Here's the full sport list, which generally have both features specific to them, as well as calorie burn calculation unique to them. For example, in downhill skiing you'll see data fields like total descent and runs (ski runs), whereas in pool swimming you'd have stroke rate and pool-size details to configure:
Run, Treadmill, Bike, Bike Indoor, Strength, Cardio, Navigate, Breathwork, Health Snapshot, Walk, Walk Indoor, Indoor Track, Pool Swim, HIIT, Yoga, Pilates, Elliptical, Stair Stepper, Row Indoor, Row, SUP, Golf, Ski, Snowboard, XC Ski, Hydration, Challenges, Snowshoe, Tennis, Pickleball, Padel, Connect IQ Store
The Venu Sq 2 series supports a variety of both ANT+ & Bluetooth Smart sensors. This hasn't changed.  The music unit supports Headphones (Bluetooth audio devices), and both units then support Heart Rate Sensors, Speed/Cadence, Foot Pod, Tempe (Temperature), ANT+ Cycling Lights, ANT+ Radar, and golf club sensors. As with other Venu/Vivoactive devices, Running Dynamics sensors are not supported here either. It does have an internal compass.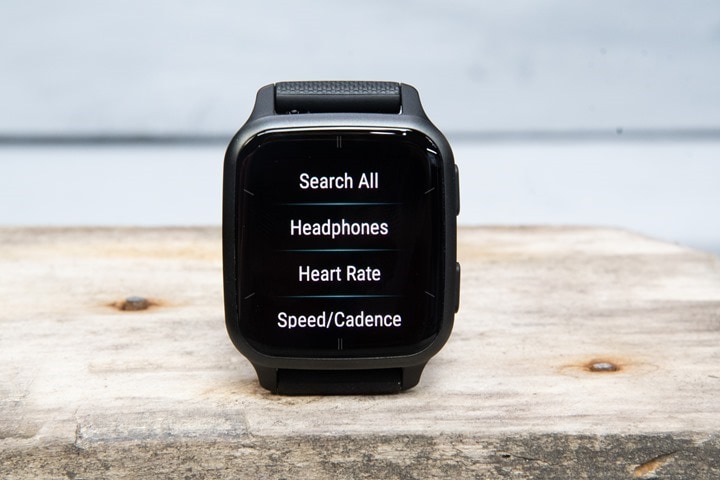 As with other units, you can save sensors and rename them, and you can save multiple of the same sensor type if you want to. That's useful if you've got multiple bikes with different sensors on them.
The Venu Sq 2 supports re-broadcasting your heart rate as both ANT+ & Bluetooth Smart, which Garmin added to the Venu 2 series last year. This is handy if you want to use the heart rate sensor in the watch with other apps, for example Zwift or Peloton.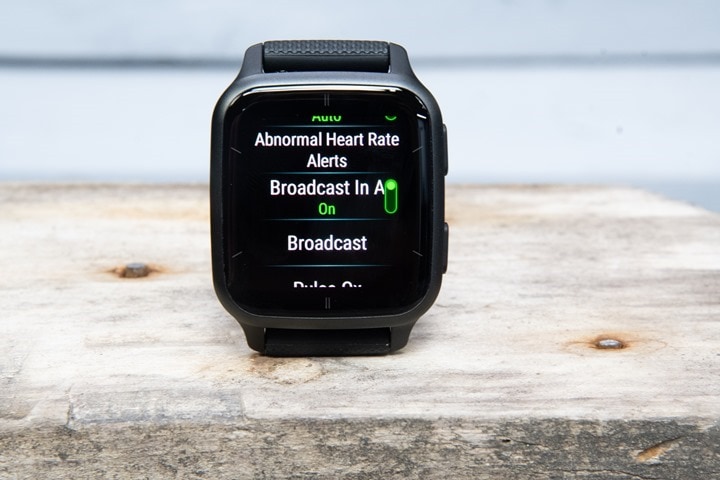 For the Peloton Bike/Bike+/Tread/Tread+ hardware, it actually supports ANT+ heart rate sensors too, so you'll see it there listed by both. Whereas if on an Apple/etc device that only supports Bluetooth smart (such as my Zwift Apple TV session above), you'll just see the Bluetooth connection.
With those pre-game things out of the way, let's start an actual workout. In our case, we'll just use the Run profile, though practically speaking they all work in roughly the same manner. Once we choose run, it'll go off and find GPS (if an outdoor activity). Additionally, it'll connect to any sensors you have, as well as lock your heart rate (optically, if no external HR sensor is paired).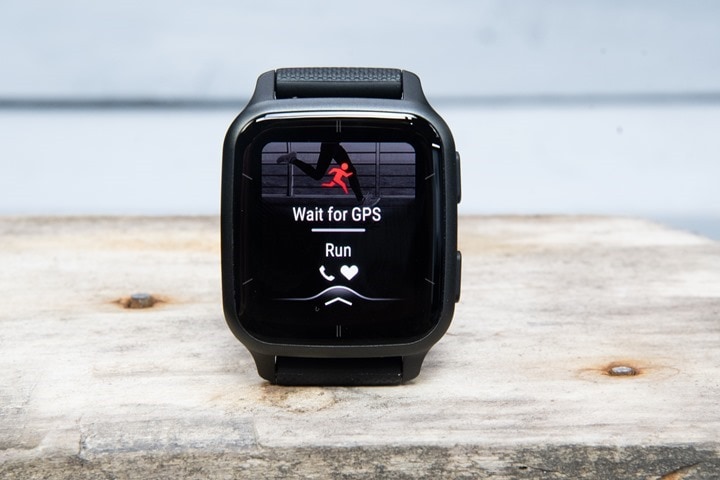 At this point, once ready, you can simply tap on the upper right button to start your workout and begin recording. Alternatively, you can swipe up from the bottom to access structured workouts, your training calendar, and other sport profile settings. In the case of the Venu Sq 2 it's got a handful of preloaded interval workouts on it, however, you can't modify these pre-built ones. But, you can download your own workouts to it. Which is exactly what I did for a track workout a few days ago: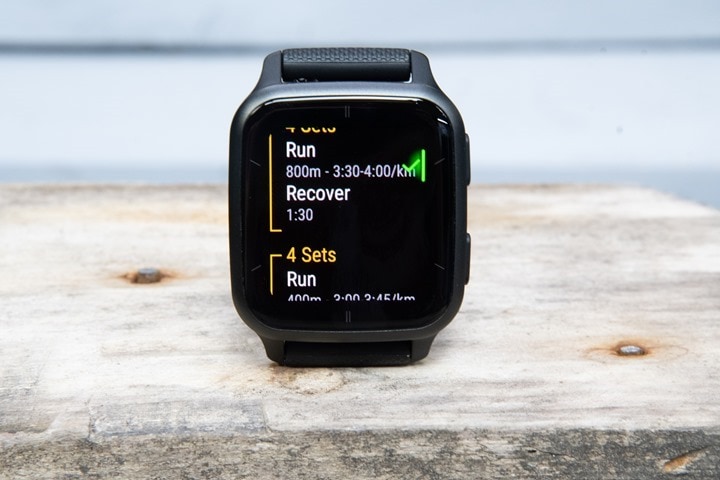 I created the workout using Garmin Connect Mobile (phone app), but you can also have it pushed from 3rd party providers like TrainingPeaks, or create it on Garmin Connect desktop. It'll show you all the steps for the workout, and then count-down each step as you go (more on that in a second):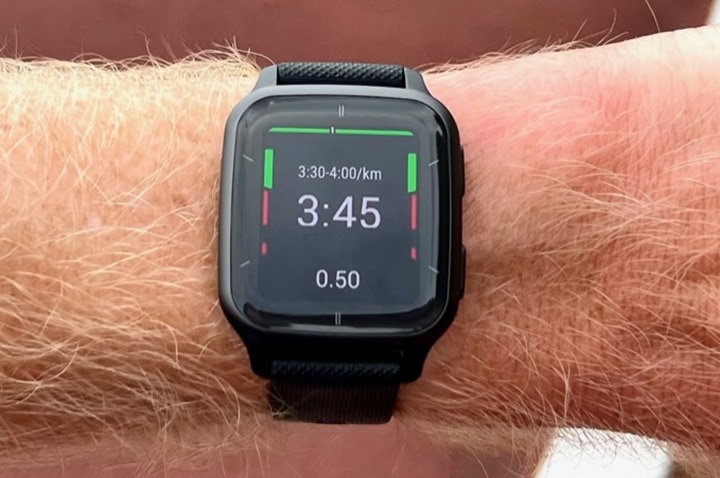 (The black bands you see are just camera artifacts of different frame rates)
You can also download boatloads of workouts from Garmin Connect too, including entire training plans for a variety of races/goals. So things like 5K, 10K, half marathon, etc…
When you choose one of these training plans, the workouts will automatically appear on your watch on their correct calendar day.
Next, you can customize the data screens on your watch for each sport profile. So you can have one set of screens for running, and a different set of customized screens for treadmill usage. And so on, through all the sports. These data screens can be customized either on the watch itself, or now with Garmin Connect Mobile as well. The Venu Sq 2 gives you three customizable pages (Screens 1-3), as well as a HR Zone gauge page: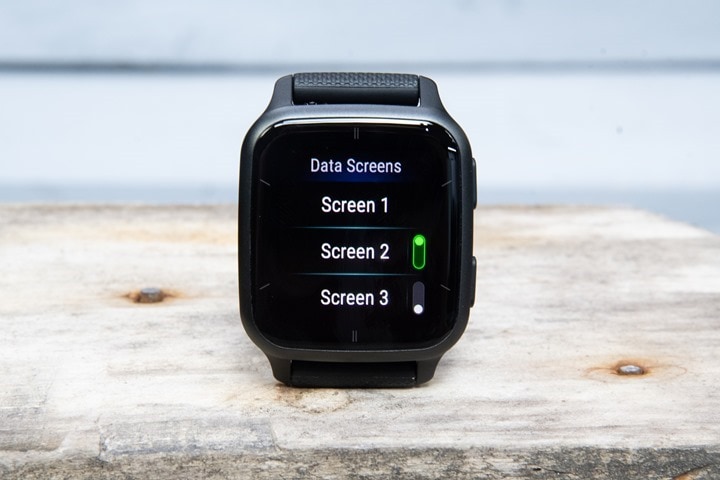 Each one of these three customizable pages allows up to 4 data fields:
You can also configure alerts for heart rate, run/walk, pace, time, distance, cadence, and calories. Which is different than auto-lap, which can be configured for a distance of your choosing, all the way down to 0.10 miles to 99.99 miles. Most of us probably just leave it on 1mi/1km. Or, simply turn it off altogether and manual lap instead (or, do both). There's also auto-pause and auto-scroll (which automatically iterates through your data pages).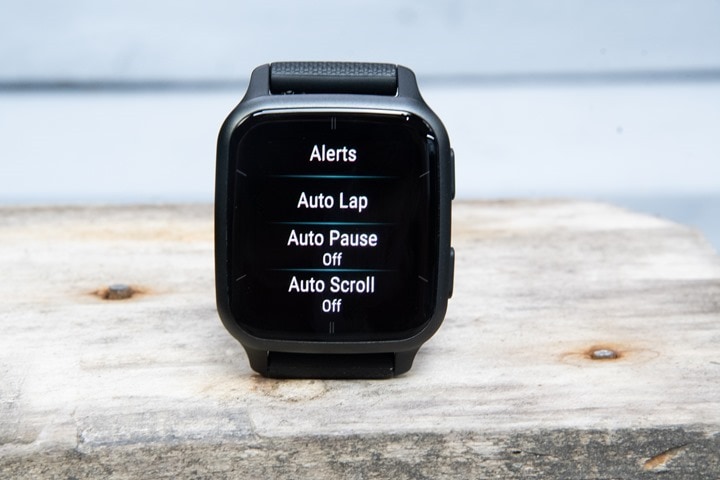 Also, you can enable LiveTrack to automatically notify a predefined list of recipients every time you start a workout, which sends them an e-mailed link with your exact position and historical data for that workout (including heart rate/pace/speed/etc…). Note that the Venu series doesn't support courses, so it doesn't send them that. You can though do very minimal compass-style navigation back to a starting point, as well as back to a saved location (pre-saved). This will use a magnetic compass, which is actually internal to the Venu Sq 2 (some low-end watches don't have a magnetic compass, and thus won't actively change direction when you move your wrist, instead requiring you always be moving to figure out which direction to go).
With all that set, we'll tap start to begin our workout, and then we'll get data displayed on our wrist updated every second. This is also recorded of course for later access. You can swipe up/down to iterate through the data pages.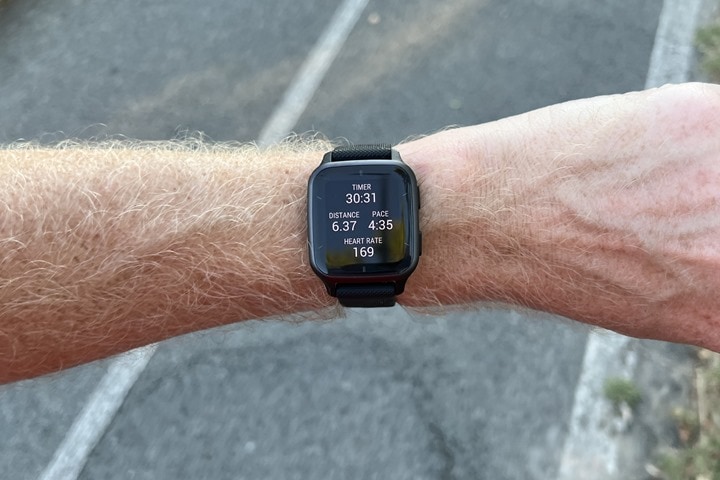 Out on a number of runs, it was perfectly fine for pace stability. Though, keep in mind like all Garmin watches in the last few years, your instant pace is shown in 5-second increments (e.g. 7:05/mile instead of 7:03/mile). However, lap pace is shown in the exact times. Realistically, I don't have any problems with that, since ultimately manufacturers have to smooth the data somewhere. Garmin just chooses rounding, whereas other companies give you more precise numbers, but still smooth it. Basically same-same at the end of the day.
As was the case for all recent Garmin AMOLED displays, I've had zero issues using it in the bright sun. That includes last week/weekend in the Mediterranean under the hot and bright midday sun. And the same goes for night too, where it's more than bright enough.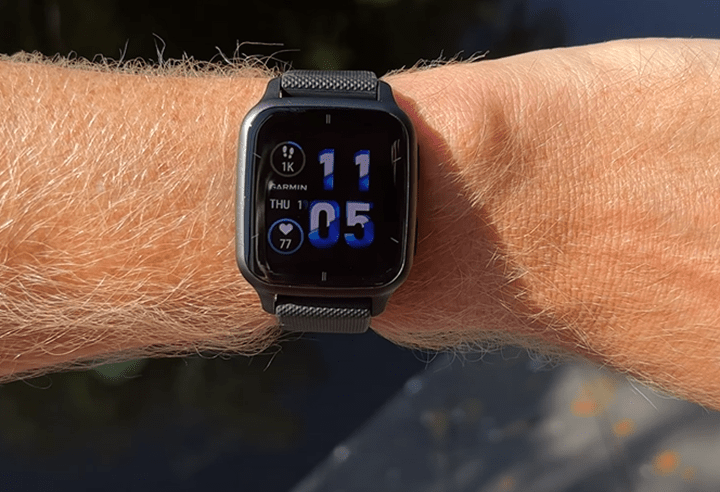 Note that if you did use a structured workout (such as my track workout), it'll show each segment as you iterate through them. And then give you a countdown till each section as well as the exact instructions for that section. It'll also alert you when you're above/below the target (such as a pace or heart rate target). Again, the black bands you see here are camera/frame rate artifacts and aren't seen in real life.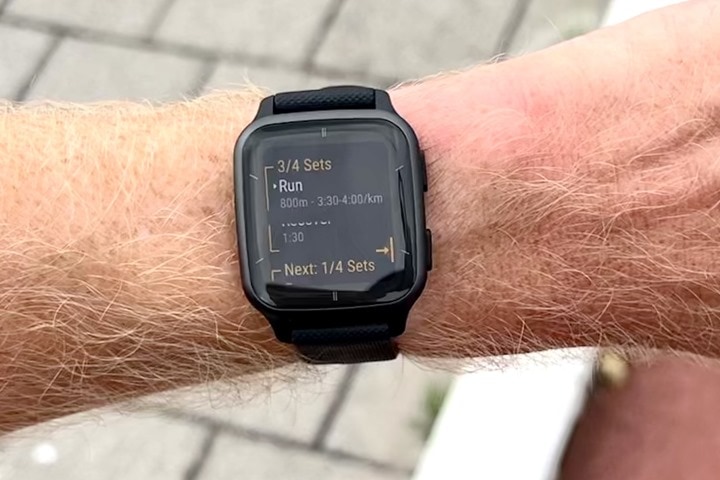 After you've completed any activity/workout, you'll get a summary screen showing a little outline of your GPS track, as well as a pretty heart rate chart. Here's my track workout, with what is apparently the highest zoom level they could find for the track. I promise you, this was a regulation 400m running track, not a tennis court.
In addition, you can look at lap and summary information. Though, the bulk of the information is instead on Garmin Connect, either the smartphone app or desktop apps. Here's a look at an interval workout I did a few weeks ago, showing both the GPS-related data as well as the heart rate throughout the intervals. Additionally, if you've connected up a platform like Strava, TrainingPeaks, or similar, your workouts will show up there within about 1 second of them uploading to Garmin Connect.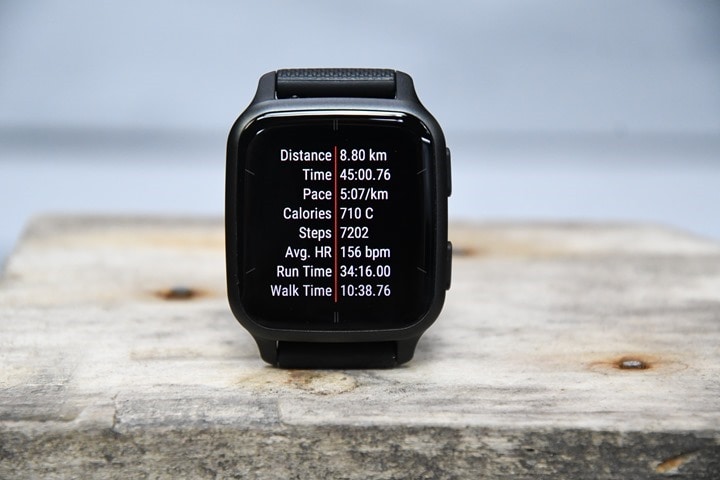 Briefly touching on some of the indoor workout modes, the Venu Sq 2 has strength, HIIT, and yoga modes, along with structured workouts for these.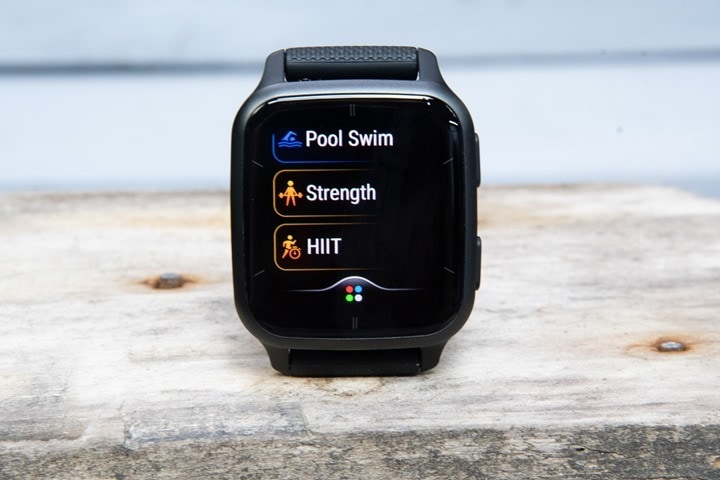 The one key difference though between the Venu Sq 2 and the Venu 2 units is that the Venu Sq 2 won't show animations for each of these moves. Instead, it just tells you the name of the move. Whereas the Venu 2 units will also show a small animation. Still, there are pre-built workouts for these.
Similarly, the Venu Sq 2 won't show the muscle maps that you'd see on the Venu 2 series units, which show the exact areas of the body that are being worked for each one. Here's a shot on the Venu 2 Plus that shows this feature. Again, this is *NOT ON THE Venu Sq 2*: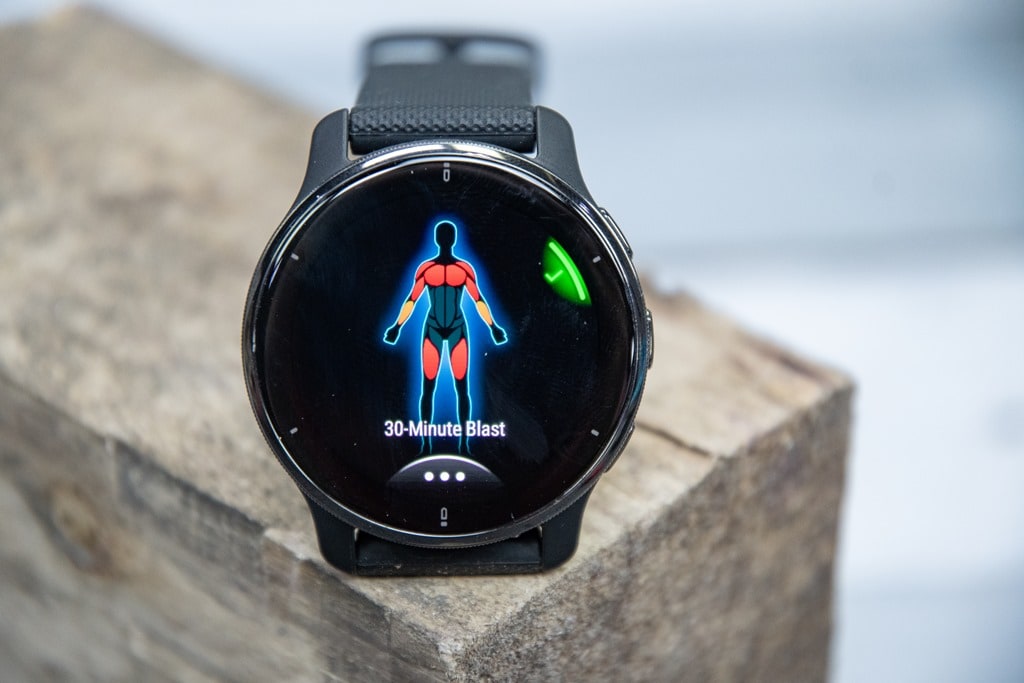 You can still do all these workouts just fine, you just simply won't get the pretty animations and muscle stuffs.
Finally, one last quick area to mention in the sports section is that Garmin switched GPS chipset providers for the Venu Sq 2. With that, there's a new GNSS mode – 'All Systems'. Essentially, there's two modes – 'GPS only' and 'All Systems'.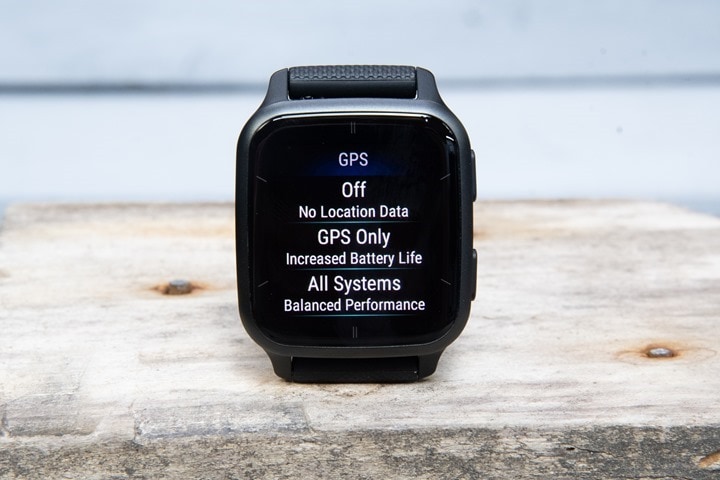 Within the first base mode, you'll get greater battery savings, but at the cost of accuracy. If you're in generally open conditions, then honestly, this is totally fine. Whereas if you've got more trees/buildings/etc, then you'll want to use 'All Systems', which is the default. All of my testing has been in the 'All Systems' mode, and it's what I'd recommend here. Note that this unit does not have multi-band/dual-frequency GPS/GNSS within it, which Garmin currently offers on their Forerunner 255, Forerunner 955, and some Fenix 7/Epix units. As you'll see in the next section, I honestly didn't see much of a difference here between All Systems on the Venu Sq 2, and multi-band on a higher-end Enduro 2 or Forerunner 255 watch.
Music & Contactless Payments: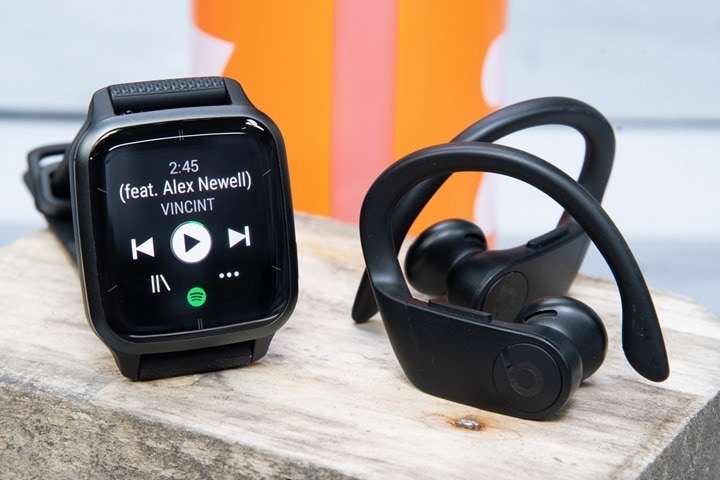 The Venu Sq 2 carries with it the same music and contactless payment features of the Venu 2 series. Music options remain the same with offline Spotify, Deezer, Amazon Music, as well as any of your own MP3s. Meanwhile, on the contactless payments side, that continues with Garmin Pay, where you can load your bank cards – assuming they're supported. These days, the biggest banks in the US and many other countries are supported though.
Starting on the music front, you've got a couple of different ways you can access music. In my case, I primarily use Spotify, so it only took a few seconds to link up my Spotify account. A Spotify Premium account is required though for doing offline music to your watch (thus, no phone required). Once connected though, you can choose which playlists you want to sync.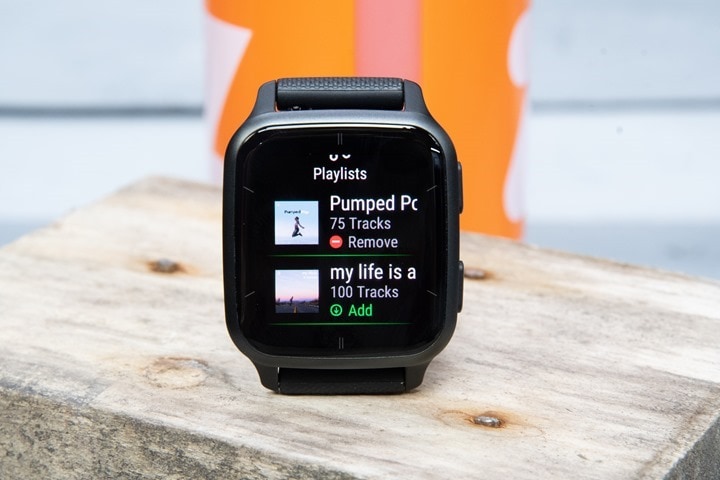 You can also use Spotify to download podcasts, which is a handy way of doing it versus the regular Garmin podcast feature that requires a computer to sync the podcasts. With all music streaming services it'll leverage WiFi for the music sync. In general, the simple math is about 5-10 seconds per song to download (so about 10 songs per minute (speed varies based on the length of the song and other factors. You'll just choose which playlists you want, and then it'll go off and download them. As long as the Spotify app checks in once per 30 days, your music stays valid.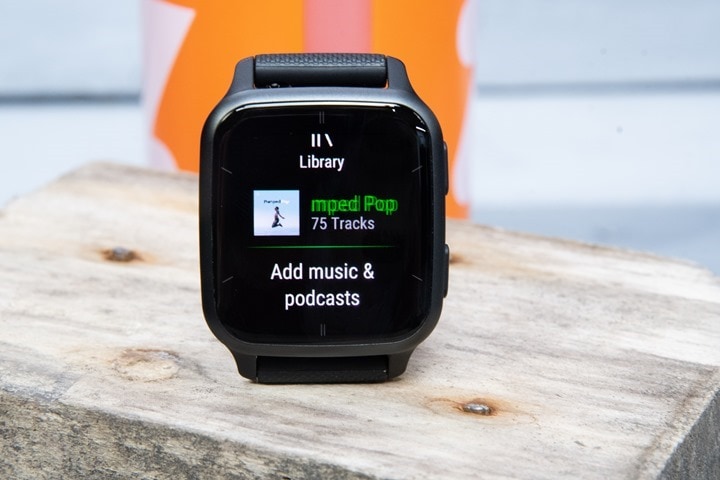 Behind the scenes, the Spotify app will also update the music list over WiFi when you connect your Venu Sq 2 to a charging cable, so that it's always in sync for dynamic playlists that get regularly updated.  You can download multiple playlists from multiple services (plus manually load music on the watch using a USB cable, such as MP3 files. Venu Sq 2 has 3GB of usable storage space (compared to 7GB on the Venu 2 Plus).
In order to play music you'll need some sort of Bluetooth audio device. This can be Bluetooth headphones, or even a Bluetooth speaker. You can pair/save multiple headphones/devices if you want, such as a pair of sporty headphones and then non-sporty ones. The music menu will automatically prompt you to do this, or you can always manage headphones in the sensors menu (the same place you'd manage heart rate straps).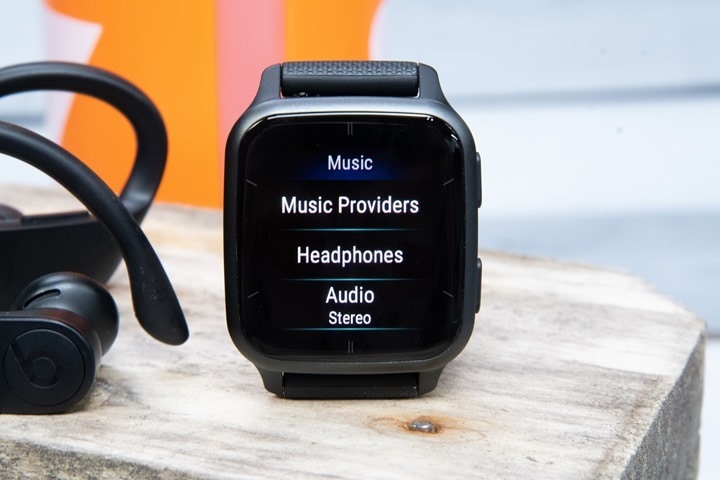 Once you're ready to play music, you can go to the music controls from numerous ways, such as a shortcut button, the controls menu, or the music widget. Once inside of that, you can choose the playlist you want, and skip songs. You can also play/pause and change volume, and change the play order (e.g. shuffle, repeat, etc…). This is accessible both within a workout and outside of it in regular smartwatch mode (such as just sitting at your desk).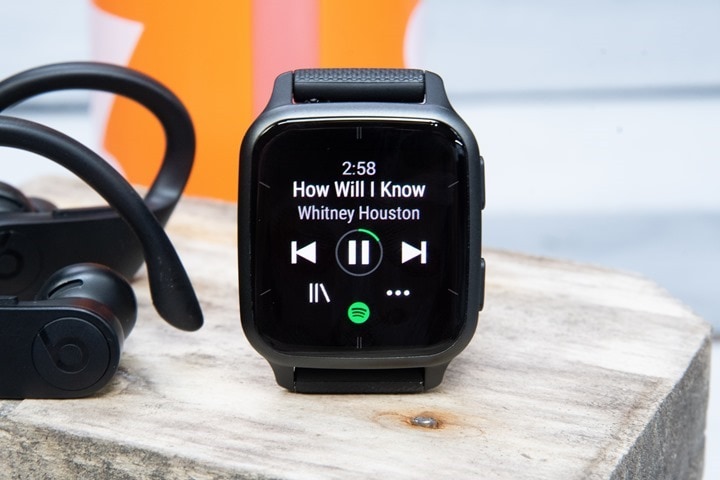 Now, switching gears a bit you've got contactless payments. These use NFC, and in Garmin's case their payment platform is called Garmin Pay. It's essentially no different than Apple Pay or other payment platforms, and is generally supported anywhere you go as long as the card itself is supported by that merchant. And in fact, that'll likely be your main limiter in terms of usage: Whether or not your credit card is supported.
For this, you'll need your bank to be supported by Garmin. That's many of the big banks in the US, but beyond that it varies quite a bit. It's hit or miss. A full list is here.
In my case, my Netherlands bank (ING) isn't supported (still). However, my US Visa credit cards (Chase) are supported. My French Bank account (HSBC) isn't supported, nor are some of my US local banks. However, my main US credit cards are supported. Ultimately, this requires Garmin going to every single bank worldwide and get them onboarded. It's not just a blank Visa/AMEX/Mastercard type thing. Hence why it's hit or miss.
In any case, adding a bank takes about 2-3 minutes, so I added my US Chase card instead. As part of the setup process you'll create a pin code to use when making a payment. This pin is only used when you actually go to tap and make a payment, so it's not something used throughout the rest of the day. And as long as the watch stays on your wrist, it won't ask you for the pin for another 24 hours.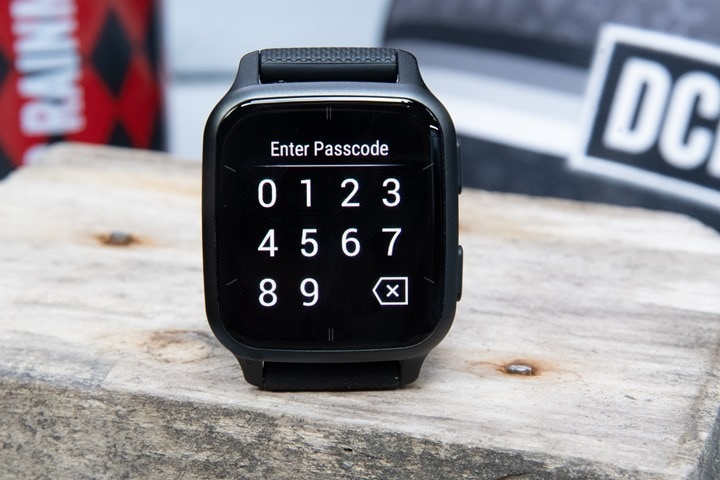 You can access the wallet either from the controls menu, or by assigning a shortcut key to it.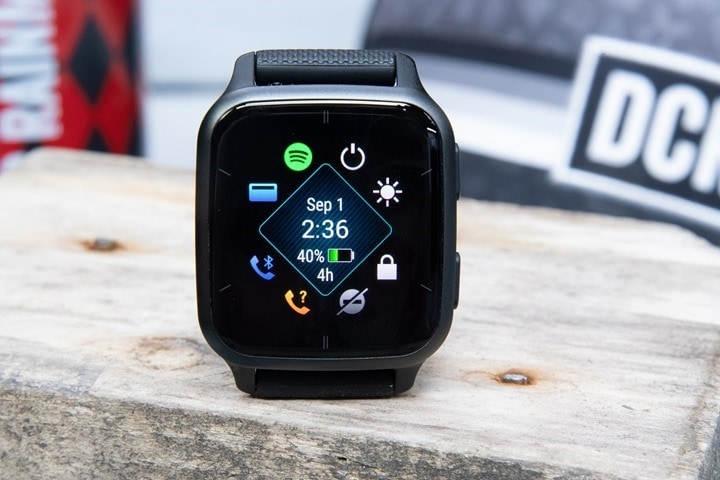 After which you've got 60 seconds to complete your transaction by tapping the NFC reader: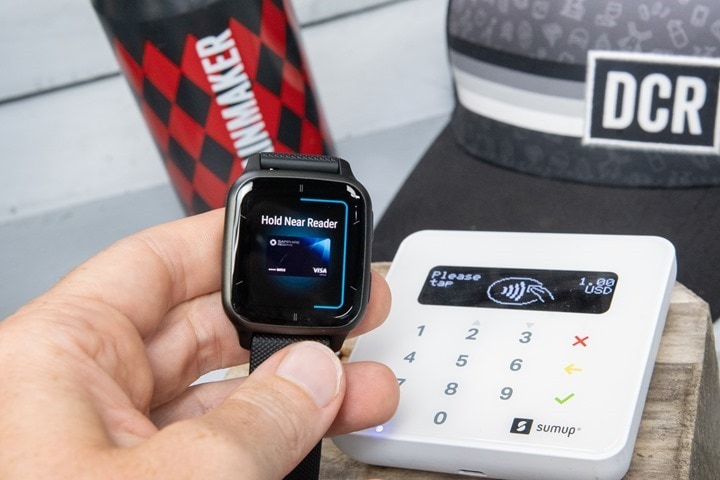 After which it'll give a successful green ring of win, indicating the payment completed.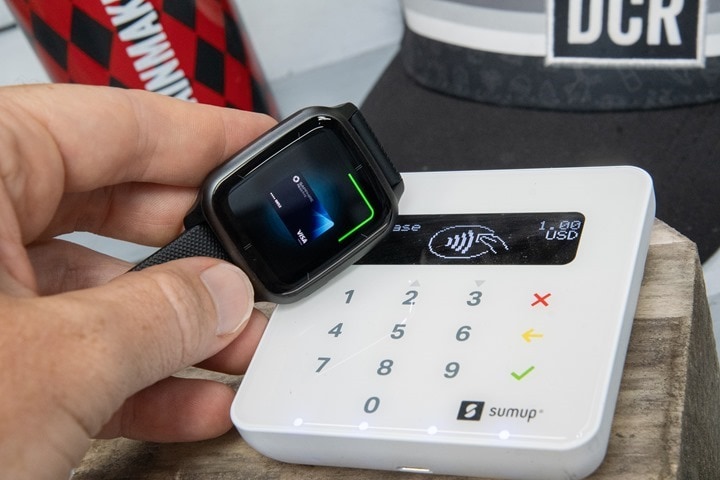 While you won't get any payment receipt on the watch, you can see it later in the Garmin Connect app under 'Recent transactions' within the Garmin Pay details.
For most people, they tend to use this type of functionality on their watches for well-known establishments that support contactless payments. For example, at a certain café or coffee shop they might stop at after a run (skipping bringing a wallet or smartphone). As always with contactless payments, I wouldn't depend on an unknown shop/merchant supporting NFC payments – since ya never know what will actually be available. Inversely, this is also handy simply as a backup in case your phone dies and you don't have a credit card on you.
GPS & Heart Rate Accuracy: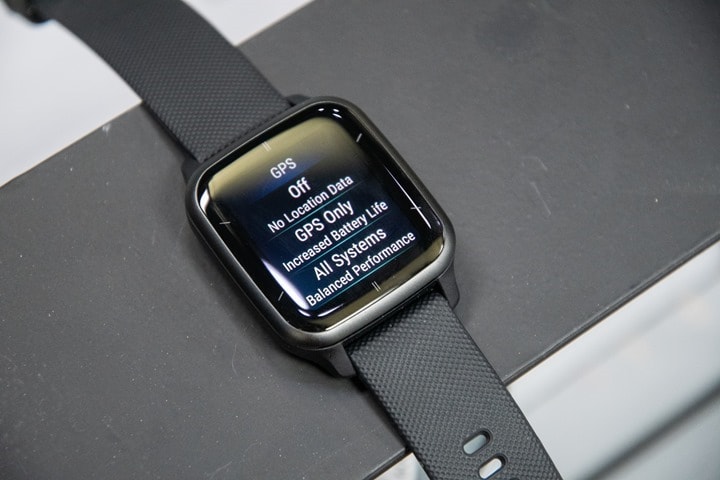 In this section I'm going to look at the accuracy of the optical sensor, as well as the accuracy of the GPS/GNSS. The optical heart rate sensor here is the same as most other Garmin watches over the last year or so, and to save you some time reading, it performs the same as those (which is, generally quite good). And with the GPS chipset provider now being the newer one for most 2022 devices, it also performs in line with those (again, to save you time, quite good).
For all these tests, I've got multiple other recording devices and sensors. As always, no two watches are on the same wrist so as to not interfere with each other. Extra watches are either worn elsewhere on the body (like a running pack) or bike (handlebars), or sometimes hand-carried. Those watches not on the wrist are collecting heart rate data from connected HR sensors/straps.
For this first workout, I've got a hot and steamy run with light to moderate tree cover. Nothing crazy, simple out and back (which, is good for seeing/ensuring the GPS track is identical in both directions). In this test, I had a Samsung Galaxy Watch5 Pro on the other wrist, also took with me a Garmin Enduro 2. On the heart rate side I had a Garmin HRM-PRO Plus strap to compare with, and a Whoop 4.0 band. Here's that data set.

At a high level as you see above, things look pretty much the same. As we zoom into a section with a bit more trees on the route, there's no meaningful difference between the Venu Sq 2 and the Enduro 2, whereas the Samsung is often off in the brush.

The same is true later on during the run as well, with only one minor blip where it appears the Venu is in the roadway, versus the running path. At that same moment though, the Samsung is on the beach almost in the water.

On the heart rate side:

Next, let's look at another GPS run, this time an interval track workout. What makes this one notable though is that the Venu Sq 2 doesn't have outdoor track mode (c'mon, really?). Nonetheless, I'm going to make it compete against the Forerunner 255 that does have an outdoor track mode. That mode basically snaps to the track after a few learning loops, making absolutely perfect loops. In this case, this particular Forerunner 255 hasn't been on this particular track, so it hasn't learned it yet. Thus, you'll see slight variations for two loops before it snaps tight.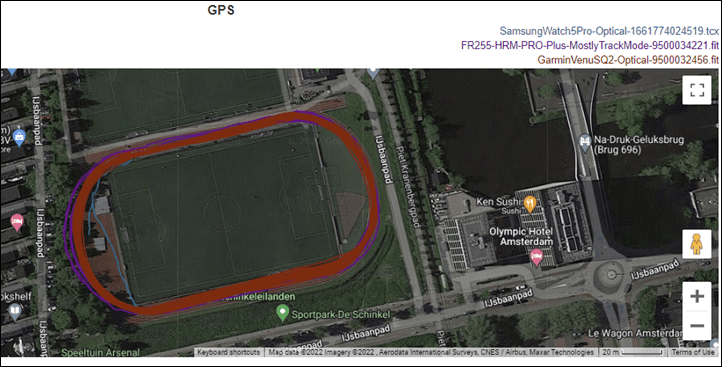 Still, for not having a track mode, the Venu Sq 2 managed to draw within the lines just fine. Or at least, keep itself fully on the track – something not every watch can do. Meanwhile, on the optical HR side, it actually did very well here. It had one little blip on the first interval with some latency, but by and large was very solid the rest of the workout (these were 800's and 400's).

Next, I sent out my smaller and more petite wife for one of her interval runs with the watch, to see how it performed for her. This is compared to a Fenix 7S Solar Sapphire on the other wrist, plus a Garmin Forerunner 255 paired to a Polar H10. Here's that data set:

Frankly, her wooded GPS track was perfectly fine, so we won't waste time looking at three watches that managed to agree the entire time. What's more interesting is her heart rate data. She was doing a slate of 30-60s repeats, and you can see that the Venu Sq 2 actually outperformed her regular Fenix 7S Solar Sapphire from an optical HR standpoint. The Venu Sq 2 nearly always matched the chest strap (Polar H10) she had with her:

Finally, let's take a look at a dense city run, this time zig-zagging up and down the tall buildings of the business district. In this case, I'm comparing it against the multi-band configuration of the Garmin Forerunner 255, as well as the Samsung Watch5 Pro. Here's that data set:

If we look at the main city portion below, basically it's three passes up/down roads lined with tall downtown buildings. On the first lower pass (actually, the most difficult one), it did so-so (the FR255 nailed it) – save a few building collisions (but better than the Samsung). However, the middle pass, it was all over the place. Note that the Venu Sq 2 and FR255 were just inches apart on the same side of the body.  However, by the time it did the top-pass, it was almost identical again to the FR255. The Samsung Watch5 Pro lost the plot further.

The point being, as good as this chipset is, it does have its limitations in really tough situations compared to the multi-band option on the Forerunner 255.
And while the heart rate was pretty stable, here's a quick glance at that:

Then we've got a slate of indoor cycling workouts. I'm going to skip some of them, because honestly they're a bit repetitive – all performing exactly the same, even across massive intensity ranges (read: lots of pain/suffering). Here's a look at the heart rate on one of them. It's virtually identical, but just slightly delayed a few seconds, which is what I often see here.

Ultimately, the GPS accuracy in most situations is on-par with multi-band/dual-frequency performance, outclassing most other devices I've tested the watch against. In terms of the optical HR sensor for workout usage, it's the same Garmin Elevate Gen4 sensor we've seen for more than a year now, so the performance is relatively well understood. In this case, being summer, it has an advantage over winter/colder testing (due to blood flow), so it relatively easily aced even my intervals as well as my wife's intervals.
(Note: All of the charts in these accuracy sections were created using the DCR Analyzer tool.  It allows you to compare power meters/trainers, heart rate, cadence, speed/pace, GPS tracks, and plenty more. You can use it as well for your own gadget comparisons, more details here.)
Wrap-Up: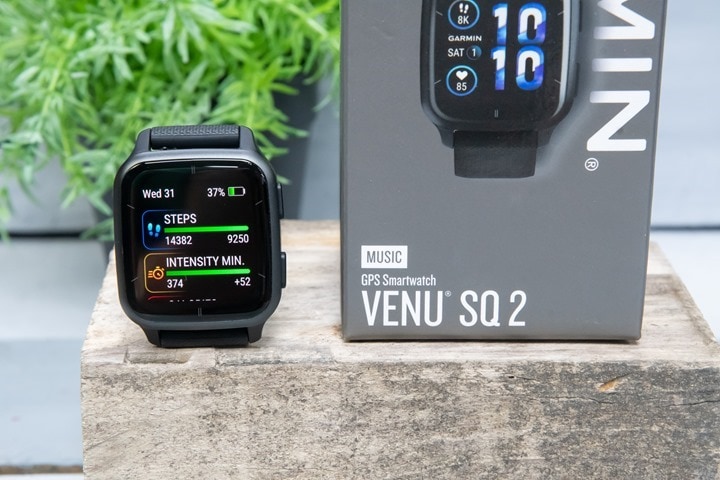 In many ways, the Venu Sq 2 is a modest looking upgrade from the existing Venu Sq. However, internally, it's actually quite different. Different optical HR sensor, different GPS chipset, different display, and different battery life. Really, this update is more about keeping this particular product model 'current' with the other Venu 2 series units that share a common platform and name. It is not a unit that's bringing any new features to Garmin, nor one that's going to get headlines for being on the cutting edge of Garmin's lineup. It's positioned as a mid-range option, saving money compared to the Venu 2 series units.
If viewed from an athletic/sports lens, it's got a very strong set of features when trying to compete against something like an Apple Watch SE at a similar price point. Same goes for a Samsung Watch5 series device. Those two devices certainly have plenty of sports/fitness options, but don't tend to have as much cohesion as Garmin does in those realms. Nor do they have even a fraction the battery life of the Venu Sq 2. Inversely though, Garmin lacks the deeper smartwatch-type features that sit outside the fitness/sports realm. Even some health features like ECG are still missing from Garmin's lineup, though, they do seem to be working on that.
As is often the case when comparing a Garmin Venu series watch with an Apple/Samsung watch, it's really going to come down to what your primary use case is, and how deep in that sports and stats realm you want to go. However, what's easier to decide is that the Venu Sq 2 is a solid little watch, with generally quite good GPS & optical HR accuracy, and a large collection of sports features. I worry slightly about how Garmin might handle both some of Apple's WatchOS 9 features that will shortly come to the Apple Watch SE (like running power and triathlon mode), as well as how a watch like this might compete against new Apple Watch SE hardware, if Apple shifts focus more towards sports as everything indicates.
To date, Garmin has been hesitant to include more endurance sports features in their Venu lineup, instead, shifting that towards the Forerunner/Fenix areas. I'm just not convinced that strategy is going to work over the next 12 months. But, I guess those questions will start to be answered about 6 days from now.
With that, thanks for reading!
Found This Post Useful? Support The Site!
Hopefully you found this review useful. At the end of the day, I'm an athlete just like you looking for the most detail possible on a new purchase – so my review is written from the standpoint of how I used the device. The reviews generally take a lot of hours to put together, so it's a fair bit of work (and labor of love). As you probably noticed by looking below, I also take time to answer all the questions posted in the comments – and there's quite a bit of detail in there as well.
If you're shopping for the Garmin Venu Sq 2 or any other accessory items, please consider using the affiliate links below! As an Amazon Associate I earn from qualifying purchases. It doesn't cost you anything extra, but your purchases help support this website a lot. Even more, if you use Backcountry.com or Competitive Cyclist with coupon code DCRAINMAKER, first time users save 15% on applicable products! Or, with TPC (The Pro's Closet), you'll save $40 on purchases over $200 with coupon code DCRAIN40!
And finally, here's a handy list of accessories that work well with this unit (and some that I showed in the review). Given the unit pairs with ANT+ & Bluetooth Smart sensors, you can use just about anything though.
And of course – you can always sign-up to be a DCR Supporter! That gets you an ad-free DCR, access to the DCR Quarantine Corner video series packed with behind the scenes tidbits...and it also makes you awesome. And being awesome is what it's all about!
Thanks for reading! And as always, feel free to post comments or questions in the comments section below, I'll be happy to try and answer them as quickly as possible. And lastly, if you felt this review was useful – I always appreciate feedback in the comments below. Thanks!