When it comes to the massive logistical challenge that is transporting a team and all their cycling gear across 21 stages and four countries for the 2022 Tour de France, one perhaps unexpected bit of gear is their smart trainers. Each team brings a slate of trainers with them, and in some cases, multiple types of trainers – and often enough for all riders, depending on the year/stages.
That was certainly the case this past weekend at the Tour de France when the opening stage was an individual time trial, as it often is. That means that each rider typically warms up on a smart trainer ahead of that stage for perhaps 25-40 minutes, before competing the relatively short 13KM stage. This will play out again later in the Tour de France on the 2nd to last stage, where a much longer 40.7km individual time trial is set to happen. There are no team time trials this year (unfortunately, they make for spectacular photos).
As is often the case for many years, I've outlined which trainers and power meters each team uses, as well as lots of interesting little trainer tidbits along the way. For this post, we've got the trainers up first. I'm skipping the bike power meters on today's post, because power meters on time trial bikes are very often different than those on the road bikes they use for the rest of the Tour (which accounts for like 99% of the mileage). Same goes for bike computers and such. More on that later.
Team Trainer Listing:
Now, the best way to enjoy this post is actually the video above, namely because I go to almost every team and check out what's going on as riders warm up ahead of the stage. But, if you want the boring way, here's a list of which trainers they're using. But first, the obligatory reminder that *ALL* of these teams have trainer sponsorships in place. Meaning, every single one of these is paid to ride these trainers. The rough pricing ballpark for such an arrangement in 2022 is about $100K/year, but that can sometimes include extra accessories, depending on which trainer company is supplying it. In any case, here's the list:
– B&B Hotels–KTM
– Cofidis
– Team DSM (also Elite Qubo spotted)
– Groupama–FDJ
– UAE Team Emirates
– AG2R Citroën Team
– Arkéa–Samsic
– Bahrain Victorious
– Intermarché–Wanty–Gobert Matériaux
– Israel–Premier Tech
– Movistar Team
– Astana Qazaqstan
– BikeExchange–Jayco
– Ineos Grenadiers
– Jumbo–Visma
– Lotto–Soudal
– Quick-Step Alpha Vinyl
– TotalEnergies-Cyclists
– Alpecin–Deceuninck
– Bora–Hansgrohe
– EF Education–EasyPost
– Trek–Segafredo (also Wahoo ROLLR spotted)
Now, for those that want to do supplier/sponsor count, they are as follows:
Elite: 11 teams
Tacx: 7 teams
Wahoo: 4 teams
This is roughly consistent with what we've seen over the last few years. Elite has basically maintained their partnerships, while Tacx has decreased slightly under Garmin (but Garmin themselves has increased for accessories), and Wahoo has slightly increased over the last few years. Saris doesn't sponsor any men's teams this year, and even when they did, it was usually only a single team (Trek-Segafredo).
Most times, the Tacx & Elite sponsorships also include bottles. And most times, the Wahoo sponsorships also include bike computers/chest straps/other indoor gear/etc… The Garmin sponsorships tend to include bike computers, watches, sensor accessories, trainers, Varia radar, and weight scales. Garmin specifically has two options of sponsorship, which basically is Garmin only, or Garmin + Tacx. Generally speaking, Garmin power meters are not included here, since Shimano/SRAM tends to cover most of the Peloton via drivetrains, and further, that gets into rider pedal preferences. But, more on power meters and such in a different post.
Now, finally, here's a fun gallery of all sorts of team trainers:
Since for this piece I was actually more focused on video, I spent most of my time trying to get video shots of all of them rather than still shots. Ideally I'd have had still and video shots of everything, but with the dumping rains, it was a never-ending battle to keep the multiple camera lenses halfway viable.
Fun Odds and Ends:
As noted in the video in more detail, you'll notice a Wahoo ROLLR being used by team Trek-Segafredo. This isn't surprising, as a time trial stage is literally the single best example of where a Wahoo ROLLR makes sense. It allows the rider to warm up till the last second on a bike without removing the rear wheel. While these mechanics can obviously swap out a rear wheel in mere seconds, it's one less hassle.
And then over at Team DSM, they were rocking an Elite Qubo trainer, which was being used for cool-downs, merely because it was easier to deal with and didn't require power. I had a chat with one of the Team DSM staff folks about it in the video as well.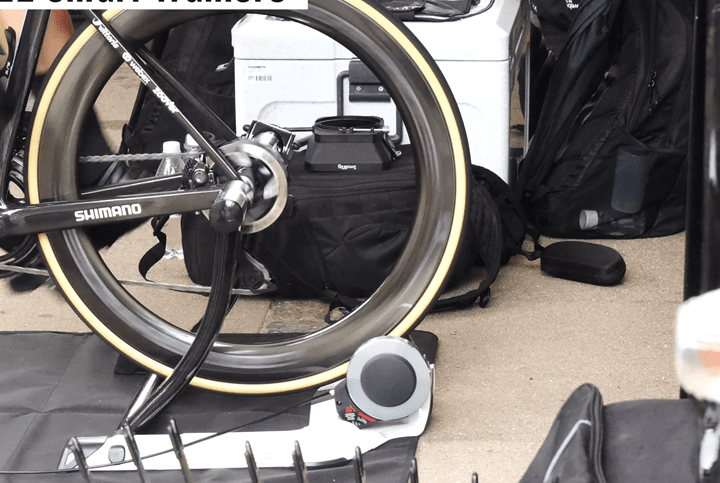 And at TotalEnergies-Cyclists, they even went to the trouble of installing the Tacx NEO Motion Plates: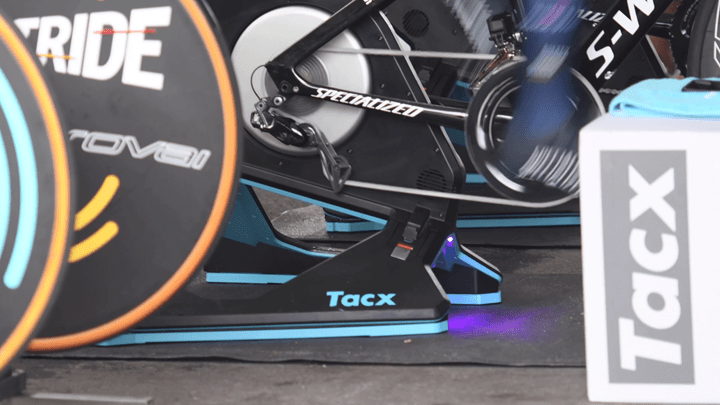 Also of note is that I saw many teams using cooling vests while on the trainers (they aren't allowed in competition). This was somewhat surprising to me given that the opening stage was hardly that warm (roughly room temp), and also very short (only 13km). Just as I was pondering that thought while watching a Jumbo-Visma rider with a cooling vest, the CORE temperature folks literally stumbled into me. So, I asked them what was up. They explained that it actually does make a meaningful difference to move the needle even half a degree here, but for the most part, the use of the cooling vests here on this stage was more about getting riders used to the timing/protocol at the race.
Of note, 7 teams in the Tour de France this year are officially using CORE sensors (meaning, officially announced CORE as a supplier/partner). Though unofficially, almost every team (or riders from almost every team) this year is actually using them in either training or racing.
And then finally, there was this random just-announced and yet now lonely Elite Justo trainer near the finish chute area (which is very far from the start area). It sat just aside an inflatable couch, on the edge of a puddle that was undoubtedly far larger a short time earlier. I'm not sure why this trainer was here, or if it was ever used. In fact, it wouldn't surprise me if it's still there, days later, sitting next to that mud puddle. Someone should have stuck an AirTag on that thing.
With that – onto more tech down the road in more stages. Plenty still to be had! Thanks for reading, and thanks to all the DCR readers/viewers who said Hi up in Copenhagen – it was awesome to run into so many of you!