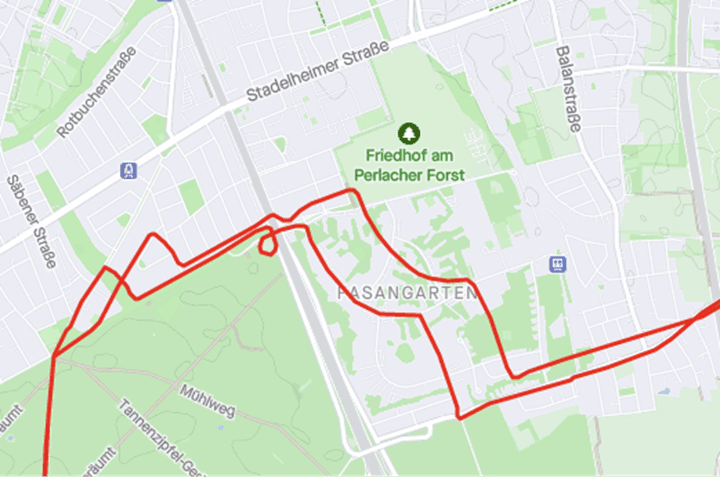 Over the past 7 days there's been a slew of folks with certain GPS watches seeing accuracy issues, whereby the GPS track is offset from reality (usually in a specific direction). This often results in GPS tracks where the visual pattern might be correct, but it's not in the correct location. Meaning, it's as if someone shifted your route slightly to the side, ultimately letting you walk on water, or run through buildings. Alternatively, it just might have weird gaps, or be outright dumpster-fire wrong. In theory, the issue should be resolved as of last night.
This issue specifically impacted those with Sony GPS chipsets, which is essentially a repeat of an issue that occurred 18 months ago that was far greater reaching (for a variety of reasons). The first time, the issue happened over the New Year's Holiday Weekend, and was the first time these companies saw it, which significantly slowed the response rate (and also, increased how many people it impacted).
This time around, the impact was certainly measurable (as my inbox can attest to), but the duration was more limited. It initially impacted people last Tuesday/Wednesday (June 28th/29th), then again over this past weekend and into the early week (July 1-July 5th). The number of impacted watches is vast here, and essentially any Garmin watch released in the last few years (but not most of those in 2022, as they use a different chipset), as well as all Suunto/Polar watches, and theoretically all COROS watches except the Vertix 2 (though, I haven't seen any COROS reports, so perhaps they've put in place a different filter).

Roughly speaking, that'd be the following watches (plus the 29 million variants of these watches Garmin has):
– Garmin Forerunner 45/245/745/945/945 LTE/Fenix 6/MARQ/Vivoactive 3/4/Venu
– Garmin Edge 130 Plus, Edge 530/830/1030 Plus
– Garmin Enduro watch
– Garmin Instinct Series 1 & Series 2 watches
– Polar Vantage Series, Grit Series, and Pacer Series Watches
– Suunto 5/5 Peak & Suunto 9/9 Peak
Again, the above list is not all-inclusive. There are tons more watches impacted, especially from Garmin, which uses near-identical watches in various other divisions such marine, golf, and aviation. Additionally, this would theoretically impact the Wahoo RIVAL & COROS watches (except Vertix 2), though, I can't find any instances of people with issues there. Which means either they were reported, or they've put in place mitigations.
Meanwhile, the Garmin and COROS watches not impacted are:
– Garmin Fenix 7 & Tactix 7 Series
– Garmin EPIX Series
– Garmin Forerunner 255 series
– Garmin Forerunner 955 Series
– Garmin Edge 1040 Series
– COROS Vertix 2
All of those watches use a different multiband chipset from MediaTek/Airoha, which isn't impacted here.
The issue has to do with the ephemeris data file, also called the EPO file (Extended Prediction Orbit) or Connected Predictive Ephemeris (CPE). Or simply the satellite pre-cache file. That's the file that's delivered to your device on a frequent basis (usually every few days). This file is what makes your watch near-instantly find GPS satellites when you go outside. It's basically a cheat-sheet of where the satellites are for the next few days, or up to a week or so.
Your watch or bike computer automatically gets this file via Bluetooth Smart from your phone, WiFi, or USB, depending on how you connect your watch. Most companies deliver it anytime your watch syncs and needs a new version. So from your side, you never do anything – it just quietly happens in the background. The data in this file was wrong, and thus the data your watch uses for those first few minutes is also wrong – leading to the offsets.
The good news is the fix is simple: Just sync your watch to get an updated copy. Garmin for example says that if your watch is connected to your phone, as of last night, it should have/be downloading a new EPO file, which will fix the issue. Garmin also says they've put in place blocks to ensure this doesn't happen again. Albeit, they said that 18 months ago too, so my assumption is whatever Sony did this time broke it in a new and special way that wasn't the same as last time.
With that, hopefully that helps folks understand what's going on, and how to fix it.
Thanks for reading!