There's nothing more consistent than the biweekly drop of new features coming from Hammerhead to their Karoo series bike computers. And this update brings a huge one: The ability to automatically get climb information as you ride, without needing to load any course or route. This includes distance and ascent remaining to the top of the climb, as well as gradient shown in 100m increments. Up till now, for both Hammerhead CLIMBER and Garmin's ClimbPro features, you've had to have an active course/navigation in order to see the upcoming climbs.
But, now it'll automatically identify and display climbs as you approach them, in much the same manner that Strava Live Segments work. This means that for your more regular rides (or, when you're along for the ride on someone else's ride), you'll get all the same climb information as before – including the remaining distance/ascent, and gradient information. So, everything from my post and video last week remains the same – except now you don't need to pre-plan the route.
Note: This is compatible with both the Karoo and Karoo 2.
Testing it Out:
The new CLIMBER function is enabled by default, once you update the firmware on your Hammerhead Karoo 2. However, you can also turn it off – either entirely, or set it back to the older mode where it only triggers on loaded courses. You'll notice the CLIMBER settings page has a new menu toggle at the top. The left-most position is off, the middle-position is routes only, and the right position is the new 'Everything' mode. You still retain whether or not to show medium+large climbs, or just large climbs.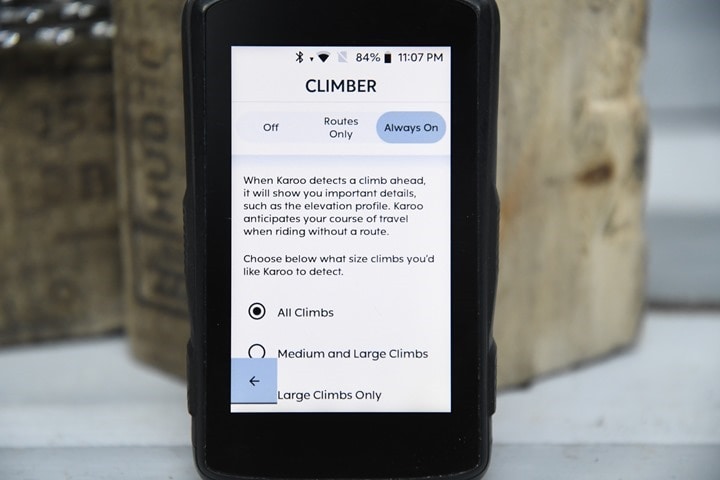 Now, while I spent 6-8 months testing epic climb after epic climb around Europe for that last climb comparison post, for this one my choices were a wee bit limited. That's because my locale (Amsterdam) isn't exactly known for hills (or elevation at all). In fact, only a single hill anywhere within a few hours of riding would trigger the minimum requirements for either Hammerhead's CLIMBER or Garmin's ClimbPro– and even then, it's right on the fringe of acceptability. Riders in other parts of the world likely wouldn't even acknowledge this as a real climb, but in these parts it even gets a full cycling-focused plaque and monument at the top celebrating it. For real.
Still, I set out to see if it'd trigger. And in this case, I can take this mountain 'pass' from two different directions too. For this ride I had zero course/route loaded. So this would be no different than any regular ride you might do from memory. I started off on the road heading towards the base of the climb. And sure enough, about 100-150m out from the start of the climb I got notified that the climb was approaching: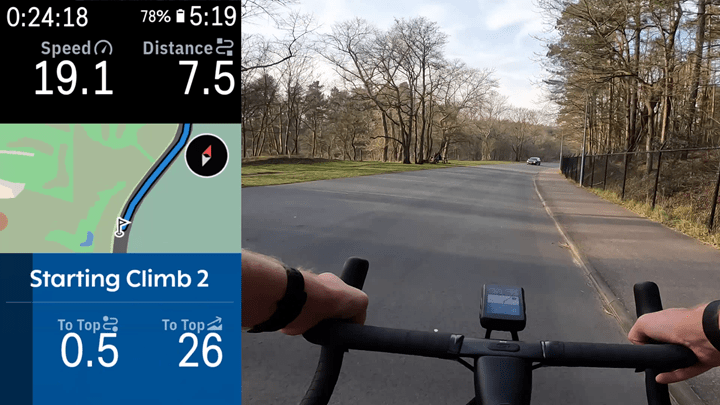 In fact, it'll show recognized climbs in blue on the map as well. You'll notice above it'll also say "Starting Climb 2" – this is the total ride counter of climbs. Normally with a route loaded, CLIMBER would say "Climb 1 of 8" or such. But in this case, it just acts as a simple counter instead. Again, this up-ahead functionality is identical to how Strava would work in terms of a countdown.
As I crossed the threshold of the climb, I immediately got all the usual CLIMBER information, showing the color-coded gradient, distance remaining to top of climb (0.4km), ascent remaining to top of climb (24m), current grade (1% just at the start), and the current climb number (2)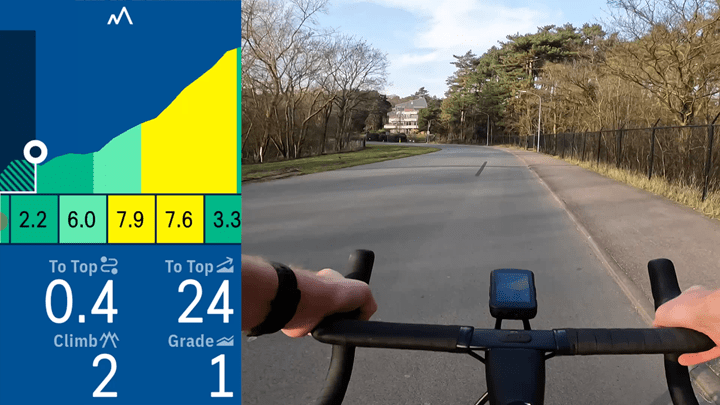 And as I continued the climb, you can see that data changing as normal – just like it would with a pre-planned route. The only difference is that you don't get a list of upcoming climbs of course. On the panel above/below, like before – the upper portion is your overall climb, the middle portion shows the gradient for the next 100m in chunks (and moves along like a ticker symbol – check out the video for that).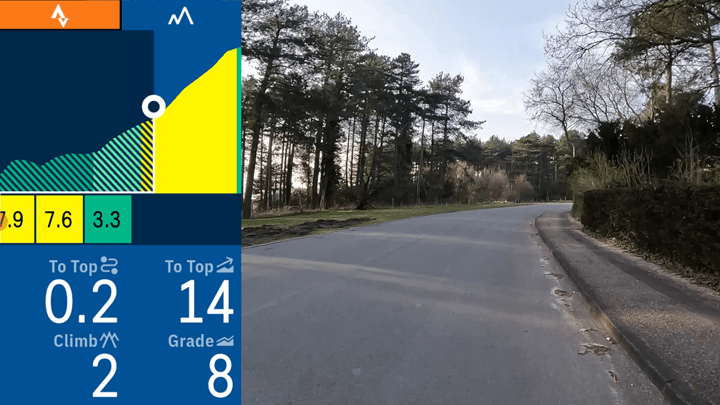 Now as with my previous experiences on CLIMBER, the gradient data accuracy remains iffy at best – due to a combination of their underlying data source, along with using much shorter 100m chunks exposes that inaccuracy more than larger smoothed sections. And, in the case of this specific climb, it also ended the climb perhaps 100-150m short (in distance). As you can see in the video, I was still climbing as I reached the top.
However, once you reach the top of a climb, they've repurposed what was the up-ahead list of climbs, to be a completed list of climbs. You can see here the two climbs I did of this hill: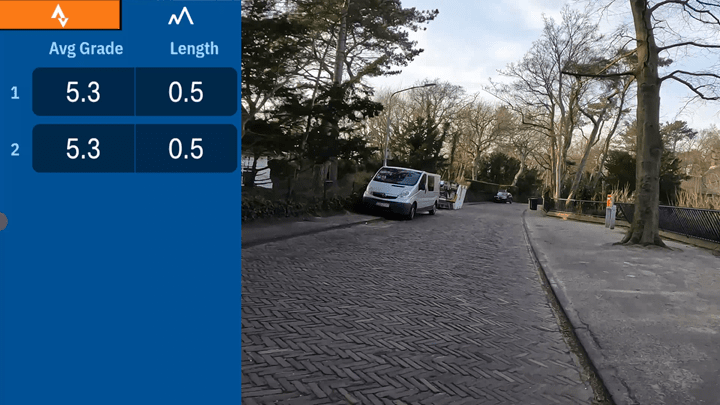 Further, because the Dutch heavily celebrate any hill they can, here's the monument at the top of this 32m high climb (according to the sign).: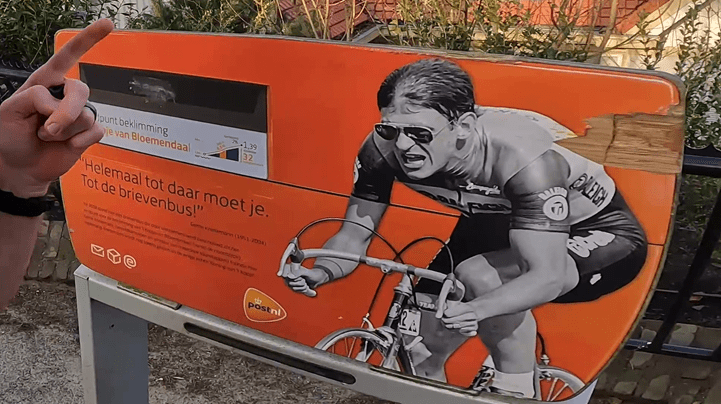 Now, I also tried approaching this hill from the other direction. Unfortunately, the road from that direction was partially closed due to resurfacing. Of course, feeling confident, I ignored that and tried to gravel-bike through it. That ended poorly when somehow, inexplicably, discarded electrical wires popped-up and tried to accessorize the bike's Di2 drivetrain.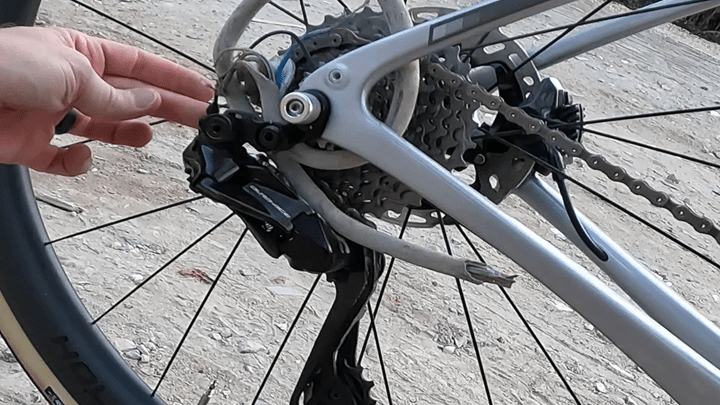 As a result, the CLIMBER didn't seem to trigger on this section. It does show up on regular CLIMBER with a pre-approved route, but perhaps something here didn't quite meet the threshold (be it in my unexpected pit-stop, or some other element). You can watch that in the video.
Still, I'll give the CLIMBER a pass on that. First, the climb itself barely would meet the threshold normally, so even the slightest deviation probably disqualified it. Further, I'm not going to hold a rogue construction site failure over Hammerhead's…umm…head. I will however still say they need to sort out gradient accuracy though.
Going Forward: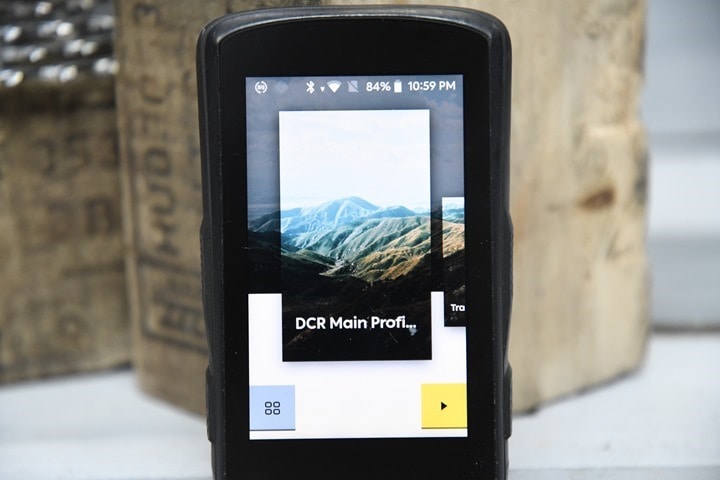 This is super cool. Like, really cool. Especially for those that frequently ride hilly routes without bothering to load a course. For example, back when I lived in Washington DC, I'd often (every weekend) train out on Skyline Drive, which is the ridgeline along the Appalachian Mountains. I'd do upwards of 100-120 mile long rides each Saturday, and that route is simply just never-ending ups and downs. However, the exact turn-around point would vary each week depending on my training schedule, so creating courses for potentially infinite and unknown turn-around points is a hassle. This would work fantastic for that, since it just triggers as I hit each climb.
Of course, the fact that Hammerhead rolled out another new feature shouldn't really surprise us. With their bi-weekly firmware update cycle, it's a constant spree of new updates. And I can only assume (or at least hope), that with the recent SRAM acquisition, that continues or even accelerates. While many of their updates have been more feature catch-up type additions, this one is truly new – with nobody in the marketplace having this. As they work their way down the "competitor catch-up" checklist, that list grows smaller and smaller, and they'll likely start being able to work more frequently from the "new things nobody else has" to-do list. And that's both exciting for someone like me to watch, and it's good for all consumers, no matter the brand of bike computer on our handlebar.
With that, thanks for reading!
Found This Post Useful? Support The Site!
At the end of the day, I'm an athlete just like you looking for the most detail possible on a new purchase. These posts generally take a lot of time to put together, so if you're shopping for the Hammerhead Karoo 2 or any other accessory items, please consider using the affiliate links below! As an Amazon Associate I earn from qualifying purchases. It doesn't cost you anything extra, but your purchases help support this website a lot. Even more, if you use Backcountry.com or Competitive Cyclist with coupon code DCRAINMAKER, first time users save 15% on applicable products! Or, with TPC (The Pro's Closet), you'll save $40 on purchases over $200 with coupon code DCRAIN40!
And of course – you can always sign-up to be a DCR Supporter! That gets you an ad-free DCR, access to the DCR Quarantine Corner video series packed with behind the scenes tidbits...and it also makes you awesome. And being awesome is what it's all about!