Somehow, somewhat oddly, some 8 months after I started using a FR745 last August, it's become my daily driver – some 148 workouts in total on it. Even while testing a slew of other watches over the last 8 months, the Forerunner 745 could almost always be found on one of my wrists. And in some ways, it's kinda quirky. I've literally got bins of every watch out there, and yet, I end up on the supposed 'lesser' watch compared to a more expensive Forerunner 945 or Fenix 6. I will say though, the new Enduro, surprisingly, tempted me. But more on that later.
For those unfamiliar, the Forerunner 745 is supposed to be Garmin's 'affordable' triathlon watch. Priced at $499 (though, $449ish the last week or so), it was $100 cheaper than the Garmin Forerunner 945 (sometimes), and also cheaper than the Fenix 6. Functionality-wise though, it was near identical. Of course, if you're looking for an actual affordable multisport GPS watch, then the COROS Pace 2 is where the action is at $199.
The point of this post isn't an incredibly long review of the Forerunner 745. I've already done that. Rather, it's a bit of a blend of four things:
1) What was different about the FR745 compared to the previous FR735XT?
2) What's changed in the FR745 since launch back in September?
3) How does it differ from the Forerunner 945 these days?
4) Why I'm using it instead of the FR945 or Fenix 6 Series?
Finally, because I started off this adventure back in February making a video on it (that I finally got edited and updated more recently), this post was sorta to accompany that video. The video goes into more detail on some of these things, but I know a lot of you reading here just want the quick facts and items. Thus, this post.
(And yes, I know the FR745 was announced 7 months ago, but I've been using it for 8 months, and thus, I have 8 months experience with it.)
What Was New:
To begin, just a quick refresher of what was new on the Forerunner 745, compared to the previous Forerunner 735 from a few years earlier. For those regular Garmin watchers around here, the only thing you'll need to know is that the FR745 only had a single 'new Garmin' feature unseen elsewhere – which was the Running Track mode, to snap your track workouts to the track. Beyond that, this was Garmin simply offering a cheaper FR945 without maps (and a few other things we'll talk about in a second):
– Added new track recognition running mode
– Added new Daily Workout suggestion (first watch to see this feature)
– Added PacePro
– Added ClimbPro for automated climb notifications on running/cycling/hiking/XC skiing activities
– Added music storage/playback via Bluetooth headphones, including Spotify
– Added contactless/NFC payments
– Added Pulse Ox (pulse oximeter data)
– Added new Garmin ELEVATE optical HR sensor (V3, same as MARQ/FR245/FR945/Enduro)
– Added training load focus stats
– Added deeper training effect details/metrics
– Added stress tracking
– Changed recovery time advisor to account for Stress/Sleep/Daily Activity
– Added body battery functionality
– Added heat acclimation (for any workouts in temps over 71°F/21.6°C)
– Added altitude acclimation (for any time or workouts spent above 850m/2,788ft)
– Added Incident Detection (if you crash your bike it notifies someone)
– Added new LiveTrack Course Support (shows planned course on LiveTrack)
– Added support for Garmin Running Power (with accessory sensor)
– Added Safety/Tracking Assistance (you can press button to send help alert to friends/family)
– Increases battery life slightly from 14 to 16 hours in GPS mode (and 6 hours in GPS+Music mode), up to 24hrs in certain GPS configs. One week smartwatch mode battery life.
– Changed GNSS to Sony GPS chipset, includes support for GLONASS & Galileo
– Added Barometric Altimeter
– Redesigned a bunch of the user interface, especially for post-workout stats
Got all that? Good.
What changed since launch: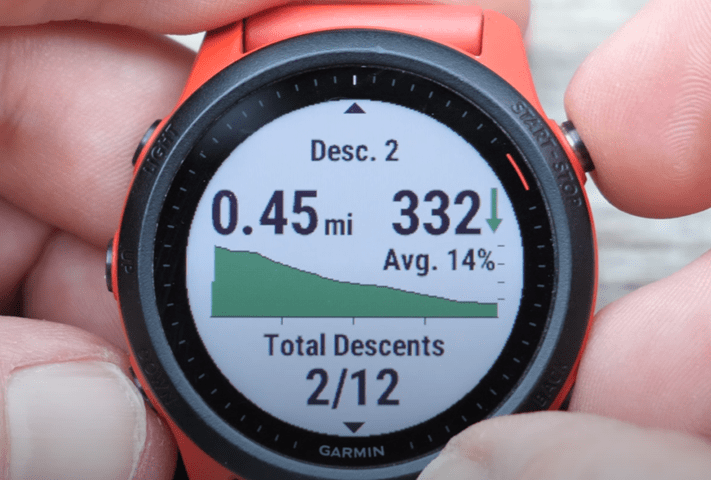 Since it launched back in September, there's actually been a handful of additions to it that are worthwhile nothing.
Added XC Ski Power with the HRM-PRO: If you've got an HRM-PRO strap, you'll get cross-country skiing power. I have a dedicated post on that here.

Added ClimbPro notifications: This adds ClimbPro notifications as you approach a climb. It's a nice touch and is useful if you want to refuel before starting a climb. Or, if you want to simply sit and enjoy the view before suffering.

Added descents to ClimbPro for non-cycling: Previously, ClimbPro was all about going up, but now for running/hiking it's about going up and down. So you'll see your descents listed in the exact same manner as your ascents. This can also be combined with the ClimbPro notifications mentioned in the previous point.
But there's also one thing not yet added:

Advanced Sleep Tracking: Of course, there's one item that was slated to be added in, which was the advanced sleep tracking. Essentially that was a switchover from Garmin sleep tracking to one powered by FirstBeat algorithms (which, Garmin acquired about a year ago). This change was rolled out to the Fenix 6 (and the FR945 in public beta builds), but then paused for other devices due to issues Garmin ran into. They've spent the last 8 months working through those issues, and it sounds like things are about set. We saw the Garmin Enduro have it included a couple of months ago, largely because that shares the same codebase as the Fenix 6, so it kinda had to go along for the ride. In talking with Garmin recently, it sounds like things are basically cleared for the FR745 to get it soon, but they didn't want to commit to an exact date – other than to confirm the 745/945 are indeed definitely getting it.
There's also been a smattering of tiny little tweaks and UI changes (and bug fixes), all listed here in the FR745's release notes. But the above are the big-ticket ones.
Different than the Forerunner 945: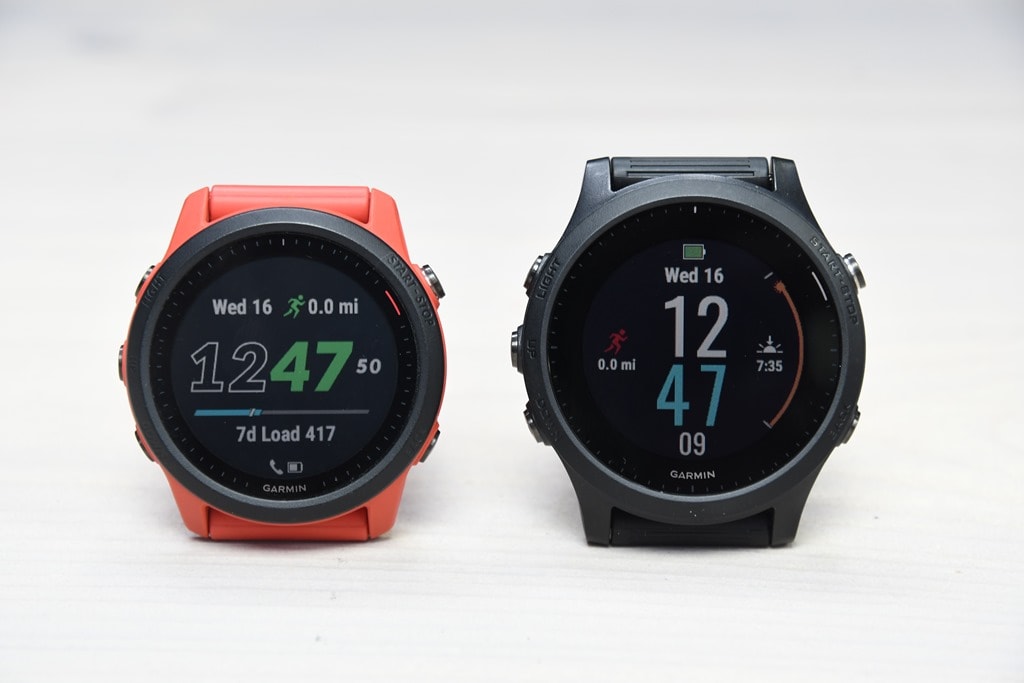 The Forerunner 745 isn't quite the Forerunner 945, and officially the two are $100 difference in price. And on paper, the most notable differences would be the lack of maps on the Forerunner 745 and the bigger battery life on the 945. But there's more than just that:
– FR945 has offline mapping, the FR745 doesn't
– FR945 has longer battery life, the FR745 doesn't
– FR945 has 14GB of storage (~8GB usable after maps), the FR745 has 4GB (~3GB usable)
– FR945 is slightly heavier/bigger (50g) than FR745 (47g)
– FR945 has golf, the FR745 doesn't
– FR945 has Firstbeat Respiration Rate during a workout, the FR745 doesn't
– FR945 has the Temperature, Compass, Dog Track, Alternate Time Zones, and XERO Bowsight Widgets, the FR745 doesn't (note: The FR745 does have a compass, just not a dedicated compass widget outside of an activity)
Battery life is actually an interesting one, there's more than meets the eye there. Here's a nifty table I made for my video: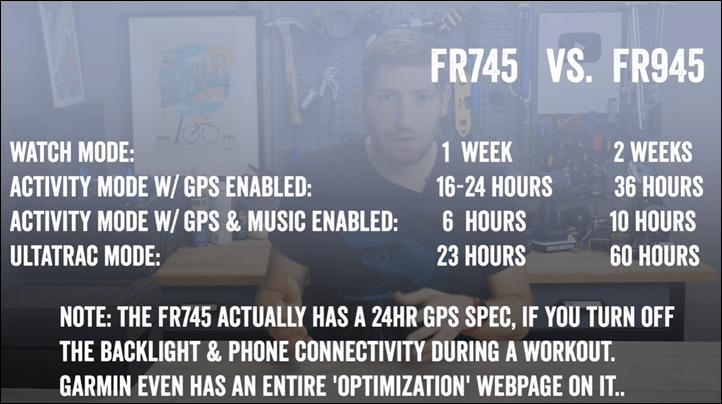 As for that webpage on getting FR745 battery life to 24hrs for workouts, here's the link on that (it also includes somewhat impressive details on exactly what constitutes regular battery life).
Next, there's the price. The FR745 is officially priced at $499USD while the FR945 is priced at $599. Officially anyway. Unofficially the FR745 has floated down to ~$450 in recent days, while the FR945 has floated on and off down to $520ish. So when the two are only $20 apart, it's kinda hard to justify the FR745. Yet, when the two are $150 apart, then the choice is much more difficult. And of course, if we look at non-US pricing, things are all over the map depending on discounting and such.
Looking at the size, there's a difference too. Sure, a little bit of weight, but mostly the size. Below, you can see the two units side by side and the slight differences in the button color (FR945 is in black):
Ok, with that, let's finish up with a quick weigh-in versus the 945:
And, because there's always good reason to have Oreos involved, if you remember from my initial in-depth review, I noted that the FR745 is precisely the same size as a standard-issue Oreo. So if you're unsure of how it'll look on your wrist, then the easiest way is an Oreo – it's virtually identical in size.
See, just add tape: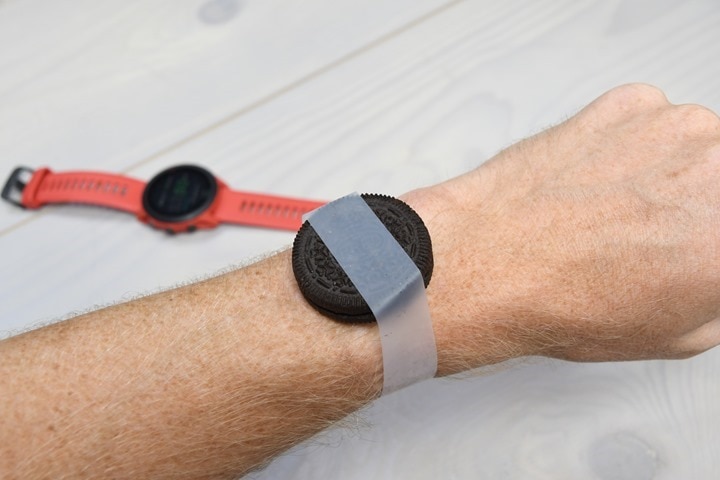 But there is a key difference and a singular feature that the Forerunner 745 has that the Forerunner 945 does not: Training load on the watch face.
If you look at the below photo, you'll see my current training load and status listed, at 850, and within the green range of load before it thinks I've done too much in the last 7 days. This exact value of course floats, based primarily on the previous 30 days worth of activities and how it thinks I'm handling them. Like any training load system, there are always philosophical differences between folks on their preferences. And that's fine. Ultimately, the main thing I use this for is a quick glanceable always-there metric of how my week has been workout-wise, and whether I'm slacking or not.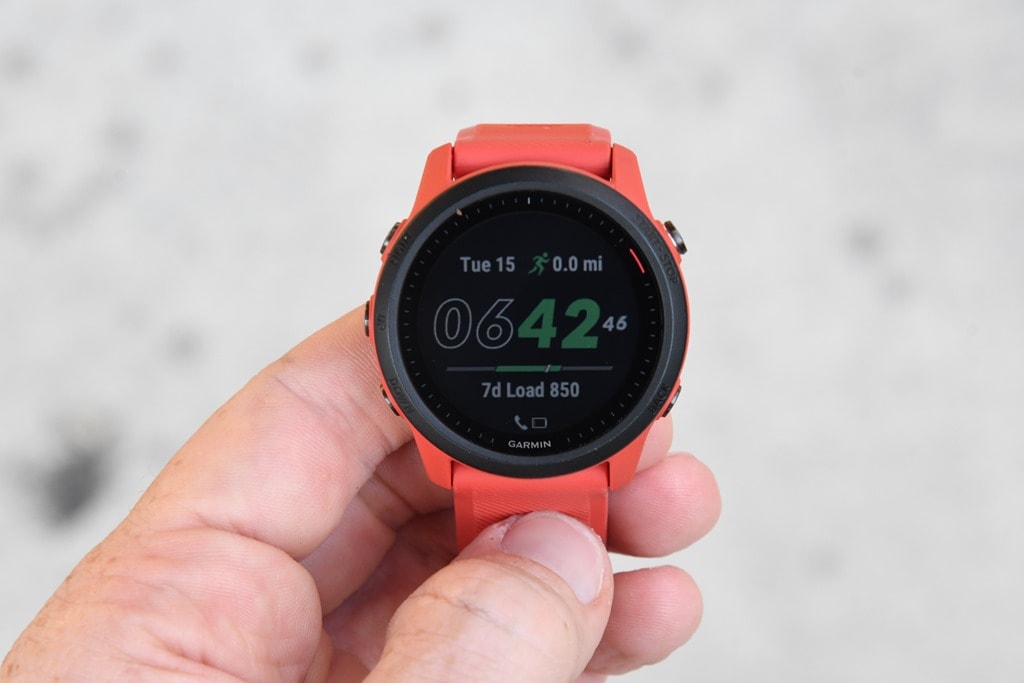 Given there's zero races scheduled here in the Netherlands anytime soon, there's little motivation for me to be on a strict training schedule. So instead, my training is mostly device-based. Meaning, I train based on the devices I need to test. Once I finish up this post, I'm gonna likely head out for a ride. Probably around 90 mins to 2 hours. No particular training purpose, just a nice enjoyable afternoon sunny-day ride.
But, the number above is roughly what I use as a proxy for whether I'm getting in my workouts this week. Sure, I could look at various other stats and dig into menus in the watch, or, every time I glance at my wrist throughout the day I see that number as a reminder for whether or not I probably should get a workout in.
Similarly, the FR745 lacking maps has turned out not to be an issue in the last 8 months. Aside from one short 2-day trip last September, I haven't travelled anywhere I needed maps. Eventually, we'll travel again, but without travel, there's virtually no need for me to have maps on my wrist for hiking or running (when I normally use them). I know all my nearby running routes pretty easily, and on the rare occasion I go somewhere nearish and want maps, even breadcrumb routing works for most Netherlands trails. I mean, everything is flat, usually without dense forests, and usually the routes/trails are pretty straightforward. I have a dedicated bike GPS for mapping/routing there (which I do use here).
Now, maybe this summer the world will normalize a bit and I'll find myself back down in the Alps. In that scenario, I VERY MUCH appreciate having maps – and would probably switch over to a Fenix 6 Pro or FR945 for the task. The trails are occasionally complex with numerous options and sometimes no signage at all, with often 3-4 trails merging at once. Being able to figure out from things like nearby ponds/terrain/etc on a map which trails are which, and which direction I should go in is hugely helpful. Something like the below, with the Fenix 6 Pro (though, the FR945 is the same way):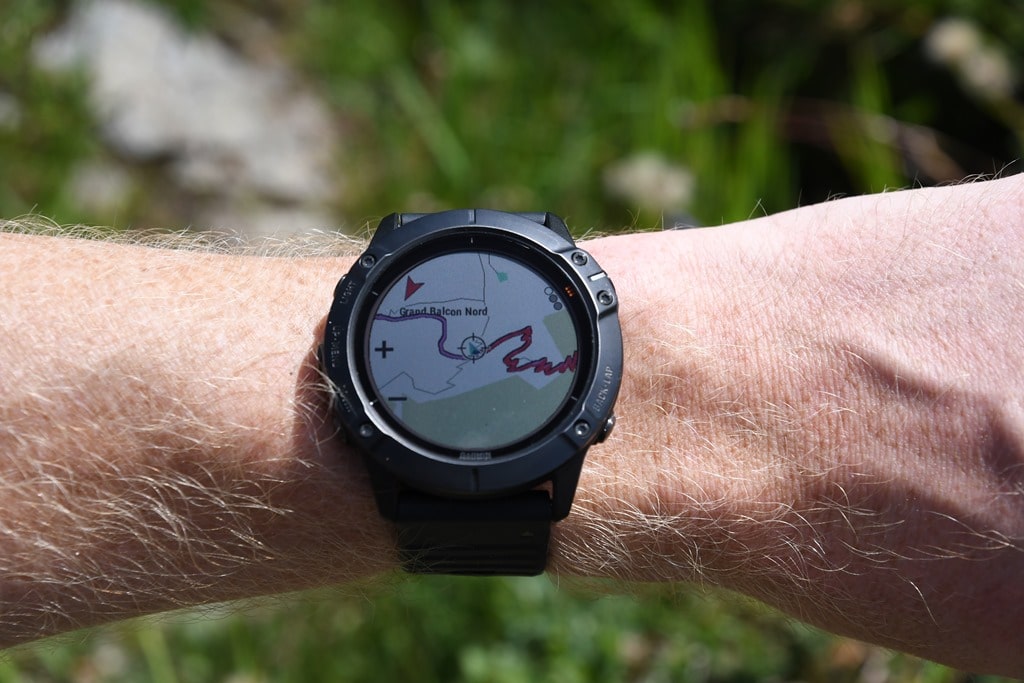 But ultimately, it's these two main things as to why I've stuck with the FR745 over the FR945 for the time being:
A) It's slightly smaller, and slightly lighter
B) The training-load watch face
And I know, there are undoubtedly probably 3rd party Connect IQ watch faces that probably have training load on them. But I really like the simplicity and cleanliness of the stock Garmin ones. I also like knowing that in general, stock watch faces often are more battery optimized than 3rd party ones.
Though, there is one last reason it's stayed on my wrist:
C) The red color scheme
Like any other person, when choosing what they wear, or their bike color, or their shoes – an element of personal style preference comes into it. I like my reds, and this quirky reddish-orange color works for me. Just like my Apple Watch SE is also red. As are numerous other things I've bought (my coats, my bike has red accents, my laptop mouse, and so on). And sure, I can use a black watch like anyone else, but hey – if there's a lava red color, I'm totally there. Sure, it's silly – but so are most fashion things. To each their own.
What doesn't work well: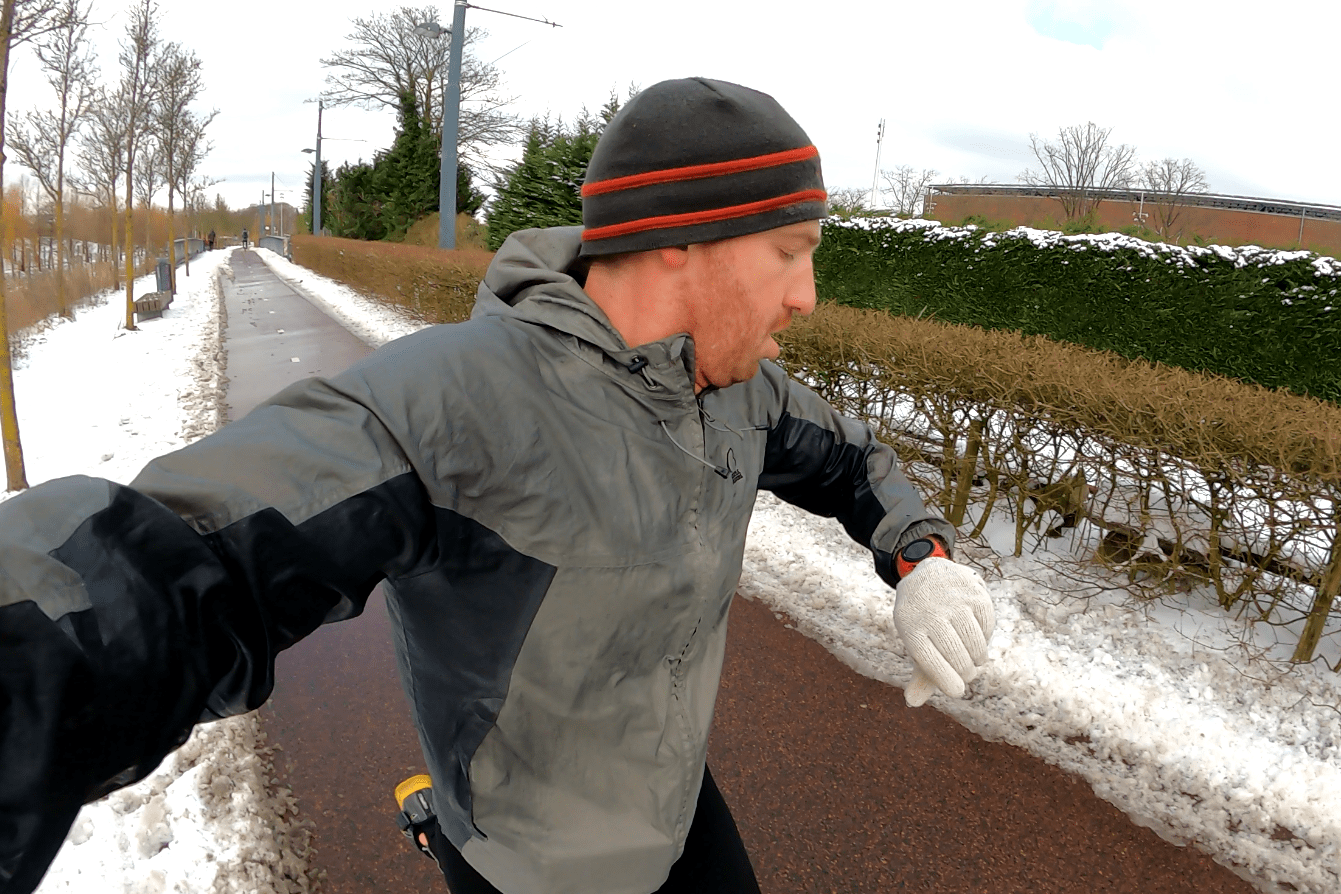 For the most part, the Forerunner 745 works just fine for me. Frankly, if it didn't, I wouldn't use it. In general, there are three specific areas that could use slight improvement or addition:
Mixed cold-weather optical HR: This is no surprise for any watch, but I did see cases in February and March during some of our ice-age-like temperatures, that the Forerunner 745 struggled a bit in the optical heart rate realm. This is pretty common for many watches, since colder weather means you get less blood flow at the extremities. Not helping is that I tend to wear thinner than most people's clothing when running, even in the cold. For the most part on average, there was virtually no difference between how this watch performed in the colder weather and other watches I tested during that time. The vast majority of the time it was good, but certainly some oddities (you can see these in some of my various reviews since then like the Enduro review, Polar Vantage M2 review, etc…). But beyond the colder freezing-temp weather, I can actually use it just fine for most of my running interval workouts, or steady-state runs. Indoor cycling is fine, whereas outdoor cycling is still a mixed bag (like most wrist-based watches).
Lack of advanced on-watch sleep metrics: As noted above, this still isn't there. And it's a bummer, as I rather like it. Garmin says it's coming. And likely rather soon by the sounds of it. But like predicting the price of Bitcoin or anything that happened in 2020, who knows exactly. In terms of accuracy of the existing algorithms on the watch (shown in the app), they're actually pretty good for me (as most watches tend to be, for me). However, Garmin's lack of nap functionality is a bummer, and especially notable if I wake up early to sort out baby/toddler stuff for a while, and then eventually fall back asleep for an hour or so, that won't be caught.
Battery life: In general I get about 5-6 days of battery life on the watch, depending on usage. That said, I do get weird quirks where the battery just evaporates unexpectedly – almost as if GPS got left on or something. This doesn't happen often, maybe once a month. I don't run any Connect IQ apps, except for data fields (Stryd, Garmin power). But it is an odd quirk. I haven't cared enough to troubleshoot it, it's entirely plausible I'm doing something wrong.
Like I said though – I haven't had any show-stoppers or other issues beyond these. I don't tend to listen to music on it much, here and there, but not every week. Inversely, it's used 100% of the time in all my power meter and smart trainer testing, and does well there – with zero dropouts seen. Every ride, it's recording something behind the scenes.
The Enduro Temptation: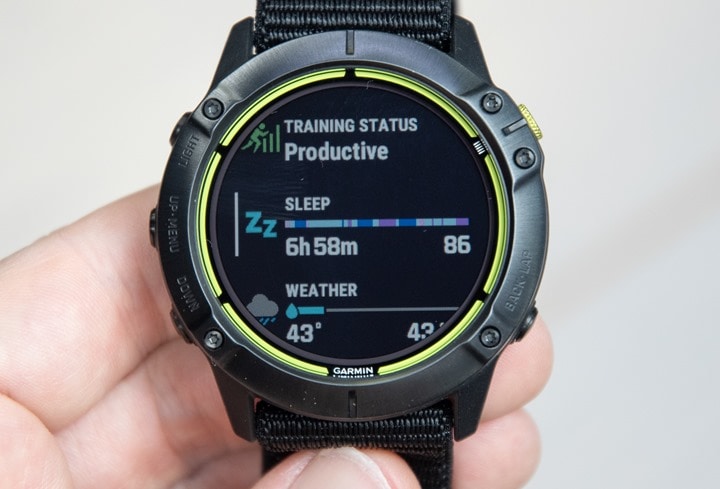 So how did the Garmin Enduro almost tempt me? Well, it's the closest I've come to ditching the FR745 for another watch. As I mentioned earlier, while normally I'd like mapping on my watches – with essentially zero travel right now, it means that maps for running/hiking aren't really something I use. Thus, the Enduro's somewhat unexplainable lack of maps actually didn't bother me (for the moment). And, while I don't generally like a larger watch, the weight being only 61g (the FR745 is 48g, and the Fenix 6 Pro is 72g, versus the 82g for the 6X Pro Solar), meant it wasn't the heavier Fenix 6 watch for the longer battery life. Also, I kinda liked the strap.
But most importantly, was the battery life. I've slowly come around to Team Long Battery Life Even If Not an Ultra Runner. I'd agree that a year or so ago, I didn't really get it on the COROS watches, in terms of day to day battery life, unless you were an ultra runner. Ultimately, I find the digital crown on the COROS watches just too frustrating for my liking, but that's neither here nor there (and it's too bad, as they've done a great job otherwise in updates). In any case, with Enduro, I was legit getting about a month of battery life, inclusive of workouts, given mid-winter many of those workouts were indoors. But even then, GPS tracking had me on-course for 60-80 hours of GPS life, which is more than enough for a month's worth of activities for me (of course, then you have 24×7 on-time, which lowers it from there). And that's before we even talk solar, which, in the Netherlands in the winter isn't super useful – but in the summer on the Enduro, is probably enough to keep things almost steady-state (excluding workouts).
Point being, it'd have been silly easy to go 2-3 weeks without charging that watch with over-the-top peak-training usage using all the default settings. But ultimately, once I switched back to the FR745, I was comfortable with little magma red again.
Wrap-Up: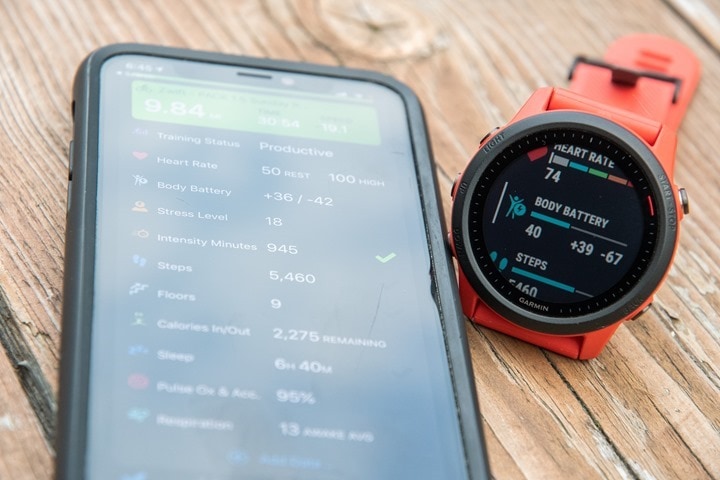 As I said at the beginning, my goal here wasn't a crazy long review, but rather, a check-in of sorts. Folks had been curious why I keep using the FR745 as opposed to a higher-end or fancier watch. And ultimately, it comes down to a blend of the watch size, the specific watch face, the lack of travel to a place I need maps, and the color scheme. There's no one stand-out item, it's a blend.
The FR745 hasn't seen as many updates as some watches have in their first 6-8 months of life, but, there hasn't really been a lot of other features dropped to other watches during that timeframe anyway. And those features that were added (like ClimbPro Descents) the FR745 did get.
As for buying a FR745 vs FR945 today and which one to get, honestly, you'll kinda have to figure out which makes the most sense for you (or, something else entirely). I suspect the day-to-day price fluctuations would impact that a bit. The FR745 is a year old, so clearly there's no immediate successor there using a typical Garmin 3-4 year refresh cycle for this series watch (mid-range triathlon). The FR945 is two years old next week, which would put it on target for a refresh using typical Garmin Forerunner timelines of 2 years for their top-end triathlon Forerunner series. But, as we've seen over the last year – this world is anything but typical right now. So who knows.
With that – thanks for reading!
Found This Post Useful? Support The Site!
At the end of the day, I'm an athlete just like you looking for the most detail possible on a new purchase. These posts generally take a lot of time to put together, so if you're shopping for the Garmin Forerunner 745 or any other accessory items, please consider using the affiliate links below! As an Amazon Associate I earn from qualifying purchases. It doesn't cost you anything extra, but your purchases help support this website a lot. Even more, if you use Backcountry.com or Competitive Cyclist with coupon code DCRAINMAKER, first time users save 15% on applicable products!
And of course – you can always sign-up to be a DCR Supporter! That gets you an ad-free DCR, access to the DCR Quarantine Corner video series packed with behind the scenes tidbits...and it also makes you awesome. And being awesome is what it's all about!