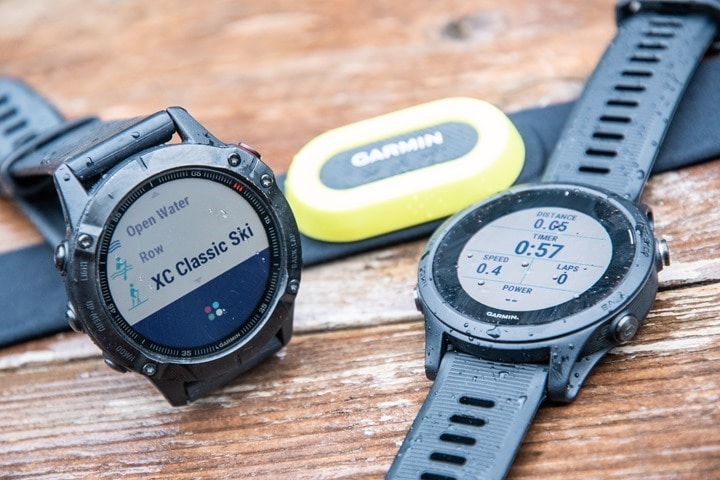 For those that sifted through their junk mail folders over the past few weeks, you might have seen an e-mail from Garmin announcing cross-country skiing power, akin to cycling power, but more in line with how running power data is generated using a bunch of calculations.
Oh, wait, you didn't get the e-mail?
Neither did I. But…a loyal DCR reader did – and forwarded it on to me. And turns out, after confirming with Garmin, said e-mail apparently only went to Fenix 5 users, perhaps enticing them to upgrade to the Fenix 6 where the feature is offered (alongside the Forerunner 945 and a few other latest gen watches). Yesterday also saw Garmin MARQ users get notified of the feature being available. I assume other users will start receiving that e-mail soon too.
Now the real kicker is that this feature was actually quietly slipped into the software back in August, except, with the new HRM-PRO chest strap released last month to light it up, nobody would have noticed. Adding to that is that very few locations have cross-country ski tracks and viable snow in September, so the number of people that met all those conditions to 'stumble' upon this new feature would have been slim.
Oh – and as you probably just inferred from the previous paragraph, this new feature does indeed require the new HRM-PRO chest strap. So, let's get digging into how it works.
How it works: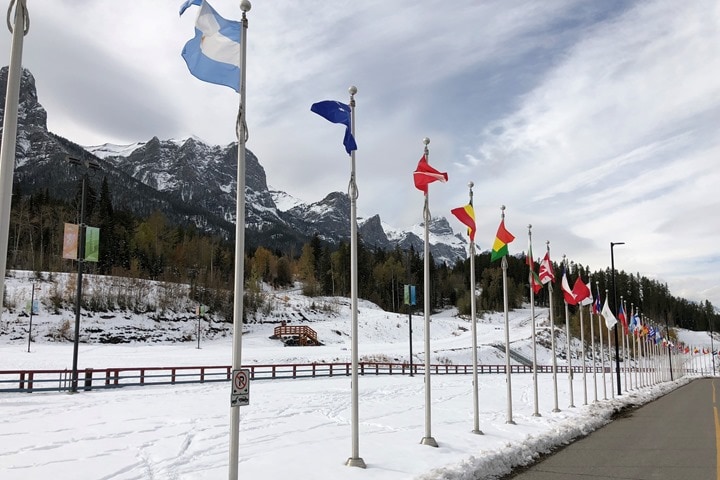 Now, I'd love to be able to show how this works in-depth and on skis, except, I'm missing a few things…notably, snow. Or alternatively, the ability to travel to snow. Further, I lack cross-country skis, or boots. While many DCR readers know I have a deep appreciation for skiing (I dare you to not get lost in all those old posts stretching back a decade), I prefer my skiing to primarily be composed of descending.
So, for now I'll show you some of the basics from a concepts standpoint, and then talk about some further details from the team behind it.
In any case, here's what you need:
1) A Garmin HRM-PRO chest strap
2) A Garmin FR945, Fenix 6 Series, Quatix 6 Series, Tactix Delta series, or MARQ Series watch (on a semi-recent firmware version)
3) Snow & Skis
To get started you'll want to ensure your HRM-PRO is paired up and enabled in the sensor settings: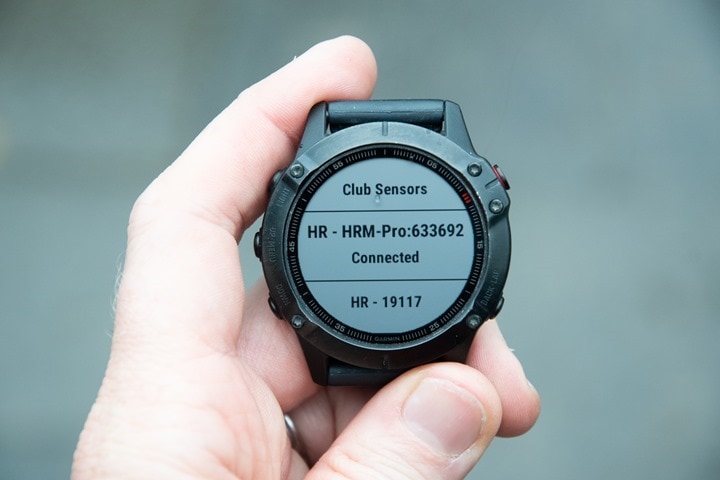 Once that's done, then start one of the two XC Ski Profiles: XC Classic Ski or XC Skate Ski. If you haven't used these before, you'll scroll down a bunch in the usual sport start menu, and you'll see the option to add a new sport. Scroll down until you can't scroll anymore, and you'll have found XC Skiing.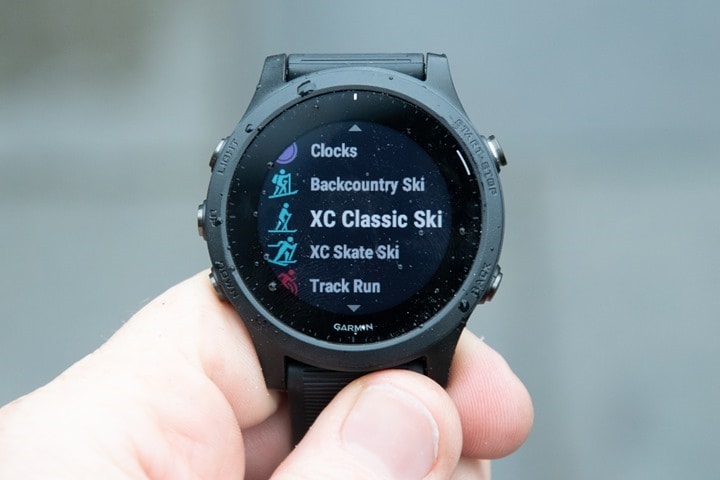 Then go ahead and launch the sport. As soon as the HRM-PRO is connected you'll see the new 'Power' field. If you don't see it on your default screen, press up/down to change data pages to the screen that shows it.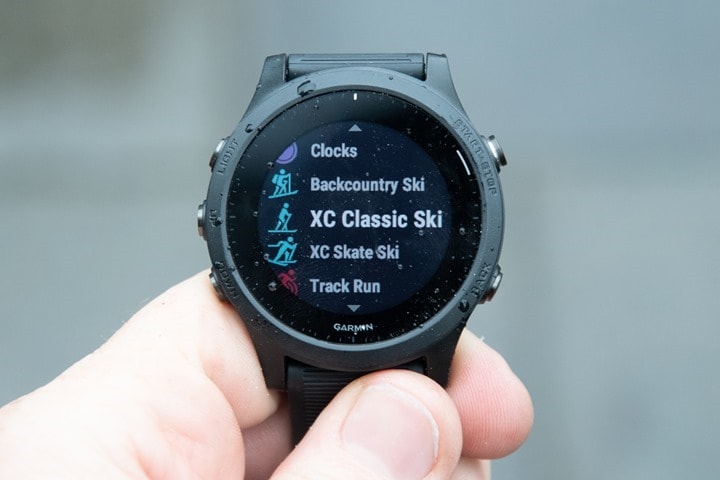 Now, go ski. Like this: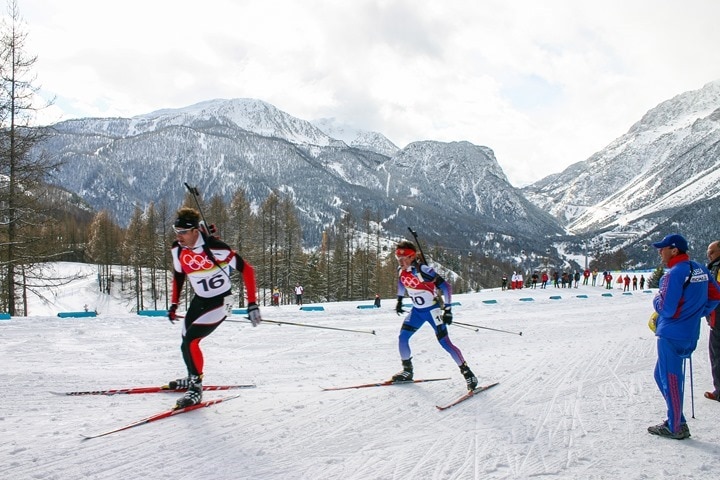 That's actually a picture I took many years ago, back before the blog. And it's never seen the light of day, because…well..what on earth am I going to do with hundreds of biathlon photos? I don't know. So, now at least one photo got its 15 seconds of fame. Even if it's not a particularly compelling photo.
Now, as you're skiing along, you'll get instant power displayed, just like this: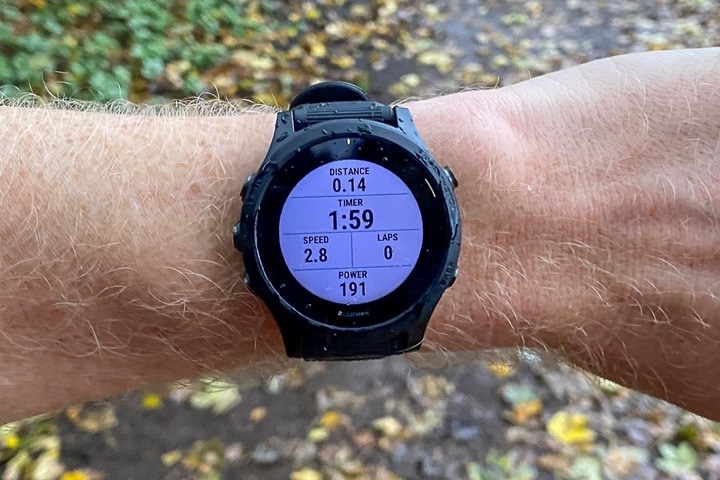 It's no different than any other power value on a Garmin watch, and in fact, unlike running power this actually gets put into the proper 'power' data field by Garmin, so any app that shows cycling power can show it.
After your ski session, you'll see your power data listed in Garmin Connect Mobile (as well as Garmin Connect online). This was just obviously a very short test to understand how the data gets piped, but you can see it here:
Even lap summary data has power listed for each lap – just like it would in cycling: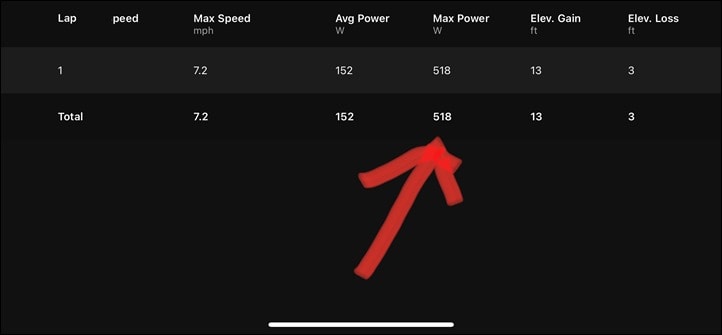 Also notable, it'll show up on the watch itself in the summary stats, just like calories, distance, or pace, or any other standard metric.
Still, after my walk/run loop around a local trail, I had a bunch of questions. So I reached out to Garmin to get a pile of answers from the team behind it. And it turns out the team that does the skiing power is the same team that does Garmin's running power. They tend to do a lot of sensor and algorithm-driven projects/products. But most notable is that team is based up in Alberta (Canada), and specifically that they're just a quick drive to the Canmore Nordic Centre, which is where many Canadian Olympic Cross Country Skiing athletes train. It's also randomly been the home for many outings at the ANT+ Symposium over the years. Also, it's the header picture for this section – I took it two years ago.
In any case, the point there being that Garmin apparently worked last winter with athletes out of the Canmore Nordic Centre to test the algorithms.
Now, I had a bunch of questions for them. So rather than wrap needless text around them, let's just go into Q&A fashion:
What's the general overview of how the sensors work together here?
At a high level, Garmin is using the sensors within the HRM-PRO to determine when you're gliding versus when you're actively pushing off, and then uses that as the basis for a portion of their overall calculation of ski power. Garmin notes that you'll start to see the most accurate power metrics after you've done a handful of longer glides (greater than three seconds).
Is elevation taken into account?
Yes, like with running power, elevation does impact the calculations – so as you go up an incline it takes more power, and down a hill takes less power.
Does the skier's inputted weight impact the results?
Yes, weight is important for the calculations.
Is wind accounted for in the calculations?
Sorta. They aren't leveraging nearby weather stations like in running power, but are looking at it as part of the whole system of things that 'slow' a skier down, such as poor snow conditions (e.g. warmer/wet snow), snow depth, wind, and of course incline.
Is it written to the standard power data field?
Yes, in fact, you can see it in apps that support 'power' as a defined field for that sport. For example, I see it listed in TrainingPeaks for my workout. Whereas inversely, Strava doesn't support showing power for the XC Skiing sport. Below, showing it in TrainingPeaks, still defined correctly as a XC Ski workout.

Which sport profiles does it show for?
Both XC Classic Ski and XC Skate Ski, it does NOT show for XC Backcountry Ski.
Does it capture cadence or stroke rate or such?
No, not at this time.
Is it sensitive enough to use to determine the optimal wax to use for a given set of conditions?
Kinda. Indirectly yes, but not directly. Meaning Garmin doesn't exactly know why you're going slower – it could be simply because the snow has gotten deeper. Or, you skied through a puddle. Or wind kicked up. However, if you were on a windless day on consistent snow for the entire track, then in that scenario you probably could use it to make some observations around wax because your ski power will increase with the wrong wax, and decrease with the right wax.
Wrap-Up: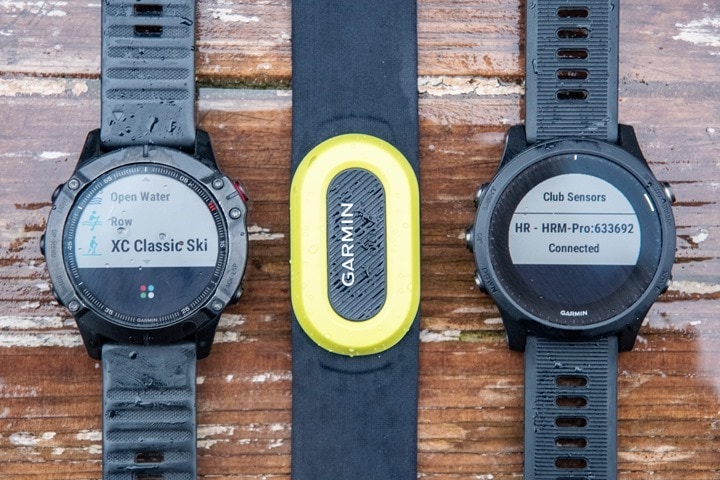 Now, this is undoubtedly interesting for cross country skiers, at least assuming you've got the right watch and an HRM-PRO. And speaking of which, I am still struggling to understand why something like a Fenix 5 Plus isn't at least supported here. After all, Garmin would still get you on the upsell for the HRM-PRO strap (which costs $129). But setting that aside (because, let's be honest – that's just the way Garmin rolls), it'll be interesting to see what people can discern from this data. While I can discuss the ins and outs of running power to a painful degree based on years of trying different devices, there really isn't that precedent for skiing power. At least not in widespread use anyway. There's been Racefox on Polar devices, but that costs ~$120/year plus you need the Polar H10 strap – so that's another $90 (though, less than the Garmin HRM-PRO).
There's also Proskida (also…Canadian) that demoed some aspects of their app which used a sensor at the wrist strap of the ski pole, which is obviously much different than a chest-based sensor. But propulsion in skiing comes both from pushing via your poles, as well as pushing via your skies (such as skating). Plus, there's external elements like snow friction based on temperature (colder harder snow has less friction than warmer wet snow), and of course the slope incline.
I wouldn't even begin to know how to validate all these variables outdoors. In the same way that running power meters haven't really defined what exactly running power is, many companies (including Garmin and Stryd) measure that differently, and have differences of opinions on exactly what is included in that power value.
In any event – if you've got all the right things to use this feature, go forth – I'd love to hear how it works out for ya, especially after a bunch of workouts over time and different conditions.
Thanks for reading!