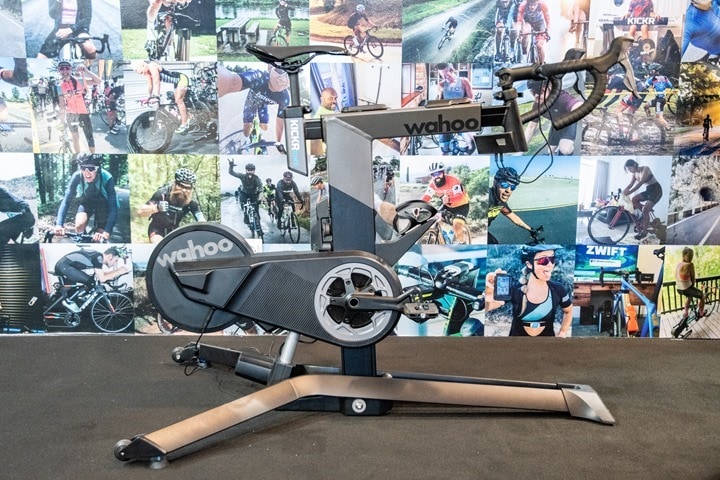 *** Check out the Wahoo KICKR Bike In-Depth Review Here***
In a move that probably shouldn't surprise anyone– Wahoo has joined the indoor smart bike fray, with their new KICKR Bike. This unit is far more than just a KICKR and a CLIMB squished together on an L-shaped chunk of metal. It's actually an entirely new KICKR design, one that far more closely resembles that of the electromagnetic unit that is the Tacx NEO series, than the KICKR's of the past. And while the CLIMB is similar, this one has greater depth than its standalone sibling.
But none of this will come cheap. The bike comes in at a staggering $3,499 – the most expensive indoor consumer-grade smart bike on the market, announced today or previously (and the Wahoo bike is the last unit on the new indoor bikes lineup at Eurobike).
But you know what? I'm impressed. No, not with the Wahoo Bike per se (though I am on that too), but with the fact that they managed to keep it under wraps until this morning. In some cases – literally. No, really, on the show floor at Eurobike it was under gigantic confidential boxes until the unveiling. But more impressively from the 100+ units out in the wild this year in various people's homes all around the world as part of their KICKR Bike testing program.  It's that testing program that Wahoo hopes will give consumers more confidence in this product after some of their hardware related challenges this past winter.
I've had various cases to test the bike over the past year, culminating in a ride on the final version last week. This post isn't a review though, just a bit of an early hands-on look. I've got a final production unit set to be delivered straight from the factory in the next few days that I'll be working on for my final review. It's there that I'll cover things like power accuracy and broader app compatibility and integration. If the unit arrives in the next couple days as expected, then look for my review in a few weeks.
With that – onto the details!
The Specs: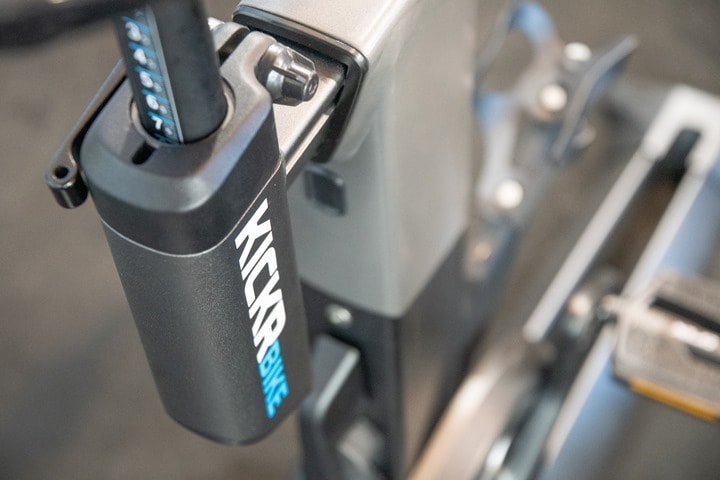 No better place to start any indoor training device than the tech specs, after which I'll walk you through the bike from front to back, every single part with all sorts of details you probably didn't need to know.  Now as I noted earlier this morning on the new Stages Bike, some of these specs will be familiar to trainer folks, whereas you'll find a new slate of specs that we need to start being aware of as more bikes hit the market. Things like supported crank lengths, adjustability limits, and handlebar extendability. But first, let's start with the more common trainer-based metrics:
– Supports ANT+ FE-C control & Bluetooth Smart FTMS Control
– Supports ANT+ & Bluetooth Smart power broadcast
– Max resistance of 2,200w
– Max simulated grade of 20% up, and 15% down
– Flywheel weight is 13lbs
– Claimed accuracy: +/- 1%
– Ability to customize chainrings, cassettes, and shifting preferences via app
– Single USB port on front
– Ability to add in triathlon/TT bars to bike (future accessory)
– Supports 165/167.5/170/172.5/175mm crank arms lengths
– Max rider weight: 250lbs/113kg
– Has brake levers like a normal bike
– Has normal shifters to simulate SRAM/Campagnolo/Shimano setups
– Has multi-connection Bluetooth support
Ok, with the specs out of the way, let's start at the back of the bike and walk through all the components. First up there's the flywheel in the way back, which connects via belt drive to the crankset that sits underneath you. From a noise standpoint, as you can hear in the video, it's super quiet– with only the slightest of hum.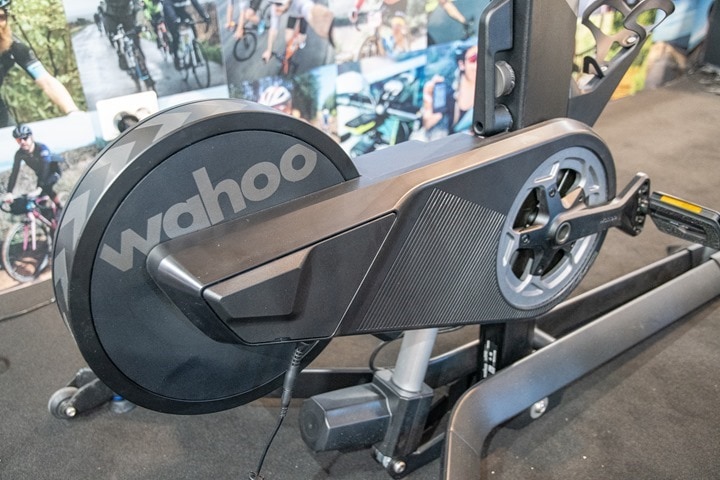 Down below the entire set up, there are two wheels, allowing you to roll it around as you see fit.
In between the crankset area and the base wheels is the actuator for the Wahoo CLIMB, which is built into the bike. This enables the bike to simulate grades of 20% upwards, and –15% downwards, pitching the entire bike from the center point, rather than just the front of the bike like with the Wahoo KICKR CLIMB
Next you've got the crankset, which includes a five-holed arm that allows you to specify a crank length of 165mm, 167.5mm, 170mm, 172.5mm, or 175mm. You can pick the pedal of your choice and you're off and running. Exact same design as the Stages Bike.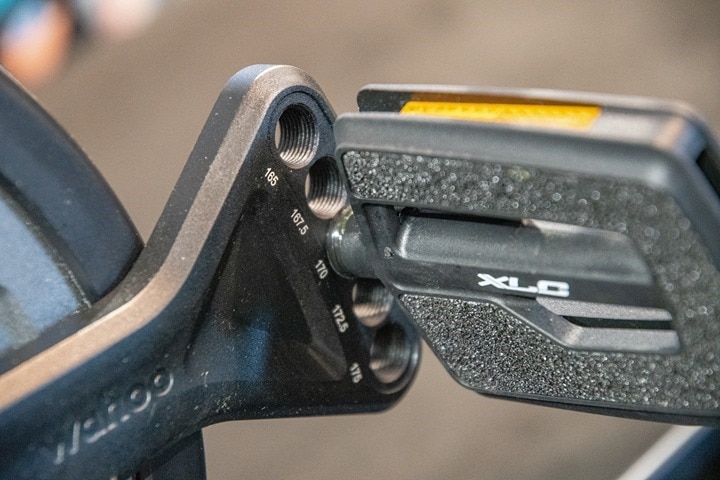 From an adjustability and fit standpoint, the unit has levers at numerous spots to tweak your bike fit. Specifically:
A) Overall seat post height
B) Forward/back of seat post
C) Forward/back of front handlebars
D) Up/down of front handlebars
You can see the levers throughout the bike:
This isn't terribly different than anyone else. However, what is unique here is the fit system. All of this is done via the Wahoo app, which helps set up your bike. Rather than you playing a guessing game, there's three core ways you can set up your fit:
A) Using a professional bike fit scheme including: GURU Fit System, Retul Fit, and Trek Precision Fit
B) Using a photo of your bike, whereby the app will determine your bike fit and give you matching numbers for the Wahoo Bike
C) Using your height measurements, whereby the app will give you the correct measurements for the Wahoo Bike
Here you can see for example what happens when I choose to use one of the fit providers:
Which then allows you to put in the exact specifics of that particular provider:
Or in this case, choosing to scan my bike, or simply elect to put in my height measurements:
This same app-driven concept expands even further when you get to the shifting. Up front you'll find the shifters and brakes. These shifters mirror traditional shifters, rather than button-driven ones like most of their competitors. So it'll feel just like a normal bike. The upper buttons control the CLIMB up/down, while that inside button is for steering (left or right, depending on the side).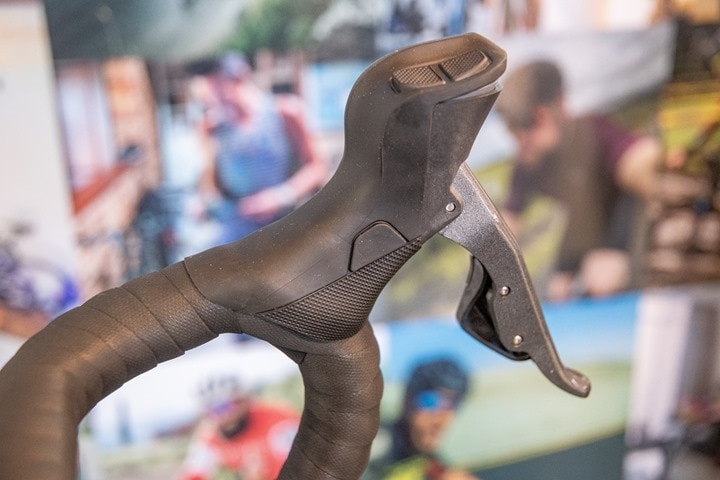 That concept is carried through to the app where you can select which shifting type you'd like: Shimano Di2, SRAM eTAP, or Campagnolo. And then from there you choose the exact crankset configuration you want, from chainrings to cassettes. You're basically mirroring your real bike inside the app:
At the base of the handlebar system is a small display screen. This display screen shows your current shifting position, and when the CLIMB goes up and down, it shows you the % of incline.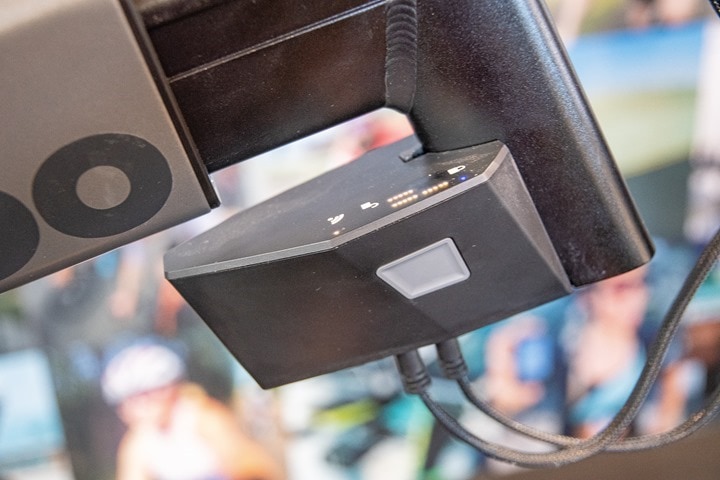 In my opinion, this is the only part of the bike where things are a bit of a let-down. Looking down towards your crotch to see the shifting position isn't really ideal at all. And at this point it isn't yet showing gear indication on Zwift either (like the Wattbike Atom), though I suspect that'll change soon.  Next to the display is a small button to lock the CLIMB from going up and down.
Finally, note that there's a single USB port to use for charging: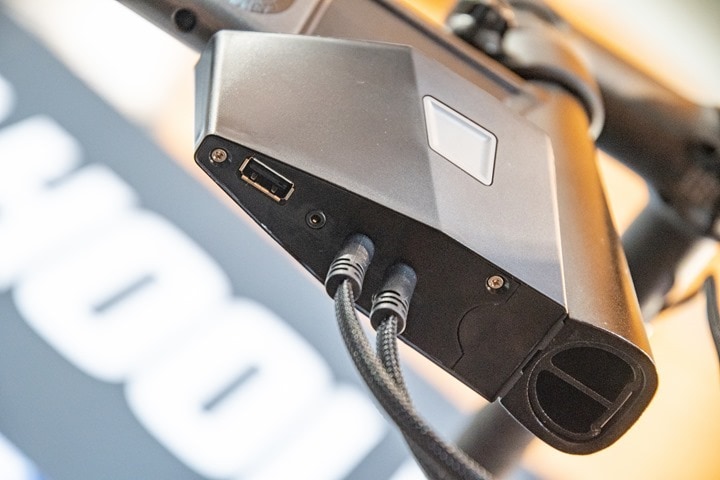 Though there isn't any form of tablet holder or such here, nor any place to put your phone – again a weird oddity compared to every other bike out there. Wahoo says they're looking to have an accessory at some point in Q1 2020.
First Ride Impressions:
So with all the specs behind us, what about actually riding it? Well, for that I'd refer you to my video above – where I show you how well it works and walk you through a few of the concepts in real-time in the middle of Zwift.
However, a few bulleted thoughts like I did for the Stages Bike earlier this morning:
– The biggest takeaway I had was 'clean', everything just feels so clean and smooth on the bike itself
– The drivetrain feels great, and there's zero weirdness in the pedal stroke or grittiness, again just clean
– The adjustability levers are easier than the Tacx Bike, but I do worry they'll scratch the frame over time (the unit I tried last week scratched, but there may be minor tweaks to come there)
– The app-based customization is the real star of the show with the Wahoo Bike. It's miles ahead of what anyone else offers. Many, many miles.
– The CLIMB going up and down is more or less the same as the existing CLIMB, so if you're familiar with that, it's roughly the same here
– The downhill drive on the KICKR Bike drives forward the downhill sensation, roughly like the Tacx Neo series. Feels pretty similar
– Shifting was great, super quick. Loved the fact that it uses real-life shifters and that they match my preferences (SRAM eTAP in my case)
– Brake levers were also good, though Stages has them beat with actually making it impossible to pedal when you hold the brake levers tight (like a real bike)
– The lack of a display holder or such is a huge disappointment
– The lack of a place to put my phone – also a huge disappointment
– And finally, the position of the shifting display is a bit awkward. I'm sure it'll get better as apps adopt gear shifting display for the bike
– Overall feel of the ride is very good, pretty happy with that.
Ultimately, this feels like a blend of a KICKR and a Tacx NEO, which is mostly what it is from a technology standpoint. All in all, it feels good, but again – I've gotta keep saying that the app-based pieces are so far beyond what anyone else is doing today, and they make a real difference on the bike.
Against the Competition:
Ahh yes, you wanted it – a complete chart of competitive specs. After all, this is the Eurobike of the indoor smart bike, and there's no better place to highlight all these specs than the DCR Comparison Database and Charts. So I've slated up all the big competitors into the chart below. This chart will automatically update over the course of the day as new offerings are announced:
Function/Feature

Stages Bike (SB20)
Wattbike Atom V1
Tacx NEO Bike Smart
Wahoo KICKR Bike V1
Copyright DC Rainmaker - Updated November 25th, 2022 @ 5:28 pm New Window
Price for trainer
$2899
$2,599
$3,199
$3,499
Trainer Type
Indoor Bike
Indoor Bike
Indoor Bike
Indoor Bike
Available today (for sale)
Yes
Yes
Yes
Yes
Availability regions
Global
UK/South Africa/Australia/Scandinavia/USA
Global
Limited Initially
Wired or Wireless data transmission/control
Wireless
Wireless
Wireless
Wireless
Power cord required
Yes
Yes
No
Yes
Flywheel weight
50lbs
9.28KG/20.4lbs
Simulated/Virtual 125KG
13bs/5.9kgs

Resistance

Stages Bike (SB20)
Wattbike Atom V1
Tacx NEO Bike Smart
Wahoo KICKR Bike V1
Can electronically control resistance (i.e. 200w)
Yes
Yes
Yes
Yes
Includes motor to drive speed (simulate downhill)
No (but kinda)
No
Yes
Yes
Maximum wattage capability
3,000w
2,000w
2,200w @ 40KPH
2,200w @ 40KPH
Maximum simulated hill incline
25%
25%
20% (and -15% downhill)

Features

Stages Bike (SB20)
Wattbike Atom V1
Tacx NEO Bike Smart
Wahoo KICKR Bike V1
Ability to update unit firmware
Yes
Yes
Yes
Yes
Measures/Estimates Left/Right Power
Yes (actually measured independently)
Yes
Yes
No
Whole-bike physical gradient simulation
No
No
No
Yes
Can directionally steer trainer (left/right)
Yes (with compatible apps)
No
YES (WITH COMPATIBLE APPS)
Yes (with compatible apps)
Can rock side to side (significantly)
No
No
No
No
Can simulate road patterns/shaking (i.e. cobblestones)
No
No
Yes
No

Accuracy

Stages Bike (SB20)
Wattbike Atom V1
Tacx NEO Bike Smart
Wahoo KICKR Bike V1
Includes temperature compensation
Yes
Yes
N/A
Yes
Support rolldown procedure (for wheel based)
Cross-references power meter data
No
N/A
N/A
Supported accuracy level
+/- 1.5%
+/- 2%
+/- 1%
+/- 1%

Trainer Control

Stages Bike (SB20)
Wattbike Atom V1
Tacx NEO Bike Smart
Wahoo KICKR Bike V1
Allows 3rd party trainer control
Yes
Yes
Yes
Yes
Supports ANT+ FE-C (Trainer Control Standard)
Yes
Yes
Yes
Yes
Supports Bluetooth Smart FTMS (Trainer Control Standard)
YEs
Yes
Yes
Yes

Data Broadcast

Stages Bike (SB20)
Wattbike Atom V1
Tacx NEO Bike Smart
Wahoo KICKR Bike V1
Transmits power via ANT+
YEs
Yes
Yes
Yes (added Sept 30th, 2020)
Transmits power via Bluetooth Smart
YEs
Yes
Yes
Yes
Supports Multiple Concurrent Bluetooth connections
No, just one
Yes, 3 Concurrent
Transmits cadence data
Yes
Yes
Yes
Yes

Indoor Bike Features

Stages Bike (SB20)
Wattbike Atom V1
Tacx NEO Bike Smart
Wahoo KICKR Bike V1
Brake levers or buttons
Yes
No
Brake Levers
Yes
Shifting type
Buttons
Buttons
Button Based
Normal bike levers
Can customize shifting (Shimano/SRAM/Campagnolo)
Yes (not yet SRAM)
No
In future update
Yes (Shimano/SRAM/Campagnolo)
Can customize gearing
Yes
Mininimal
Yes
Yes (both cassette and chainrings)
Supported Crank Lengths
165/170/172.5/175mm
170mm
170/172.5/175mm
165/167.5/170/172.5/175mm
Display
No
No
Yes
Small display near top-tube
USB Ports
Two Ports (Fast Charging)
No
2 USB Ports (2AMP)
1 USB port

Purchase

Stages Bike (SB20)
Wattbike Atom V1
Tacx NEO Bike Smart
Wahoo KICKR Bike V1
Amazon
Link
Backcountry.com
Link
Link
Link
Link
Chain Reaction Cycles
Link
Link
Link
Link
Competitive Cyclist
Link
Link
Link
Link
REI
Link
Link
Link
Link
Wiggle
Link
Link
Link
Link

DCRainmaker

Stages Bike (SB20)
Wattbike Atom V1
Tacx NEO Bike Smart
Wahoo KICKR Bike V1
Review Link
Link
Link
Link
Link
Oh, and before you ask why I haven't included some products into the above – here's the quick and dirty answers:
Peloton Bike: It's not a 'smart' bike in the sense of the above, it doesn't allow you to set a specific power level (it does tell you the current power level). Rumors are Peloton is working on such a bike, but nothing today.
SRM Bike: This was also announced today, with full smart integration. I've got a chat with them in a few hours. Stay tuned!
True Kinetix Bike: This will likely be in the above chart by the end of the week. They're planning on shipping me a test unit in the next week or two, and I'll be meeting with them this afternoon. I just want to get a clear understanding of timelines and capabilities (specifically the ANT+/BLE bits) before I add them above).
VirtuPro: It could also get escalated into the above chart, I've talked about it in the past. But I need clarity on when they'll (actually) ship it with ANT+/BLE support, and realistic timelines to that. Else, it's a proprietary solution that doesn't really fit what the tables are designed for (the rest of the bikes here are compatible with all industry protocols).
Again, I'm more than happy to add products into the database. In general, my rule of thumb is I want hands-on time (or butts-on in this case), and I want some realistic level of clarity on delivery time frames.
Summary: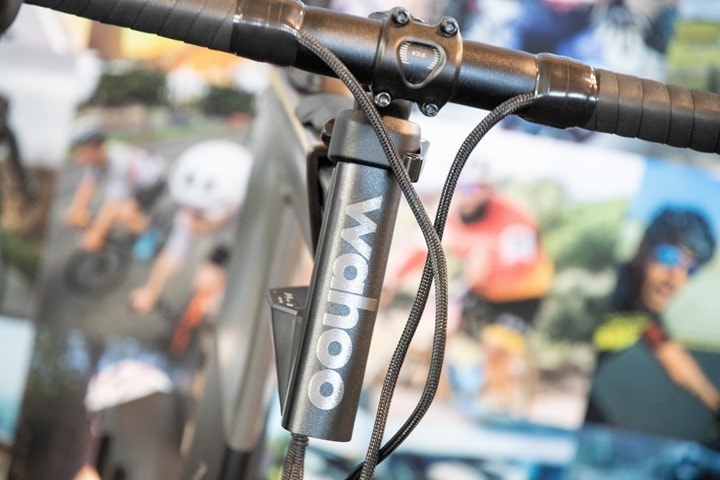 There's zero question this is an impressive piece of hardware…and software. The initial ride feel is great, and the crispiness of the system is one of the best. The fact that it mirrors my bike in any way I want it to – from the exact shifting setup to the chainrings, is huge. Of course, with that comes one heck of a price tag – the most expensive indoor consumer bike out there – $3,499USD.
Of course, the real challenge for Wahoo will be production. Not so much quality, but just throughput. They've set expectations early that there will be limited stock this year. Some units may actually squeak out to early order as soon as next week, but retailers are being told to expect limited supply in October – and continued limited supply the remainder of the year. Only certain geographies are getting supply at launch, with more locales to follow in 2020.
I'm keen to get it into the DCR Cave in the following days and put it through its paces from an accuracy standpoint. After all, this is totally new technology for Wahoo from the ground up. About the only thing that's carried over here from the previous generation units is the Wahoo logo. The electromagnetic resistance design, the actuator system for CLIMB, the shifting – everything is new. And as we know, new carries risk. Wahoo believes they've mitigated that risk with the largest program they've ever had of beta testers globally pounding on bikes for almost a year all-in. Time will tell whether that's the case.
With that – stay tuned for plenty more to come, and thanks for reading!

Found This Post Useful? Support The Site!
Hopefully you found this review useful. At the end of the day, I'm an athlete just like you looking for the most detail possible on a new purchase – so my review is written from the standpoint of how I used the device. The reviews generally take a lot of hours to put together, so it's a fair bit of work (and labor of love). As you probably noticed by looking below, I also take time to answer all the questions posted in the comments – and there's quite a bit of detail in there as well.
If you're shopping for the Wahoo KICKR Bike V1 or any other accessory items, please consider using the affiliate links below! As an Amazon Associate I earn from qualifying purchases. It doesn't cost you anything extra, but your purchases help support this website a lot. Even more, if you use Backcountry.com or Competitive Cyclist with coupon code DCRAINMAKER, first time users save 15% on applicable products! Or, with TPC (The Pro's Closet), you'll save $40 on purchases over $200 with coupon code DCRAIN40!
Here's a few other variants or sibling products that are worth considering:
And finally, here's a handy list of smart bike accessories that most folks getting a smart bike for the first time might not have already:
And of course – you can always sign-up to be a DCR Supporter! That gets you an ad-free DCR, access to the DCR Quarantine Corner video series packed with behind the scenes tidbits...and it also makes you awesome. And being awesome is what it's all about!
Thanks for reading! And as always, feel free to post comments or questions in the comments section below, I'll be happy to try and answer them as quickly as possible. And lastly, if you felt this review was useful – I always appreciate feedback in the comments below. Thanks!