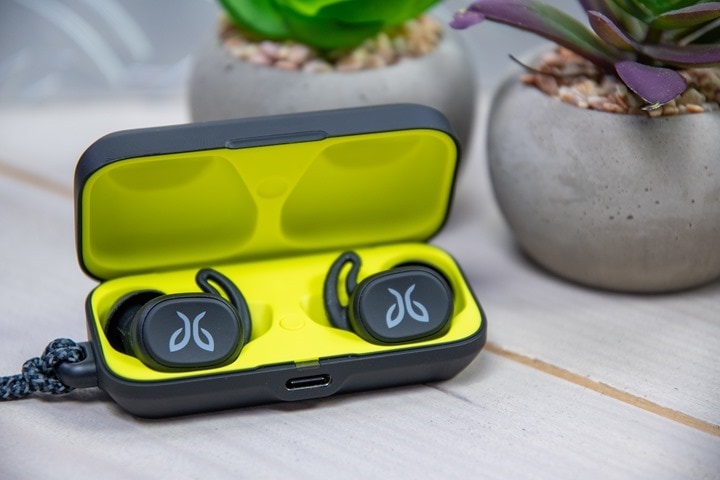 My relationship with music while working out is somewhat moody, and usually depends on how complex everything is to setup and maintain. Sure, pairing is usually easy – but up until really the last year or two, getting streaming services like Spotify or Apple Music on our wearables that we use in sports wasn't really possible. Instead, we were stuck with static music that we never bothered to update.
But that was only one part of the equation – the other was the earphones/earbuds. Sure, there's been Bluetooth headphones/buds around for a long time, but their compatibility with watches for music streaming had more drama than the Kardashians. You often had to figure out which side was the communications side of the headphones, and then wear the watch on the same side, in order to get a drop-free experience. And even then, for me simple things like walking during intervals with my hands at my side would cause drops on some watch/earphone combinations.
Over the last 6-12 months we've seen companies start to make progress on that though. For example, prior to that, Apple released their AirPods, which offered excellent connectivity…if you were on an Apple device. For 3rd parties? Mostly a mess with non-Apple watches. It was the perfect storm of two devices (tiny wireless earbuds & small watches) both engineering their communications stacks right to the limit to conserve precious battery. But over the last year we've seen the two sides of the equation improve things.
Through firmware and hardware updates from both parties, you'll now find pretty good success with AirPods on Garmin wearables for example (especially the latest gen watches and AirPods). But ultimately while AirPods make excellent all-around audio earbuds ($159), they kinda suck from a sports standpoint (not waterproofed, no custom fit option, can fall out easily, etc…). Which is why Apple-owned Beats came out with their equally wireless (but great for sports) PowerBeats Pro. But those will set you back $249.
Well as of today there's one more option on the ever-growing block of totally wireless sports earbud options: The Jaybird Vista totally wireless earbuds, which are designed specifically for sport. And unlike the previous Run and Run XT ones – they claim they won't suck connectivity wise. But how does that hold up in real-life? Fear not – I've got you covered. Oh, and they 'only' cost $179, in the same ballpark as the AirPods. So let's dig in.
(Usual note that these are media loaner units that'll go back to Jaybird once I wrap up a review, and I'll go out and get my own through normal retail channels. This isn't sponsored or any of that messy jazz. Also note that I've purchased my own AirPods and PowerBeats Pro as well as all the other headphones I have – from $25 Anker ones that work great to older pre-Apple Beats ones (roughly like this), to Bragi Dash units. I recognize there are nearly a dozen options on the market today, and I'm unlikely to review all of them – instead, focusing on the sports element, primarily with wearables.)
What's New: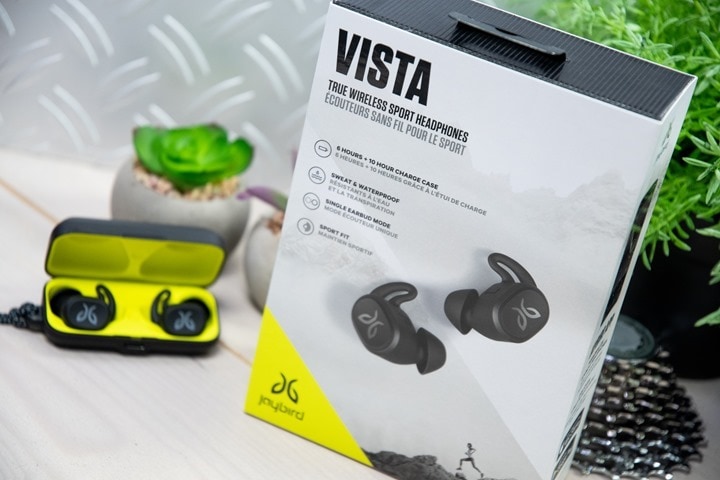 The Vista is not Jaybird's first wireless earbuds set, the company had not only the previous Run and Run XT units in that configuration – but also a long slate of other wireless (but wired together) products. However, the biggest challenge people had with the Run & Run XT is that connectivity basically sucked. Dropouts were the norm, especially for fringe connectivity (which is common in wearables).
But with Vista, the Logitech owned company has taken a different direction in terms of the communications chipset. They worked with two outside companies to develop a new chipset (dubbed the JBS1) that they say should eliminate those drops. But it also includes a different architecture than in the past, one that more closely resembles what Apple and others are doing. Rather than have one earbud function as the master and then relay audio to the secondary earbud (which is prone to failures), the company pairs to whichever earbud has the strongest signal at that time, and then the secondary earbud effectively 'eavesdrops' (super-simplification) on the audio from the phone/watch/etc. Thus ultimately acting like a failover paradigm.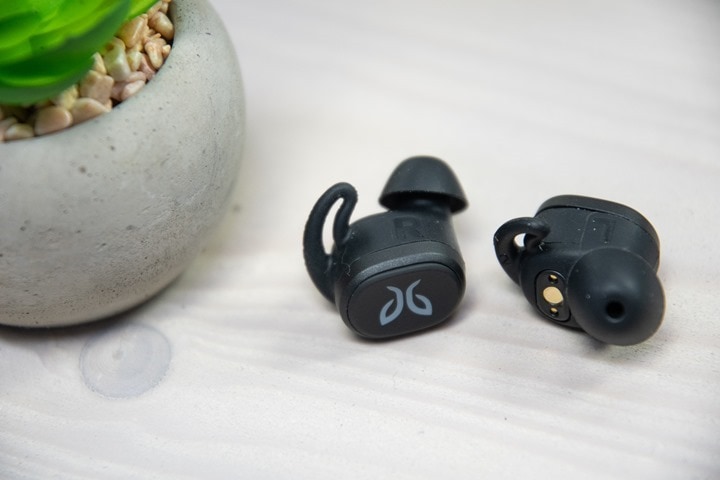 What makes this scheme slightly more interesting in a workout scenario is using a single bud. For example some people might want to cycle with the earbuds, but don't want it blocking out all the outside sounds (which it will do). So they can use either of the two buds. So you could run/ride with just the left one in, or just the right one in. Doesn't matter which one you choose (a difference from past products). I tried it out on today's run, alternating between the two (it doesn't have any ear-detection in the unit today).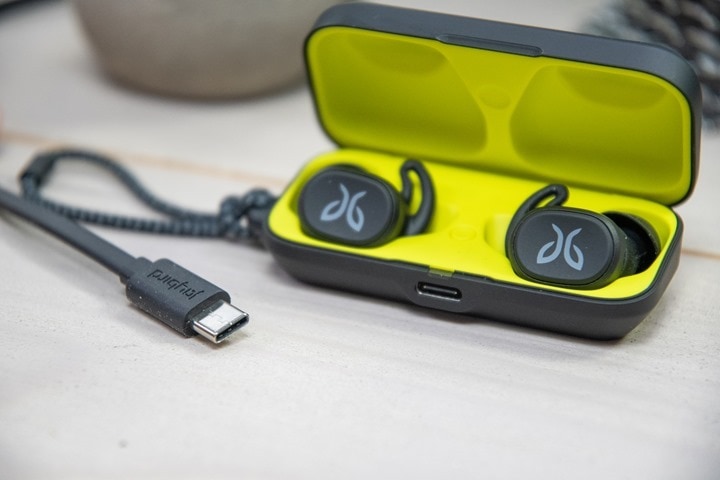 Though in some ways we're getting ahead of ourselves here. We should probably back all the way up to the case. Like most wireless buds, it includes a charging case. The case has a built-in battery that can provide 10 hours of charge. The earbuds themselves can hold 6 hours of charge. The whole gamut is charged via glorious USB-C cable.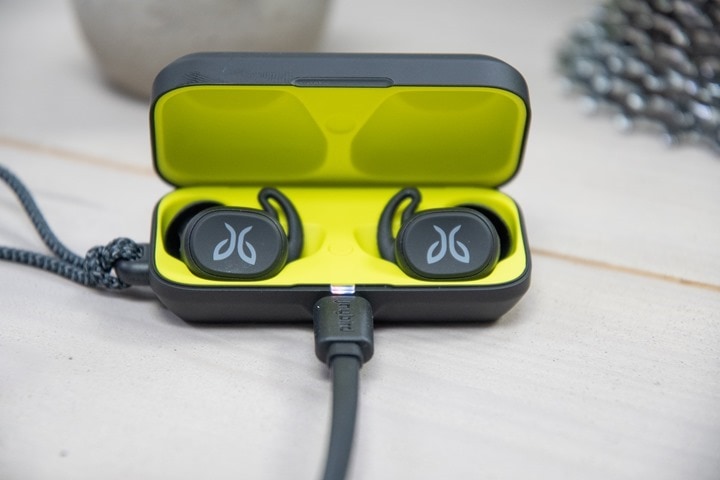 A 5 minute quick charge of the buds will provide 1hr of listening time. Meanwhile, to charge the entire case and buds from 0% up to full will take about 2.5-3 hours. Also, the case has magnets on it to snap it closed and also pull the buds into their little homes quick and efficiently.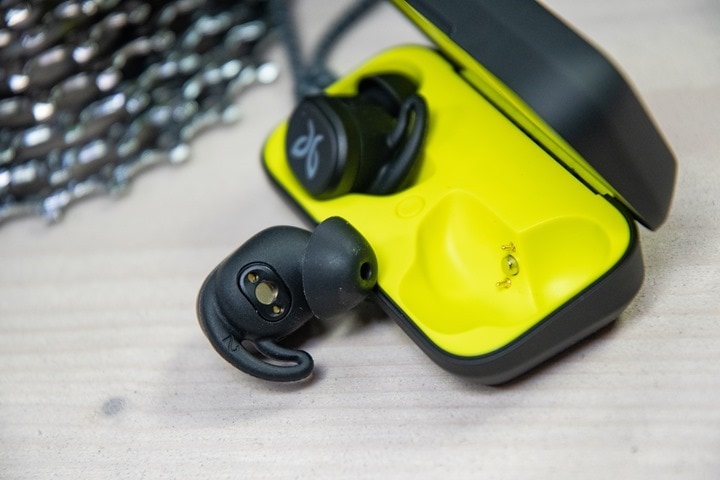 To pair Vista with your device of choice (any Bluetooth compatible audio device), simply put the buds in the charging case and briefly hold the button on the case. This will start the pairing process.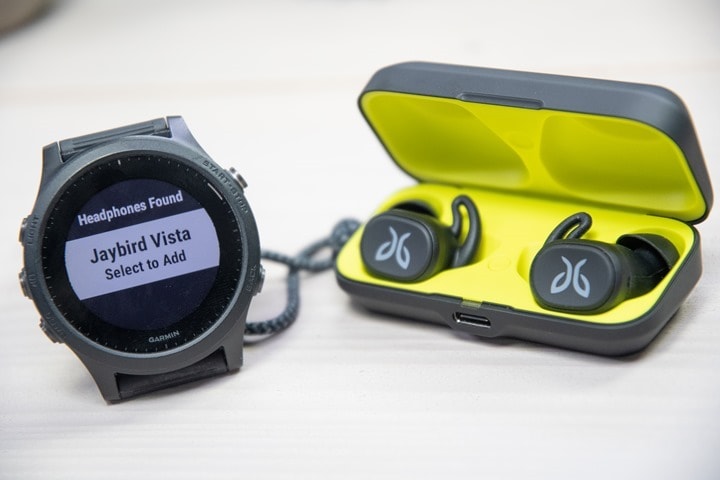 The buds can remember/store up to 8 device connections. So for example thus far today I've paired them to my phone, my Forerunner 945, a MARQ Athlete, and an Apple Watch Series 4.  I could then pair them to another four devices before someone gets kicked off the island. It's only able to maintain a single concurrent connection for audio playback though (meaning both a phone and watch can't concurrently play back to Vista at the same time, which makes sense).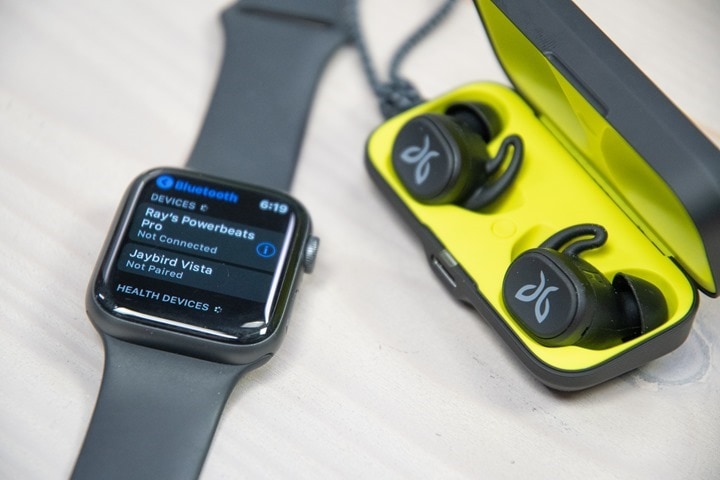 In addition on the phone side you've got Jaybird's app. This app doesn't require any sort of login (though, you can create one if you want), and allows you to customize the levels on the Jaybird Vista.  You can create totally custom levels, or you can choose from a gazillion presets (both created by them and by random internet peoples).  And you can also have it track the last known location of the earbuds, in the event you lose them – assuming your phone was nearby when it happened
The app also allows you to customize the actions of the button on each side. Both buttons act identically (less things to remember), and you've got two options: Single tap, double tap. By default a single-tap will pause/play, whereas a double-tap will advance the track.
But if using your phone with the app somewhere in the background you can do things like have a double-tap open up a specific playlist. The button on the earbuds is simply the entire side where the logo is.
Now in my testing the tapping (of any sort) didn't work with a Garmin watch playing music. So it didn't pause/skip/etc. There's also no volume changing on it, though you can change volume (and tracks/etc) via the Garmin watch itself.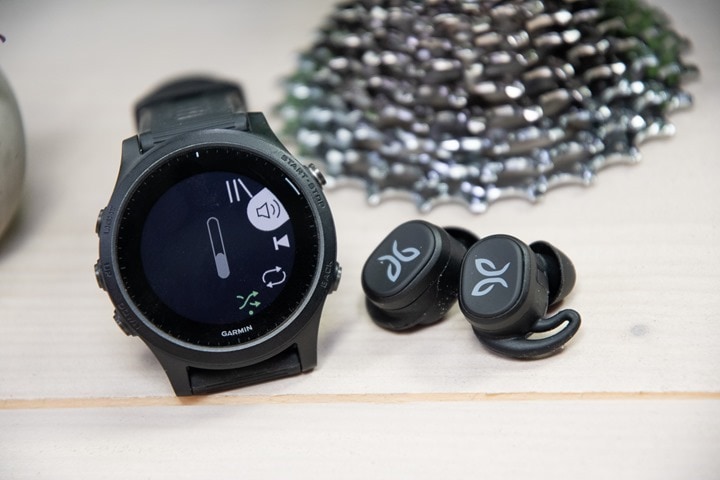 Next on the features front note that both sides do have mics in them. This goes back to the concept of being able to use either bud independently. But those mics can also access Siri or Google Assistant (depending on your phone), or just talk if connected to your phone. Again, both of those actions require a phone, just like they do on Apple products.
Inside the packaging you'll find two extra sets of differently sized tips, in case the default tips are too big/small. These easily pull off and attach to the buds: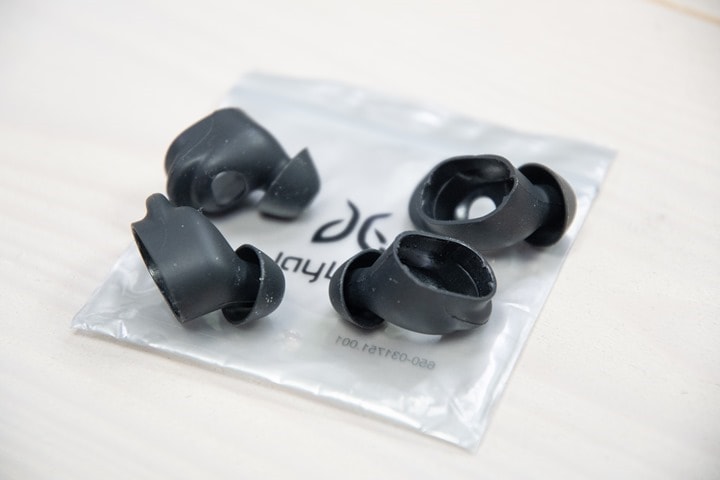 There isn't any spot in the charging case of the extra tips, so just put them somewhere safe (which you'll invariably never remember 3 months from now).
Last but not least the company noted they made some significant waterproofing changes. In the past they've nanocoated the device, which is a technique most sports/wearables companies use to try and waterproof components internally in the event water gets in. The most famous example I can remember in the sports tech world was the original Fly6, where I could fill the inside of the unit with water and it kept working for a while. Once drying it, it was perfectly fine again. Rinse/repeat…literally.
But nanocoating isn't perfect, especially when sweat is involved – which sorta acts like sea water – rarely good applied to anything except fish. So with Vista the company has internally sealed all of the electronics in a hard encapsulated single shell, which they say completely removes any chance of any liquid coming into contact with it. But more on my brief testing on that in a minute.
First Run Test:
After getting everything all setup it was time for my first test run this morning. With the Netherlands having beautiful sunny weather for weeks (ok, miserably hot, but at least sunny), I was all set for an enjoyable loop around Amsterdam.
And then I started running. And it poured out. And then it poured harder. And then it added one bucket of water atop that for good measure. Water water everywhere.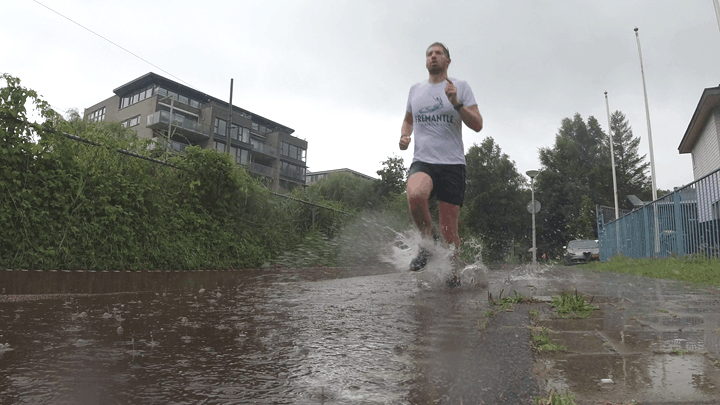 Well, at least I can confirm they aren't dead yet. Of course, typically speaking waterproofing device fails take much longer to manifest themselves – often days or weeks (or longer). So it's something I'll be on the lookout for.
As for the music itself, I was using the Garmin Forerunner 945 to play back Spotify to the Vista. I had paired it prior to heading out, super quick and easy. Then during the run I simply opened up the music selector on the FR945 and hit play. Off I went running.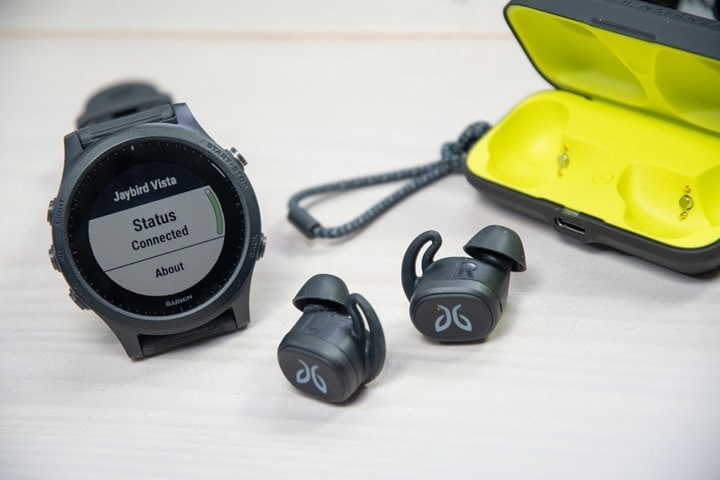 At first I used both pods, and during that time period things sounded good. Vista will totally remove any non-severe outside noise – so you won't hear anything else, short of that bus honking at you the split second before it runs you over. Thus, you'll want to pay attention accordingly. It also means you can't talk to anyone else while running.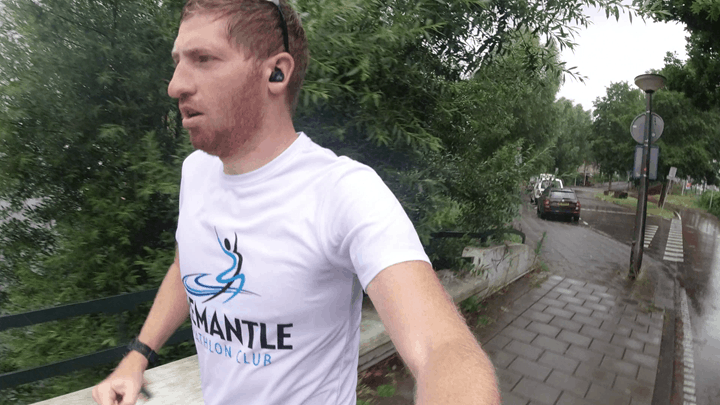 But since I was running with another person, I then tried out the single-sided option. First I started with my left side out (and right still in). The FR945 kept streaming to that, no issues at all. Since the Vista doesn't have ear detection, it doesn't stop playback when removed from your ears (like the AirPods or PowerBeats Pro would, though you can turn that off on those if you want to).
After a bit of time I then switched again, this time to my right ear free and the single Vista bud in my left ear. No issues there either. It just works fine. Volume levels were good as well, though I don't like my volume crazy loud or anything.
After my first run I then went out for a bit of a second run too – again with more dual-bud time. No issues there.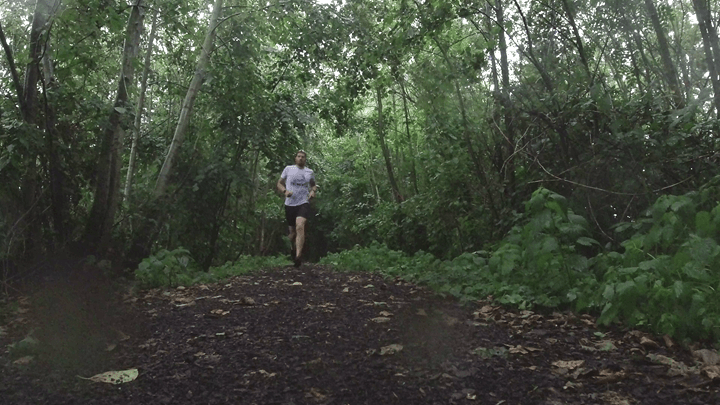 Now interestingly – I had zero drops/quirks during my run, but sitting here this afternoon writing this I've seen a few quirks. I've been playing back the music from the Garmin Forerunner 945 initially (unless after numerous hours of that streaming the battery died), and then I switched over to the Garmin MARQ. Generally speaking, things are good. But I do notice a small quirk every few minutes where there's a split second of distortion, almost how I'd imagine if it was handing off the 'master' between the two buds, or a buffering catch-up. There's no actual drop, just the audio levels feel like they hit a speed bump, go a bit soft on one side, and then normalize between the two buds – all within perhaps 1/4th of a second.
I then iterated through a slew of combinations over the next hour: FR945+Vista, MARQ+Vista, iPhone+Vista, iPhone+PowerBeats Pro, iPhone+AirPods, and MARQ+PowerBeats Pro. Even changing spots in the studio/office. Wondering if perhaps there's some sort of WiFi interference (since I never saw it outside, including doing a bunch of photo work later on). I then went outside and sat and worked at the picnic table. Zero issues.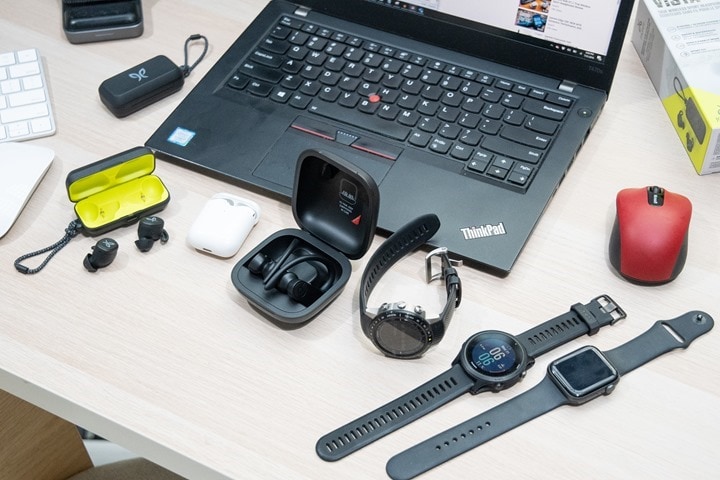 And what I found on this singular Wednesday was that for a purely Apple to Apple connection (iPhone to PowerBeats Pro or AirPods) there was never any dip/quirk. However, as I strayed further from that, the quirks increased in intensity. For example, MARQ to PowerBeats there was the tiniest of imperfections at roughly the same frequency as the more noticeable Jaybird Vista + anything combination. My suspicion is there's something in the environment here on this given day that's causing imperfections that are handled better on a pure Apple ecosystem (yet other days I've had no issues). It's well known that Apple does incredible things with audio resiliency of AirPods/PowerBeats Pro and their own products, things that 3rd parties can't take advantage of, even when streaming to the AirPods/PowerBeats Pro. And this sorta shows that.
I brought up the issue with Jaybird, they started digging into it and have a few more tests I can do tomorrow in a single-pod configuration. Though ultimately I expect the answer will simply be that interference happens to be a fact of life.
Product Comparison: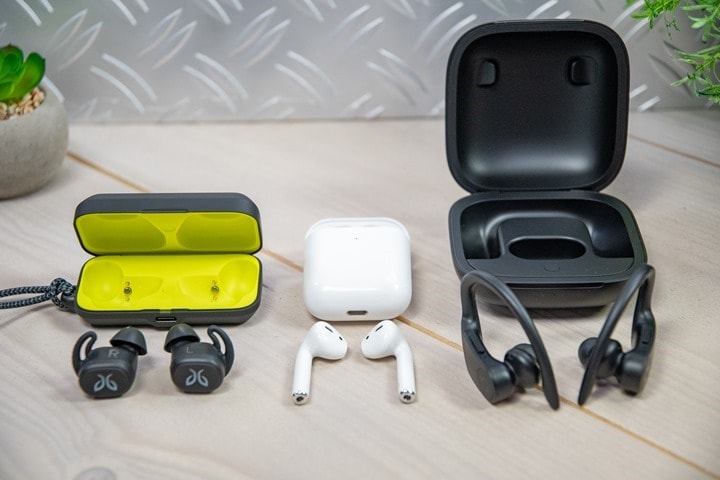 As I said at the start, I don't have every wireless earbud solution on the market. My 'Noah's Arc' philosophy currently only extends to watches, trainers, power meters, drones, and action cameras. Ok, I guess also bike computers, heart rate straps, and cycling sensors. So this isn't inclusive of everything out there.
Instead, it's inclusive of the three things sitting on my desk today that I have used: Apple AirPods, Jaybird Vista, and (Apple's) Beats PowerBeats Pro. Thus, that's the comparison for now. I'd caveat that while the AirPods are great for day to day use, I find they can easily fall out of my ears while running with a single errant sweat removal swipe. And depending on the situation you might not even realize it till it's too late (such as in the middle of a busy city).
I've got no issues with the PowerBeat Pro or Jaybird Vista units falling out – they're definitely in the ears for the long game. The PowerBeats Pro are obviously bigger than the Jaybird Vista, with a design that wraps around the ear. But I don't find the Jaybird Vista any less secure. I can shake my head like a crazy person and they stay in rock solid.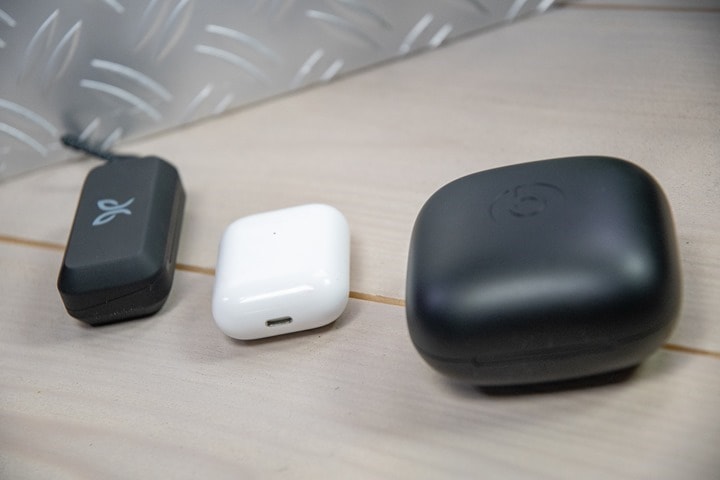 As far as quality goes, I find the overall quality of the Jaybird Vista better than that of the Apple AirPods (I have the V2, latest gen variant). The sound is crisper, louder, and of course it removes all outside noise easily. There's really no comparison there (despite being the same price – $179). On the flip side, I find the music clarity on the far more expensive PowerBeats Pro ($249) above that of the Jaybird Vista. Not massively, but certainly noticeable when you wear them back to back. But one would be hard pressed to actually notice that out on a run gasping for breath doing hard intervals or such.
Which is ultimately a factor one has to remember here: The main point here (for me anyways) is sports, not sitting back on a lounger on a quiet Sunday morning listening to soft jazz music. In my mind, I see those as pretty different use cases. But maybe that's just me.
In any case, here's a quick run-down of the key specs between the two:
Function/Feature

Jaybird Vista

Beats PowerBeats Pro

Apple Airpods (2nd Gen)

Copyright DC Rainmaker - Updated November 25th, 2022 @ 2:11 pm New Window
Price
$179
$249
$159
Availability
July 31st, 2019 - Global
Global
Global
Weight (per pod)
6g each
20g each
4g each
Waterproofing Spec
IPX7
Sweat/Water 'Resistant'
None

Fit

Jaybird Vista

Beats PowerBeats Pro

Apple Airpods (2nd Gen)

Adjustable/swappable ear tips
Yes (comes with three options)
Yes (comes with four options)
No

Battery

Jaybird Vista

Beats PowerBeats Pro

Apple Airpods (2nd Gen)

Playback Time
6 hours
9 hours
5 hours
Fast charge option
5 minutes = 1 hour playback
15 mins = 1.5 hours playback
15 mins = 3 hours playback
Charging Case Battery Life
16 hours
24 hours
24 hours

Charging Case

Jaybird Vista

Beats PowerBeats Pro

Apple Airpods (2nd Gen)

Port/Cable type
USB-C
Apple Lightning
Apple Lightning
Fits in pocket
Yes (has lanyard too)
Not really
Yes

General

Jaybird Vista

Beats PowerBeats Pro

Apple Airpods (2nd Gen)

Transparency Mode (configurable)
No (always blocking)
No (always blocking)
No (always pass-through)

Connectivity

Jaybird Vista

Beats PowerBeats Pro

Apple Airpods (2nd Gen)

Supports phone calls
Yes
Yes
Yes
Mics on both sides
Yes
YEs
YEs
Can operate individually (one-side only)
Yes
Yes
Yes
Auto-pause if removed from ear
No
Yes (with Apple hardware)
Yes (with Apple hardware)

App

Jaybird Vista

Beats PowerBeats Pro

Apple Airpods (2nd Gen)

Voice assistance support
Siri/Google Assistance (with phone)
Siri
Siri
Ability to customize EQ
Yes
Limited
Limited
Ability to customize functions
Yes
No
No
Last known location
Yes with phone
Yes with phone
Yes with phone

Purchase

Jaybird Vista

Beats PowerBeats Pro

Apple Airpods (2nd Gen)

Amazon
Link
Link
Link
Backcountry.com
Link
Link
Link
Chain Reaction Cycles
Link
Link
Link
Competitive Cyclist
Link
Link
Link
REI
Link
Link
Link
Wiggle
Link
Link
Link

DCRainmaker

Jaybird Vista

Beats PowerBeats Pro

Apple Airpods (2nd Gen)

Review Link
Link
Got it? Good, let's wrap this puppy up.
Summary: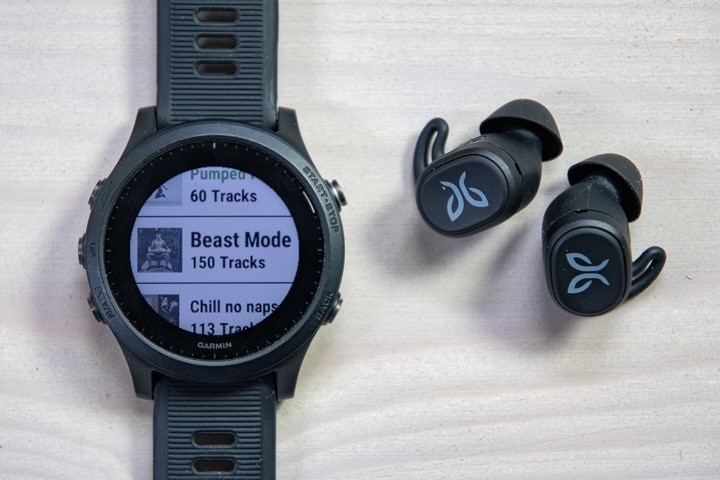 Jaybird seems to have nailed the price to value prop ratio perfectly with the Vista buds. They're a far better sport-specific solution than Apple's AirPods, but save you some $70 compared to the much pricier (and sport-specific) PowerBeats Pro. For the vast majority of people, I don't think you'd notice the difference between the PowerBeats Pro and Jaybird Vista unless you wore them back to back and did so inside. Add any form of workout element, or outdoors and the differences go away. The sound quality is great for me in those scenarios, and the noise isolation follows through with killing anything except the bus or errant tram of death.
While I did run into some sort of quirk inside the office, it's definitely limited to that specific environment. Perhaps it's my multi-node Google WiFi, or maybe the crazy beer guy's next door. While a variant of that same quirk was also barely noticeable in a PowerBeats Pro + Garmin combination, a purely native Apple/Apple combination didn't yield any blips. But again – absolutely zero issues outdoors for me. Whether or not you'd see the same issue in your home/office/gym/Walmart is really anyone's guess. In talking with Des of DesFit (and having him iterate through a bunch of tests as well with me this afternoon), he hasn't been able to reproduce it. Basically, it's just a me issue.
For the units that I've tried that are totally wireless between earbuds, I think this strikes the best balance between price and functionality. And that's before you look into aspects like some of the app-based EQ or function customizations that others don't offer. Overall, not too shabby.
With that – thanks for reading!
Found This Post Useful? Support The Site!
Hopefully you found this review useful. At the end of the day, I'm an athlete just like you looking for the most detail possible on a new purchase – so my review is written from the standpoint of how I used the device. The reviews generally take a lot of hours to put together, so it's a fair bit of work (and labor of love). As you probably noticed by looking below, I also take time to answer all the questions posted in the comments – and there's quite a bit of detail in there as well.
If you're shopping for the Jaybird Vista or any other accessory items, please consider using the affiliate links below! As an Amazon Associate I earn from qualifying purchases. It doesn't cost you anything extra, but your purchases help support this website a lot. Even more, if you use Backcountry.com or Competitive Cyclist with coupon code DCRAINMAKER, first time users save 15% on applicable products! Or, with TPC (The Pro's Closet), you'll save $40 on purchases over $200 with coupon code DCRAIN40!
And of course – you can always sign-up to be a DCR Supporter! That gets you an ad-free DCR, access to the DCR Quarantine Corner video series packed with behind the scenes tidbits...and it also makes you awesome. And being awesome is what it's all about!
Thanks for reading! And as always, feel free to post comments or questions in the comments section below, I'll be happy to try and answer them as quickly as possible. And lastly, if you felt this review was useful – I always appreciate feedback in the comments below. Thanks!