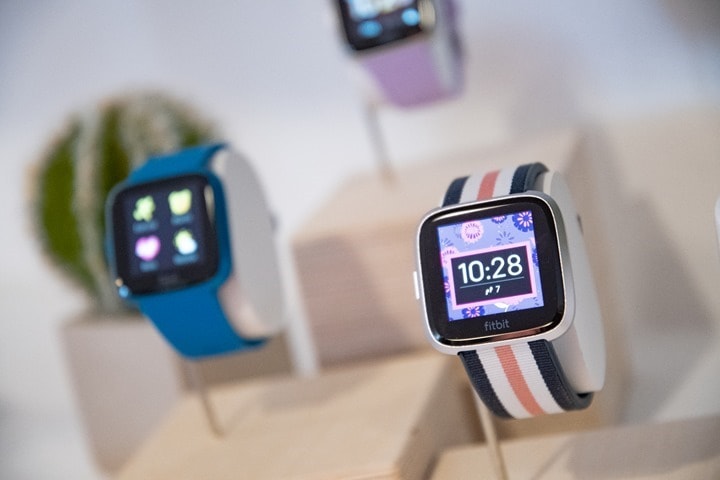 Today Fitbit launched their least expensive smartwatch to date – the Fitbit Versa Lite. This newish watch essentially takes the existing Fitbit Versa smartwatch and removes the music playback, along with a handful of smaller features like stair counting (and two of the three buttons). In doing so they've dropped the price from $199 down to $159.  The company also launched the Inspire & Inspire HR activity trackers ($69/$99) to replace a slew of existing trackers including the Fitbit Zip, Alta, and Alta HR. And finally, they announced their 2nd generation kids activity tracker – the ACE2. I've got a separate post coming up very shortly on those. Hang tight!
But this post is all about the Fitbit Versa Lite, so we'll stick to the details on that, and there's no better way to do that then diving into how exactly it differs from its older and more capable sibling, the Versa. And, perhaps no better way than a simple video detailing it all:
Oh – and before we go too far, note that this is not a review. This is just a dive into all the details of things. For a full in-depth review, check back…in a while. Once I've had time to figure out the full good/bad/ugly after some weeks or so.
What's different: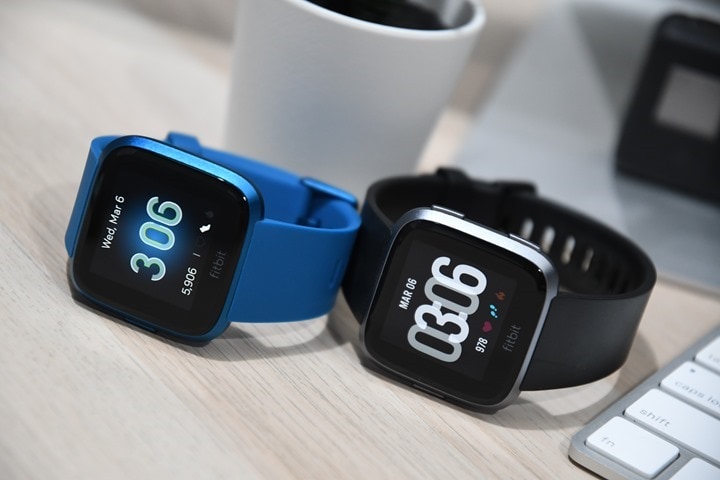 The Versa Lite (above in blue) retains the vast majority of the features of the full Versa (above in black), including the touch screen and the ability to install/download 3rd party apps on it.  It also retains core features like activity tracking, the optical heart rate sensor, female health tracking, sleep tracking, smartphone notifications, and even Fitbit's 'connected GPS' capabilities.
Still, there are a handful of features that were removed from the full Versa to cut the price down on the Versa Lite.  They are as follows:
– Stairs/Floor Tracking removed (the barometric altimeter was removed)
– Swim Lap Counting removed (it's still waterproof though)
– Music storage/streaming capabilities removed (but it can still control music on your phone)
– WiFi removed (given it was used primarily for music transfer)
– On-screen structured workouts removed
– Fitbit Pay not available (it was only on the even more expensive Fitbit Versa Special Edition)
– Two buttons removed (because one-button is the cool kids club)
And that's it in a nutshell.
To recap, all of the following features are still there. In fact, Fitbit has a fancy little slide deck that shows this outlined with plenty of dots to keep everyone clear on all the nuances.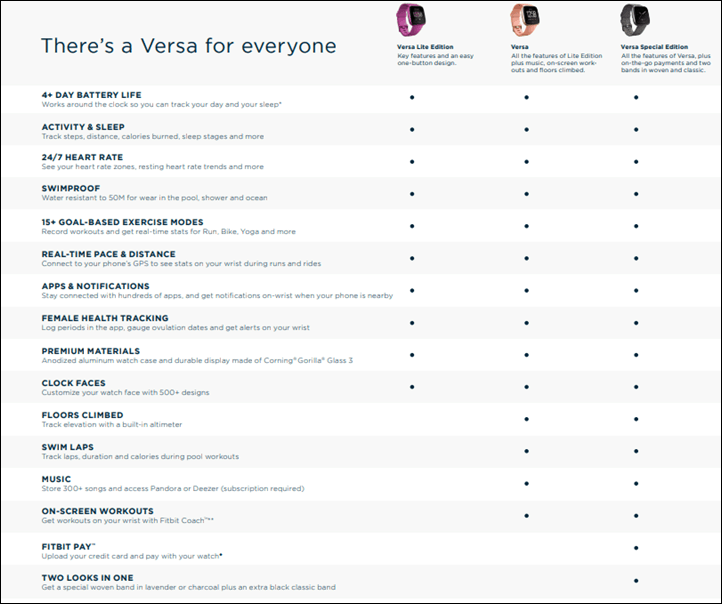 In talking with Fitbit, there's a few other minor technical things that are notable:
– The removal of the buttons may impact some apps that might have assumed the buttons would be there. Remember that up until now, the FitbitOS (loosely built atop the Pebble OS learnings), only supported the Fitbit Versa and Fitbit Ionic. With the Versa being a slimmed down Ionic, it retained the three physical button layout (plus the touch screen). With that gone, I suspect we might see a few bumps in the road on apps.  Though frankly, despite having some 500+ apps in the Fitbit store, many of them are kinda shruggable.
– The optical HR sensor remains exactly the same as before. This means you'll get the same performance as you saw with the Fitbit Versa (it was OK), but more importantly you'll get their SPO2 readings. Whereas the lower end Fitbit Inspire/Inspire HR doesn't get the SPO2 readings.
– Like the Versa there's no built-in GPS, it still leverages your phone. The only product in Fitbit's current lineup that has onboard GPS is the Fitbit Ionic (prior to that there was the Fitbit Surge). Note that for running/walking activities you don't need your phone to get distance/pace though, it'll do that using the accelerometer. However, if you want a GPS track (such as to upload to Strava), then you'll need your phone within Bluetooth range.
And finally, on the straps side of the house – all straps remain completely compatible between all Versa units. So if you find an accessory Fitbit Versa strap from a higher end unit that you like, you can slap it on the Versa Lite as well. Fitbit also introduced a pile of new woven ones and other swankier bands, plus a slate of colored silicon straps.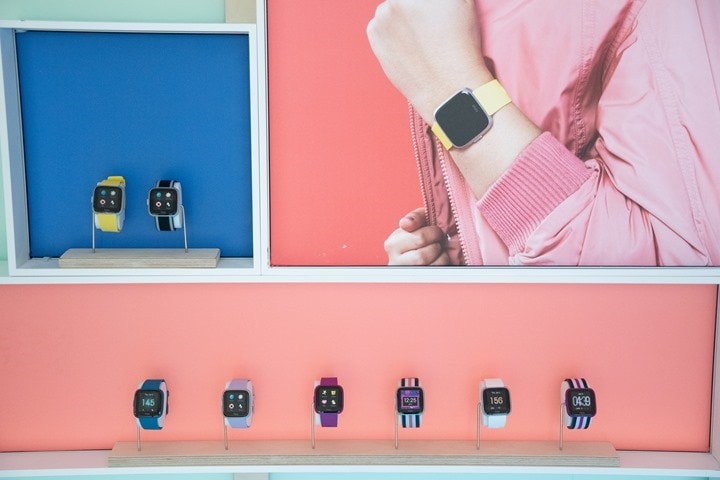 So now that we've covered what's different – let's step back a bit and just talk about the basics of the device itself.
Hands-on Overview: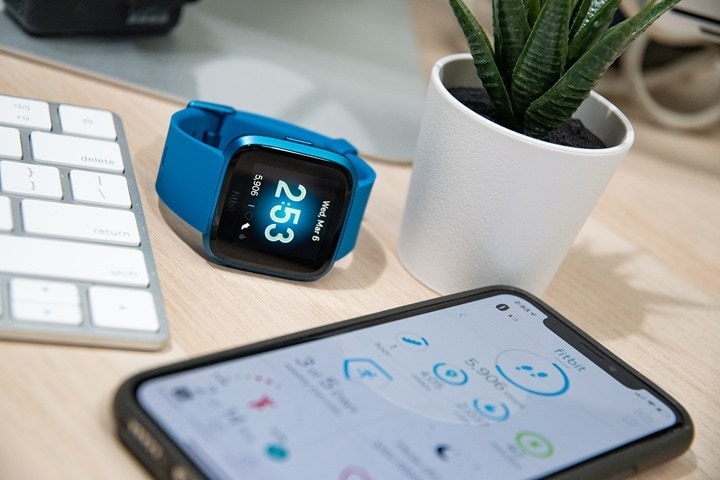 Starting off with the box, the unit comes in a variety of base colors, but more importantly it comes with both a large and small strap. You'll find the small strap already affixed to the watch, and then the larger strap sitting in the box. It uses the same USB charger as the original Versa did (in all its non-standard oversized ugliness). Three's also a quick start guide in there as well.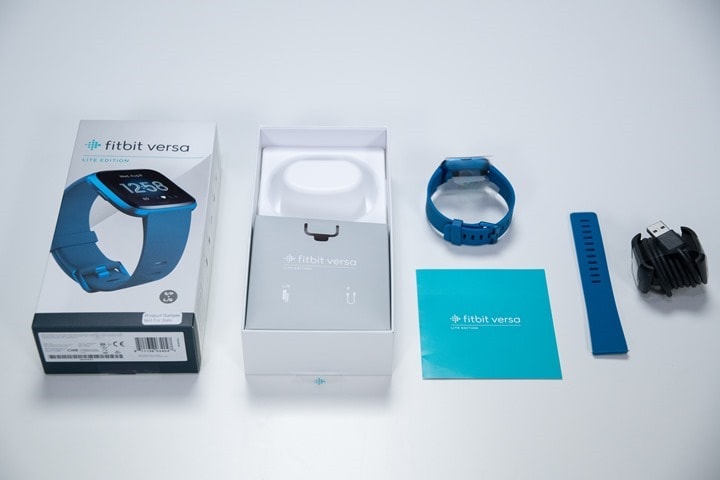 Starting off at the basics, you've got your touch screen, which is an always-off display unless you raise your wrist or tap it. You can however set it to be always-on during workout modes, though it will impact battery.  On the left side you'll find a single button, which acts like a 'back' button.
You can swipe from the right to access apps, including the exercise app, breathing app, and timer/alarm apps. This is also where you'll find settings too:
Meanwhile, if you swipe up from the bottom you'll get a look at today's stats, including metrics like steps, distance, and calories.
You'll also get your current heart rate and resting heart rate, as well as sleep metrics.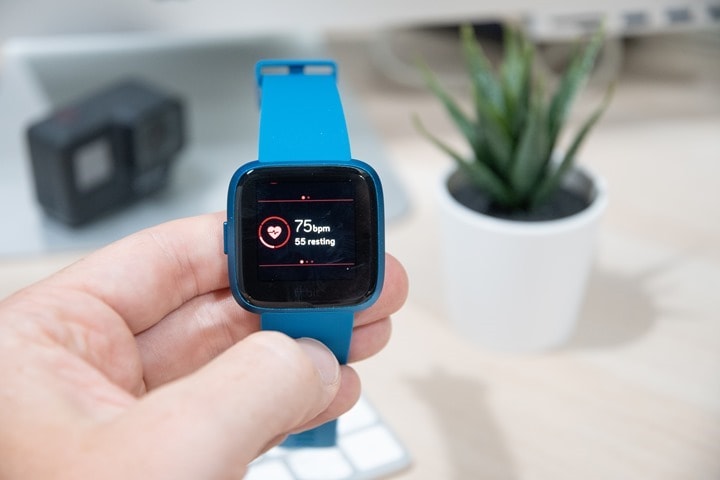 Meanwhile, if you swipe down from the top you'll get any smartphone notifications that you've configured.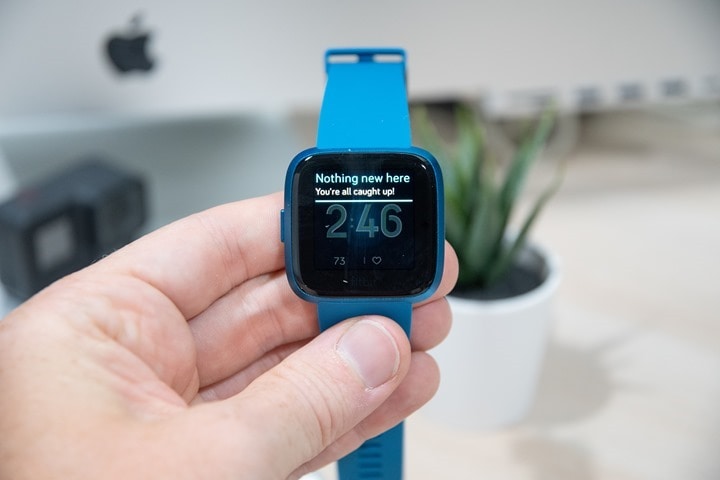 These are configured within the Fitbit smartphone app, and by default allow texts/calls/calendar notifications. But for other apps you'll need to enable them using a separate settings page.
Speaking of the smartphone app, this is where you'll download apps and configure the watch faces:
While there are a number of apps, they generally still seem fairly limited compared to the Apple Watch. Take for example the Nest app, it just controls the thermostat, whereas the Nest app on the Apple Watch also shows you your Nest Cam's at a quick glance, including a simple shot when motion is detected. Meanwhile, the NYT app only shows a couple lines of the article, barely more than a typical smartphone notification would show.
For workout shortcuts, you can add those within the app as well, though only up to a maximum of 7 shortcuts, after which you'll need to give something the boot to make room for it:
The watch will constantly sync your stats in the background to your phone, though you could turn that off if you want to save a tiny bit of battery (it's so small it really doesn't matter). Meanwhile, the dashboard will show your current activity stats for the day, including steps, distance, calories, and active minutes:
You can tap into any of the given categories to get more reports about it, including trending over time.  None of this has changed from past Fitbit products, though Fitbit will be shortly rolling out some user interface tweaks to the Fitbit companion app that surfaces forward a bit more of the social elements.
First Run Test: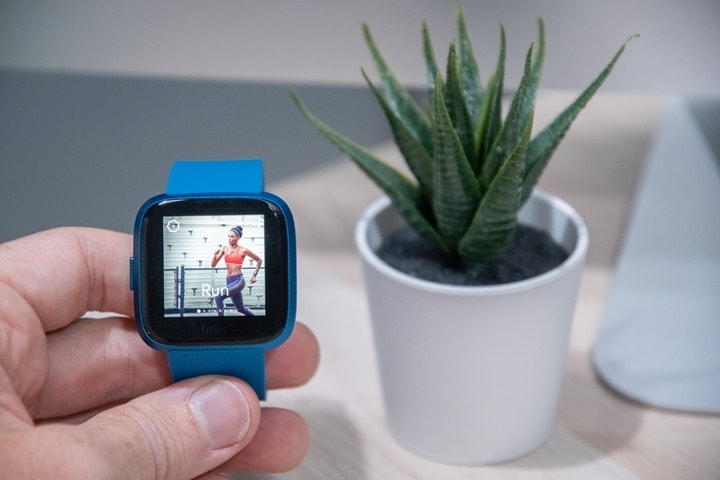 While not everyone that picks up the Versa Lite will be using it for workouts, there's a reasonably good chance that at some point you will. So a few hours ago I went out for a quick 5KM run with it. I'd typically go longer, but I just stepped off a transatlantic redeye flight this morning and…well…it's gonna be a long day. Also, it's raining cold water sideways again. So yeah.
First up is starting the run. To do so you'll swipe over to the Exercise option and then select Run (seen above). Note that this is pretty much the same across all of the sports on the Fitbit Versa series. After selecting a sport you can configure options within the run. For example, you can choose which data fields will be shown by default, and which fields will enumerate when you press the button.
You can also change automatic lap settings here. In my case I changed it to automatically lap every mile. Additionally, I validated that 'Connected GPS' was on, so that it would use my phone for GPS, thus allowing me to see a track afterwards.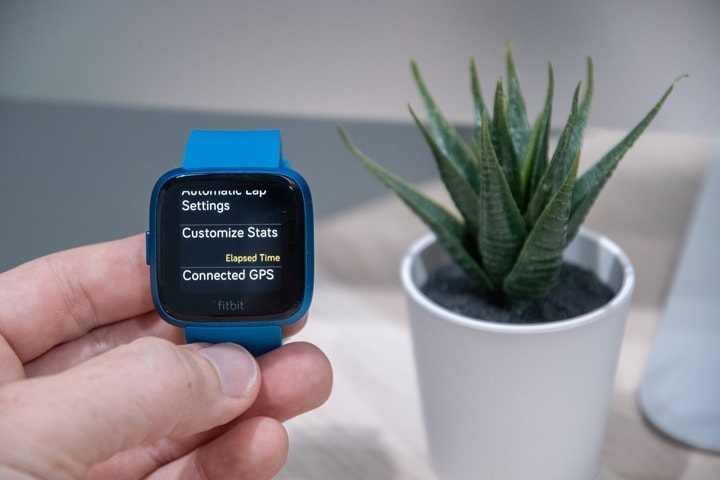 There's no option to connect to any sensors (be it HR straps or cycling sensors).
At that point you'll head back to the main run screen and wait for it to connect to your phone and get the GPS signal. Once done, go ahead and tap that play button to start the workout. That said, I've never understood why Fitbit shows 'Let's Go!', when it's clearly not ready to go.
At this point the unit is now recording the workout and you can go about your business, which in my case was running. You can tap the screen, or the button, to iterate through the display fields that you've setup.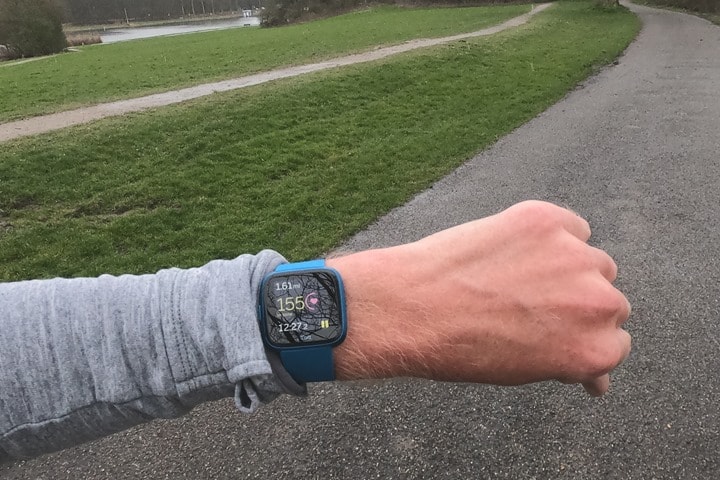 Additionally, if you've configured automatic laps you'll get lap alerts each time you hit the threshold you've setup.  And if you've setup a specific threshold, you'll see stats related to that as well.  The touchscreen meanwhile seems to work just fine in the rain – I didn't have any problems with today's run there.
Once at the conclusion of your run you'll get summary stats that you can glance at, including the individual lap times and totals like distance, average pace, and calories.
All of this is then transmitted to your smartphone via Bluetooth and then available within the Fitbit app. Additionally, it'll forward the data on to partners like Strava, if you've set those up: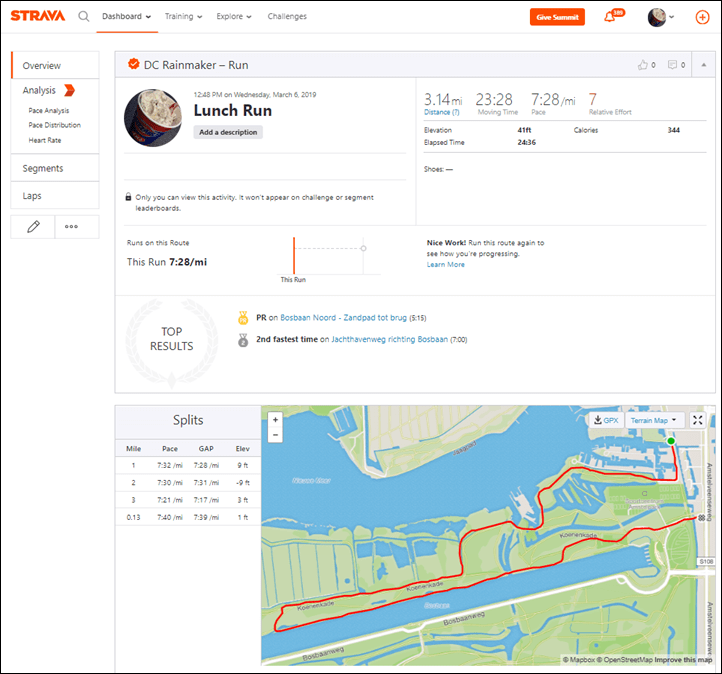 And you can see my run here on Strava as well.
From a HR accuracy standpoint, things actually looked reasonably good this time when I tossed it into the DCR Analyzer. We saw a bit of a fumble in the first 45 seconds on the heart rate, but it recovered super quick and it was good to go for a while. And frankly it's pretty common to see HR sensors of all types stumble in the first 1-2 minutes.

Then there was one more oddity for a few seconds around the 7:20ish marker, but that's it. Not sure what happened there. This was compared against a Garmin chest strap and the Apple Watch Series 4 optical HR sensor. I did do a bit of a sprint towards the end, and it tracked well there.
From a GPS standpoint it's going to use the iPhone's GPS, and in fact – so would have the Apple Watch since it'll always use your iPhone when in range. So it's really only compared against the Garmin Forerunner 935 here. But no matter, all of the units tracked the same. Despite using the iPhone GPS, one should remember that apps can still do good (or bad) things to the GPS tracks, and everything looks pretty clean here.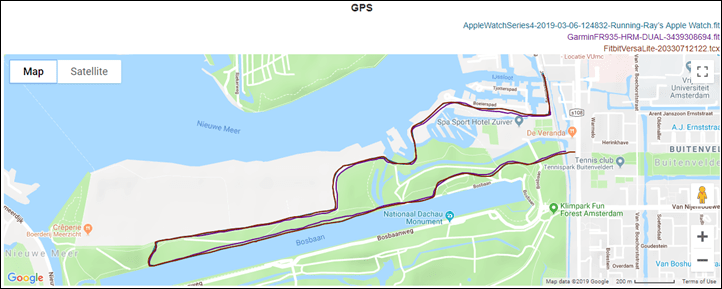 Again – from a first quick 5KM run standpoint, things seem pretty good.
Product Comparison:
I've added the Fitbit Versa Lite into the product comparison database, allowing you to mix and match it against any products I've reviewed or had appreciable hands-on time with.  You can hit it up and make your own product comparison charts here with ease.
For the purposes of this chart, I've compared it against the previous Fitbit Versa. But at that point it gets a bit tricky as to who to compare it against, to be honest. Typically I aim for things in the same price bucket, but in this case – there's actually not much there yet. Garmin's lowest priced apps-capable offering is the Vivoactive 3, which sits some $80 higher at $249. The Apple Watch Series Series 3 does also frequently slip down into the $199 price bucket here and there on sale too. But that's not an everyday price. Then there's the just-announced Samsung Galaxy Active at $199, but that isn't available yet either (fear not, I've ordered one).
The Samsung Galaxy Active is probably the best comparison point, especially since it does include GPS (and music no less), but I'll have to wait until my unit comes in to get hands-on time and get it into the database.
Until then, I've gone with the below lineup as a starting point, but will update this over time:
Function/Feature

Fitbit Versa Lite
Apple Watch Series 3
Fitbit Versa
Garmin Vivoactive 3
Copyright DC Rainmaker - Updated June 21st, 2021 @ 5:19 am New Window
Price
$169
$169-$179
$149
$129
Product Announcement Date
March 6th, 2019
Sept 12th, 2017
March 2018
Aug 31st, 2017
Actual Availability/Shipping Date
March 2019
Sept 22nd, 2017
April 2018
September 2017
GPS Recording Functionality
via phone
Yes
via phone
Yes
Data Transfer
Bluetooth Smart
Bluetooth Smart
Bluetooth Smart
USB, BLUETOOTH SMART
Waterproofing
50m
50m
50m
50 meters
Battery Life (GPS)
N/A
5hrs GPS on time (24-48hrs standby)
N/A
Up to 13 hours GPS
Recording Interval
1-second
Varies
1-second
1s or Smart Recording
Alerts
Visual/Vibrate
Vibration/Audio/Visual
Visual/Vibrate
Vibrate/Visual
Backlight Greatness
Great
Great
Great
Great
Ability to download custom apps to unit/device
Yes
Yes
Yes
Yes
Acts as daily activity monitor (steps, etc...)
Yes
Yes
Yes
Yes

Music

Fitbit Versa Lite
Apple Watch Series 3
Fitbit Versa
Garmin Vivoactive 3
Can control phone music
Yes
Yes
Yes
Yes
Has music storage and playback
No
Yes
Yes
No
Streaming Services
N/A
Apple Music, Spotify (but not offline yet)
Pandora, Deezer

Payments

Fitbit Versa Lite
Apple Watch Series 3
Fitbit Versa
Garmin Vivoactive 3
Contactless-NFC Payments
No
Yes
Yes (with certain editions)

Connectivity

Fitbit Versa Lite
Apple Watch Series 3
Fitbit Versa
Garmin Vivoactive 3
Bluetooth Smart to Phone Uploading
Yes
Yes
Yes
Yes
Phone Notifications to unit (i.e. texts/calls/etc...)
Yes
Yes
Yes
Yes
Live Tracking (streaming location to website)
No
With 3rd party apps
No
Yes
Group tracking
No
No
No
No
Emergency/SOS Message Notification (from watch to contacts)
No
Yes
No
No
Built-in cellular chip (no phone required)
No
Yes (with cellular version)
No
No

Cycling

Fitbit Versa Lite
Apple Watch Series 3
Fitbit Versa
Garmin Vivoactive 3
Designed for cycling
Yes
Yes
Yes
Yes
Power Meter Capable
No
No
No
With some Connect IQ apps
Speed/Cadence Sensor Capable
No
No
No
Yes
Strava segments live on device
No
No
No
No
Crash detection
No
No
No
No

Running

Fitbit Versa Lite
Apple Watch Series 3
Fitbit Versa
Garmin Vivoactive 3
Designed for running
Yes
Yes
Yes
Yes
Footpod Capable (For treadmills)
No (but has treadmill functionality)
With 3rd party apps
No (but has treadmill functionality)
Yes
Running Dynamics (vertical oscillation, ground contact time, etc...)
No
No
No
No
VO2Max Estimation
Yes, via app
Yes
Yes, via app
Yes
Race Predictor
No
No
No
No
Recovery Advisor
No
No
No
No
Run/Walk Mode
No
With 3rd party apps
No
Yes

Swimming

Fitbit Versa Lite
Apple Watch Series 3
Fitbit Versa
Garmin Vivoactive 3
Designed for swimming
Sorta (waterproof)
Yes
Yes
Yes
Openwater swimming mode
No
YEs
No
No
Lap/Indoor Distance Tracking
No
Yes
Yes
Yes
Record HR underwater
N/A
Yes
No
No
Openwater Metrics (Stroke/etc.)
N/A
Basic stroke type only
No
No
Indoor Metrics (Stroke/etc.)
N/A
Basic stroke type only
Yes
Yes
Indoor Drill Mode
N/A
No
No
No
Indoor auto-pause feature
N/A
Yes
No
No
Change pool size
N/A
Yes
Yes
Yes
Indoor Min/Max Pool Lengths
N/A
1y/m to 1,500y/m+
10m/y-100m/y
17M/18Y TO 150Y/M
Ability to customize data fields
N/A
Very limited
Yes
Yes
Captures per length data - indoors
N/A
Yes
Yes
Indoor Alerts
N/A
Yes (goals)
Yes (distance)
Yes

Triathlon

Fitbit Versa Lite
Apple Watch Series 3
Fitbit Versa
Garmin Vivoactive 3
Designed for triathlon
No
Not really
No
No
Multisport mode
No
Yes
No
No

Workouts

Fitbit Versa Lite
Apple Watch Series 3
Fitbit Versa
Garmin Vivoactive 3
Create/Follow custom workouts
No
With 3rd party apps
No (Premium Coached only)
Yes
On-unit interval Feature
No
With 3rd party apps
No
Sorta (2 preloaded ones, but no customization)
Training Calendar Functionality
No
With 3rd party apps
No
Yes

Functions

Fitbit Versa Lite
Apple Watch Series 3
Fitbit Versa
Garmin Vivoactive 3
Auto Start/Stop
Yes
Yes
Yes
Yes
Virtual Partner Feature
No
No
No
No
Virtual Racer Feature
no
No
no
No
Records PR's - Personal Records (diff than history)
No
No
No
Yes
Tidal Tables (Tide Information)
No
No
No
No
Weather Display (live data)
Yes
Yes
Yes
Yes

Navigate

Fitbit Versa Lite
Apple Watch Series 3
Fitbit Versa
Garmin Vivoactive 3
Follow GPS Track (Courses/Waypoints)
No
With 3rd party apps
No
No (but some 3rd party apps can)
Markers/Waypoint Direction
No
With 3rd party apps
No
Yes (to pre-saved spots)
Routable/Visual Maps (like car GPS)
No
With 3rd party apps
No
No
Back to start
No
With 3rd party apps
No
YEs
Impromptu Round Trip Route Creation
No
With 3rd party apps
No
No
Download courses/routes from phone to unit
No
With 3rd party apps
No
NO

Sensors

Fitbit Versa Lite
Apple Watch Series 3
Fitbit Versa
Garmin Vivoactive 3
Altimeter Type
None
Barometric
Barometric
Barometric
Compass Type
N/A
N/A
N/A
Magnetic
Optical Heart Rate Sensor internally
Yes
Yes
Yes
Yes
SpO2 (aka Pulse Oximetry)
No
No
Heart Rate Strap Compatible
No
Yes
No
Yes
ANT+ Heart Rate Strap Capable
No
No
No
YEs
ANT+ Speed/Cadence Capable
No
no
No
Yes
ANT+ Footpod Capable
No
No
No
Yes
ANT+ Power Meter Capable
nO
No
nO
No
ANT+ Lighting Control
nO
No
nO
Yes
ANT+ Bike Radar Integration
No
No
No
No
ANT+ Trainer Control (FE-C)
No
No
No
No
ANT+ Remote Control
No
No
No
No (Yes for VIRB camera control)
ANT+ eBike Compatibility
No
No
No
No
ANT+ Gear Shifting (i.e. SRAM ETAP)
No
No
No
No
Shimano Di2 Shifting
No
No
No
No
Bluetooth Smart HR Strap Capable
No
Yes
No
YEs
Bluetooth Smart Speed/Cadence Capable
No
No
No
Yes
Bluetooth Smart Footpod Capable
No
No
No
Yes
Bluetooth Smart Power Meter Capable
No
No
No
No
Temp Recording (internal sensor)
No
No
No
No
Temp Recording (external sensor)
no
No
no
Yes

Software

Fitbit Versa Lite
Apple Watch Series 3
Fitbit Versa
Garmin Vivoactive 3
PC Application
PC/Mac
None
PC/Mac
Garmin Express
Web Application
YEs
None
YEs
Garmin Connect
Phone App
iOS/Android/Windows
iOS only
iOS/Android/Windows
iOS/Android/Windows
Ability to Export Settings
No
No
No
No

Purchase

Fitbit Versa Lite
Apple Watch Series 3
Fitbit Versa
Garmin Vivoactive 3
Amazon
Link
Link
Link
Link
Backcountry.com
Link
Link
Link
Link
Chain Reaction Cycles
Link
Link
Link
Link
Competitive Cyclist
Link
Link
Link
Link
REI
Link
Link
Link
Link
Wiggle
Link
Link
Link
Link

DCRainmaker

Fitbit Versa Lite
Apple Watch Series 3
Fitbit Versa
Garmin Vivoactive 3
Review Link
Link
Link
Link
Link
Again – don't forget you can compare any product you'd like within the product comparison tool here.
Wrap-Up: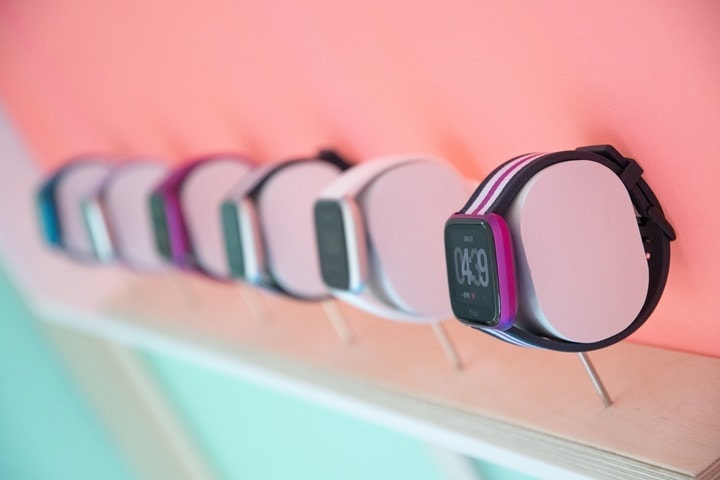 Everything we've seen here seems to point to a bit of simplification of the Fitbit line, as well as offering more capable units at lower prices than the company has historically.  While it's easy to knock on some of Fitbit's recent financial growth – the hard reality is they're still the #2 smartwatch vendor in the US and still selling around 15 million units a year. That's nothing to sneeze at.
People have been predicting Fitbit's demise since the first Apple Watch was announced – but in reality all that's done is increase interest in not just Fitbit's offerings, but also Garmin, Samsung, and others. Not everyone can have an Apple Watch (be it price, or because it only works with an iOS device), nor does everyone want one. Companies like Fitbit and Garmin are offering battery life that goes upwards of a week (or many weeks in some cases) – which again, is what some folks rightfully want.
As for the Versa Lite, I think it does strike a reasonable balance in feature reduction compared to the full Versa edition. I'm a little bit hesitant on how well the firmware backfill bits will work. Sure, Fitbit has done that in the past for other watches – but that was when the Fitbit operating system was smaller and when there weren't 3rd party apps to contend with. We'll have to see over time how well this works out in reality.
Still, for those that want an introduction into the smartwatch realm (with the definition du jour there being a watch that accepts 3rd party apps in some form of a marketplace), this is pretty much the most accessible mainstream option out there. I've got no doubt it'll put pressure on the likes of Garmin especially to find ways to offer a Vivoactive Lite style product.
With that – thanks for reading!

Found This Post Useful? Support The Site!
Hopefully you found this review useful. At the end of the day, I'm an athlete just like you looking for the most detail possible on a new purchase – so my review is written from the standpoint of how I used the device. The reviews generally take a lot of hours to put together, so it's a fair bit of work (and labor of love). As you probably noticed by looking below, I also take time to answer all the questions posted in the comments – and there's quite a bit of detail in there as well.
If you're shopping for the Fitbit Versa Lite or any other accessory items, please consider using the affiliate links below! As an Amazon Associate I earn from qualifying purchases. It doesn't cost you anything extra, but your purchases help support this website a lot. Even more, if you use Backcountry.com or Competitive Cyclist with coupon code DCRAINMAKER, first time users save 15% on applicable products! Or, with TPC (The Pro's Closet), you'll save $40 on purchases over $200 with coupon code DCRAIN40!
And of course – you can always sign-up to be a DCR Supporter! That gets you an ad-free DCR, access to the DCR Quarantine Corner video series packed with behind the scenes tidbits...and it also makes you awesome. And being awesome is what it's all about!
Thanks for reading! And as always, feel free to post comments or questions in the comments section below, I'll be happy to try and answer them as quickly as possible. And lastly, if you felt this review was useful – I always appreciate feedback in the comments below. Thanks!