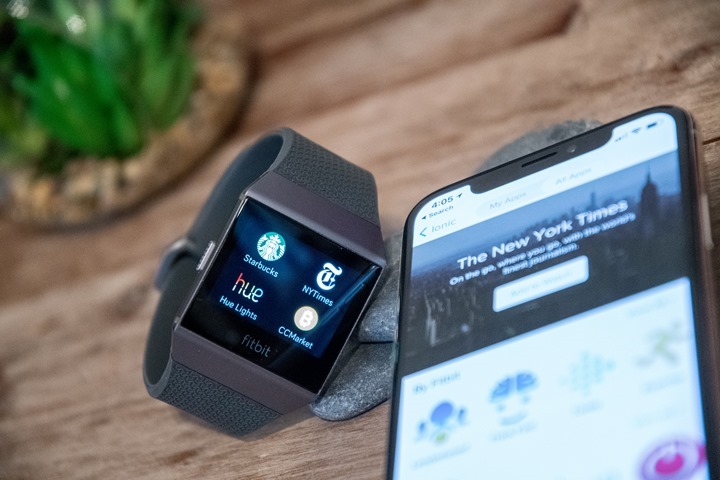 It's been just over three months since Fitbit announced their Ionic GPS smartwatch, and about two months since they started shipping it out into the wild.  The watch is generally seen (by themselves and others) as critical to Fitbit's revival in the wearables scene, competing with the likes of mid-range watches from Garmin, Apple, and others.  It contains GPS, contactless payments, music support, and an app store.
And it's that app store that got a much-needed update today.
Up until today there was only a handful of apps, all largely made my Fitbit.  And to be clear, it was literally a handful – less than 10, depending on how you count things like the timer.  But now, there are some 60 apps, including a slew of big name apps like the New York Times, soon airlines such as United and British Airways, and ones to control lighting from Nest and Philips.
Furthermore, they've rolled out a new program called Fitbit Labs, which is where you can sign-up to test out new features.  Oh, and you can now take care of a virtual kitten.  Because…kittens?
Of more serious note though is that they're finally actually allowing developers to publish their apps.  The dirty little secret is that while Fitbit had an app store, there wasn't any way for developers to release said apps.  It was like inviting friends to a party, but not letting them in the front door.  You sounded great for hosting a party, but in reality, it was an empty promise.
And finally, they've added a pile more compatible banks to go from a minuscule list to a tiny list.  Unfortunately, the way contactless payments work, tech companies must actually negotiate with every issuer bank in the world to get compatibility.
The New Stuff:
To get started, you'll need to update your Ionic to today's firmware update.  That'll take about 5-15 minutes depending on how cooperative your interwebs want to be.
Until you complete this, you won't see any of the new apps, no matter how many times you poke at your phone or device to refresh.
Once it's done, then you'll see the much-expanded app store section.  It's still not the thousands of apps found on Apple, Garmin, or Android Wear stores.  But, it's a better start than before.
In my case, I downloaded the New York Times app, as well as the Philips Hue and Bitcoin tracker apps.  Somewhat of a smattering of random things.  Other apps like the United Airlines, British Airways, Uber, and Lyft apps aren't yet available (apparently by end of year.
The NYT app worked well enough, though like most wearable apps it's fairly limited.  It allows you to swipe left or right through ten top stories, and then to see a photo and a sentence summary of each one.  It doesn't require or tie into your existing NYT account, if you have one.  Nor can you read more than that sentence or two.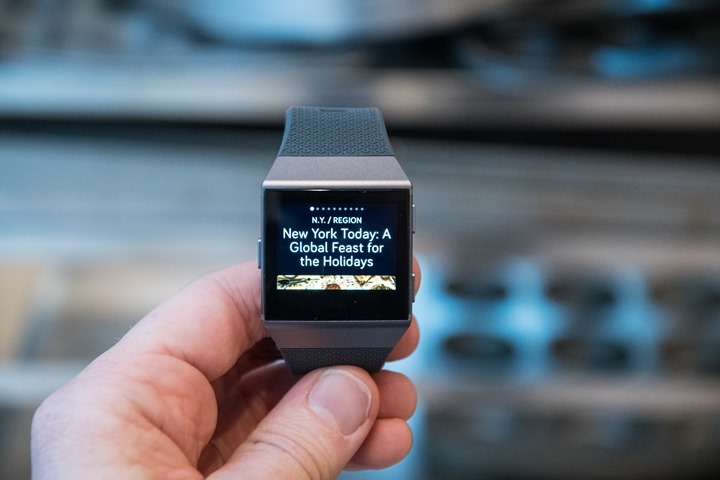 The Bitcoin app did have some configuration options, allowing you to pick which specific cryptocurrency you want to track, just as if you were picking stock ticker symbols.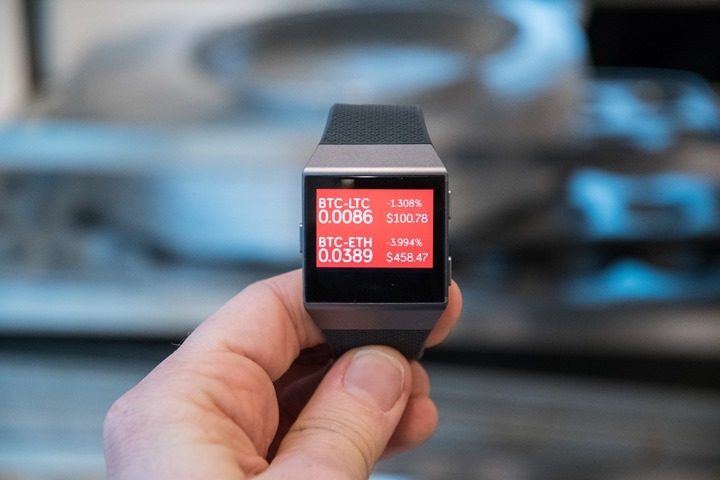 Like the other apps, this depends on connectivity from your Ionic to the interwebs via your phone.
In addition to all the new apps, there's also a large pile of new watch faces.  Some of these are from Fitbit, and some from the larger community.
Of note are a handful from Fitbit that are part of the Fitbit Labs program.  These specific ones are the virtual pets I was mentioning earlier.  You can select from four pets, two cats and two dogs.
The way it works is that the more steps you take, the more treats your virtual pet gets.  If you don't take steps, your virtual pet dies.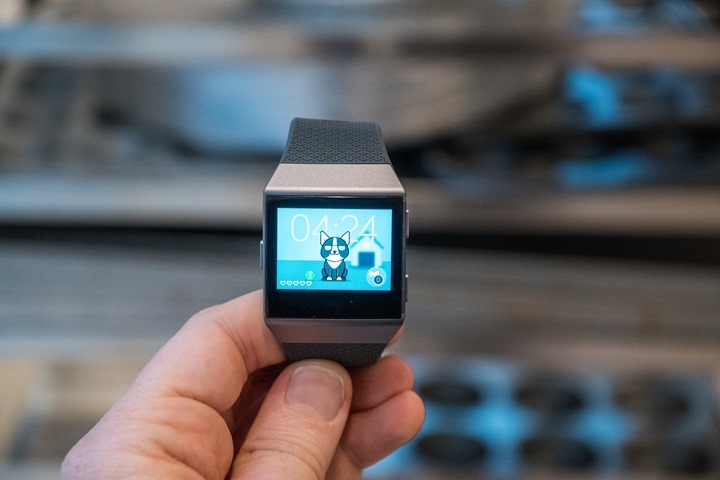 Actually, it probably doesn't die.  I don't know, I've only managed to keep my virtual Boston Terrier alive for an hour or so since the update went live.  At present, he's not doing well because I'm sitting here typing and not giving him treats.  Similarly, my actual Boston Terrier is sitting here equally unhappy about not getting treats: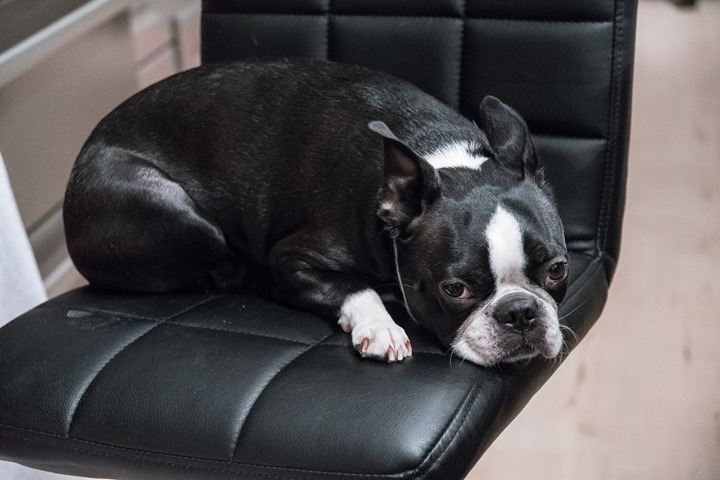 As part of the Fitbit Labs piece, they've rolled out a few different apps that can test your responsiveness.  The idea here is a quick test daily that may (or may not) correspond to aspects such as fatigue.  This then is tracked via Fitbit Labs with graphs.  Here's an image from them showing the graphing of the data points (note specifically the green line).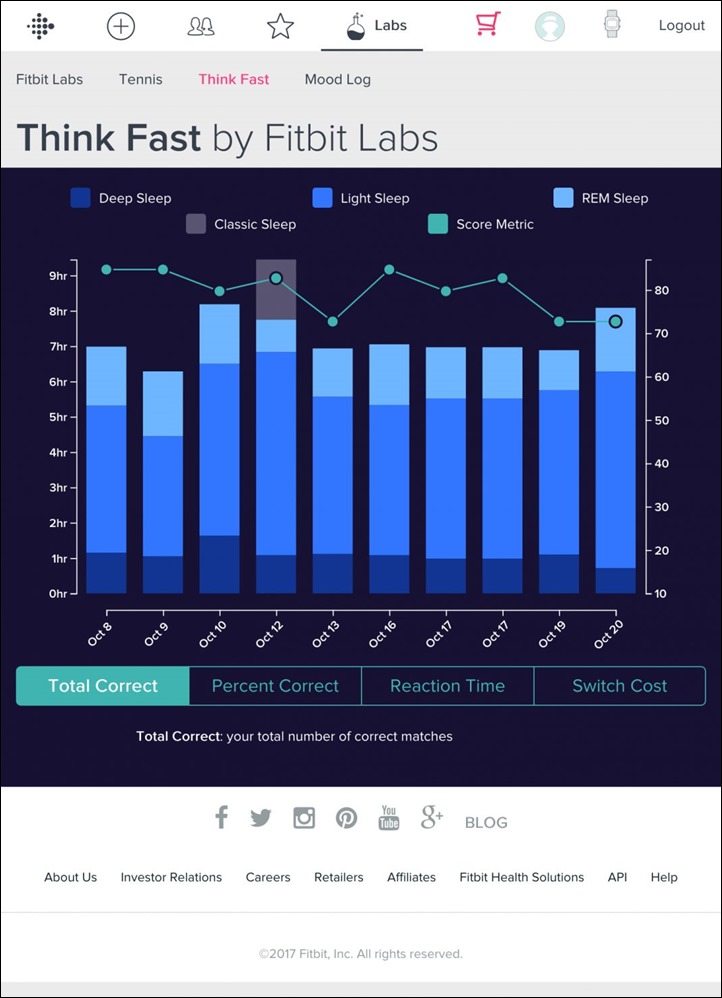 Finally, you can also create your own watch faces using the Fitbit Studio, which is their online developer platform.  I demo'd this in one of my past posts about the Fitbit Ionic, but they've put together a more simplified blog post on it.
Going forward: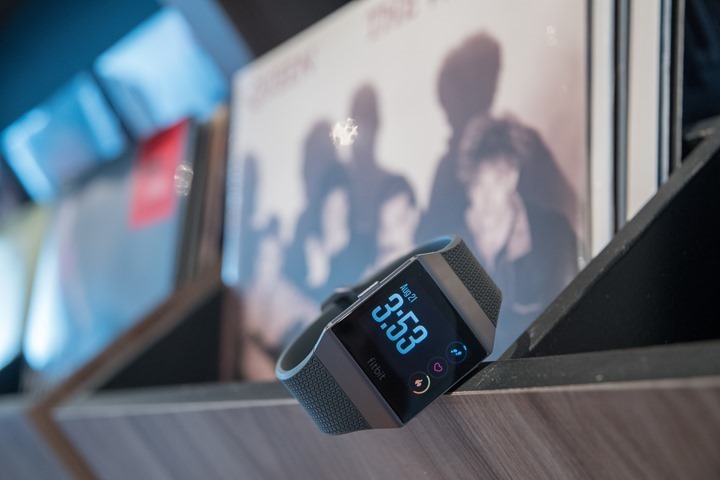 This is actually a pretty important milestone for the Ionic, as silly as the pets and such may be.  It's them making apps available within the store and showing forward movement on an app ecosystem.  Certainly Fitbit's engineers have experience in app platforms, with much of the app team coming from Pebble, but anytime you spin up a new app platform (and a new device) there are bound to be things that slow down the roll-out.
At this point though, I suspect this represents cresting that hill, both technically as well as getting major app developers onboarded.  Speaking of which, one last item to mention is that they're going to be bringing onboard Spotify.  No, just kidding.  Instead, it's Deezer, another music streaming app.  That adds to their existing music partnership of Pandora.  Though Deezer won't come till 2018.  Still, all of which is better than having no music streaming apps, or not music at all.
With that, thanks for reading!