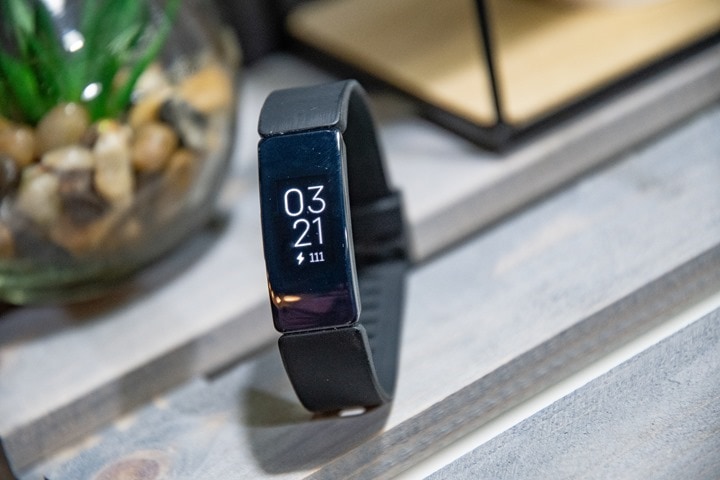 Last week Fitbit announced four new products. At the mid-range they announced the Fitbit Versa Lite variant, and for kids they announced their new ACE2 activity trackers. Both of which though were tweaks to existing products. But at the same time they also made available an entirely new product line – the Fitbit Inspire and Inspire HR. I say 'made available', because in reality the company semi-announced the product back in January – but only to enterprise customers for healthcare solutions.
However, last week's announcement now shifts the Inspire and Inspire HR product to the forefront as Fitbit's least expensive offering.  They're incredibly cheap by Fitbit standards, sliding in at $69 for the touchscreen capable Inspire, and $99 for the optical HR enabled variant (Inspire HR). This brings us to the lowest price point we've seen from any of the major brands for an activity tracker with optical HR in it. And it seems to illustrate what Fitbit probably knows: Sub-$100 trackers do really well on sale – so one might as well just figure out a way to sell them at that price all the time.
This product is essentially a slimmed down version of the Charge 3 activity tracker that we saw them announce last summer. Less features of course, as that unit goes for some $149.  But more importantly perhaps, is that the Inspire lineup will usher the end of the long-reigning Fitbit Zip, Alta, and Alta HR units.  All of which will be discontinued effective immediately.
Note that Fitbit provided media loaner units for me to dork with, however as usual these will go back to them shortly. If you found this review useful – hit up the links at the bottom to support the site. Or, just send me your credit card details. Either works.
What's new: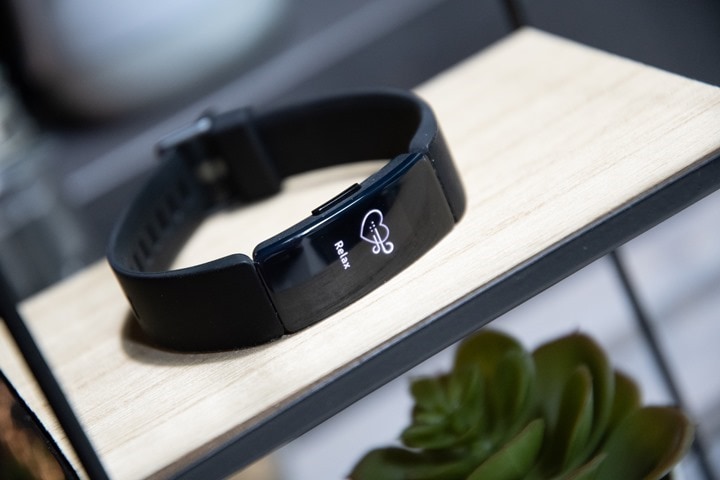 Of course, the Inspire lineup is new to Fitbit – but in many ways it's pulling in from past products. So while the product name might be new, the features definitely aren't new to Fitbit. Instead, they're new to this price point.
Still, to give a quick run-down on the two versions, here's what you get in the base (non-HR) version of Inspire:
– Touchscreen OLED Display: Simple swipe/scroll/tap gestures
– Waterproof to 50-meters depth for swimming and showers
– Activity Tracking: Distance, steps, calories, active minutes
– Sleep Tracking: Including access to Fitbit's new 'Sleep Score' beta (sorta, more on that in a minute)
– Smartphone notifications: Calls, texts, calendar notices, and certain apps
– 5 Days Battery Life
– Alarms: These are created on the mobile app, but will alert on the Inspire/Inspire HR
– Basic clock faces: These are slightly customizable, but no 3rd party ones
– Timer & Stopwatch: Accessible within the menus for quick timing of things
– Automatic Exercise Recognition: This will automatically record runs, swims, bikes, and walks without requiring you start an activity
– Female health tracking: More on this down below
– Move reminders: If you're lazy, the Inspire will…err…inspire you to stop being lazy.
– Compatibility with a pile of accessory straps in all sorts of colors
– Compatibility with the 'clip', if you want to go strapless (more on that down below too)
Next, what do you get if you spend $30 more and go for the $99 Inspire? Well, aside from the optical heart rate sensor added to the back, there's actually a number of other features that come with it. Most of these features are borrowed from the slightly higher-end Charge 3 activity tracker.  They are as follows:
– Heart Rate Tracking 24×7: With that optical HR sensor, Fitbit samples at 1-second intervals, and transmits that to the app
– Heart Rate Zones: You can track and target zones for workouts, but also get your resting HR values
– Cardio Fitness Score: This is a fancy term for VO2Max score
– Sleep Stages: This will give you REM, Light, and Deep sleep data
– Real-time Pace & Distance: This uses your phone's GPS to get workout pace/distance info
– Goal Based Exercise Modes: This allows you to specify from 15 workout modes with specific goals (i.e. time/distance/calories)
– Guided Breathing Sessions: This will help calm you after spending 10 minutes looking at your friends' political posts on Facebook
So in a nutshell the bump from Inspire to Inspire HR is actually pretty significant. It rises very close to the level of a Charge 3, but notably omits the SPO2 sensor as well as the contactless payments found in the higher-end version of the Charge 3.
Visually the Inspire and Inspire HR are identical from the front, though the Inspire (non-HR) obviously lacks an optical HR sensor on the back. Color-wise the two units are available in the following base colors:
Inspire: Black, and Sangria (what normal people call red)
Inspire HR: Black, White/Black, and Lilac (what normal people call light purple)
In addition, they've got a gigantic boatload of 14 different straps/clips for it, ranging from $19 clips in black and pink, to $69 steel mesh straps. The leather straps range from $34-$39, with the standard straps from $24-$29.
Got all that? Good, let's get it unboxed.
Unboxing: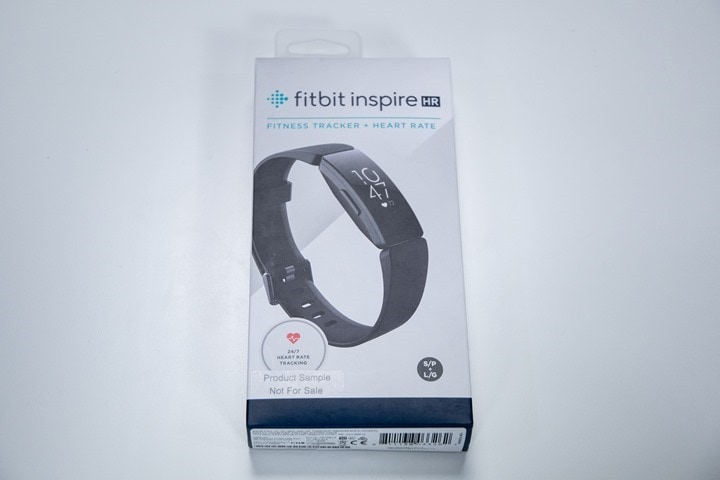 We'll go ahead and crack open the box and dive into the parts. Note that this is the Fitbit Inspire HR, and as such will have the optical HR sensor on the back. Also, there are different color variants available, but the box contents are all the same.
Once you slide the box open you'll find the Inspire sitting in there, with the small band already attached.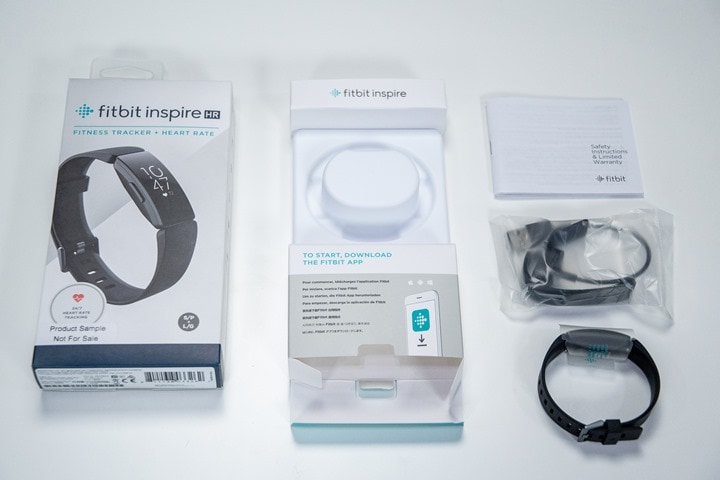 All editions of the Fitbit Inspire come with two straps/bands, a small and large one. The large one is inside a small plastic bag in the lower half of the box. In that plastic bag you'll also find the (new) charging cable.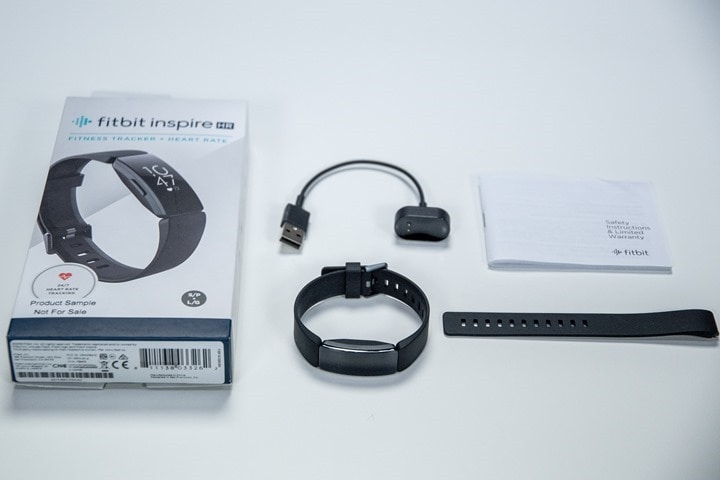 True to Fitbit's long history, every single model somehow has a different charging cable. The company never met a new charging cable variant it didn't like.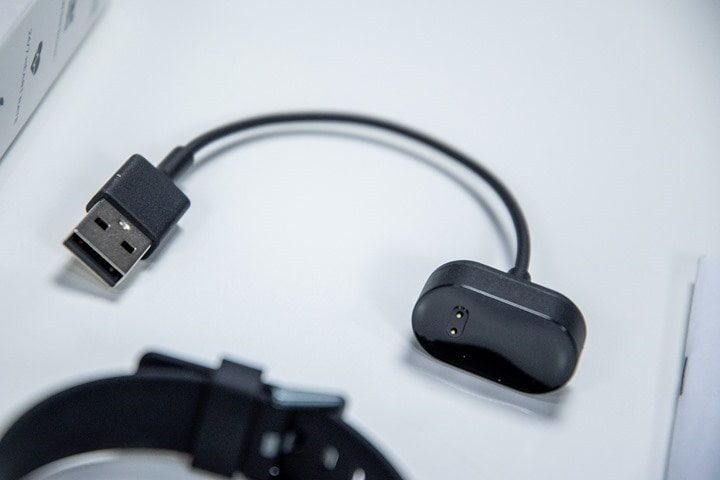 You'll also find a small pamphlet with some information you'll never read. Like most consumer electronic devices, it basically says if you kill yourself with it – it's your fault. Fair enough.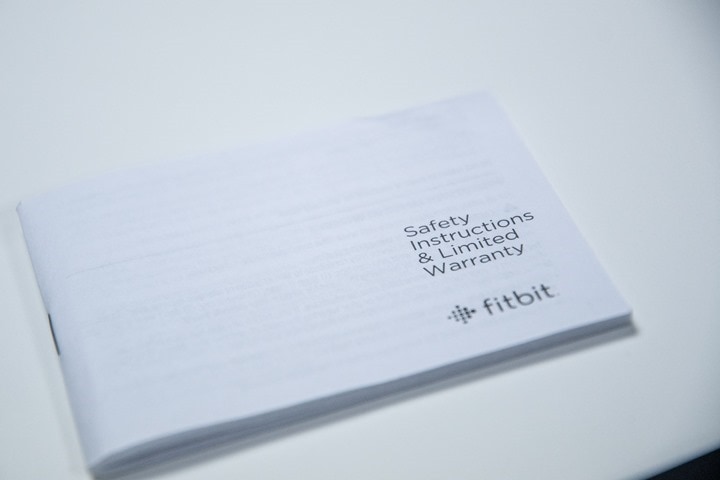 Here's a closer look at that second strap/band: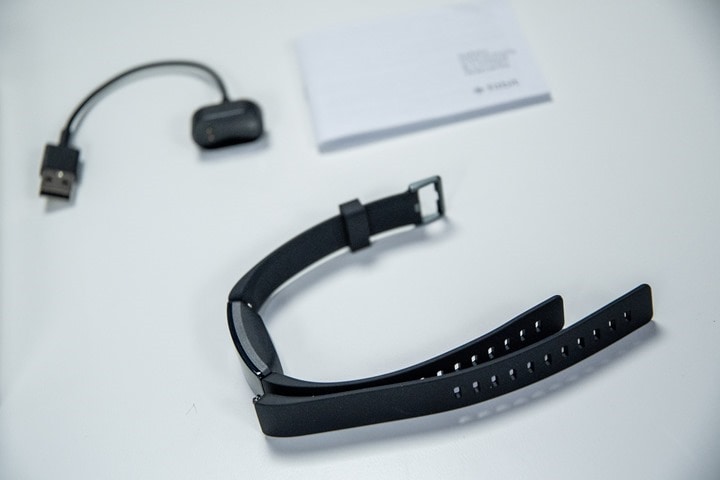 And finally, the Inspire HR itself. Fear not, you're going to get plenty of photos of that over the course of the review.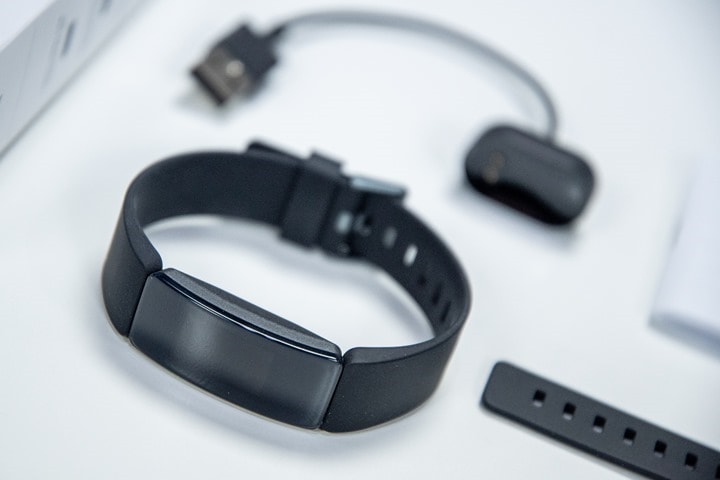 As for a quick size and weight comparison, here's how it stacks up to the Fitbit Charge 3. You'll see it's a little bit slimmer, and also a little more bland. Additionally, it weighs less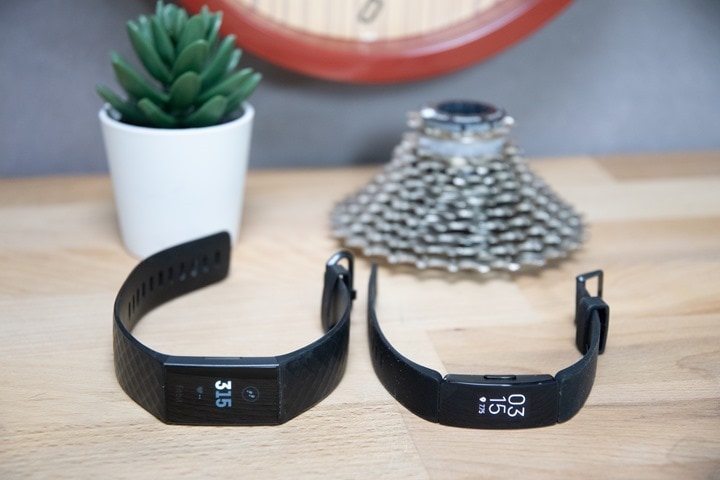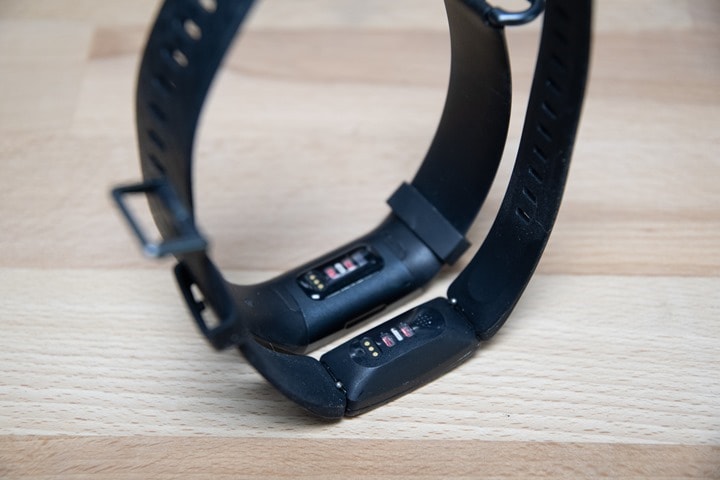 Both units support accessory straps, which I'll dive into later.
The Basics: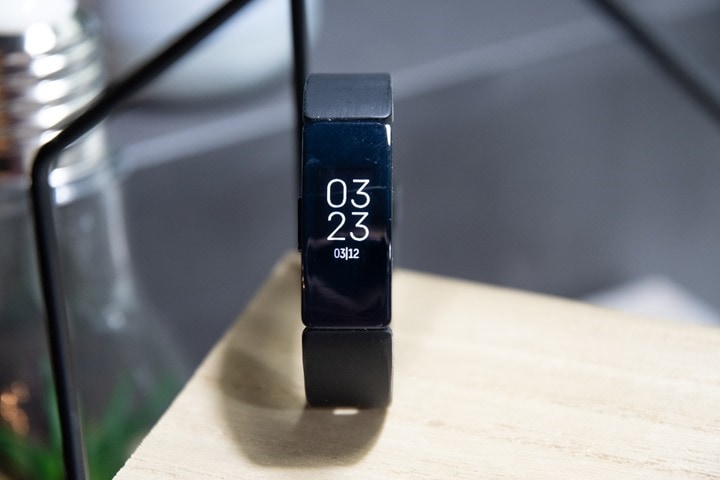 The Fitbit Inspire/Inspire HR leverages a touch screen not that much different from the Fitbit Charge 3 that came out last summer. It seems to react about the same and has a similar menu structure. To start, you've got the main clock face, which shows you the time and date. However, you can customize this by grabbing the Fitbit smartphone app and selecting something else from the gallery. There's currently nine options in total, one of which includes activity stats.
However, even if your watch face doesn't have activity stats on the main display, you can swipe to your activity stats through a single upwards touch. That'll show you steps and your goal status.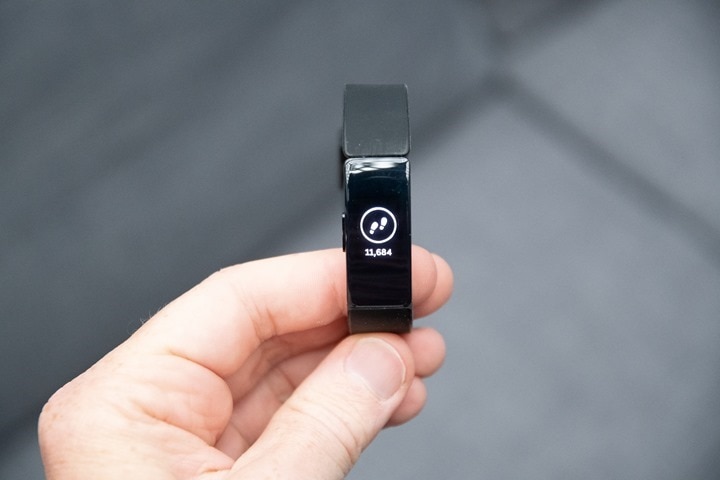 You can swipe again to get your current heart rate, or once more for calories, or then activity time, or distance
In fact, once you do this, it'll change the small text below the time of day on your main screen to be steps.
All of this information is synced to your smartphone using the Fitbit mobile app. It'll connect to our device using Bluetooth Smart, which is super low power. Here's what the main Fitbit app dashboard looks like, followed by the detailed device screen for the Fitbit Inspire HR:
Within the dashboard I can click on any of the tiles or data metrics, such as steps or distance, to get more information:
Days that I've hit my activity goal get a little star, just like a 5-year-old completing their chores. You can change these activity goals by tapping the settings icon in the upper right corner.
Back to the screen, as you continue madly swiping away, you'll eventually find how many hours you slept (or didn't) last night: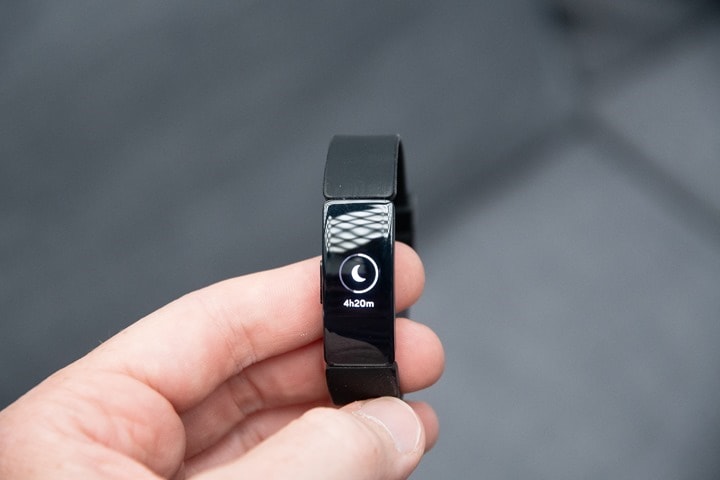 Your sleep information is automatically tracked each night with no button pressing required. You can plot it over time, or look at a given day individually. Naps are also tracked in here.
You can also look at your sleep stages as recorded by the device (HR version only):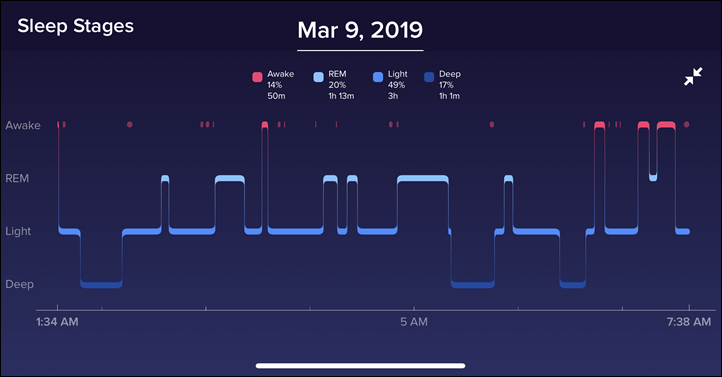 Note that Fitbit announced last summer their plans around a new Sleep Score metric, and planned rollout of that feature by the end of 2018. While they technically rolled it out in beta in December 2018, the beta program closed a few days later, noting it was 'full'. As of today, it's still full – and thus I can't show you how that works.
One element that is used is the heart rate sensor on the back of the device. This is only available in the Fitbit Inspire HR, as the name implies. This sensor is slightly different from the higher-end Fitbit Charge 3, as it lacks SPO2 measurement. But Fitbit says it'll perform about the same for heart rate as that sensor does.
The green LED's illuminate against your skin to allow the optical sensors to read your heart rate. During normal non-workout usage, the faint green glow is constantly monitoring your heart rate 24×7. It monitors at 1-second intervals, and the data is consolidated up to Fitbit where it graphs it at a bit less frequency, but more than enough to see what's going on. You can look at the daily data via the app:
In fact, if you decide to commit a crime, I'd strongly suggest removing your Fitbit first. This HR data has been used in multiple criminal cases to prove the suspect's guilt. Kinda cool.
In my experience with the Inspire HR, the daily 24×7 HR data values are in line with what they should be. The resting HR figures are also matching what I'm getting from Garmin and other devices worn at the same time (within 1bpm).
Next, one of the biggest reasons people select Fitbit is their platform. Or more specifically, the social and related elements of it (I actually don't think Fitbit's non-social aspects are really any more detailed or better than that of Garmin or Polar). On the social side though, the pure numbers that Fitbit is throwing down means that more than likely your friends are on it.
And Fitbit's data has consistently shown over the years that people who have friends on the Fitbit platform end up with more activity. Here's a slide that CEO James Park showed at their recent media event. This slide is similar to one shown two years ago at the Fitbit Ionic launch event.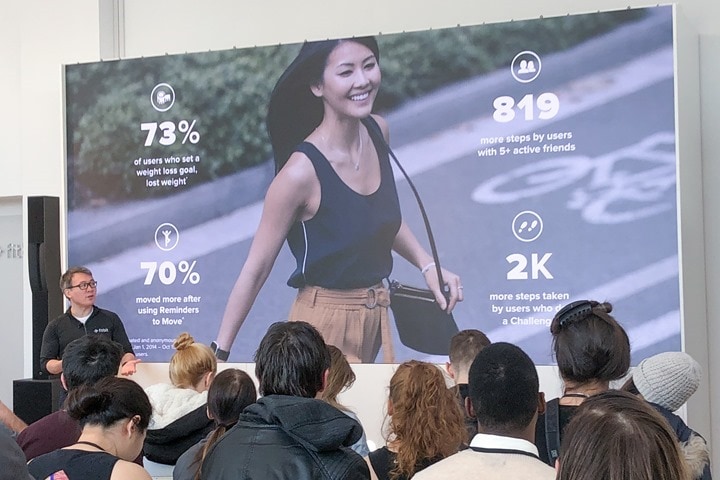 All of this makes complete sense. Most of us are competitive, even when we don't intend on being so. When we see friends beating us, we tend to respond – even if there's not a direct competition in play. Though, the Fitbit app can do that too. I can see my friends, as well as taunt or cheer them on. Or, send messages too.
I can also join or create a challenge, be it a solo challenge or a group one.
Within the group challenge there's a few canned offerings that I can customize and select which friends to invite to the challenge:
Fitbit's findings on friends increasing steps seems to hold water. The last time I mistakenly challenged an athletic-minded friend, I ended up doing way more steps and activity than I'd have done otherwise. The goal in my head was simple: Beat them. And it worked. Well, except I didn't beat them. But that's a different topic for a different day.
Moving along, just to briefly note on the device that there are both timers and alarms you can set. With alarms, you'll set these via the smartphone app. These aren't smart alarms though like found on some devices. They're just basic alarms like found on a bedside clock
For timers, there's both a stopwatch and a countdown clock that you can activate on the device: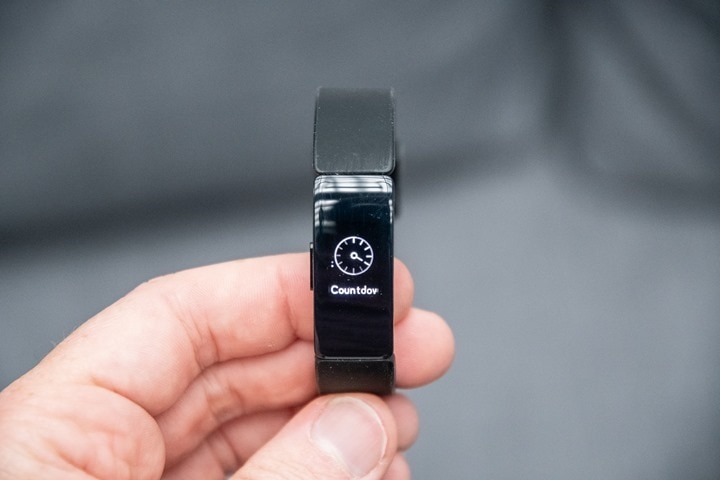 Additionally, in the settings on the device itself, there's a few settings options. In one spot you can adjust whether the device will turn on the display when you raise your wrist, and another to turn on/off notifications. The raise to wake option is good if you don't like being blinded at night, but unfortunately you can't split that feature out from being night vs day.
And in another settings spot you can adjust whether GPS is on/off (with your phone), as well as whether the HR is enabled/disabled.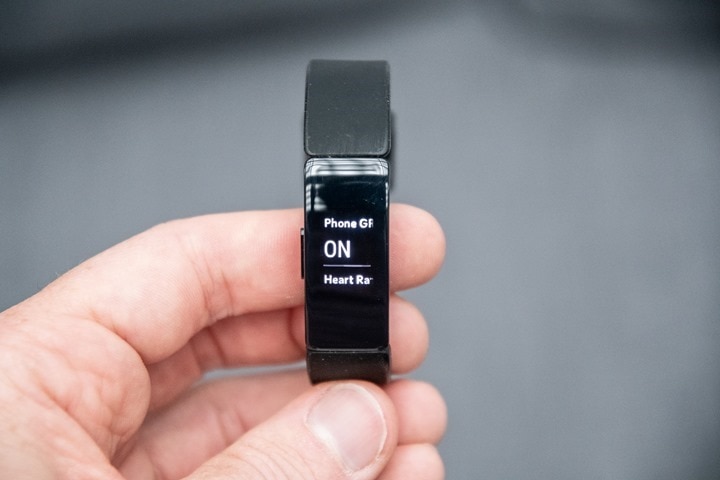 Meanwhile, for notifications it'll allow you to display notifications from calls/texts/calendar, as well as individually select apps that you want to be able to notify you – such as Twitter or WhatsApp:
Here's a notification coming in from one of our Nest Cams: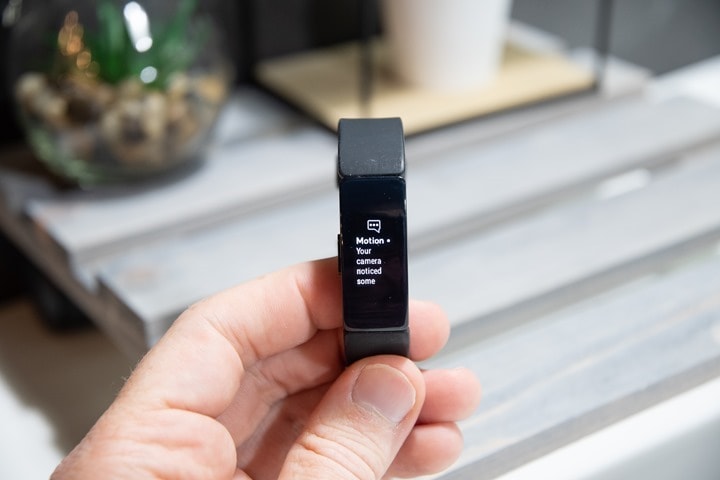 Finally – one area to briefly note is that Fitbit will be discontinuing their long-living Fitbit Zip activity tracker. This cute little tracker clipped onto your pants/bra/belt/whatever and tracked steps. It was simplistic, but also kinda perfect. As part of the Inspire lineup, you can now remove the Inspire pod and put it into this clunky as fudge clip (an extra accessory you can buy):
This is then designed to replace what the beloved Zip was. Frankly, this new clip is the fugliest creation Fitbit has ever created. I don't know what middle school intern they gave this portion of the project to, but it's god awful – both in photos and in person.
Also, it's basically as bulky as a Twinkie, so there's no chance you want to clip it to a bra unless you want all assortment of looks with people questioning what exactly you've got occasionally vibrating in there.
Sport & Fitness:
The Fitbit Inspire HR represents the least expensive unit that Fitbit's ever made that tracks your workout in real-time and can connect to your phone's GPS to record the GPS track and give you pace/distance data (even while cycling). Still, as you might expect for the price, it's a pretty basic offering. Nothing wrong with that, just don't be expecting something akin to a $500 GPS watch.
To get to the sport modes you'll swipe downwards once, which brings you to the exercise menu seen above. From there you'll choose a specific sport, for example, running: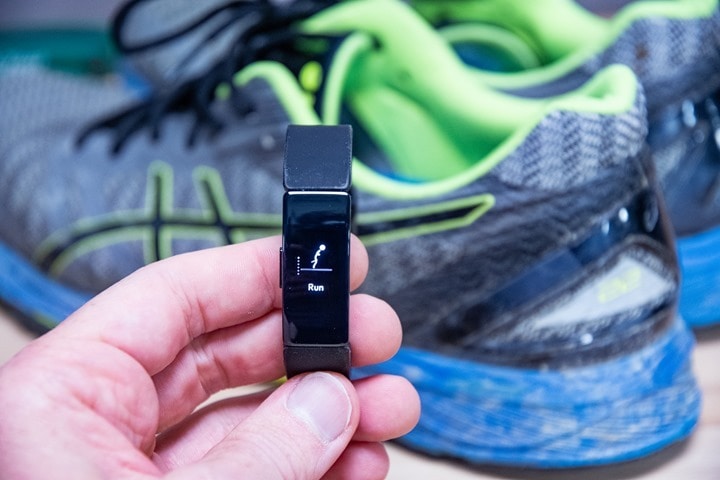 In this menu you can select from up to 6 sports, however on the mobile app you can choose from a larger list and arrange which six you'd like to have accessible on the device:
Some sports, like running, include the ability to customize features. And by 'features', I mean a single thing – automatic laps. Here you can select if you want these to trigger, and if so, at what duration.
Once you've selected a sport you can then decide if you want to add any specific goal for it. The options are: Time, distance, or calories.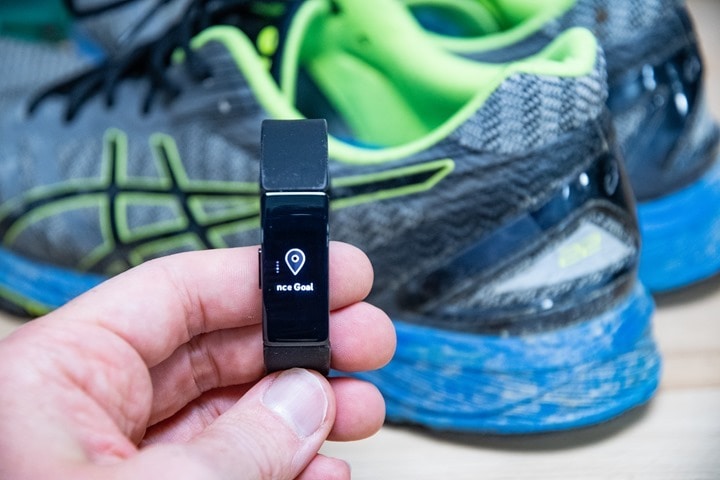 At the same time, your Inspire HR will then connect to your phone to record your GPS track. Fitbit calls this 'connected GPS', and simply means that the Inspire HR leverages your phone for its GPS signal. If you don't take your phone you'll still get pace and distance (while running) using the internal accelerometer, but wouldn't for activities like cycling, since it doesn't have a way to calculate distance without some sort of additional sensors.
Once the unit is connected (ensure your Fitbit app is open or running in the background on your phone), then it'll show connected. At that point you can press 'start' and off you go: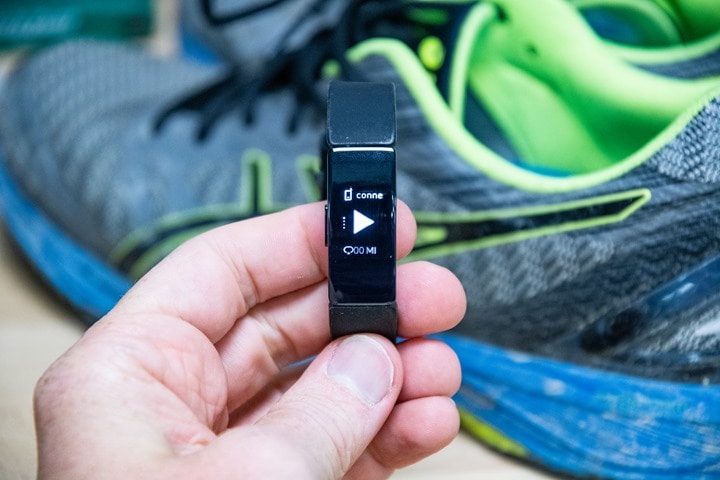 While working out (no matter the sport), you can swipe through the data pages to look at any metrics. Here's a shot while running this afternoon. Its display isn't super easy to see outside. Though, trying to capture it on an overcast day while running doesn't help.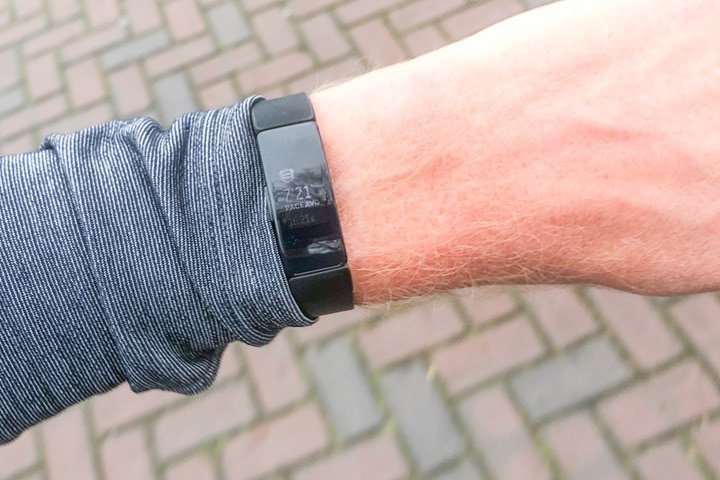 Here's a few crispier shots inside of what some of the workout screens look like. You get Time, distance, pace, average pace, heart rate, steps, time of day, and lap distance. These are non-configurable, however, below all screens is the current activity time/duration.
You can tap the side button at any time to pause the workout, and then tap the finish option on the screen to end the workout. After the workout is complete you can view it on the Fitbit app:
And here it is on their website: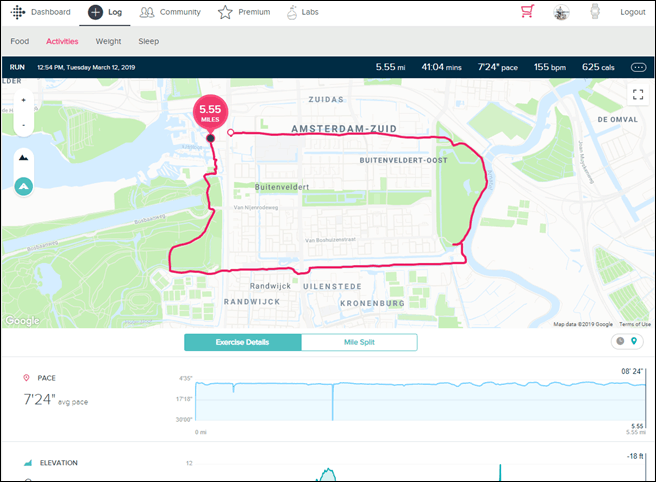 If you've linked a 3rd party site like Strava, it'll upload there as well automatically.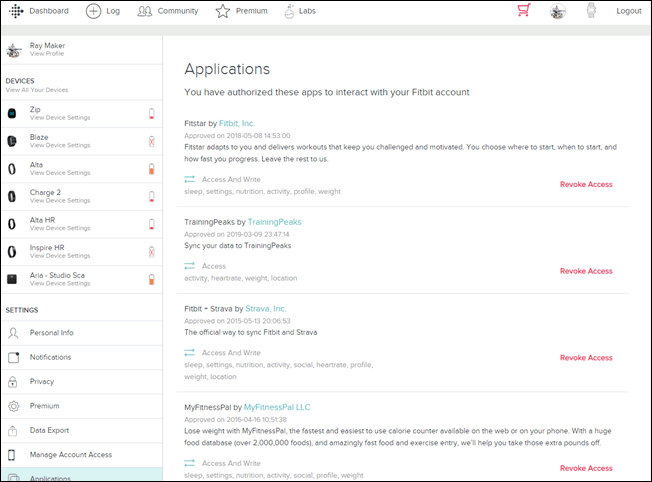 For most folks who don't mind carrying a phone, the basics of this feature set will likely be good, especially in a sub-$100 device. Again remember that you only need your phone if you want GPS tracks after the activity. If you don't care about that (such as when in the gym), then you can simply start a workout whenever you'd like and still get HR, as well as basic time/distance after the fact (if applicable for that activity).
Heart Rate & GPS Accuracy: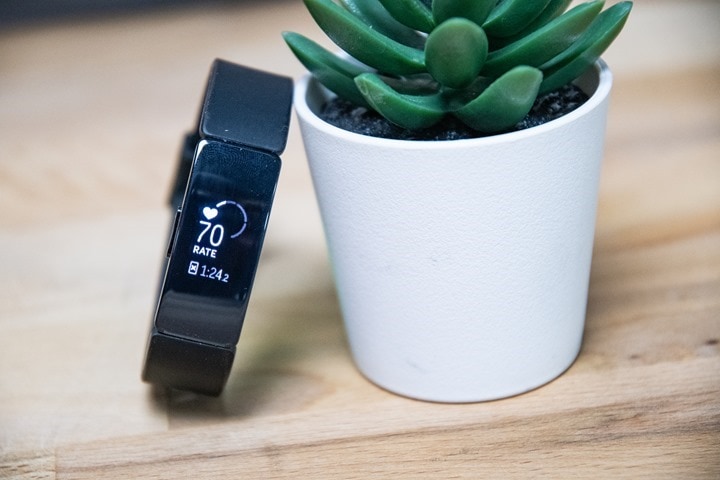 Normally I split out heart rate accuracy and GPS accuracy into two separate detailed sections. But the Fitbit Inspire lineup doesn't have GPS in it. Instead, the HR version (and only the HR version) relies upon your phone for GPS connectivity and creating GPS tracks. So it's a bit unfair to entirely judge a product based on the variations from phone to phone of GPS accuracy. So I'm going to briefly touch on it in this section, but focus mostly on HR accuracy – which is fully within Fitbit's control.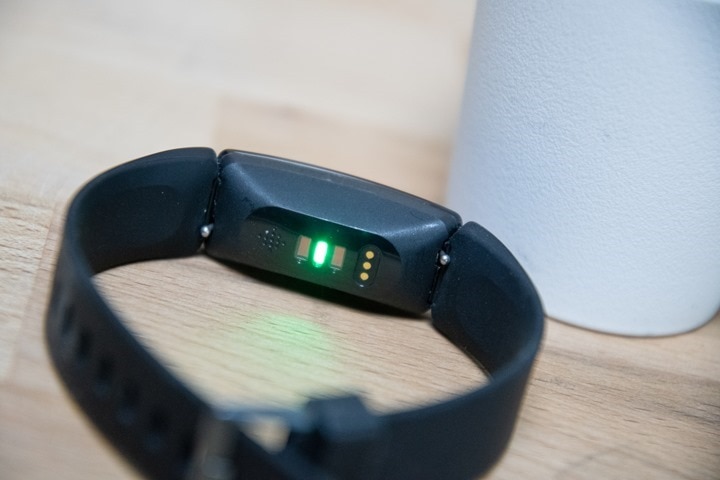 Heart rate accuracy is both highly objective and highly subjective at the same time.  On one hand, it's actually relatively easy for me to compare against other sensors (chest and optical) concurrently (as I'll show you).  But at the same time, some of that is luck. It'll depend very heavily on factors like placement on your wrist (seriously, this is huge), as well as skin tone, hair, and wrist 'thickness'.  No different than other optical HR sensors really.
In general, Fitbit has come a fair ways over the years in their optical HR sensors.  They used to be acceptable for steady-state efforts, but would have significant delays for intervals (if they picked it up at all).  And riding a bike in the past? Pointless when it came to their sensors.  But things have changed, and like most players in the space they've had years to fine-tune algorithms.
Which is really why things are getting better. Certainly sensors are improving, but ultimately it comes down to companies finding the edge cases where the algorithms fail and fixing them.  And eventually after you fix enough edge cases you gain critical mass.
In any event, let's get on with the data.  In my case, I was always using 2-3 additional devices to capture heart rate data. Generally this consisted of another optical HR sensor on the other wrist, plus a chest heart rate strap, and then occasionally an upper-arm optical HR sensor like the Polar OH-1.
First, let's take a look at an interval run I did. Nothing fancy, just 4x800m repeats at a relatively fast pace after a 15-minute build. Here's the data set (you can dive into the set details if you want here):

As you can see, the Garmin HRM-DUAL strap and Fitbit Inspire HR start off pretty similar. A bit of a brief bobble by the Fitbit, but it recovers and for the first 15 minutes things are pretty good. Meanwhile, the Polar OH-1 HR sensor displayed a rare stumble the first 2-3 minutes, but it too recovered.
Next, we get into the 4x800m intervals. I did this at a reasonably brisk pace. You can see here that the Fitbit Inspire HR did fairly well for the first two during the work portion, but seemed to lose the plot during the recovery (easy) portions:

Meanwhile, as we get into the 3rd and 4th intervals, it stumbles for about half the interval – failing to latch on and properly track the HR.
This pattern will continue into the 3×30-second sprints I did. On #1/#3, it failed to capture the sprint, while on #2, it failed on the recovery.

Next, we've got a run from today – just an hour ago no less. This was a simple 40ish minute run, whereby the first 22 minutes I kept it at a relatively steady pace. Then after that, I did 60-second intervals on and off, about six times. After which, I did some 2-minute intervals, with 60-seconds recovery. The point here was simply to track how well the unit responded to quick changes in intensity. The graph kinda speaks for itself:

As you can see, things for the steady-state bit were mostly pretty good. A bit wobbly at the beginning, though that's not uncommon for HR sensors – straps and optical sensors alike. The Garmin HRM-DUAL chest strap, and the Polar OH-1 optical sensor were both fairly well matched against the Fitbit Inspire HR for the first half.
And then…well, then it all fell apart. The Inspire HR seemed to hold on for the first interval, but quickly lost the plot on the 2nd one. After that, it just gave up on life and danced to its own song. That brown line through the middle of it all…that's the Fitbit.

There's really not much more to say about that. It's crap.
On the bright side, the GPS track produced by the iPhone X in conjunction with the Inspire HR was perfectly fine. Here it is compared against a Garmin FR935 in GPS+GALILEO mode: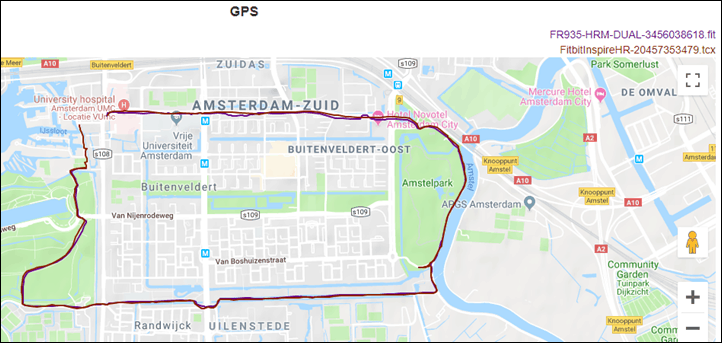 If I zoom in, the tracks were pretty close. There's a few times where the Fitbit/iPhone combo wobbles a bit off-track, and the FR935 seems to hold the line better. The iPhone was on an armband on my upper left arm. So really good signal/positioning.

Switching things up a bit, here's an outdoor ride. This was a 75-80 minute road bike loop around the countryside. Most of the pavement was pretty good, though there were some minor brick sections here and there. Typically vibrations are more challenging for optical HR sensors on the wrist. In any case, here's the data set:

So the first 10-12 minutes were me getting out of the city. Thus a bit stop and go, also some brick paths, and generally kinda messy. I'm going to ignore that for the moment.
Instead, you see at the 14-minute marker a big effort of sorts. That's me deciding to try and catch a person that went past me after I stopped to take a photo. The Inspire HR actually did better than I expected here. It more or less did what it was supposed to (and oddly, the Polar OH-1 entirely missed the boat). Still, the Inspire HR did have some slightly odd little spikes off the top of it, a pattern that'd continue throughout the ride.
If we then look at the meat of the ride, from the 24-minute marker till the 68-minute marker, things are pretty good here actually. Still, we see a lot of these little spikes thrown in for no particular reason.

After that point, we're back in the city and stop and go, and with that we see the accuracy go out the window. Still, for the main work portion of the ride, it did better than I expected it would.
Ultimately, the HR accuracy is roughly on-par with what I've seen from past Fitbit devices, it isn't as good as more expensive devices or in most cases a chest strap. While there are optical HR sensors that can be as good as a chest strap, this isn't one of them. Still, for most people it'll probably be fine to roughly plot what you were doing HR-wise during a non-interval workout. Whereas for intervals or short bursts of high intensity, it's a hot mess.
Finally, I'd love to show some indoor workouts comparatively, but unfortunately for reasons that (still) defy logic, Fitbit doesn't actually allow you to export out heart rate data for indoor workouts. So anything that doesn't have a GPS track on it doesn't export any data. When you try and export the data, you end up with an empty file. It's been this way for years, I've talked with Fitbit's lead engineers about it for years…and nothing has changed.
While you can view the charts side by side, that's less than ideal since you can't easily compare on the right scales. One day I'll be able to compare Fitbit workouts indoors. Regrettably, today is not that day.
(Note: All of the charts in these accuracy sections were created using the DCR Analyzer tool.  It allows you to compare power meters/trainers, heart rate, cadence, speed/pace, GPS tracks and plenty more. You can use it as well for your own gadget comparisons, more details here.)
Product Comparison:
I've added the Fitbit Inspire and Inspire HR into the product comparison database, specifically within the activity tracker section. This allows you to compare it against other non-GPS based activity trackers with ease. You can pick any products I've reviewed or had hands-on time with and dive into all the specs, including making your own comparison charts here.
For the sake of the below, I've decided to compare it against the Garmin Vivofit 4 and Vivosmart 4, as well as the more expensive Fitbit Charge 3.
Again, remember you can make your own product comparison charts here if you want to mix and match against other products that I've covered.
Summary: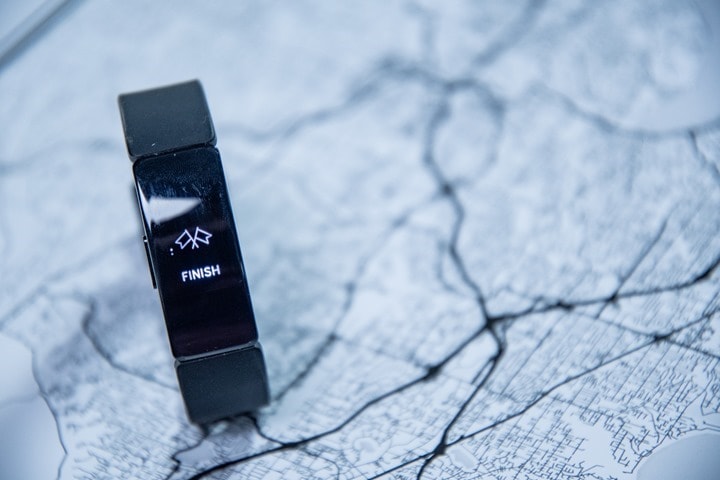 The reality is that the Inspire HR is more or less just another Fitbit. It doesn't do anything super unique that any other previous Fitbit didn't do. Except, now it's cheaper. And that's a good thing. It means that you've got a product that has most of the features of the higher-end Fitbit Charge 3 at about half the price, plus it accepts accessory straps/bands.
I don't think we're likely to see significant innovation at the budget end of the activity tracker market, where the Inspire HR sits. Instead, we're going to see innovation at the higher end, and then watch it slowly trickle down to more affordable products. The Fitbit Charge 3 came out last August, and now here in March we've got much of the same functionality. Still, it lacks some of the finesse of the Charge 3 as well as the SpO2 sensor, which Fitbit hasn't fully opened up yet anyway. The Charge 3 also has contactless payments, but only in the premium version that costs another $20 more than the regular Charge 3.
As noted, during workouts I find the HR accuracy pretty poor during certain high intensity moments, primarily intervals. For most people it won't likely appreciably impact their overall workout goal, given the price point of this device. But it's something to be aware of.
In using this unit day to day, compared to recently using the Charge 3 day to day, I don't notice much of a difference. It'd be a hard press for me to find a reason, aside from aesthetics to recommend the Charge 3 over this for most people. Perhaps if Fitbit makes public, use of the SpO2 sensor down the road, that might change things. But till then, the Inspire HR seems to be one of the best options on the market from a mainstream company in the space.

Found This Post Useful? Support The Site!
Hopefully you found this review useful. At the end of the day, I'm an athlete just like you looking for the most detail possible on a new purchase – so my review is written from the standpoint of how I used the device. The reviews generally take a lot of hours to put together, so it's a fair bit of work (and labor of love). As you probably noticed by looking below, I also take time to answer all the questions posted in the comments – and there's quite a bit of detail in there as well.
If you're shopping for the Fitbit Inspire HR or any other accessory items, please consider using the affiliate links below! As an Amazon Associate I earn from qualifying purchases. It doesn't cost you anything extra, but your purchases help support this website a lot. Even more, if you shop with TPC (The Pro's Closet), you'll save $40 on purchases over $200 with coupon code DCRAIN40! The Pro's Closet has been a long-time partner of the site here - including sponsoring videos like my cargo bike race, as well as just being an awesome Colorado-based company full of good humans. Check them out with the links below and the DCRAIN40 coupon!
And of course – you can always sign-up to be a DCR Supporter! That gets you an ad-free DCR, access to the DCR Quarantine Corner video series packed with behind the scenes tidbits...and it also makes you awesome. And being awesome is what it's all about!
Thanks for reading! And as always, feel free to post comments or questions in the comments section below, I'll be happy to try and answer them as quickly as possible. And lastly, if you felt this review was useful – I always appreciate feedback in the comments below. Thanks!