Here's what I was up to this past weekend, enjoying all the rain and wind that Amsterdam has to offer.
1) Riding the fields
First up on the docket was an outside ride to take advantage of a few pockets of sun. I think this is the first outside road-bike road in the Netherlands that I've done this year. Obviously, we ride outside multiple times a day here going out and about around town. But with the travel to CES/etc in January, followed by Cape Town for 5-6 weeks, this was about the first time the weather seemed desirable to venture into the great outdoors.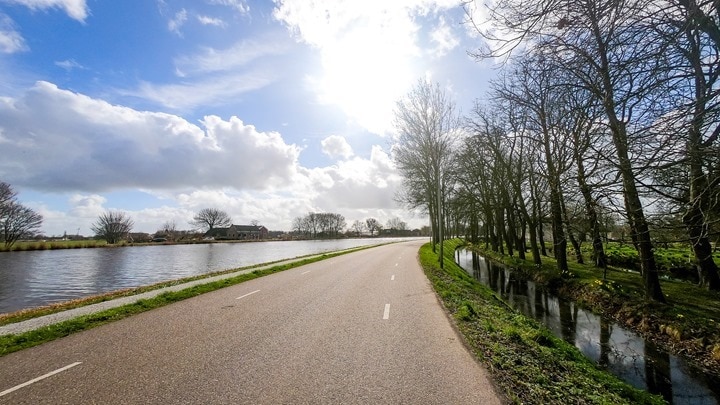 Nothing fancy, just my go-to of the Ronde loop that's probably one of the most popular rides for Amsterdam folks to do. It's got all the goods you want – windmills, cows, fields, canals, and sheep. Plus carless roads.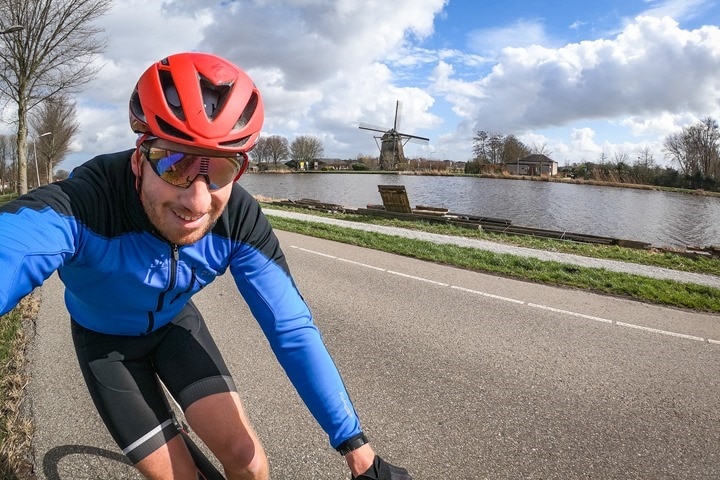 There were a few tech things I was testing on this ride, but more on those later this week and the next little while.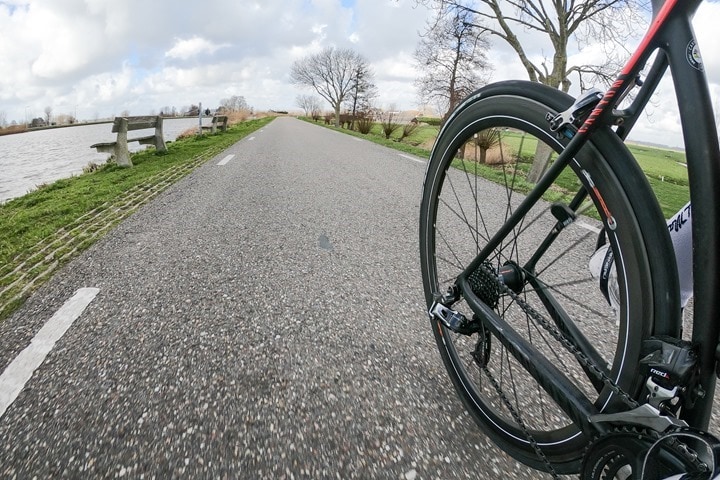 But what counts is that it was nice and sunny much of the time, albeit a bit windy here and there. Not horrible winds though, so acceptable normal winds for here.
2) Picked up a new bike!
Back in December I ordered a new bike. Sorta. I ordered a bike subscription to a service run by VanMoof. You pay about $25/month and you get a bike that's all your own. You have to pay a one-time $99 'key fee', which you can theoretically sell to someone else when you're done. The other option is to buy their bikes, which start at 900EUR ($1,011USD).
The VanMoof bikes are known for being hard to steal, but also with a pile of smart tech inside. The bike as a whole pairs to your phone, and you can control lights, set the alarm, and even lock/unlock it from afar. It has internal speakers that are loud AF. Not for playing music, but for the alarm if moved – using the accelerometers inside. And finally, it has some sort of cellular connectivity for occasionally checking in. Your pedaling recharges the battery, though you can also charge it using micro-USB cable if need be.
In any case, I was curious – and figured I'd try it out for a few months. Unfortunately, the waiting list is about 5 weeks, upon the end of which they said I had to wait another 5 weeks. So here I am, ready to pick it up.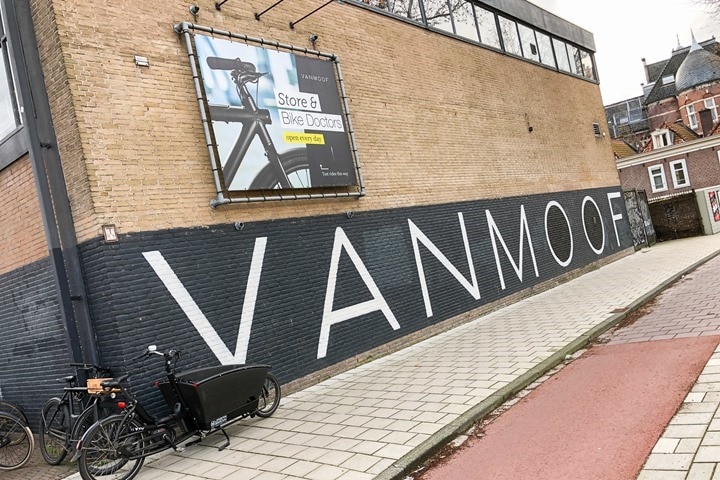 Pickup was done at their VanMoof store/HQ in Amsterdam, though they have other spots in major cosmopolitan cities around the world. Like a car salesroom they've got their other models on display.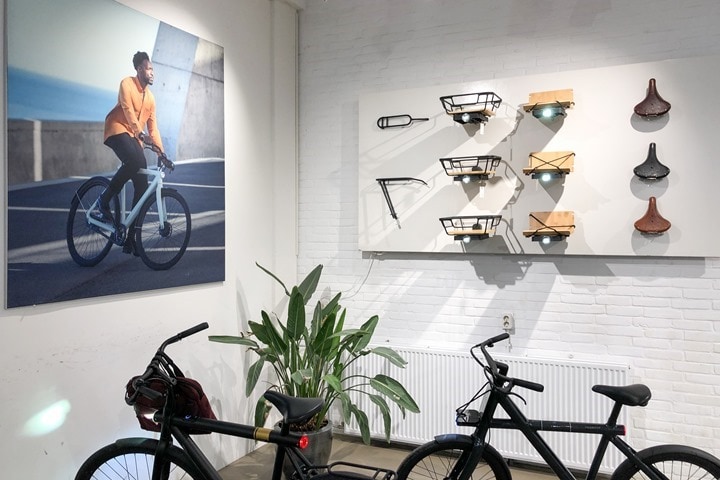 The entire pickup took about 20 or so minutes, though it wasn't entirely smooth. For example, the bike was given to me with flat tires, which I noticed as I started riding out the door. Also, little things like it was covered in dust. It sounds stupid – but if your upsell is being premium, then spend 10 seconds to wipe it down with a cloth.
Still, it is a really pretty bike. It's 3-speed (they have other variants, but that isn't needed here in Amsterdam), and as noted includes the lights built-in. If you want a front/rear rack, then you have to *buy* those for $100 each. If the bike is stolen, there's a $95 recovery fee. Though maintenance/support is free for the bike. If you've got problems they just take care of it for you.
My first riding impressions are…well…I'm honestly glad I didn't buy it. While the feel is good, the shifting is hot garbage. For one, the shifter ring has about 2-3mm of play in it. But more importantly, you can't shift into an easier gear unless you briefly stop pedaling. Atop that, half the time it'll just random-ass shift like 20 seconds later. I don't know if it's the quality of the shifters they've selected, or what. Either way, for a $1,000 bike – it's a show-stopper for me.
All in, we've got a pretty big fleet of adult bikes in our stable:
– 2 triathlon/TT bikes
– 4 road/race bikes
– 3 around-town/commuter bikes (+ the VanMoof)
– 1 cargo bike
Ok, now that I write it out, it sounds like a lot. N+1 I guess?
In any case, for all the around-town/commuter bikes, they're low-budget variants. For example my $800 Trek bike is the most expensive of them, complete with front and rear racks. We have two others that we've spent no more than $200-$300 on (also with front/rear racks), and they're more than capable of shifting gears with load applied.
Still, I'm going to write up a review on this down the road. Mostly on the electronics side – which I do think is cool, but also underdeveloped for what the company could be doing. More to come.
3) Dueling trainer ride
Saturday afternoon a friend came over for us to knock out some virtual miles on Zwift. He brought his bike and placed it atop a NEO 1, while I was riding the NEO 2. Unfortunately we had an 11-speed cassette on the NEO1, and his bike is 10-speed, but for the course we selected it honestly didn't matter much.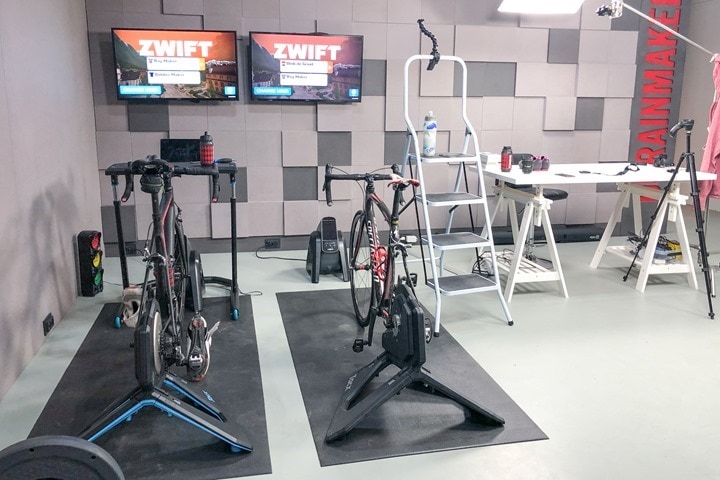 We went for Innsbruck, and did the UCI Short Course lap once, which is about 50 minutes of riding, 25-27 minutes of which is climbing, so from a gearing standpoint once in the right gear you're not changing a ton.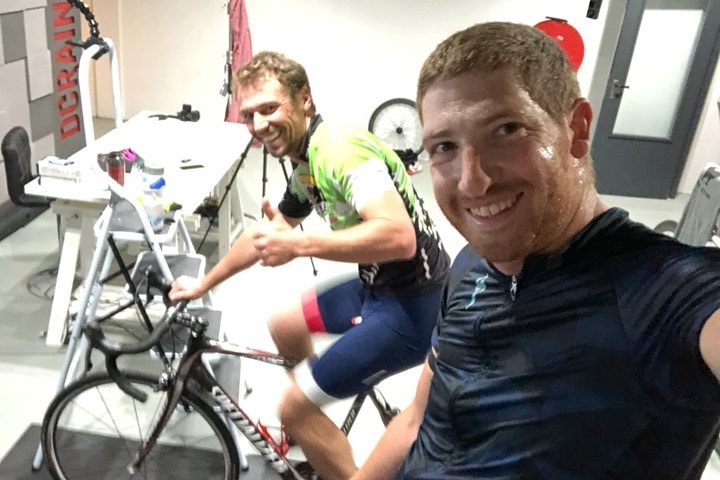 I had planned to put him on my Gen 1 KICKR which is 10-speed, but for some odd reason I can't find that at the moment. Gotta figure out where that's hiding. It's somewhere around here.
Oh, and when I was done I went ahead and spent some Zwift Drips on buying the same frame as my real bike. I'm sure I could probably spend the points elsewhere on other things that have more of an advantage, but honestly I don't care.
I was disappointed though that it didn't seem like the paint accent slider was working to add in the red accents of my real frame on the Zwift variant. Perhaps it was an Apple TV thing, I'll try at some point on desktop.
4) Rainy Castles
Sunday morning we headed over to the Castle to let the kids run around the gigantic indoor play area. It was dumping out. I was completely soaked by the time we pedaled the 12 or so minutes there. Drenched. The kids were inside the cocoon of the cargo bike, so they were happy and dry. And The Girl was smart enough to take a change of pants for after she arrived.
But, the play area was good as always: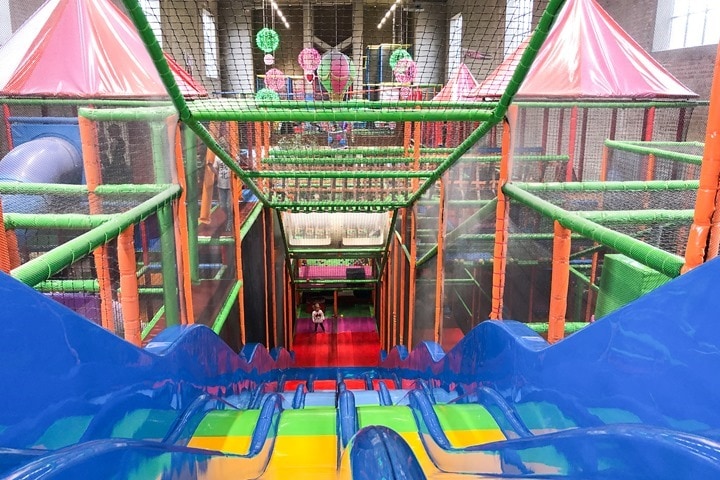 Their business model is astoundingly brilliant. They only charge for kids entry, adults are free. They make their money through hosting parties and through their food/candy sales. They've actually got surprisingly good food. This isn't just crappy hot dogs. If you want a fancy brie sandwich you can get it. All served on trendy glass plates. They've got WiFi and tons of tables for adults to hang out and kill time.
Not to mention the place itself is massive, it's a converted (huge) church that was then shifted into a shelter, before becoming this place. In any case, after we were done, the rain decided to step it up a notch. I got drenched again on the way home. Once again the kids were dry, and the littlest Peanut fell asleep as always.
It's funny, in thinking about it, I don't even know if this place even has a parking lot for cars. It just has a bike lot out-front that the cargo bikes stack up in. It's perfect.
5) Late night runs
Sunday night after the kiddos went to bed I headed out the door for some intervals around Vondelpark. Nothing fancy or terribly long, just capturing some data on a few fronts. It was damp, and dark. A bit cold and a bit windy, but nothing overly so.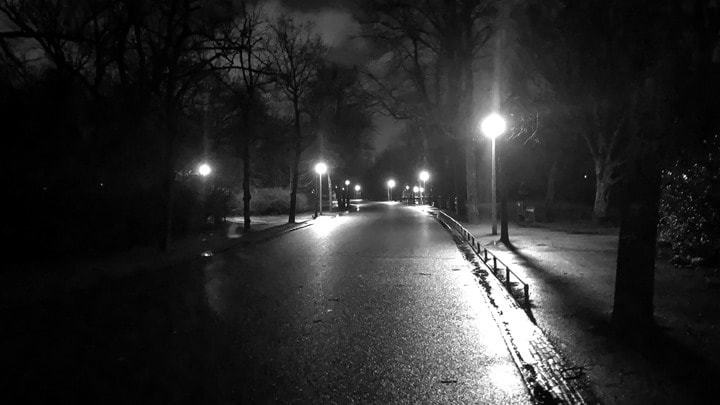 Intervals themselves were nice. I was doing about 6:10/mile (3:50/km) for 800m chunks. Plus some sprints. In reality I probably should have done 6 of them, but I was feeling lazy. Shrug. Still, nothing too crazy.
After that it was back home to close out the weekend.
With that – have a great week ahead everyone!