And just like that, I'm back in Amsterdam. Well, sorta. By the time you read this I've already left the continent in search for…umm…colder weather, apparently. But more on that at the end. Let's dive into what was happenin' this past weekend.
1) Peloton vs Zwift, sorta
I was feeling bored of Zwift when it came time for my trainer ride, so I decided to mix things up and give the Peloton app a whirl.  While I've ridden the Peloton bike in a studio before, I've never actually tried the standalone app where you don't need a Peloton bike.
So I loaded that up on my iPad, and the AirPlay mirrored that to the left Apple TV screen: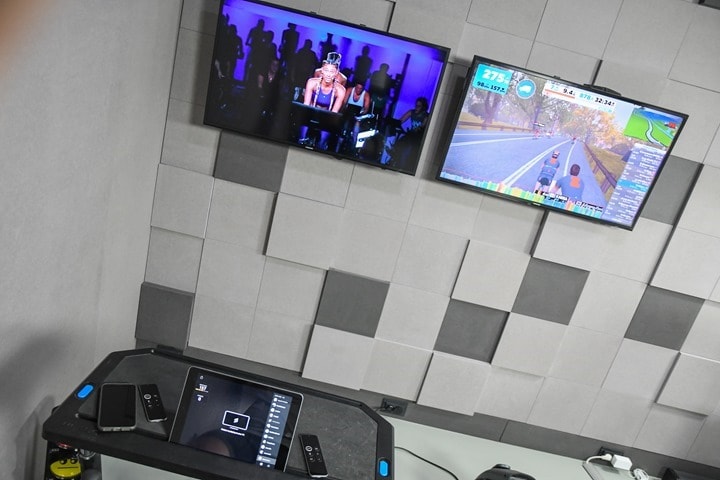 The way Peloton works is that you can either join in a live class (streamed from their NYC studios), or you can pull up a crapton of historical classes.  Most classes are between 30-60 minutes.  In my case, I simply selected a live class that was starting at the top of the hour: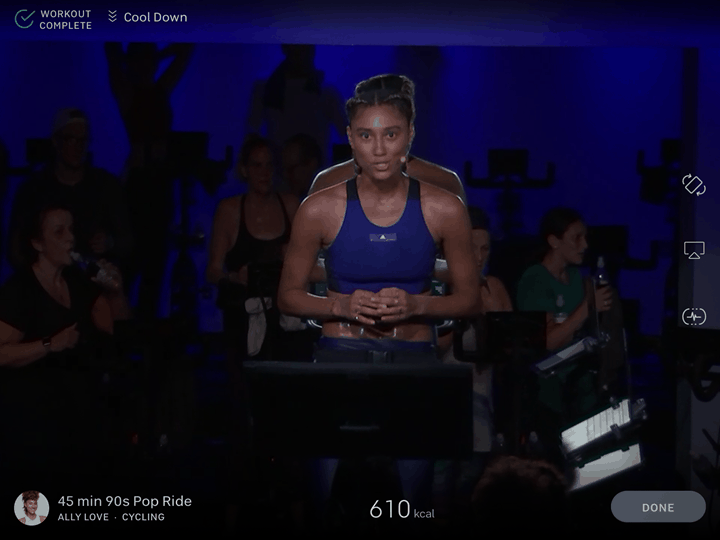 Within the iPad app you can pair to both a Bluetooth Smart heart rate strap and a Bluetooth Smart cadence sensor.  I paired up the Garmin HRM-DUAL to the iPad, while also pairing it to the Apple TV running Zwift on a second screen. A perfect use of the dual-Bluetooth Smart connections that it allows.
However, I stupidly paired it to the wrong cadence sensor on another bike that I had moved just before, and then realized as I started my ride that I didn't even have a standalone cadence sensor on my bike. Doh!  So it just did nothing.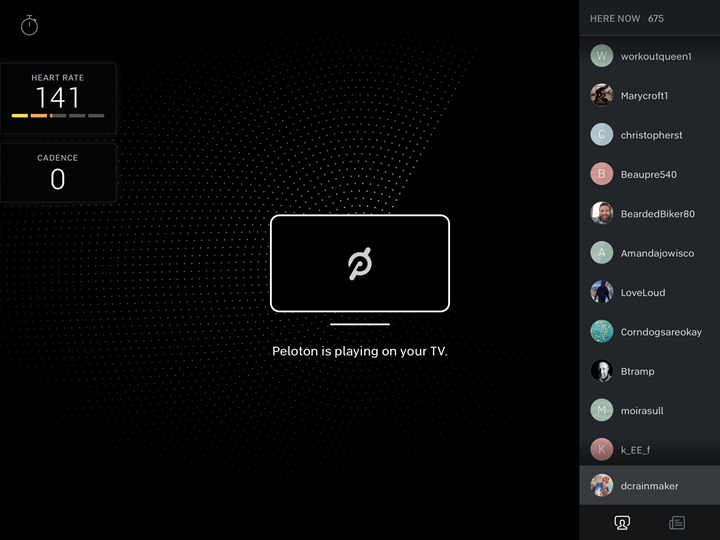 The classes were just as good as they are in the real studio. However, I do feel like the overall iPad app as an experience is a pretty big let-down.  Again, workout/instructor great…app…not so much. A couple of reasons:
A) When it mirrors the iPad to the Apple TV big screen, it doesn't actually mirror any of your data like heart rate, cadence, or time. It just shows the video feed. So you're always looking at both places, rather than focusing on one screen. Certainly, I can see the appeal of having a clean video-only screen, but then why not give a choice?
B) I would oddly fall behind and then instantly fast forward through like 20-30 seconds before catching up. It's totally possible this was something with my internet connection, though my download speed is a pretty stable 500mbps, and my internal internet via Google WiFi is pretty darn stable from what I've seen too. All that aside, I don't understand how I'd ever actually fall behind visually. I'd be watching normally and then boom – it randomly fast forwards and seems to catch-up.
C) You have no context of power. Despite having umpteen power meters on my bike and trainer, you can't pair a power meter to it at all. Thus, you can't really follow along with their resistance based program. Nor do they provide any guidance on how to best judge that. When the instructor says resistance at 50 – should that mean my HR is at what zone/intensity? It would seem a little bit of guidance here would go a long way. Perhaps there's a support article buried somewhere – but there's nothing surfaced in the app.
D) You can't upload to Strava unless you have a real bike. WTF?!? Why can't I upload to Strava? This is frankly the dumbest thing I've seen on multiple levels. First off – if I upload to Strava then people are seeing I'm using a Peloton bike. Ignoring the fact that I've got a crapton of followers, the average person with an average number of followers will see their friends using a Peloton bike. I noticed one of my friends uploading his workout just this morning. Again – a reminder of the platform.  But, to the less business-focused angle – why not? Every fitness app on the planet allows you to upload to Strava. Why would you not want me to share that?  Supposedly I'm told if I get on a real Peloton bike and set up my account there it'll stick for all future rides (bike or not).
Now, it may sound like I'm being negative – but I'm actually not. I'm a pretty big fan of what Peloton has done from a product standpoint (less so in other areas). Heck, I've even been scheming on how to get one back from the states on an upcoming trip. However, that doesn't excuse the fact that the iPad app is subpar at best.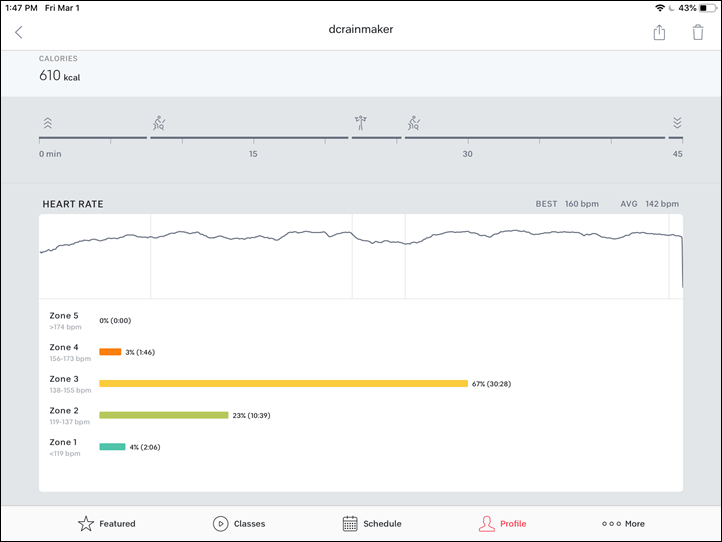 Oh – Zwift worked fine. Why'd I dual-Zwift then? Simple: Points.
I just paired it as a regular power meter (instead of an interactive trainer), so that I'd get XP-now-Drop points to be able to buy things I don't really need. Duh.
2) Off to see horses and deer
The Girl had a few things to knock out on Saturday morning, so I took the kids out for a bike ride, culminating in a stop for pancakes and deer.
First of course, we had to stop to say Hi (and then Bye) to the horses at the end of our neighborhood.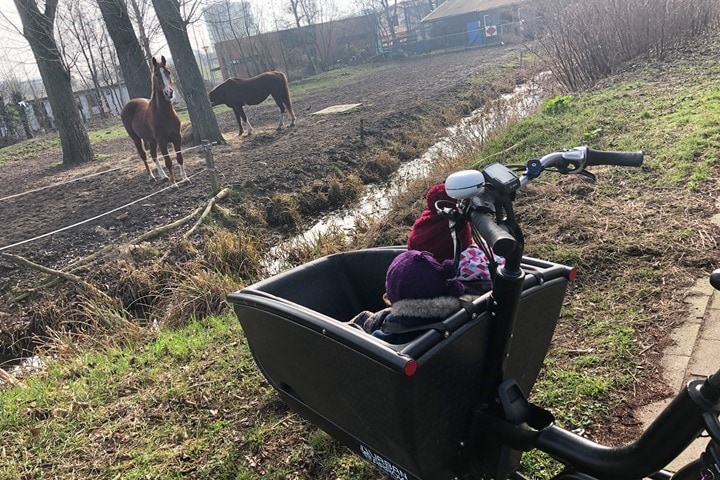 Then it was onto a quick stop at the DCR Cave to pick up a few things for my run later on. Stroopwafels kept the kiddos happy while I rummaged around: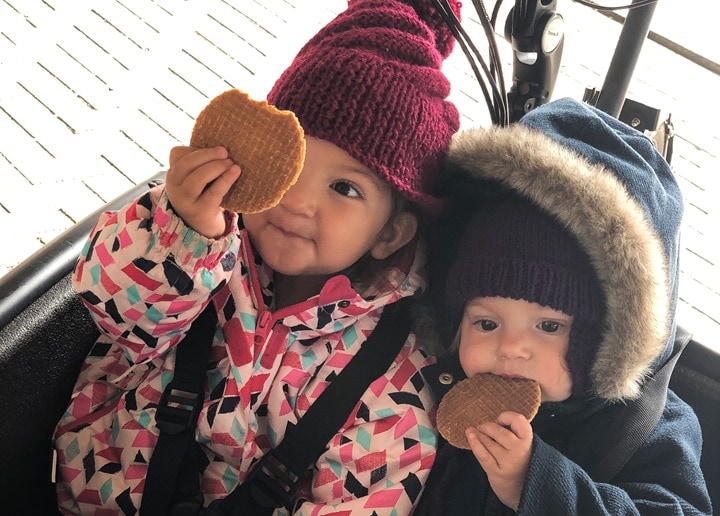 From there it was time for Dutch pancakes overlooking the deer and rooster petting zoo. Except, you don't get to pet them. Just feed them. Not sure what you call that, but the kiddos were happy either way.
We also saw some peacocks and cows on the way home. And, as usual, one of the two Peanuts decided the last few minutes was better spent sleeping. She's really good at sleeping in bikes and strollers.
3) A Nighttime Amsterdam Run
Saturday night just after the kids were tossed into bed I zipped out the door to get in a nice brisk run around the city. I decided to mix things up and make a bit of a loop. Except, I wasn't sure I'd remember exactly which streets to turn on, so I ended up mapping it out using EasyRoute, and then sending it over to Garmin Connect, which then sync'd it with my watch as a course. I wrote about how to do that for both Garmin and Wahoo devices here.
With that all set it was out the door I went: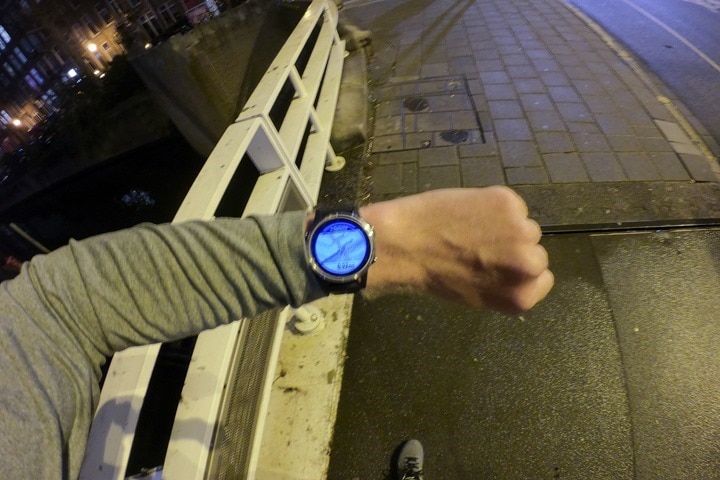 I only stopped in two places to take photos, including both sides of the Rijksmuseum: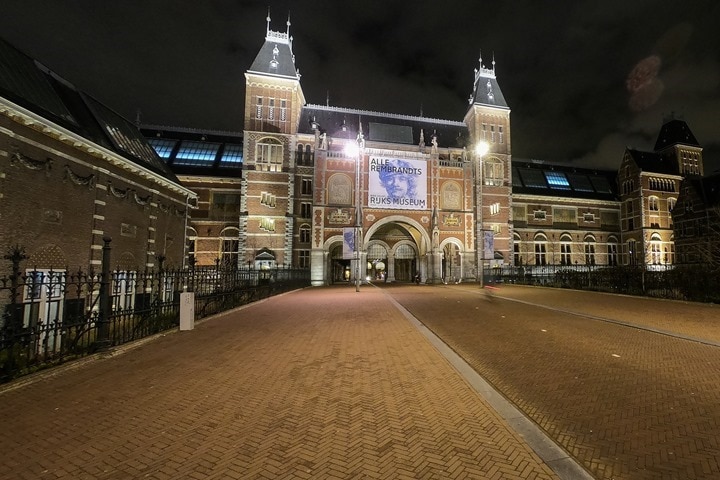 The above picture came out really well, shot on the GoPro Hero 7 Black, and then applied a lens correction in Lightroom mobile on my phone, which got rid of the fisheye look. I could have used Linear on the GoPro to do the same, but I find at night that for whatever reason the wide shot tends to come out better. No idea why.
After that, it was back into the park and on to home.
I will say that the Fenix 5S Plus I was using did a stellar job of laying down the worst Garmin device track that I've seen of any Garmin device since moving to Amsterdam.  I've seen some similar tracks from Polar and Suunto, but this is the first time I've had a Garmin one really crap the bed here.
For example, below at the start/finish – I stayed on the right side of this canal both directions: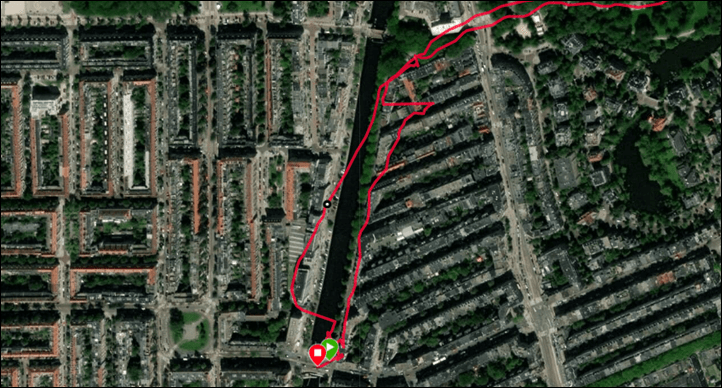 Or whatever happened here as I simply ran down the nice and straight street: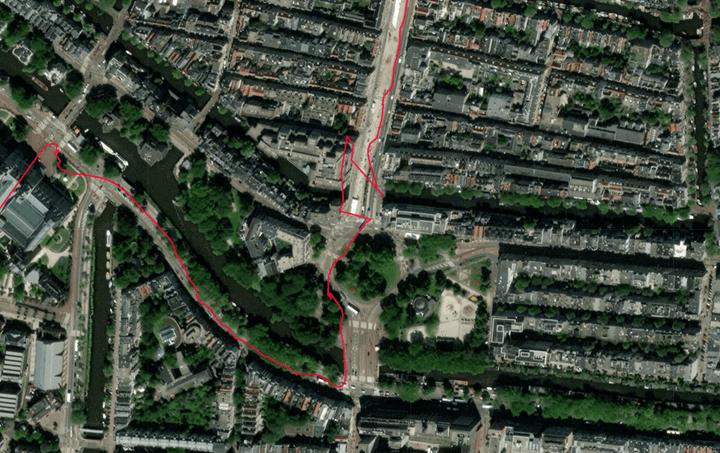 There were other spots too.
I'm not sure why it was so bad. I did notice afterwards that it was on regular GPS mode, and not GPS+GLONASS or GPS+GALILEO, which is what I almost always use. The reason it wasn't on my defaults is because I recently hard reset the watch when I was filming something to get it back to a clean slate. And I frankly don't use the Fenix 5S+ all that much, it's just sorta been a leftover on my wrist from something else.
4) TrainerRoad vs Zwift, sorta
Sunday afternoon the rain was strongly flying sideways and not in a nice warm kinda way. So it was back onto the trainer I went. This time going for a twofer of TrainerRoad and Zwift.  I used TrainerRoad to control the trainer for a structured workout I picked there.  While I used Zwift for the social aspect.
Effectively no different than riding a structured workout on Zwift, except TrainerRoad was doing the controlling.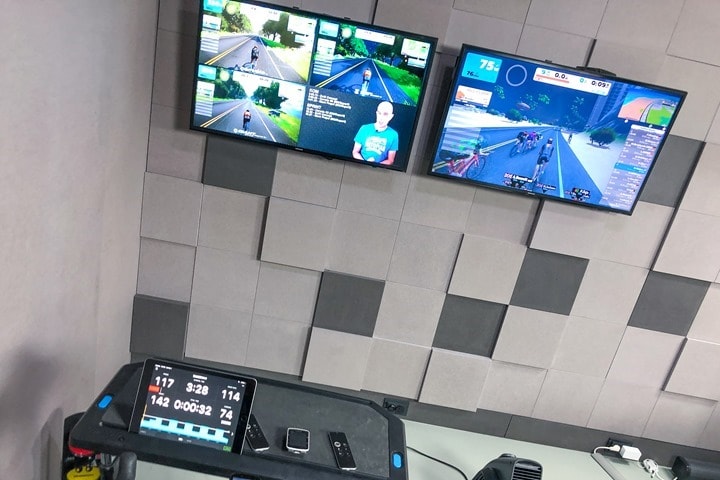 Oh, and I was watching YouTube, of course.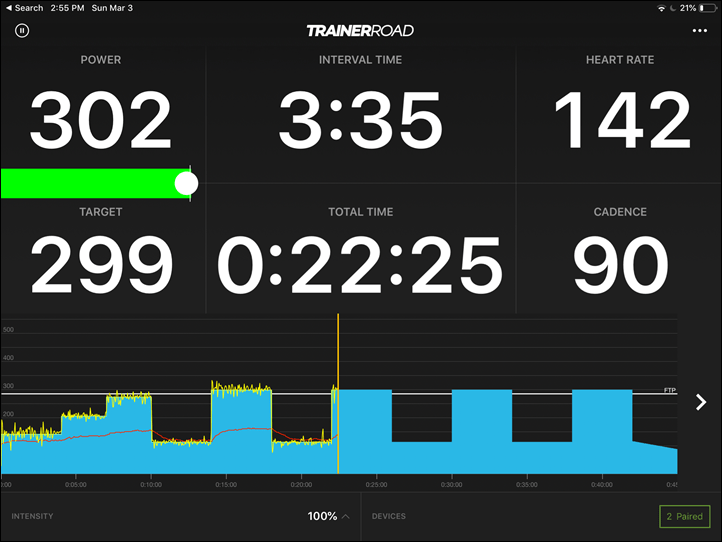 While TrainerRoad doesn't have an Apple TV app, I could mirror it.  And sure, that's a possibility, but I still think there's something to be said for having a native experience there. Perhaps not as much as The Sufferfest could benefit from it (like what FulGaz did), but enough that I think there's benefit there from a platform standpoint.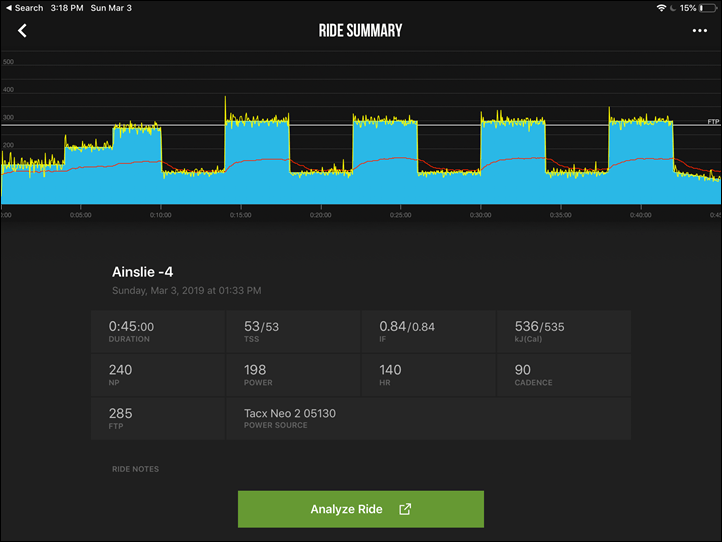 And in case you're wondering – the structure of the workout was a simple build followed by 4x4mins at 299w. I used a Tacx NEO 2, though was also recording data from the PowerTap P2 pedals and Stages LR unit. Short of me forgetting some super-critical photo or something, you'll see my PowerTap P2 In-Depth Review tomorrow morning.  I've got 6 hours and 41 minutes left on this flight to finish it.
5) Off to NYC
Finally, I'm just about to push back [update: ok, in the air] and take a quick jaunt across the pond to NYC for a one-night stand. Err…stay. No stand, just stay. Don't got no time for standing around.
Either way, I've got a quick lineup of meetings from later today and tomorrow morning before taking a flight back to Amsterdam. For me, NYC trips are among the easiest I can make. The flight is short, the logistics are simple, and I can knock out usually a few companies at once.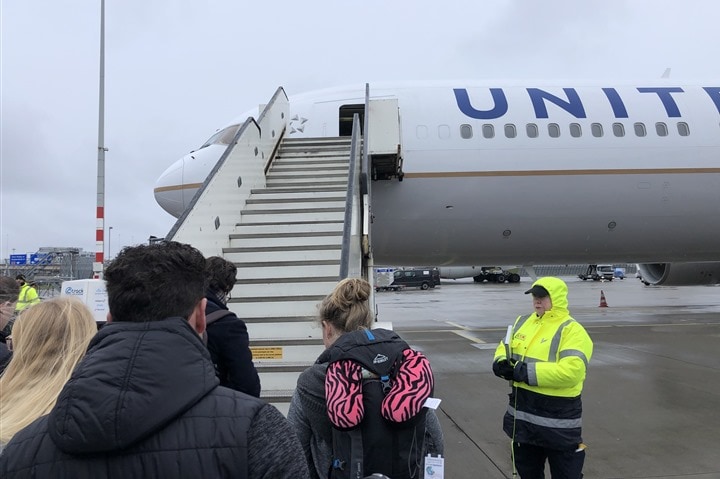 Oh, and plus – I can swing in for a Peloton class tomorrow morning and get my Strava account lined up on one of the bikes. So there's that for you. Well, me…not you.
Maybe I'll even squeak in a run this afternoon. Though, apparently it's snowed a boatload since yesterday. Hmm.
With that – have a great week ahead!