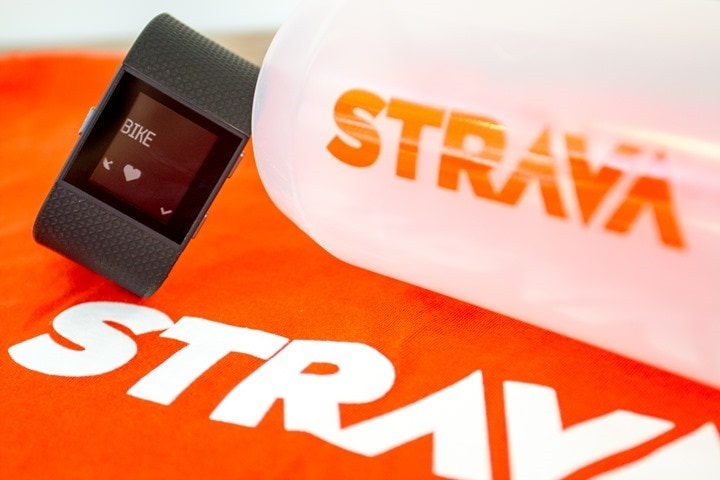 Back a few weeks ago while at CES 2019 I met up with the crew at Strava to catch-up on a variety of topics. While Strava doesn't do booths or even off-floor suites, they do get a lot of miles in walking and talking to a wide assortment of companies. With thousands of developers using their platform to upload all sorts of fitness stuff, they actually have a number of companies to talk to. Mostly just catch-up and business-development type stuff, rather than direct to consumer type stuff (and honestly, CES isn't really a direct to consumer show anyways).
In any case, at some point I got to talking to Mateo, who is their device integration lead. Essentially if you want to integrate something to Strava, all roads lead through/to Mateo.  He had mentioned that a few days prior he pulled a report for how many different devices he had used to upload to his personal account over the course of 2018. Turns out he had 38 known devices (more on the 'known devices' caveat in a moment).  Like me, he tests a lot of devices. In fact, we often compare notes if/when we're having issues – since usually we see the issues about the same time before they hit the general population.
In any event, I asked if we could get my upload numbers – purely out of curiosity. Just as a spoiler, there's no massive life-changing moment in this post. It's just fun stats I thought was interesting.  And here we go, for 2018, my totals: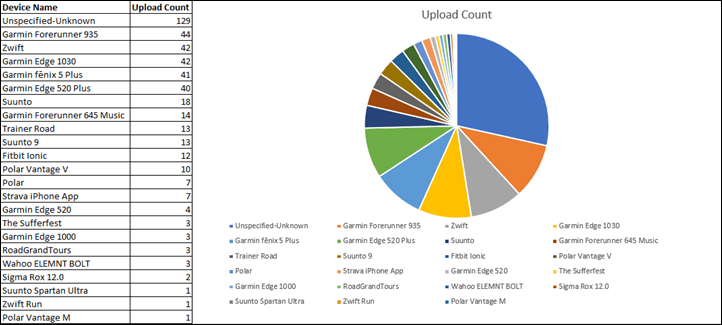 Now there's a couple of big caveats here, specific to new devices and how it impacts me especially:
A) If a device isn't recognized by Strava *at time of upload*, it'll go into the uncategorized bin: This is especially notable for many of my Polar Vantage workouts, which were done prior to Strava listing that device type (usually it's a few weeks or longer after announcement before they show up). Same goes for some of my Suunto and Fenix 5 workouts.
B) I actually don't upload all my stuff to Strava: For example, on every ride I do, I run three (or more) Garmin Edge units, connected to three or more power meters. That's aside from any watches I'm using. Yet only one of those Garmin Edge devices is actually even connected to Garmin Connect. Instead, I just offload workouts via USB only (and do updates manually via WebUpdater). I do this because sometimes there's just too many files coming in and I want to control the mess.
C) Sometimes I have test accounts that don't upload to Strava: This is especially true of both Suunto and Polar, where I've got test accounts on platforms that I haven't configured to upload to Strava. These wouldn't show up here either.
Got all that? Good.
By the way – you may be wondering how a device is known or not known. Whether a device is declared falls first to the manufacturer, and then from there to Strava. For example, Apple offers no official way to upload as an Apple Watch via their workout app straight to Strava. You can use Strava's app, or use a 3rd party app as I do. But that 3rd party app doesn't show up as an official Apple Watch. In fact, you won't see it at all below – despite me uploading probably 20-30 Apple Watch workouts to Strava.  Nonetheless, for someone like Garmin, they write the name of the device into the .FIT file, and then Strava has a manual approval process for new devices. It's a handy checks and balance system that also keeps device companies (like Garmin) from accidentally shooting themselves in the foot and 'announcing' a new watch before it's actually announced.  In the case of many companies (including Garmin) these devices will either be set to show older watch names (like a Fenix 5 before the Fenix 5 Plus came out). If they show as blank on Strava, that means that device isn't in Strava's official device name database yet:
So basically, things like all my runs with the Vivoactive 3 Music for example – have fallen entirely into the 'Unspecified' bucket. Or the Stages Dash. Same goes for a pile of runs/rides on my Polar Vantage series watches that either weren't uploaded (and I had a 'loss' of about 5-7 Vantage activities on one unit back in the beta stage, during a trip). And things like the COROS Pace/APEX watches apparently all fall to the 129 activities within unspecified (it does appear in 2019 they are properly showing up though).
Ultimately, I officially uploaded in 2018 with 23 unique devices, but unofficially including those in the unspecified folder my guess is that I'm in the 45-60 range. Just a guess.
So how does that compare to years past? Ask and you shall receive. Here's the 2017 stats with 30+ known devices: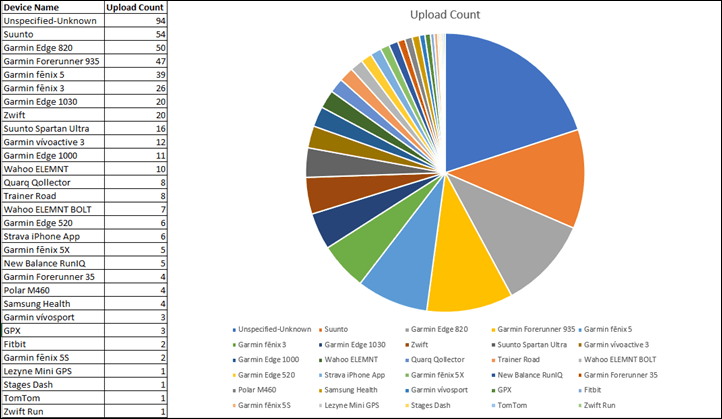 And here's my 2016 stats with 27+ known devices: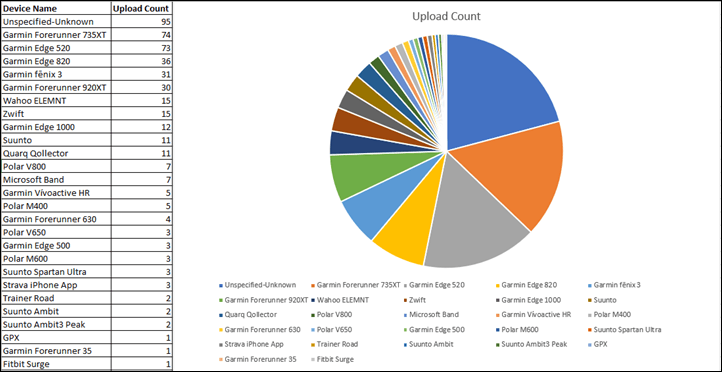 It's somewhat interesting to see how each year the total number of uploads was surprisingly similar:
2018: 453
2017: 470
2016: 455
Yet, there was an uptick in the total percentage of unknown/unseen devices in 2018
2018: 28% unknown devices
2017: 20% unknown devices
2016: 21% unknown devices
As for doing this data yourself, you can actually do it with the Strava API, if you were of the programmatic nature. And, I suspect a 3rd party developer could probably easily develop a web app to enumerate your own data quite easily once authenticated (and in the event someone creates a little app/site to do that, I'll happily link it here). It used to be that this data was more public for everyone (so one could see how many devices of a given type raced a specific event), but Strava has locked down most of those avenues these days (except for your own data).
Update: Here's how to do something semi-similar with popular analysis site VeloViewer:
Once logged in and your Strava account refreshed, Select Activities Tab > Click 'Chart' button (right side of screen) > Click red 'Settings' icon > Set Type = Column, Set 'X Axis'  = 'Device/App', Set 'Y-Axis' to 'Count'. Set 'Size' to 'None'.
This will show every activity you've ever done. So add a filter by clicking the 'Show filters' blue button on the left side, and then putting in the date range you want. Once done, you can click the blue 'List' button on the right side to just show only the graph.  You'll get this: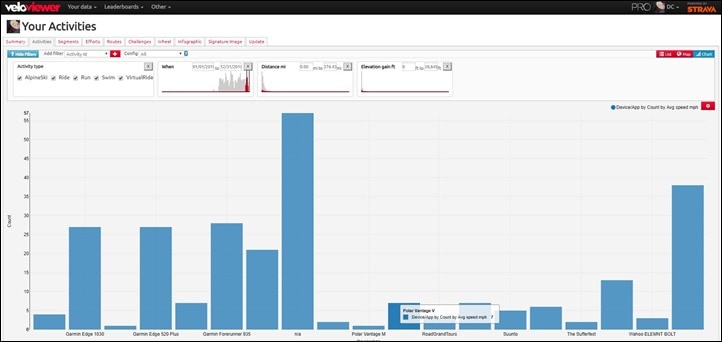 You'll notice there's some differences. Mainly in that the data Strava pulled for me included deleted activities (since I often delete duplicates), whereas this doesn't. But for 99% of you, that'll probably be what you want anyway.
Personally, I'd love to see Strava release more tidbits of data like this for entire races. Similar to how we've seen Fitbit show off widespread heart rate trends for viewers of the Super Bowl.
I suspect the reason a company like Strava might be hesitant to do that, is that they don't likely want to show how overwhelmingly lopsided some of the device usage trends are – since from Strava's standpoint each of these device companies are also partners.  Still, that's not terribly different than what we see with IDC and other industry trend type groups.
With that – thanks for reading…I'm off to add some more unknown device uploads to my 2019 count!