An in between weekend – that's what this was. I've been home the last week after my Interbike and such trips the week before.  But come the end of the weekend it was back on a plane and across the Atlantic. Still, here's what I was up to!
1) I found my Polar V800
Back last month while preparing my initial Polar Vantage series post, I was racking my brain trying to find my much older Polar V800. As you know I usually include comparison shots against a variety of watches, including predecessor units. Unfortunately, my Polar V800 has been in a missing state for a long-long time.
As far back as January I think actually. I had set it aside back in late December while packing for the move from Paris to Amsterdam (and also packing for three months in Australia). I was mostly expecting the Vantage series to come out in spring 2018, so I wanted to ensure that if I was choosing stuff down in Australia, that I'd have it with me.  Thus I set it aside.
Which in reality, was the worst possible thing for it – because somehow it got mixed up in the wrong crowd and it's been missing ever since.  I've spent many hours looking for it (dedicated to looking for it). No luck.
Then this Friday night sure enough I found it. In exactly the place I've looked through 30 other times: The big bin of watches.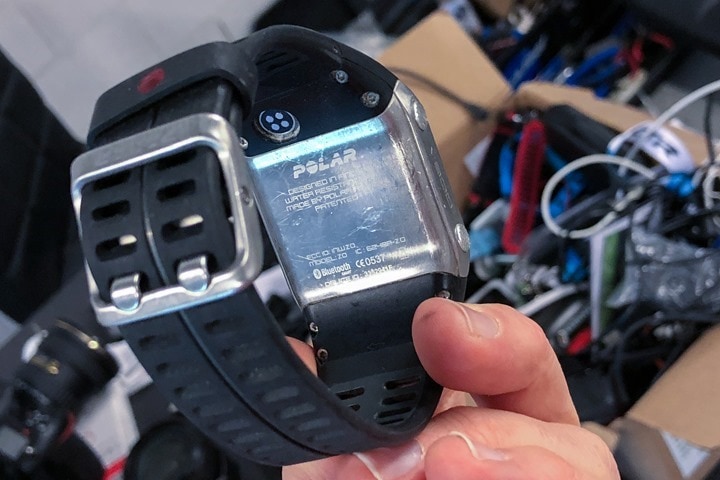 I don't really understand. I even went through that bin moving them almost individually to a secondary bin.  Somehow the 'almost individually' part is what did me in. Sigh.  Well, at least I've got him back.  He does look a bit rough though. Wrong crowd and all that I suspect.
2) Riding the loop
Saturday morning I headed out with one of our friends and new riding buddy for a loop around the Ringvaart. This is an approximately 60KM loop that's to the south of Amsterdam. It follows a canal the entire way, so it's not only scenic but also mostly protects you from crossing traffic/driveways/etc.. since there's only a handful of such things butted up against the water.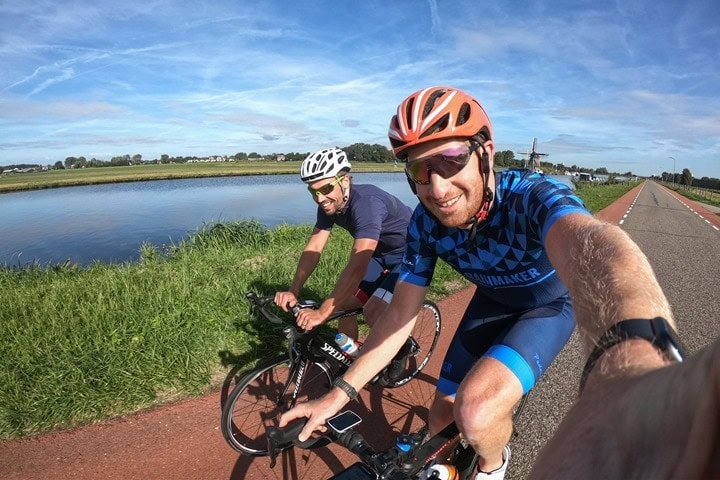 It was a beautiful fall morning. Neither cold nor warm. Just sorta in between. If you were out for a walk you'd want a jacket, but riding or running was good in short-sleeve apparel as long as you had some intensity and didn't stop (in which case the sweat would quickly feel chilly against your skin).
We took a slight detour on the way back and swung through the rowing basin. It was here a triathlon was underway. I had considered doing this triathlon, but ended up just having too much on my plan this past week (sandwiched in between two international trips). Looked like a great day for it, albeit perhaps a bit chilly coming out of the water on the bike.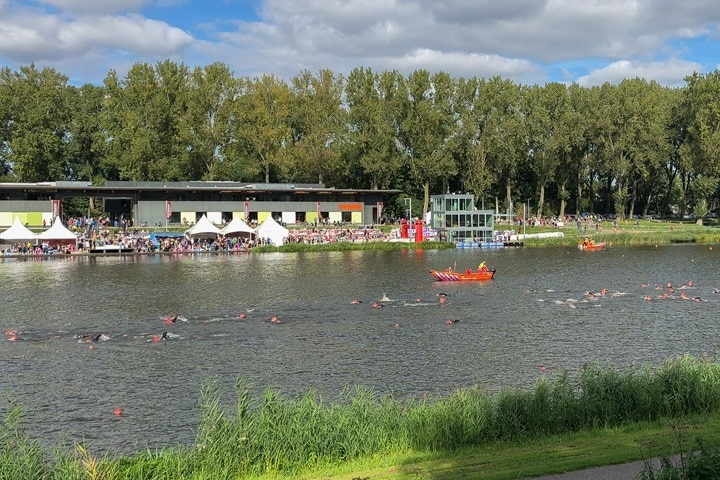 I was surprised by how many people were participating – looking like a great turnout.
3) Pancakes, Bikes, and Deer
Sunday for lunch it was pancake time.  So we rounded up all the littles and threw them into the cargo bike for the 15 or so minute pedal off into the woods.  Near the edge of the rowing basin in a restaurant that's part pancake house and part petting zoo. With a side of lots of playgrounds.  They even have dedicated cargo bike parking: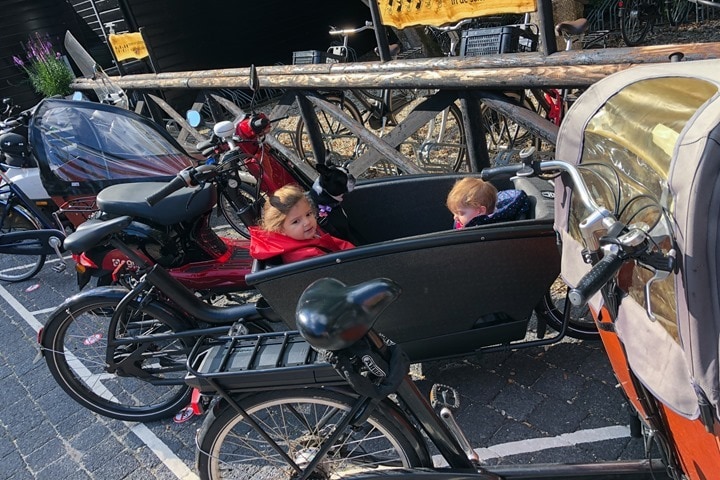 Yes folks, not just dedicated bike parking (because obviously, Netherlands, of course they have that). Sweet!
Inside the restaurant they have these crazy pancake making machines.  And when I say pancakes, that's what they call them, but for Americans I'd put these closer to a blend of an American pancake and a Crepe. Like what would happen if someone like myself that started as an American and then moved to France for a number of years and got distracted one day making pancakes.
Now while our plan was pancakes, the wait for orders was over 45 minutes.  So with two hungry creatures we diverted to sandwiches and apple pie. The pie was the best yet I've had in this country (and we've eaten a lot of apple pie here).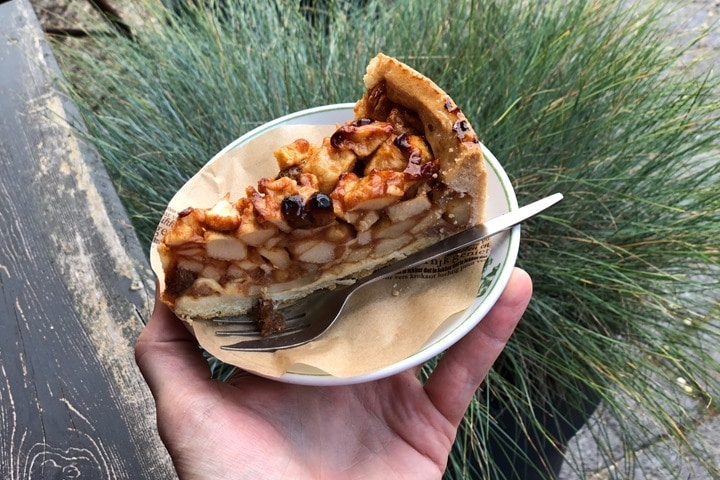 Oh, and there were animals, in particular, deer. Oh deer: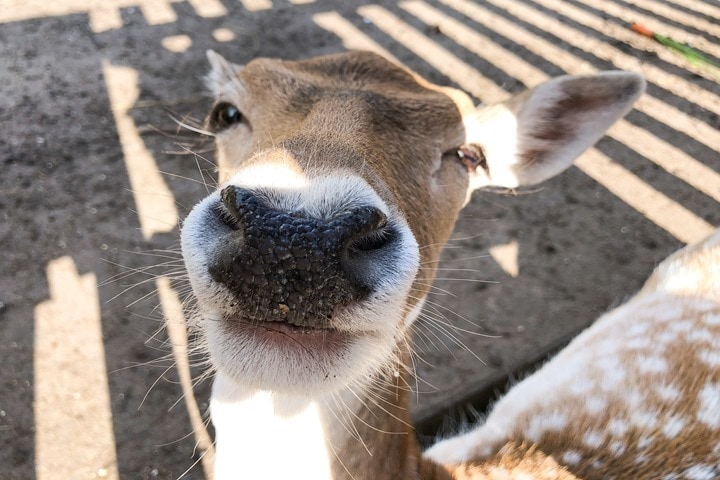 There were also peacocks and other creatures, but The Peanut has bad memories of peacocks in Singapore trying to acquire her food. So she wanted no part of those birds.
4) GoPro Livestreaming Tests
Both Saturday and Sunday I did testing of the GoPro Hero 7 Black and its ability to livestream to the interwebs.  In the case of Saturday I did it via Facebook to my personal page while I pedaled across town to the Apple Store to return an extra watch.  I had initially ordered the new Apple Watch Series 4 online, but that wasn't slated to come for a while.  So The Girl went instead and just picked one up at the store (details on why and all that here).  Of course, by the time she had gotten home it then showed my other order as shipped.
Funny tidbit: Despite being completely unopened and sealed in plastic, they still had to open it up and check everything was there. Apparently policy, as they've had customers return sealed boxes only to find sand or rocks inside of them.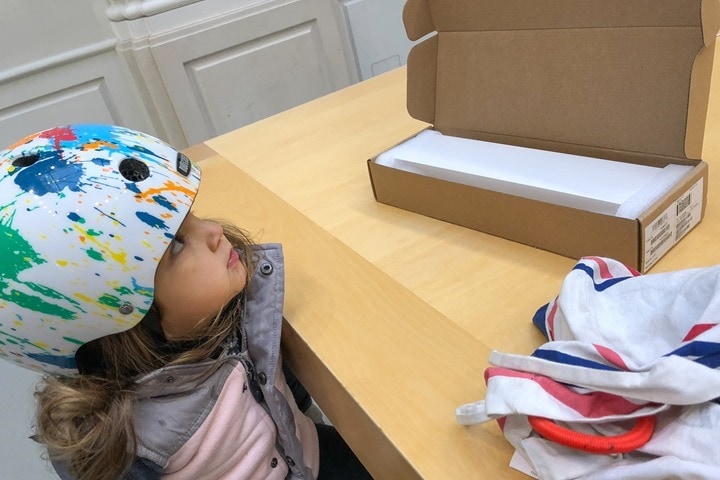 Note that I would have loved to livestream to my DC Rainmaker Facebook page instead (you do follow that, right?), but the GoPro app doesn't support that yet (it's a minor programming option they haven't implemented for whatever reason).  Geek note: Technically you can create a RTMP stream and use it on a Facebook page, but the logistics of doing that solo are nearly impossible since someone has to be at their computer and trigger your session live, after that person has then given you the RTMP server/key. Sorta a mess for spur of the moment stuff.
Anyway, the regular GoPro session on Facebook worked just fine and dandy.  More on that in a second.
Next, on Sunday afternoon I went ahead and did a test with YouTube instead – this time to my YouTube page (you subscribe there as well, right?).  In that case, there were piles of you that joined in over the course of the 7-8 minute long session.   Setting it up with YouTube isn't hard, but isn't as clean as Facebook. Again, something I'm sure GoPro will add/change/whatever to make it nice. Right now you have to channel your inner geek.  If you want to watch that stream, you can do so here.
The point of all this though was to put together a YouTube video on how GoPro livestreaming works with the Hero 7 Black. That you'll find below:
Within it, I cover setup/configuration of both Facebook and YouTube, as well as sample footage from both. Both are kinda fun clips to watch, though I'm slightly more partial to the ride with The Peanut.
5) Off to Canada!
And with that, I'm off to Canada to freeze my ass off. The stated temperatures are cold. At least for what was September and is now the first day of October. Nuttin' good is going to come of these temps.  Except I suppose pretty pictures – so that is a positive.  But here's the current weather alert for my destination:

The trip isn't off to a strong start though this morning, as Amsterdam airport's Terminal 3 lost power for all the important stuff, most notably baggage. So they're having to move all baggage around by hand on carts:
Somehow related to that, it took me almost 80 minutes in the security line this morning. Kinda crazy.  Luckily for some bizarre reason I actually got to the airport a bit earlier than normal.  But now we're sitting here at the gate waiting for bags. At last check they were still missing 170 bags. Thankfully, according to the United app my bag is actually onboard now (it wasn't for a long while).  No worries, I've got like a 4-hour connection anyway.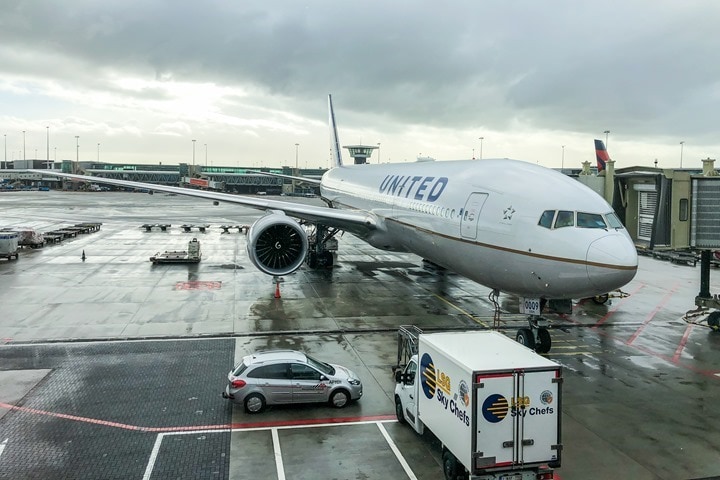 The Girl was also at the airport as well with the kiddos and dog, also headed to Canada, albeit a very different part. Ironically enough her gate was just across the hall from mine. The Peanut got to watch my plane go out.
With that – thanks for reading and have a great week ahead!
[Oh, quick DCR Kit Update: We've added in details on the sock sizing as well as adding a shipping option to India. I know some folks had asked for that – so go forth and get em before the ordering period closes next week!]