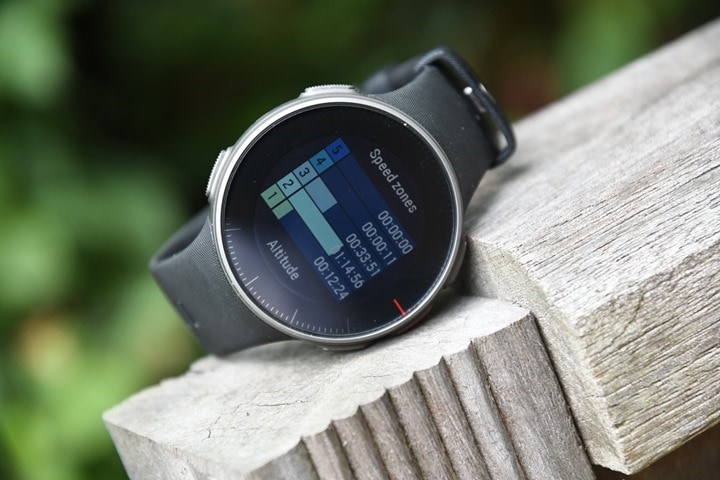 (*** Update: there has since been an in-depth review for both the Vantage M and the Vantage V GPS watches. Click the links for more information.)
After just shy of five years since Polar's last multisport product was announced – the replacement for it is finally here: The Vantage series. This series actually breaks the product line into two models, the Vantage V being the higher end touchscreen edition, and the Vantage M being the mid-range non-touchscreen product. Feature wise, they are nearly very similar, both supporting full triathlon modes.
These new models completely revamp the underlying operating system of the watch, not to mention the hardware too. The company has changed GPS chipset vendors, alongside creating the mother of all optical heart rate sensors with 9 LED's in it.  Not to mention being the first company to introduce running power at the wrist on the Vantage V (no other sensors required).
At the same time, due to the complete revamp of the watch, there's a number of past features that didn't make the cut. Some permanently, and some temporarily.  For example, there's no more navigation/routing capabilities, nor smartphone notifications. I dive into all the cuts down a bit lower.
Which, is a good time to note that I've got loaner Vantage V and Vantage M watches, which I've been using on workouts for a short time now.  As usual, once I'm done with these units I'll publish an in-depth review and send them back. As such, this is not a review, in-depth or otherwise. Simply put – the product is too far away from completion to do a review at this time, with too many features in beta or missing.  But that's cool, that's why I have hands-on posts like this. Give you a feel for it as a bit of a preview.
Oh, and if you don't want to read a bunch of text, watch this semi-condensed version of it here in video format:
With that, let's get cookin'.
What's new: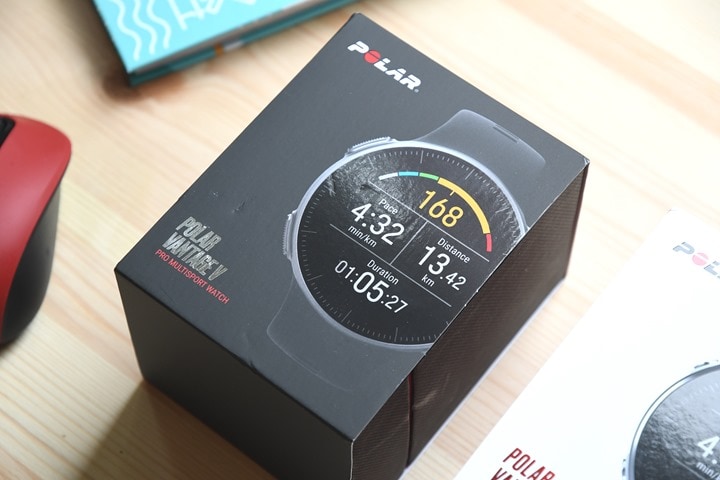 I always like condensing everything down into a single bulleted section of newness. It helps you filter the cool stuff from the marketing fluff.  So let's dive straight away into it. Fear not, down below in the 'overview' section I go through things in more detail too.  Note I'm looking at the 'what's new' from the perspective primarily of the V800 (it's predecessor).  Also, this list is specifically for the Vantage V:
– Addition of optical heart rate sensor (both for workouts and 24×7 HR)
– Added electronic skin-contact sensor to validate a human is attached to watch
– Added color touchscreen, still retains buttons for all athletic functions
– Changed GPS chipset maker to that of Sony (same as what Suunto 9 did recently)
– Changed max GPS-battery life to 40-hours 1-second recording with optical HR too
– Added running power from the wrist (no sensors required)
– Added new training load metrics (cardio/muscle/perceived stats)
– Added new 'Recovery Pro' metrics (daily recovery, training, and balance stats) – requires H10 chest strap.
– Added both segmented real-time and post-processing of optical HR data to fix quirks (I'll explain later)
– Made watch round, from rectangular shape previously
– Reduced weight of watch from 79g to 66g
The price is $499USD/EUR for the base models in orange, white, or black. It's $549USD/EUR for the bundle with the Polar H10 HR chest strap.
When it comes to the Vantage M, here's the core differences to the Vantage V:
– No barometric altimeter
– No native running power, as it lacks a barometric altimeter (still works with 3rd party running power like Stryd though)
– GPS 1-second battery down to 30 hours instead of 40 hours (but seriously, that's still incredible)
– Added swappable straps using industry standard quick release bands (the Vantage V doesn't have this)
– Not a touch-screen, just buttons only
– No Recovery Pro metrics (but does have other training load metrics)
– Weight is a mere 45g instead of 66g
That's priced at $279USD/EUR. That's an awesome deal, though it's also on-par price-wise with the Suunto Spartan Trainer Wrist HR.  In talking with Polar – they were eyeing that watch as their main competitor in this space for the Vantage M.
But it's not all bubbles and rainbows. The following features were removed from the Vantage V/M series, but are slated to be re-added by the end of Q1 2019 (so by March 31st), but they noted some features will likely be by end of year:
– Smartphone notifications (i.e. call/text notifications)
– Fitness test functionality
– Standalone device timers
– Strava Segments
– Back to start navigation
– Additional trailing summary details on workouts
The following features were removed, without specific/current plans to re-implement in the Vantage series:
– GoPro Action Cam Control
– Following a downloaded route (navigation of tracks)
– Reduced GPS recording rate activities (i.e. beyond 40hrs of GPS time, the V800 also supported a reduced recording rate to 50hrs)
– No longer option to use HR strap while swimming, only optical HR sensor [Older 5hz straps no longer supported]
Note that for functions/features that aren't in the beta yet but are slated to be included by the time the product ships late next month, I haven't listed those. In my mind, that's simply just beta finalization.  Whereas the lists above are specific features that have been decided upon already as the 'end-state' of the product.
Phew, got all that? Good, let's move onto a more photographic based section into the overview.
Overview:
So let's get right into things, starting with the touchscreen of the Vantage V. From a practical standpoint there's no screen menu differences between the Vantage V and Vantage M. The only difference is you can't control the Vantage M by the screen as it doesn't have a touchscreen. Plus of course the smaller battery and lack of some metrics I'll call out when I get to them. But otherwise, it all feels the same.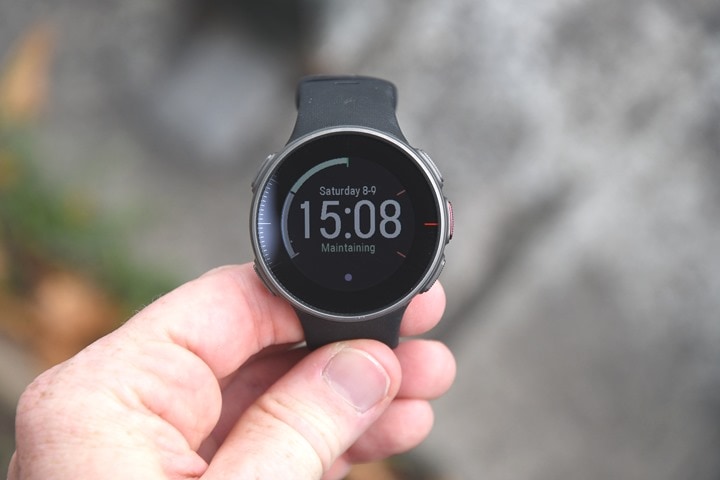 In the case of the Vantage V, it's actually not a case of being able to use either buttons or touchscreen. In fact, you have to use a blend of the two for certain things. For example, in order to get to the different dashboard pages (like activity stats), you have to use the touchscreen, and then confirm with a button press. Inversely, in workout mode, the touchscreen is entirely disabled.
From a responsiveness standpoint, you can see it in the video up above. It's beta, so I won't hold it against them at this point. In my experience testing a lot of devices, touchscreen optimization tends to be one of the last things to come together for companies.  I would say that they're under-utilizing the buttons though. For example, when I'm at the main watch-face some buttons have zero purpose (pressing them does nothing). As my two-year-old would say – every button pressed should do something. Otherwise, you just assume it's broke.
Since we chatted buttons we should at least talk hardware for a moment. The buttons have a pretty nice etching in them, as does the rest of the band of the Vantage V. The Vantage M buttons (below on the white unit) are a bit more simplistic.
Meanwhile, as the Vantage M doesn't have the swanky etching pattern, it does make up for it by having swappable straps. They use standard watch quick release straps. That's a feature the Vantage V lacks.  Speaking of which, Polar is selling a few straps of their own, and I think the grey one actually looks pretty nice.  The orange will be appropriate for Strava employees.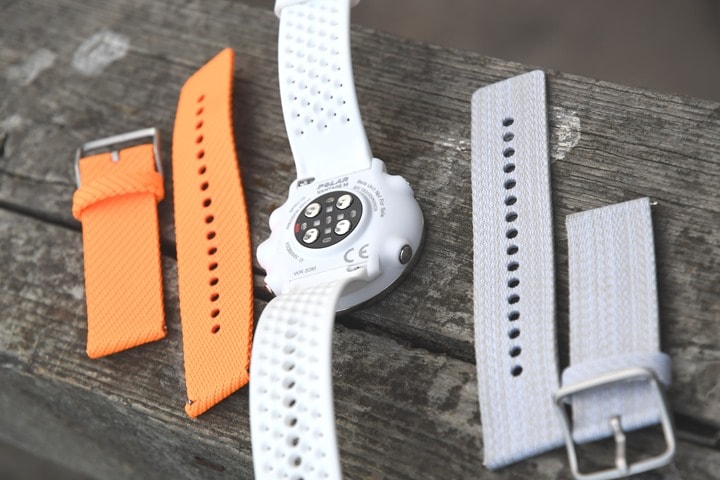 Back on the watch, you can swipe to access the different watch face dashboards. One for activity, another for training load, past workouts, and heart rate. Some features aren't implemented yet, so my understanding is Recovery Pro will also show here once enabled on the unit itself.  In the case of the Vantage M, you use the up/down buttons to access these.
You can dive into each of these by pressing the button. For example, here's the new training load status. This includes your cardio training load, but will also include your muscle load and perceived effort as well.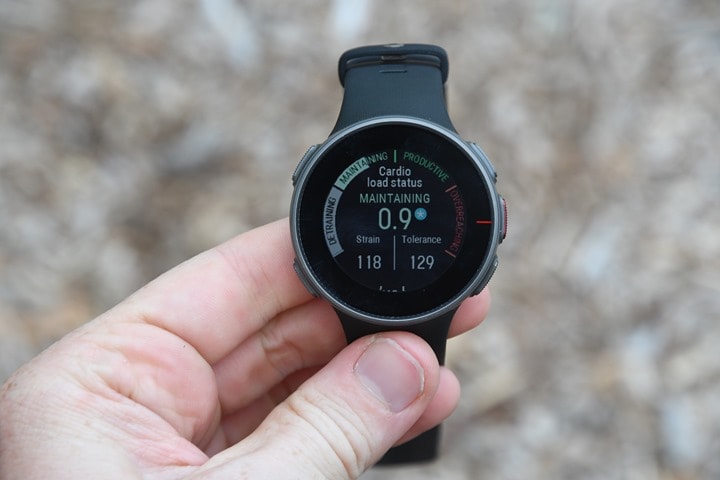 The muscle load will come primarily from running workouts on the Vantage V with running power, as well as cycling workouts with a cycling power meter. Whereas the perceived effort is asked of you every time you open up the Polar Flow smartphone app and look at one of your workouts:
In many ways, the training load is very similar to what we see with FirstBeat, and even uses some of the same terminology (which in turn is also based on TRIMP).  You can see some of how this flows from one of the pages of a presentation I got from Polar.  Note that the user interface elements on these screens (and really anywhere you see photos in my post) aren't necessarily final.
In discussing the features with them it takes upwards of a month to get really solid data out of it, and I'm just over a week now – so things are still a bit jello-like in terms of the status it gives me. But I can see it starting to turn a bit of a corner and giving me more useful feedback.  Here's a shot from Polar on what this should look like longer term: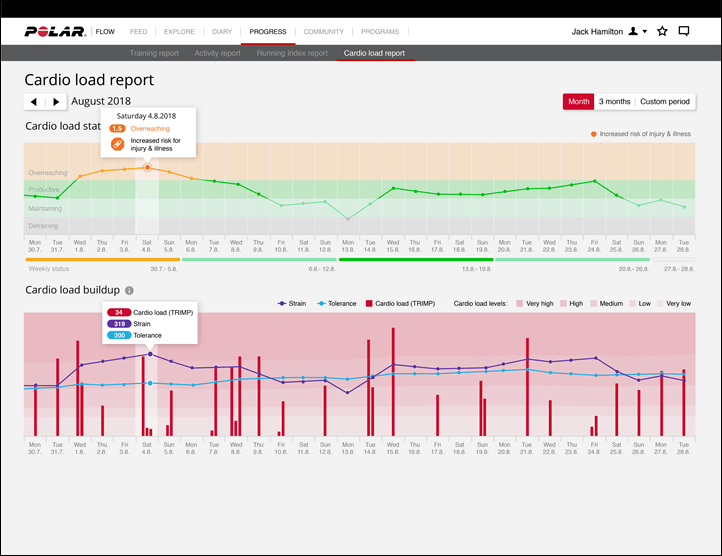 And then the two overlaid: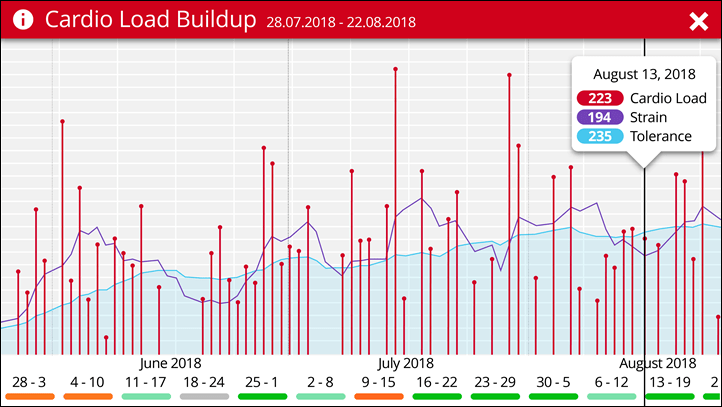 The next piece of that puzzle is the new Recovery Pro metrics (only on Vantage V). This is driven by data from the Polar H10 HR strap. So if you don't have that chest strap, you won't get these metrics. They don't believe that the optical HR sensor gives them enough accuracy of HRV data to get these details correct. I don't necessarily disagree with them, but I also don't think it's black and white either. I think there's some middle-ground like what Suunto and Garmin have implemented.
The way this feature works is that after putting on the H10 strap you'll do an Orthostatic test. That's roughly two minutes of lying down followed by two minutes of standing. It measures your HR during that time. After which it'll give you a score:
Once you have three days of scores you'll start to get recovery information. This information will show up in a variety of places, but at present it's not fully implemented in the app/site (due to beta state).
Of course, Polar has done all their own legwork here for both training load and recovery, as opposed to licensing that from FirstBeat like Garmin, Suunto, and probably a dozen others have done.  In some ways, I wonder if that was the right decision. Which isn't a slight on Polar's crew – not at all, nor is a direct praise of FirstBeat. Rather, it's purely a business thought. Polar's spent a lot of time on something that best I can tell is no better than what FirstBeat offered. And as I've noted in the past, many of the people working in this particular space tend to move around between these companies (helped by the fact that they're all located in Finland).  But I just look at the totality of new features on the Vantage series and wonder if the ROI was there for this, compared to just licensing it.
Next, there's the settings menu, which they've re-aligned a bit of how things look in there. It's a nice change, a bit cleaner. And for those familiar with the Polar interface you'll recognize most of the groupings.
Sensor pairing is in there, but at present the beta can't yet pair 3rd party sensors – so I can't quite test that yet (probably within the next week or so). Once enabled, it'll be Bluetooth Smart sensors of the usual variety. Cycling power, heart rate sensors, speed sensors, cadence sensors, and also 3rd party running power sensors. No ANT+ sensors supported here.
Next, let's hit up some of the sports modes. There's two ways to get there. The first is to long-hold the right red button, or the second is to navigate via the lower left button to sports.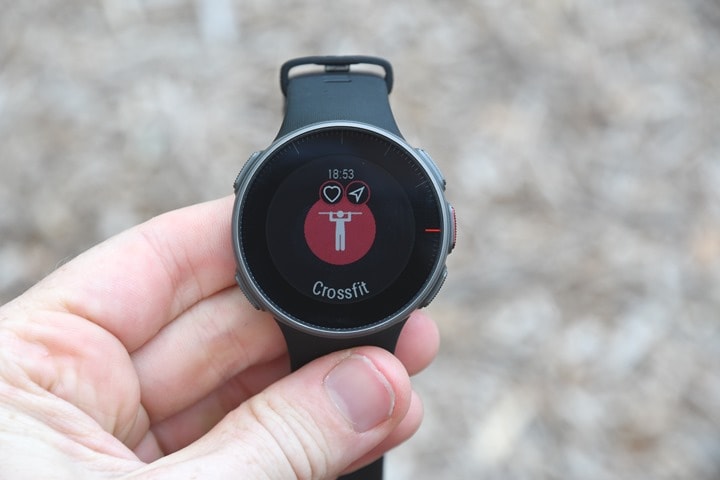 Once there you'll see all the modes synced from the watch. You'll see the little HR icon illuminate once it has optical HR lock, as well as the GPS icon once it has GPS lock.  All of this happens pretty quick.
And now's a good time to talk about that beast of an optical HR sensor. I'd love to have sat in on the conversations on the design of this one. It's got 9, yes 9 LED's on it. It's got four sets of dual red/green LED's, followed by an extra green. And technically, I just lied to you. There's also an orange LED in there too (absolute center pairing) – making that 10 LED's. But the orange one isn't used at this point and Polar isn't seeing the benefit to enabling it based on their testing to date.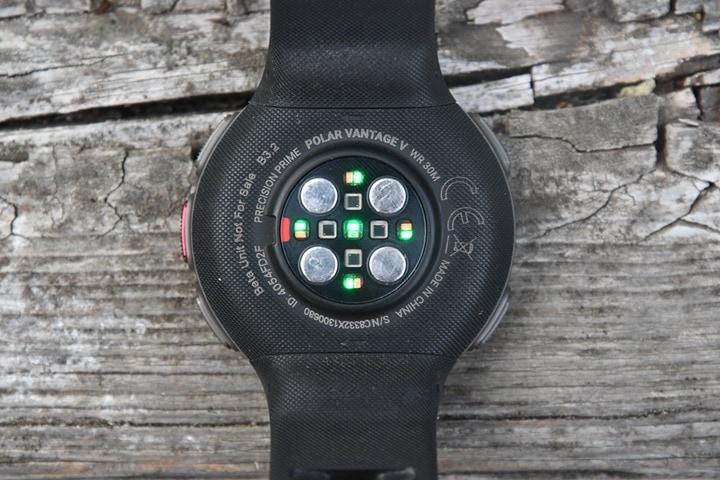 One interesting tidbit that Polar will be doing behind the scenes is retroactively correcting the optical HR readings, within 60-second blocks. So while you're working out you might see a given incorrect reading (such as 205bpm), but then 60 seconds later the watch will actually correct that in the file in the watch after it does some post-processing.
Polar is looking at patterns more broadly than just typical instant HR validation to correct for errors, and is instead retroactively looking at bits where it got things wrong and fixing them before you ever even upload the file. Of course, it's a bit hard for me to demonstrate this at this point, but it was pretty interesting to hear that Polar is doing it.
On the inside, you'll see those four silver dots. Sure, they enable charging of the device on the charging clip, and also sync of data when attached via USB. But more importantly, they're also electrical sensors that can measure the quality of the skin contact. They can use that to determine whether or not you're wearing the watch, so they don't bother to turn on the sensors if not.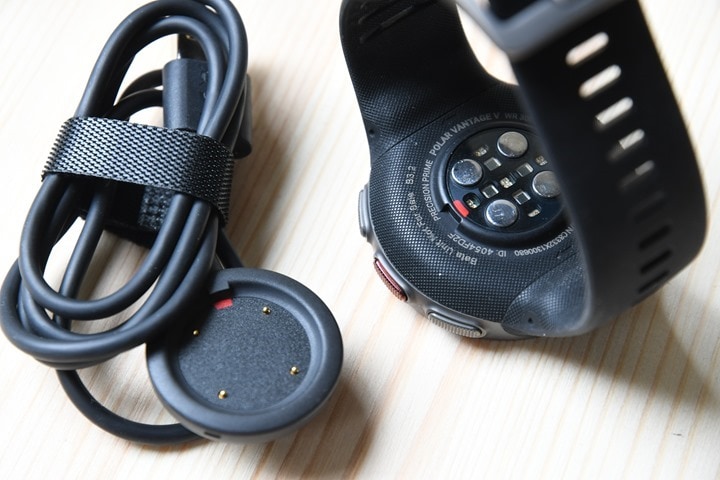 Polar was pretty clear that they wanted to have the most accurate optical HR sensor. And while I don't have enough data yet to confirm that, early results seem positive. And if nothing else, they could use all those LED lights to land planes in the fog at the local airport.
Ok, onto running we go. Simply because by choosing running I can show you running power. Once we've started our run the touchscreen gets disabled and changing pages occurs via button presses – just like most watches.  You can customize these pages on Polar Flow like past Polar watches.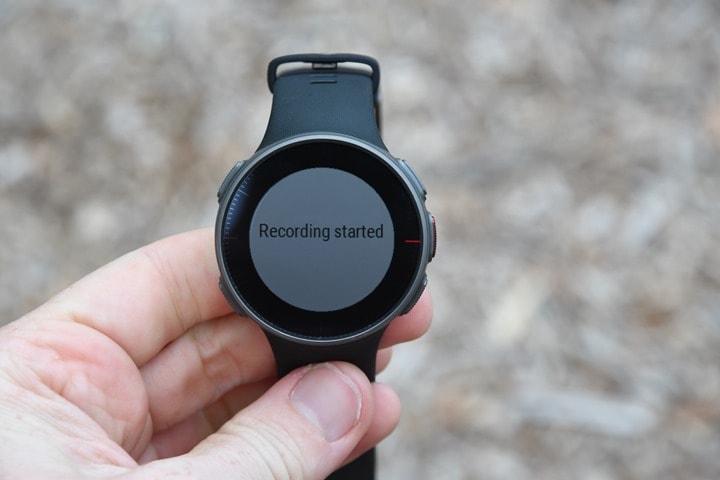 Most of the pages shown here are pretty much the norm – not much new. Common metrics like pace, heart rate, distance, time, etc… Except now it's all in pretty color graphs and with nice clarity – and the screen is super clear.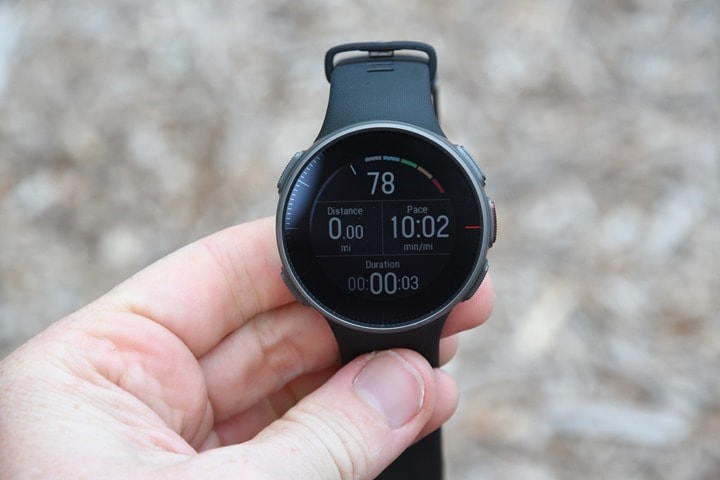 The biggie though is running power. That's coming directly from the wrist, with no extra sensors needed. This is only on the Vantage V though because that's the only one that has a barometric altimeter. The Vantage M lacks that and thus lacks the quality of data needed. This is the same requirement as Garmin has for their running power (but their power also requires an extra sensor).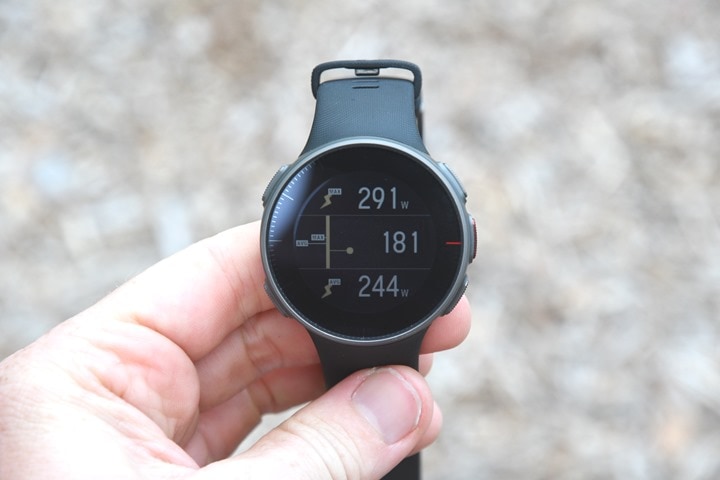 The running power is displayed on what appears to be about a 10-second smoothed average. I based that on how long it took when I stopped running for the power to come down. At this point I think there's actually a bit too much smoothing in it, but that's minor stuff they can tweak.  In any event, the running power is based on GPS pace, and not footpod or wrist-detection pace. This is notable because it does NOT work indoors (treadmill), nor should it work in a tunnel Polar tells me (I haven't found a tunnel long enough to meaningfully test it yet).  Assuming you're outside though, this data will be written to your files just like a cycling power meter. And 3rd party apps can easily handle it as well.
You can see it below shown on one of my runs this past weekend, lower down in the graphs, as well as up above in the summary section.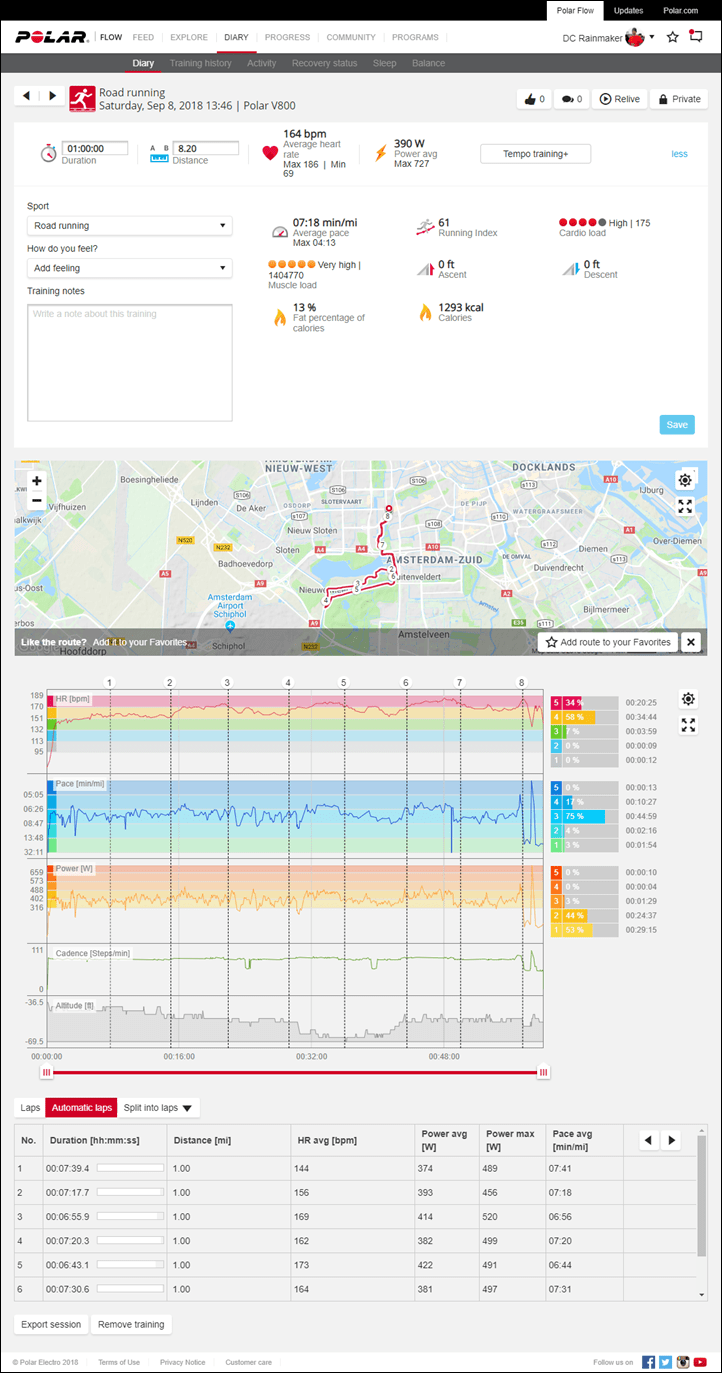 The next question is whether or not running power is 'accurate'. Well, first off, if anyone says that it's accurate or inaccurate, just close that browser tab. Seriously, there's no definition of that agreed upon by anyone out there with any meaningful scientific credentials. Instead, I'd argue that running power is more in the 'is it plausible' range, with a side of 'is it at least consistent'.  Even Polar noted in my discussions with them that there are many interpretations of how to measure running power and at which point it should be measured.
But certainly you'll want to know how it compares on the same run to Stryd or Garmin Running Power? No problem, I've got you covered down below in the accuracy section on that bit. Short version: It's half-way in between them. Again, no idea whos right or wrong. But I did encourage Polar to be as open as Stryd, Garmin, and RunScribe have been in terms of publishing papers and studies that support their algorithm and thinking.
Like others, Polar has done a bunch of work on validation here. They too went to a force-plate treadmill to validate their power metrics, and the results they shared in a presentation seem promising. They also went out and did some pretty technical measuring of hills and did all the science math backwards to validate the numbers after test runners ran them. But again, so did Stryd – yet these two companies don't match on the same run.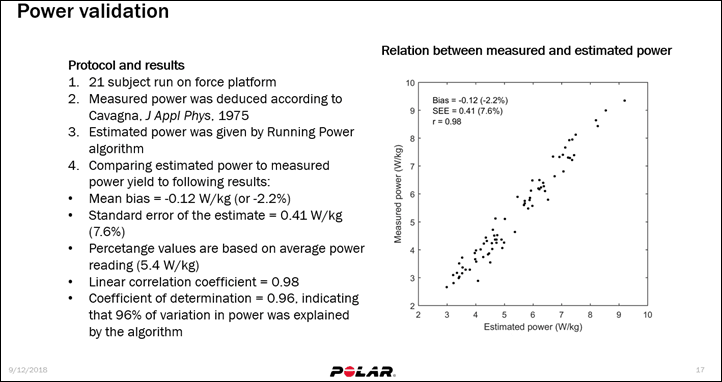 Now, don't mistake me for thinking I'm down on Polar. Cause really, I'm definitely not. Instead, I'm just 'less optimistic' about running power in general. Mostly because we can't seem to get any two companies to agree.  As such, I think it's tough for consumers (or myself) to know what to make of it. Or whether to trust it when training. Similarly, as much as we as humans want our cycling and running power numbers to equate, there's no science that says they should. Just like our heart rate numbers for cycling and running certainly don't match for the same perceived effort.
Moving along to other newness, we've got Polar leveraging a new GPS sensor/chipset in their Vantage series. They've switched from SiRF to Sony, just like Suunto did in joining forces with Sony. At present Polar is leveraging GLONASS, but not yet Galileo. That's a limitation by Sony, which doesn't yet support it. Polar says there's a chance they'll be able to update it down the road via firmware update, but that'll really just depend on Sony doing so.
With this new GPS chipset, Polar is going to be able to get a whopping 40 hours of GPS and optical HR on recording time, all at 1-second intervals. That easily surpasses the 1-second rates of Garmin and Suunto.  But it also falls short of Suunto and Garmin's less-frequent recording rates aimed at really long ultrarunners. Polar doesn't have any secondary less-frequent update modes on the Vantage series like it had on the V800.
Finally, as I noted up in the earlier section – there is no routing or navigation on the Vantage series at this point. They do plan to add in a basic "back to start navigation" by the end of March 2019, but there's no plans for downloadable route navigation like seen on past Polar products. That might make this a tough sell at $499 for some folks, given many cheaper products have that as a baseline.  And once in the Vantage V's price point, it's honestly unheard of to not have breadcrumb style navigation and routing. Still, Polar did note in my meeting with them that they're focused on paying attention to feedback and will certainly take things into account going forward.
And just to be a bit clear on why these features are missing: The Vantage series is a complete code re-write for Polar. Thus unlike new watches of the past where they were essentially just porting code chunks over to new hardware, Polar re-wrote everything here and simply had to make hard choices on what to keep or not. In some ways this reminds me of what Suunto did moving from the Ambit series to the Spartan series.
Early GPS & HR Test Data: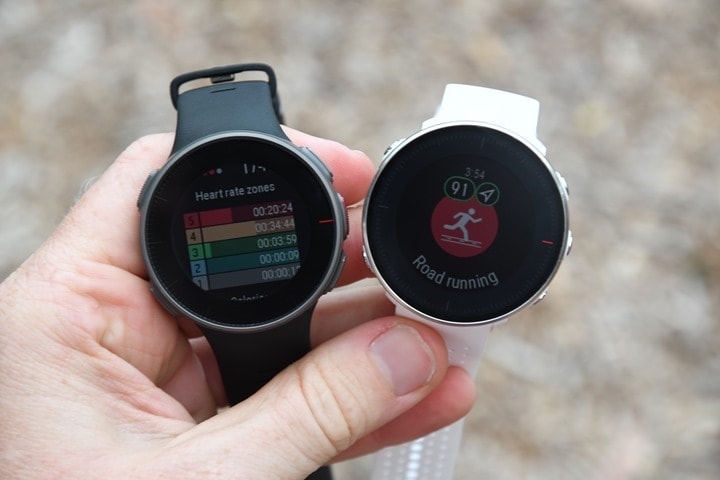 Now, before we dive into things I do want to stress this is early data. The product is very much still in beta, and isn't expected to start shipping until later in October. So we're talking 6-7 weeks away here. That means things will likely get better (though, in rare cases I've also seen some products get worse too).  Still, Polar came to the Netherlands to meet with me and hand over watches for me to do my thing with. Thus, good or bad I'm going to share those early results.  Since then I've done 1-3 workouts per day with the watch, plus I've been wearing it 24×7.
First, let's start with the good – the new optical HR sensor. Everything I'm seeing is showing some very nice results there across a variety of workouts. I've done indoor and outdoor rides, a pile of runs at varying intensities, and also gym circuit/core workouts. So far, so good.
For example, here is a run I did last night. I started off with a simple warm-up, and then went into a series of intervals. I had the Vantage V on my left wrist and the Vantage M on my right wrist. I also recorded a Wahoo TICKR-X chest strap to a Garmin Fenix 5 Plus (not on my wrists), and a Scosche 24 to a Suunto 9 (also not on my wrist). Here's the data set.

Now, I'm going to remove the TICKR-X, because it was drunk (sigh…again).  Here's what's left:

As you can see, things are very close to each other.  And if you had looked past the odd noise of the TICKR-X in the earlier screenshot, you'd have noticed that all four basically agreed.  These were 2-minutes of running at 6:30/mile pace, followed by 60 seconds of 7:30/mile pace. Repeated. Solid stuff.  The blocky bits is just cause we're super zoomed in, so one 1BPM is causing a bit more of a blocky look at 1-second intervals.

I then threw in a couple sprints at about a 5:30/mile-ish pace for the fun of it, these were 40 seconds long each. You can see the Scosche 24 is tracking the intervals just a slight bit faster (both increase in intensity and recovery). But not bad.

Here's another run. For example this hour of alternating mile intervals, easy and hard (And again, TICKR-X, you're drunk, go home):

I'm going at a high level on this because this isn't a review. But you can easily click any of those links to dig into the data live online to your heart's content. Get it, heart's content? You know, heart rate? Oh never mind.
Next, off to the bike we go, and here's a couple-hour ride I did outdoors. Without question, this is the most solid optical HR data I've seen while riding. Oh, and that wonkiness around 1hr23min? Was flying a drone while riding, so I won't hold it against it there. Anyway, the data set.
As you can see it's perfectly on-target the vast majority of the time with the TICKR-X and Scosche 24 straps, even when the Fenix 5 Plus on the other wrist takes a turn for…somewhere.
So, with the optical HR sensor looking good – let's talk about GPS.
Gulp.
Well, it's beta, right?
In short, it shorts a lot. The watch can't seem to find a corner it doesn't like cutting. Which ultimately ends up with me having all my runs being consistently shorter than the Suunto 9 and Garmin Fenix 5 Plus (as well as Suunto Trainer Wrist HR). This doesn't seem to be an issue while cycling though.  For example, this run might look good at a high level: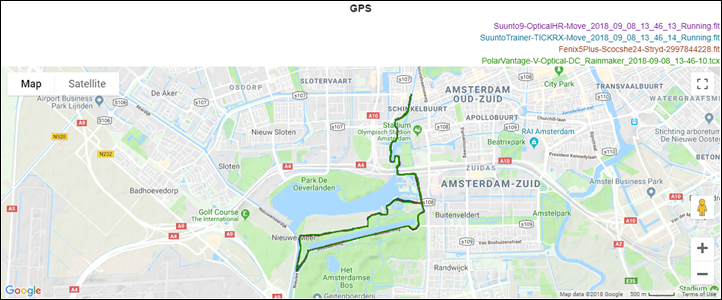 But once you dig into the details you can see that almost every time I come around a corner it flies through it. And this is largely off in the countryside:


In Vondelpark, which is wide open spaces both units are all over the place: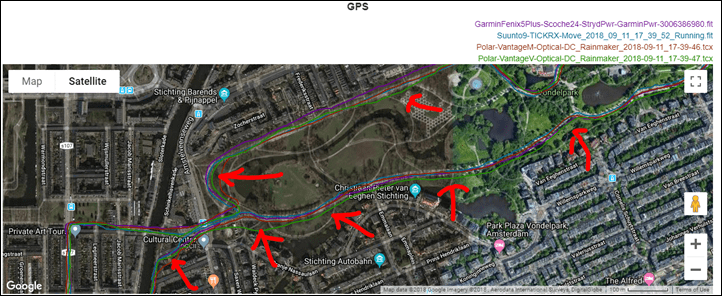 If I head into the trickery of the 'city' (which is kinda laughable in Amsterdam as the city buildings are really only 3-5 stories in most cases, hardly a GPS issue), you'll see it gets even worse (shown are both Vantage M and Vantage V tracks, plus the Suunto 9 and Fenix 5 Plus):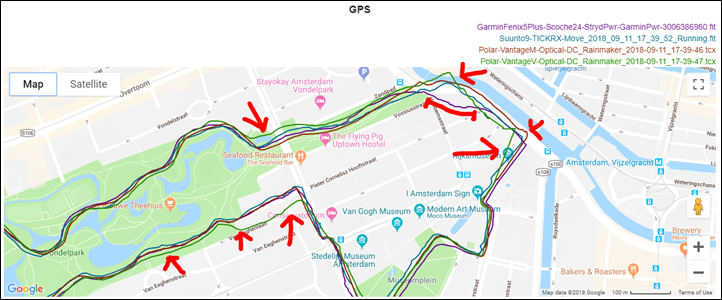 (Note above that the vast majority of those are Polar errors, but the Fenix isn't without an error or two of its own, which I highlighted with a non-arrow line.)
Now again, as noted, it's beta. And Polar confirmed they're working on it (they've seen these tracks of mine). So certainly we'll give them time to sort things out. But I'd also keep this tweet of mine in mind too.  This is all somewhat ironic because during my meetings with them I asked how they were finding the Sony GPS chipset, given Suunto had some teething pains with it (and still does to some degree as you can see above).  They were pretty confident at the time that they were in a good spot, even noting that Suunto probably paved the way for them a bit on early Sony aspects that would ultimately benefit Polar as well.  Unfortunately, that doesn't yet seem to be the case.
Oh, and finally, running power. As noted above – I'm not about to declare any winner in this battle. I'm just going to plop the data out there and let folks decide what they want to decide.  Here's one run of mine comparing Polar Running Power (teal) vs Garmin Running Power (purple):

And here's another run of mine comparing Polar Running Power (teal) vs Stryd Running Power (purple):

Maybe in my next run I'll actually manage to have both the Stryd and Garmin pods not have dead batteries when I start my run. Sigh. Sometimes you just can't win.  Oh, and if y'all behave I'll toss in the newest of new RunScribe pods that I got at my hotel last night.  Note that you can see the running power data on both of those sets under the section on the DCR Analyzer links called 'Developer Fields'.
In any case – it's all a bit too soon to declare whether or not the Vantage series is accurate in optical HR, GPS, and I suppose running power.  But if beta improves over time then I'd say that optical HR is in a really solid spot, and we just need GPS to join it.
(Note: All of the charts in these accuracy portions were created using the DCR Analyzer tool.  It allows you to compare power meters/trainers, heart rate, cadence, speed/pace, GPS tracks and plenty more. You can use it as well for your own gadget comparisons, more details here.)
Product Comparison: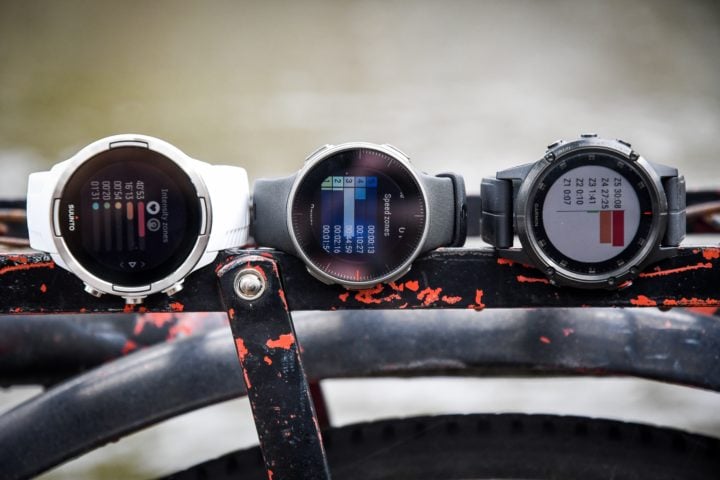 I've added the Polar Vantage V & M into the product comparison tool, which means you can compare it against just about anything you want.  For the purposes of this chart I've compared the Polar Vantage V with the Suunto 9 and the Garmin Fenix 5 Plus.  Of course, you could remove the Plus part and go with the base Fenix 5 and that'd reduce the price a fair bit (and remove music/contactless payments/maps).  But you can do all that within the product comparison tool here, comparing it against all other GPS watches I've ran with to your heart's content.
Function/Feature

Polar Vantage V
Garmin Fenix 5 Plus (5/5S/5X)
Suunto 9 Baro
Copyright DC Rainmaker - Updated January 30th, 2021 @ 4:42 pm New Window
Price
$499
$699/699EUR
$599 (non-baro is $499)
Product Announcement Date
Sept 13th, 2018
June 17th, 2018
June 5th, 2018
Actual Availability/Shipping Date
Late October 2018
June 17th, 2018
June 26th, 2018
GPS Recording Functionality
Yes
Yes (with Galileo too)
Yes
Data Transfer
USB, BLUETOOTH SMART
USB/Bluetooth Smart/WiFi
USB & Bluetooth Smart
Waterproofing
Yes - 30m
Yes - 100m
Yes - 100m
Battery Life (GPS)
Up to 40 hours
Up to 32hrs in GPS-on, up to 85hrs in UltraTrac GPS (varies by model)
Up to 120 Hours
Recording Interval
1s
1S or Smart
Variable
Quick Satellite Reception
Great
Great
Great
Alerts
Vibrate/Sound/Visual
Vibrate/Sound/Visual
Sound/Visual/Vibrate
Backlight Greatness
Great
Great
Great
Ability to download custom apps to unit/device
No
YEs
No
Acts as daily activity monitor (steps, etc...)
Yes
Yes
Yes

Music

Polar Vantage V
Garmin Fenix 5 Plus (5/5S/5X)
Suunto 9 Baro
Can control phone music
No
Yes
No
Has music storage and playback
No
Yes
No
Streaming Services
No
Spotify, Amazon Music, Deezer, iHeartRadio
No

Payments

Polar Vantage V
Garmin Fenix 5 Plus (5/5S/5X)
Suunto 9 Baro
Contactless-NFC Payments
No
Yes
No

Connectivity

Polar Vantage V
Garmin Fenix 5 Plus (5/5S/5X)
Suunto 9 Baro
Bluetooth Smart to Phone Uploading
Yes
Yes
Yes
Phone Notifications to unit (i.e. texts/calls/etc...)
Feb 2019
Yes
Yes
Live Tracking (streaming location to website)
No
Yes
No
Group tracking
No
Yes
No
Emergency/SOS Message Notification (from watch to contacts)
No
No
No
Built-in cellular chip (no phone required)
No
No
No

Cycling

Polar Vantage V
Garmin Fenix 5 Plus (5/5S/5X)
Suunto 9 Baro
Designed for cycling
Yes
Yes
Yes
Power Meter Capable
Yes
Yes
Yes
Power Meter Configuration/Calibration Options
Yes
Yes
Yes
Power Meter TSS/NP/IF
No
Yes
No
Speed/Cadence Sensor Capable
Yes
Yes
Yes
Strava segments live on device
TBD Future Update
Yes
No
Crash detection
No
No
No

Running

Polar Vantage V
Garmin Fenix 5 Plus (5/5S/5X)
Suunto 9 Baro
Designed for running
Yes
Yes
Yes
Footpod Capable (For treadmills)
Yes
Yes
Yes
Running Dynamics (vertical oscillation, ground contact time, etc...)
No
WITH RD POD, HRM-TRI OR HRM-RUN (NOT VIA OPTICAL HR)
No
Running Power
yes (built-in)
With extra sensor
With extra sensor
VO2Max Estimation
Yes
YEs
Yes
Race Predictor
No
Yes
No
Recovery Advisor
Yes
Yes
Yes
Run/Walk Mode
No
Yes
No
Track Recognition Mode
No

Swimming

Polar Vantage V
Garmin Fenix 5 Plus (5/5S/5X)
Suunto 9 Baro
Designed for swimming
Yes
Yes
Yes
Openwater swimming mode
Yes
YEs
Yes
Lap/Indoor Distance Tracking
Yes
Yes
Yes
Record HR underwater
Yes
WITH HRM-TRI/HRM-SWIM (Not with optical HR)
Yes
Openwater Metrics (Stroke/etc.)
Yes
Yes
Yes
Indoor Metrics (Stroke/etc.)
Yes
YEs
Yes
Indoor Drill Mode
No
Yes
No
Indoor auto-pause feature
Yes
No (it'll show rest time afterwards though)
No
Change pool size
Yes
YEs
Yes
Indoor Min/Max Pool Lengths
20M/Y to 250 m/y
14M/15Y TO 150Y/M
15m/y to 1,200m/y
Ability to customize data fields
Yes
Yes
yes
Can change yards to meters
Yes
Yes
Yes
Captures per length data - indoors
Yes
Yes
Yes
Indoor Alerts
N/A
Yes
No

Triathlon

Polar Vantage V
Garmin Fenix 5 Plus (5/5S/5X)
Suunto 9 Baro
Designed for triathlon
Yes
Yes
Yes
Multisport mode
Yes
Yes
Yes

Workouts

Polar Vantage V
Garmin Fenix 5 Plus (5/5S/5X)
Suunto 9 Baro
Create/Follow custom workouts
Yes
Yes
No
On-unit interval Feature
No
YEs
Yes
Training Calendar Functionality
Yes
Yes
Yes

Functions

Polar Vantage V
Garmin Fenix 5 Plus (5/5S/5X)
Suunto 9 Baro
Auto Start/Stop
Yes
No
Virtual Partner Feature
No (but can give out of zone alerts)
YEs
No
Virtual Racer Feature
No
Yes
No
Records PR's - Personal Records (diff than history)
No
Yes
No
Day to day watch ability
Yes
Yes
Yes
Hunting/Fishing/Ocean Data
No
Yes
No
Tidal Tables (Tide Information)
No
No
No
Jumpmaster mode (Parachuting)
No
Yes
No
Geocaching
No
Via GPS coordinates
No
Weather Display (live data)
No
Yes
No

Navigate

Polar Vantage V
Garmin Fenix 5 Plus (5/5S/5X)
Suunto 9 Baro
Follow GPS Track (Courses/Waypoints)
No
Yes
Yes
Markers/Waypoint Direction
No
Yes
Yes
Routable/Visual Maps (like car GPS)
No
Yes
No
Back to start
Feb 2019
Yes
Yes
Impromptu Round Trip Route Creation
No
Yes
No
Download courses/routes from phone to unit
No
Yes
Yes

Sensors

Polar Vantage V
Garmin Fenix 5 Plus (5/5S/5X)
Suunto 9 Baro
Altimeter Type
Barometric
Barometric
Barometric
Compass Type
N/A
Magnetic
Magnetic
Optical Heart Rate Sensor internally
Yes
Yes
Yes
SpO2 (aka Pulse Oximetry)
No
Fenix 5X Plus only
No
Heart Rate Strap Compatible
Yes
Yes
Yes
ANT+ Heart Rate Strap Capable
No
Yes
No
ANT+ Speed/Cadence Capable
No
Yes
No
ANT+ Footpod Capable
No
Yes
No
ANT+ Power Meter Capable
No
Yes
No
ANT+ Weight Scale Capable
No
No
No
ANT+ Fitness Equipment (Gym)
No
No
No
ANT+ Lighting Control
No
Yes
No
ANT+ Bike Radar Integration
No
Yes
No
ANT+ Trainer Control (FE-C)
No
No
No
ANT+ Remote Control
No
No (can control VIRB though)
No
ANT+ eBike Compatibility
No
No
No
ANT+ Muscle Oxygen (i.e. Moxy/BSX)
No
Yes
No
ANT+ Gear Shifting (i.e. SRAM ETAP)
No
Yes
No
Shimano Di2 Shifting
No
Yes
No
Bluetooth Smart HR Strap Capable
Yes
Yes
Yes
Bluetooth Smart Speed/Cadence Capable
Yes
Yes
YEs
Bluetooth Smart Footpod Capable
Yes
Yes
Yes
Bluetooth Smart Power Meter Capable
Yes
YEs
Yes
Temp Recording (internal sensor)
Yes
Yes
Yes
Temp Recording (external sensor)
No
Yes
No

Software

Polar Vantage V
Garmin Fenix 5 Plus (5/5S/5X)
Suunto 9 Baro
PC Application
Polar Flowsync - Windows/Mac
Garmin Express
PC/Mac
Web Application
Polar Flow
Garmin Connect
Suunto Movescount
Phone App
iOS/Android
iOS/Android/Windows Phone
iOS /Android
Ability to Export Settings
No
No
No

Purchase

Polar Vantage V
Garmin Fenix 5 Plus (5/5S/5X)
Suunto 9 Baro
Amazon
Link
Link
Link
Backcountry.com
Link
Competitive Cyclist
Link
REI
Link
Wiggle
Link
Link
Link

DCRainmaker

Polar Vantage V
Garmin Fenix 5 Plus (5/5S/5X)
Suunto 9 Baro
Review Link
Link
Link
Link
Again, don't forget you can mix and match all the products in the database to make your own comparison charts here.
Wrap-up: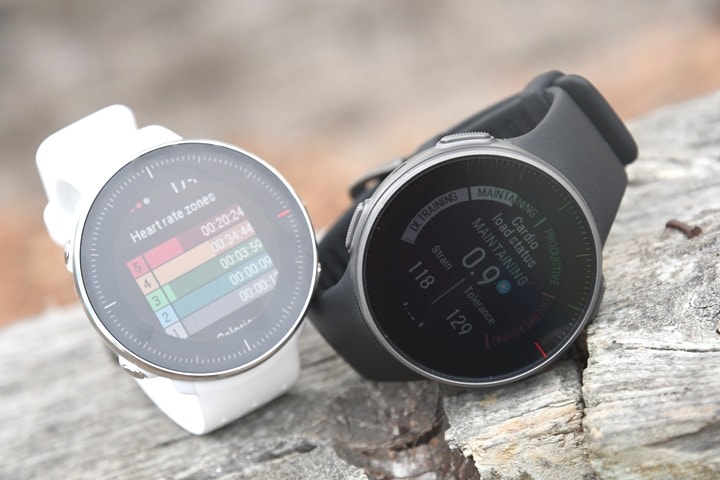 From a purely aesthetic and hardware standpoint, the Vantage series is a huge improvement in my opinion. While the older V800 did its job, I'm not sure there were a ton of people that called that baby beautiful. However, I really like the design of the Vantage V especially. The nuance in the etching of the band and the underside of the bezel is really well executed. Same goes for the button etching.  And of course, dem optical HR sensors! It's clear Polar has spent a good chunk of the time between iterations on the industrial design elements, and it shows.
The challenge though I see for Polar at this point is the software side. In most cases you want a new product to generally carry with it all the features of the previous unit and then add new cool stuff. Polar checked off the 'cool new stuff' box, but did so at the expense of some existing features not being in the current watch. While smartphone notifications will come in a future update, more outdoor focused features like track/route navigation aren't expected to.
Polar was clear in my meeting that they aren't going to try and compete with Garmin on feature-count. Suunto mirrored those exact words when we met prior to the Suunto 9 launch. Neither has the resources to challenge Garmin on features. Instead, both are aiming to narrow their focus on the performance side of the house. With Polar that focuses heavily on heart rate driven training load and recovery metrics, while also expanding to their own running power solution. Whereas with Suunto that expands more towards ultra runners and their crazy long battery life options.  Both companies have shifted to Sony GPS chipsets, which may work out long term – but short term seems to be challenging for both, based on my testing.
Still I'm looking forward to seeing how the Polar matures over the next 6 or so weeks as they near shipping release. The current plan calls for them to start shipping in late October.  I'll drop my in-depth review on or slightly after they start shipping.
With that – thanks for reading and feel free to drop any questions down below.

Found This Post Useful? Support The Site!
Hopefully you found this review useful. At the end of the day, I'm an athlete just like you looking for the most detail possible on a new purchase – so my review is written from the standpoint of how I used the device. The reviews generally take a lot of hours to put together, so it's a fair bit of work (and labor of love). As you probably noticed by looking below, I also take time to answer all the questions posted in the comments – and there's quite a bit of detail in there as well.
If you're shopping for the Polar Vantage M or any other accessory items, please consider using the affiliate links below! As an Amazon Associate I earn from qualifying purchases. It doesn't cost you anything extra, but your purchases help support this website a lot. Even more, if you use Backcountry.com or Competitive Cyclist with coupon code DCRAINMAKER, first time users save 15% on applicable products!
Here's a few other variants or sibling products that are worth considering:
And finally, here's a handy list of accessories that work well with this unit (and some that I showed in the review). Given the unit pairs with just about any Bluetooth Smart sport sensors, you can use just about anything though.
And of course – you can always sign-up to be a DCR Supporter! That gets you an ad-free DCR, access to the DCR Quarantine Corner video series packed with behind the scenes tidbits...and it also makes you awesome. And being awesome is what it's all about!
Thanks for reading! And as always, feel free to post comments or questions in the comments section below, I'll be happy to try and answer them as quickly as possible. And lastly, if you felt this review was useful – I always appreciate feedback in the comments below. Thanks!