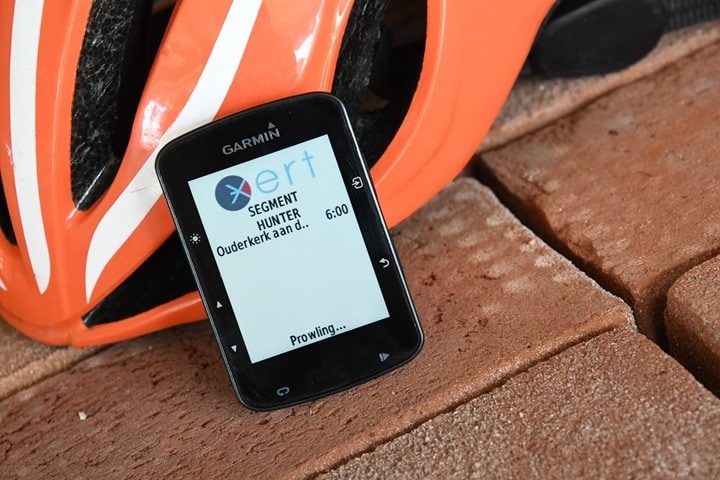 This week Xert, a training analysis/log platform rolled out their latest Connect IQ app – Segment Hunter.  While the company's main thing in life is their adaptive training platform (which I've reviewed here), they've actually put together a growing collection of Connect IQ apps which run on Garmin's app development platform.  An example being the popular 'What's my FTP?' app that dynamically determines your FTP value as you ride on any given day (this doesn't require Xert, totally free).
But this time the app is all about beating that Strava KOM or PR, or your friend's PR.  And they've done it in a pretty clever way that mostly sidesteps any restrictions (or fiasco's) of Strava's platform.  Said differently: You don't need a paid membership to Strava for this app.  Though, you do need a membership (free trial or paid) to Xert.  I suppose there's no such thing as a free lunch.
So what's unique about the Segment Hunter app? Simply put – it has you target a very specific customized power level in order to have you hit a given time.  So rather than trying to beat a segment based on the fluctuating pacing of your competitor/PR (as is typical for Strava Live Segments), this just tells you the overall wattage to hit, and then helps guide you there.  Don't worry, I'll dive into the details.
But since this is Friday, we'll keep things nice and tidy so you can get onto Happy Hour quicker.
Setting it up:
Like all things Strava, this starts in Strava.  In this case, by favoriting (starring) the Segments you want to compete against.  If you've already favorited them, then you can skip this step.  Since that's the exact same way it works with Strava Live Segments on other devices natively, there's no real change here.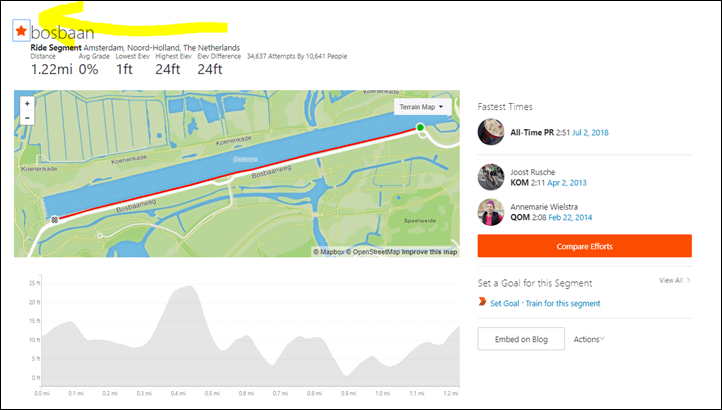 These, of course, show up under 'My Segments' on Strava.  Below is just a snippet of the many Segments around the world I've starred over the years.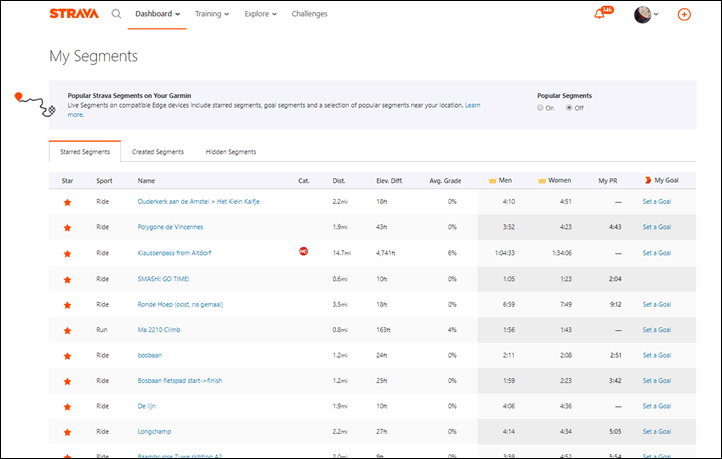 Once that's done you'll head over to Xert and link up your Strava account if you haven't already. After that, you'll whack the button to load your Starred Strava Segments.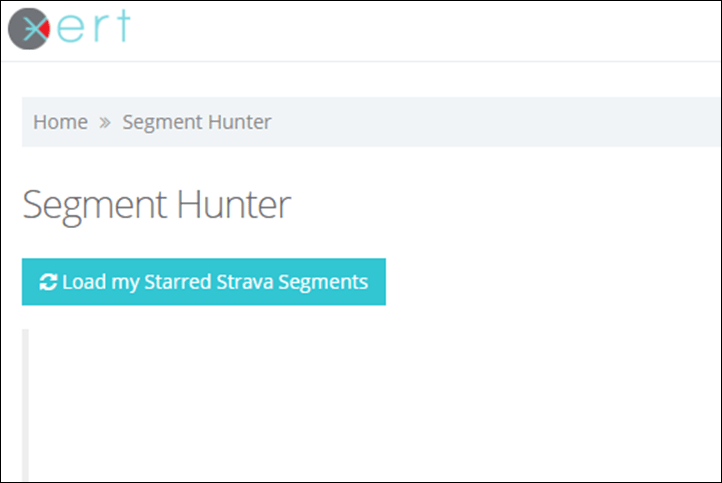 (Minor note: For whatever reason this morning, the Segment Hunter portal is only pulling the three most recent starred Strava Segments. But I think that's actually a Strava issue, as at present Strava itself isn't saving any starred segments I star. After attempting to star them on three different devices, each time it pretends to star them, but doesn't populate them in my starred list. Sigh.)
Next, on Xert you'll see the list of Segments and the ability to toggle a 'Sync to my Garmin' option. Once toggled, you'll be able to specify the target time.  You can set it for whatever you want, such as to beat your PR, to beat the KOM, or to beat your buddy by just one second.  Your choice.
However, there's a catch: It's mostly ignored.
That's because the Segment Hunter is always going to pace you to a faster time than the target time, if the Xert platform thinks you can do it. Think of it like a coach yelling at you to go harder, even when you don't need to.  But more on that later.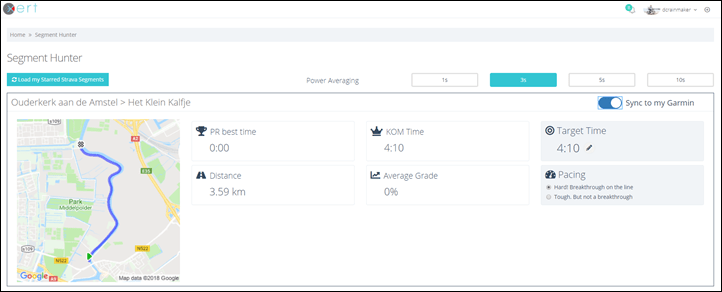 You'll have also noticed at the top the power averaging.  As with all power averaging, this makes it a bit easier to stay on-target, but for super short sprints (i.e. 10-second ones), you wouldn't want to turn this on.  Whereas for something like the above that's a few minutes long, it'd make more sense.
From a pacing standpoint, the first option (hard) is designed to be 'exhaustive' and have you nail the best power you can .  Whereas the other one sounds a bit more gradual.  I asked a bit more on this as at first it was a bit confusing.  Here's the clarity I got back:
"For pacing, rather than giving you power targets that are unreachable to beat a KOM (most everyone), it uses your signature to give you what is the best power output you could achieve over the given distance/duration.  So if your Target Time is, say, 3:00, it will start with your 3:00 power as determined by Xert, shown.  Note that this is interactive so if you go into the segment after a hard effort, it won't be your highest 3 minute power possible but adjusted for your current fatigue.  As you execute, if you go too hard, it will adjust downwards and if you go too easy, it will adjust upwards.  Similarly, if it is taking you too long to complete the segment but have been holding the target power or higher, power targets will start to decline since you can't sustain the original target.  This would be particularly useful on technical TT courses/segments or during adverse conditions like wind or dealing with technical difficulties as it adjusts automatically based on how you execute."
Thus, given that guidance – I wasn't going to be able to throw down a 50KPH KOM on this segment, so I went ahead and tweaked things a bit to a slightly more realistic option:

Finally, you'll need to do a one-time load of the Segment Hunter app to your Garmin, from the Connect IQ store.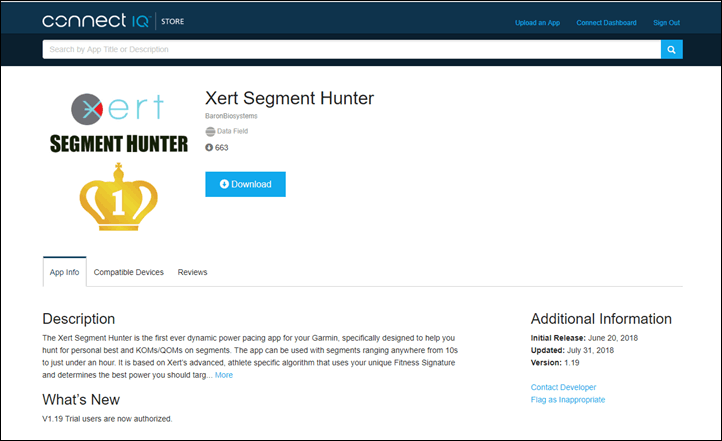 Compatibility is fairly broad. It works with:
Edge 130/520/520 Plus/820/1000/1030/Explore/Explore 820/Explore 1000
Forerunner 735XT/Forerunner 935
Fenix 5/5S/5X/Chronos
Before you head out on the road, ensure you've added the Xert Segment Hunter Connect IQ data field to your data pages (on your Garmin device), and then validate that you've configured your Xert username/password within the CIQ data field settings on your phone or computer. Again, you've only gotta do this once, but this allows the app to dynamically pull from Xert's online platform.  Do a double-check sitting in your house (remember to press start), and ensure it eventually says 'Prowling', which means it's got the segment list correctly and all the technical magic is working.
Got it? Good.
Let's get out on the road then.
On the Road:
With everything set, I was ready to go on the prowl…literally.
When you're not on a specific Segment, it'll simply say that it's on the prowl, and show you the Segments you've got loaded up above.  You can load up to five segments into the app at any given point in time.
That first line that you see there that's not in English (Ouderkerk aan de Amstel > Het Klein Kalfje) is simply the name of the Segment itself. Given I'm in the Netherlands, it stands to reason some things are in Dutch.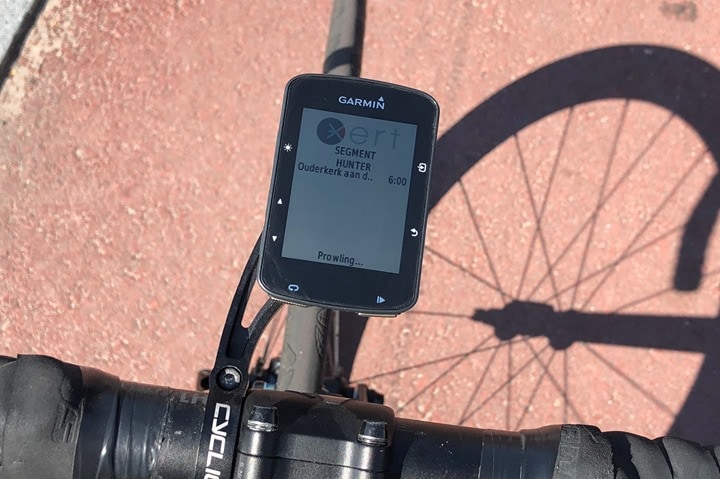 Once you get within 500m of a segment, it'll change to 'Stalking' to let you know that you're close by.  The app won't tell you how to get to that Segment though, so you'll have to either know it already (likely) or pull out your phone and find it old-school style.
It'll show you though the details of the Segment and the targets.  One thing to be aware of though is that if you've also got Strava Live Segments up, that'll by default do a take-over of your screen as you approach a Segment and start a Segment.  Thus, you may want to disable that or just be mentally ready to change back to the Xert app.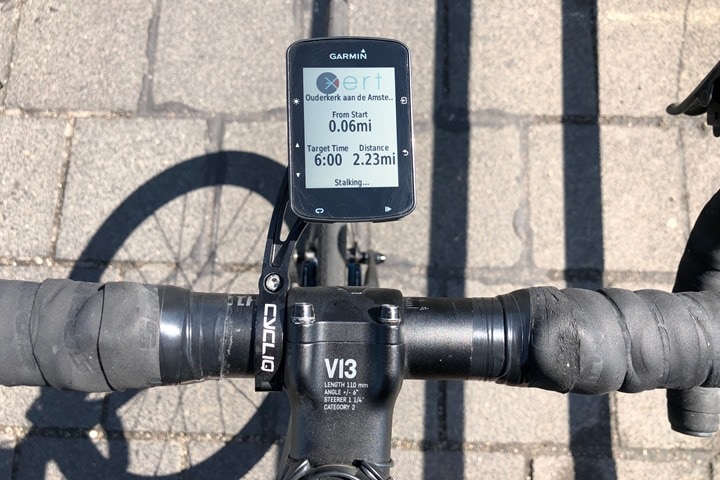 Meanwhile, when you get within 5-seconds of the segment it'll start counting down, after which it goes into the main execution mode.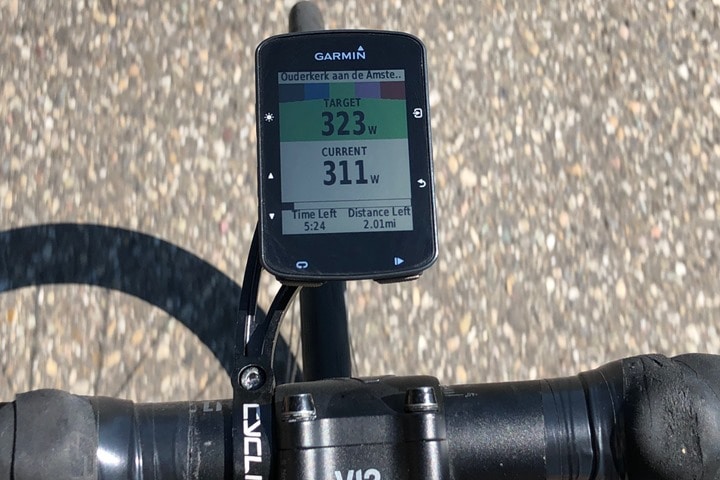 It's here that you'll get color-coded targets, which are:
Grey: Hopelessly too low below target
Blue: Just below target
Green: On target
Purple: Just above target
Red: Hopelessly too high above target
Xert notes that blue isn't necessarily bad if there are descents involved, and purple isn't bad if there are climbs involved. Being around Amsterdam, I have neither of those to worry about.  So it's green or bust for me.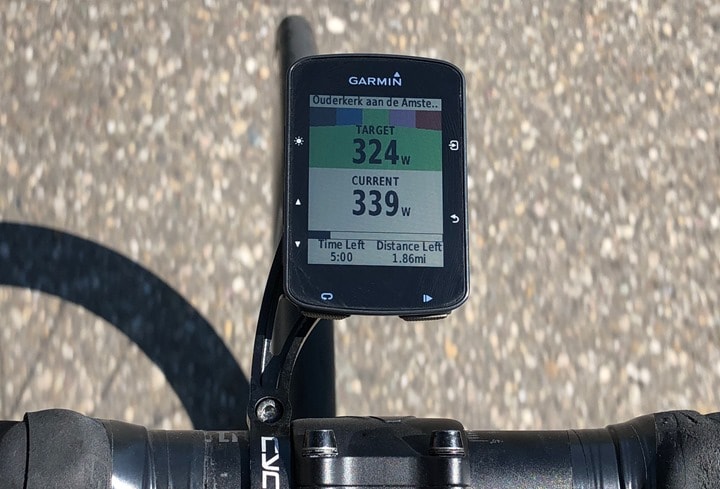 You'll also note the Target power there. Here's the thing: That'll change.
It'll change almost entirely based on how well you're doing against said target.  It'll also change (and this is the important part) based on how much Xert thinks you can put out. Xert has always been about determining a dynamic maximal power output that's available based on figuring out your 'fitness signature' in real-time.
Thus for the first couple of minutes of my Segment attempt it kept me relatively doable at about 325-327w.  But then it ever so started slowly creeping up – that yelling coach if you will.  At first I figured I was perhaps a bit low, and thus it was compensating for it.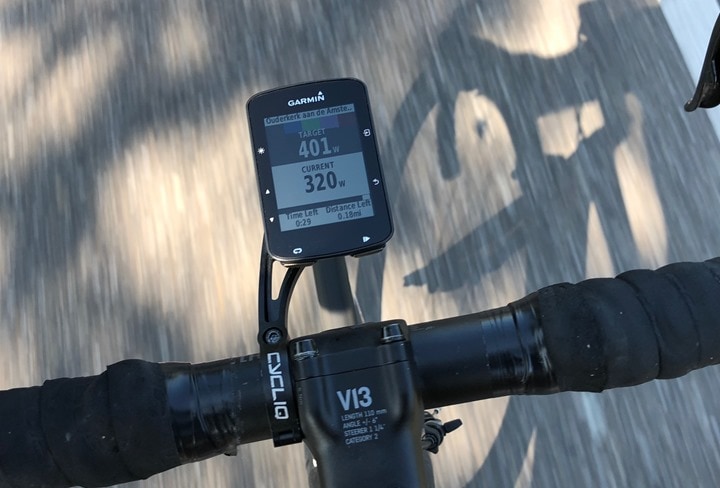 Actually, side note – I just passed a windmill. As required by Dutch law, you must take a photo of all windmills passed. Thus, here's the windmill.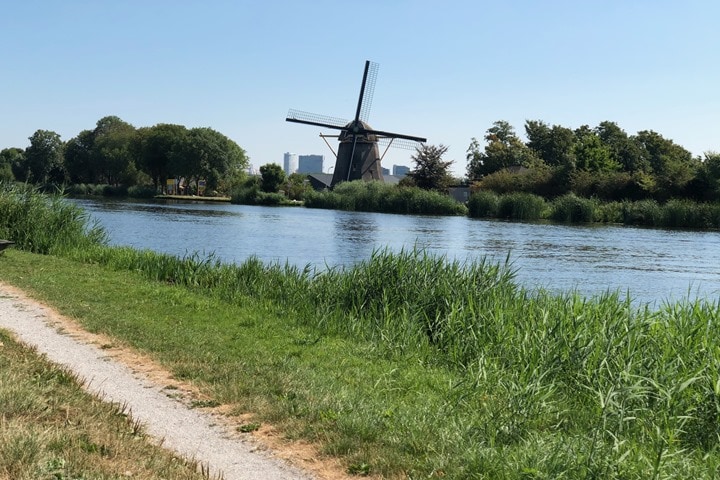 Here you can see it about 27 seconds left.  After that point I had to focus on actually pedaling and not taking pictures of windmills.  But things escalated quickly. By the last 15-20 seconds of the segment I was throwing down some 430-450w to hit the goal.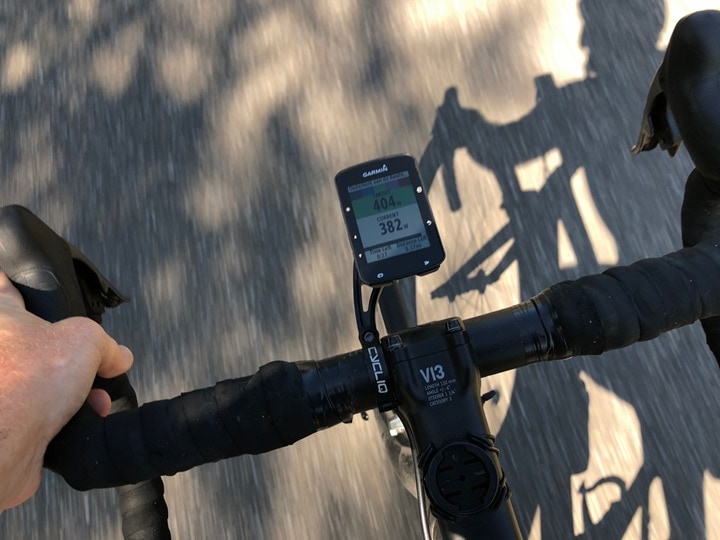 But wait, what goal you ask?
Well, not the Segment Target that I specified, but rather what Xert thinks I have in me.  So in my case, I ended up shattering the 6:00 target I randomly specified, and instead ended up at a 5:26 – a massive difference.  As you can see, the average power for that chunk was 331w.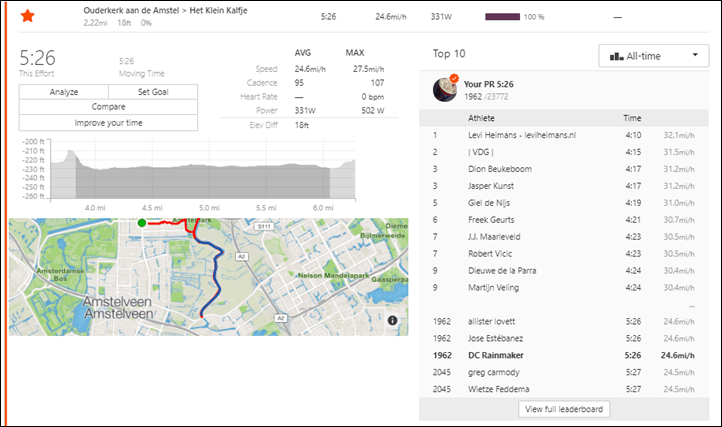 Oh, and back on the app it'll give you a summary of your suffering.  My guess is it shows this screen for about 60 seconds or so.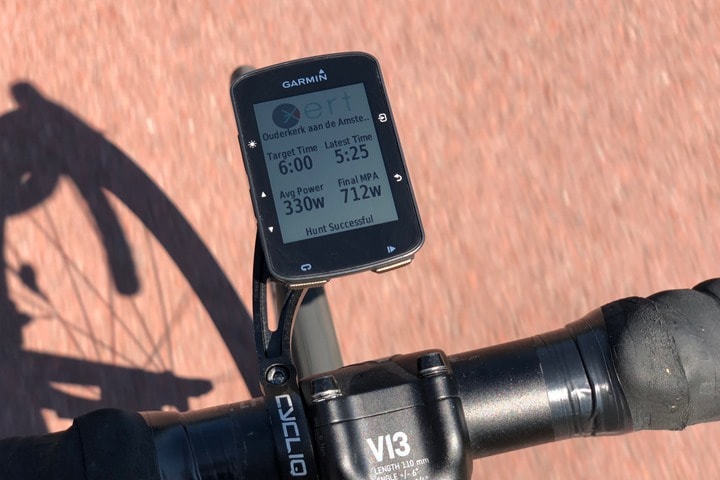 So, it definitely got me to hit that target – no questions about it.
It's certainly a cool little app – but I think you've gotta use it with a bit of awareness that it's not really focused on getting you to necessarily just barely clip the KOM/PR, but rather, focused on getting you to smash that target time. Leave no prisoners style.  And that's when I set the pacing style to 'Tough', good thing I didn't set it on 'Hard'.
Still, it's super cool – and even better is that it doesn't require Strava Summit (any paid variant) for it. Rather, the free Strava works just fine with it.  Of course, you'll still need Xert, but Xert's focus isn't really on being Strava, but rather beating TrainingPeaks.  So the target audiences are in some ways different.  Point being, you don't necessarily need to spend money on both.
I will say that one thing that this piece somewhat highlights is that there's still a bit of room for improvement on how Connect IQ sets up apps like these.  For example – given I'm installing a data field, why doesn't Garmin simply suggest to automatically insert into the last used bike profile on my watch (thus saving me that step)?  And why not ask me for the credentials on the phone during the install as a pop-up. Again, minor things that you only do once, but help make the entire experience smooth for end users.
Either way – if you've got Xert it's worth a whirl for sure, if for no other reason than to enjoy some pain that's out of your control. You just simply do what it says, and hopefully you end up with a solid new Segment PR.
With that – thanks for reading – and have a good weekend ahead!