This was a relatively calm and relaxing weekend, as we come up on a few busy weeks worth of goodness (actually, about 8 weeks of busy). So, here's what we were up to!
1) Ride with The Girl
Friday evening before picking up the kiddos from daycare, The Girl and I headed out for a ride. A loop of the popular Ronde Hoep, which depending on where you start from in Amsterdam is about 40KM round-trip. Nothing complex or hard, just lots of cows, canals, and empty roads/paths.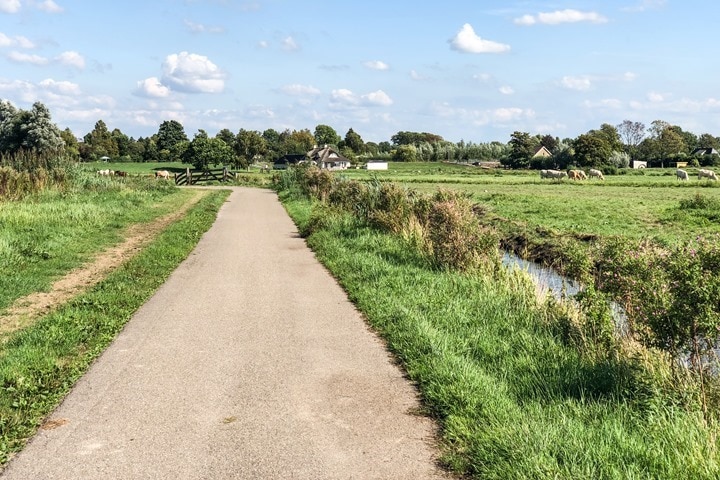 It's without question my most favorite riding loop here, mostly because it's so convenient for me/us. I can be along the river in under 10 minutes, where it's nice and quiet…and there are windmills.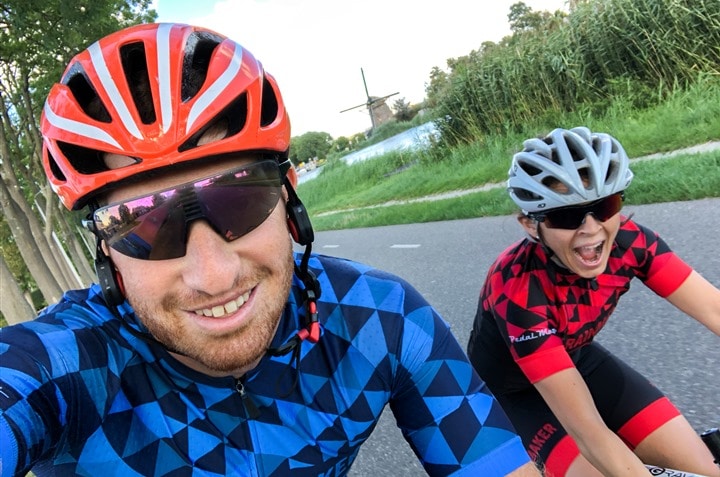 I will note the 'farm smell' on this ride was the strongest I've smelt it since moving here back in April. It's not all bad though, I'll take farm smell over many other smells I suppose.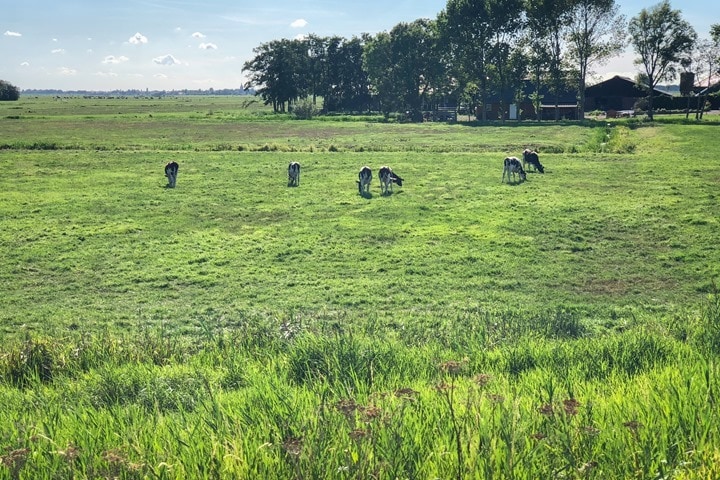 And yes, The Girl still needs to get the stem on her new bike lopped off. That's gonna happen tomorrow. The bike shop is closed today. Typically you don't do that though till you've had a few rides with it, just to ensure you've got some play on the fit of it, since once you chop that off, you can't attach it back with Elmer's glue.
2) More sandbags
Yes, my quest for pizza oven greatness is getting closer. Albeit, slowly. And in this case I brought along The Peanut to help with the efforts. Given a single sandbag is heavier than her, her lifting powers were null but she did sing the entire way, so it was great entertainment. When I say "all the way', she in fact sang all of the all the ways, being four round-trips worth in both directions, inclusive of inside the hardware store.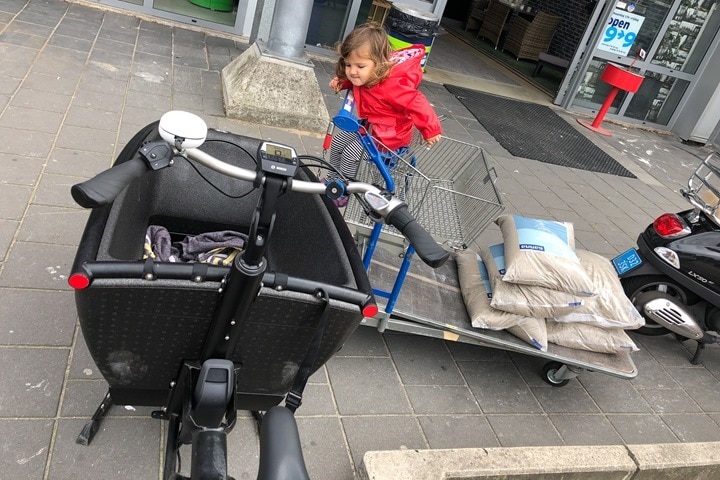 I picked up another 24 sandbags, totaling some 600kg (1,320lbs) of sand. Good news is, I think that's finally enough. Turns out sand doesn't quite go as far as you think it would when you're trying to level ground, and provide good drainage in a country that basically rains for a national pastime.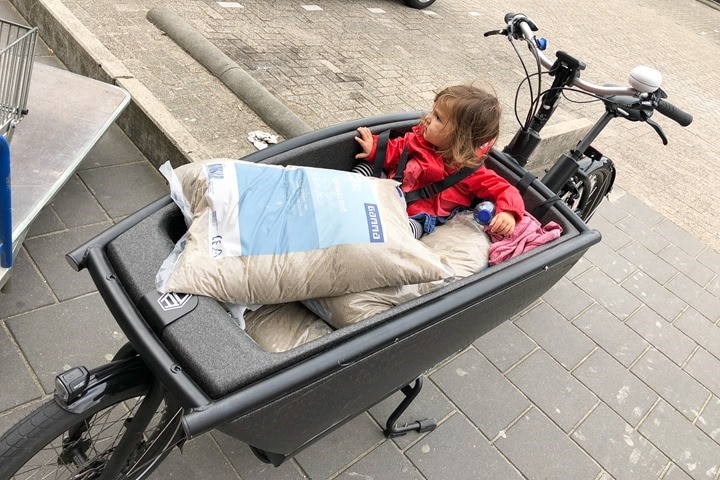 But, that's done. Now just to figure out how to cut the artificial turf that's been lying rolled up all summer long next to it, and I'm donezo with that item. Usual measure 98 times and cut once thing. Hopefully.
3) Out for a 21.8KM Run
I headed out Sunday around lunch for a bit of a run. I didn't have a specific distance in mind. But figured about 90 minutes worth would be good. I roughly translated that in my head to about 12 miles, give or take. Depending on the winds and all.
I had done a loop south around the lake a few weeks prior that had been about 11 miles, so I figured I'd tweak that a bit. I started by doing a short loop north first, merely to add on some buffer mileage in case the south-extension bit didn't work. I don't know about you, but I hate having to add on mileage/time at the end of a run near the front door by doing loops. Worst kind of running.
In the process of doing that I found some old tram cars operating on the tram lines: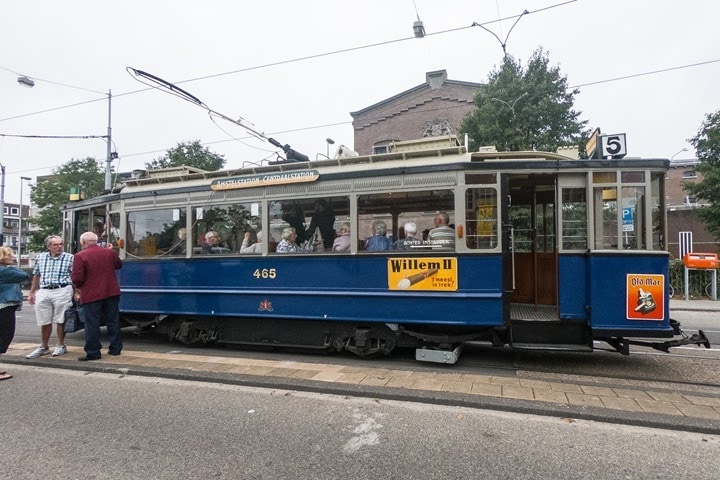 I'd read about these before, but never managed to see one. I know they're operating on a bit of a reduced schedule/route due to some track work elsewhere. And, they only run on certain days of the week. Still, cool to see them.
From there I just ran south a long ways. One could say far enough to find cows and horses, but honestly, those are pretty easy to find even in Amsterdam proper: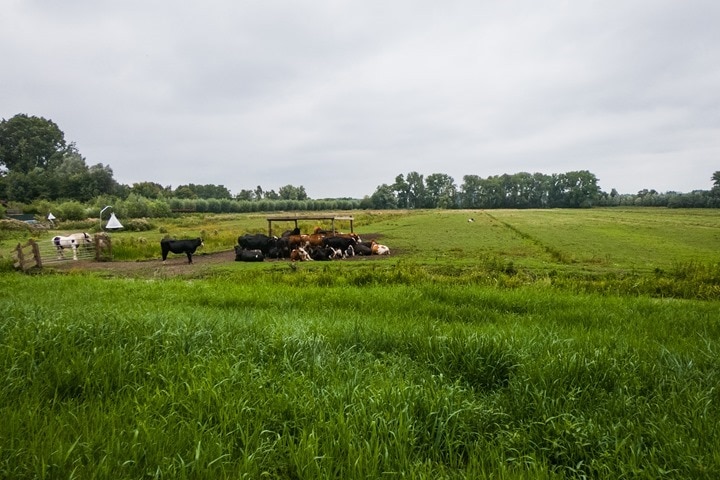 After that I followed the river a ways, and kept trying to cross. But each time this large river cruise boat kept requiring bridges be opened, thus I kept running to avoid having to wait.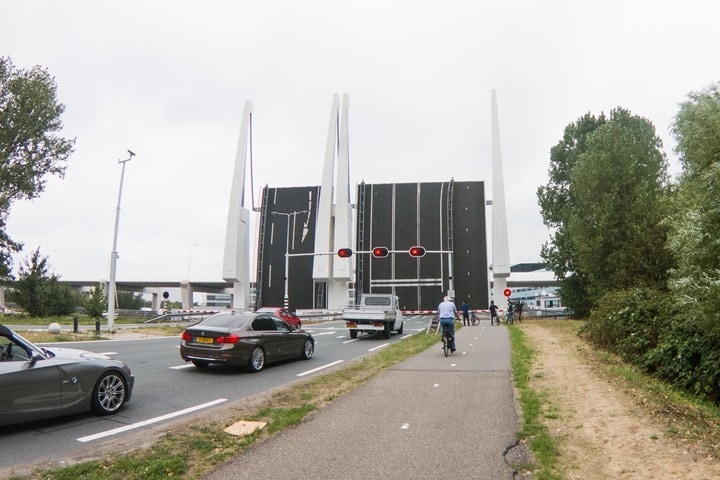 I was running slightly faster than the boat, but the trail would occasionally jut out away from the river, costing me time/distance.  One could say I was getting constantly cross-blocked.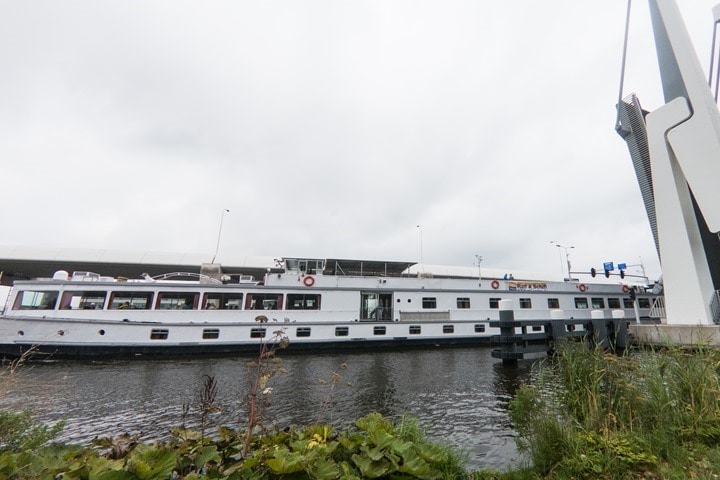 Eventually I just did a bunch of loops and such, as I really did need to cross in order to ensure my run wasn't going to be 2hrs long.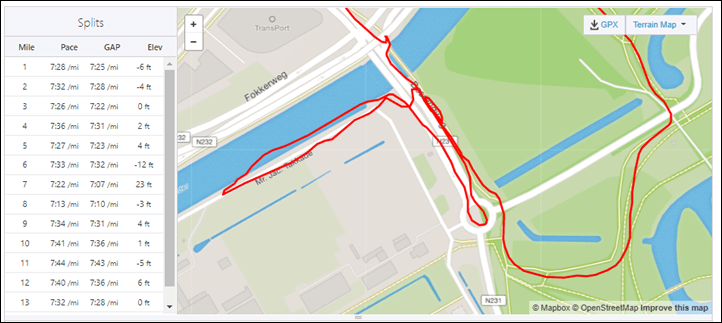 After that I simply ran back home. Of course, as I approached the door I was around 12.75mi, and certainly you can't end a run at that mileage. So I topped it off to 13.1mi – aka – half-marathon distance.
4) Prepping for a NYC Trip
I'm headed to NYC in the middle of this week for an incredibly packed 29 hours. Yes, just 29 hours from landing till take-off again. There's a few different product launches I'm going for, and luckily, they're all happening in NYC in a very short timespan.  But even outside of those product launches, I'm still cramming in about 2-3 other company/product things into this time period.
Somehow.
So I spent some time this weekend getting everything I need set logistically (flights/hotel/etc…), physically (extra devices ready/on-hand for comparison, handing some devices back to companies in-person to save on shipping, etc…), and virtually (figuring out the exact photos/video shots I need for various products and their respective videos/photos/posts).  Also, booking places to shoot videos at too.
I signed up for WeWork, a co-working space, (and found a coupon code online, woot!). I can use those spaces there, as well as even here in Amsterdam if I wanted. Then I figured out which specific conference rooms would look good for unboxing videos (they have some more trendy looking ones). The base membership includes roughly an hours worth of conference room time in it, and then I can book extra for about $25. That's not bad for controlled space. My membership is only month to month, so I'd be surprised if I keep it beyond the first trial month.
As to why not do it in a hotel room? Having tried to shoot unboxing videos in hotels before – it never works out. Hotel lighting is either abnormally dark for video, or too yellow-ish. More importantly, it's just not dependable enough of a scenario to know for certain.
I also spent considerable time getting all the paperwork/online classes required to utilize YouTube's space in NYC, which has far more paperwork than the Paris/London offices do. Like, massive amounts of paperwork (London had none when I visited last fall).  They've got some great options to film, and tons of gear you can borrow. All for free.
Realistically though, I don't think I'll be able to utilize that space for most of the products this week. Specifically due to YouTube's rules that require 'clearance' for all videos that are shot there, which can take at least 48hrs.  That's where they validate that you don't have anything in the video that's problematic. And we're not talking about the kinda stuff you think. Rather, we're talking about ensuring there are no corporate trademarks, or logos, or even artwork inside YouTube's space shown. It's kinda nuts.
I think the space might work for one device that's not going live this week that I'll have. But not for the others that are basically same-day turns.  In any case, gonna be packed mid-week festivus!
5) Exploring town with the family
Sunday late afternoon we packed up the kids and the dog and dumped them into the cargo bike for a loop around town. We find the bike is a great option to keep the kids entertained, especially when we're lacking much creativity to figure out something better to do.
We did a simple loop through Vondelpark, then the city, and then off to Amsterdam Central Station.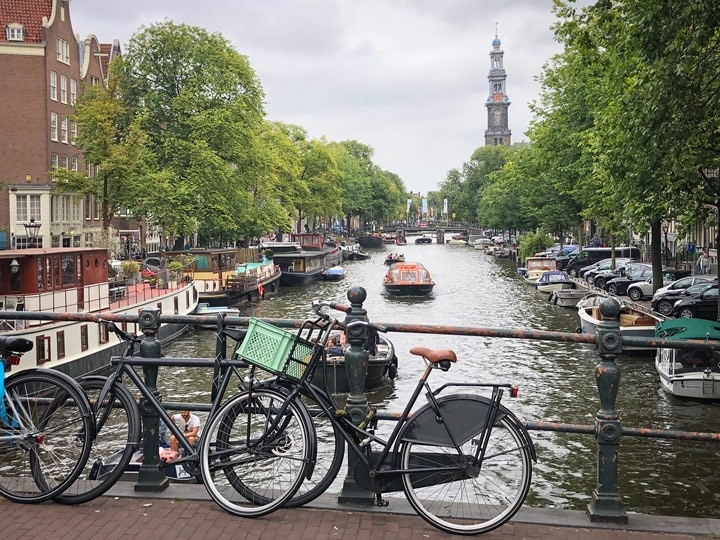 I had planned to take the quick bike/pedestrian free ferry across and back again, since The Peanut loves going on the boats.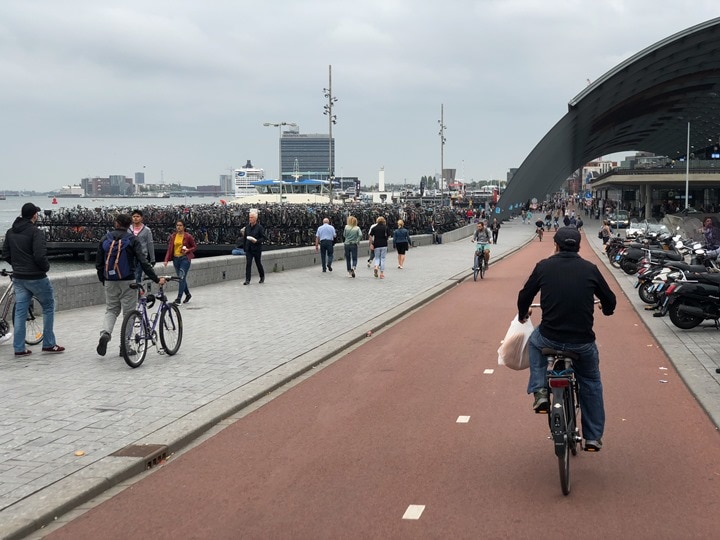 But, Peanut #2 expressed her displeasure at that idea. She was trying to sleep and just wanted to be rockin' and rollin' along, not stopped and listening to boat sounds.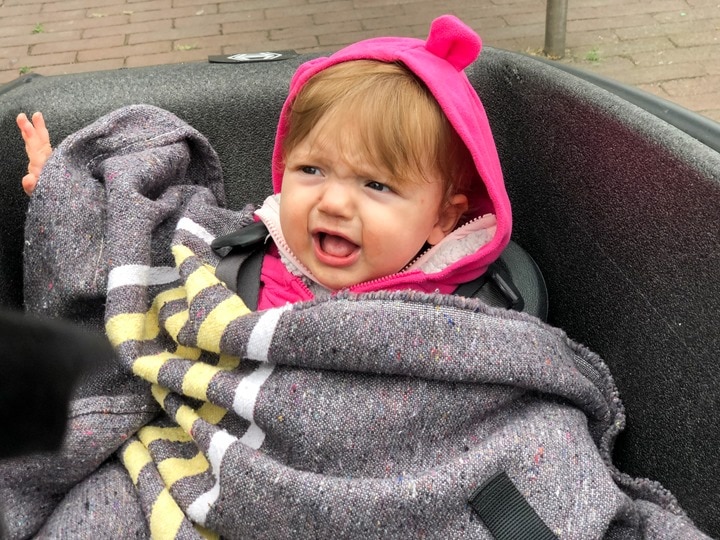 So, back to riding we went.  All was then well in the universe again.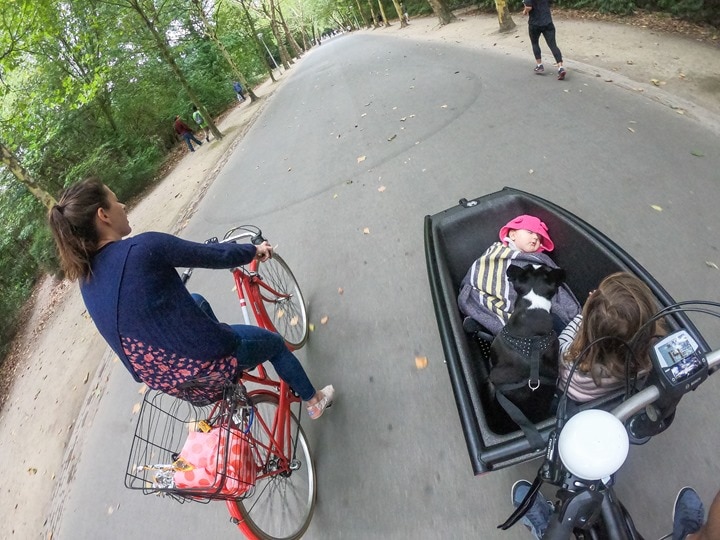 Oh, and on the return through Vondelpark there was this gentleman riding no-hands, no-shirt, no-pants through the park. He was wearing…well…I don't know what you call that.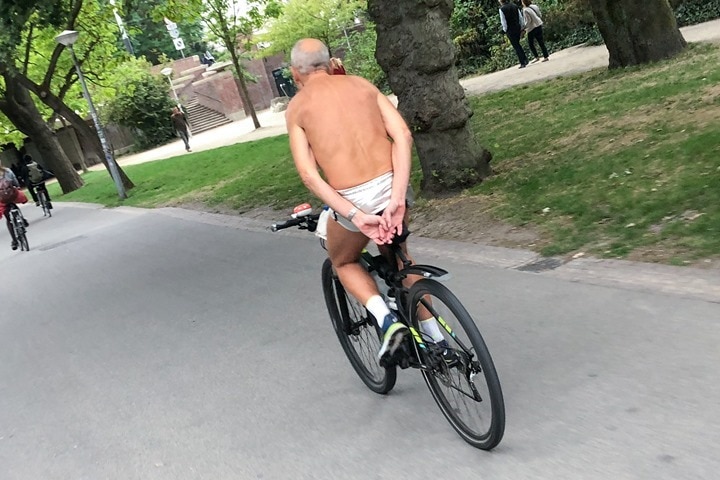 Just thought I'd share.
With that – thanks for reading, and have a great week ahead!