Ok, rounding up some of the week's news in sports tech, here's a few little tidbits that are definitely worth mentioning.  And some of them are hot off the press, primarily the totally unexpected Galileo one!
PowerPod's new $199 model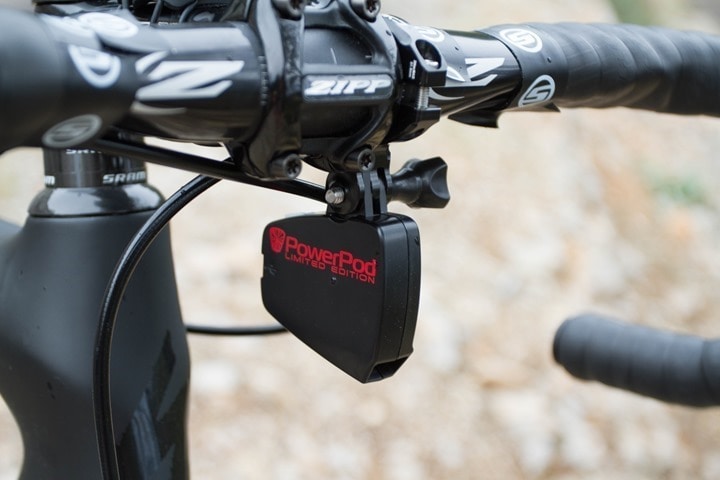 This past weekend the folks behind the PowerPod announced a new variant, the PowerPod Lite.  This new model drops the price down to $199 (from $299+) and does away with some of the higher-end features (software focused).  You still get total power transmitted via ANT+, but you only can store a single bike and you can't use their desktop software to download full files for more advanced analytics afterwards.
As part of this, PowerPod has split things out into five different SKU's, which, I'll talk about in a second. Here's the lineup as it stands now according to a chart on their website: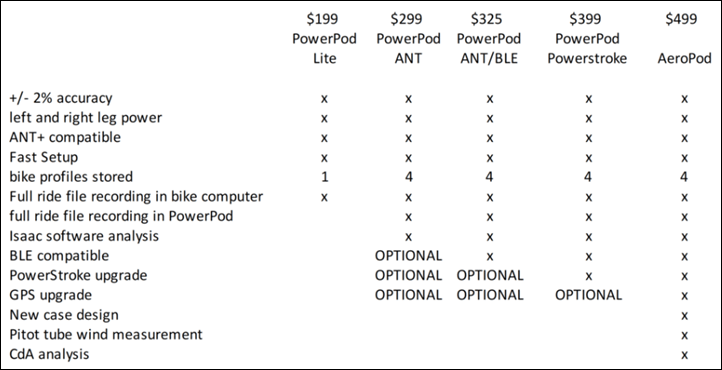 For the vast majority of people, the PowerPod Lite will fit the bill perfectly.  When I look at how I've used the PowerPod in the past with testing and such, it's totally within the confines of the PowerPod Lite features.  And I suspect that's true for 98% of readers as well.  I think the shift to a $199 option is a great move, especially as WatTeam and 4iiii have gotten to the point in pricing that you'd have to significantly consider them over a PowerPod (when it was priced at $299-$399).
Certainly there are some caveats to be aware of with a PowerPod, but I find that most folks that knock it…haven't actually tried it anytime recently.  It's not necessarily the product I'd personally use myself, but I think it does work for a lot of people.
One thing I'd say is that I think the above has too many SKU's. I'd shorten it to merely three SKU's: PowerPod Lite at $199, PowerPod ANT+/BLE at $299, and AeroPod at $499.  I don't think I've heard of anyone caring about PowerStroke anywhere within the 1,002 comments left on my PowerPod review.  If folks want it, it should be an easy up-sell.  Speaking of which, as noted above by the chart, most of these things you can actually buy after the fact as software updates.  Thus having multiple SKU's increases complexity.  Again, just my two cents.
In any case, great to see this price movement here.  This is a price point that's done really well for them at Black Friday and other major annual sales, so it makes sense to adopt it more permanently.
Garmin Fenix 5 Gets Galileo Beta: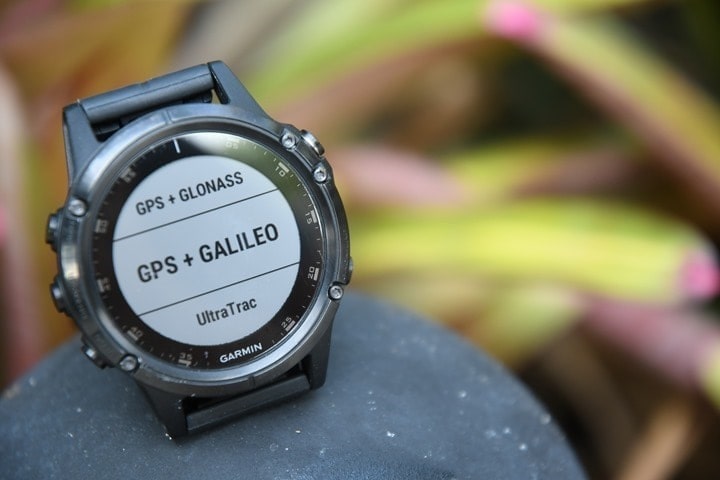 (Above pic shows the option on the Fenix 5 Plus)
Put this on the pile of 'Totally didn't see this coming' for today.  This afternoon Garmin quietly dropped a beta firmware for the existing/original Fenix 5 series (5S/5/5X) that enables Galileo support.  Galileo is a different satellite network (that's still coming online, but is largely operational already) that was announced within the Fenix 5 Plus earlier this week.  Garmin also rolled it out to the Edge 130 earlier this spring.  In my testing with Galileo tracks on the Fenix 5 Plus, I'm seeing very good tracks across tough conditions – without question some of the best tracks overall from any device.
Of course, there are hardware changes between the Fenix 5 original series and Fenix 5 Plus series related to the antenna, so as such we may not see identical performance.  But hey – at least having the option is a welcome change.  And also a change I didn't expect.  While Garmin had previously acknowledged the Fenix 5X was in theory compatible with Galileo (prior to Galileo having enough satellites to matter), I don't remember them saying it for the rest of the series. After getting an e-mail about it this afternoon from Garmin, I even circled back doing a double-take to ensure it wasn't a typo for Fenix 5 Plus beta releases. It wasn't.
In any case, since this just came out I haven't had the chance to test it.  But since it's a BETA firmware update, you'll want to tread lightly anyways (in other words, don't update it ahead of your Ironman race this weekend).  Here's the links to the three different units:
Fenix 5S Beta Update
Fenix 5 Beta Update
Fenix 5X Beta Update
Also note – super important – you need to connect to Garmin Express or Garmin WebUpdater and install the GPS-specific update you'll get offered as well, otherwise it won't work!  Also note if you're not familiar with beta updates, you can hit up the Garmin Forums for more details on it and/or for feedback/troubleshooting (5/5S forum post, 5X forum post)
The beta firmware update also has some other minor updates in it too, but the big ticket one here is Galileo support.  Now if we can just get them to add the new smart notification privacy feature found on the Fenix 5 Plus and perhaps ClimbPro, there'd be lots of happy campers.  Obviously, the majority of the other new features on the Fenix 5 Plus require physical new hardware (like contactless payments, or storage for maps/music).
In any event, go forth and test it out and report back. The DCR Analyzer is of course available to compare tracks side by side if you have other devices.  Or there's other free options like Golden Cheetah.
Tacx Lowers Trainer Prices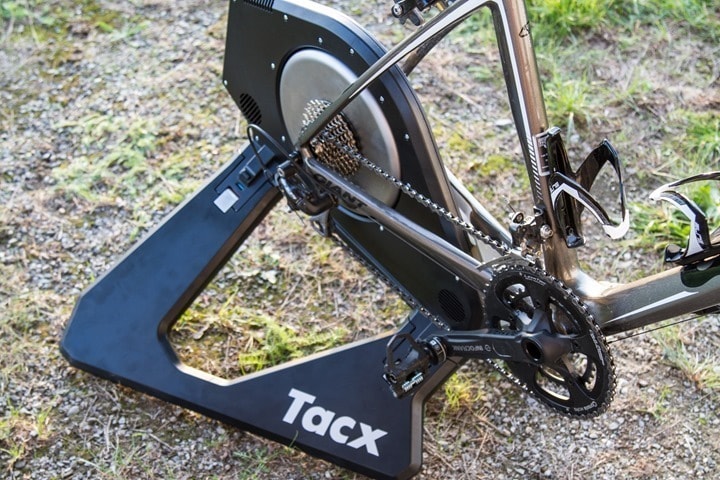 Earlier this week Tacx dropped prices on their trainers, in some cases quite considerably. Here's the lineup of new prices (USD), I don't know what (if any) Euro or other currency price changes there are:
Tacx Neo Smart: From $1,599 to $1,369
Tacx Flux Smart: From $899 to $799
Tacx Bushido Smart: From $799 to $619
Tacx Vortex Smart: From $549 to $429
Tacx Satori Smart: From $399 to $329
While the Tacx Neo drop will catch peoples attention, I'd argue the Tacx Flux Smart is the most meaningful. It puts immediate pressure on Elite with their Elite Direto trainer that's been handily dominating that price-point for the last year (at $899).  Of course, it also applies pressure on Wahoo to produce something in the direct drive realm that doesn't cost $1,100.
Now, as I always say this time of year…now is a horrible time to buy a new trainer.  With Eurobike just two weeks away, that's the historical grounds for announcing new indoor training products.  Same goes for Interbike (in mid-September), but I don't expect any holdovers to that show this year.  It just no longer makes sense for the indoor trainer season (which is becoming more and more year-round).  Companies want to secure your dollars earlier in the season, rather than risk late delivers and people switching to other brands.
Still, there are exceptions to this: Most notably if you need/want a trainer now, to use now.  In general, most things announced at Eurobike aren't available till later on.  There are exceptions though (Wahoo and Elite have historically had some of their announcements available immediately, yet others have been later arrivals).  But it probably goes without saying that if you can wait till July 8th, that's the best time to evaluate all your options.
Eurobike Lead-Up:
Finally, I know this week has been quiet after Monday in terms of new posts.  Not for lack of things being done around these parts.  Sure, I've been with family this week in Florida, but I've been also working away at items on this list:
What's this list you ask? It's my working list for now till roughly July 10th. Eurobike starts on July 8th. Items that are blacked out are new products, obviously, and the post type is what I'm aiming for. Plus, I just realized I forgot at least two products on the above.  But I'm too lazy to add them and re-copy/paste/black-out/etc… My rough definition of post types are:
In-Depth Reviews: Super detailed review based on final product and multiple usages of said product over a longer period of time. You know the drill here.

Hands-on Posts: Detailed post where I can use the product in a normal workout setting for one or more times (usually by myself), but the product hardware/software isn't final, thus I don't believe it's right to call it a review.  Also, sometimes I put things (final products) in this category if I have no realistic intention of writing a full review down the road (unless feedback is strong from readers that I should).

First Look: These are posts where I've had no actual workouts/time alone with the device, and typically are shot on trade-show floors or at/near company.  These are generally fairly last minute in terms of product access or completeness.
Got all that? Good.  Now, I've gotta get back to work. Despite being 'on vacation', I had companies visit me as well as ship new products each day (in fact, at 7:28PM on a Friday another box just arrived). The trend continues every day next week back in Amsterdam. Gonna be crazy!
With that – have a good weekend, and thanks for reading!